Join short treks in spring 2020 and mark the calendar. Seek to escape the everyday lives and relish the delight of the mountains. Trekkers can combine trekking with other activities as well such as safari, rafting, bird watching, mountain flight and many more. 
Nepal rewards every trekker with magnificent vistas of snow blanketed mountain, verdant meadows, high elevation glaciers, a marvelous assortment of flora and fauna along with the exotic culture. The existence of the immense Himalayas in the region and the incredible landscape provide the country the tag of being one of the perfect trekking places on the earth.
The country promises a number of thrilling treks, and they are not just the popular trails but also some exciting off-the-beaten and newly discovered trails. The Himalayas provides numerous trekking routes, which range from being easy, moderate to extremely challenging. Such trails are a blend of exquisite wildlife man-made structures, beautiful scenery, cultural experiences, religious delights and much more.
To savor the adventure of trekking like never before, try the incredible short treks in Nepal. The short trek is ideal for both novice and proficient trekkers, family with children, solo and school groups.
Also if you've limited time, and you're keen to escape to the wild, these short treks in Nepal are perfect for mini adventures. On these short Himalayan treks, you'll get to spend a few nights out in remote areas, enjoy staying at a local tea house and camping experience and witness some remarkable sights.
 Nepal trekking is an experience that you would not want to miss out on if you're an adventure devotee. Here is the list of top short trekking trails in Nepal where you can make memories that are forever to keep in 2020.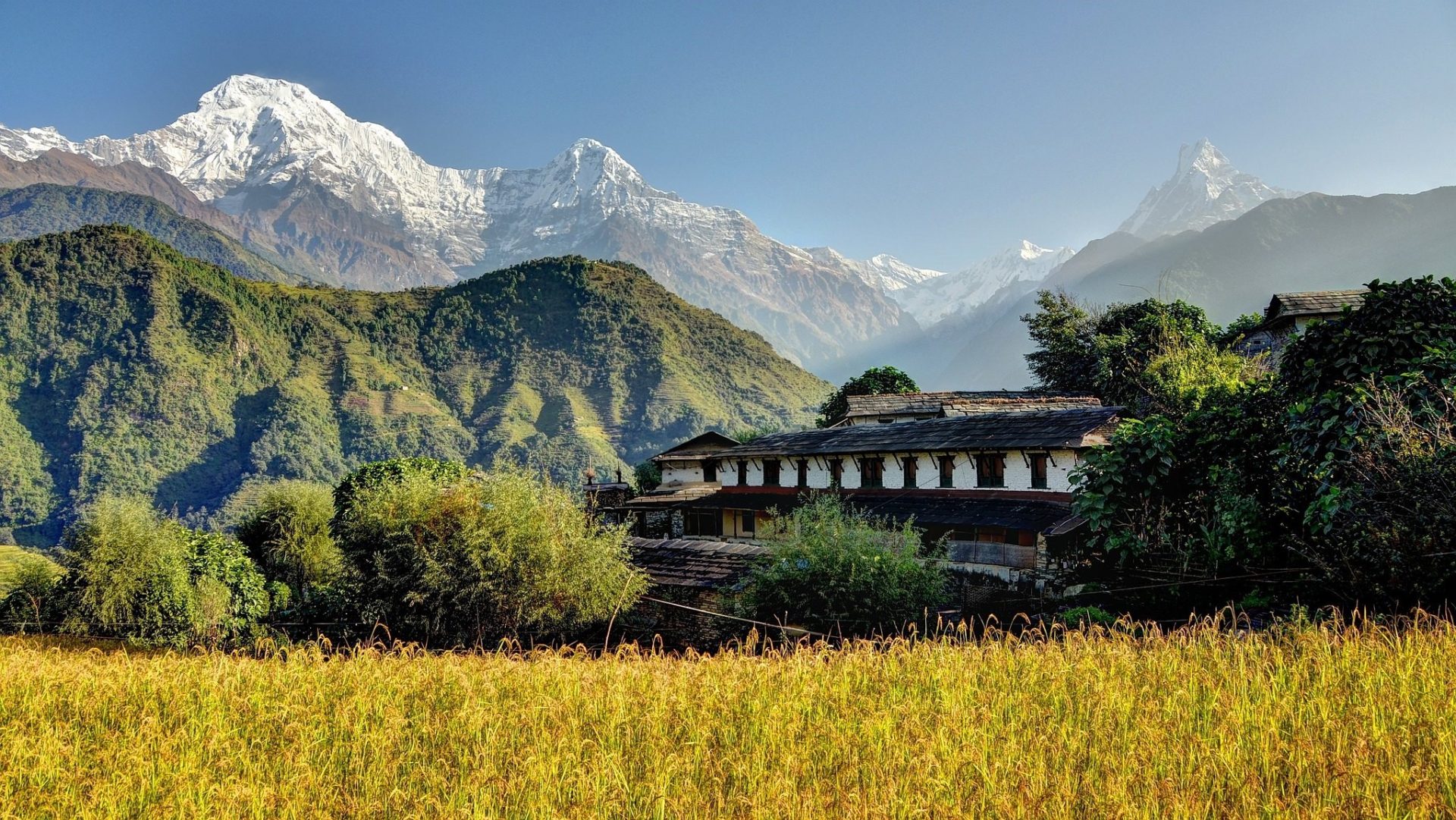 1.  Pikey Peak: Renowned for superb Himalayan range
Located in the lower Everest region Pike Peak is one of the beautiful and less trodden trekking trails.  From the Pikey peak 4,065 meters, you can witness the superb views of the eight of the world's peaks over 8000 meters including Mt. Everest 8,848m, Mt. Lhotse 8,516m, Mt. Makalu 8,463m, Mt. Kanchenjunga 8,586m, in addition to several other breathtaking snow-capped mountains.
This peak is popular for its amazing sunrise and sunset views. It is a really spectacular sight taking in innumerable giant peaks to the north and deep valleys dropping away into the clouds to the south. The vistas from Pikey Peak is said to have been Sir Edmund Hillary's preferred view in all of Nepal. This Pikey Peak Trek is ideal for those who prefer to see the finest view of Everest and beautiful landscapes within a few days.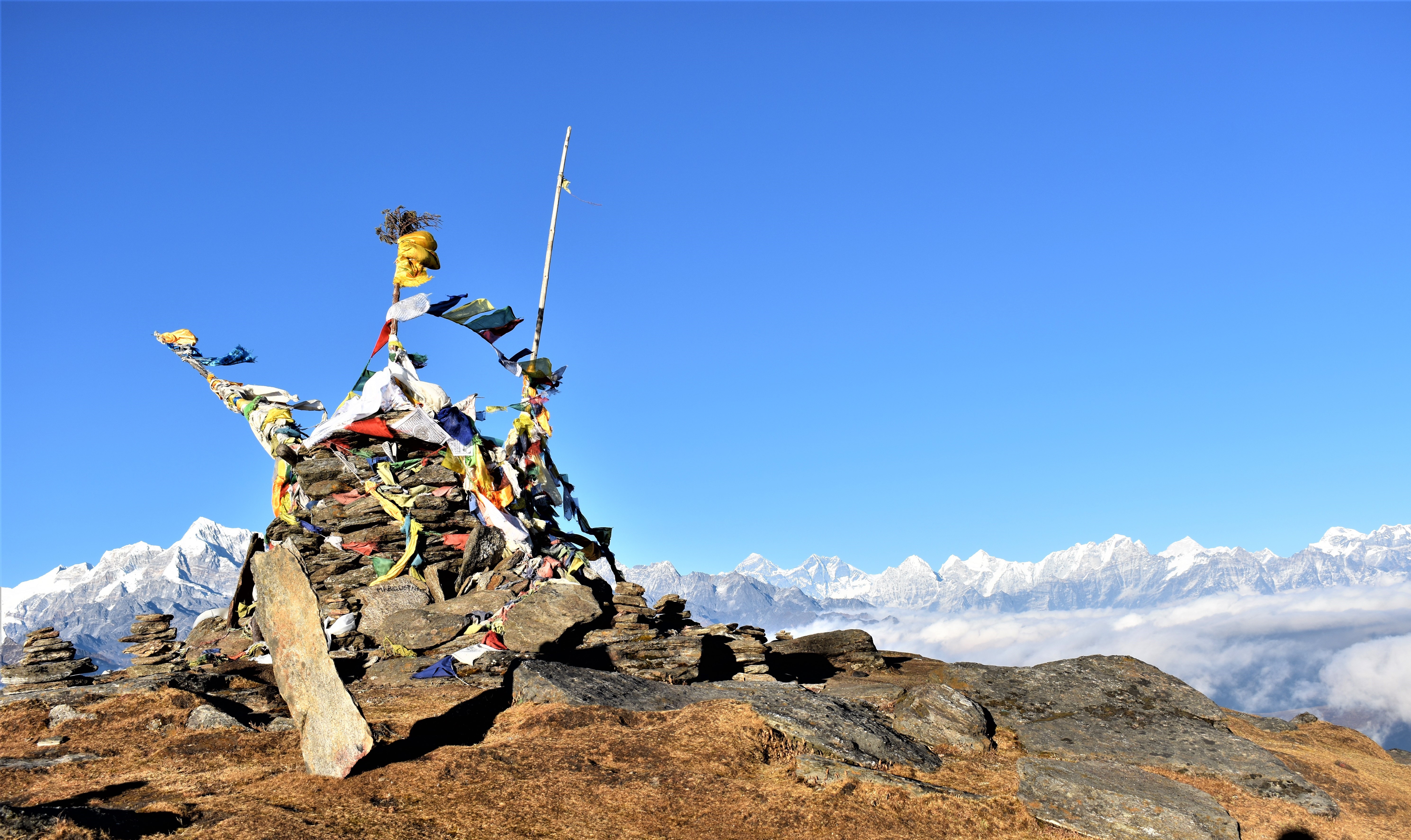 Trekking in the Pikey Peak region has been gaining popularity due to rewarded quiet trails, scrumptious home-made meals from local produce and incomparable backdrops of Everest along with accompanying peaks. This newly discovered trekking route definitely offers trekkers with the off-beaten trail trekking experience. 
2.     Langtang Trek: Valley of Glacier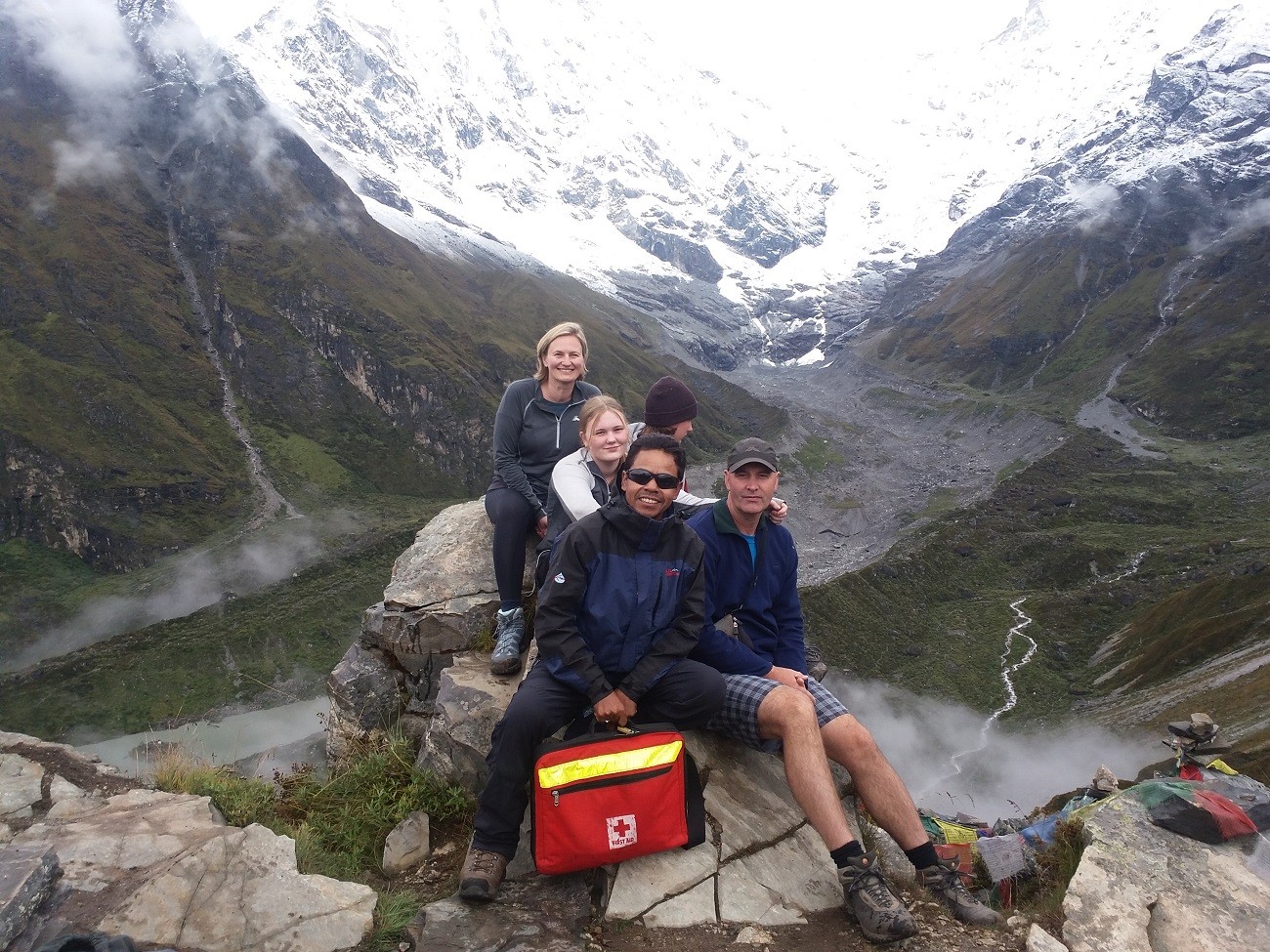 "Nepal Sanctuary Treks organized 11-day trek into the Langtang Valley for our family (two parents, two teenagers).  Fantastic as per past experiences. They care for their staff, have a genuine commitment to the places and people that you visit and walk the talk in terms of a responsible future of tourism in Nepal. " Matt Francey & Maggie Scott
Situated about 30 km north of Kathmandu near the Tibetan border and extending in an east-west direction, Langtang is encircled on the north by the Himalayas, dominated by Langtang Lirung (7,245 m), the highest peak in the area. 
Langtang is beautiful and famous for its diverse vegetation and villages with affluent culture. What sets this trek apart is its incomparable experience. Everything about this trek is aesthetically pleasing: authentic picturesque hamlets, snow-capped peaks, sweeping glaciers, ancient monasteries, alpine freshwater oligotrophic lake, diverse flora, and fauna.
The trek also takes you through the rose tree and the dense bamboo woodland to the snow-blanketed peaks which comprise Kyangjin Ri (4,350 m), DorjeLakpa, and the only 8,000 m high peak in Tibet, Shisha Pangma.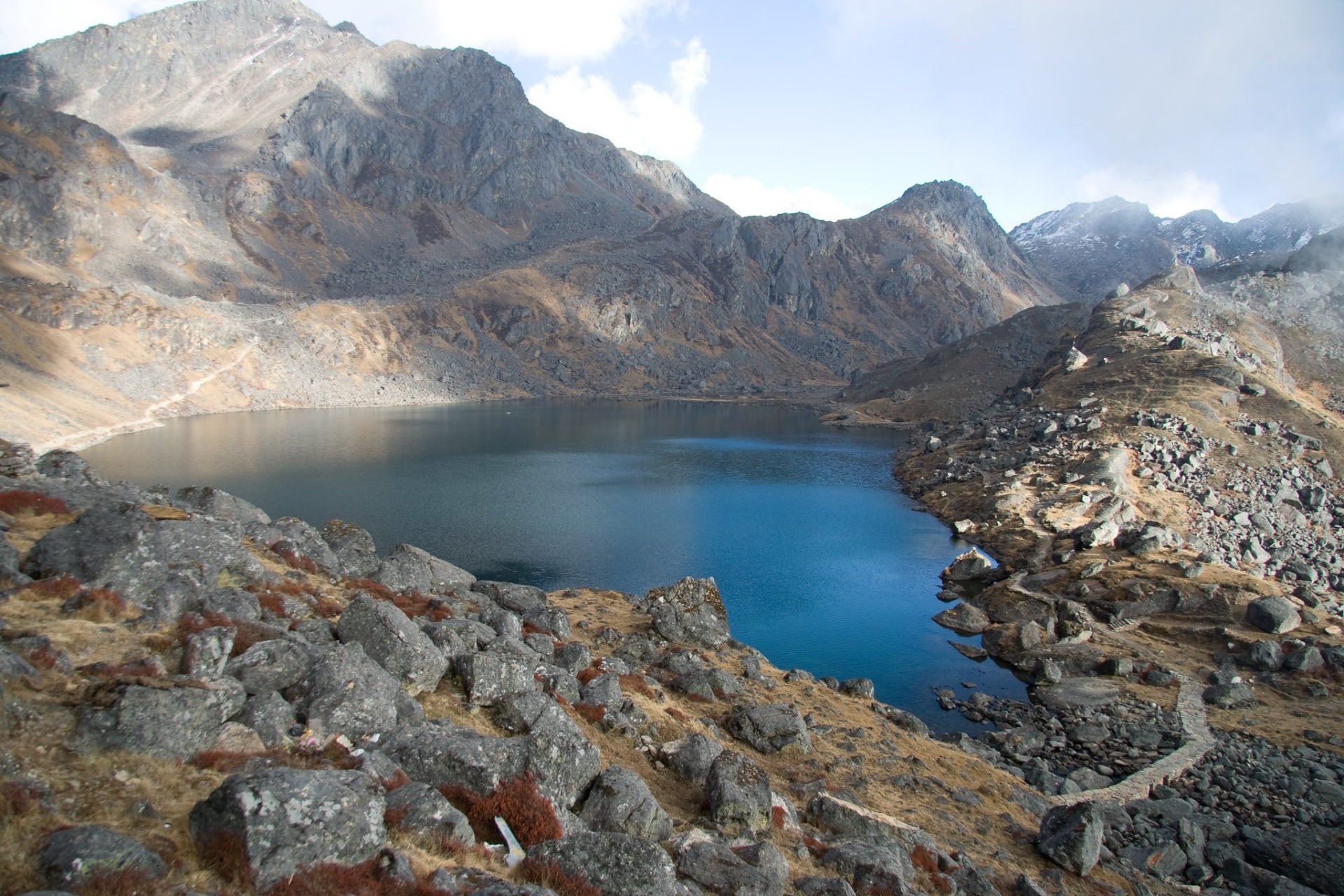 While hiking to the Kyangjin Ri Peak one can see the imposing 360-degree vistas of the massifs of Langtang Region. Together with Kyangjin Gompa, there are numerous other monasteries that can be spotted during the trek. Gosaikunda Lake is an incomparable destination for spirituality. The Lake is bounded by other Lakes and bordered by the snowy peaks.
Have a look at other treks offers in the Langtang region
3. Gokyo Lake Trek: The highest freshwater lake system in the world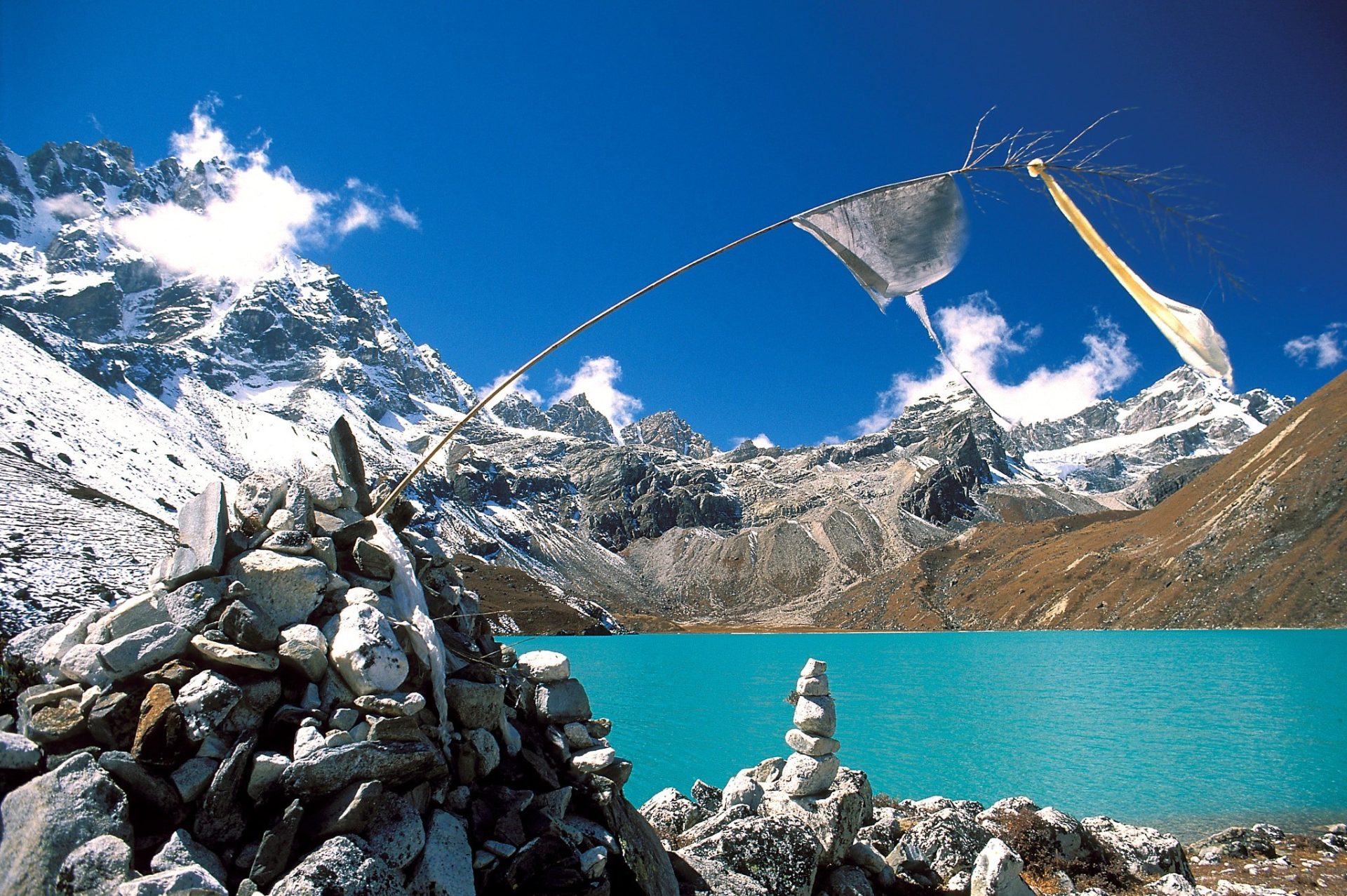 The glittering, crystal clear turquoise waters of the Gokyo Lakes are one of Nepal's most remarkable sights. They encompass the highest freshwater lake system in the world, at around 5,000 meters comprising six lakes.
Trekkers get an opportunity to ascend to the summit of Gokyo Ri (5,357m) that rewards trekkers with the incredible views of soaring mighty peaks such as Mt. Everest, Lhotse, Cho Oyu, Mt. Kanchenjunga and Makalu.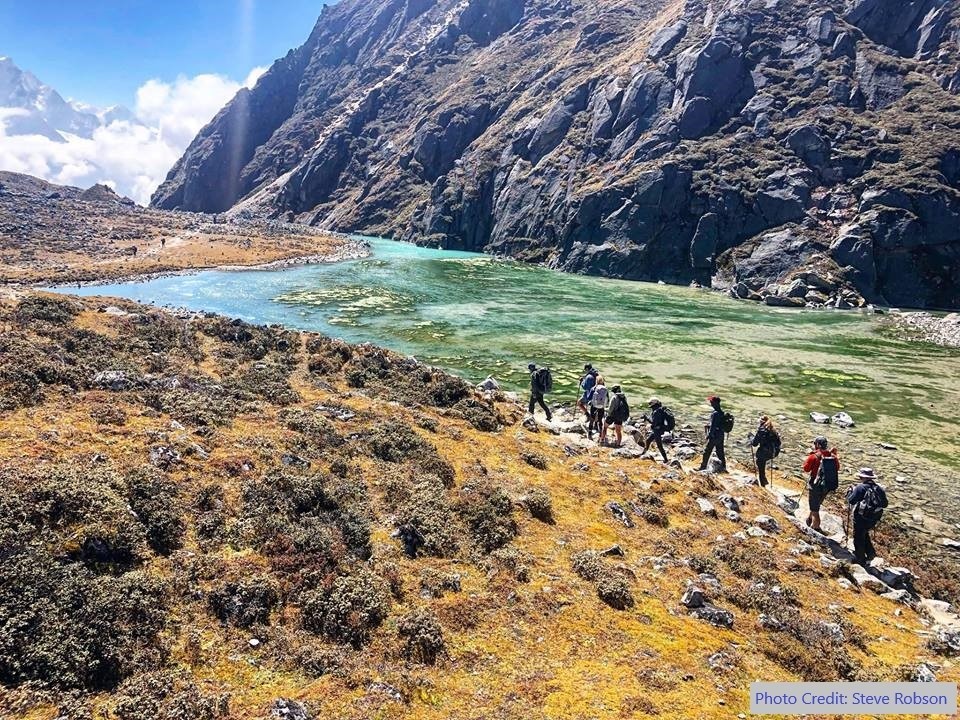 One of the main attractions of the trek is the remarkable Khumbu Glacier which is also the largest glacier in the entire Himalayan region of Nepal. The quaint & tranquil lake in the Dudh Koshi Valley overlooks the majestic Everest and will certainly make your jaw drop. It's simply spectacular to see the tranquil valley comprises wide meadows for yaks to graze throughout summer and indulges in the serenity of the Gokyo Lake.
The perfect period to do the Everest Gokyo Lake Trek is in the seasons of spring (March-May) and autumn (September-December). 
4.  Annapurna Base Camp Trek: Witness endless beauty of Annapurna region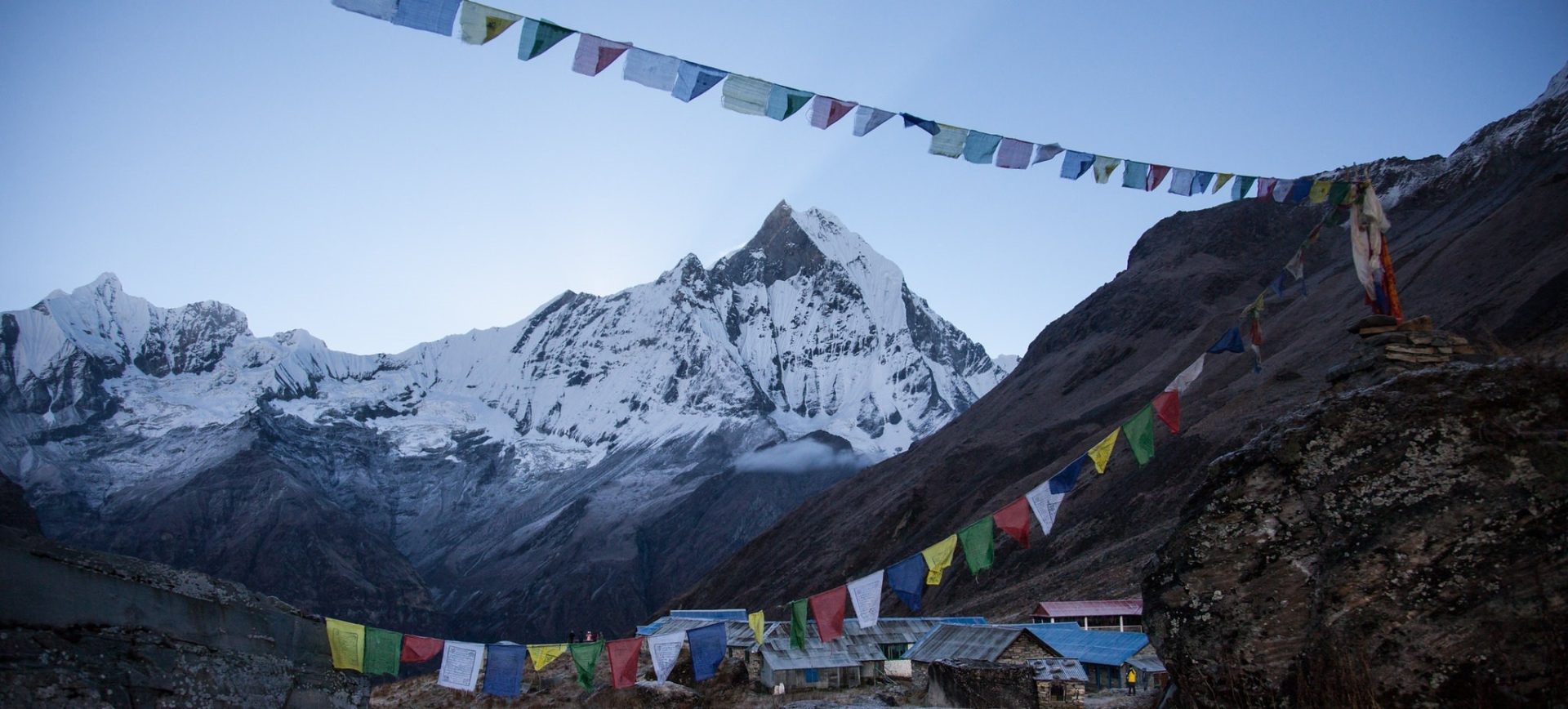 Also known as Annapurna Sanctuary Trek, this enjoyable trek takes you deep into the mountains. The location of the base camp is so wonderful, set amid the impressive six major peaks over 7200 meters comprising Annapurna I, II, III and IV, Annapurna South and Gangapurna. & fishtail peak. Likewise other mountains like Dhaulagiri (8167m), Manaslu (8156m).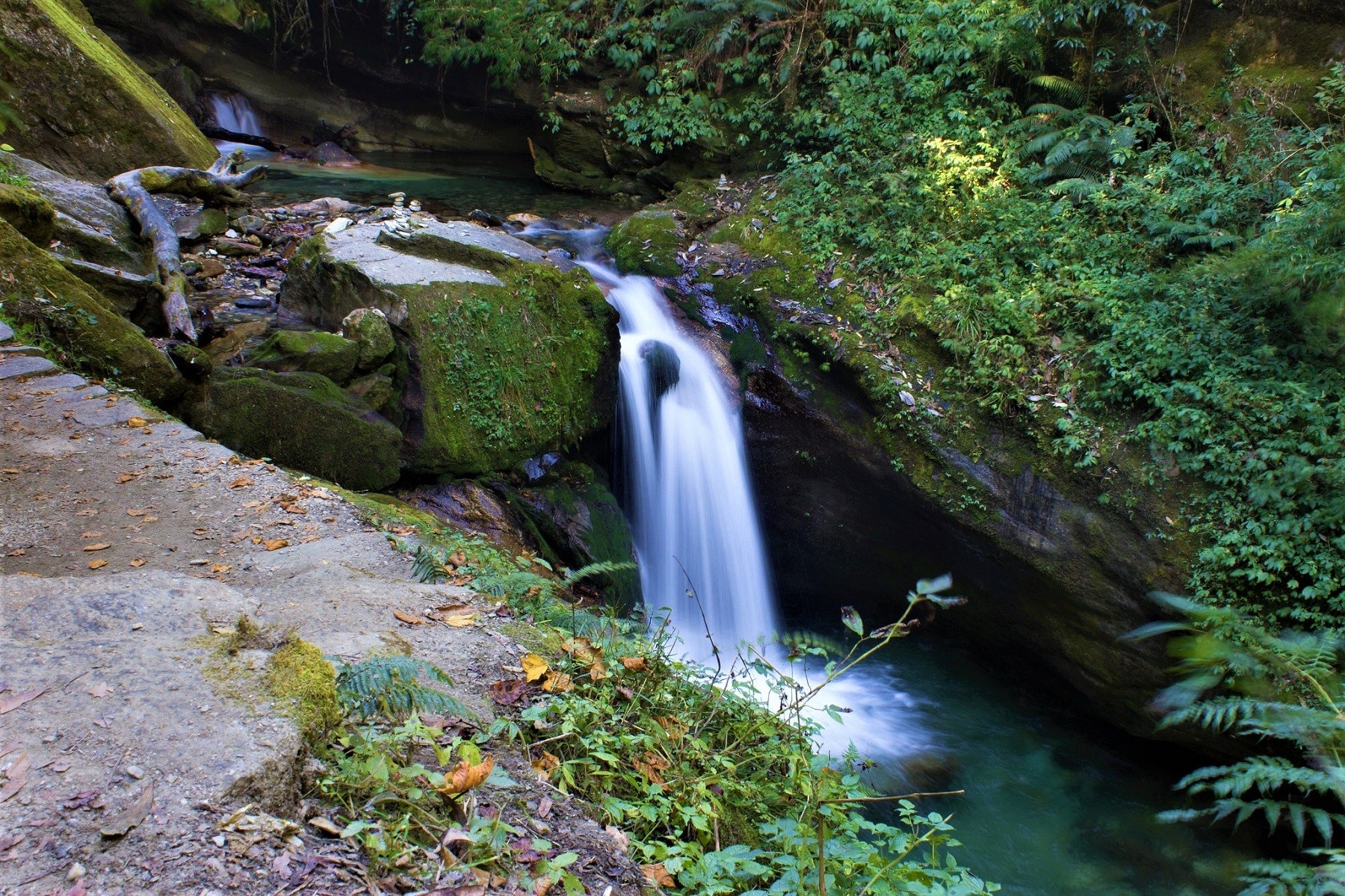 Annapurna Base Camp Trekking most preferred and well-known moderate nature trekking trails in Nepal that incorporated paddy fields, colorful rhododendron forests, bamboo groves, fluted glaciers, affluent culture, natural hot spring, suspension bridges, cascading rivers and waterfalls and varied landscapes.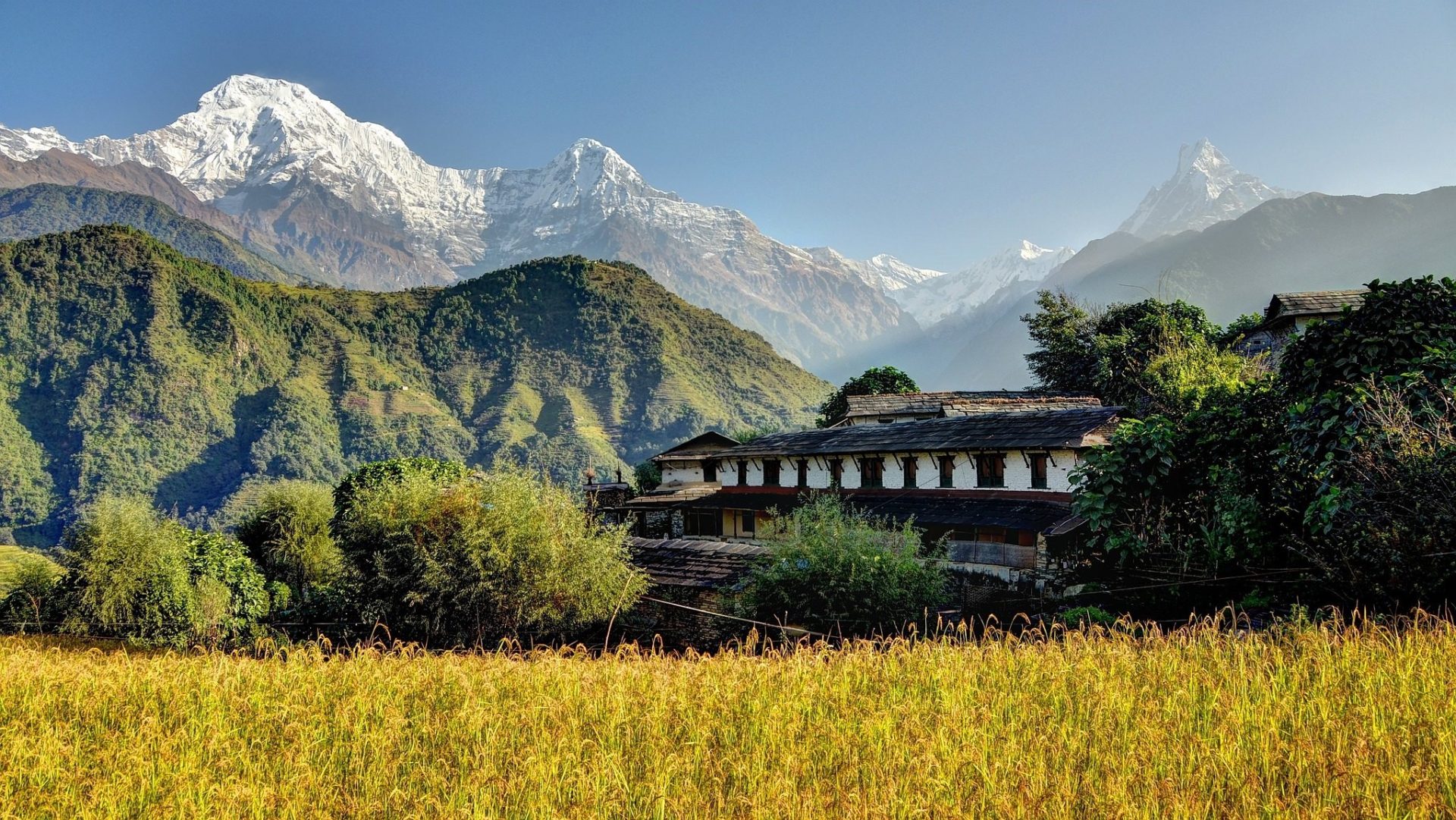 The Annapurna Base Camp trek trail looks dazzling in spring since the entire forest on the trail turns red, pink and white with shrub flowers. This trek is also popular for its many stone steps and which you will experience from Hille to Ulleri with a very steep segment taking up to 2 hours.
There are some memorial chortens and stupas to visit in ABC and one in specific is dedicated to one of the most well-known mountaineers, Anatoli Boukreev who was an important figure in the rescue on Mount Everest noted by Jon Krakauer in his book, Into Thin Air.
5. Amadablam Base Camp- The most beautiful mountain in the world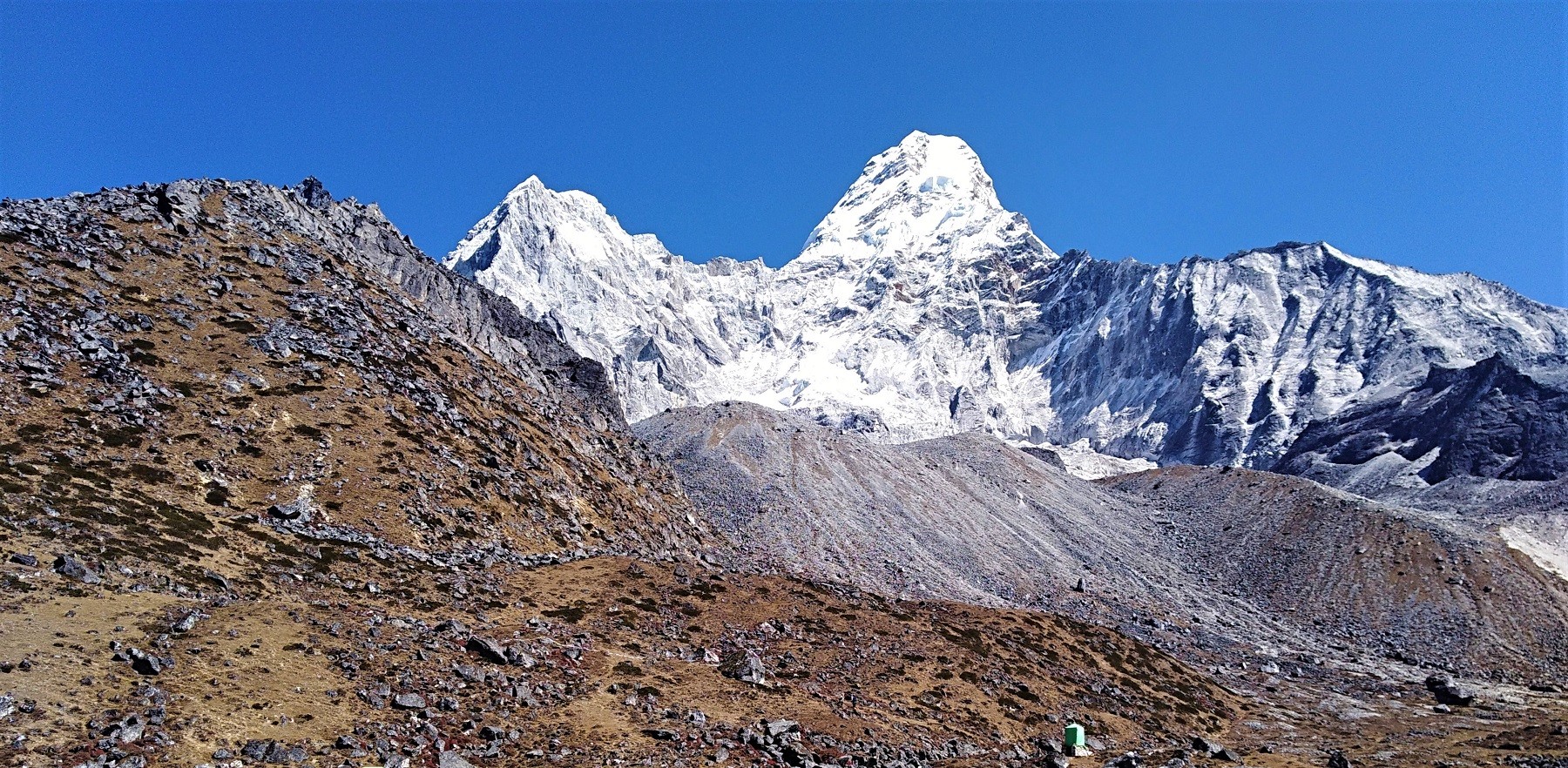 Trek to Amadablam incorporated culture, adventure, and world-class mountain viewing. This trek provides an opportunity to get closer to the world's highest mountains including Mt. Everest, Ama Dablam, Lhotse, and Nuptse. Literally, the term Ama Dablam means Mother's Necklace. When we view Mt. Ama Dablam it looks like to be an arm of the mother protecting her child on each side. And, a hanging glacier signifies the shape of a pendant worn by a Sherpa woman.
Trekking towards the base camp of Ama Dablam, one of the planet's most attractive mountains is a lifetime wish of passionate travelers as the trials to the mesmerizing place comprises ascend and descend that traverse verdant low land, alpine woodlands, glaciers, cascading rivers.  On the cultural side, the trek provides an opportunity to explore the traditional way of life of the highlanders, their culture, practices, and festivities
Take the next step towards achieving your goals of reaching the base of one of the world's most stunning mountains?
6.     Lamjung Trek: Camping under the stars
Situated south of the Manaslu range and north of Gorkha, Lamjung Himal Trek takes you through the affluent cultural heritage of Gurung village to the unexploited area of Lamjung. Lamjung Himal is low altitude trek that cuts through the unique and diverse terrain from low land picturesque hamlets and terraced fields up to the high hills.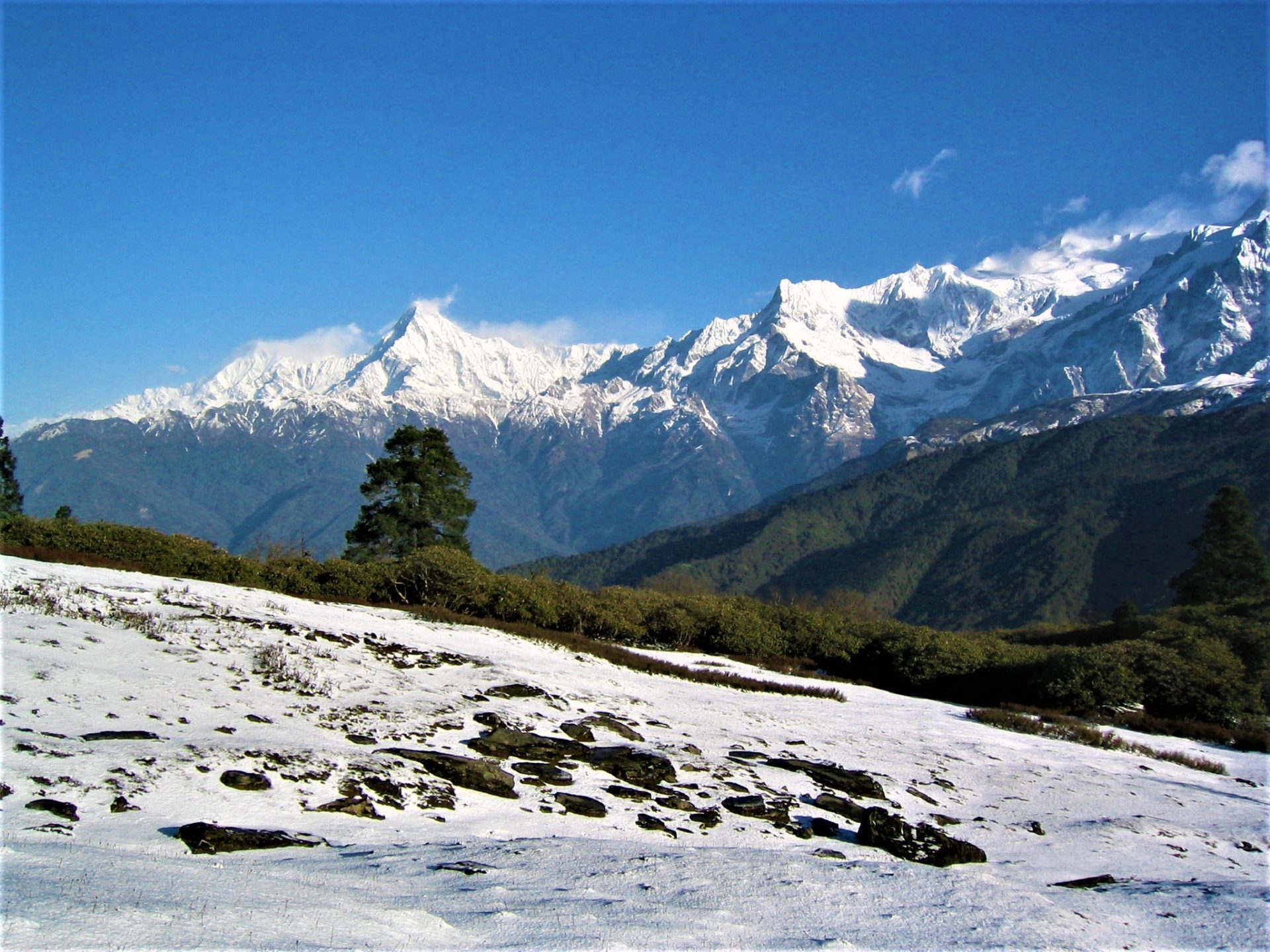 The route presents a beautiful verdant valley, monasteries, rhododendron forest, varied species of vegetation and mountain ridges. Trekkers get a chance to encounter local welcoming people and get a rare insight into the preserve cultural heritage and tradition.
Throughout the trek, the trekkers get to witness the imposing vistas of majestic Himalayan backdrop comprising the Annapurna Himalayan range, the Dhaulagiri Himalayan range, and Manaslu Himalayan range. The best time to do Lamjung trek is during autumn (Mid-September to December) and spring (March to May).
Interested in Lamjung Himal Trek?
7.  Khopra Ridge Community Trek: Classic Trekking adventure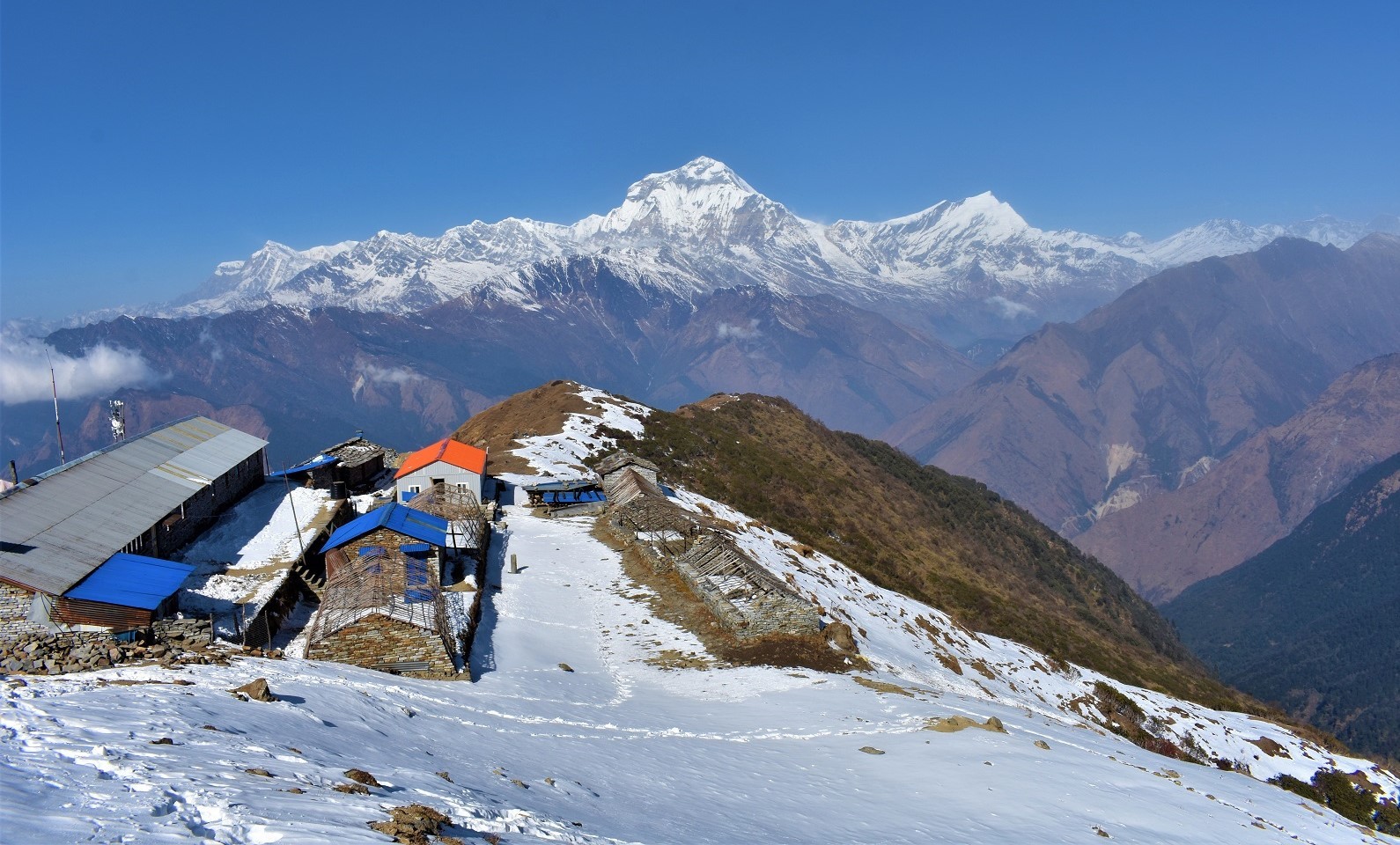 Khopra Ridge has emerged to be the best off-beat trek in Nepal. The trail of this trek goes off the busy trekking trail and presents wonderful mountain backdrop, wilderness, and varied terrain from forest to high alpine, diverse culture and classic trekking adventure in the Himalayas. .In addition, the trekkers get to stay at community-based lodges set up by local villagers. From Khopra ridge vantage point, the trekker is rewarded with panoramic views of the magnificent peaks such as Mount Dhaulagiri, Nilgiri, Annapurna South, Varaha Shikhar and many more.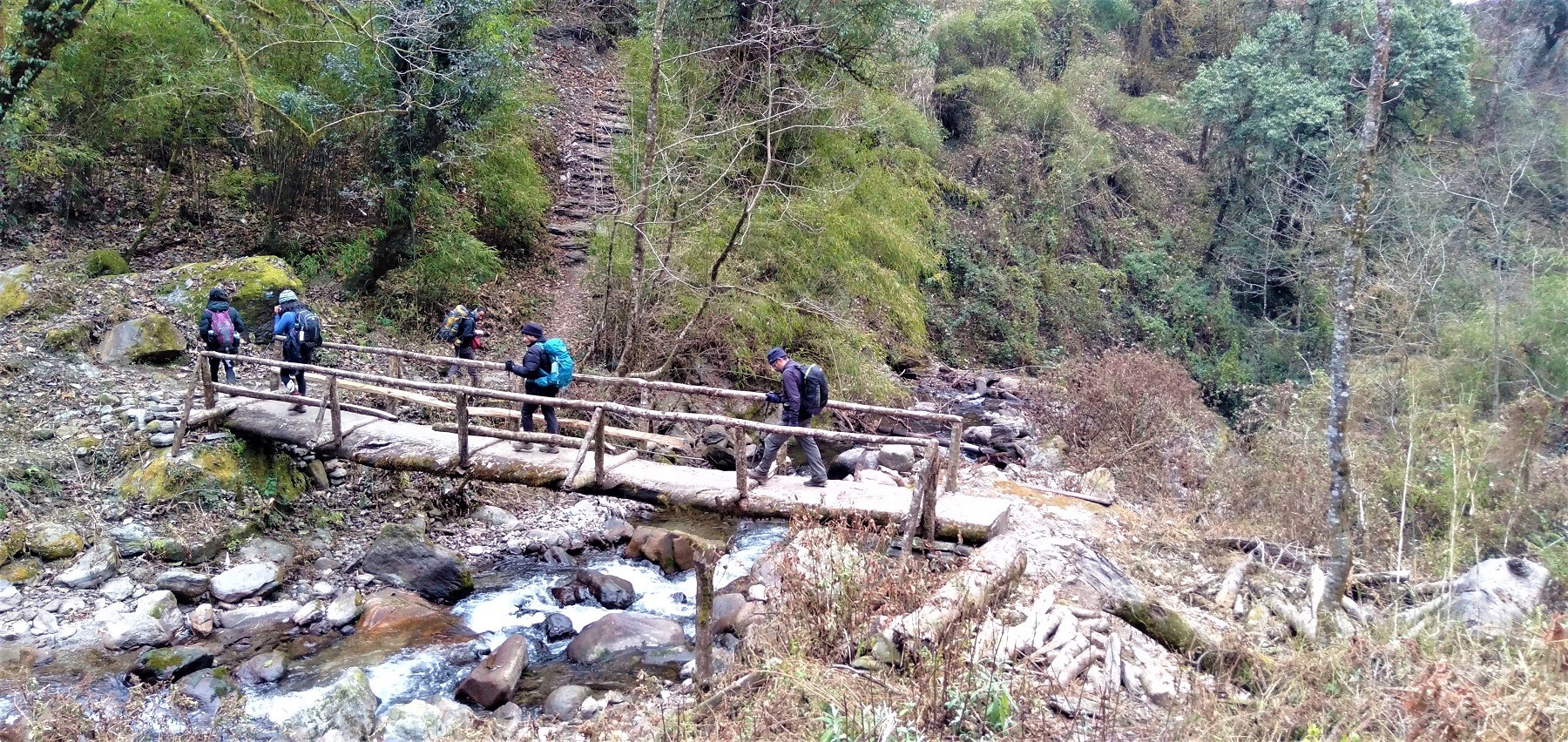 If you believed the Grand Canyon was full of deep gorges, on this trek you can overlook the deepest gorge in the world — Kali Gandaki from the ridge. It divides the summits of the Dhaulagiri range from the Annapurna range. The religious attraction of this trail is the sacred Khaire Lake, which is located at 4,600 meters from the sea level. The ideal time to do the journey would be in autumn (September, October, and November) and spring (March, April, and May).
8.     Poonhill Mulde View Point Trek: Spectacular Vantage Point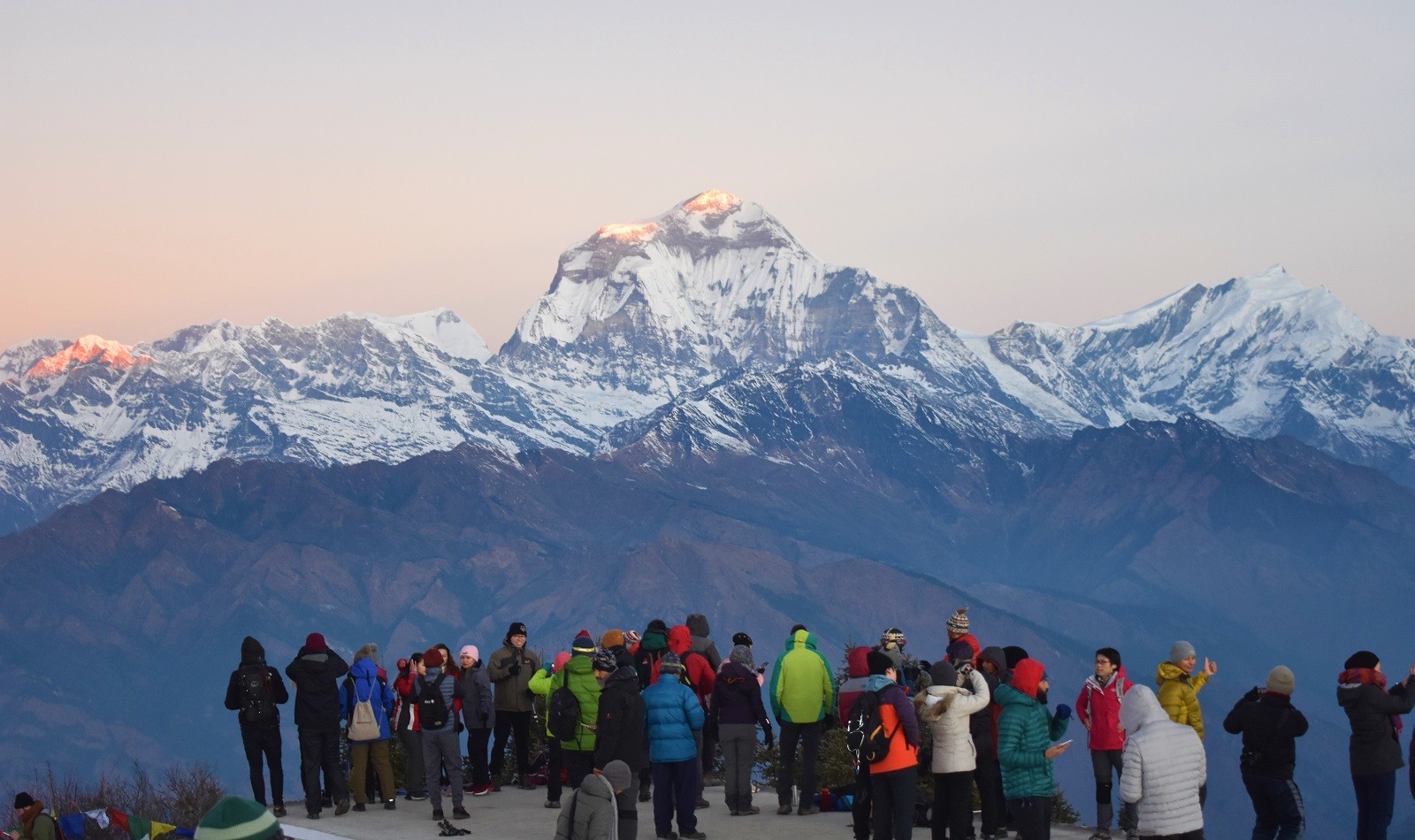 Poon Hill (3,210m) and Mulde Sunrise trek are one of the shortest and most desirable trekking destinations in Nepal where you can savor the marvels of nature and culture of Nepal with your entire family, solo or school groups. This ever-popular trekking trail takes you to the charming ethnic villages and accomplishes your craving to be in close proximity to the massive snow-capped Annapurna and Dhaulagiri range.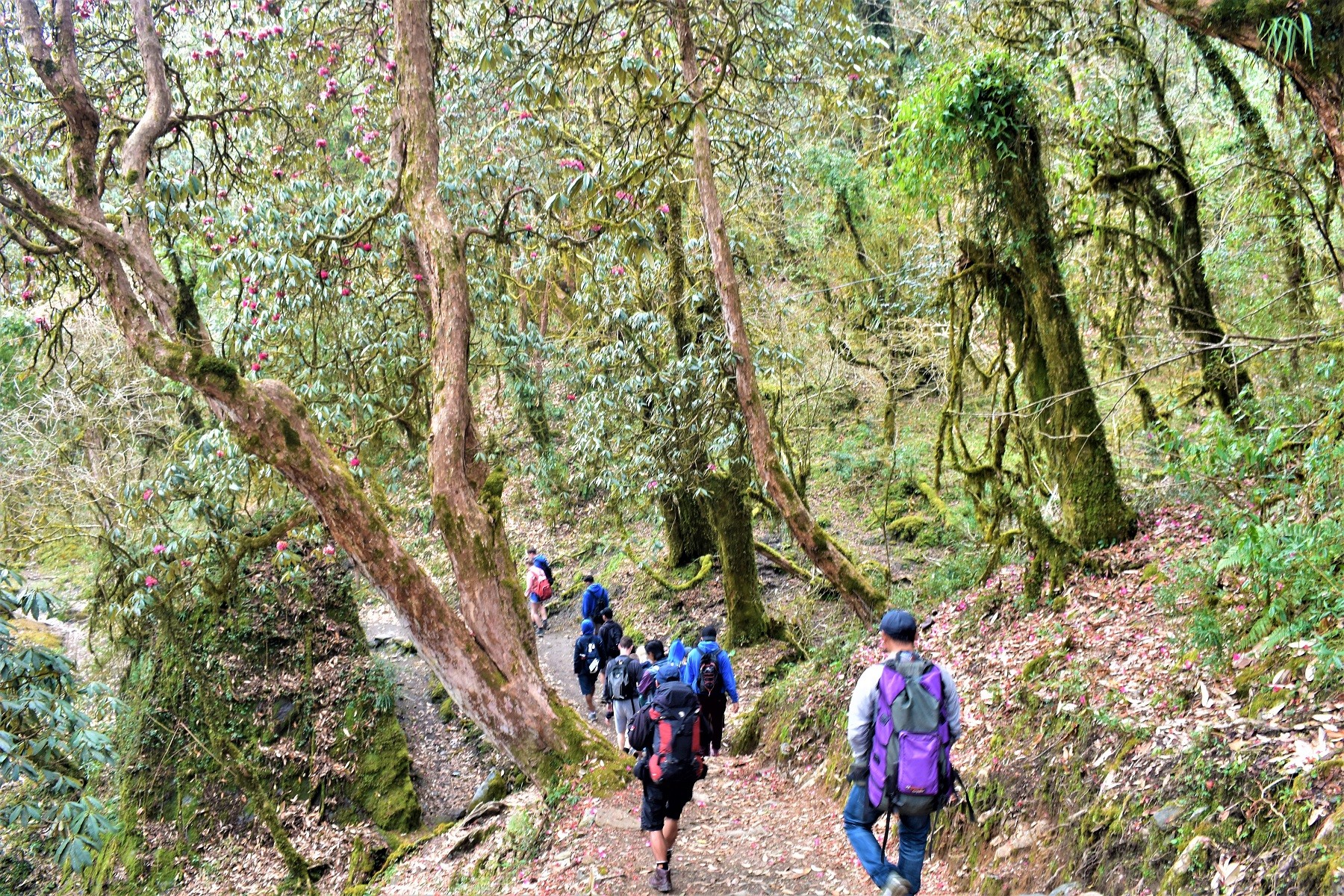 The trek offers the marvelous Himalaya trekking experience with no stresses of altitude sickness. Trekking the main trail to well-known Poon Hill, you'll also be getting the chance to go a little off the beaten route to Mulde (3,640m) — which considered the best hill for sunrise, sunset views.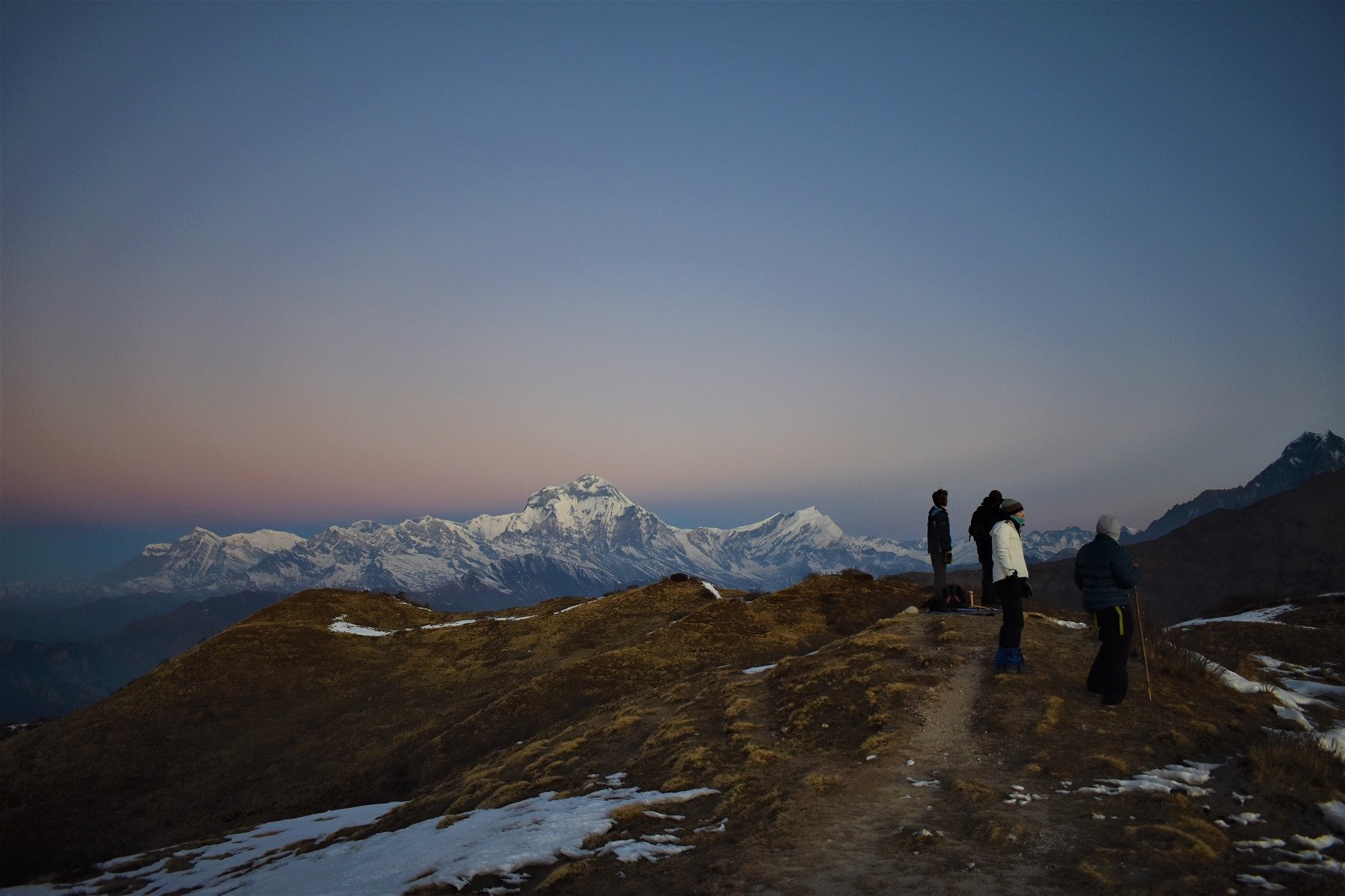 Further, Mulde viewpoint offers to witness the world's renowned Kali Gandaki river gorge, numerous mountainous hills, lush forests, diverse flora and fauna which is well-preserved by the Annapurna conservation area project.
9. Mardi Himal Trek: Hidden Gem of Annapurna region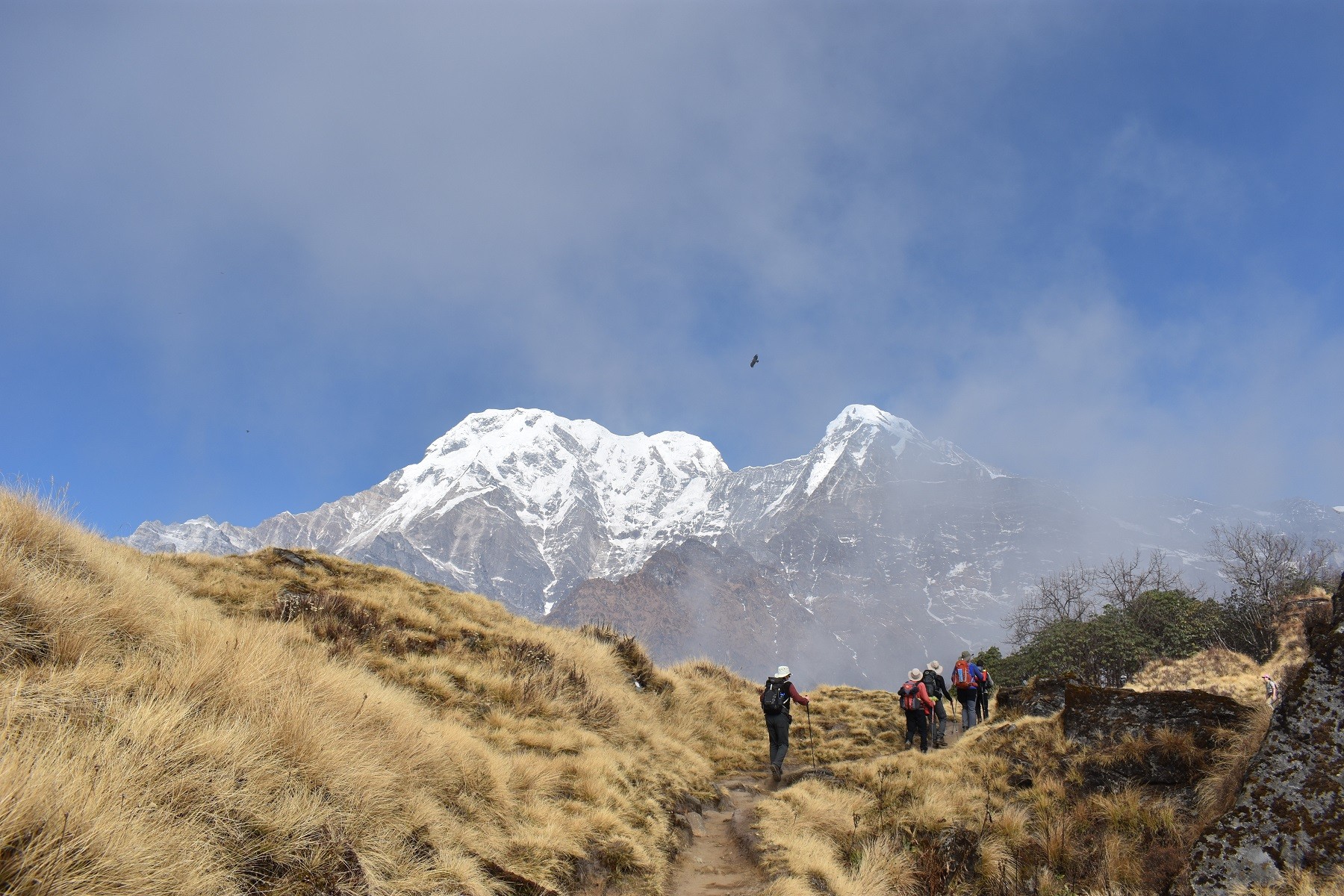 Want to get closer to the almighty mountains, experience the real local culture and get into the wilderness but don't have sufficient time? Then, the Mardi Himal trek is the ideal option for you. Mardi Himal is the best alternative short route to escape away from the bustling of the other trekking routes.
This trek is a hidden gem, just east of Annapurna Base Camp, marvelously located at the foothill of Mardi Himal. This trek amazes trekkers with an exclusive and fascinating natural and rich cultural assortment from starting to the endpoint. The region is also renowned for affluent biodiversity and panoramic scenery.
Throughout the journey, the trekkers' winds through delighted rhododendron forests, quaint villages, lush rolling hills, waterfall, varied flora, and fauna, bloomed aromatic flowers, sparkling rivers until you ascend out of the forest at the altitude around 3,300 meters. The terrain dramatically changes from spectacular valleys, lush forest, into an uneven soaring silvery mountain landscape, with superb vistas of Mardi Himal, Machapuchre, Annapurna South and Hiunchuli. These peaks play hide and seek with you whilst you ascend to the Mardi Himal base camp. You'll find them soaring above the sky, right in front of you!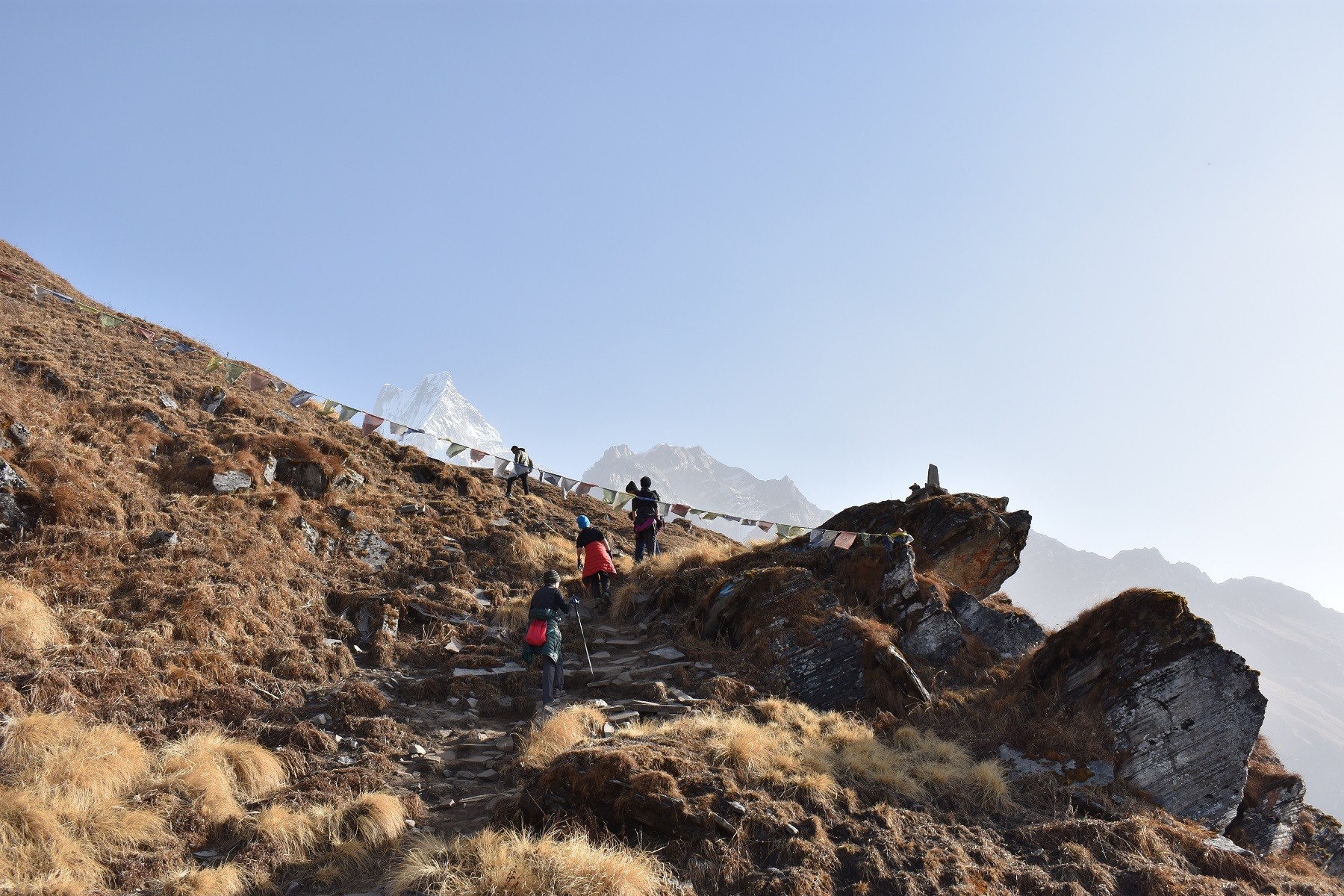 The ideal time for Mardi Himal trek is from autumn (September to November) and spring (March to May). During spring the entire trail covered with colorful rhododendron flowers which are completely spectacular particularly and as the altitude gain, the terrain change.
10. Kathmandu Rim valley Trek: Explore medieval cities, villages with mountain views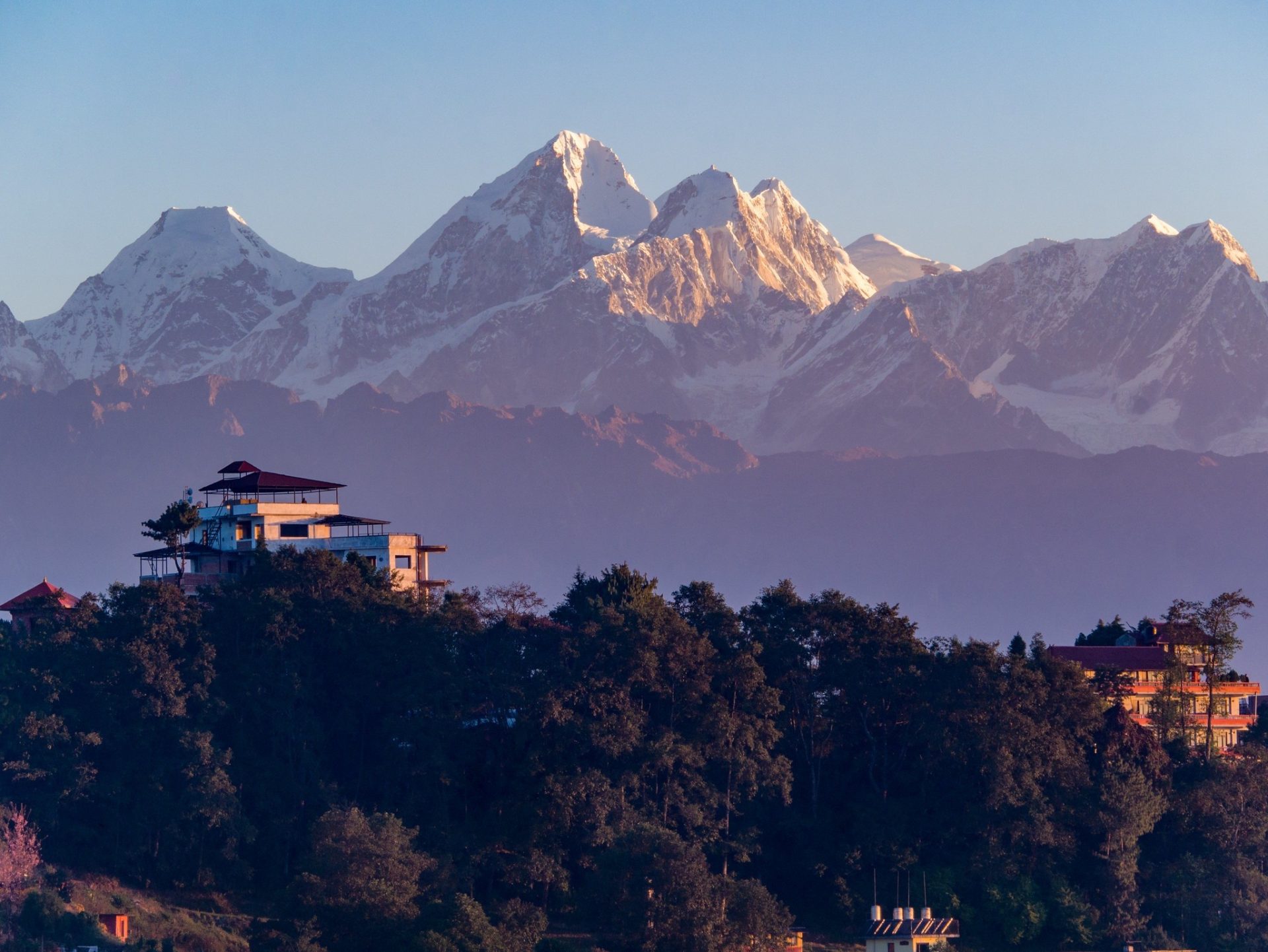 If you have limited time and want to embark trekking with the blend of nature and culture, then Kathmandu Valley Rim Trek is another option. This trek is a well-known trekking destination around Kathmandu valley and sightseeing places around the valley. Kathmandu valley rim trek takes you to different popular places like Chisapani, Nagarkot, Dhulikhel, Panauti and several temples and stupas. You'll sightsee prehistoric cities and settlements along a short trek and wake up to magnificent views of the Himalaya.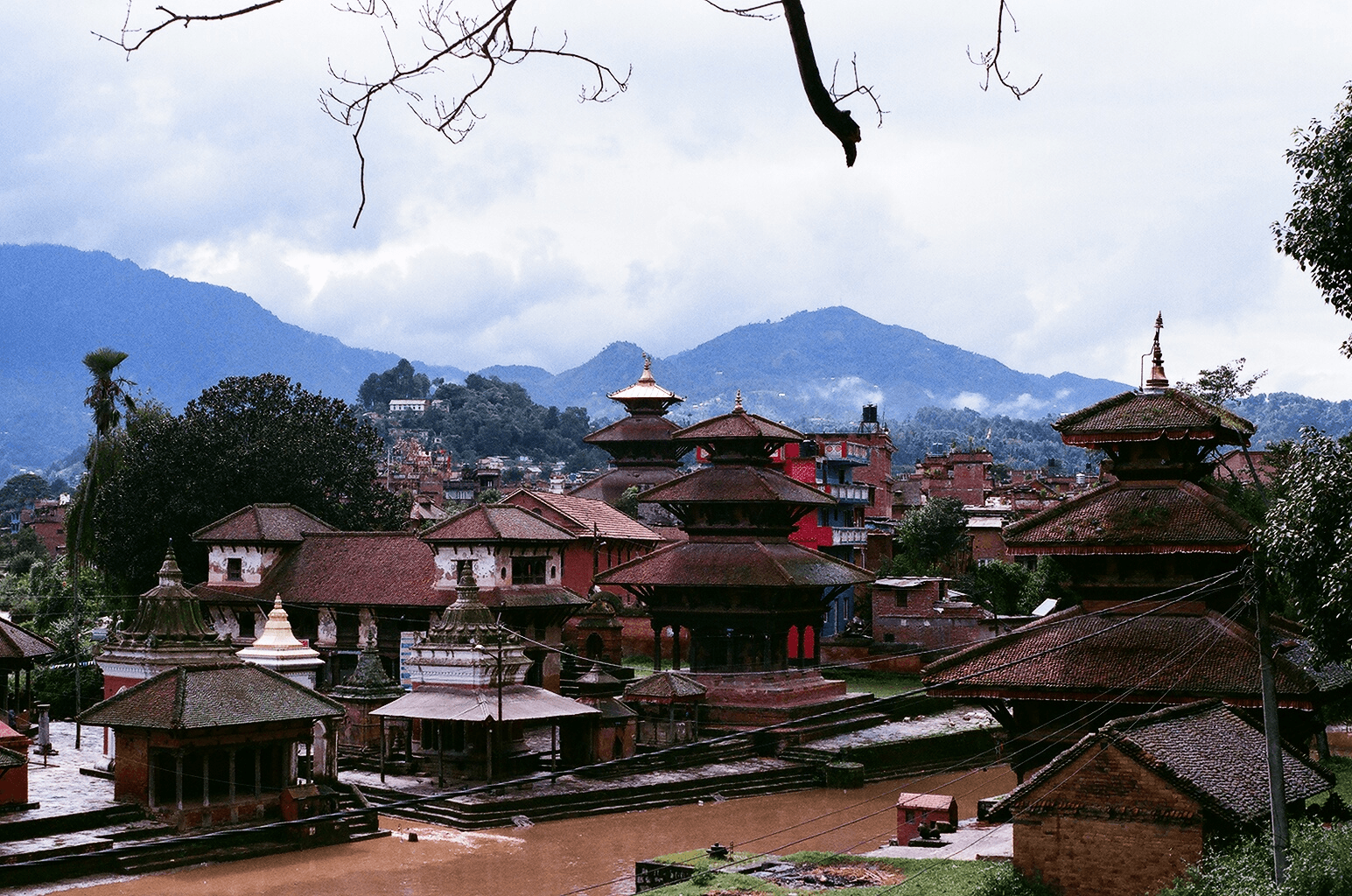 Whilst you savor the superb views of almighty Himalayas, the trekkers will be fascinated by the mystic sunrise over the Himalayas. So this trekking is definitely the perfect way to experience nature and culture around. Even though the journey goes around natural and cultural surroundings, it always brings some breathtaking Himalayan views too.
Interested in Kathmandu Rim Valley Trek?
11. Ruby Valley Cultural Community Trek- Ethnic Villages and Passes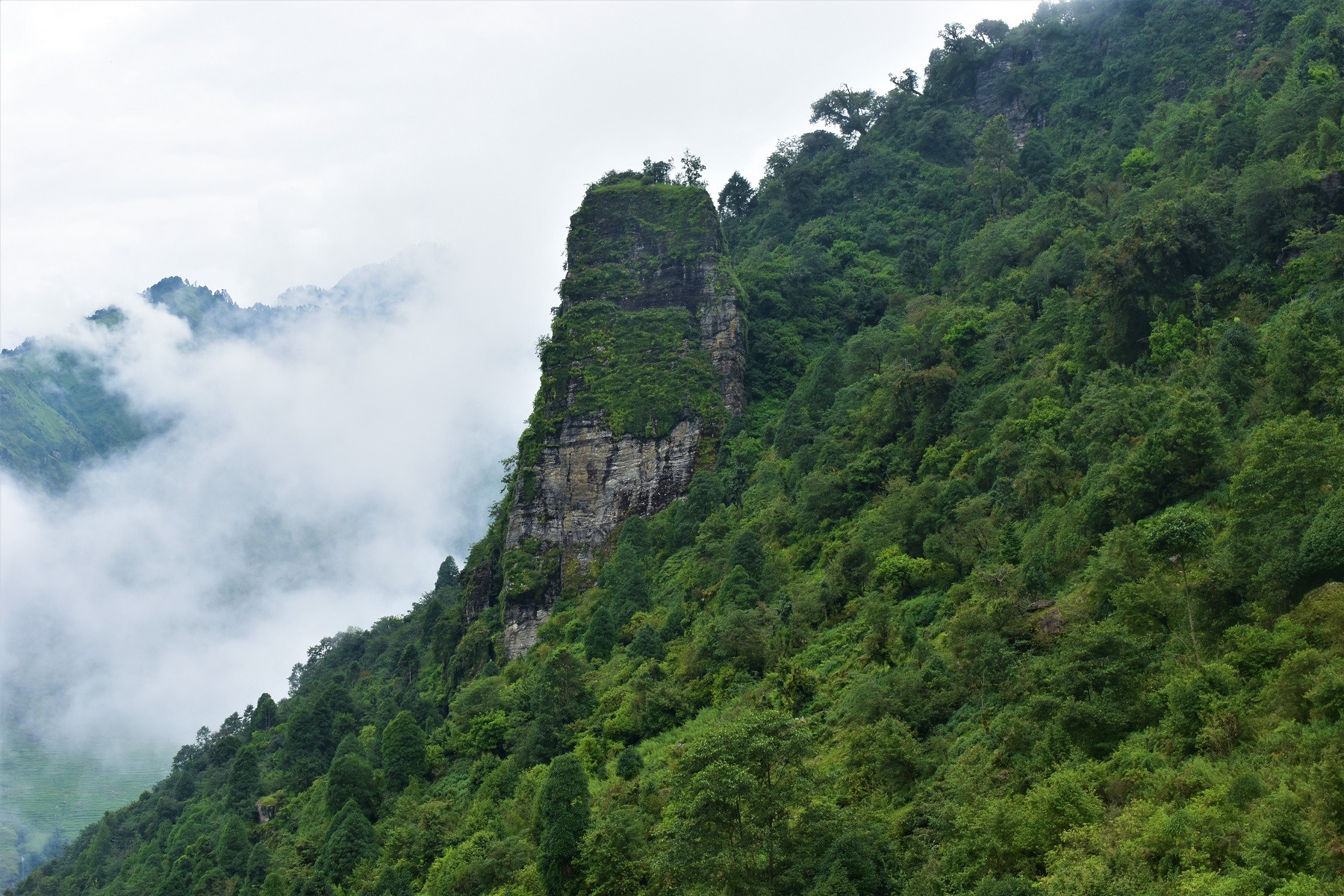 Ruby Valley Cultural Community Trek is a newly explored trail where trekkers experience secluded trails and rare insights of a rural lifestyle. If you wish some first-hand experience than tourist hub trek routes, then Ruby Valley Trek is the one to explore.
Since, this is a very new trekking trail in Nepal, lodges, and guesthouses have not been established yet so home-stay is the mode of accommodation, which lets you get a first-hand experience of Nepalese countryside life as you stay with locals and share their food. The region host diverse communities such as Brahmin, Chhetri, Gurung, Magar, Newar, Tamang, etc. But Tamang who are Buddhists forms the majority of settlers.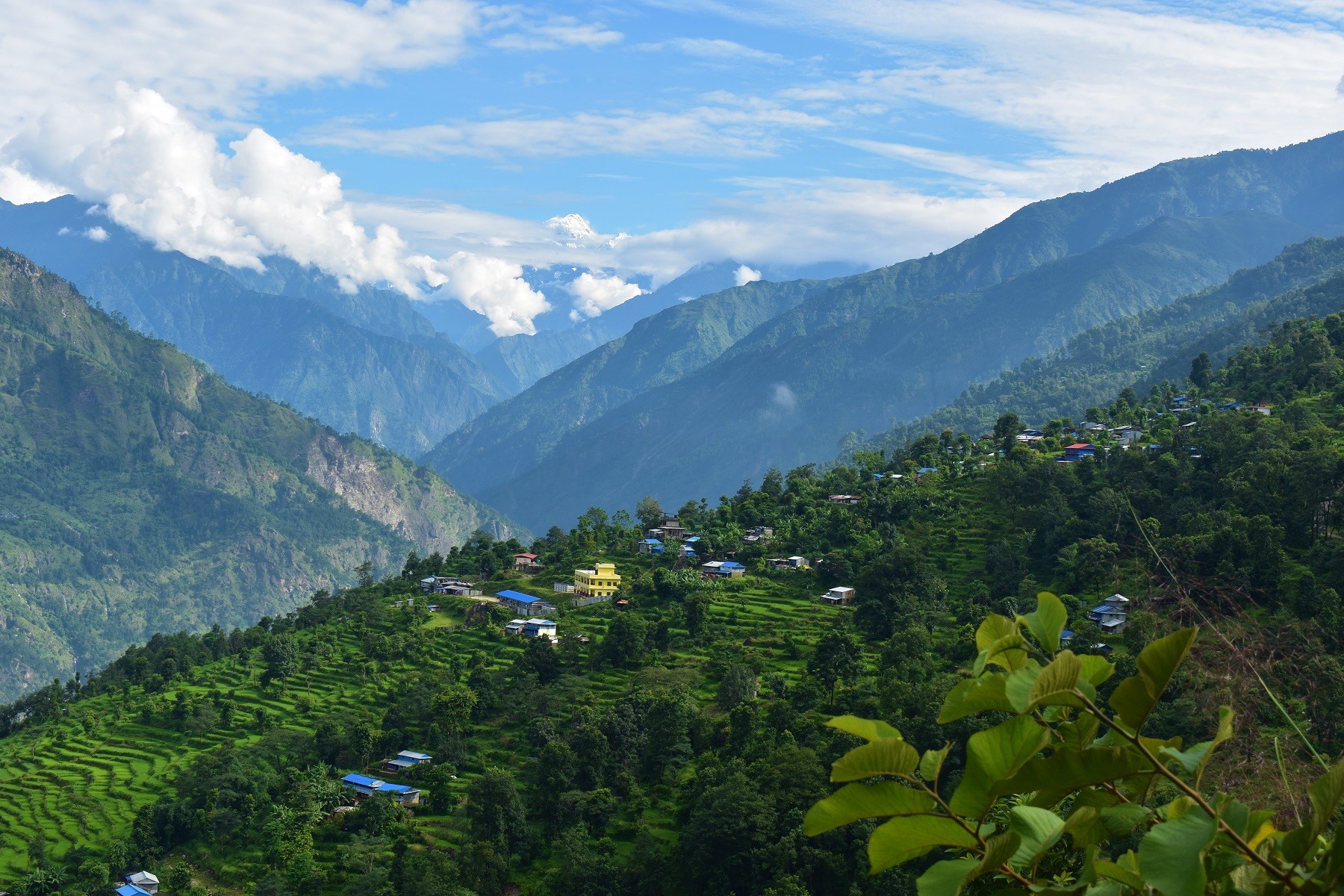 During trek, trekkers traverse several passes like Pangsala pass (3,850 m /12,631 ft.) and Khurpa Pass (3,610m/11,843 ft.)  that present superb vistas of Mt. Ganesh I, locally called Yangra peak (7422m), Ganesh II (7118m), Lapsang Karbo (7043m), Pabil (7,104m), Manaslu and Langtang.
Also, have a look at Ruby Valley and Ganesh Himal Trek offers in the Langtang region
11. Tamang Heritage Trek- Traditional villages of ancient hill tribe with primitive traditions
Tamang Heritage trail is recently discovered trail and feature off the beaten trails experience which highlights a primeval lifestyle of people. These trails are away from the busier trails and put the main stress on culture than some of the more classic trails.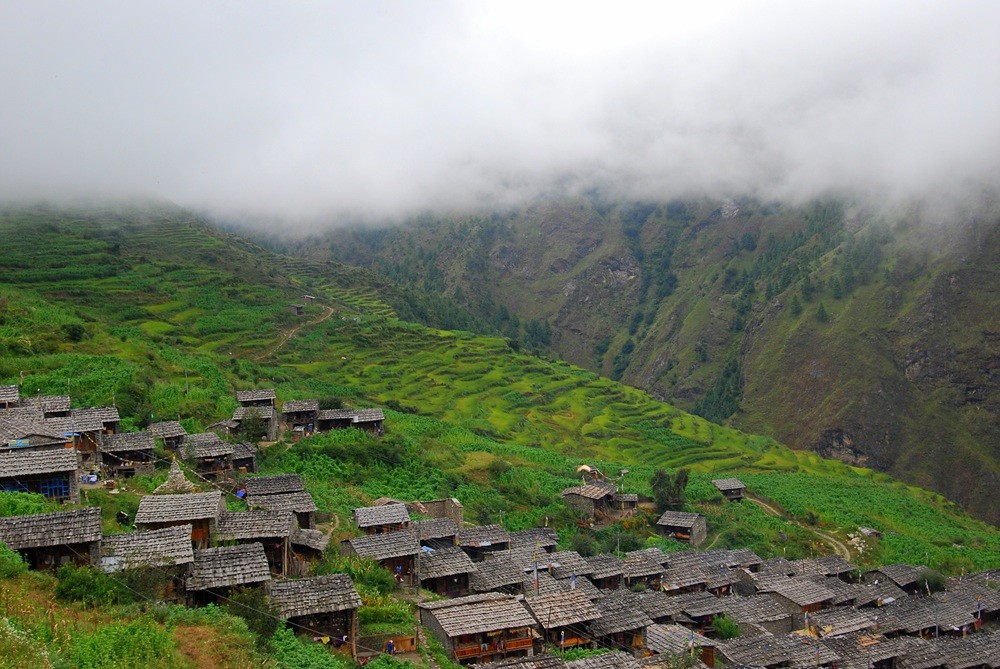 The trail is predominately resided by the Tamang ethnic community who are the oldest horse merchants who migrated between Nepal and ancient Tibet. The civilizations and practices of the region are influenced by Tibetan culture. Indeed, numerous of the dwellers of this area have traveled from Tibet and many have converted their surname to that of Tamang.
Tamang Heritage Trail treks present an entire wilderness experience where trekkers walk through the less-trodden path, quaint villages of Tamang ethnic groups, and explore virtually unexploited culture lifestyle, customs, and crafts.
Likewise, warm hospitality by the locals rich in their unique vibrant dress and ornaments, their houses built with beautiful wood crafted doors and windows are the main highlights of this trek. The cluster authentic hamlets with the backdrop of magnificent snow-clad mountain ranges, terraced fields are simply breathtaking. If you are trekking in March-April, the entire trail is dominated by colorful rhododendron flowers.
Frequently asked questions about short treks in Nepal
Q 1: What is tea house trekking? How is it organized?
In Nepali, the word for tea house is known as Bhatti that caters freshly cooked meals and accommodation for the night. Originally, teahouses were little shops where trekkers could take a break for a rest and a cup of tea. Gradually, as more and more visitors start to discover the mountains in Nepal, these tea houses have established into complete lodges offering meals and accommodation to trekkers. And it's not a place where you will only be served tea. Nevertheless, it's where you will get home-prepared meals and where you can also spend the night.
To know more about Tea house link the article below:
5 reasons to choose teahouse lodge trekking
Q2: What is Camping Trekking? How is it organized?
Camping is a classic style of trekking conducted where the trekking takes place in remote areas and the place where there are fewer tea house lodges. The camping trekking is based on the trekking where the night will be resting at the camps. Camps are set up in various areas of the trekking route. Our team of leaders, guides, cooks, Sherpas, and porters will accompany our clients and take care of all the technical and logistical parts during camping treks. We will have our meals at the camps where our cooks prepared and serve scrumptious meals for our clients.
Q 3. What is the best season to trek in Nepal? 
Trekking in Nepal can be carried out all the year-round. Nepal comprises four major seasons and each season has its distinct attractions to offer. To know more about seasons please refer to the link
Q 4. Should I be fit for short trekking?
For the easy, moderate and low elevation trekking the trekkers do not need technical or previous trekking experience. However, it is recommended to do jogging, swimming, walking and bicycling for a few weeks before the trekking commences. To learn more please click the link
 Q 5. How many hours do I walk in a day during the short trekking?
You will walk normally for about 3-6 hours per day.
Q 6. What is the suggested packing list for a trek?
Gears required depends upon destination and season you plan to trek. However, Trekking shoes, down jackets, sleeping bags, hiking poles are the important ones. Learn More
Q 7. Does your company organize solo trek?
Nepal Sanctuary Treks organize trekking holidays to solo female and male trekkers.  All programs are prepared by the travel specialist to suit clients' personal needs and preferences. To know more about it refer to the link
Q 8. Do I need to get a visa to travel to Nepal? What are the documents required to visit Nepal?
All nationals must hold a valid passport. Your passport must be valid for at least six months beyond your expected date of departure from Nepal. An entry visa for all except Indians for Nepal is required. You need to arrange these prior to departure with the relevant embassy/consulate or you even get a visa on arrival. Learn more:  Visa and Documents requirement
Q 9:  Can I apply for the visa online?
You can get visa online – filling the form and following the step by step procedure at http://online.nepalimmigration.gov.np/tourist-visa
Q 10. Are there any age limits to do short treks in Nepal's Himalayas?
There are no age restrictions for trekking. Lower altitude regions are ideal for a family with children even solo and school groups.
Q 11. What is Altitude Sickness?
Altitude sickness, the mildest form being acute mountain sickness (AMS), is the negative health result of high elevation, which happened by speedy exposure to low amounts of oxygen at high elevation. To know more about Altitude sickness link  the article: Altitude Mountain Sickness: Causes, Symptoms, and Prevention
Q 12. Does your company organize Family?
 The trekking trails for family range from easy to moderate hiking trail with beautiful mountain and Himalayan views to enjoy the local culture and villages. We designed the program considering the children's age, family trekker's interest preference and let trekker walk on their own pace, take numerous breaks and generate new stamina to walk more. Learn more about tips and age range for a family trek.
Q13: Does your company organize the CAS trip?
Over the last 20 years, Nepal Sanctuary Treks has made the CAS trip (Creativity, Action, and Service) for several schools. Specifically, our school trip to Nepal is customized to your learning requirements and our specialty centered in handling school groups on special missions, keeping in mind the anxiety of parents and teachers when sending children away on such excursions. If you want to learn more about CAS Trip in Nepal, have a look at CAS Blog.