Bird Watching trails is a very fascinating adventure. It's extremely enjoyable to observe birds in different colors, shapes, and sizes. Rich in biodiversity, the Himalayan country Nepal commended as one of the best birding holiday destinations in the world. From the almighty Himalayas in the north to the flat land Terai in the south, Nepal can be divided mainly into three geographical areas with the hilly region sandwiched in the middle.
                                                                          Himalayan Monal  (Lophophorus impejanus)
The avifauna of Nepal comprises 873 bird species, which is 10% of the total species of birds found in the world. The varied array of charismatic and vibrant birds comprising indigenous and migratory birds spread across an incredible range of habitats and locations of Nepal. The weather and topography of Nepal allow hundred of migratory birds of diverse feathers flock together in the land of Nepal. Some of the unique species of migratory birds are Eurasian Cuckoo, Pied Thrush,  Asian Paradise Flycatcher, red-necked phalarope and many more.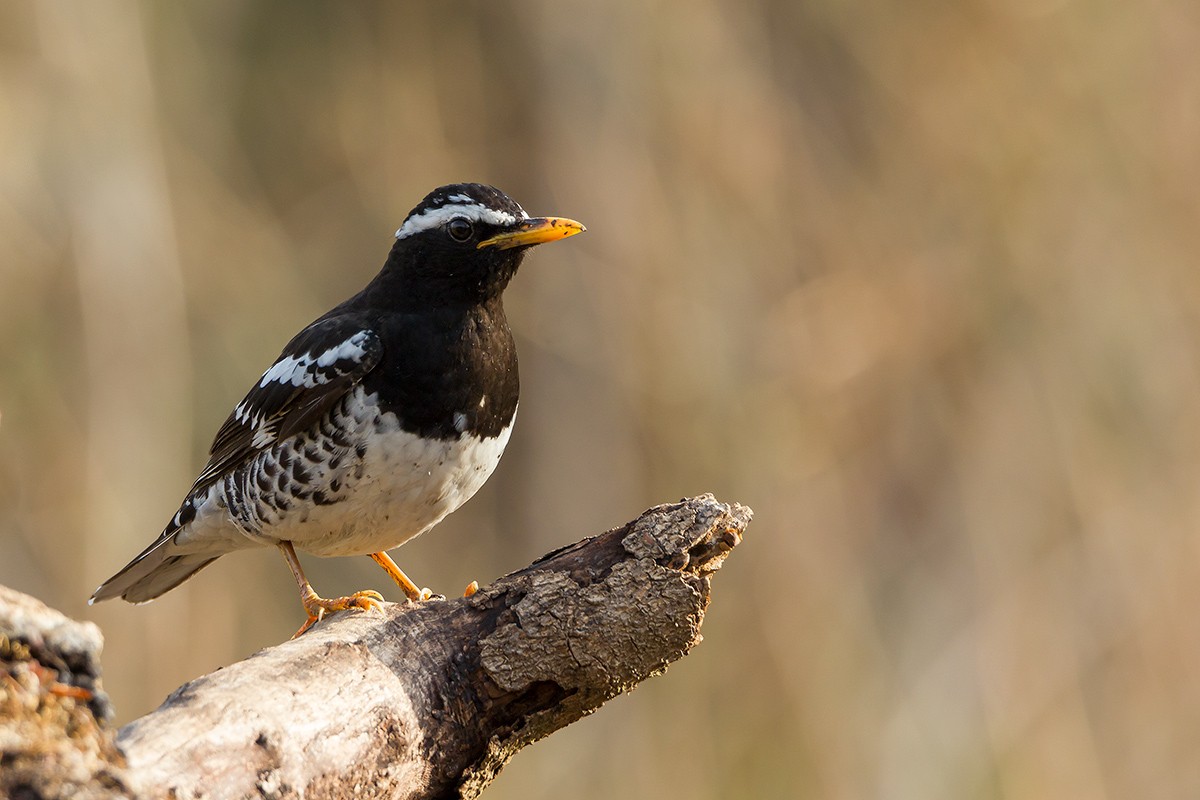 Pied Thrush (Geokichla wardii)
It will be an incredible experience for anyone who desires to visit Nepal particularly for bird watching, trekking, and safari. The bird watching tour, trekking, safari, and hiking provides distinct birding opportunities for bird lovers and professional birders.
Several treks present fine introductions to Nepal and its birdlife. Among these, the Everest area provides almighty mountains along with high altitude birds. Dhaulagiri and Annapurna peaks are remarkable on the Kali Gandaki trail and one may encounter Tibetan species birds, native and migratory birds around Jomsom which is north of the Great Himalayan chain. There are also innumerable birds found in the Langtang routes. The trekkers can relish the melodious sound of various birds and observe them along the trail.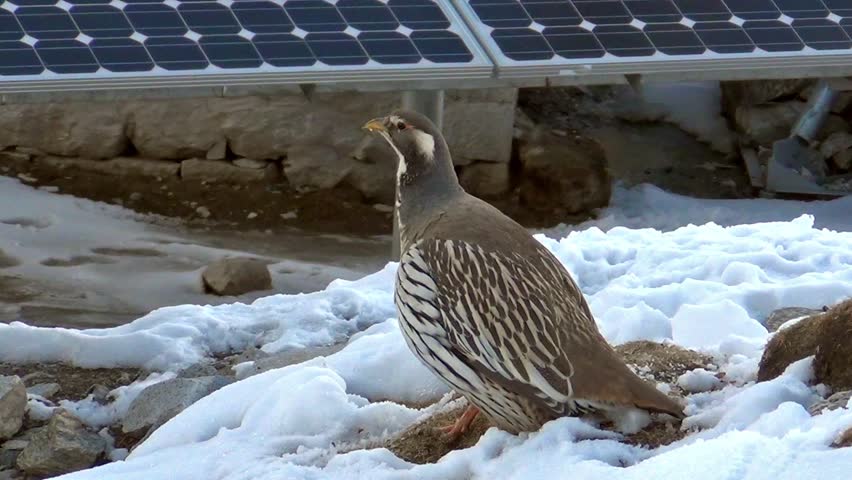 Tibetan Snow Cock
One of the interesting attributes of birds of the Himalayas is that birds fly to exceptional altitudes. Mountain climber's often reported that birds such as choughs, bearded vulture (lammergeirts), ravens, and eagles can soar up to an elevation of 7,625 meter/25,000 ft.; while some birds fly even higher. Seemingly birds acclimatize readily to low oxygen pressures and can adjust without adaptation to elevation that would rapidly reduce a person's unconscious. (Fleming, Birds of Nepal, 1984)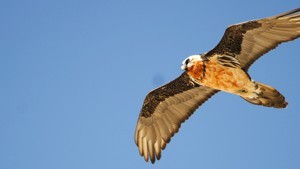 Bearded vulture (lammergeirts)
Also, one can get an opportunity to see the vibrant birds during the safari and walk around the lake. If you are keen to undertake hiking, or safari then there are several places where you get to encounter with indigenous, migratory and endangered birds. Some of the prominent places for bird watching are Koshi Tappu Reserve, Bardiya National park, Chitwan National park, Lumbini Crane Sanctuary (LCS), Jagdishwar Reservoir in Lumbini, and Beesh Hazar Tal.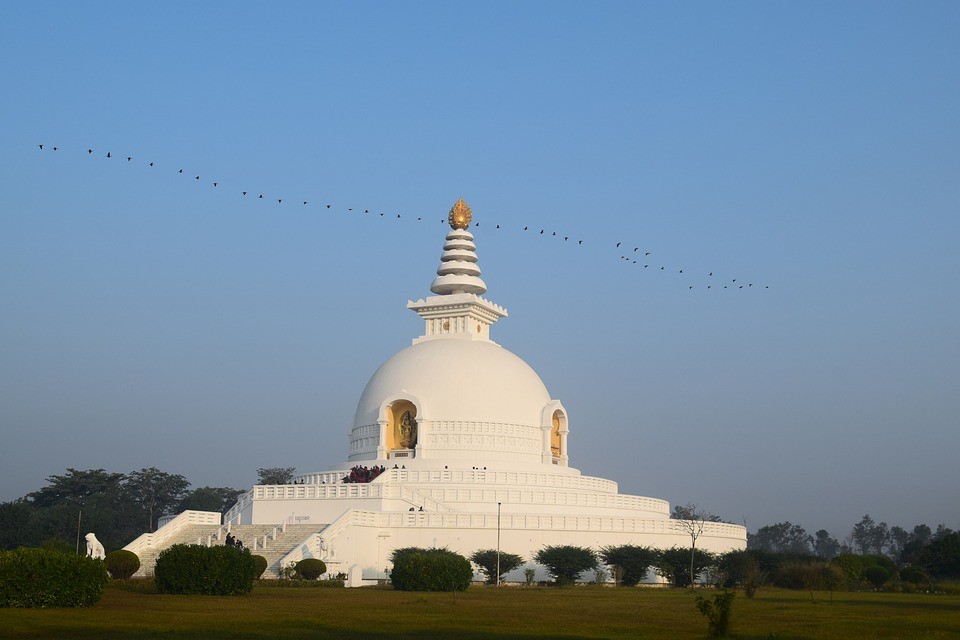 Whether you're a novice seeking for your first pair of binoculars or an experienced bird watcher, Nepal is a perfect destination for bird watching. For receiving an ultimate bird watching experience, one does not even have to travel far from Kathmandu.
Birding in the woodland of Kathmandu offers a chance to learn and understand the plenty of diverse birds in Nepal. Although Kathmandu has been greatly urbanized, the charisma of the rural setting and the atmosphere of medieval Nepal are still well-preserved and unspoiled. The pristine environment in the surrounding lush hills of the Kathmandu Valley is still intact. There are around 120 species of migratory birds and around 400 species of native birds reside around the valley itself. You can appreciate birds along with irresistible views of Kathmandu valley and a range of snow-capped mountains.
If you do not have adequate time then short trekking or hike around Kathmandu valley suits your bird watching cravings. The ideal spot for bird watching in Kathmandu valley is Phulchoki,  Nagarjun, Shivapuri, and so on. The bird watching combines the short hike where the hiker can soak into the serene nature and harmonious chirping of birds.
Bird watching is a fascinating interest that is suitable for individuals of any age group. If you are traveling with family, individual or school groups then Nepal is a perfect destination for bird watching accompanied by trekking, hiking, cycling, and safari. Along the trail, you'll be escorted by our expert guides who'll assist you to make the best trip, and for the most part, you'll stay at locally run teahouses and eco-friendly lodges, deep in the heart of serene environment, where you can spot birdlife from the coziness of your accommodation.
Bird watching has seen to it that more parents are enthusiastically inspiring their kids to indulge in bird watching. Watching birds can take on various different forms. For some individuals, it is a relaxing activity that lets them set out into the fresh air and visit places they may not generally go. Some bird watchers are persistently fascinated to know more about the objective and subjective things about bird species, such as their behavior, appearance, feeding, and location. 
Whatever drives birdwatchers, they like observing birds appreciate their magnificence and freedom, and since it's entertaining and rewarding. When you're birding, you're essentially in a different world, the sound of bird melody and swishing leaves lead to take a deep breath of fresh air.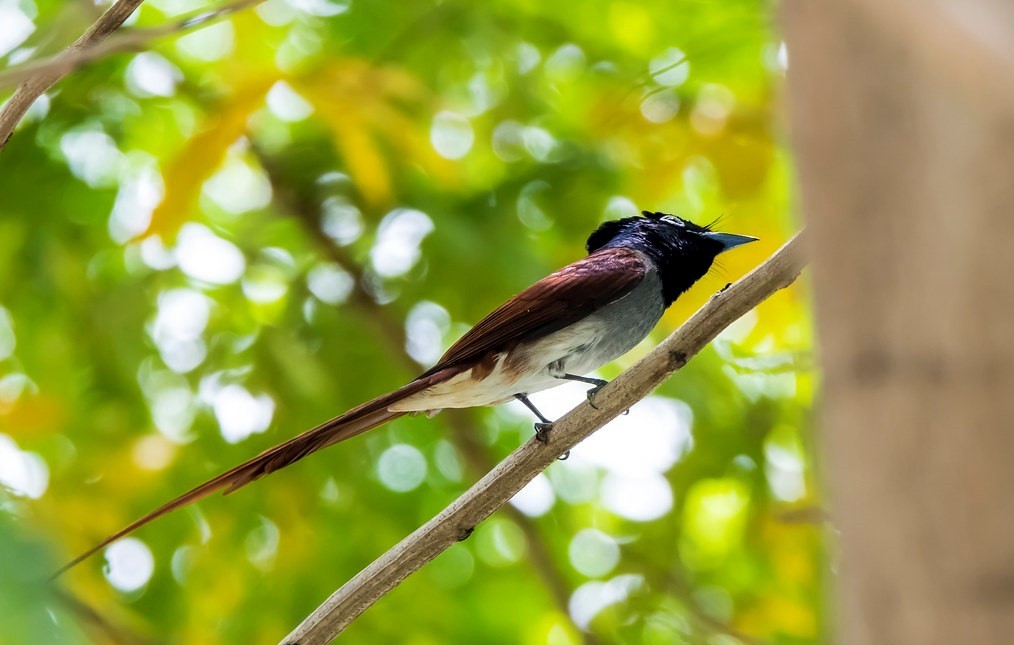 Asian Paradise Flycatcher
A chirp of a different array of birds in a melodious sound all around will certainly soothe the mind and body. According to the Journal of Environmental Psychology, the study had found that just listening to bird songs contributes to perceived attention, restoration and stress healing.  The research published by the journal of Environmental pollution stated that "While waiting to catch a sight of your preferred bird, you're deep in nature and can spread out in its benefits. Spending time sipping fresh air can help prevent respiratory problems.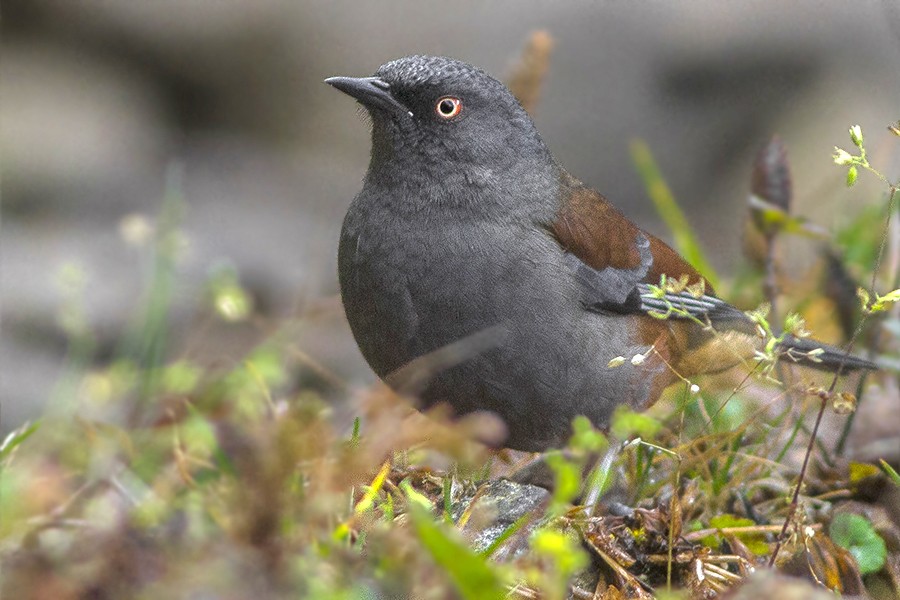 Maroon-backed accentor
Nepal Sanctuary Treks is happy to organize birding trips throughout Nepal. Standard tour and fully tailor-made privately guided tours of any duration are led by our passionate and experienced professional guides.  The birdwatching trip can be combined with hiking, trekking, safari. So let's go on and start discovering the popular bird-watching destination in Nepal. 
Wondering where the best places in Nepal for bird watching? Read on to discover the top sanctuaries for bird watching in Nepal.
Birding Sites in Nepal
Shivapuri Watershed and Wildlife Reserve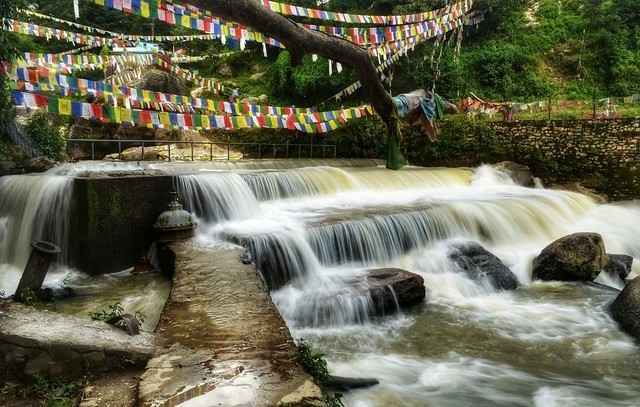 Shivapuri is a fascinating place following the lorry beaten path through the blanketed forest offering a spectacular birds-eye view of the city. Apart from serene nature, Shivapuri is a paradise for bird enthusiasts. It is a domain to several ranges of stunning birds and other wildlife. A total of 318 bird species has been reliably recorded from the park and neighboring zones.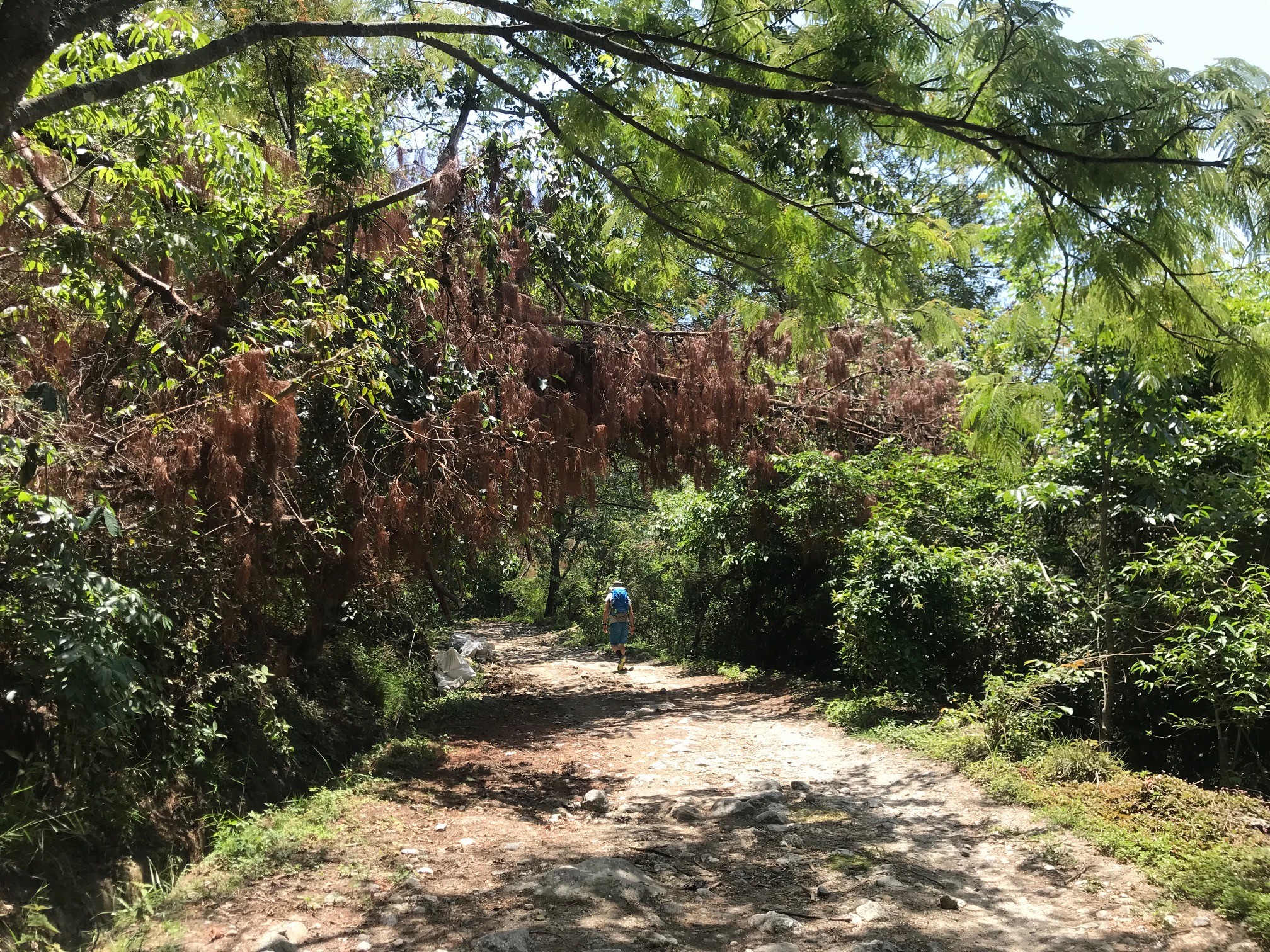 Located on the northern peripheral of Kathmandu valley, Shivapuri National Park (144 km2) is about 12 km away from the center of the capital city. The park was declared a protected area in 1975 managed by Shivapuri Watershed Development Board.  Later in 2002, the park was stated as the nation's 9th national park and recognized as Shivapuri Watershed and Wildlife Reserve. The park situated in the transition area between subtropical and temperate climates. The vegetation comprises of an assortment of natural forest containing pine, oak, rhododendron, etc., depending on elevation and features.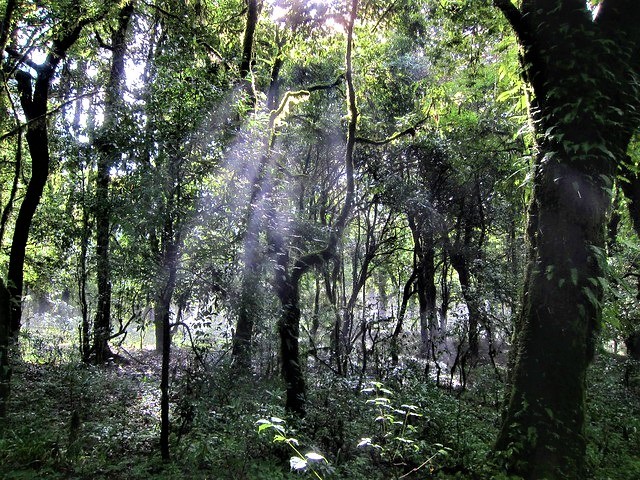 Birdlife International (BLI) has recognized Shivapuri National Park (SNP) as an Important Bird Area (IBA) due to its international significance for endangered species and for their habitat conservation. The forests hold an important population of three restricted-range bird species: Hoary-throated Barwing, White-throated Tit, and Spiny Babbler which is also Nepal's only endemic bird.
Apart from restricted bird species, one can take a delight observing the several other species of birds such as the Hill Partridge, Yellow-browed Tit, Great Barbet, Wedge-tailed Green Pigeon, Eurasian Jay, Kalij Pheasant, Red-tailed Minla, Nepal Fulvetta, Asian Paradise-flycatcher, Rufous-bellied Woodpecker, Mountain Scops Owl, Speckled Piculet, Rufous-bellied Niltava, White-throated Needletail, Yellow-bellied Bush Warbler, Northern Goshawk, Maroon-backed Accentor, White-tailed Rubythroat, and Grey-winged Blackbird. 
 The park is also the home to birds of prey comprise various eagles, and a diverse range of robins, warblers and laughing thrushes. Two internationally threatened birds, the White-rumped Vulture, and Hodgson's Bushchat can also be seen during a hike. The Nagi Gompa is an ideal spot to catch a glimpse of eagles and, since they frequently fly pretty low, to capture them in your camera.
Phulchowki Hill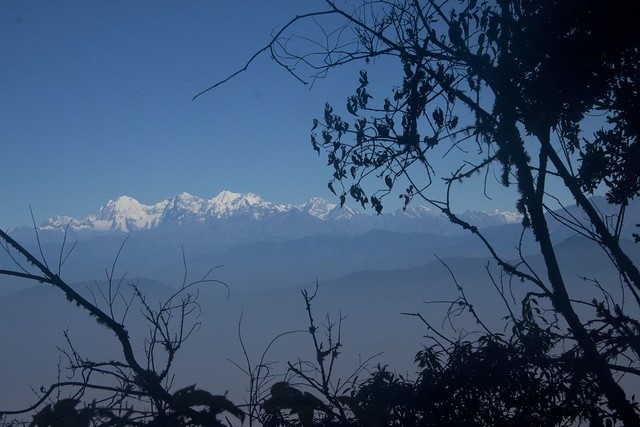 Phulchowki is the most popular bird-watching spot situated 20 km southeast of Kathmandu. Phulchowki, being the highest point of the hills surrounding the valley, is also a well-known place for a short one-day hike. Encircled by the verdant hills, the area encompasses the lush forest on the upper slopes of the Phulchowki hill and those on the lower slopes, extending into the Godavari. The hills surrounding Kathmandu valley serve as nesting places for a great density of bird species around 300 species.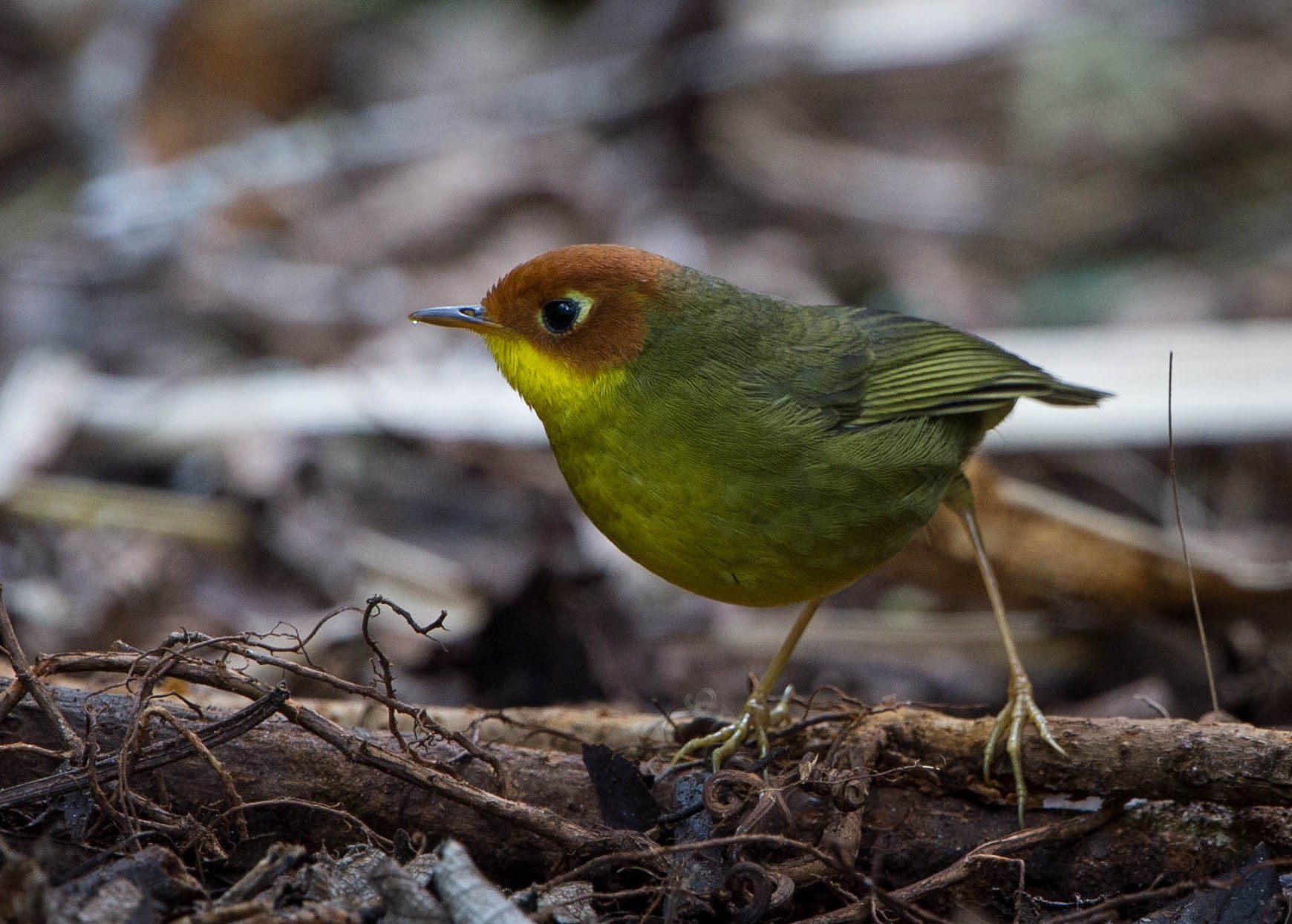 Chestnut-headed Tesia
After you reach the Godavari, you will just have to hike for approximately 4 hours through a blanketed sub-tropical wooded area to reach the Phulchowki hill. You can visit the shrine of Phulchowki Mai and get an eagle-eye vista of Kathmandu valley along with spectacular snow-capped mountain backdrops. Over here you can catch a glimpse of birds such as the Rufous-gorget Flycatcher, Rufous-bellied Niltava, Yellow-browed Tit, Chestnut-headed Tesia, Red-billed Leiothrix, Whiskered Yuhina, Besra, Bronzed and Racket-tailed Drongos, Greater Yellownape, Grey-headed Woodpecker, Nepal Cutia, Ultramarine Flycatcher, and Black-winged Cuckooshrike.
Other birds comprise diverse kinds of warblers, babblers, and thrushes. In addition, various sorts of an eagle are can be spotted in this area. The area is also the home to numerous vultures, including the White-rumped Vulture, the Slender-billed Vulture, and the Cinereous Vulture.
The endangered bird named Blue-naped Pitta found in the area. Likewise, if you are lucky enough you might spot Spectacled Finch, a passage migrant. Due to snow in winter in Phulchowki Hill, many birds fly down to the lower hills. This is an exciting feature of bird watching in the area and can save bird enthusiasts time and energy.
Godavari Botanical Garden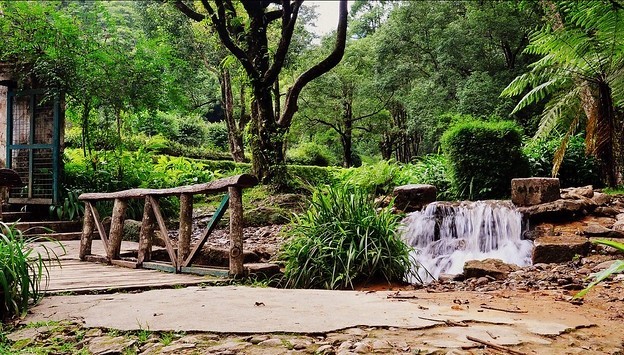 Situated in the base of Phulchowki Hill (2,715 m), Godavari Botanical Garden (1515m), records over 100 species of birds comprising the lesser racket-tailed drongo, rufous-gorget, slaty-backed and rusty-tailed flycatchers, orange-breasted Hodgson's redstart, pygmy Asian barred owlets Tibetan siskin and the spotted forktail. 
A visit to the botanical gardens is a perfect getaway to escape the city for a day and unwind in soothing energy of nature with the bird chirping all around. The garden is termed after the Godavari Spring that can be found just a few hundred meters away from the main gate. 
Godavari Botanical garden is an ideal spot for those who do not want to hike Phulchowki hill for bird watching. Founded in 1962 AD, the area of the Garden is 82 hectares surrounded by evergreen natural forests and plants comprising exotic and local flora, and dwelling place for birds and butterflies. There are over 500 diverse plants to be seen in the gardens. Bird watching in and around the Godavari Botanical Gardens, one can encounter the similar birds as on the lower slopes of the Phulchowki hill. In winter, Flocks of Tibetan Serins are generally seen in this area.
Nagarjun Forest Reserve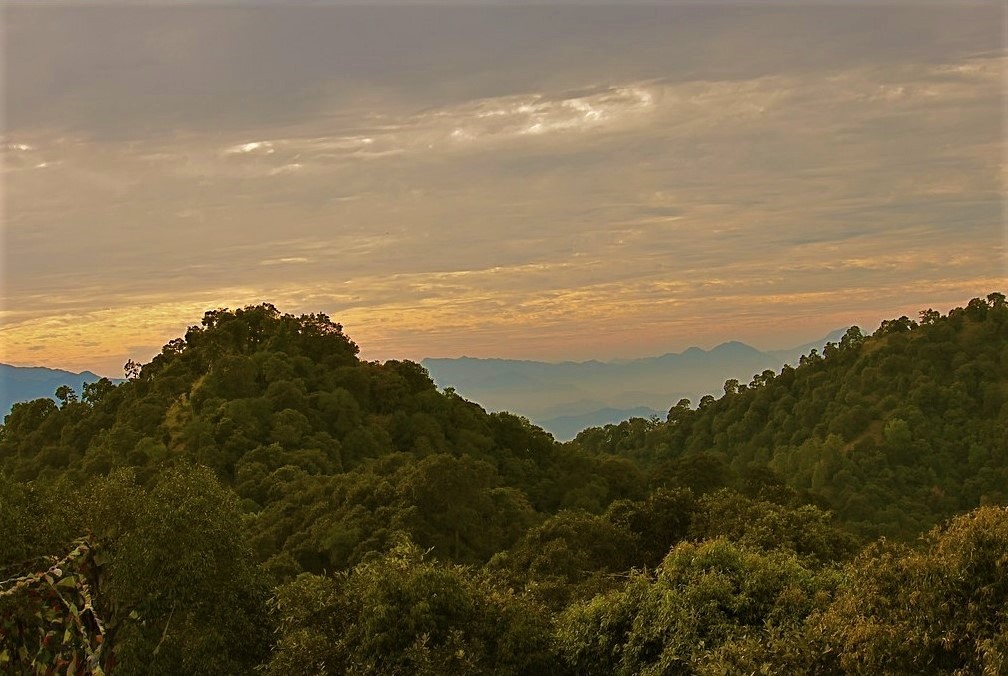 Nagarjuna also called Rani Ban (Queen's Forest) or Jamacho, located North-West of the Kathmandu. It is about 5 km from Kathmandu valley on the way to Kakani from Balaju. The forests of Nagarjun has a royal sanctuary and haven for members of the royal family and thus was and remains a protected area. It is also a well-known Buddhist Pilgrimage site, with a shrine dedicated to Guru Rinpoche built on the summit, at an elevation of 2,095 m.
 This spot delights bird devotees with Blue magpies, kali pheasants, Bonelli's eagles, Great Himalayan barbets, and other interesting birds ring through the forest Also the Nagarjun area hosts birds such as the Northern Eagle Owl, Red-billed, Long-tailed Mountain Thrush, Chestnut-headed Bee-Eater, Maroon Oriole, Large Hawk-Cuckoo, and Eurasian Woodcock. Likewise, the owl named Brown Wood Owl has also been recorded here.
Bardiya National Park
The Bardia National Park in the western Terai is significant for their populations of grassland, forest bird species, and wildlife. The park covers an area of over 968 sq. km. that remains untouched wilderness and largely covered of Sal forest scattered with huge grasslands and savannah. The area surrounded on the north by the Churia Hills and skirted on the West by the Geruwa River. The park used to be a hunting reserve for Nepal's royalty in 1968. Later in 1988, the park was declared as the national park.
The park is an excellent example of a destination for its wildlife, sustainable conservation, and indigenous Tharu culture. Bardiya received the recognition and award of "Best Eco-Tourism Destination of Asia Pacific Region" in 2019 at the world's leading travel trade show, ITB Berlin. This award was in appreciation of the initiative for sustainable tourism and outstanding conservation efforts. The Lonely Planet, a reputable and trusted guidebook listed Bardiya National Park as one of the best places to see the Bengal Tigers in their natural habitat.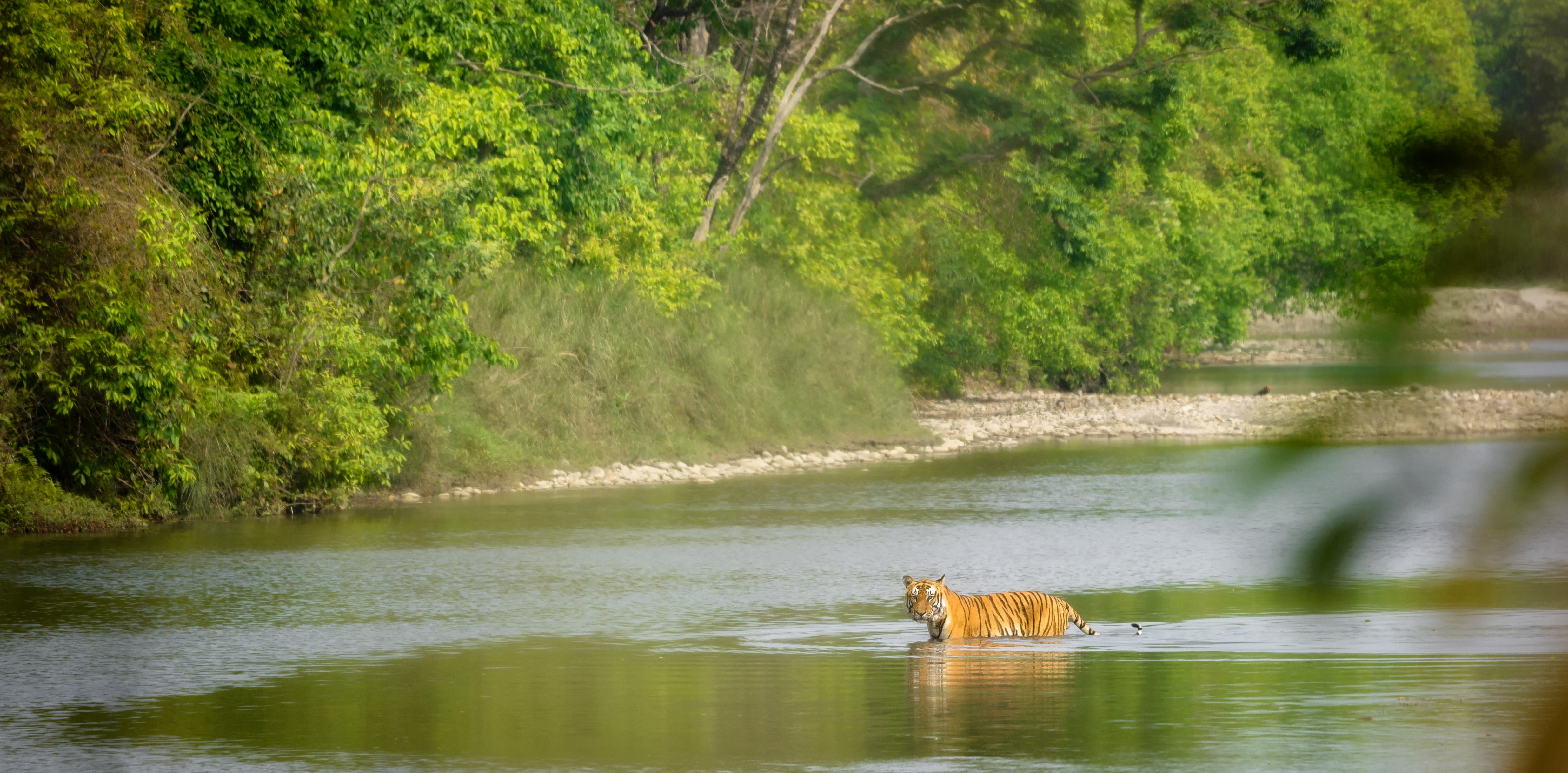 According to the WWF statistics, the population of tiger in 2018 is about 87 whereas its number is 50 in 2013 and 18 in 2009 respectively. Also, the park is known as the shelter of the trinity of the big three mammals- Royal Bengal Tiger, One-Horned Rhino and the Asiatic elephant. The area hosts 30 different mammals and several varieties of reptiles and water animals. In addition, the park constitutes over 250 species of beautiful migratory and native birds including several species of geese, duck, and parakeets.
Keep your eyes peeled and your binoculars ready as you search the trees to spot the attractive colorful birds of Bardiya. The protected zones cover with tall grasslands where the world's most significant grassland birds, like the Bengal Florican shelters here. This place is a domain to rare varieties of birds like  Bengal florican, lesser florican, silver eared mesia, and sarus crane.
The birds such as Swamp Francolin, Ferruginous Pochard, Great Hornbill, Black-bellied Tern, Pallas's Fish Eagle, Grey-headed and Lesser Fish Eagles, White-tailed, Indian Spotted, Great Spotted, and Imperial Eagles, Darter, Painted and Black-necked Storks, Rufous-rumped Grassbird, Jerdon's Babbler, Plain Prinia, and Finn's Weaver also shelter in this area. Visitors can enjoy the bird watching in the park by jeep safari, rafting, canoeing, jungle walk accompanied by a naturalist.
KoshiTappu Reserve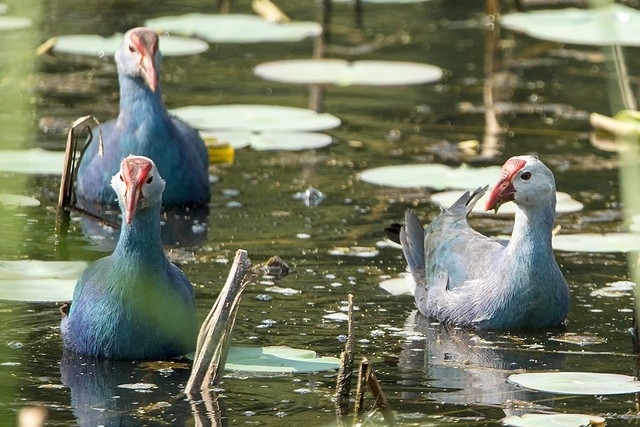 Grey-headed Swamphen
The smallest of the Terai's national parks, Koshi Tappu Wildlife Reserve is ecstasy for a birdwatcher. The reserve encompasses an area of 348 sq.km, with the buffer zone of 173 sq.km. In 1976, it was designated as a Wildlife Reserve and is under the control of the Department of National Parks and Wildlife Conservation. In 1987, Koshi Tappu Reserve designated as the first protected wetland in Nepal under the Ramsar Convention on Wetlands signed at Ramsar
The area includes the assortment of habitats; its 17,500 hectares include grasslands, riparian vegetation, ox-bow lakes, marshes, and sparse forests. Koshi Tappu is also one of the Important Bird Areas (IBAs) of Nepal. The area shelters 485 bird species including Siberian ruby throat, swamp francolin, Baer's pochard, Pallas's fish eagle, black Britten, greater spotted eagle, lesser adjutant, and spot-billed pelican. It is a perfect place in Nepal for birding destination with its extensive wetlands, grasslands, and islands offering exceptional wintering and staging areas for countless migrating waterfowls and waders. 
On the occasion of International Wetlands Day, a week-long Bird Festival is organized annually by the locals residing around the reserve, commencing on the 2nd of February. During the festival, the people perform the indigenous cultural dance and organize a long bird watching trips that are free of charge for everyone, including tourists. Let's grab an exhilarating opportunity of sighting 485 species of birds as you discover the swampland on foot, isolated sandbanks, and islets of the huge Koshi River.
Chitwan National Park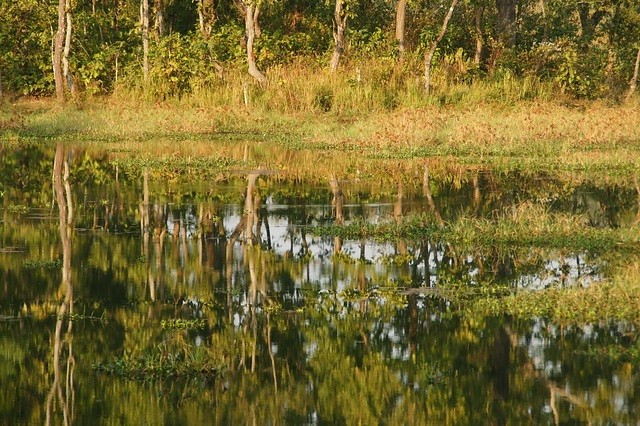 Established in 1973, Chitwan National Park covers an area of 932 sq. km. and is situated in south-central Nepal. In 1973, the National Parks and Wildlife Conservation Act was enacted and Chitwan National Park declared the first national park of Nepal.
In 1996, an area of 750 sq. km. surrounding the park declared a buffer zone, which comprises of forests and private lands. In 2003, Bishajari and allied lakes in the buffer zone of the Chitwan National Park have stated wetlands of international significance under the Ramsar Convention.
Recognizing its distinctive ecosystems of international importance; UNESCO listed the park as a World Heritage Site in 1984 and is also notorious as a significant bird area (IBA) by BirdLife International. The park host 68 species of mammals, 544 species of birds, 56 species of amphibians and 126 species of fish.
The park also a shelter to the One Horned Rhinoceros, Royal Bengal Tiger and Gharial Crocodiles. According to the World Wildlife Fund (WWF), the total number of population of Tiger for Nepal in 235. Out of which, 93 tigers are in Chitwan National Park.
Chitwan National Park is a major attraction for enthusiastic bird watchers where one can see the abundant species of native and migrant birds here. About 160 migratory birds visit at Sauraha during the winter from as far as Siberia and other cold nations to escape the chilling cold. The birds migrate the wetlands of Nepal, in search of warmth and prey during winter.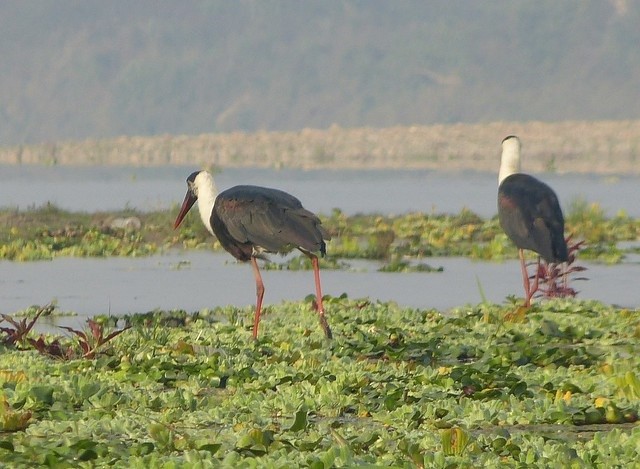 Cigogne épiscopale
Some of the names of migratory birds are Greater Spotted Eagle, Eastern Imperial Eagle, and Pallas's Fish-eagle. Common sightings include Brahminy ducks and goosanders. Large flocks of bar-headed geese.  
The vibrant Bengal Pittas and numerous sunbird species are common breeding visitors during the rainy season. Among the several flycatcher species, the Paradise flycatcher with long undulating tail in flight is a remarkable view.                                                                              
Particularly, the park's alluvial grasslands which are an essential home for the threatened Bengal florican, lesser adjutant, Grey-crowned Prinia, swamp francolin and numerous species of grass warblers. The nearly extinct vulnerable Oriental darter is a local breeder around the numerous lakes.  Whereas there are also abundant of egrets, bitterns, storks, and kingfisher found around the lake.
The park is one of the lesser-known breeding places of the internationally endangered spotted eagle. Peafowl, jungle fowl, White-eyed Buzzard, Grey-headed Fish Eagle, White-eyed Buzzard, Shikra bird, Red-breasted Parakeet Rhodesian ducks are some birds that are found in Chitwan National park.
While you are in Chitwan, you can observe the birds right outside the hotel rooms. During canoe ride where the visitors even can see them sitting nicely on the Rhino backs. You can set out on a Jeep Safari or take a jungle walk to observe the birds and listen to their melodious sound.
An early morning walk through the bush and along the Rapti River, let you spot several kinds of exotic birds, comprising the Giant Hornbill, Lesser Florican and Paradise Flycatcher. Besides, one can get an opportunity to observe the movement of the migratory birds in the Beesh Hajar Taal.
[calltoaction button_text="Contact us t" button_url="https://www.nepalsanctuarytreks.com/contact-us/"]Want to explore the wilderness and watch the varied range of birds?[/calltoaction]
Twenty Thousand Lake (Bish Hazari Tal)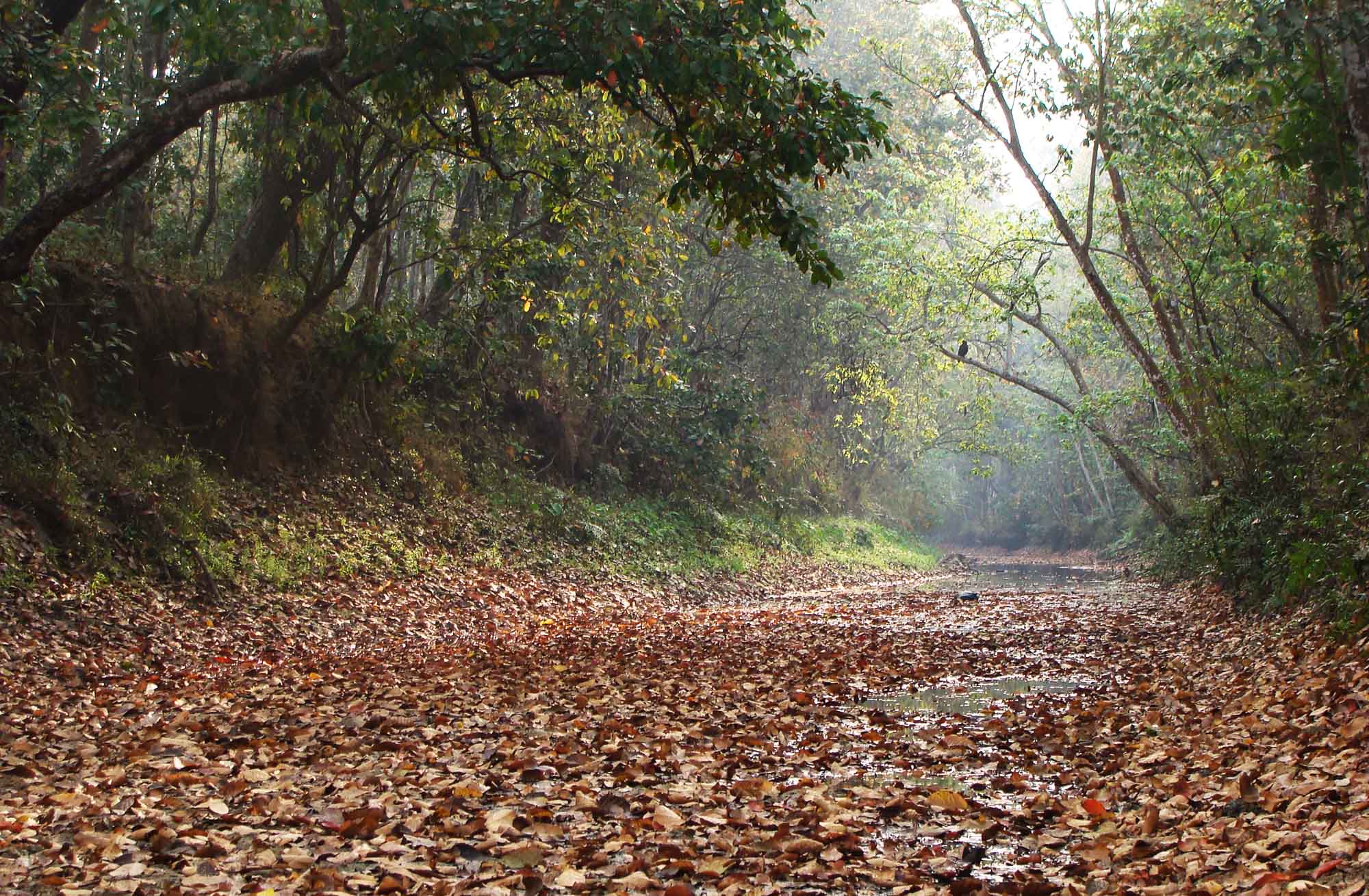 Beeshazar and Associated Lakes, also called Bishazari Tal, was listed in the Ramsar site on 13 August 2003. It forms a wide, typical oxbow lake system of the tropical Inner Terai area in Central Nepal within the buffer zone of the Chitwan National Park, a World Heritage site.
The forested wetland area is rich in diverse flora and fauna which comprise 26 mammal species, 25 species of fishes, 18 species of herpetofauna, 37 species of insects and 131 species of plants. The area is home to 273 bird species of 61 families, of which 60 are wetland species.
Bird species include the Grey heron Large Cormorant, Darter, Stork-billed kingfisher, Ferruginous duck, Painted stork, Black-necked stork, Indian black vulture, Grey-headed fishing eagle, Black-bellied tern, and Great hornbill
The globally threatened and critically endangered birds are found in this area such as White-rumped Vulture, Lesser Adjutant Stork and ferruginous duck it is very well known for bird watching as Migratory Siberian birds can be seen around this lake in the winter season.
Likewise, the lake is a shelter for crocodiles and gharial as well. On sunny days, the visitor can witness the gharials/crocodiles relax in the sun on the shores of the lake.
Sukhlaphanta National park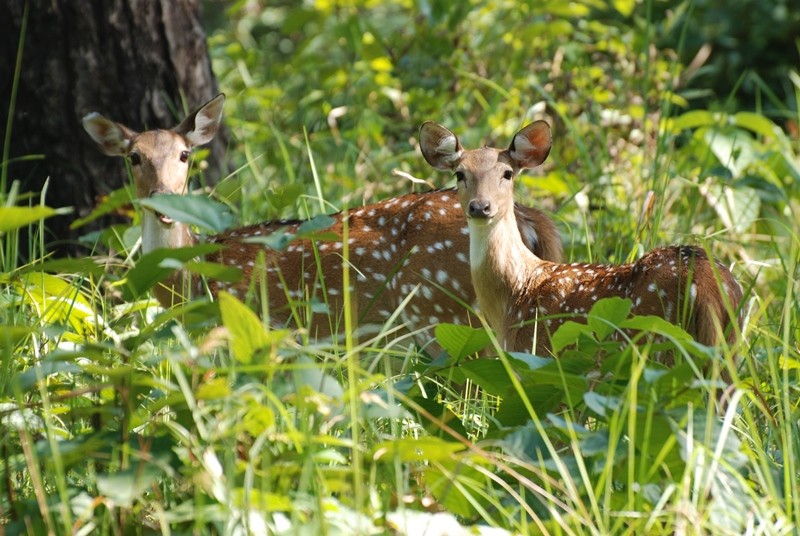 Shuklaphanta, the country's newest national park, was recognized as a hunting reserve in 1969 and declared as a wildlife reserve in 1976 with the main objective to protect swamp deer. Recently, the national park is a domain to 2,000 swamp deer, an estimated 16 wild tigers and over 350 bird species to date have been recorded within the park. 
Situated in South West Nepal; it is the largest grassland area in lowland Terai. The notable birds found in the park are Spiney Babbler, Ibisbill, Great Slaty Woodpecker, Bengal Florican, Bristled Grassbird, Hodgson Bushchat, Black-capped Kingfisher and Finns weaver. Rani Tal inside the reserve is one of the attractions for the animals and migratory birds.
Lumbini Crane Sanctuary (LCS)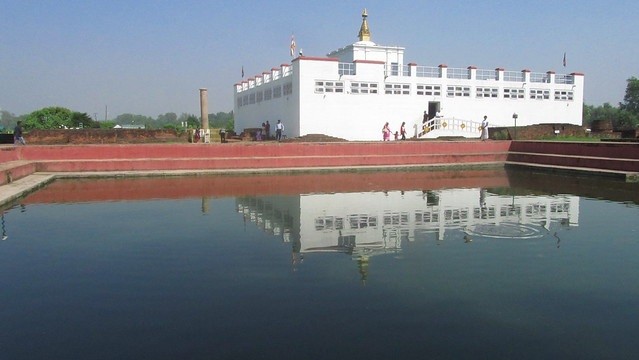 Lumbini is not only the birthplace of the Buddha and a place to embrace peace, contemplative values, and spirituality but also the shelter to the sacred Sarus Crane. Lumbini entice naturalists, ornithologists, botanists, and zoologists with its rich natural biodiversity.
This place is a soul of the Terai arc where faith, nature, and culture converge in perfect harmony. An iconic species of wetlands, Sarus Crane holds a special place within the ancient culture of Lumbini, the birthplace of the Buddha.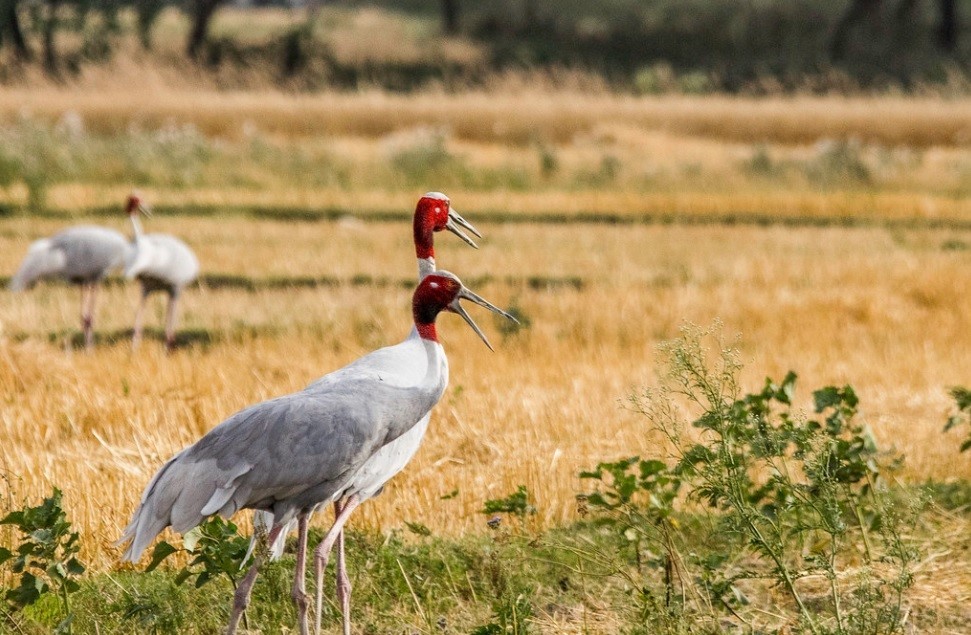 According to myth, when Buddha was a young prince, he fought to save this wonderful bird. The Buddha is seen in numerous historic illustrations with a crane, and scholars consider that these resident cranes have resided Lumbini for at least the last two millennia. These tallest flying bird in the world still soar over skies of Lumbini swamplands.
So, a visit to the nearby villages and natural sites also give the visitor an opportunity to come across the most preferred birds of Lord Sakyamuni Buddha, the Sarus Crane, the most desired plant-like Ashoka tree, sal tree, the pipal tree, and crops such as rice, peas, golden gram, sesame.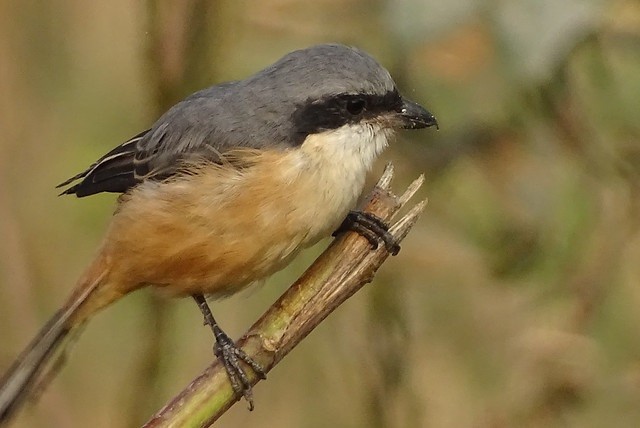 Grey-backed Shrike
Lumbini Crane Sanctuary (LCS) along with the associated farmlands have identified as an International Bird Area (IBA) due to its rich biodiversity and unique ecosystem with hundreds of cranes and other birds.
There are more than 250 bird species in Lumbini Crane Sanctuary including the world's tallest flying bird sarus crane, endangered birds such as lesser adjutant, painted stork, slender-billed vulture, red-headed vulture, white-rumped vulture, etc. The Telar and Dano flood plains are recognized as important habitats for birds.
 Special birds include Sarus Crane, Lesser Adjutant Stork, Gray Hornbill, parakeets, Blue Bull Antelope, and Wild Boar. During October, around Lumbini, the popular migratory birds such as the Demoiselle Crane and the Indian Sarus Crane, which fly from Dar E-Salaam and over the Himalayas on to the Gujarat and Rajasthan in India, can be observed.
Lumbini include the serene natural environment within the Sacred Garden and Monastic Zones. Lumbini Crane Sanctuary located in the New Lumbini village several natural wetlands including Karbala Lake near Karmahawa village, Monkey tree and Punnihawa Lake in Chainpurwa (Khudabagar), Tharunika Lake in Mahilwari village.
Likewise, important rivers for bird watching include Telar, Dano and Kothi rivers. Gaidahawa lake is famous for vulture and blur bull whereas Gajedi is popular for the beautiful lakes with a blooming lotus flower. Gaidahawa is an important place for globally endangered species like Sarus Crane Grus Antigone, Lesser Adjutant Leptoptilos javanicus, Indian Spotted Eagle Clanga hastata, Indian Eyed Turtle Morenia petersi and also serves as shelters for numerous species of indigenous and wintering birds. 
Jagdishpur Reservoir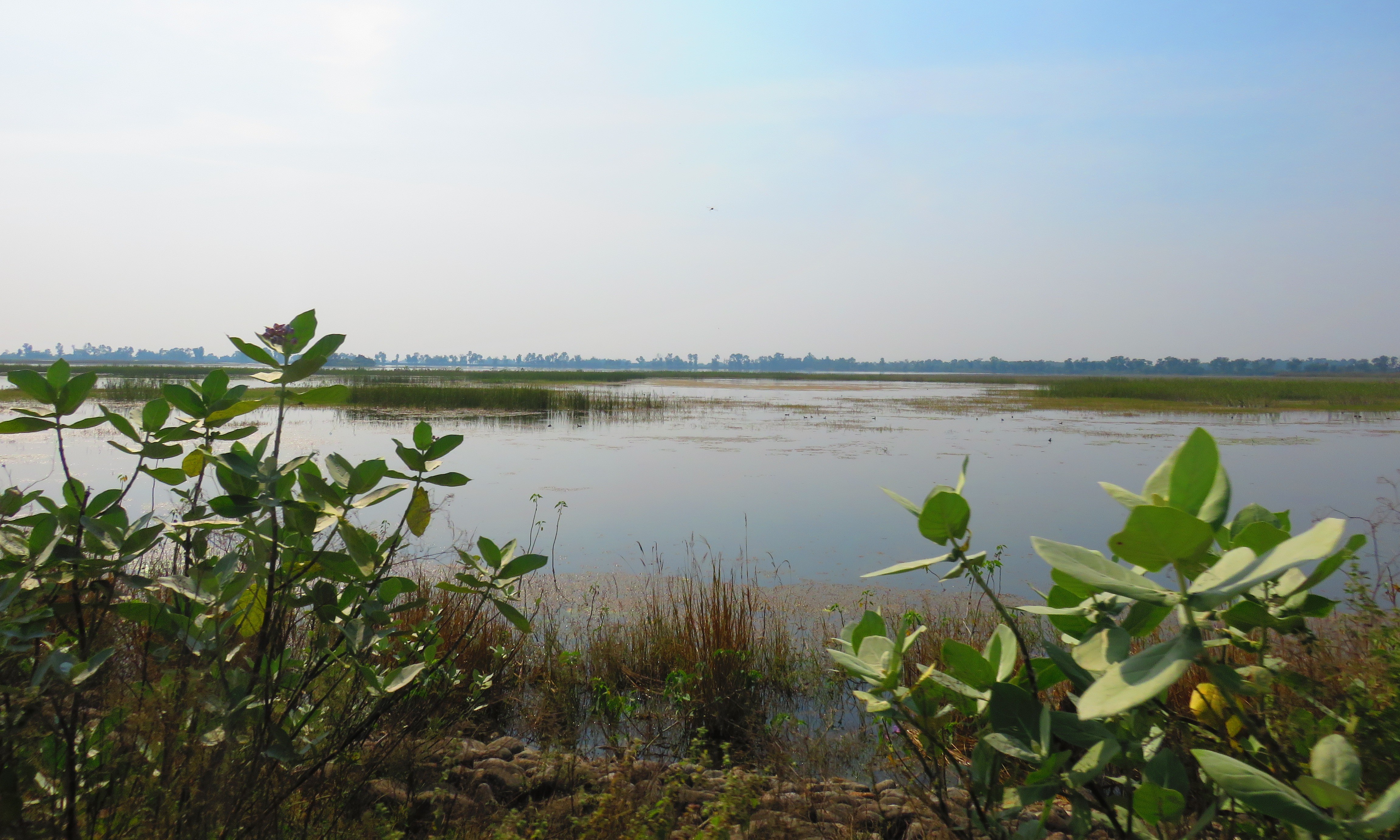 Declared a Ramsar site on 13 August 2003, Jagadishpur Reservoir is one of the wetlands of International importance for threatened species and their habitat conservation. It is the largest man-made reservoir in Nepal and has featured in the Directory of Asian Wetlands.
The reservoir was built for the purpose of irrigation over Jakhira Lake and agricultural land for irrigation in the early 1970s. The water in the reservoir is fed by the nearby Banganga River in the Churia Hills catchment area. The area spreads over 225 hectares with 157 hectares covered by the water surface. It has the capacity to hold 47,500,000 cubic liters of water.
The reservoir is encircled by cultivated areas with two smaller lakes called Sagarhawa and Niglihawa that serve as a buffer territory for bird movements of nearly 150 recorded species. The site is a shelter for native, wintering migrant, wetland and small passerine birds.
The remarkable birds found in this area are the grebes, cormorants, herons and egrets, storks, ducks and geese, terns and gulls, birds of prey, rails, coot and waterhens, jacanas, in addition to cranes and kingfishers.
 Eight globally threatened and near vulnerable bird species have been recorded comprising White-rumped Vulture Gyps bengalensis, Slender-billed Vulture Gyps tenuirostris, Egyptian Vulture Neophron percnopterus, Greater Spotted Eagle Aquila clanga, Indian Spotted Eagle Aquila hastata, Lesser Adjutant Leptoptilos javanicus and the tallest of all the flying birds, Sarus Crane Grus Antigone.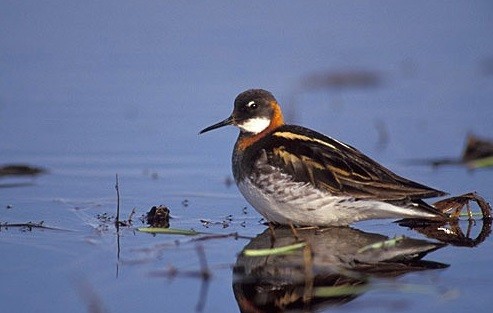 Red-Necked Phalarope
Also, the endangered migratory called Red-necked Phalarope can be seen in Jagdishpur Reservoir. The unique features about this bird are that females take the lead in courtship (polyandrous mating), and males are left to hatch the eggs and care for the young.
During winter visitors can observe the water birds, which have roamed from Siberia and Tibet, traversing the Himalayas, inhabiting, breeding and hatching in this area. The visitor can see the interesting sight of birds floating and playing in the lake whereas the native birds also join them.
Annapurna Conservation Area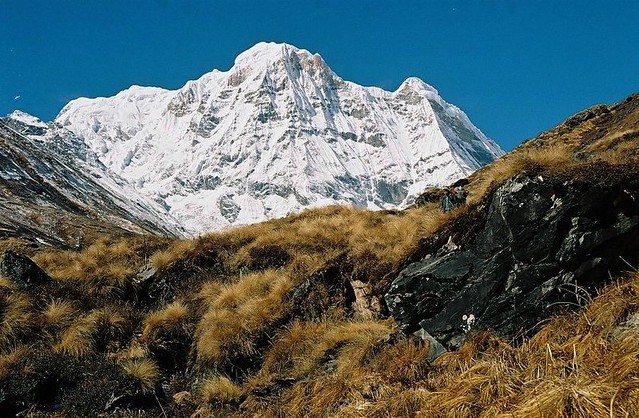 Launched in 1986, the Annapurna Conservation Area Project (ACAP) is the largest undertaking of National Trust for Nature Conservation (NTNC). It is the first Conservation Area and largest protected area in Nepal that encompasses an area of 7,629 sq. km. ACAP is considered as one of the richest reserves of biodiversity in the world that host for 1,233 species of flowering plants, 105 mammals, 518 birds, 40 reptiles and 23 amphibians. The area consists of the Kali Gandaki Valley, which is taken as an avian separating line between two Himalayan regions, the east and the west.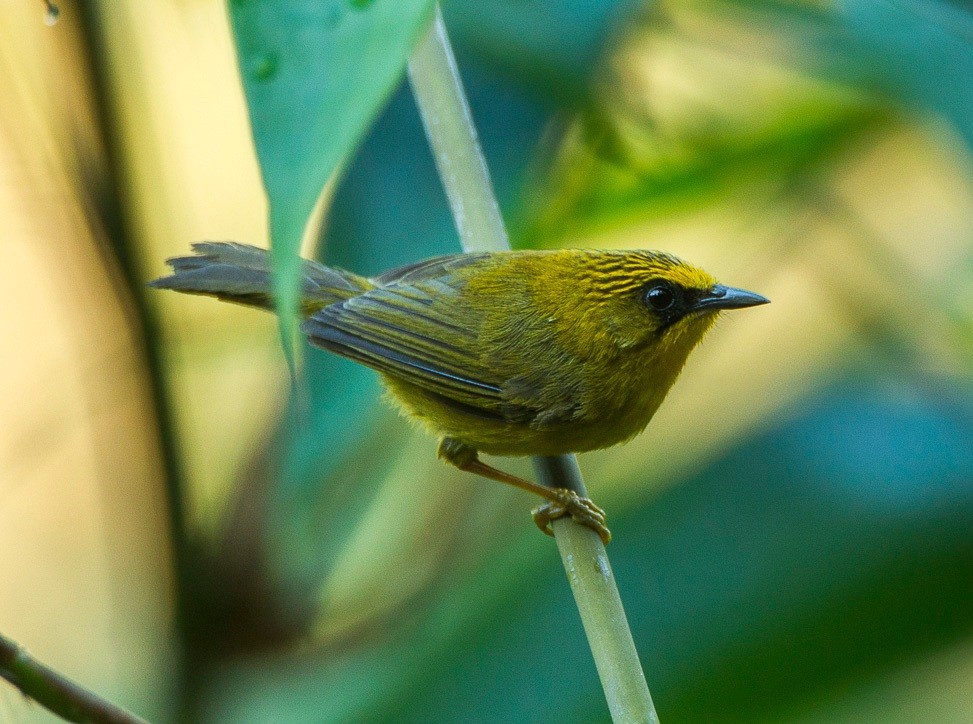 Golden babbler
Trek to the Annapurna region lets you discover the cross-section from Subtropical forest to the Alpine meadows. Trekkers trekking along the Annapurna Conservation Area also takes delight by watching the varied types of birds. The area's a domain to rare birds like the Slender-billed Scimitar-Babbler, Golden Babbler, Golden-breasted Fulvetta and Fulvous Parrotbill. Lammergeier and Himalayan Griffon Vultures can also be seen soaring on the mountain thermals.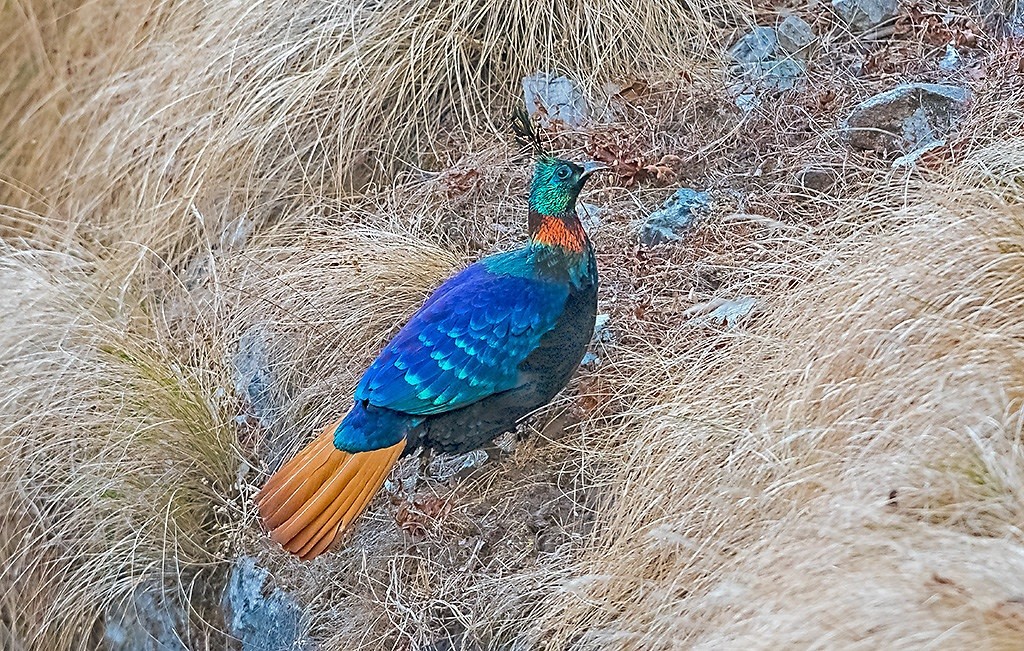 All six pheasant species of Nepal: Blood Pheasant, Koklass Pheasant, Himalayan Monal, Kalij Pheasant, Satyr Tragopan and Cheer Pheasant are found in this area. The region is also habitat to some internationally endangered species like White-rumped Vulture, Wood Snipe, near-vulnerable species like Satyr Tragopan, Cinereous and Red-headed Vultures, restricted-range species like Hoary-throated Barwing, White-throated tit and Spectacled Finch, and nationally threatened species like Pygmy Blue Flycatcher, Slender-billed Scimitar Babbler, Black-headed Shrike Babbler, Golden-breasted Fulvetta, and Great and Fulvous Parrotbills.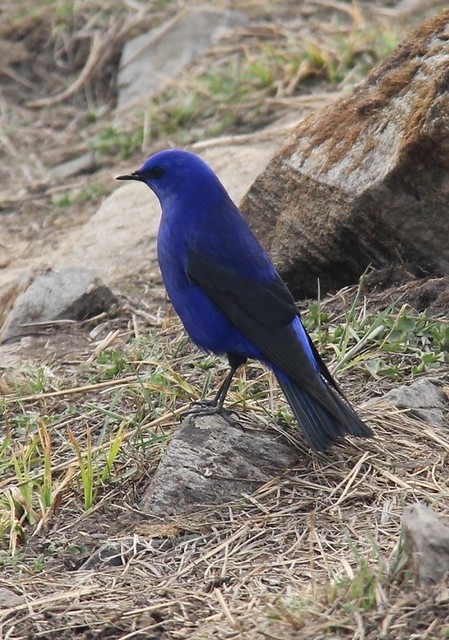 Male Gandala
The area is the only residence where the Spectacled Finch is seen during winter. The special birds such as Golden Eagle, Himalayan Monal, Himalayan griffon, Kalij Pheasant, Spiny Babbler, Red-billed Blue Magpie, male gandala, and Small Racquet tailed Drongo, Green-shrike Babbler, Green-tailed Sunbird, Booted and Bonelli's Eagle, Ibisbill, Slaty-backed Forktails, Himalayan Griffon, Lammergeier, and Crested Serpent Eagle are seen in Annapurna Conservation Area.
Likewise, ACAP is the only sheltered area in Nepal where all six of Nepal's Himalayan pheasant species are found. The small Pipar Pheasant Reserve on the forested south slopes of Machhapuchare peak is generally known as main Himalayan pheasant habitat
It has been recorded that there is Demoiselle Crane migrates to the Kali Gandaki area. There is a yearly migration of Demoiselle Cranes flying from Mongolia to the southern Indian Sub-continent during the first week of October. The flight of the birds commences from the Steppe grassland of Mongolia, Tibet and finally flies over the Great Himalayan range. The best part of this "once-in-a-life-time-trip" is to observe an unusual view of Golden Eagles attacking the cranes in the air. This exceptional tour takes you to Jomsom and enters unique trans-Himalayan highlands.
Other special birds that can be seen in this area are Chukor Partridge, Golden Eagle, Alpine Accentor, Rock Bunting, White-browed Tit Warbler, Wall Creeper, Spotted Forktail, Lammergeier, and Himalayan Griffon. If you are trekking to Annapurna Base Camp, Upper Mustang, Poonhill / Mulde Peak, Mardi Himal trek then you will get an opportunity to spot diverse birds.
Everest Region (Sagarmatha National Park)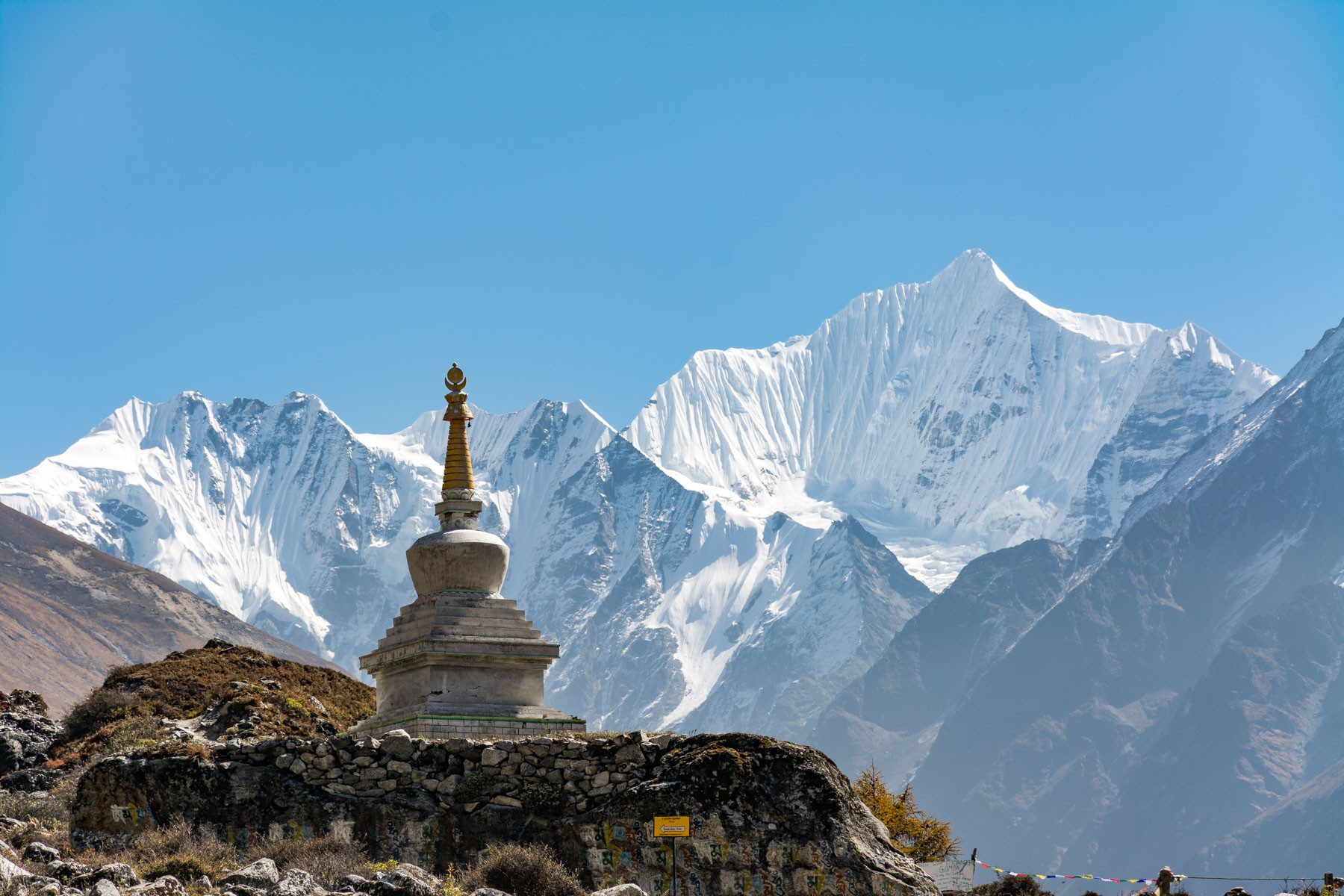 The best part of trekking in the Everest region is to enjoy the birding and at the same time observe a unique mixture of fauna and flora of the globe's well-known Everest region. Sagarmatha National Park is an area of worldwide importance in terms of avifaunal diversity as it signifies the ecosystems from the highest point of the earth's surface. About 219 species of birds belonging to 32 families have been recorded in Sagarmatha National Park and its Buffer Zone.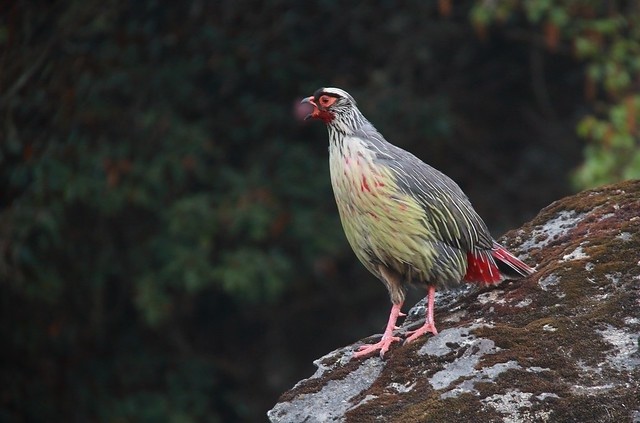 Blood Pheasant
The area is a shelter to some of the threatened species such as Wood Snipe, Imperial Eagle. Himalayan Griffon, Lammergeier, Satyr Tragopan, Ferruginous Pochard, and Cinereous Vulture, Danphe, the National bird of Nepal, Blood Pheasant, Large-billed Crow  Red-billed Chough, Yellow-billed Chough, Snow Pigeon, Snow Partridge, and Oriental Skylark are some of the commonly seen bird species in Everest region.
 According to the ornithological survey of Sagarmatha National Park (SNP) and its Buffer Zone, it has recorded three new species of birds for Sagarmatha National Park and its Buffer Zone which is as follows.
Black-necked Grebe: Two birds were seen diving and feeding at Gokyo Lake 4,800m on 5 December 2015, this species is a rare winter visitor and passage migrant in Nepal.
Maroon-backed Accentor: Ten birds were seen feeding on open ground at Furte near Furte Post (Between Thamo and Namche) on 25, 27 and 28 November 2015.
Tibetan Serin: A group of 12 birds was observed feeding on birch tree at Debuche area on 29 November 2015
Langtang National Park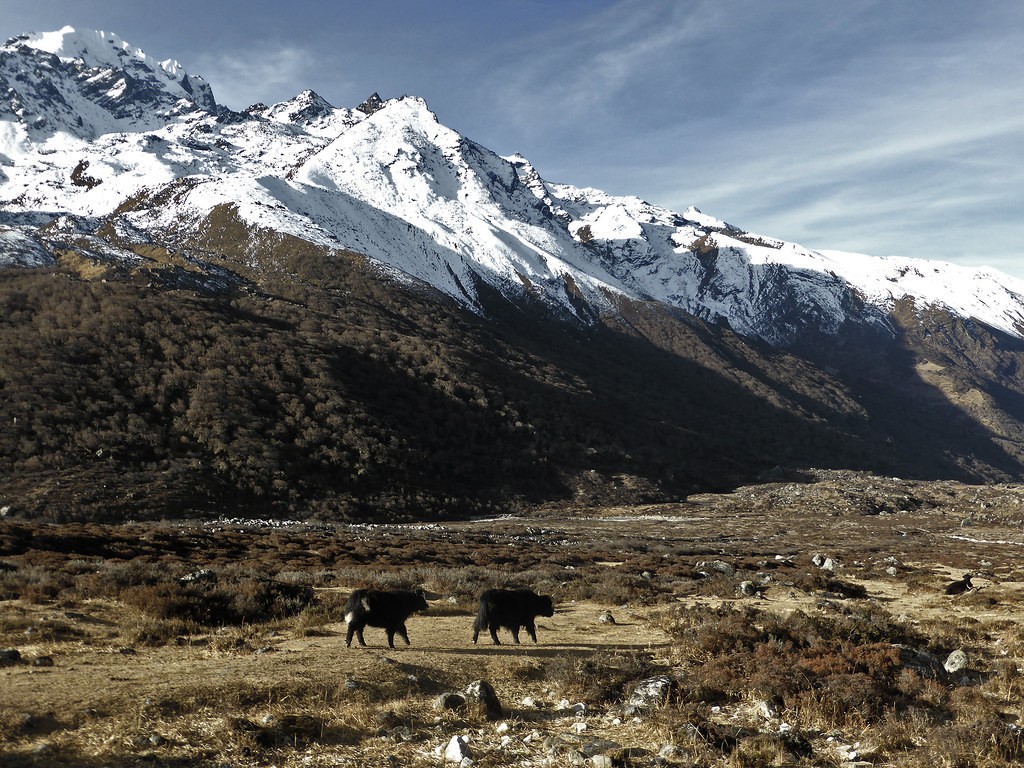 Established in 1976, Langtang National Park covers an area of 1,710 sq km, is situated to the north of Kathmandu. The park comprises Rasuwa, Nuwakot, and Sindhupalchok in the south to Tibet border. It is also, one of the most well-known trekking destinations in Nepal.
It is also the domain to many rare, endangered wildlife; rare and mysterious Red Panda and Snow Leopards dwell here. Other animals include Himalayan Tahr, Himalayan Black Bear, Common Leopard, Clouded Leopard, Leopard Cat, Musk Deer, Assamese Monkey, Red Wolf, and Tibetan Sheep, etc. Likewise, there are many wetlands within this park; among which most holy alpine lakes, Gosainkund is one of the main lakes and enlisted as the Ramsar site of the world.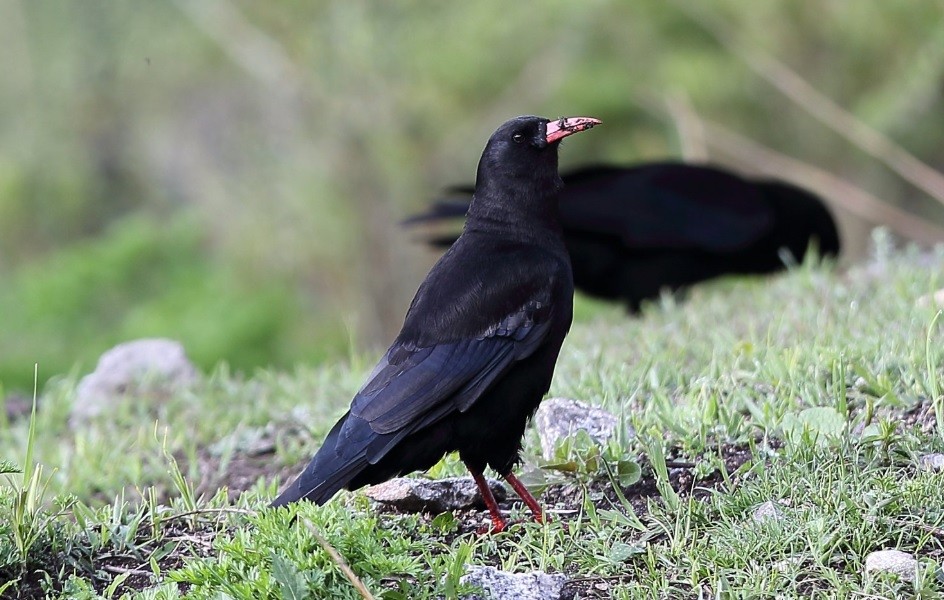 Red-billed Chough.
The area is the natural heaven for adventure lovers, nature devotees, birdwatchers and ornithologists. More than 250 species of birds have been recorded in Langtang National Park.  One of the iconic bird is ibisbill that spends its summer and breeds in this area. The Himalayan monal, the national bird of Nepal and satyr tragopan are protected birds shelter in the park.
Upper Langtang valley offers an exceptional breeding ground for Ibisbil, a globally endangered bird species. Wood snipe, another internationally threatened bird species, is found in the birch woodlands of Kyangjin. In the summer, the Snow partridge is often seen in the Gosaikunda valley. Tibetan snowcock, Himalayan snowcock, Tibetan partridge, Oriental Honey Buzzard, Himalayan Griffin, Eurasian Griffin, and the Red-Headed Vulture is some of the eye-catching birds reside in the park. Trekkers are often attracted by the gliding Lammergeier in Lauribinayak and the upper Langtang valley. The significant wetland reliant birds in Langtang is the Bar Headed Goose, Ruddy Shelduck, Common Teal, Tufted Duck, and Common Merganser.
There are 12 globally vulnerable bird species recorded in Langtang National Park consisting of the satyr tragopan yellow-rumped honeyguide wood snipe, cinereous vulture, red-headed vulture, pallid harrier, greater spotted eagle, imperial eagle, yellow-breasted bunting, hoary throated brawing, Nepal wren babbler, and ibisbill. The park has the highest number of wren babbler, a restricted range species.
[calltoaction button_text="Contact Us " button_url="https://www.nepalsanctuarytreks.com/contact-us/"]Want to  discover the birds of  Langtang Region?[/calltoaction]
Essential packing list for bird watching
Brimmed Hat, Sunscreen (sun/rain protection gear.)
Comfy shoes.
Bird Book
A pair of binoculars and a notebook (to note down the names or descriptions of birds you have seen).
Camera
Refillable drinking water bottle
Snacks
Nepal's First Birdwatchers
The history of ornithology in Nepal initiated in 1793 when Col William Kirkpatrick collected a few bird skins for observation. Back in the day,  birds had to be killed for observation due to the unavailability of basic equipment needed for bird watching.
Kirkpatrick's work was a predecessor to the broad ornithological work in Nepal. Brian Hodgson, a diplomat in Nepal for over two decades from 1820-1843 is recognized with the first significant work on the birds of Nepal. His collection of bird skins add up to 9500, the largest collection made by anyone. Raj Man Singh, a Nepali artist, painted over 1800 watercolor sketches of Hodgson's collection. Some samples of Hodgson's collection are currently kept in the British Museum of Natural History.
John Scully, a resident surgeon was the pioneer to study birds in the Kathmandu valley. From the period of 1876-1877, he collected almost 2000 samples of birds.
Lt-Col Frank Bailey assembled 2,146 skins between 1935 to 1938, and in the 1940s whereas Dr. S. Dillon Ripley continued the study of the birds of Nepal. He mounted the first true ornithological excursion into the hills and is accredited with the finding of Nepal's only endemic bird, named Spiny Babbler.
Nepal's ornithology in the period from 1950 to 1970 was led by  Robert Fleming, Sr, and Robert Fleming, Jr. The father and son duo were the prominent ornithologists to travel throughout the country. They accumulated a huge collection of bird skins, several of which are now kept in the Chicago Field Museum of Natural History. They wrote some 35 papers and articles on Nepali birds. Their single chief contribution to the development of ornithology in Nepal came in 1976 with the publication of their field guide Birds of Nepal, co-authored by the renowned artist, Lain Singh Bangdel.
The publication of the book happens together with a period during which the concern and importance in the birds of Nepal was increasing worldwide. Nepal was perceiving an entry of young ornithologists and bird devotees, mainly from the United Kingdom. Pioneering ornithological works such as that of the Flemings were projecting Nepal as a significant and exceptional avian paradise.
In 1980 Flemings brought out a checklist of birds of the Kathmandu valley and made another important contribution to Nepali ornithology. At the same time, Hari Sharan Nepali gathered  many bird skin and some of which are at the present kept in the Kathmandu Natural History Museum. Throughout his life, he has recorded 30 new species in total.
At the beginning of the last decade of the 20th century, Nepali ornithologists took over the helm of the ornithological work from their foreign counterparts. This change of precursors is reflected in the fact Nepali ornithologists account for almost 80% of all new species discovered in Nepal after 1990.