Under the special supervision of Travelife, we are working on sustainability and committed to boosting our business in a sustainable way through developing and implementing the sustainable policy to increase the positive impact of tourism on individual and local communities, whilst reducing adverse social, environmental and economic impacts.

We are adopting various sustainability principles on sustainability management, internal management, supply chain management, destinations and customer relations. Furthermore we are developing and implementing policies on energy reduction policy, water reduction policy, waste management policy, sustainable HR policy, customer communication and privacy policy, code of conduct for client, sustainable excursion policy, sustainable accommodation policy, health and safety policy under the guidance of  Travelife basic requirements to raise awareness of sustainability among office staffs, trekking crews, clients and supplier.

In support of our developed sustainable policy we have:

Improve in waste management through set up of compartment bin and partnering with

Doko

Recycler.

Disseminate the sustainable information, participate employees in sustainable commitment and action plan.

Wherever possible, emphasis on sustainable goods and services.

Provide and inspire our clients to become more responsible towards environment during their holiday.

Develop and communicate about sustainable best practices with accommodation, transportation and excursion provider and motivate them to carry out in their business.

Prioritize on energy-efficient and "Energy Star" while purchasing the office equipment

Improve in energy reduction policy by setting up low flush toilet, CFL light bulb and creating awareness among staffs and clients.

Wherever possible, avoid printing documents and use digital means to send documents and trip dossier.

Reuse the paper and print on both side of paper to avoid the wastage.

Use renewable resources like solar panel to power the office.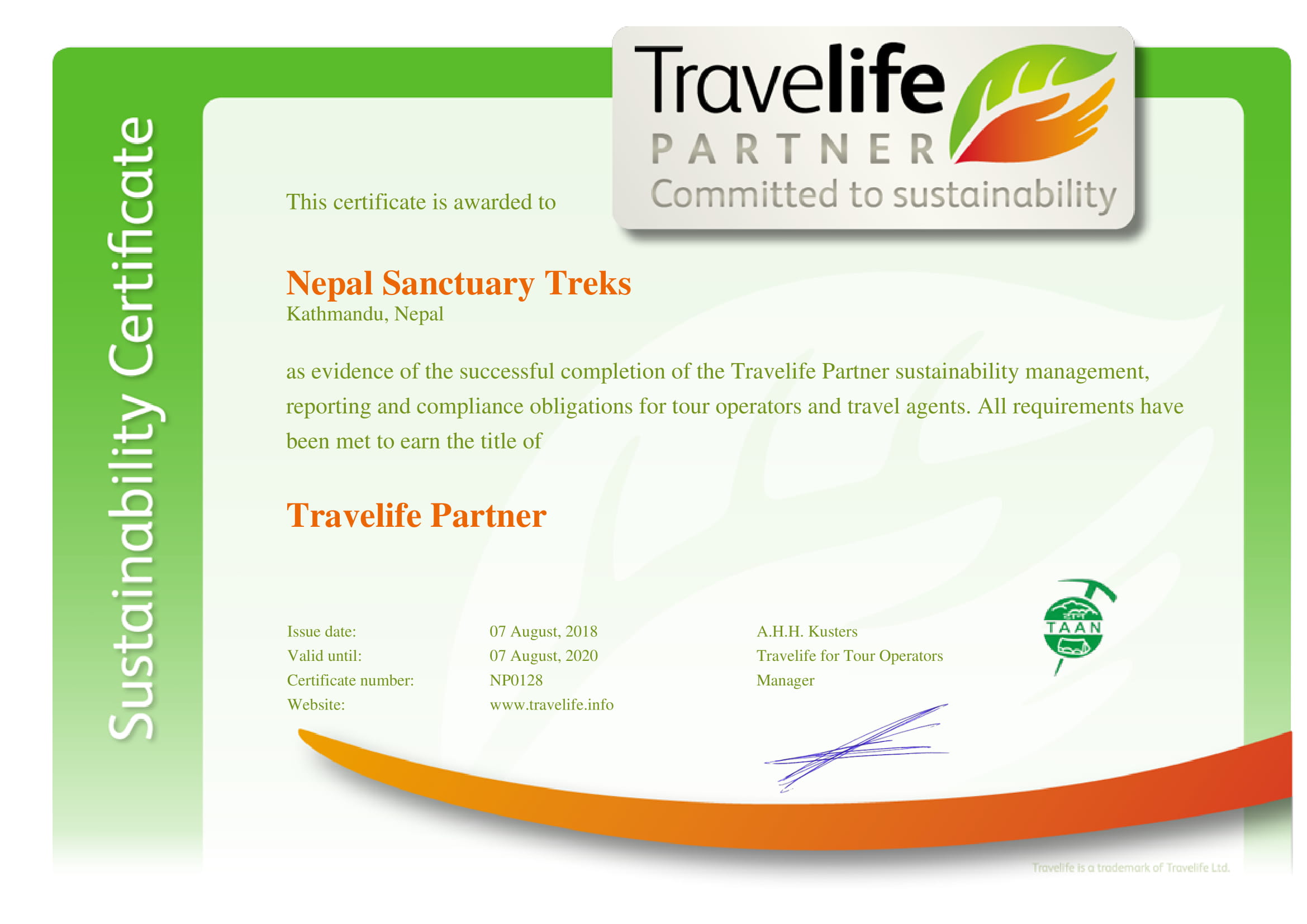 Our  Core Values
 1. Environment:
 Our company will take initiative in adopting sustainable practices to prevent from potential hazards on environment from internal and trekking operation.
 2. Quality Services and Client's satisfaction
Our company will take an account to deliver excellence trekking products and services along with prioritizing on client's safety and keep up hygienic standard. Our company takes consideration to client's satisfaction by evaluating and assessing comments and feedback for service and product improvements.
3. Labor Standard and Human Rights
Our company support human rights and comply national labor standards. We motivate our business partner to respect human rights as well. We have developed Human Resource Policy that details on our company personnel policy.
4. Well-designed bespoke itinerary
Our company will carefully plan, attention to detail and design trek itinerary considering client's safety, comfort, and pleasure. We will co-create itinerary based on style, taste and physical fitness guided and consulted by travel expert.
Click here  to view our Sustainability Policy
Please check the link for sustainability report:
https://www.travelife.info/widget/index.php?key=d9fc5b73a8d78fad3d6dffe419384e70
For more information on our sustainability and CSR policies please contact
Ms. Pramila Shrestha
Sustainability Coordinator
pramila@nepalsanctuarytreks.com
Nepal Sanctuary Treks
G.P.O Box 5493
House No. 1246, Lamtangeen Marg, Chundevi-4, Kathmandu
Tel: +977 1 4426721, 4431610, 4434542
E-mail: info@nepalsanctuarytreks.com, gtulsi@wlink.com.np