Nepal Sanctuary Treks is a sustainable trekking agency in Nepal, renowned for over 24 years of delivering privately guided, authentic trekking experiences. As a Travelife "Excellence in Sustainability" certified agency, we adhere to stringent criteria, showcasing our commitment to sustainable tourism.
We mainly focus on providing trekking and cultural tours in less-visited places, and what sets us apart is our commitment to customizing and being flexible in creating unique experiences.
The dedicated and diverse team ensures guests receive individualized care, from accommodation to meals and itinerary adjustments. Women empowerment is integral to our mission, supporting education and employment opportunities for women.
Safety remains a top priority, and our experienced guides are equipped with comprehensive first-aid kits, portable altitude chambers, oximeters, and satellite phones.
With our extensive experience, we remain a top choice for sustainable and memorable trekking adventures in Nepal.
Why Nepal Sanctuary Treks?

We are committed to sustainability
Starting in 2019, we achieved Travelife certification, and our company's core principles revolve around the foundations of sustainable tourism.

We put the well-being of guests above all else
We customize itineraries based on guests physical abilities, maintain top-notch equipment, and prioritize safe altitude acclimatization. We employ larger, dedicated crews for a safer and personalized experience."

We empower women
Women's empowerment is very important for our company. We support the education of female students and use as many female-managed teahouses and homestays as possible.

We link you to the locals
We make sure you get to know the "real" Nepal by not only visiting local communities but also by immersing into their culture and traditions.

We have an eye for the detail
Every detail of the trip is meticulously taken care of by the team. We customized itineraries based on your preferences, fitness level, and time constraints.

We balance comfort and location
We choose eco-friendly accommodations, and all meals, even at teahouses and during camping treks, are fresh, organic, and tailored to guests' dietary preferences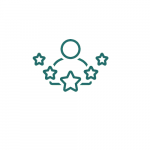 We make your stay unforgettable
Nepal is a transformative journey, and Nepal Sanctuary Treks ensures it is one you'll want to relive. Our experienced guides have trekked Nepal's stunning mountains, immersing in nature and sharing stories under the stars. Join us to embrace nature's essence, listen to captivating tales, and become part of our family.