Nepal Sanctuary Treks is a sustainable trekking agency in Nepal. We have been delivering privately guided authentic trekking experiences in Nepal for more than 24 years. We are one of the few trekking agencies in Nepal to be awarded the Travelife "Excellence in Sustainability" certification.  This means we comply with more than 200 criteria, related to an operator's office management, product range, international business partners, and customer information.
We became Travelife Certified in 2019 after an external audit in December 2018. In 2021, we had a second external audit of our company by an independent auditor.  The renewed Travelife Certified award of Nepal Sanctuary Treks will be valid for another period of two years.
We create personalized and unique experiences for school and small groups, individuals, families, and FITs. Likewise, we also specialize in female-friendly tours and trekking for solo female travelers.
Our main products are trekking and tours combined with a culture in less traveled regions. Besides, our flexible and tailor-made itineraries facilitate meaningful connections with the people and cultures of the places travelers visit. 
Our dedicated team is from various ethnic groups, working with us for several years.  They work tirelessly to ensure that guests are fully supported and cared for – both individually and as a group – from sorting out the accommodation, arranging meals, and adapting the itinerary in response to their needs and circumstances. In addition, our team delivers an astoundingly memorable experience for a party of mixed ages and with different levels of trekking experience.
We empower women, by supporting the education of female students, employing female tour guides, and using as many female-managed tea houses as possible. Furthermore, we personally hand-pick all of our accommodations and try to use eco-lodges and eco-hotels as much as possible. This will ensure high standards when it comes to quality and comfort. Similarly, on every camping and lodge trek, we serve organic freshly cooked meals. While we employ a bigger crew for smaller groups for a more personalized and safe trip.
To enhance guests' safety, our trained and experienced guides carry comprehensive first aid, portable altitude chamber, oximeter, and satellite phones.
Apart from knowing as the most sustainable trekking agency in Nepal, we also have years of experience in travel, tours, and treks, so our guests need not worry about hospitality, guidance, and emergencies.
Why Nepal Sanctuary Treks?

We are committed to sustainability
Since 2019, we have been Travelife certified, and our company's values are based on the principles of sustainable tourism

We put the well-being of guests above all else
The itineraries are tailored to our visitors' physical capabilities. Our high-quality equipment is frequently checked and maintained. The itinerary created for guests ensures that their altitude profile is completely safe, and they had a good chance to acclimatize properly to make the most of their trip. We usually hire a larger crew than usual to provide a safer and more individualized journey.

We empower women
Women's empowerment is very important for our company. We support the education of female students and use as many female-managed teahouses and homestays as possible.

We link you to the locals
We make sure you get to know the "real" Nepal by not only visiting local communities but also by immersing into their culture and traditions.

We have an eye for the detail
Every detail of the trip is meticulously taken care of by the team. We customized itineraries based on your preferences, fitness level, and time constraints.

We balance comfort and location
From wonderfully located mountain lodges to spectacular camping sites and city hotels, we select boutique and locally operated accommodations that have sound environmental practices. All meals, including those served at teahouses and during camping treks, are organic, fresh, and authentic. All meals are prepared to meet the dietary needs of the visitors.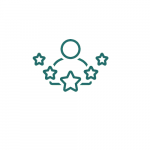 We make your stay unforgettable
Nepal is a life-changing experience and Nepal Sanctuary Treks makes it one that you want to repeat. Our passionate guides have trekked thousands of miles through the beautiful mountains of Nepal, have slept under the stars, and will make your stay an unforgettable and life-changing experience. With us, you will experience the true spirit of nature, will listen to the storytellers, and will become part of our families.