Chitwan National Park (former "Royal Chitwan National Park") is the first national park of Nepal, established in 1973. The national park gained status as a World Heritage Site in 1984. The park covers an area of 932 km sq. Chitwan National Park is located in subtropical Inner Terai lowlands in south-central Nepal. The park is located in the district of Nawalparasi, Parsa, Chitwan, and Makwanpur. The park lies in the vicinity of Churia Hills, and its altitudes range from 100 meters in river valleys to 815 meters in the hills of Churia range.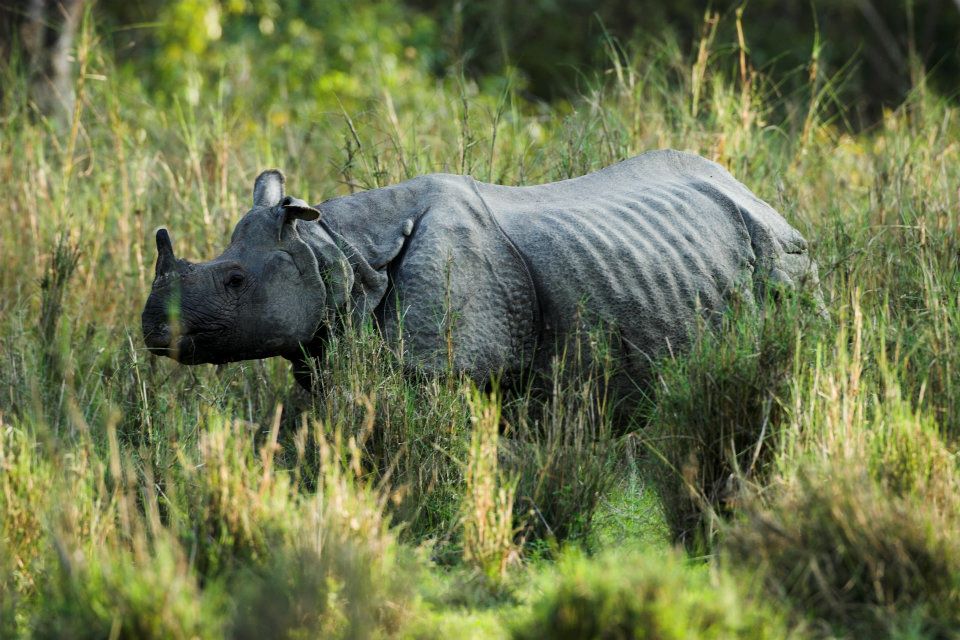 Chitwan National Park connects with Parsa Wildlife Reserve in the East. The two national parks share the East border and together with Valmiki Tiger Reserve in south form the Chitwan-Parsa-Valmiki Tiger Conservation Unit with a combined area of 2,075 km. sq. The Valmiki Tiger Reserve borders Chitwan National Park in the South, and the Narayani River from the Western border of the national park.
Climate, Vegetation, Flora and Fauna

Climate and Vegetation
The National Park consists of alluvial grasslands, watersheds and moist deciduous forests. Chitwan National Park has tropical monsoon climate, and high humidity is present throughout the year. Monsoon lasts from mid-June to late-September and participates around 2000 mm of rain. Other months, the temperature lies from 20° C to 38°C and the temperature during night drops around 5° C to 15° C.
The vegetation found in Chitwan National Park is subtropical with Himalayan broadleaf forests predominantly with sal trees. The park is an example of biological evolution that consists of a unique assemblage of native fauna and flora from inner Terai ecosystems and Siwalik region. The fragile Siwalik-hill ecosystem is one of the major attractions for environmentalist and biologist who study evolution.
The lower altitude region of Chitwan National Park consists of wetlands, watersheds and moist deciduous forests, making perfect living conditions for Asiatic Elephant and the One-Horned Rhinoceros. The wetlands and lakes like Belshazzar inside Chitwan National Park were named Ramsar Convention in 2003 as vital wetlands that need protection.
Flora and Fauna
Chitwan National Park has a wide range of flora and fauna. The Sal trees and broadleaf forest covers around 70% of the national park area. Essential Sal trees like Chie Pine lie in the southern face of Churia Hills. Northern slopes consist of small flowering tree and shrubs such as Beleric, Rosewood, Axlewood, Elephant Apple and creepers such as Spatholobus Parvifiouus and Bauhinia Vahlii.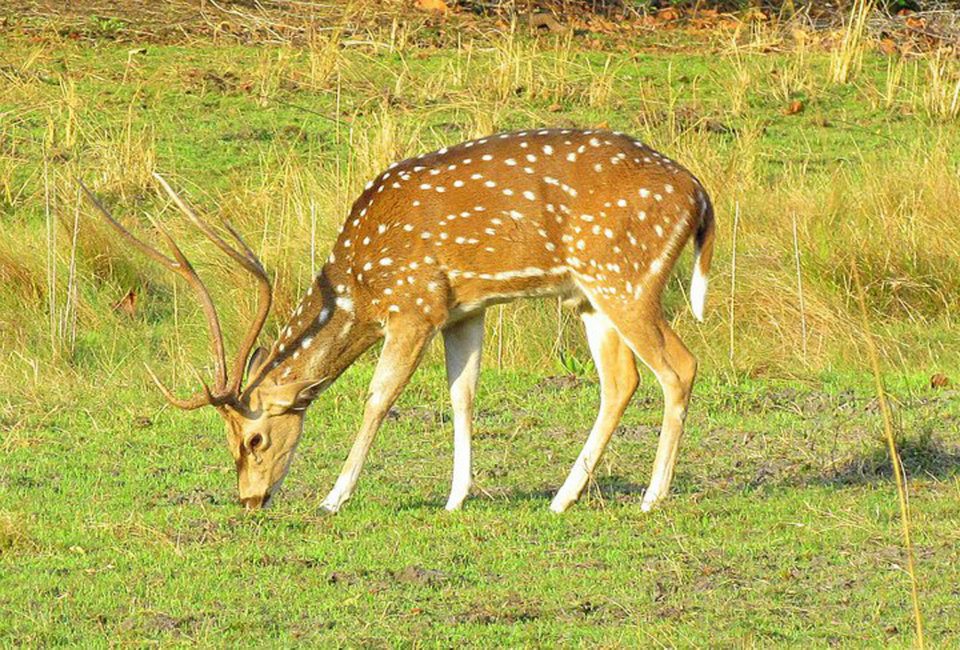 Even more astounding is the diverse range of fauna. This park is a habitat for more than 700 species of wildlife and diverse range of butterflies, moths, insects linger which are not fully surveyed yet. There are about 20 species of snakes including King Cobra and Rock Python. Additionally, starred tortoise and monitor lizards also dwell in the park. The Chitwan National Park protects endangered animals like One-Horned Rhinoceros, Bengal Tiger, and Gharials. The park also homes 544 species of birds and 50 species of mammals.
Things to Do In Chitwan National Park
Chitwan Jungle Safari
Jungle Safari is much-sought activity by both domestic and international tourist in Chitwan National Park. The Jungle safari takes you deep inside the wetlands and jungle of the park to view exotic birds, wild boars, musk deer and one-horned rhinoceros. If you are lucky, one might see the endangered Bengal Tiger. There are reports of Bengal Tiger even sitting in the path of safari jeep for about half hour giving people a near experience with the beast of the jungle.  
The Chitwan Jungle Safari is done in many ways. There is a jeep safari, where people sit back of a jeep and travel inside the park viewing all the animals that come across the trip.
Chitwan Jungle safari is also done by walking too. Many tourists, mostly bird lovers, and wildlife experts travel the jungle and watershed by foot. Nature walk gives opportunity to observe many animals and birds silently from a close distance. Walking Jungle Safari is best with a guide and one must not explore alone.
There have been many incidents of attack, one when a tiger attacked Gerard Van Laar and his guide. Laar climbed a tree while Krishna lured the tiger to him. Later the Tiger returned and circled the tree Laar climber. After about 2 hours later, the guide returned with help and chased the tiger with sticks and saved the life of Van Laar. Gerard, in his press conference, said if it weren't for his guide, he would be dead. So a well-experienced guide is of prime importance during the jungle safaris.
Canoeing
Several tourists canoe in the Narayani River and Rapti River to watch crocodiles and birds living on the banks of the river. The mugger crocodiles and gharials crocodile live in the waters of Narayani and Rapti rivers that bound the Chitwan National Park.
These beasts of river live under water during nighttime and surface on the sandy banks of the river to soak sunlight during the day. The Rapti and Narayani River holds the most crocodiles in Nepal and the best way of observing the animals and plants near the river is to canoe.
Elephant and Crocodile Breeding Center
Chitwan National Park holds separate breeding centre for elephants and crocodiles. The breeding centre is established to maintain the population of these animals. Elephants are quickly becoming an endangered species in the world and to protect and support the population of elephants, the breeding centre has established.
Crocodile breeding centre lies in the jungle safari route inside the jungle of Chitwan. The centre breeds water alligators and gharials and documents their growth from an egg to a full-fledged crocodile. The crocodile breeding centre is fast becoming a popular destination for tourists to watch and learn the habits of these river monsters.
Bird Watching and Sunset Viewing
Chitwan National Park comprises the majority number of species of birds than any other region of Nepal. There are about 544 species of birds alone in Chitwan. Among many endangered birds of Chitwan, some of the birds are Bengal Florican, Black-Chinned Yuhina, Gould's Sunbird, Salty-Breasted Rail, Lesser Adjutant, Swamp Francolin, and Blossom-Headed Parakeet. Chitwan National Park is a paradise for every bird watcher and bird lover in the world.
Sunset viewing is also becoming much-enjoyed activity in Chitwan. The sunset view from Chitwan is spectacular as the sun vanishes in the jungle of Chitwan. The sunset is observed from the banks of Rapti River where most domestic, as well as international tourists, gather in the evening explicitly to watch the sunset.
Tharu Village Visit and Cultural Dance
Many traditional Tharu communities lie neighboring the Chitwan National Park. The Tharus are the native people of this area. The traditions of these ethnic people are witnessed by visiting their villages. There is also special dance performed in Chitwan in the evening showcasing Tharu people's lifestyle, customs, and traditions.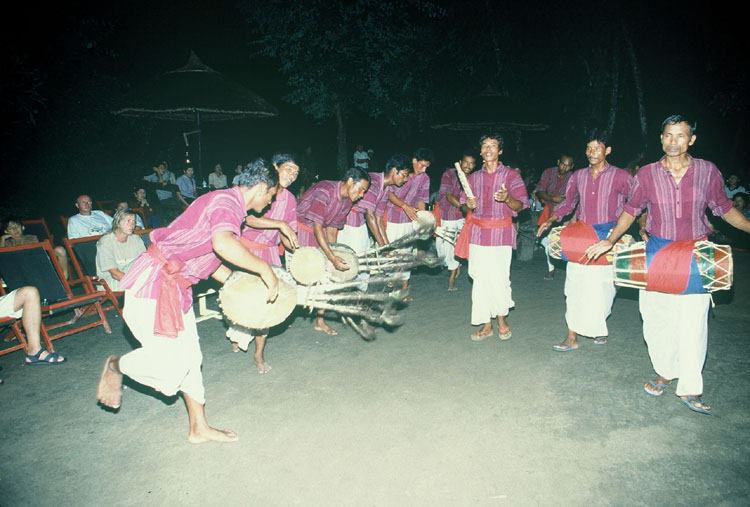 How to reach Chitwan National Park
Chitwan National Park is around 167 km far from Kathmandu. There are two ways to reach the park; one is by vehicle through Naryanghat-Mugling highway, and another is through the airplane.
By Bus/Car
Chitwan is around 167 km south of Kathmandu and is reached through the main highway. The route to Chitwan goes through Naryangadh-Mugling highway and also goes through Mahendra highway shortly before reaching Chitwan. Travel by bus/car takes about 5-6 hours. Trips time will vary from local buses to private car and jeeps.
Local buses take 10 hours to complete the trip, stopping to fill the bus with people, to have lunch and other activities. A private car can complete the journey in less than 5 hours without stops for lunch, and bathroom breaks.  
By Airplane
A quick way to get to Chitwan National Park is by aeroplane. Chitwan city doesn't have an airport, but Bharatpur, a sub-metro town 10 km west of Chitwan does. The flight duration from Kathmandu to Bharatpur airport is 30 minutes. Chitwan is 15 minutes far from Bharatpur in a car. In under an hour, you will reach the wilderness of Chitwan from Kathmandu.   
The Cost to Reach Chitwan
The trip cost to Chitwan is relatively cheap. The bus ride to Chitwan from Kathmandu ranges from 500-800 rupees in a local bus. Private exotic buses and reserved jeep cost more than standard fares. Travel agencies have a private and comfortable bus for tourists and may charge a higher fare for the trip. The coaches of travel agencies are very clean, equipped with air conditioner.
The alternative and quick way to reach Chitwan National Park is by flight from Kathmandu, Pokhara, and Bharahawa. The flight duration is less than 30 minutes from each of the above-listed cities. The cost of the flight varies from $80-$100.
You can always email us at info@nepalsanctuarytreks.com or contact us directly from our contact page.