All trekkers have their own stories he or she loves to share. It is one huge indispensable part of the travel experience.
Before writing about my trekking experience on Khopra Ridge, I would like to state that I  have been engaged in the tourism industry as a guide and porter for 21 years and have been working for Nepal Sanctuary Treks for the last five years. I feel privileged to work with one of the reputed and sustainable trekking companies in Nepal.
We have driven into the values of delivering quality services, and safety and are committed to sustainability. The most likely of this company is personalized service and concerned about their staff and clients. Above and beyond, the company conducts various in-house and external training for staff that helps to sharpen their skills and enhance their knowledge.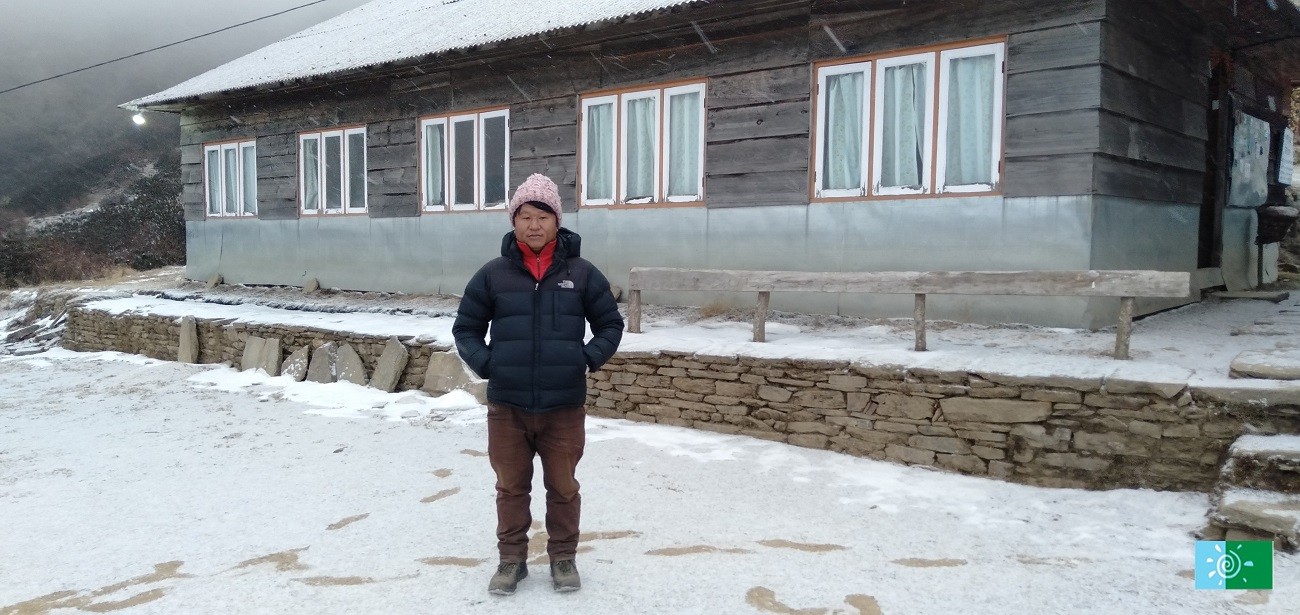 Khadka N. Rai: Trekking Guide
About Khopra Ridge
A few days of trek to Khopra ridge were filled up with excitement and enchanted by the natural charm. Khopra Ridge is one of the best short treks in Nepal. This trek comprises all the components of a classic Nepal trekking experience including hamlets, local culture wildlife, panoramic mountain views, and a range of landscapes from forest to high alpine. Besides, the trail is dominated by a blanketed forest of vibrant rhododendron, oak, and pine trees.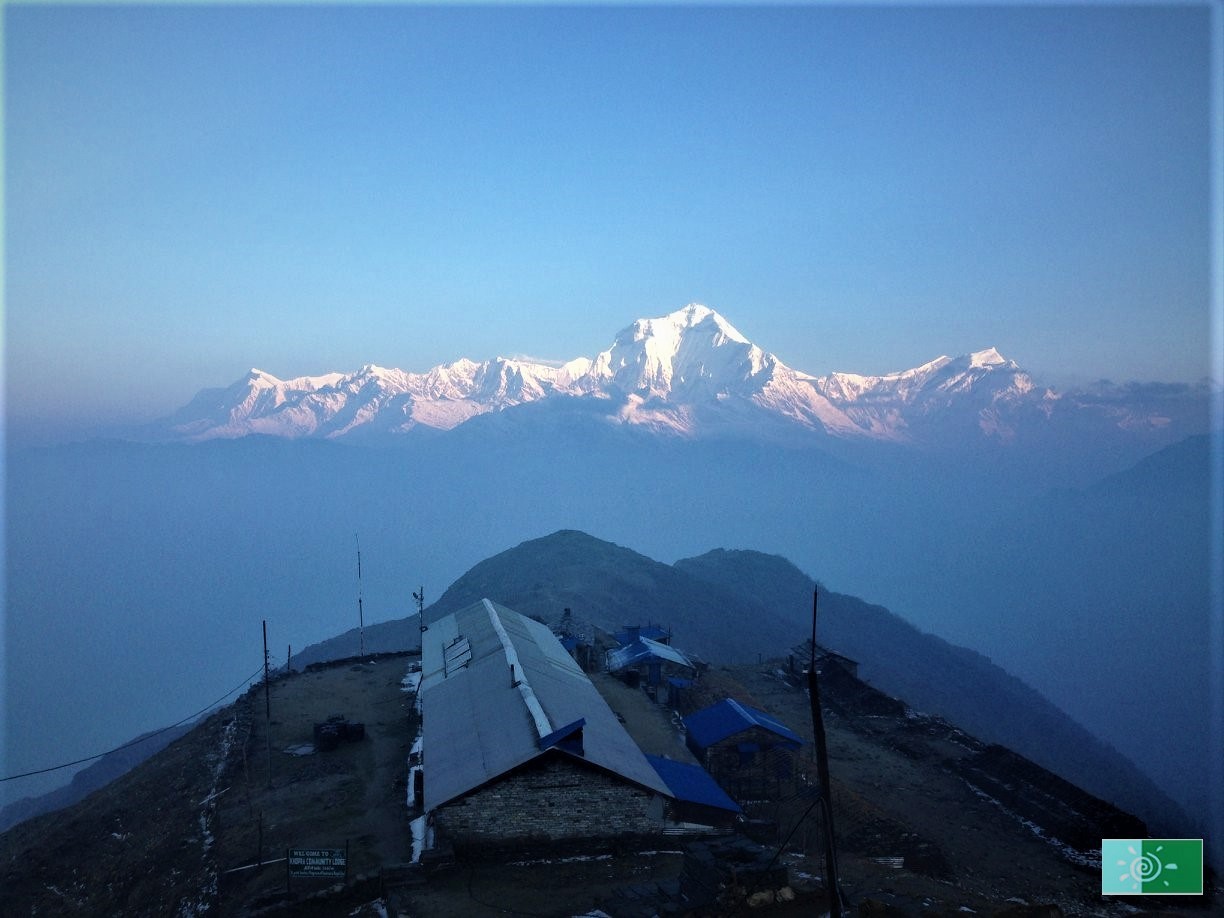 I feel that Khopra Ridge (3,660m/12,007ft.) is a spectacular balcony from which to observe and experience the majestic and splendid views of the mountain above 8,000m like Mount Dhaulagiri I-V (8,167m), Annapurna I (8,091m).
Apart from this one can take relish experiencing and observing the Nilgiri range (7,061m), Bharha Shikhar (7,647m),  Annapurna South (7,219m), Gurja Peak, Dhampus peak, and Tukuche that stand up in line blanketing in the everlasting snow.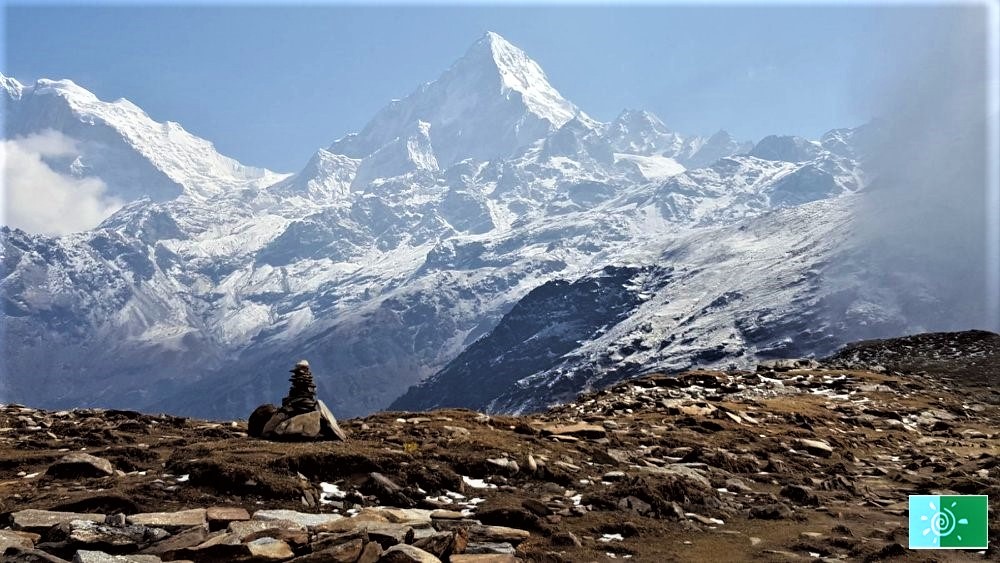 Suitable for any ages
Khopra ridge can be ideal for any age group normally from 10 up to 70. As far as you are physically fit, even beyond 70 can embark on this adventure without any difficulties.
Generally, this trek is a quite moderate elevation and does not need technical or previous trekking experience. Even though it is a moderate trek, however, with a good level of physical fitness, first-time trekkers, and families with no previous trekking experience can board this incredible adventure.
All year round trekking
To trek Khopra ridge, one does not need to wait for a special season i.e. spring, or autumn. As it does not climb to a very high altitude and the more exposed parts of the trail get a lot of sunshine. The atmosphere is clear in comparison to other regions. So, the trek is possible for most of the year. Khopra Ridge trek can be undertaken even in monsoon season. The only thing is one should be cautious of leeches and muddy trails.
Accommodation
The locals operate community lodges and private lodges along the trail. Whereas, there is only one community lodge in Khopra ridge. The lodging facilities and food are very basic. Despite basic facilities, you can find fun-loving communities that are welcoming and are the main essence of this trek.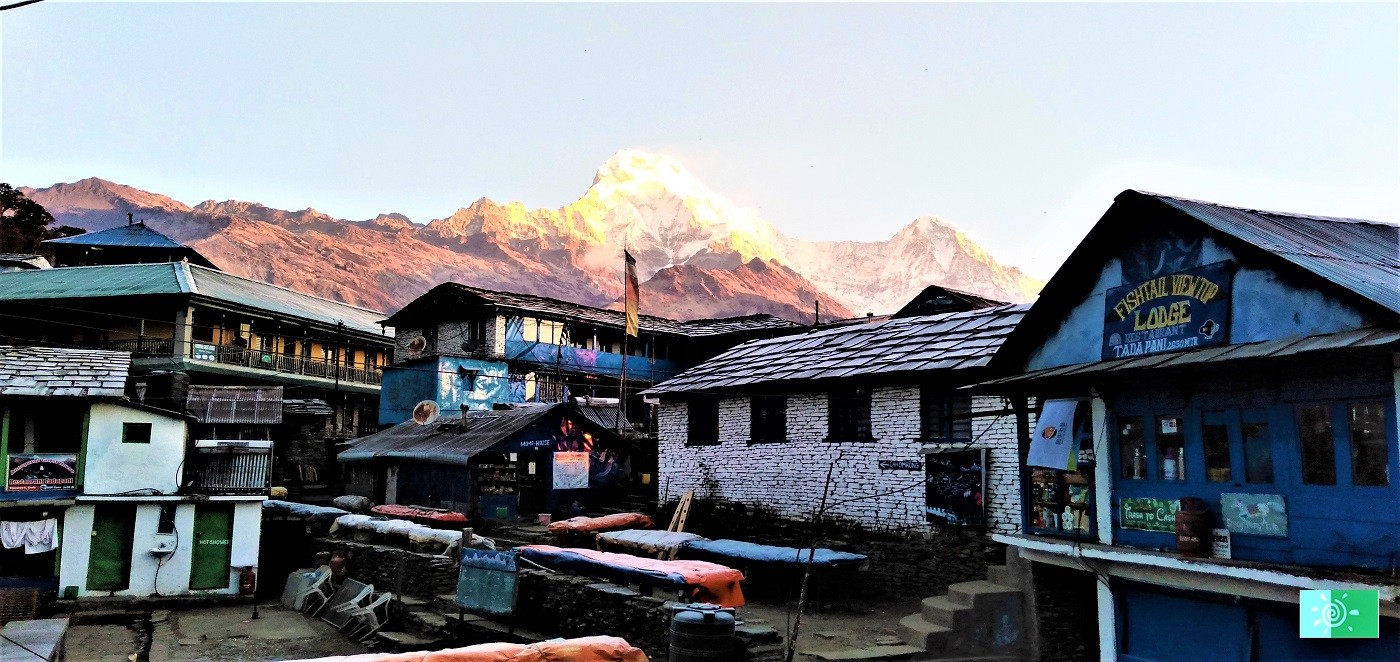 Khopra Ridge Journey
On 31 December 2018, our trekking crew and clients set off for 10 days trek to Khopra ridge. We took an early morning short and spectacular flight to Pokhara.  Our Khopra Ridge trekking began from the beautiful city Pokhara (820m) where we did 1.5 hours scenic drive to Lumle.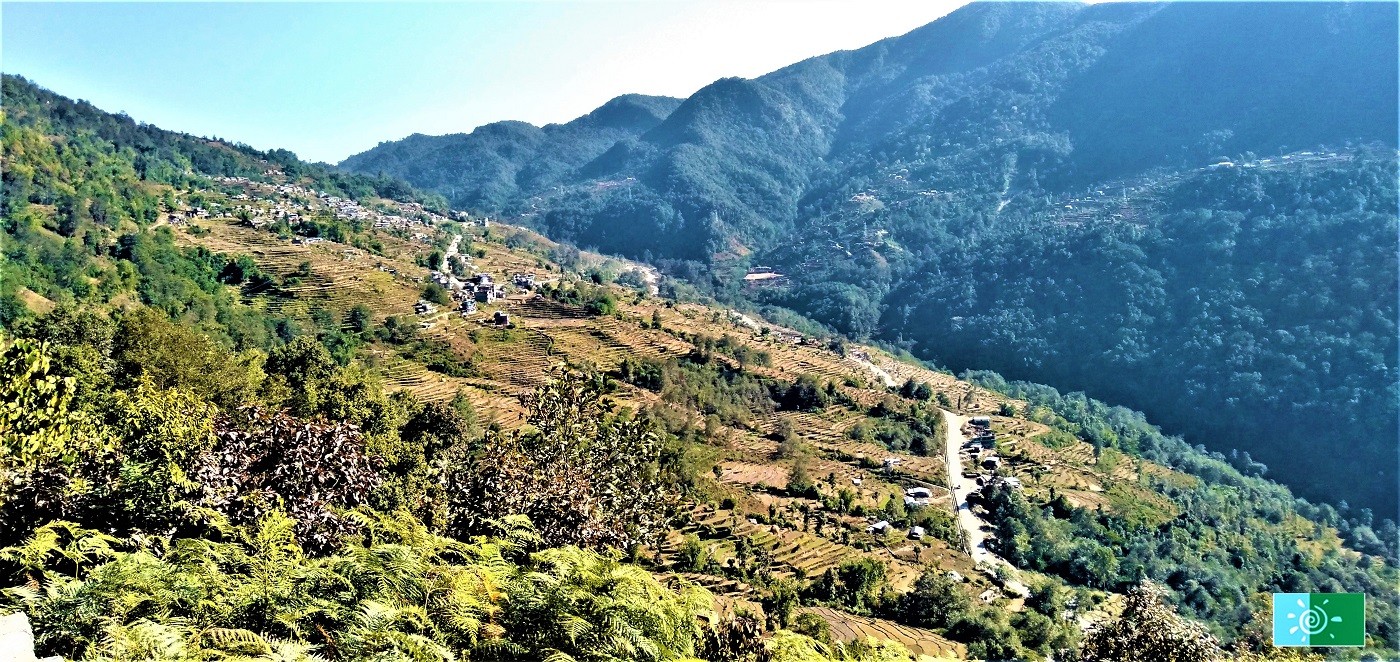 Alternatively, one can drive to Nayapul from Pokhara as well which is an old route. This time we chose to trek from Lumle from where we officially started our trek. Lumle is a charming little town in the Kaski district. Once we reached Lumle (1,610m) we had lunch and trekked towards Seuli bazaar bypassing Chandrakot.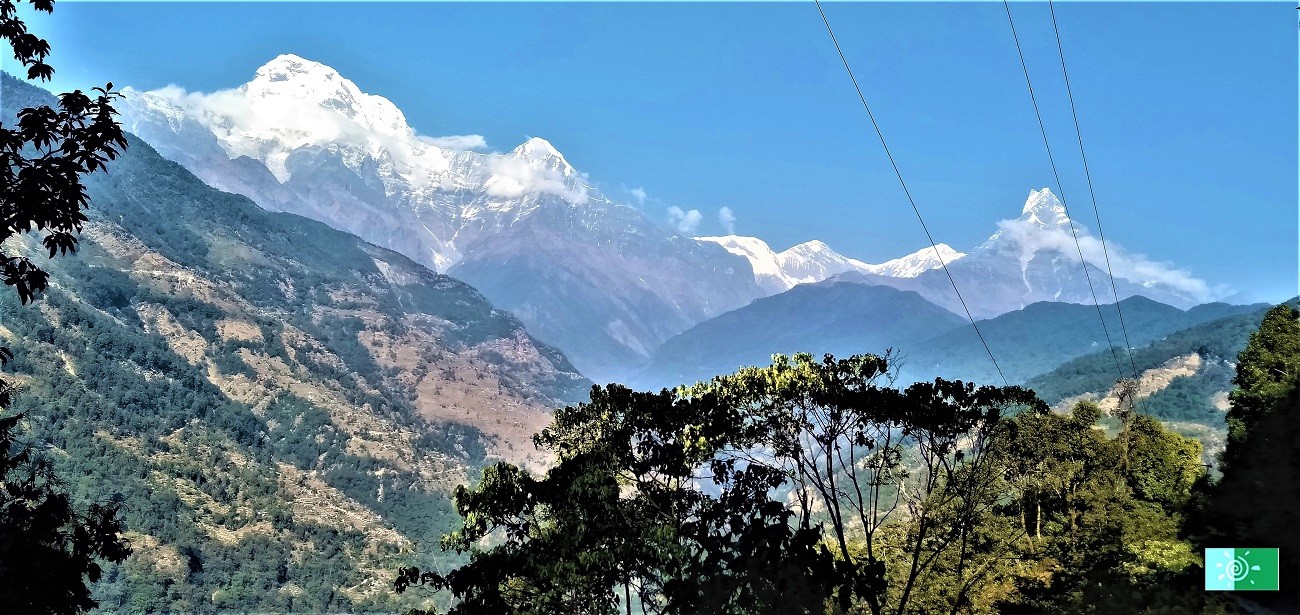 Chandrakot (1,580m) is a famous touristic area in the Annapurna region. We enjoyed the magnificent view of the Annapurna range in Chandrakot. This village is dominated by the people of mixed communities. After enjoying the beautiful Himalayas we took descent through the beautiful lush village all the way to Tomijung village.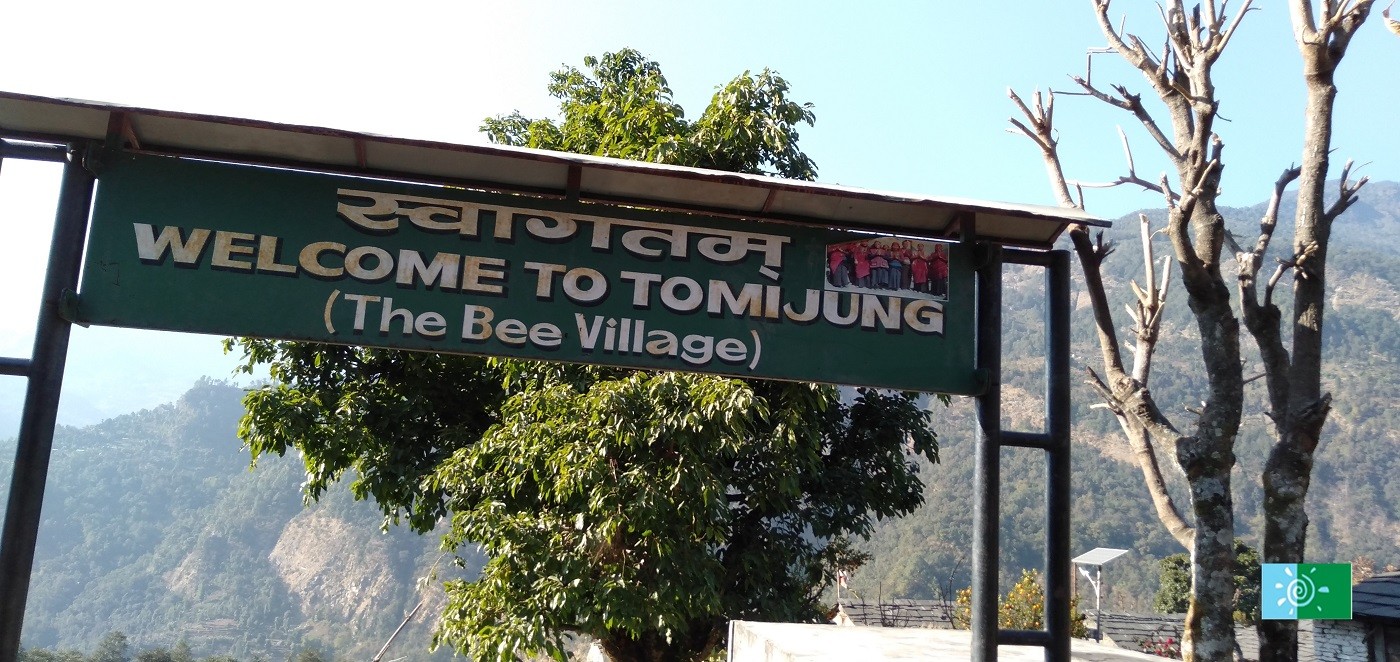 Further taking decent for an hour we reached a bank of Modi River and crossed the suspension bridge.  After walking through flat trails for 2 hours we finally reached Seuli Bazaar (1,170m) where we stayed overnight.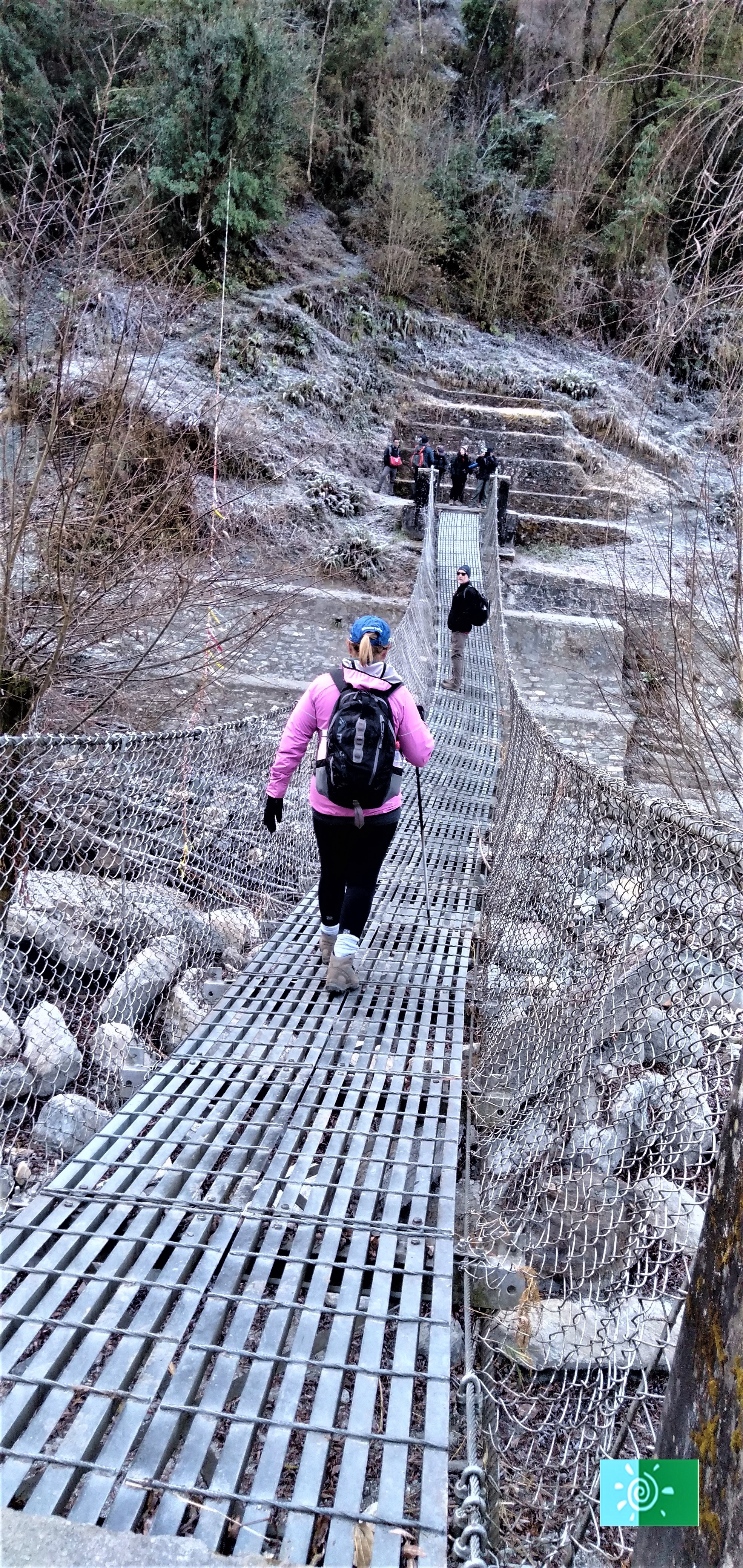 The next day we had an early breakfast and took the ascent trail. Following the motorway and crossing the road we took the main trekking trail to Ghandruk. After 3 hours of trek, we reached picturesque Ghandruk village (1,970m), a settlement of 4000-5000 people mainly inhabited by the Gurung community.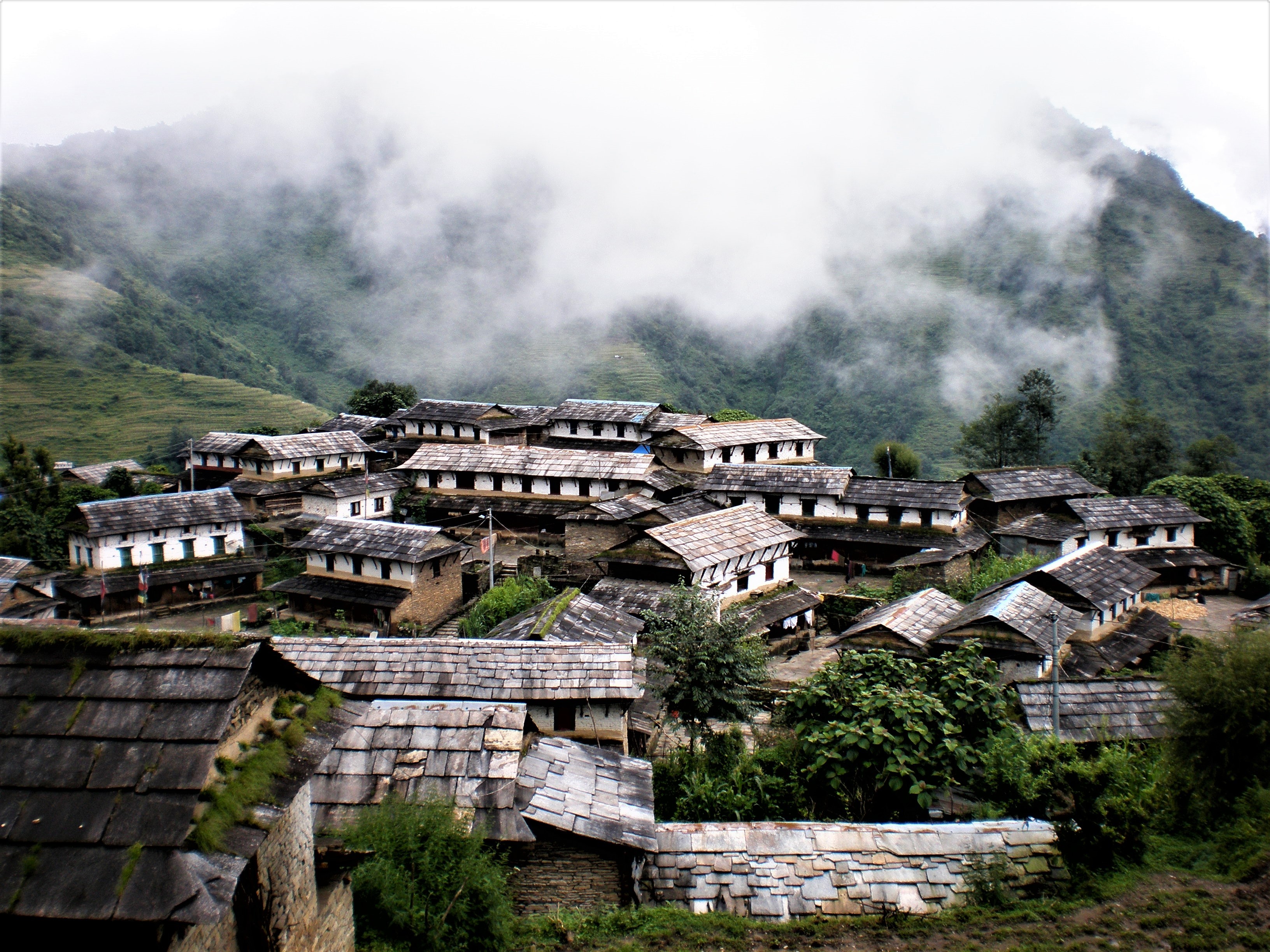 We were greeted by the exquisite sight of clear snow-capped mountains like Fishtail, Hiunchuli, Gangapurna, and Annapurna south which are remarkably close. After lunch at Ghandruk, we visited the Gurung Cultural museum, did a village tour, and observed the traditional houses which are still preserved by villagers. The countryside is incredibly picturesque and tranquil.
On the way, we came across local people adorned with their traditional costumes. Trek to Ghandruk appealed to us with the rich Gurung culture and tradition of people living in this exotic place.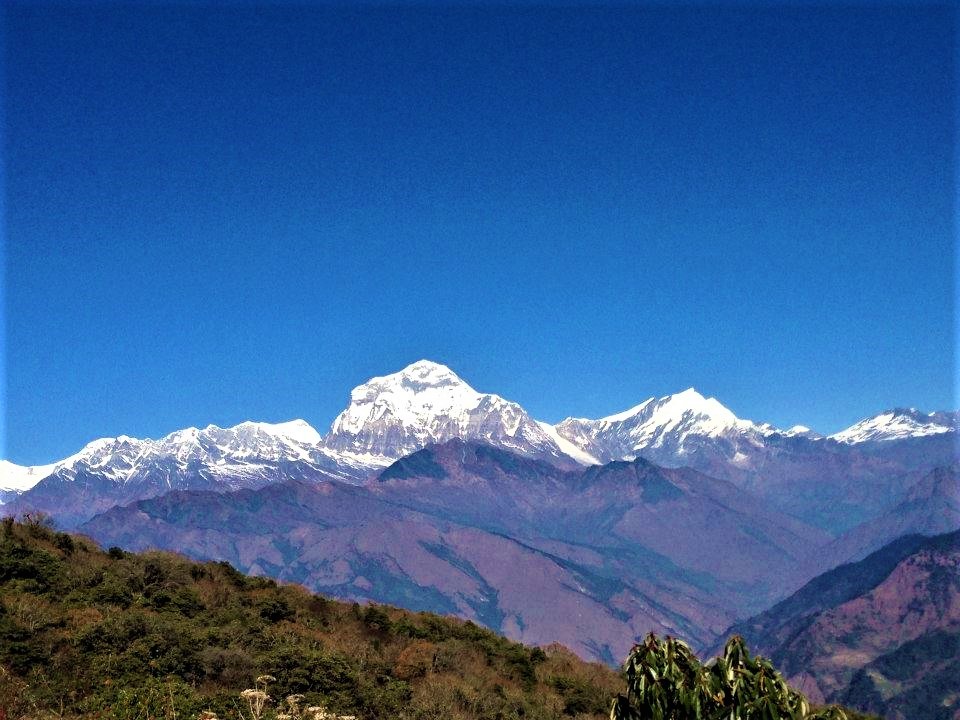 On the third day of our trek, we had our decent breakfast and leave commercial classic trek routes to follow the main trekking trail. Further, we took ascent and walked through a beautiful blanketed forest of rhododendron trees enjoying the unspoiled nature and melodies of exotic birds. We continued our trek, walking and resting at teashops and having masala tea.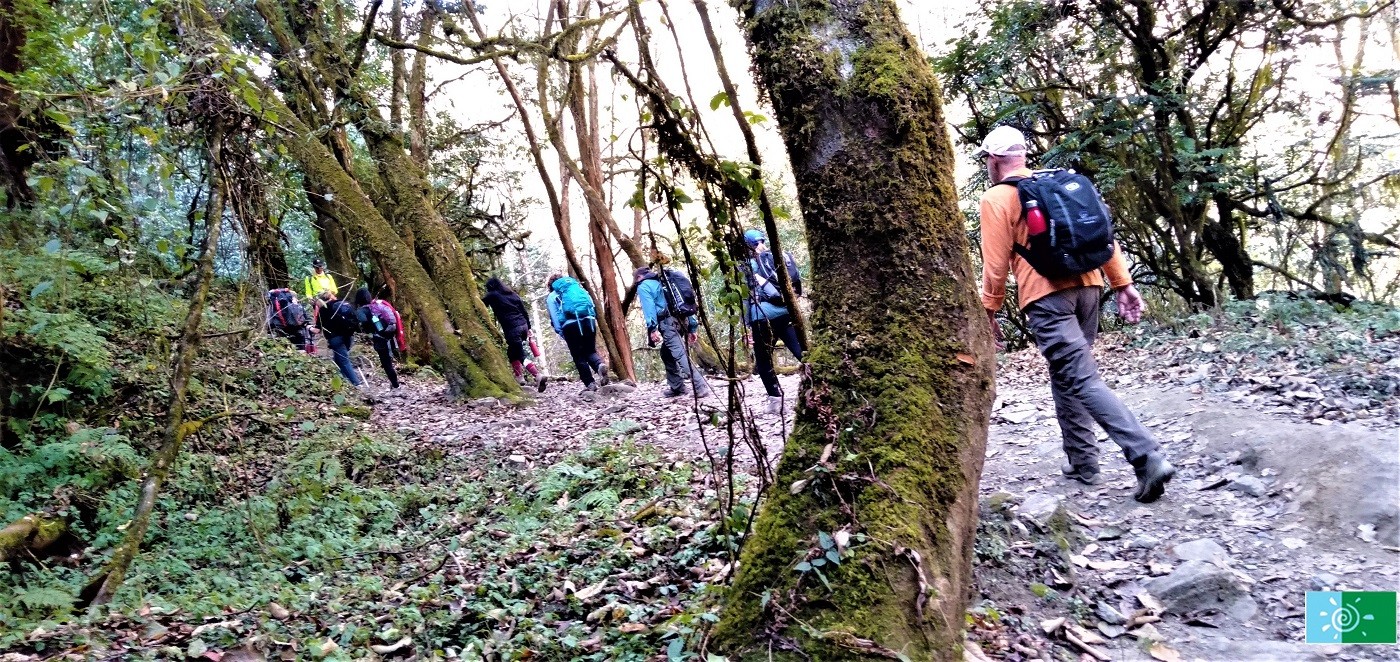 I must say, the pristine forest at the trail is splendidly beautiful. During our trek to Tandapani (2,590m), we saw innumerable episodes of flora and fauna like Himalaya bulbul, babbler, eagle, and langur monkeys, which gave us an imprint of being in a wonderland.  After 45 minutes of a trek from Bhaise Kharka through the middle of the rhododendron forest, we arrived at Tandapani and rest overnight in a private lodge.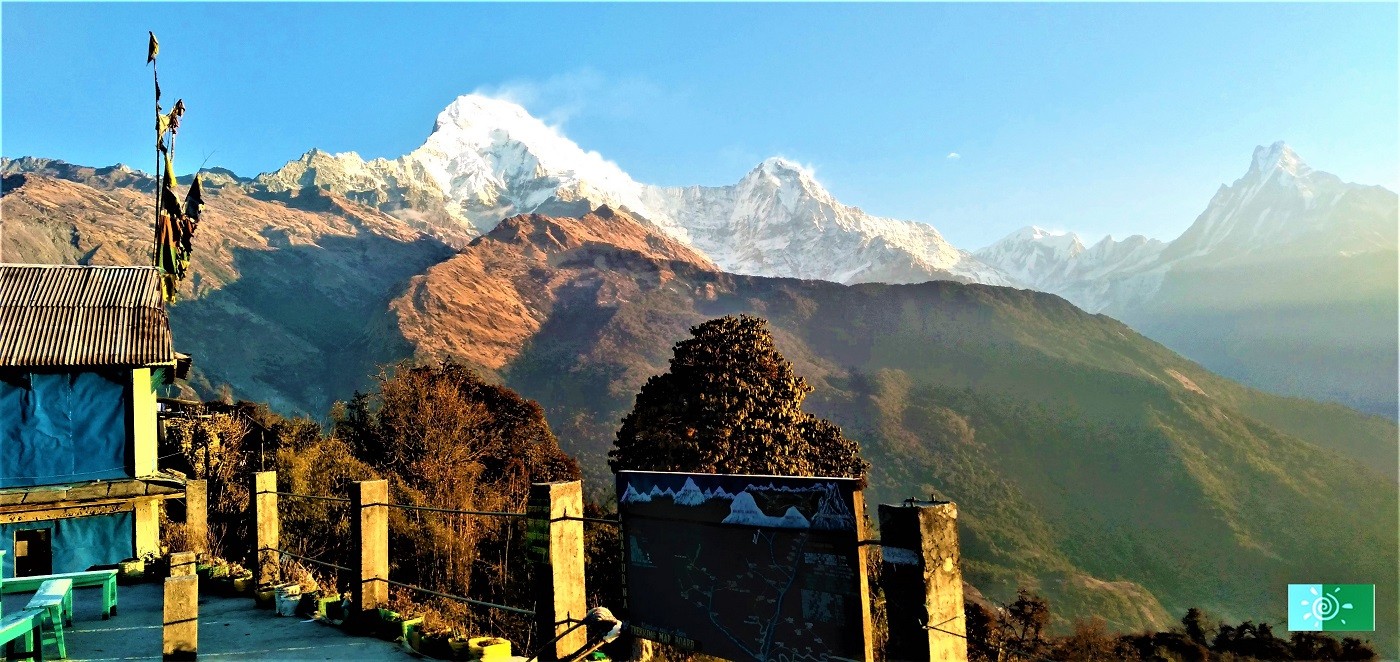 On the fourth day of our trek, after an early breakfast at 7:30 am we continued to trek to Bayeli. We leave the main trail and started to trek towards a less touristic trekking trail. Further, hiked to Bayeli Kharka (3,420m) through the thick forest of rhododendron and oak tree. As we inclined, we had a pleasant walk through the middle of the forest of shrouded pine trees.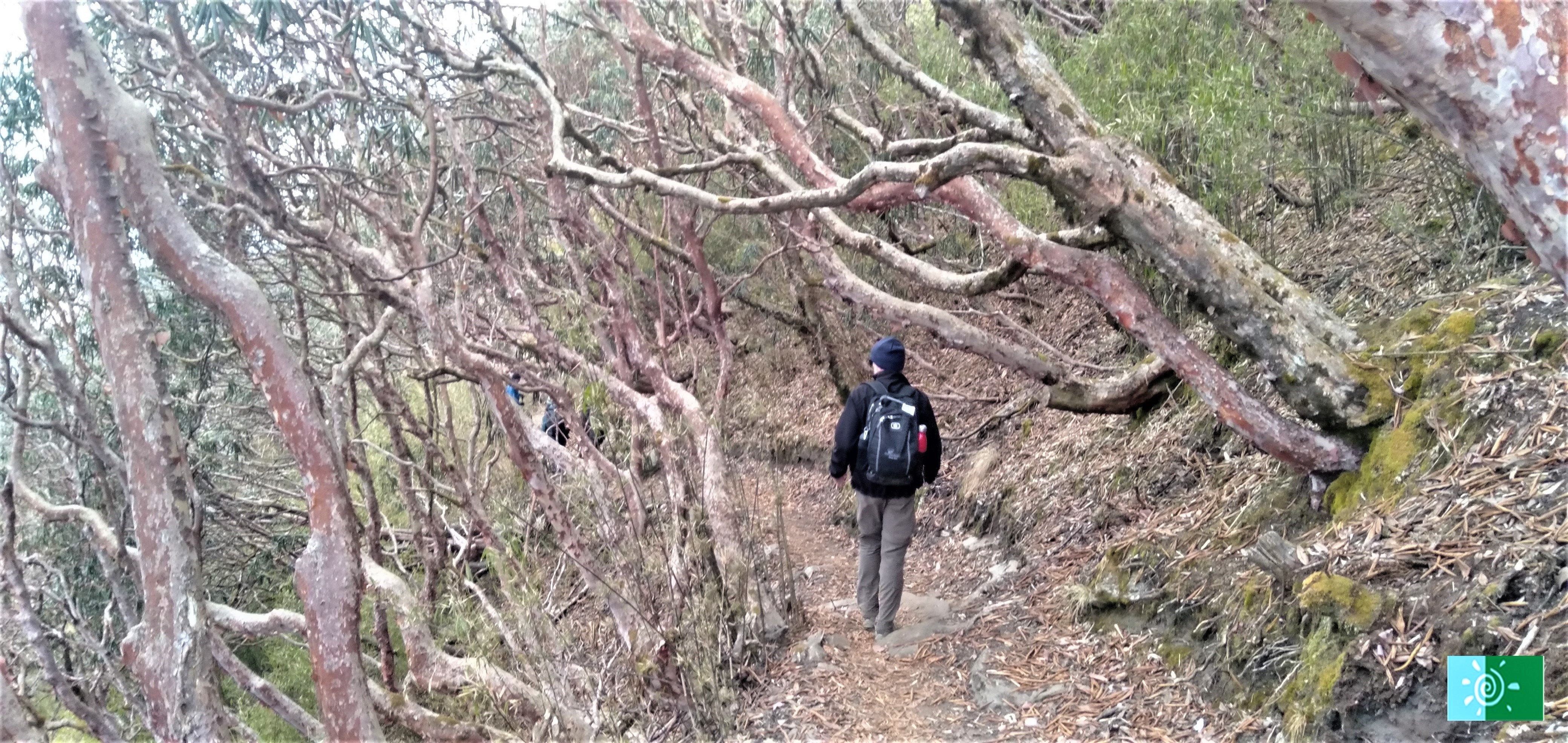 The area is a habitat for animals like pandas, bears, pine marten, mongooses, and many more. Our luck favored this time that we had a unique opportunity to observe the Pine Martens in close proximity. Along the trail, we spotted langur monkeys playing in their clan and hanging on a tree in its natural state which was truly charismatic. After 2.5 hours of trek, we reached Meshar where we found only one teahouse.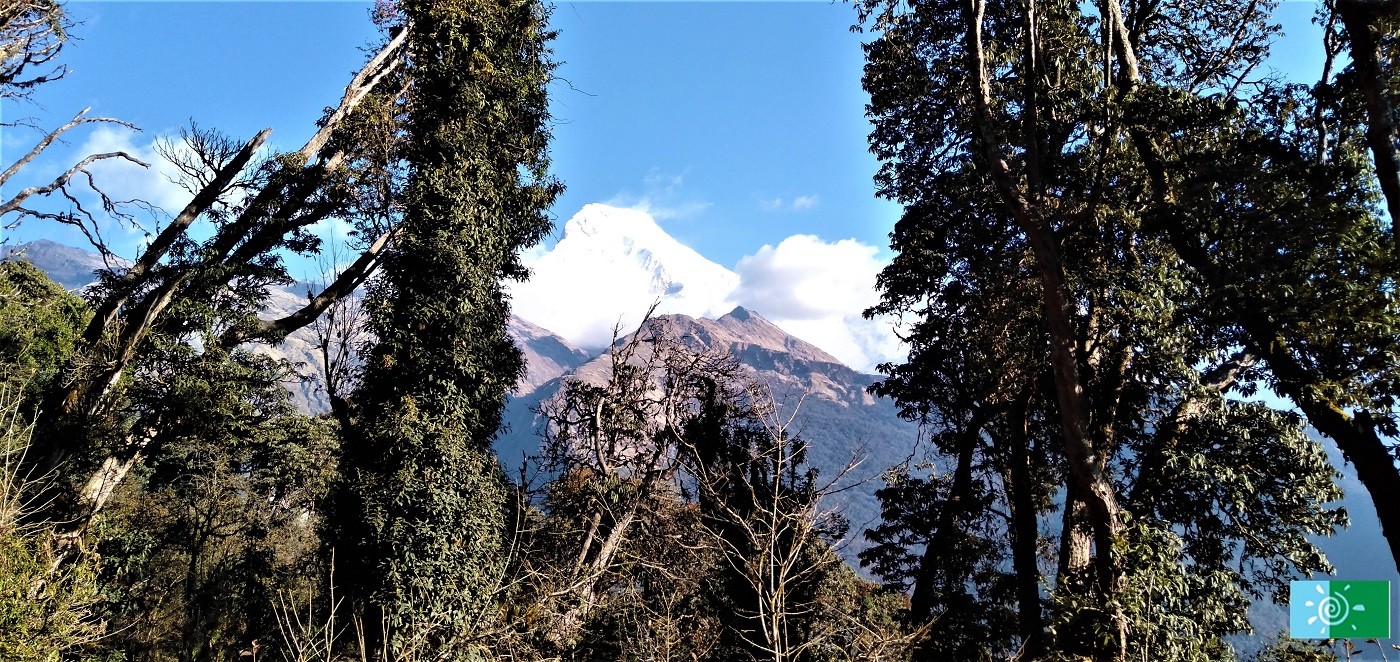 The trekking hours were longer as compared to other days. From Meshar, we inclined for 1.5 hours to Isaru and had a tea break. Now the trail started to ascend above the tree line and follow a ridge to Dobato where we stopped for lunch and then continued to march towards Bayeli Kharka.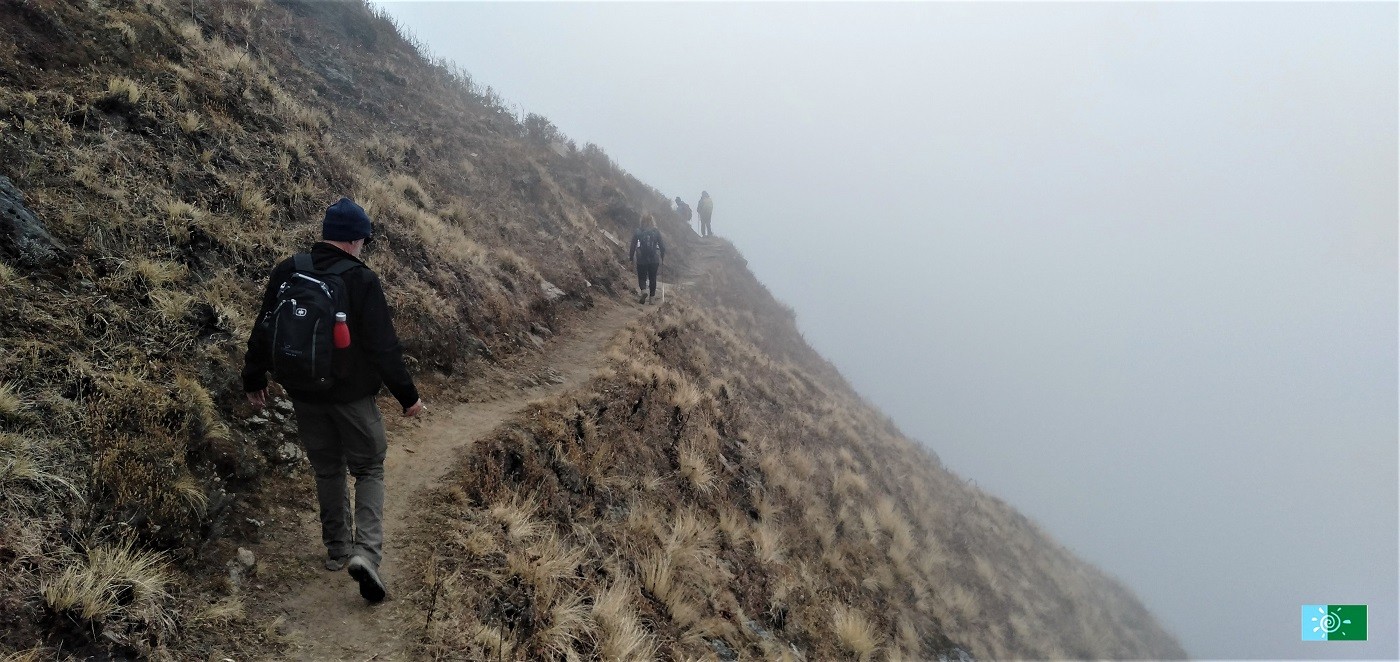 The aesthetically attractive landscapes and pastures of the region made our trekking a heavenly affair.  I experienced that in winter one will feel severe cold in Bayeli because this place is nestled above the tree line area. In spite of the misty and foggy weather, we enjoyed the view of the Annapurna range from our lodge at Bayeli Kharka.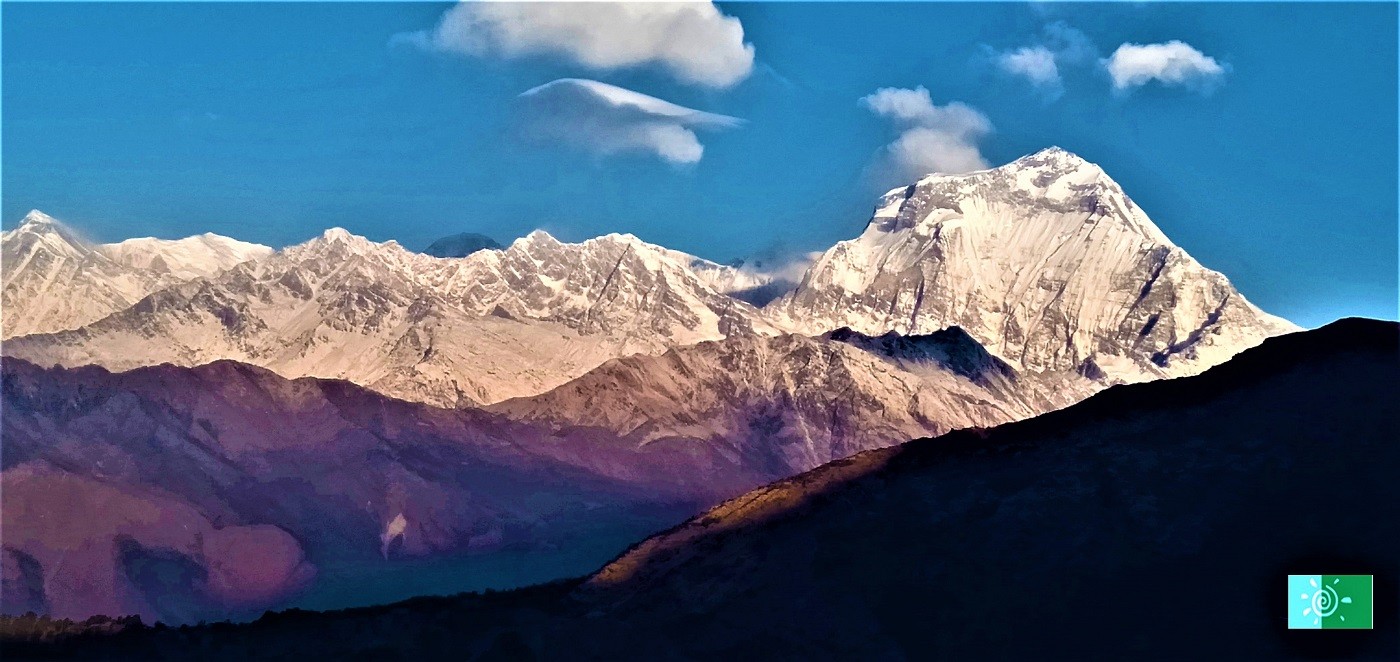 On the fifth day of our trek, we had breakfast at the lodge and head downhill through the shaded forest of rhododendron and pine trees. The trekking portion traversed a handful of streams that came down from the hill and froze in the winter to form a stretch of ice.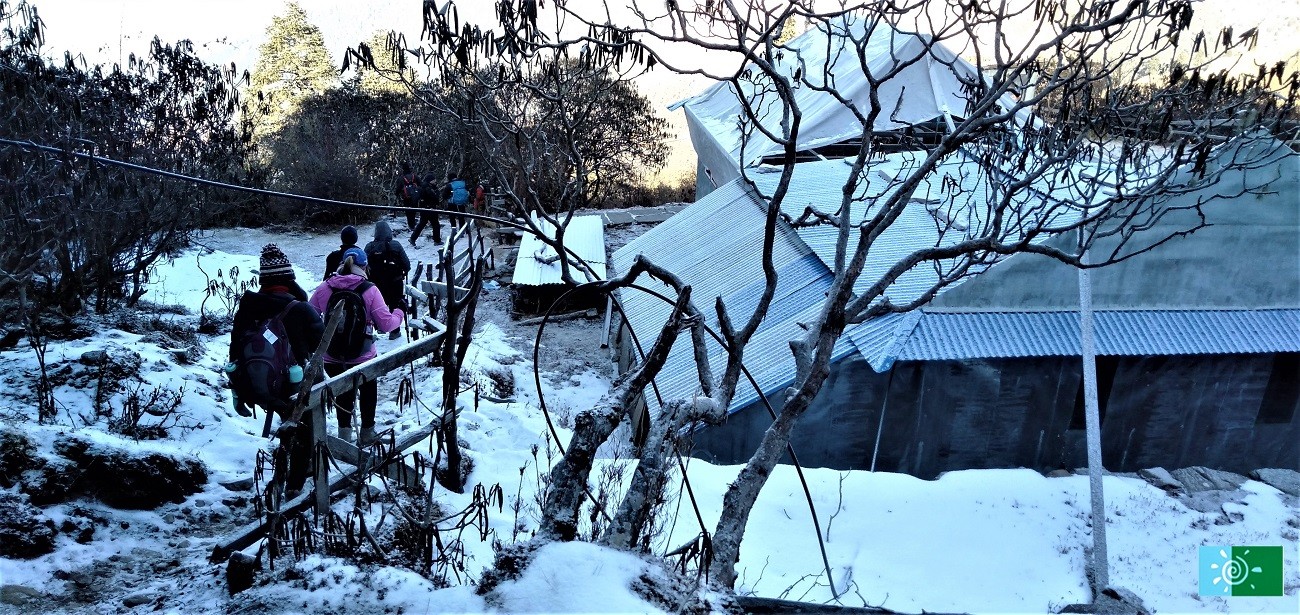 The snow piled up on the ground where we walked up on snow dodging some difficult parts. On this day it took us five hours to reach Chistibung (2,975m) whereas the normal hours to reach a destination are only 3-4 hours. Once we got to Chistibung we had our lunch and overnight at the community lodge.
The next day of our trek leads us to our final destination Khopra ridge (3,640m). We took a gradual ascent through alpine meadows and pastures for three hours then as one approached Khopra Ridge, we saw the tip of Annapurna South and several other peaks.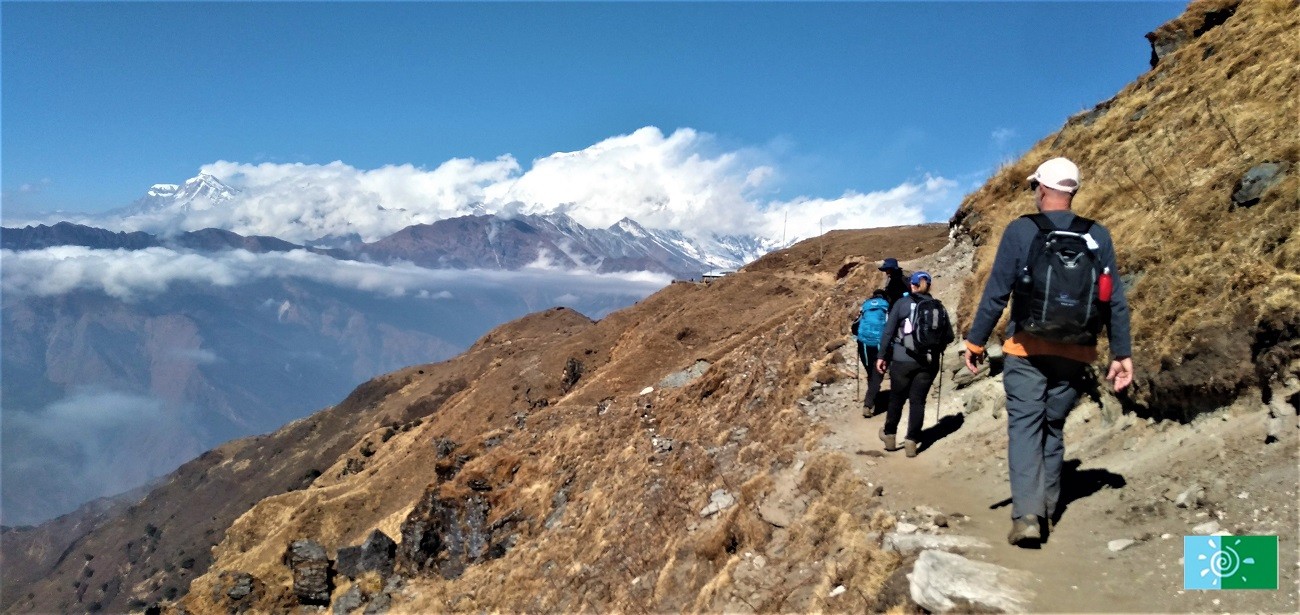 Upon reaching our destination which is the Khopra community lodge, we had our lunch. We were mesmerized by the closer view of magnificent mountains and felt like, we would fly right then and touch the peak of the mountains.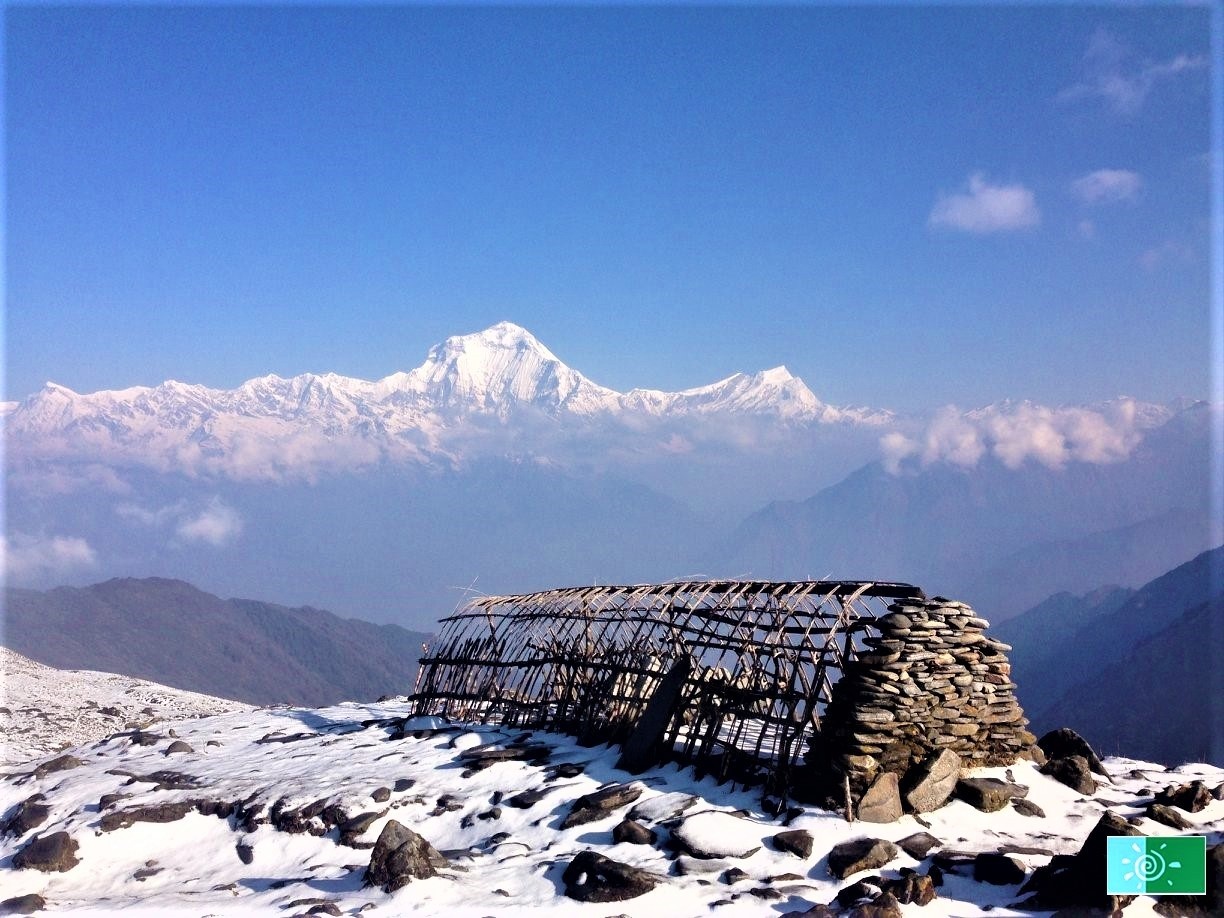 The surrounding from the ridge looked so magical, we couldn't believe our eyes as if we were viewing a real backdrop or some kind of HD Wallpaper. Whereas we could see the other side of the valley with dramatic and panoramic changeable layers of hills.
If you are lucky enough you might encounter a bear, deer, Himalaya Tahr, and lhophophorus, the national bird of Nepal. However, this time we came across with blood pheasant along the trail.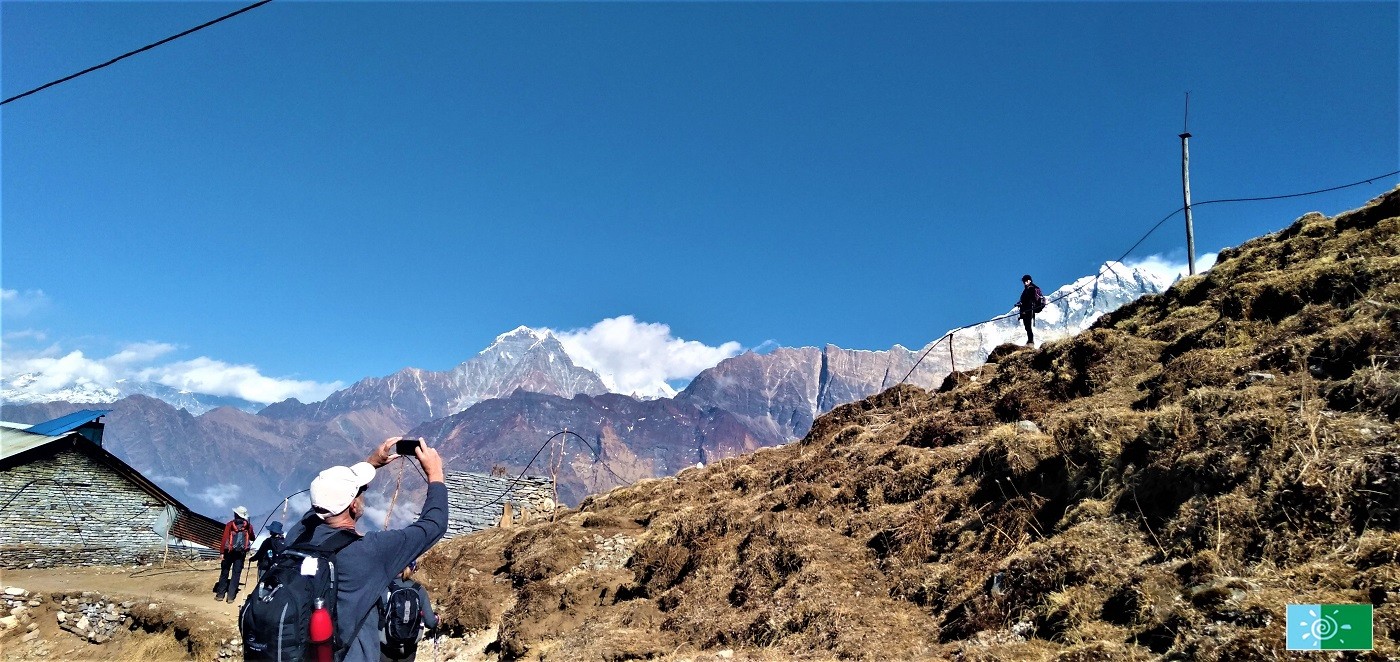 On the seventh day of our trek, we woke up early with the beautiful sunrise across the panorama of the Himalayas. My mind and soul were actually enchanted when I witnessed the rising sun's golden rays sweep through the silver mountains and transformed their colors from ivory to gold.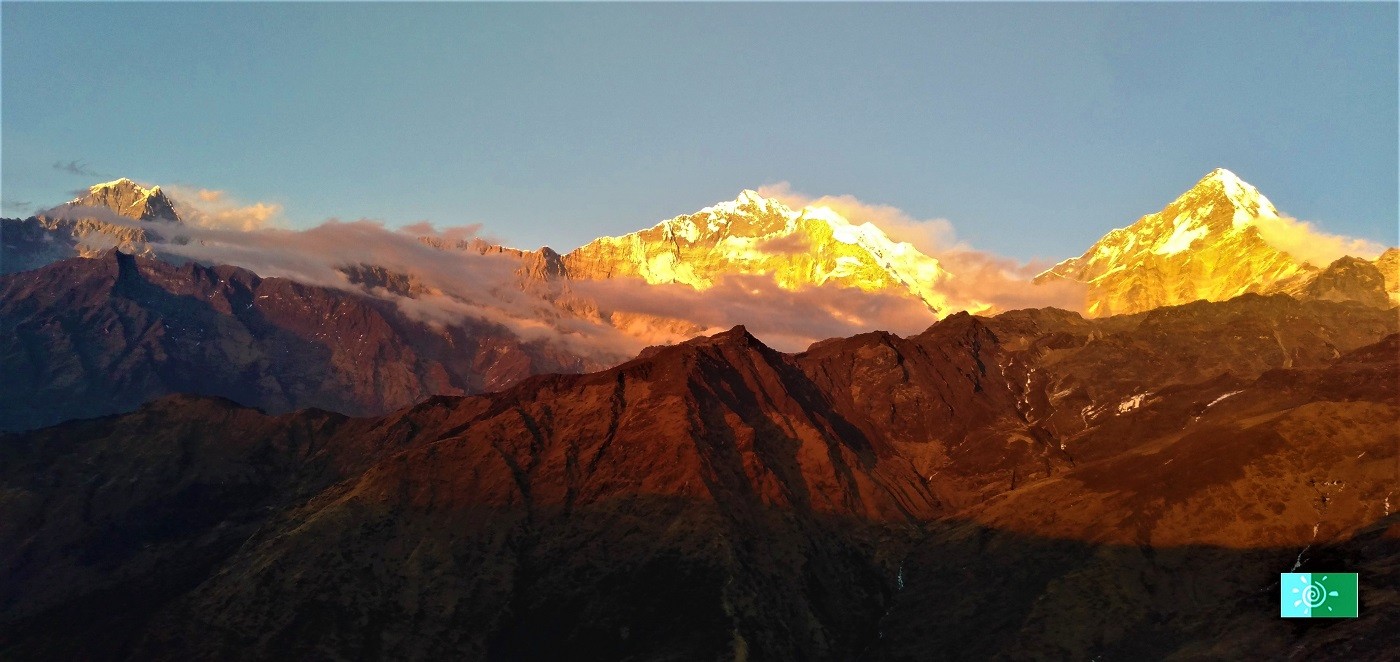 After breakfast at the lodge, we hiked towards Khayer Lake (4,500m) to observe glaciers, lakes, and Mountain View. Khayer Lake offers a marvelous alpine experience and is suitable to gain altitude, and observe the glacier and lake.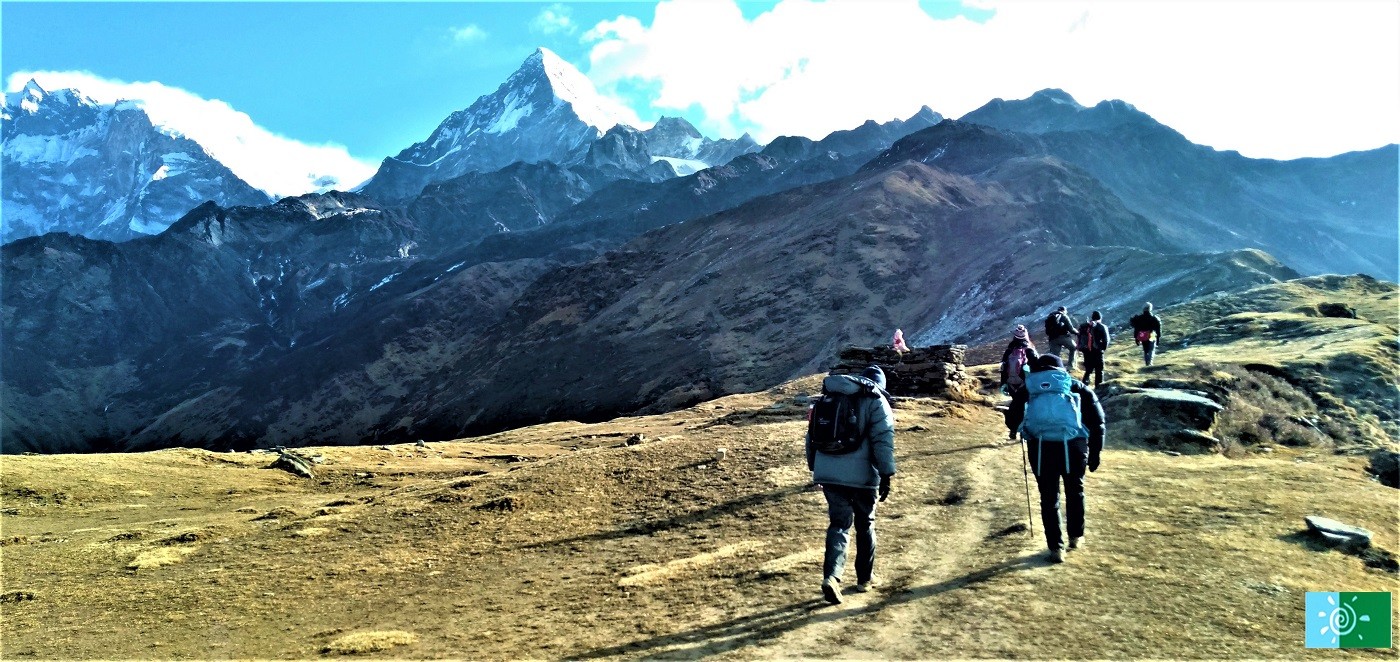 Due to weather conditions, we have to return back from the middle of the trail. However, we managed to reach an altitude of 4,000 meters.  We retraced back to the community lodge to have our lunch.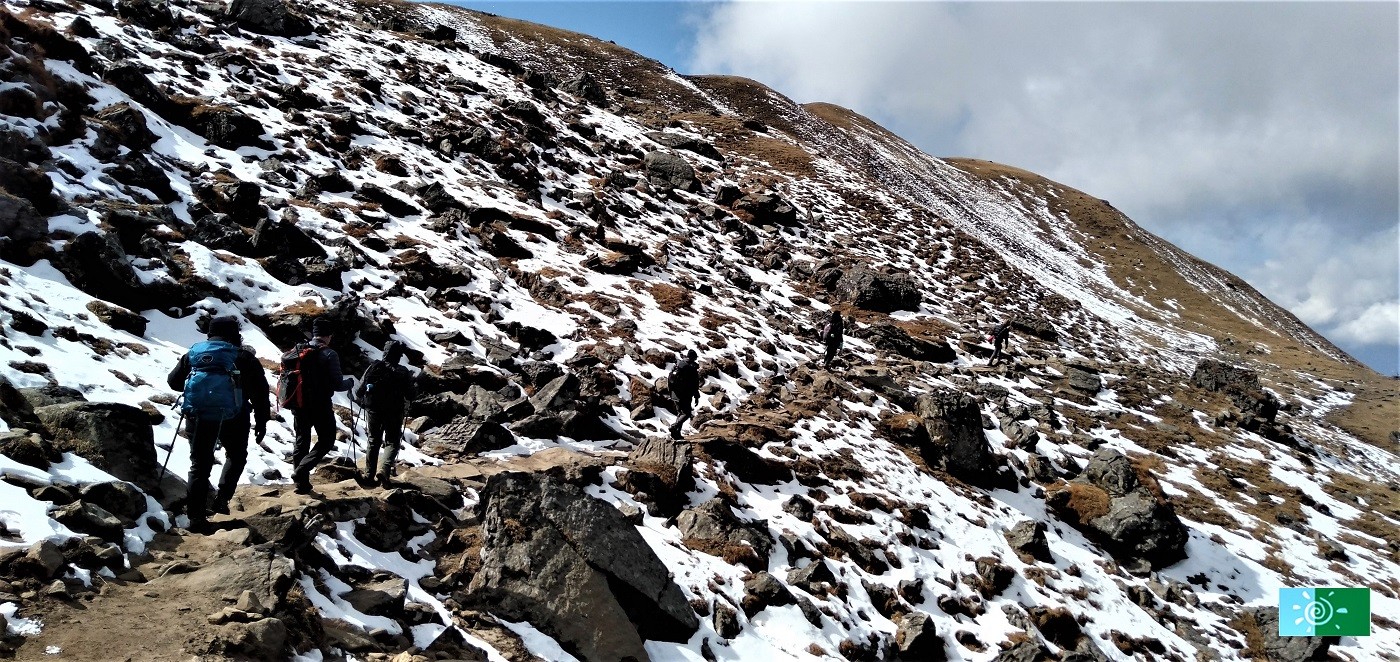 Afterward, we descended down to Chistibung (2,975m) passing through a meadow, oak, and rhododendron forest, and stayed overnight in Chistibung.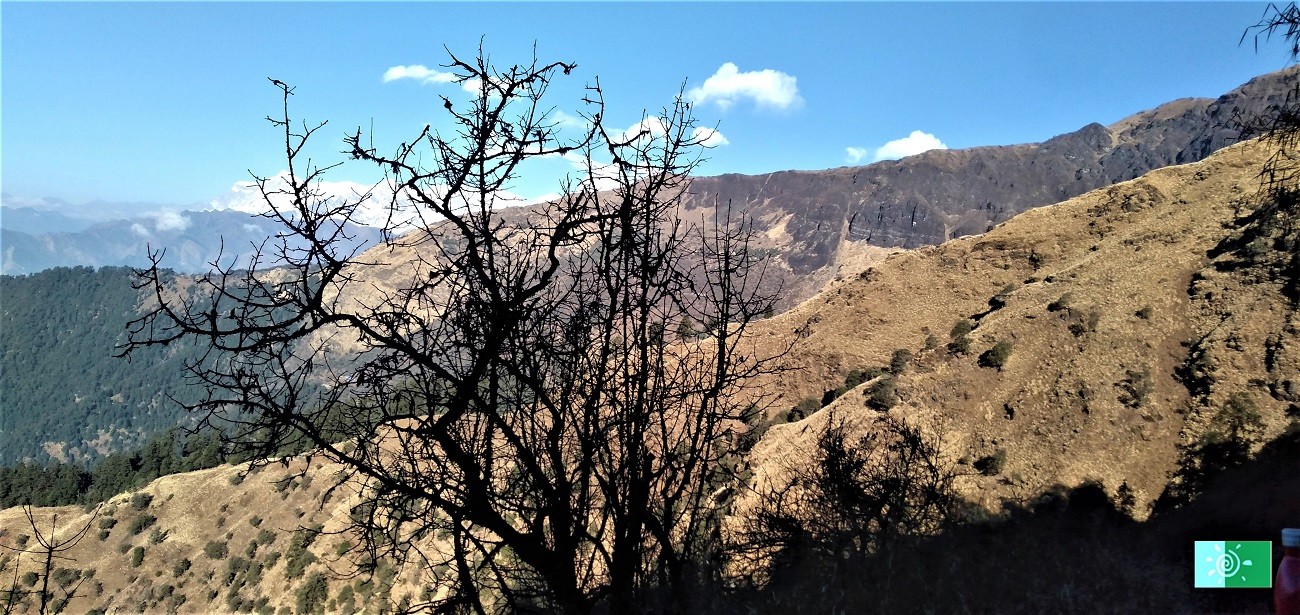 The next day after breakfast we took a descent all the way to Swanta village (2,200m). Swanta village is a settlement of the Magar community. We witnessed spectacular beautiful terrace-farms ornament land and traditional houses with Mount Dhaulagiri backdrop.
The rich and brimming rice plantation, several quaint sights of valleys and Himalayan foregrounds mesmerized any travelers.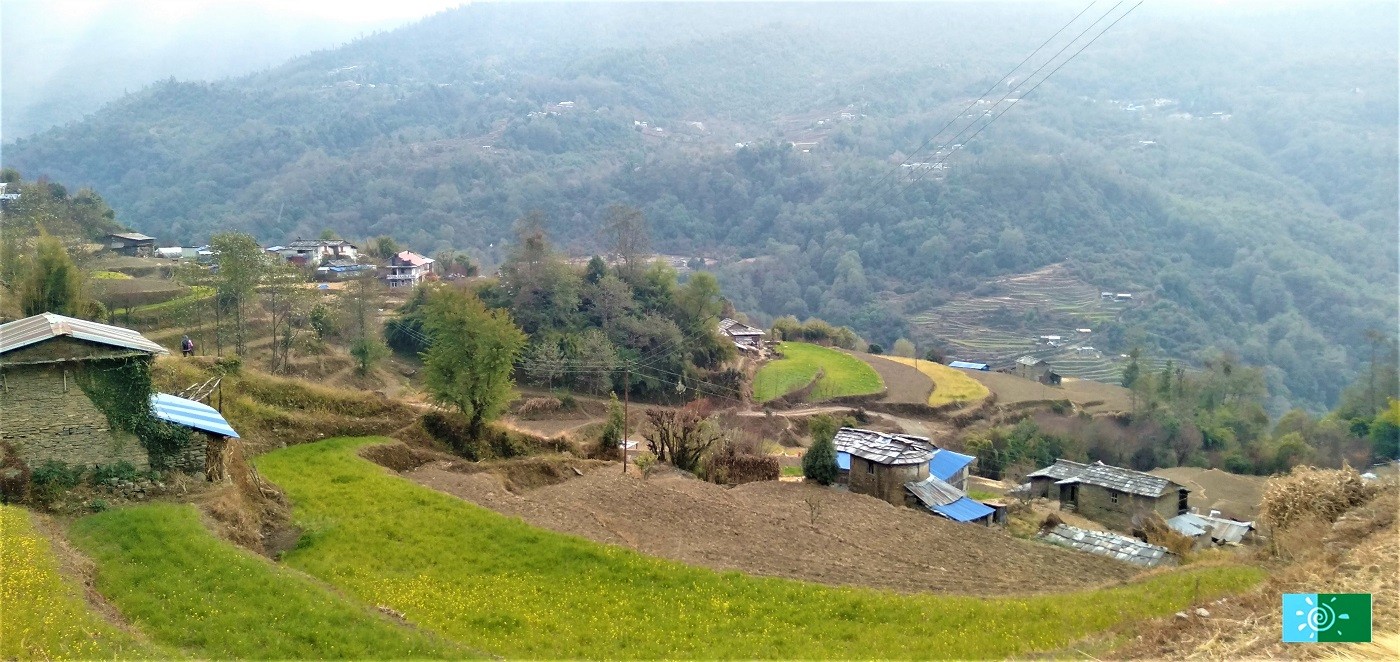 After 4 hours of trek, we finally reached Swanta village. When we arrived at our lodge, the snowflakes have begun to fall, and we were very glad to be back. With a hot tea warming up our hands it was wonderful to watch the snow falling on the village from inside.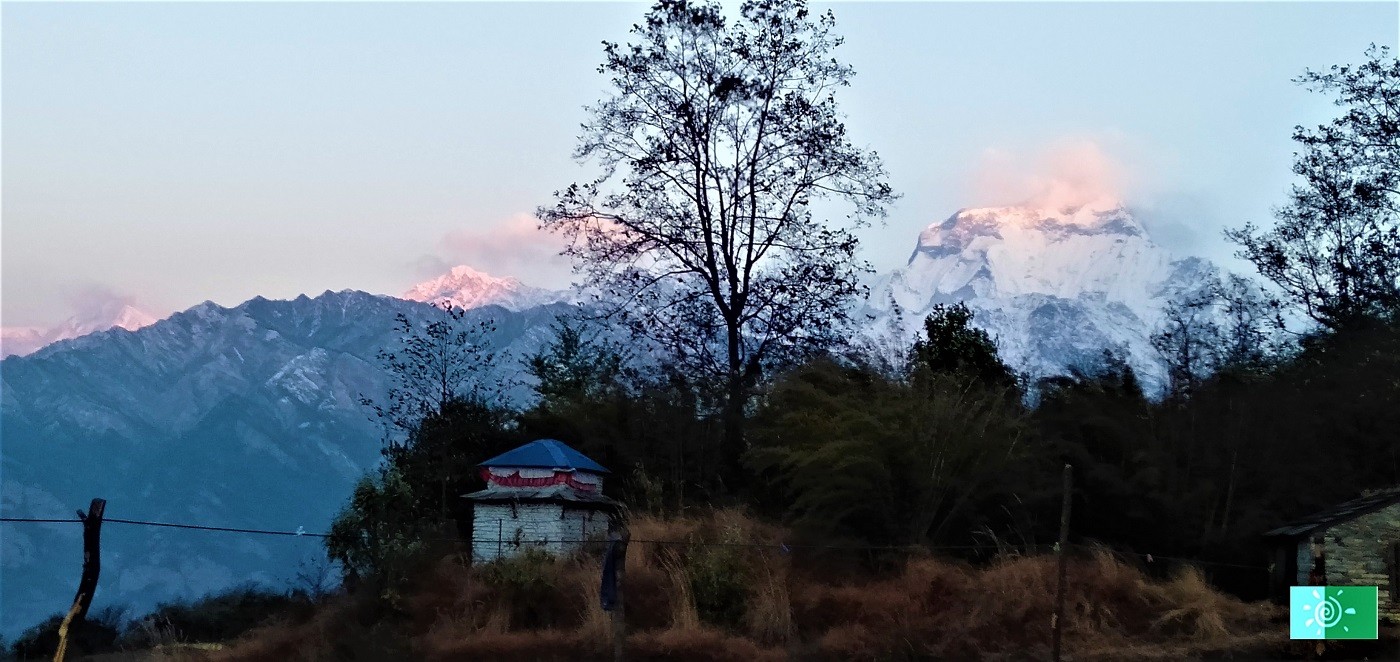 After a night at Swanta village, we ascended to Ghorepani and had lunch there. Further, we took descended the trail to Ulleri (1,309m) through rhododendron, alder, and oak trees. Ulleri is a big settlement of the Gurung community. We arrived at our destination after a long trek.
On the final day of our trek, we had our breakfast and took a descent of 4000-5000 stone stairs steps for two hours. Then we traversed the suspension bridge and reached Tikhedhunga. Further, we walked flat trails passing the villages like Hille, Banjgara, Sudame.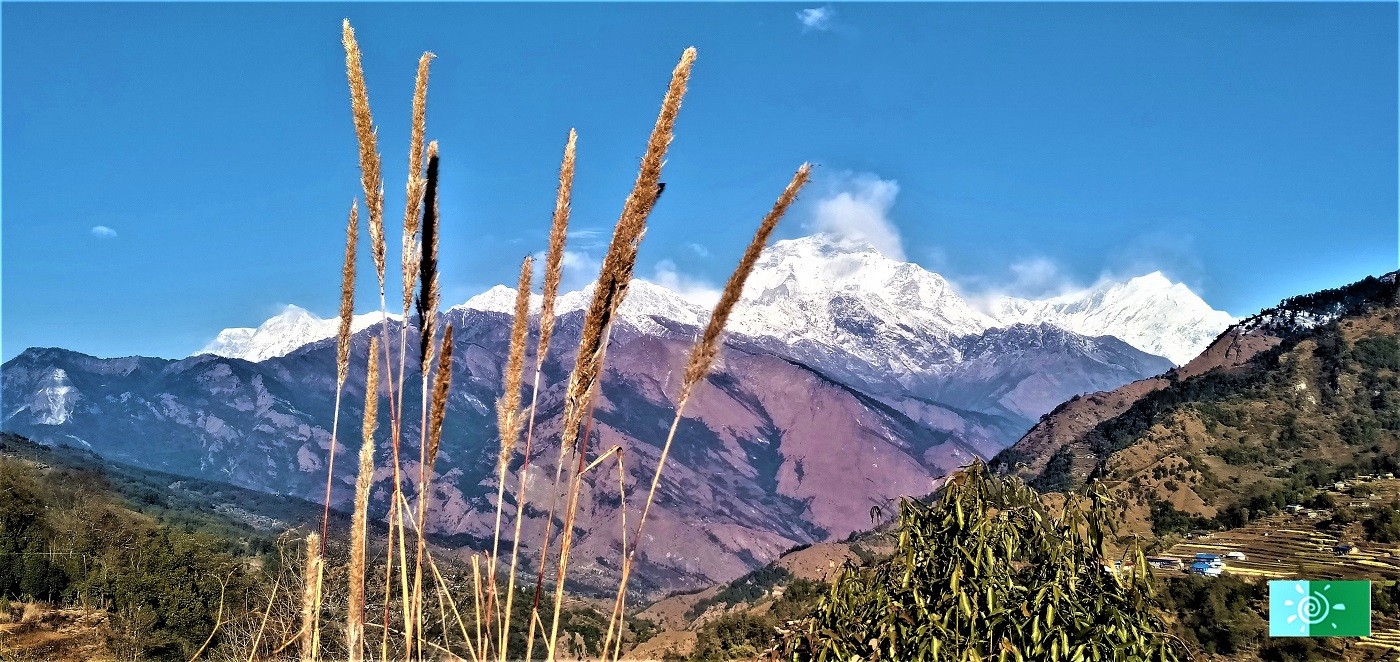 From Sudame we walked for 1 hour all the way to Birethathi where we checked out ACAP. After half an hour of walking, we finally reached the endpoint of the trek called Nayapul where we met our private transport and drove back to Pokhara.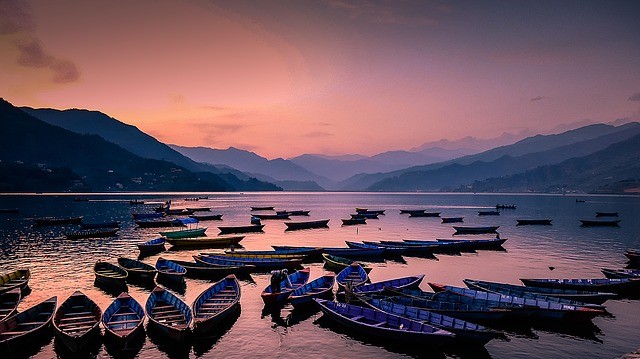 In a nutshell, I would highly recommend taking this trip as it is very suitable for visitors who truly wish to enjoy the wonderful unique vibrant culture and a marvelous view of mountains with the awe-inspiring landscape.  Khopra ridge is a little part of heaven on earth that everyone should visit once in a lifetime.
Want to explore less touristic trail and hidden gem of Annapurna region?