Lying east to the one of the classical Annapurna Base Camp, Mardi Himal trek is a short trek that takes you to the Mardi Himal Base Camp marvelously situated at the base of Mardi Himal and Machapuchre (Fishtail Mountain).
In spite of being a relatively newly introduced trail, the popularity of this trail seems to have been growing in the past few years. In 2012, the government officially opened the trail as before the trek was only accessible as a camping trek. Since the area started operating commercially for trekking activities, the local people established the teahouses and homestays throughout the entire trail.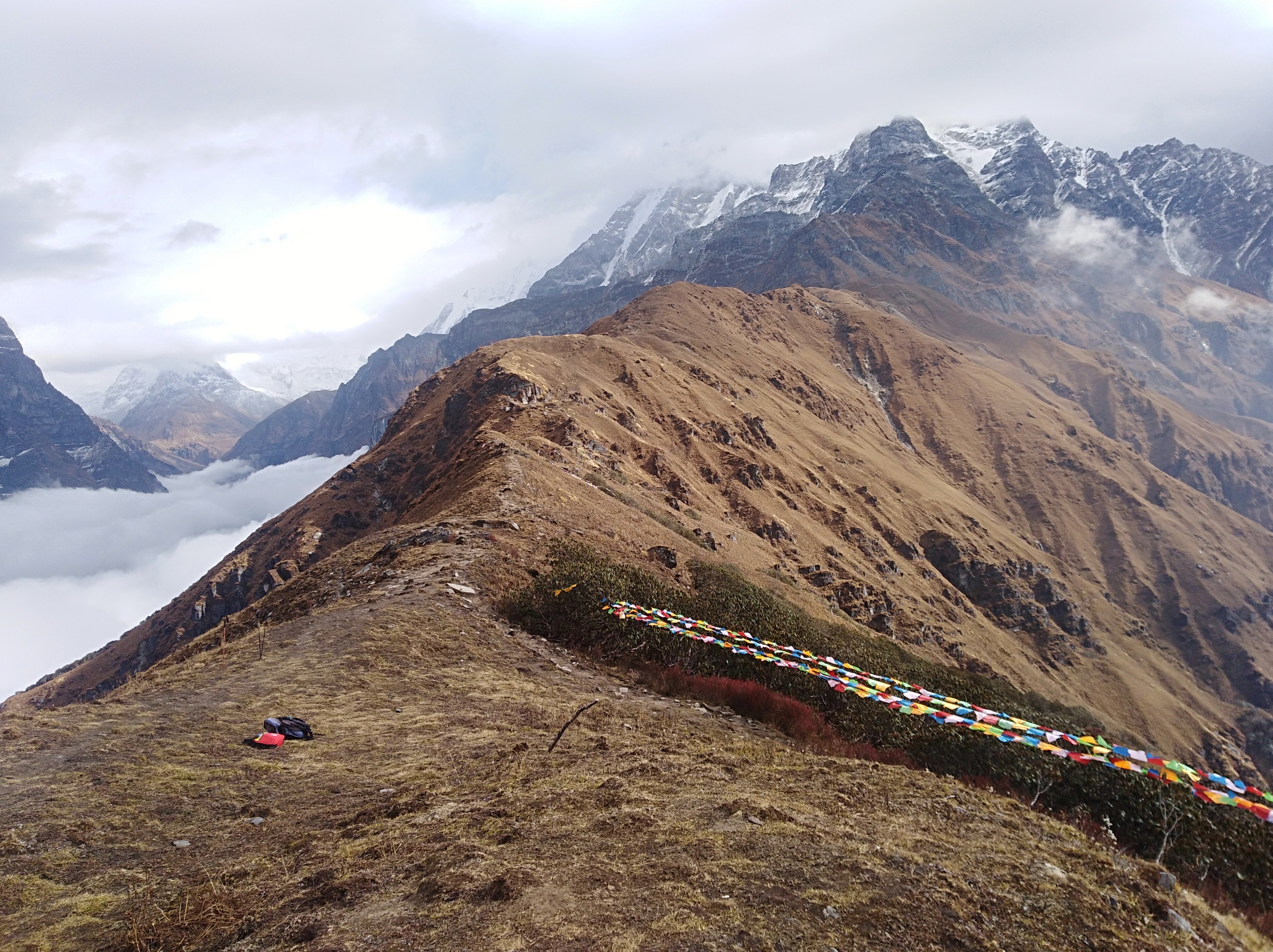 This spectacular teahouse trek leads trekkers towards the off the beaten path  And the highlight is that you can savor the natural beauty without encountering huge crowds and offer a wilderness experience in the high alpine landscape. Mardi Himal Trek is a perfect destination for a family with children, solo and school groups who are eager to experience the Himalayan journey. This trek is also ideal for trekkers who have limited time to spend but are seeking for an off the beaten trekking experience in Nepal.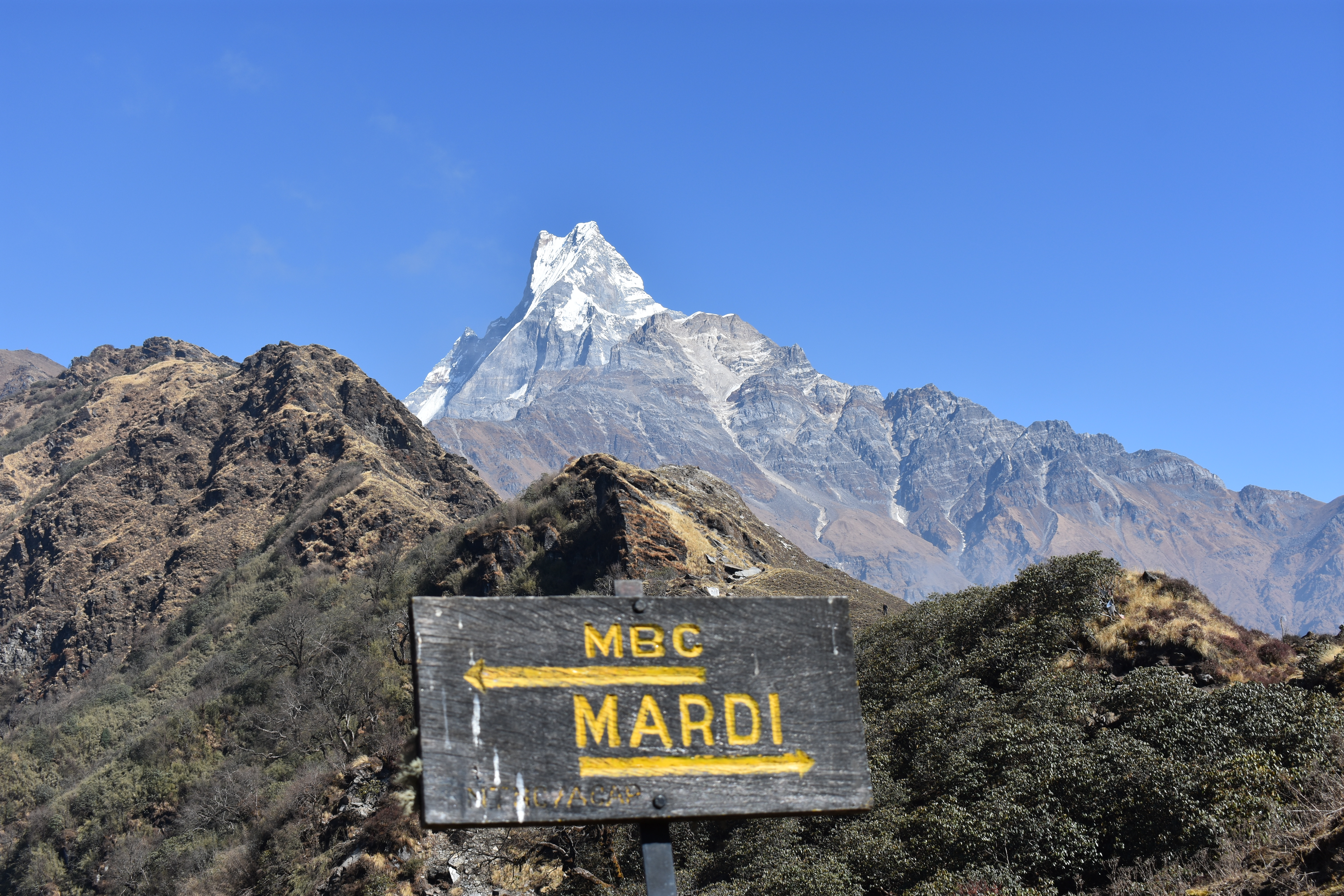 The trek presents the fascinating features of diverse landscape and scenery that makes this trek popular among trekkers seeking for new and less trodden trails in Nepal. The trekking trail to Mardi Himal follows enchanting forests, colorful rhododendron forests to steep rugged terrain along with breathtaking views of the dramatic Mardi Himal, Machhapuchre, Hiuchuli, and Annapurna South. Even though considered as a short trek, the trail of Mardi Himal is well decorated with terraced farmland, picturesque villages, dense woodlands, varied flora and fauna, dazzling rivers, meandering rivers, rocky terrain, and massive snow-clad mountains.
If you are planning to venture Mardi Himal then here is everything you need to know to have the best trekking experience in your life:
What type of accommodation and food are found in Mardi Himal?
Since Mardi Himal is an emerging trekking route, there are few lodges and hotels as compare with popular trails.  Teahouses along the Mardi Himal Trek provides basic facilities and services. Trekkers get additional facilities like Wi-Fi, hot shower, boiled water and charging service with extra charges up to forest camp. However, beyond that, the options for accommodation become more limited and so does the service.
The teahouses are quite standard a simple room with a bed, shared bathroom, and communal kitchen. The running hot water is not available during the trek. Though some teahouses provide buckets of warm water with some extra costs for their service. Alternatively, if you want to cut off the budget of shower you can skip showers and use biodegradable wet wipes instead.
Dal Bhat is the staple and the most common food available in teahouse followed by pasta, porridge, and pancakes. Although the teahouses do not offer a varied range of food choices as other popular treks do, they provide enough menu to keep you going. One impressive thing about the food in this trek is that trekkers can enjoy authentic meals prepared from fresh local produce.
Is Mardi Himal Trek difficult?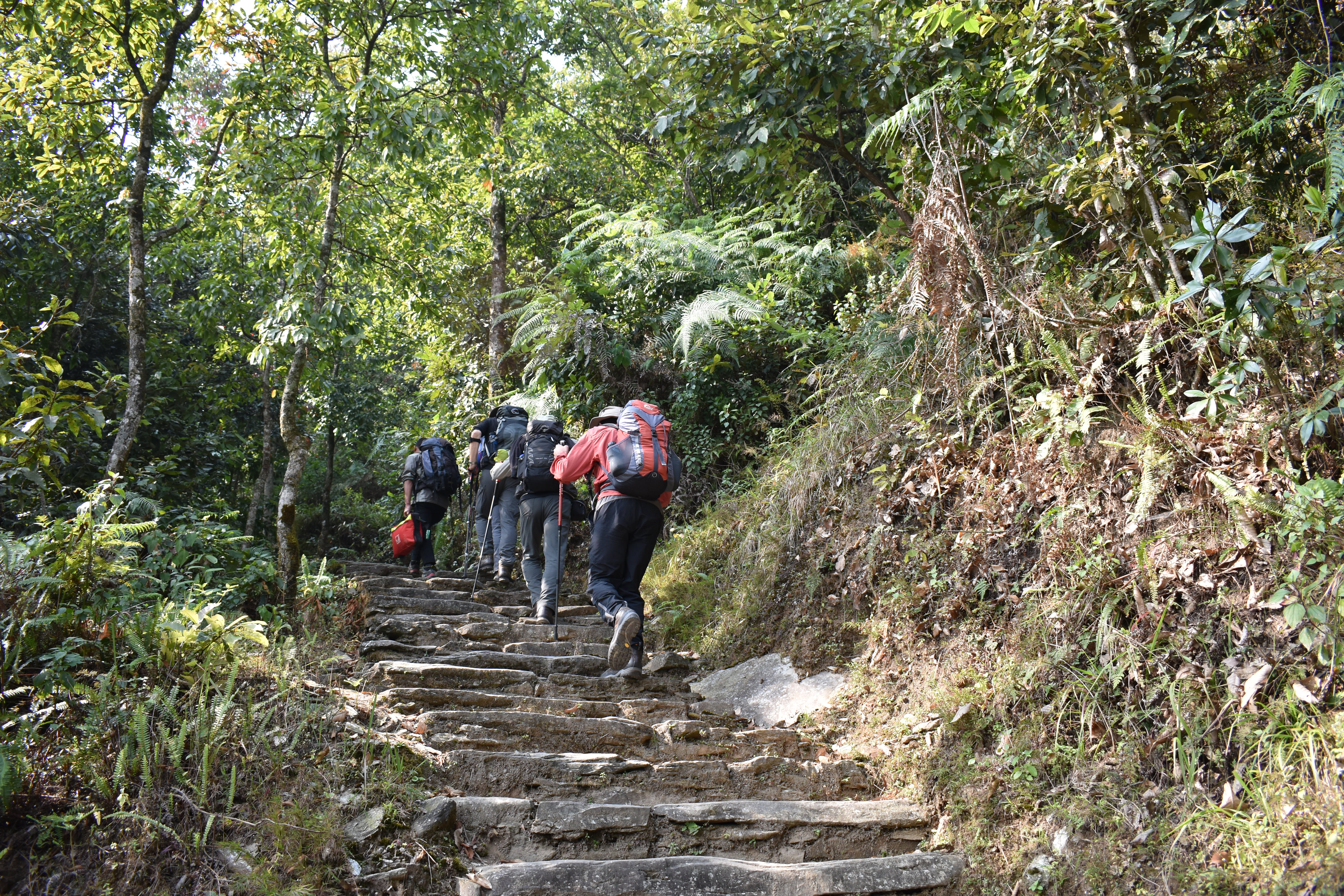 As Mardi Himal is a shorter and moderate trek, the trekkers do not require technical skills. However, a certain level of fitness with sound health is necessary to embark on this trek. So we advise to prepare yourself for trekking by setting a workout schedule to make it a successful and enjoyable adventure.
The trek involves different steep and takes some ascends and descends terrain throughout the trail. You will walk around 4-5 hours or more per day until you reach the high camp (4,200m). Likewise, its vertical descent back down from low camp to Siding village.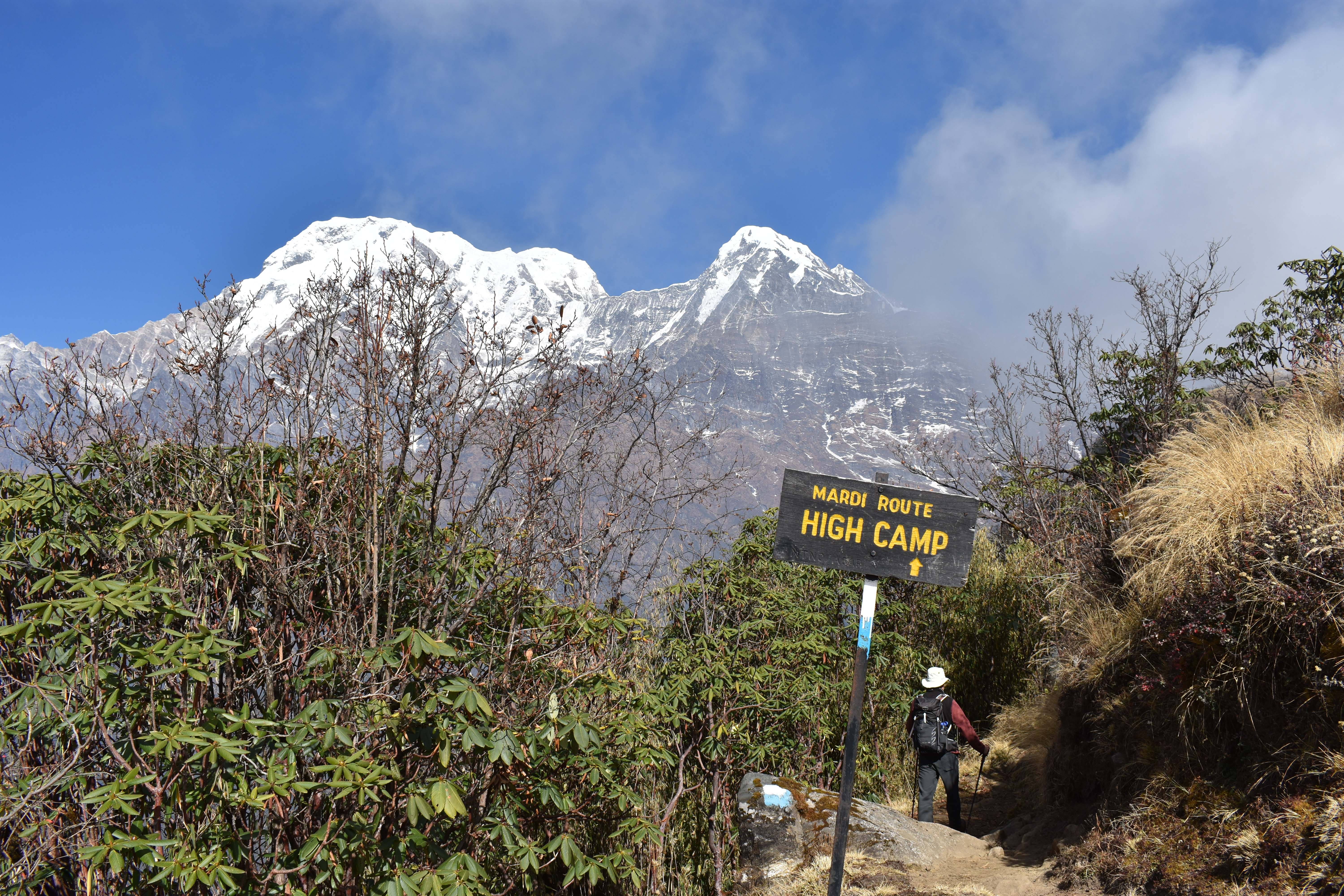 The hardest section of this trek is to hike from the High Camp to the Mardi Himal Base Camp where you have to hike a narrow and steeper path. Nonetheless, most of the trek is an enjoyable and pleasant walk.
Another factor that determines the difficulty of the trek is weather and temperature. The trails become challenging if you are trekking during wintertime and rainy seasons. As the region experience, excessive snowfall and the temperature of the Annapurna region reaches to 5 degrees throughout winter.
Similarly, during monsoon heavy downpour makes the trail wet and slippery.  In the meantime, dense forests dominate this region so the major problems while on trekking are dealing with leeches.
Want to know more about Mardi Himal Trek?
Is it safe to drink water in Mardi Himal Trek?
The water from the local sources along the trail is unsafe to drink.  So it is suggested not to drink directly from the tap or streams. Bottled water is available to buy throughout the trail. However, we discourage purchasing mineral bottled water that helps to create plastic pollution in the mountain. The best idea is to bring your own refillable bottles along with water purification tablets, or SteriPen to prevent the risk of waterborne disease. You can fill the water at the teahouse along the trail whereas boiled water is also available at lodges with minimal charges.
What gears are needed to pack for Mardi Himal Trek?
It is important to pack all the necessary items for the trek. Also, the packing list for Mardi Himal Trek depends on the season and how you're planning to trek
Clothing and gear
Waterproof walking boots with suitable ankle support.
Loose, casual waterproof trousers for trekking.
Thermal coats or fleece.
Warm socks.
Fleece jacket or warm wool jumper.
Windproof, waterproof outers for higher altitudes.
Wool or fleece cap.
Warm gloves
Two water bottles (Nalgene wide-mouth bottles are the best).
Personal water bottle.
Camera, spare battery and battery charger.
Toilet items.
Hand sanitizer
Moisturizers
Sunscreen
Sunglasses
Water purification tablets (Pristine, Biox Aqua or Aqua Mira)
Favorite snack food.
Books, iPods, and cards, etc.
Camera with spare batteries and memory cards.
Insurance certificate.
Earplugs (optional), binoculars.
Personal wipes, Biodegradable soap
Dental floss
Day backpack: 25-35 L backpack (depending on one's preferences).
Small lock: Bring a small lock for your duffle bag.
Sack to organize and store your dirty laundry.
Trekking Poles and trekking towels
Sleeping bags: -10° C /14° F for a teahouse
Personal first aid kit:
Note: we provide a comprehensive group first aid kit but please bring personal medications and other items you might use regularly such as:
Any personal medications.
Malaria prophylactic tablets.
Blister treatment (Compeed patches are the best).
Rehydration powder eg Dioralyte.
Analgesics (paracetamol, ibuprofen and aspirin).
Plasters and zinc oxide tape.
Throat lozenges.
When to go to Mardi Himal?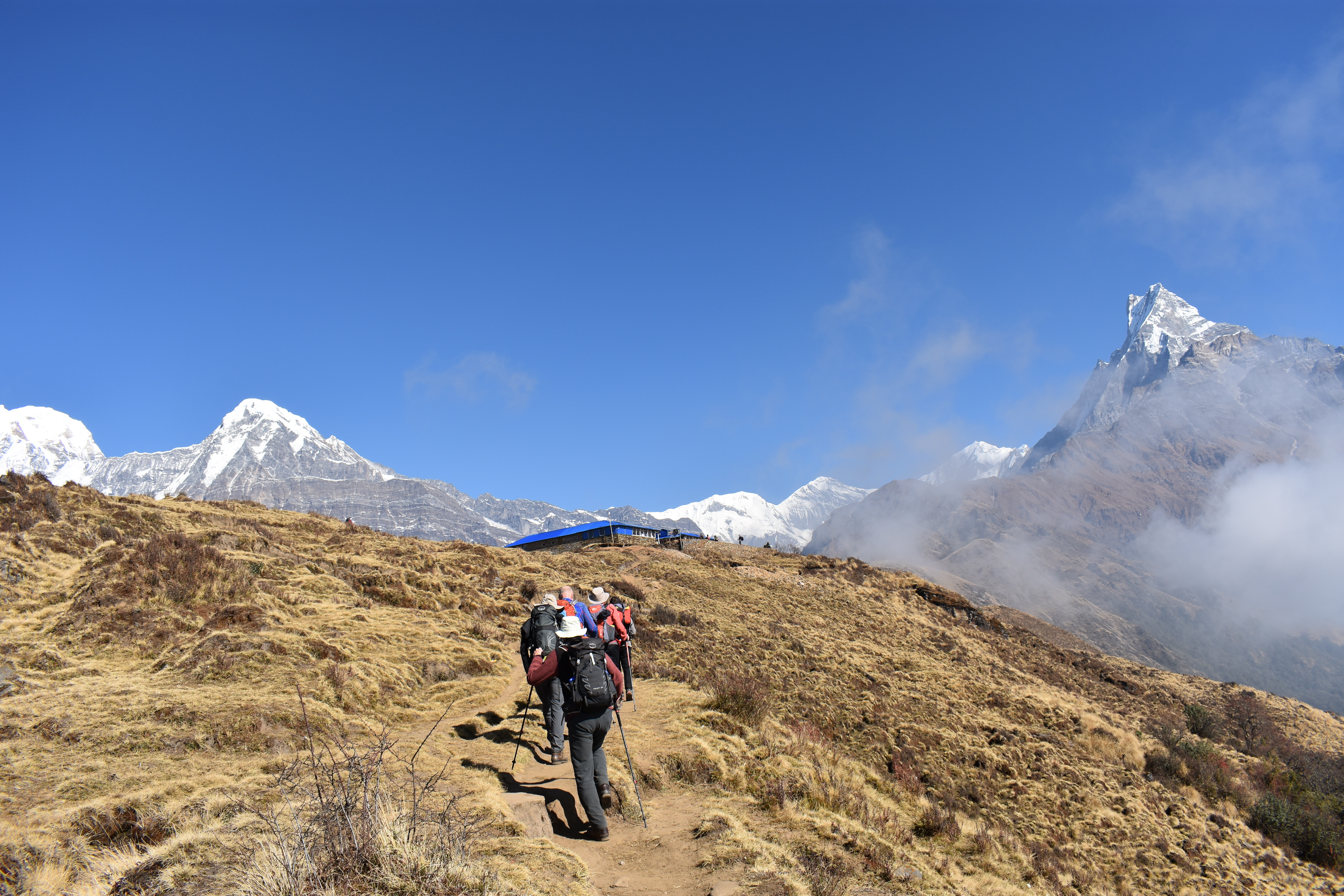 Autumn (September to November) and spring (March to May) are two amiable seasons to trek to Mardi Himal. Generally, during Autumn the temperature is moderate and stable with a cloudless sky, which means the mountain view and sceneries is spectacular throughout the trek. The temperature ranges around 20°C in the daytime and 5°C during the morning and evening.
Spring is the second best trekking season to trek Mardi Himal. The pre-monsoon season of spring makes the high camp look extremely beautiful when wildflowers like rhododendron blanketed the entire hills. The temperature is a bit warmer and stable during this time of the year. Whereas the highest temperature is around 25°C and its temperature goes down during nights and early mornings. In addition, the spring season starts after the winter season which means the nights and mornings are colder.
Is there Electricity in the Mardi Himal area?
There is electricity facilities in the Mardi Himal area. The teahouses at lower elevation have electricity whereas at high camp they have solar panels.  They provide charging ports to charge the device for a small amount
Is there internet access at the Mardi Himal region?
When it comes to internet access, you can surf the internet on Ncell and NTC mobile phones. However, the network coverage may not be available and reliable throughout the trail especially the higher altitude.
Likewise, the majority of teahouses also offer WiFi service by paying a certain amount per hour. Please note that there is spotty WiFI up to the Forest camp
What Permits are required for Mardi Himal trekking?
Trekkers require to obtain TIMS Card (Trekking Information Management System) and the ACAP permit (Annapurna Conservation Area Project). You'll need your passport, insurance details, and four passport size photos for a permit.
Do I need travel insurance before trekking to Mardi Himal?
We recommend taking out comprehensive travel insurance before trekking to Mardi Himal that covers helicopter evacuation, medical charges, theft, flight delays, and trip cancellations and so on.
How many days does it take to do Mardi Himal Trek?
Generally, Mardi Himal Trek can complete in 6-7 days excluding your arrival and departure days in Nepal. Nepal Sanctuary Treks customized the itinerary according to your timeframe, interest, and preference.
How do you select a reliable trekking company for the Mardi Himal Trek?
If you have decided on trekking Mardi Himal or other trekking activities, there are more than 1000 trekking agencies all over Nepal, but what you need is nothing less than the best trekking company in Nepal. Read more
Is the Mardi Himal Trekking Route safe for solo travelers?
 Yeah, Nepal is safe doing solo trekking. Nepal Sanctuary Treks provides passionate well-trained guides and ensures you provide full care for your safety, comfort throughout the trip. In addition, they have a personal connection to the destination where they work and a knowledge that only a local can have.
Do I get altitude sickness in Mardi Himal?
Altitude sickness on Mardi Himal Trek isn't really a concern as you won't at high altitude for a long time. The slower you're trekking, the easier it's on Nepal Mardi Himal Trekking. Since we are trekking up to 4,200 elevations, there are chances of suffering from altitude sickness if one ascends too fast. So, it is better to take preventive measures beforehand and during the trek. We suggest a hike at a relaxed pace and stay hydrated all the time. For a safety measure, the everyday trekking leader of Nepal Sanctuary Treks checks your pulse rate, blood oxygen saturation level, assessing your acclimatization status using the Lake Louise system and oximeter chart.
Can I take children to Mardi Himal Trek?
Mardi Himal Trekking with children is a short and serene trek in the Annapurna region which lets your children enjoy nature and the traditional village life and the real countryside of Nepal. Nepal Sanctuary Treks furnishes with family-friendly guides who know how to engage with children. We also provide porter assistance to carry kids throughout the trekking journey.