Looking for a new Himalayan journey? Why not try Makalu Base Camp with Nepal Sanctuary Treks? If you are considering a remote trek of remarkable scenic variety and ecological diversity then Makalu has got it all.
Situated between the well-known Everest and Kanchenjunga chains, Makalu (8463 m) is regarded as one of the hardest 8000 m peaks to ascent – even the legend Edmund Hillary failed to summit twice. Whereas the Great Himalayan Trail (GHT) connects directly with the Kanchenjunga section through the isolated Lumbha Sumbha, and to the Everest section via the challenging three cols (i.e. Sherpani Col (6,150m), West Col (6,143m) and Amphu Labtsa Pass (5,800m), most will experience the Makalu section of the trail via the lush Arun and Barun river valleys.
Explore more GHT itineraries
Kanchenjunga to Makalu over Lumba Sumba Pass
Kanchenjunga Everest over Sherpeni Col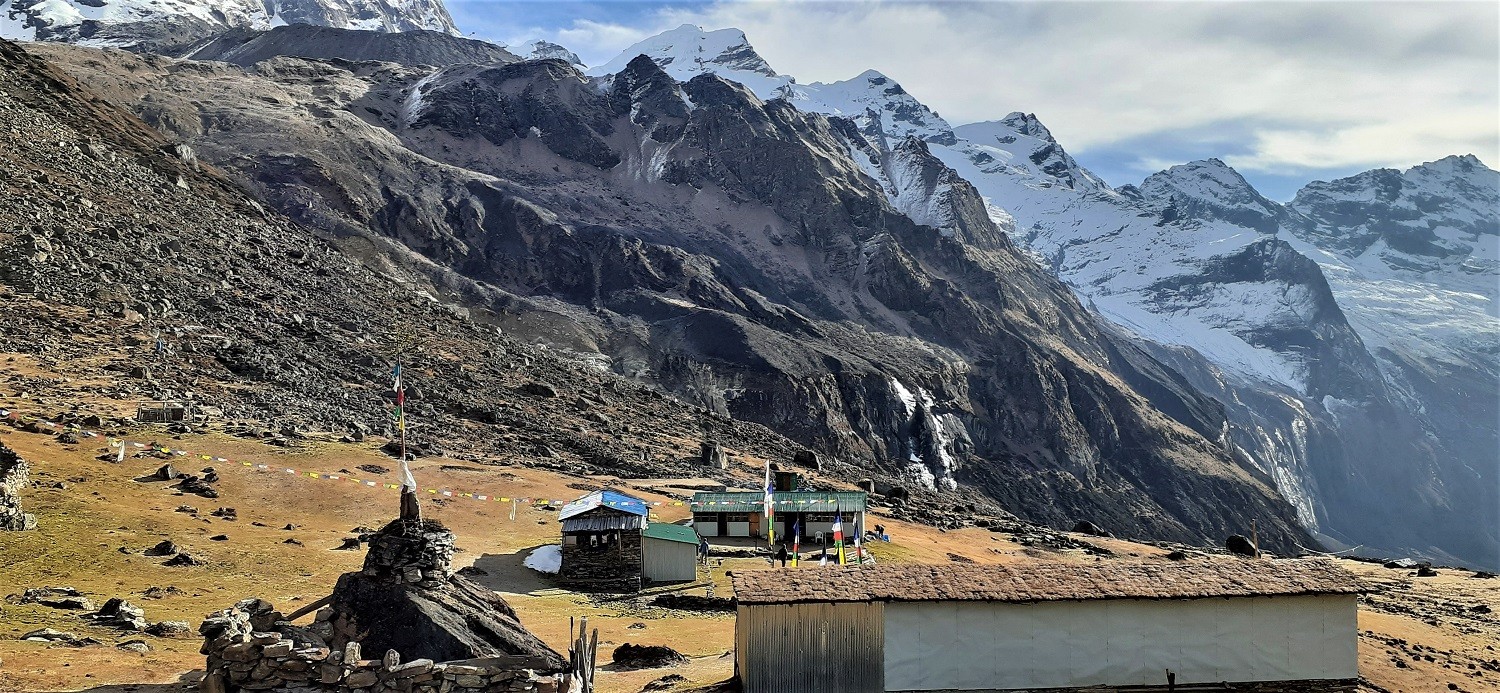 Trekking to Makalu Base Camp offers an incredible off the beaten trail experiences and hidden gems in Nepal that are just waiting to be explored from serene trails, beautiful terraced farmland, countryside vibrant cultures, towering cliffs, hanging glaciers, exotic wildlife to exceptional vistas of numerous 8,000 meter-plus mountains. Spend your trekking days through ethereal landscapes, witnessing the mountain life of varied ethnic groups and keep your eye out for the elusive red panda and snow leopard that dwells in this region. For avid trekkers who like a challenge, this is a perfect trek with plentiful rewards. Moreover, trekking to the base camp of Makalu- the world's fifth highest mountain is indeed an adventure for a lifetime.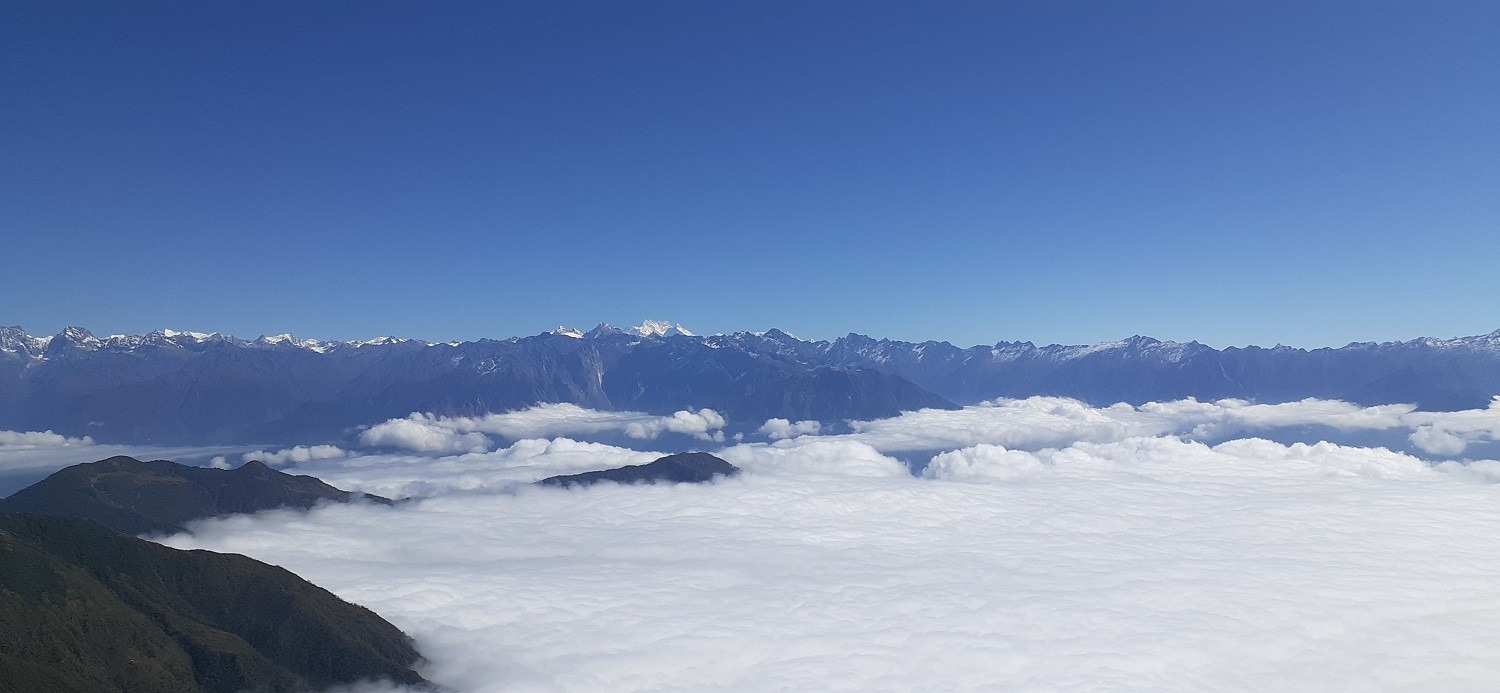 The Makalu region was entirely restricted to the foreigner until 1952 when Eric Shipton visited, traversing what became known as the Shipton La (4,220m/13,845ft). The area receives very few foreign trekkers due to its relative inaccessibility and remote wilderness. However, a journey to base camp is an unforgettable experience for those wishing to venture into an authentic adventure in Nepal.
Makalu- Barun National Park and Conservation
Established in 1992, Makalu – Barun National Park and Conservation Area is Nepal's eighth national park. The park is 2,330 sq. km, which encompasses an isolated area, with few settlements and seasonal herding in a meadow. The varied types of orchids and more than 3,000 species of flowering plants flourish in a diverse climate of this region.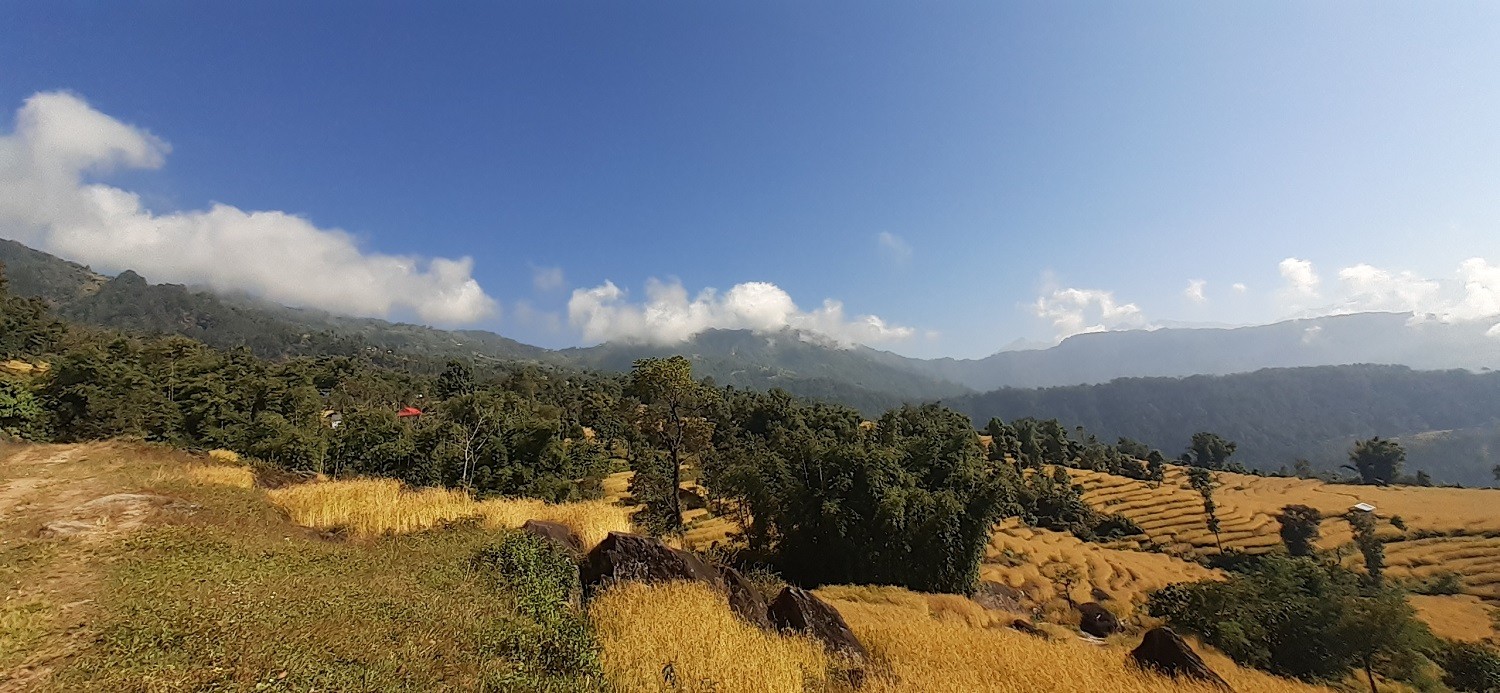 The area is a domain to rare species of wildlife comprising red panda, musk deer, Himalayan tahr and the elusive leopard.  More than 400 bird species and 75 species of mammals are found in this region. Especially rich in biodiversity, with a remarkable collection of vegetation and wildlife, the area spans a vast array of elevations, from lush river valleys to alpine highlands.
How can you get to Makalu Base Camp?
The trek commences from Tumlingtar in the east of Nepal. You can take a flight directly from Kathmandu to Tumlingtar. From Tumlingtar it's few hours' drives to Num towards Seduwa – the entrance to Makalu Barun National Park
The trek follows the Barun Valley which comprises some of the last remaining parts of untouched woodlands and alpine pastures in Nepal. The trekkers get to cross the high passes like Shipton La Pass (4,210 m) into the upper Barun river valley and then to Makalu Base camp. From Makalu Base Camp there are unrivaled vistas of the rarely seen Kangshung face of Everest, in addition to Everest, Lhotse, Chamlang, and Kanchenjunga in the Far East.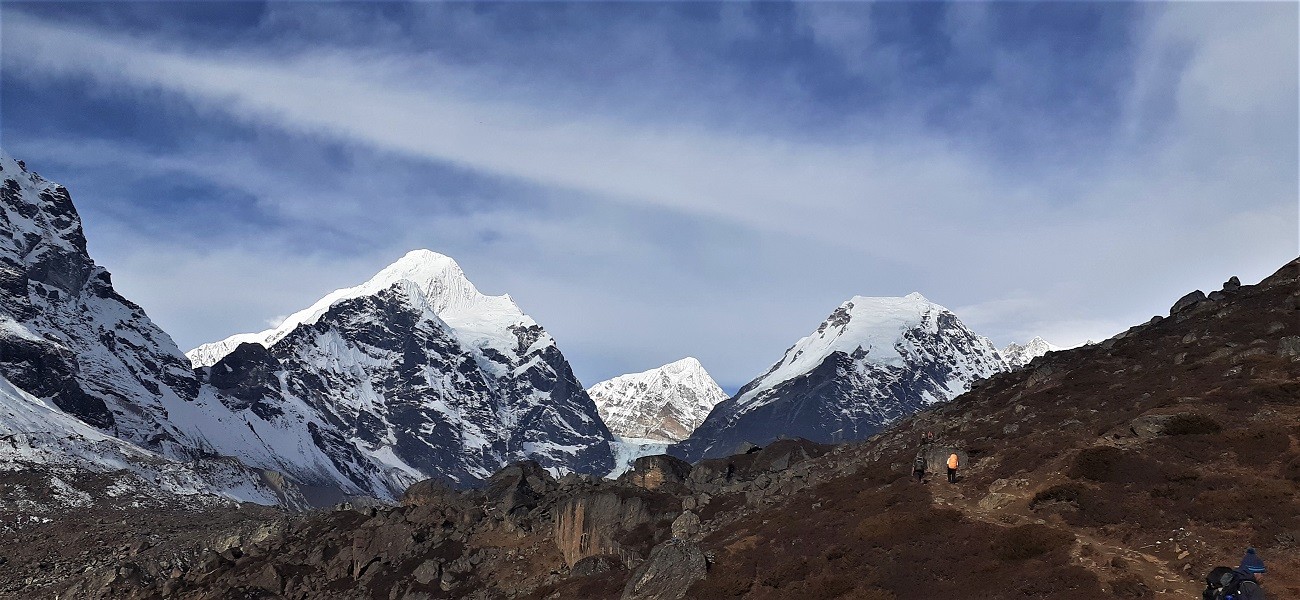 Reaching the base camp is a cherished moment and a huge sense of accomplishment of standing directly in front of the almighty view of Makalu and several other adjacent mystic massifs. Moreover, one can catch the sight of numerous Tibetan snow cocks, hill pigeons, black redstarts and mountain finches around the base camp. The trek from Base Camp retraces down to Tumlingtar where trekkers can catch a flight back to Kathmandu.  Makalu Base Camp Trek Itinerary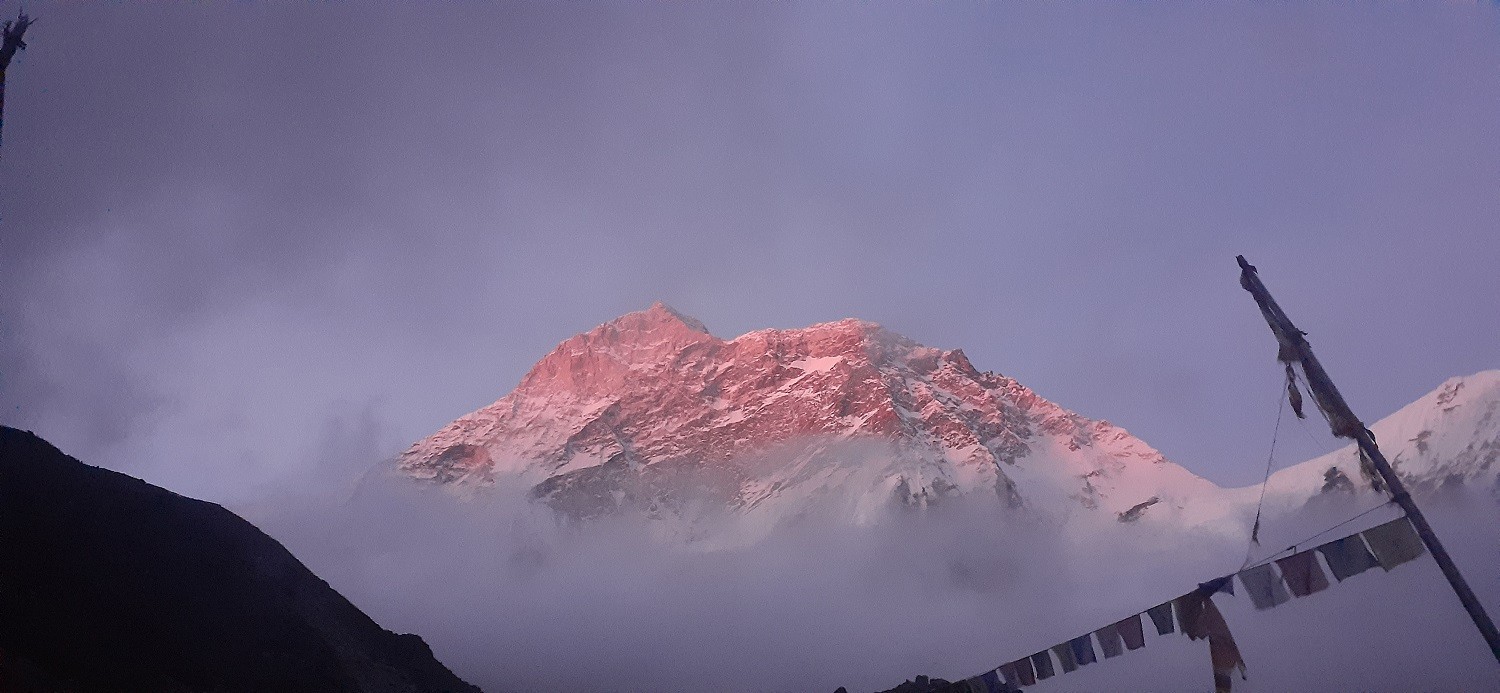 The alternative route is to carry on from Makalu Base Camp headed to Everest. After reaching Makalu Base Camp, one can traverse the Sherpani Col (6,150m) over to Baruntse Base Camp, then cross the West Col to Panch Pokhari, Amphu Laptsa, and the Amphu Lapsta pass (5,850 m./19,192 ft.) into the Everest region. From then on, the trails take to classical Everest Base Camp trekking route, winding through Pangboche, Namche Bazaar, and Lukla, from where you would get a return flight to Kathmandu.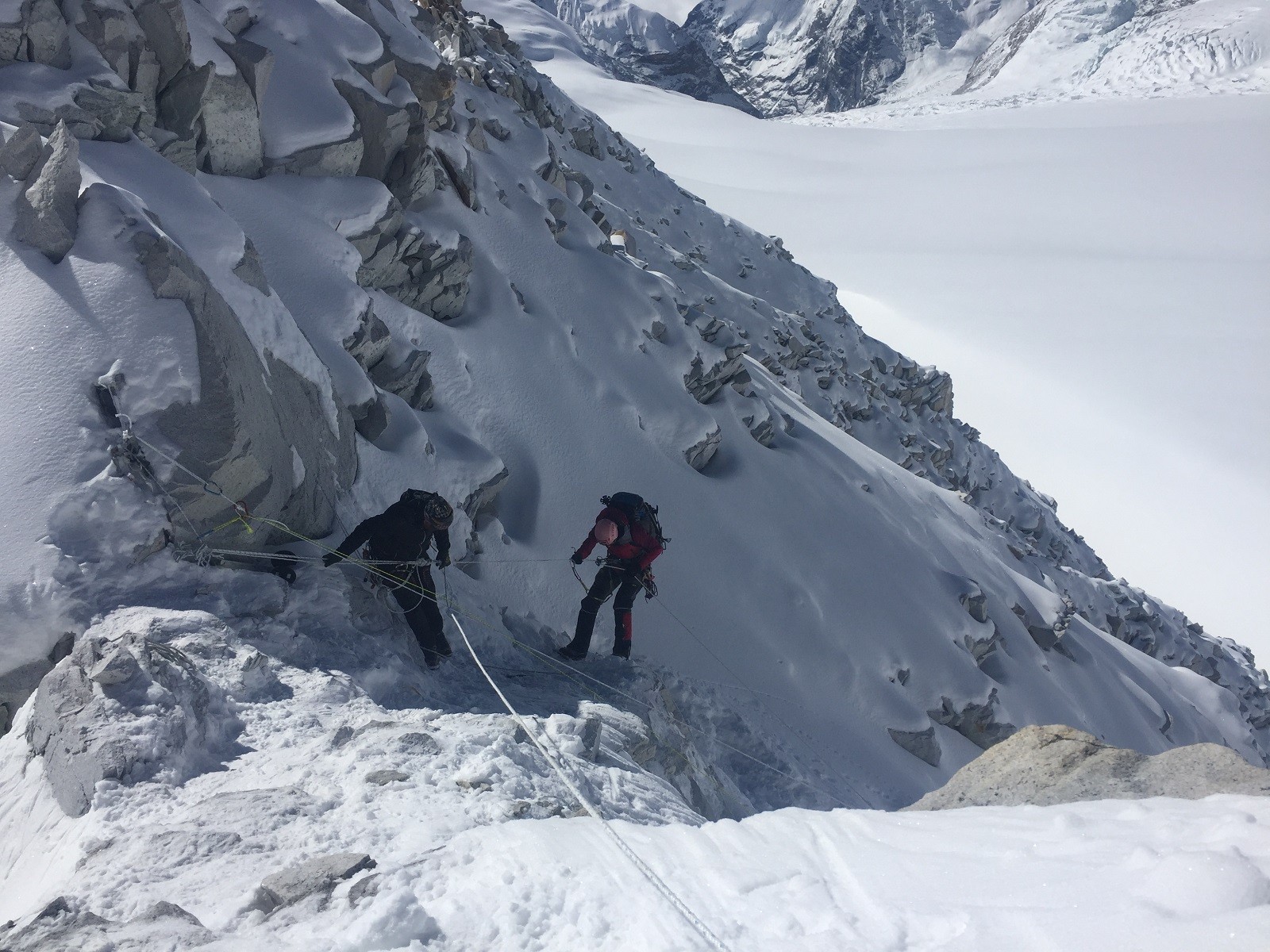 Explore Makalu to Everest Adventurous Trek
Diverse Nature and Culture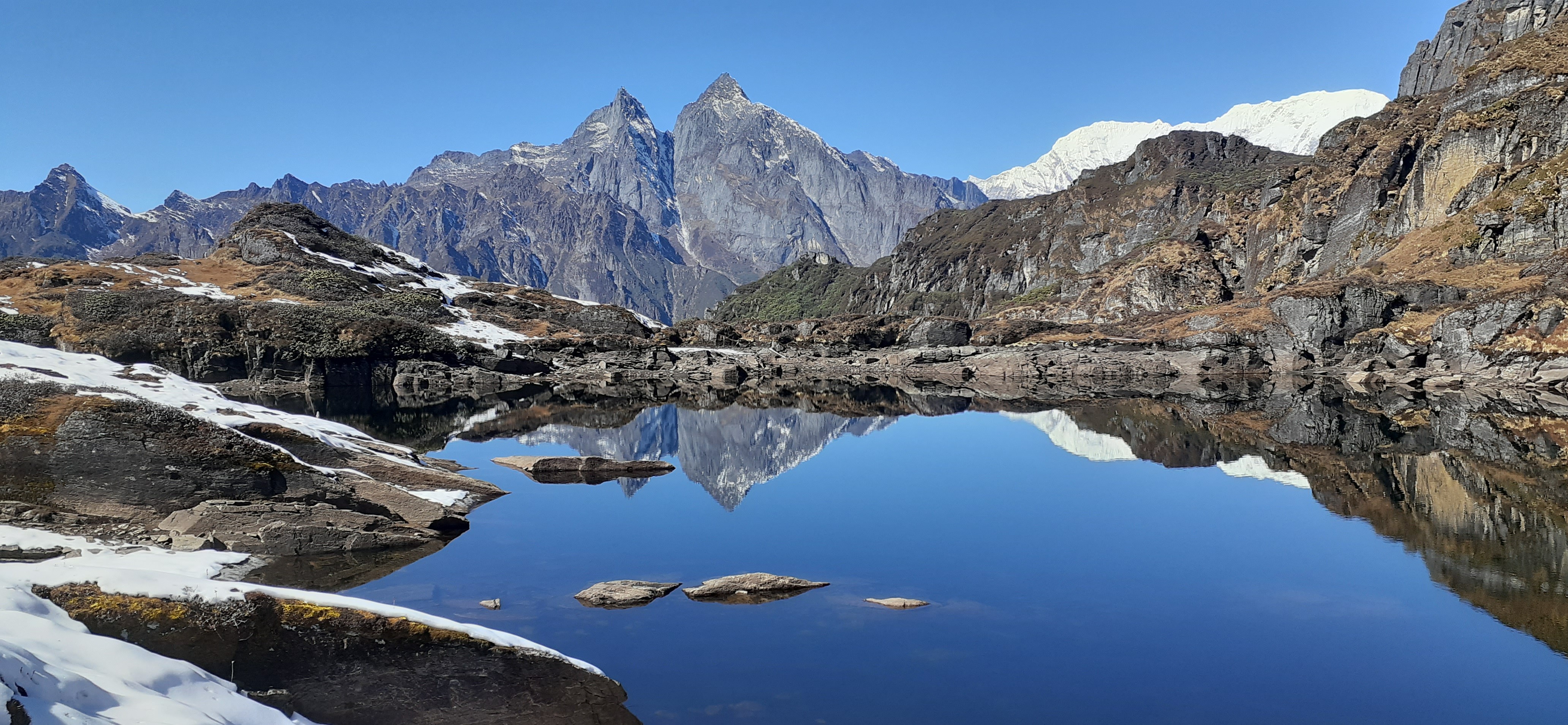 The Makalu Base Camp trekking trail winds through an extensive range of ecosystems and cultures. The impressive scenery, spectacular waterfalls flow into deep canyons, steep granite cliffs soar from verdant green forests, and vibrant flowers bloom beneath snowy glittering mountains make the trek more rewarding and delightful. Indeed, this trek incorporates all the elements to make an authentic unforgettable and delightful journey; high passes, rising 8,000m peaks, incredible backdrop, and splendid isolation.
Additionally, the trekkers get to experience the diverse culture and get insight into the life of mountain people. The Rai people, an ethnic group found mainly in the hills of eastern Nepal settled in terraced countryside. Whereas as the elevation gain, one can find the Sherpa and Bhotia (Shingsawa) settlement. The region's isolation illustrates that its unique culture, wildlife have been well-preserved.
Let's start trekking into the far-flung regions on a tailor-made trip that's off the beaten track.
Frequently Asked Questions about Makalu Base Camp?
Do I require a permit to embark on Makalu Base Camp Trek?
Trekkers who wish to venture Makalu Base Camp trek requires Makalu Barun National Park Conservation Area permit and Trekkers' Information Management Systems (TIMS) card
How fit do I need to be for trekking to Makalu Base Camp?
Makalu Base Camp considered a strenuous trek. Therefore, the trekkers need to be physically and mentally sound with prior trekking experiences. Nevertheless, Nepal Sanctuary Treks itinerary designed to ease altitude acclimatization and let trekkers enjoy the vibrant scenery, affluent cultural interactions, and remarkable experiences of wilderness trekking to the fullest.
The mountaineering experience required for those trekkers who want to take an alternative route from Makalu Base Camp onwards to Everest and Lukla.  For more information check out our detailed Itinerary
How difficult is it to trek Makalu Base Camp?
Generally, the time duration to complete the Makalu Base Camp trek involves more than 20 days. In addition, throughout the trek, you will gain more than 5,000 meters in elevation and walking trail is also adventurous and challenging. The wilderness trek comprises crossing high passes, trekking through rough terrain and many demanding to ascend and descend. While trekking in the high elevation, altitude sickness is the most significant factor.
If you are planning to trek Makalu to Everest then the trekkers need to traverse several challenging cols (i.e. Sherpani Col (6150m), West Col (6143m) and East Col (5800m). Amongst, Sherpani Col Trek is a technical and demanding trek to an isolated and uninhabited region of the Great Himalayas.  This trek requires full logistic support and climbing gear as the trails comprise a continuous period at altitude with steep slopes. Besides, trekkers must be skillful of hiking with crampons, ice axes, harnesses, and ropes.
Nepal Sanctuary Treks itinerary involves many rest days, which will use for proper acclimatization. This trip considered difficult due to extended periods of walking at a higher elevation.
What kind of accommodation and meals available during Makalu Base Camp trek?
In 2016, Makalu Base Camp trek opened as a teahouse trek. So the lodges dotted along the trail and meals are basic than the established trekking region of Nepal. Further, there is the inaccessibility of the tea houses as you trek to a higher elevation. So in these locations camping is an option.
What is the best time to trek Makalu Base Camp?
The ideal time to do Makalu Base Camp trek is during April-May and October-November. The trails and passes are less likely to cover with snow during these seasons. Likewise, the wide range of vibrant rhododendron and orchid forests decorate the trails throughout the spring season. Snowfalls and extreme cold throughout the winter season make the trekking tougher. While heavy downpour can be expected during the rainy season (Jun – mid-August).
Where is Makalu base camp?
Makalu Base Camp Trekking route located in the area of Makalu Barun National Park and Conservation Area in the Eastern part of Nepal. The National Park extends in Solukhumbu district and Sankhuwasbha district.
 What is Altitude Sickness?
Altitude sickness, the mildest form being acute mountain sickness (AMS), is the negative health result of high elevation. It occurred by speedy exposure to low amounts of oxygen at high elevation. To know more about Altitude sickness link  the article: Altitude Mountain Sickness: Causes, Symptoms, and Prevention
Can I apply for a visa online?
You can get visa online – filling the form and following the step by step procedure at http://online.nepalimmigration.gov.np/tourist-visa
Do I need to get a visa to travel to Nepal? 
All nationals must hold a valid passport. Your passport must be valid for at least six months beyond your expected date of departure from Nepal. An entry visa for all except Indians for Nepal is required. You need to arrange these prior to departure with the relevant embassy/consulate or you even get a visa on arrival. Learn more:  Visa and Documents requirement
What gear do I need?
Trekking to the Makalu Base Camp needs a number of important pieces of trekking gear. Due to long trek, you have to come across with extensive range of altitudinal and climatic variations. Check out Trekking Essentials