Trek Highlights
Explore the  Namche Bazaar encircled with massive mountains and comprises a fascinating monastery, colorful market with shops selling essential trekking gears and souvenirs, bakeries serving freshly baked bread and cakes.
Trek to Everest Base Camp (5,364m), the heart of the world highest Mount Everest with spectacular views of Khumbu ice falls, remorseless fields of a moraine, ice, glaciers and panoramic massive mountain that encircled you.
Climb to the rocky Kalapathar hilltop, with views of Everest at close distance and standing on the highest point of the adventure at 5,545 m high.
The meandering landscape of the park is the domain of numerous endangered species of animals as well, like the Snow-Leopard, and the Musk Deer among a myriad of many other creatures i.e Himalayan Tahr, pheasant, Tibetan snow cock, yak.
Explore the fascinating Sherpa village, legendary culture and tradition in close proximity. Sherpa people are recognized globally for their mountaineering skills.
Trek Overview
Everest base camp trek is the adventure of a lifetime for those whose dreams soar higher than even the clouds. The trek to Everest Base Camp is an amazing and challenging experience.
The sense of inspiration comes out to be large to embrace as one stands under the shadow of the world's highest mountain, encircled by snow and immense openness under the flawless sky. You'll drench your spirit in natural exquisiteness and extend your personal endurance beyond what you believed possible.
Everest base camp is an ideal option to trek with family, solo or in school groups. Nepal Sanctuary Treks design the itinerary that allow trekkers for the proper time to acclimatize and with utmost safety.  Let's embark on a family, solo or group experience to make memorable by trekking in the spectacular Everest region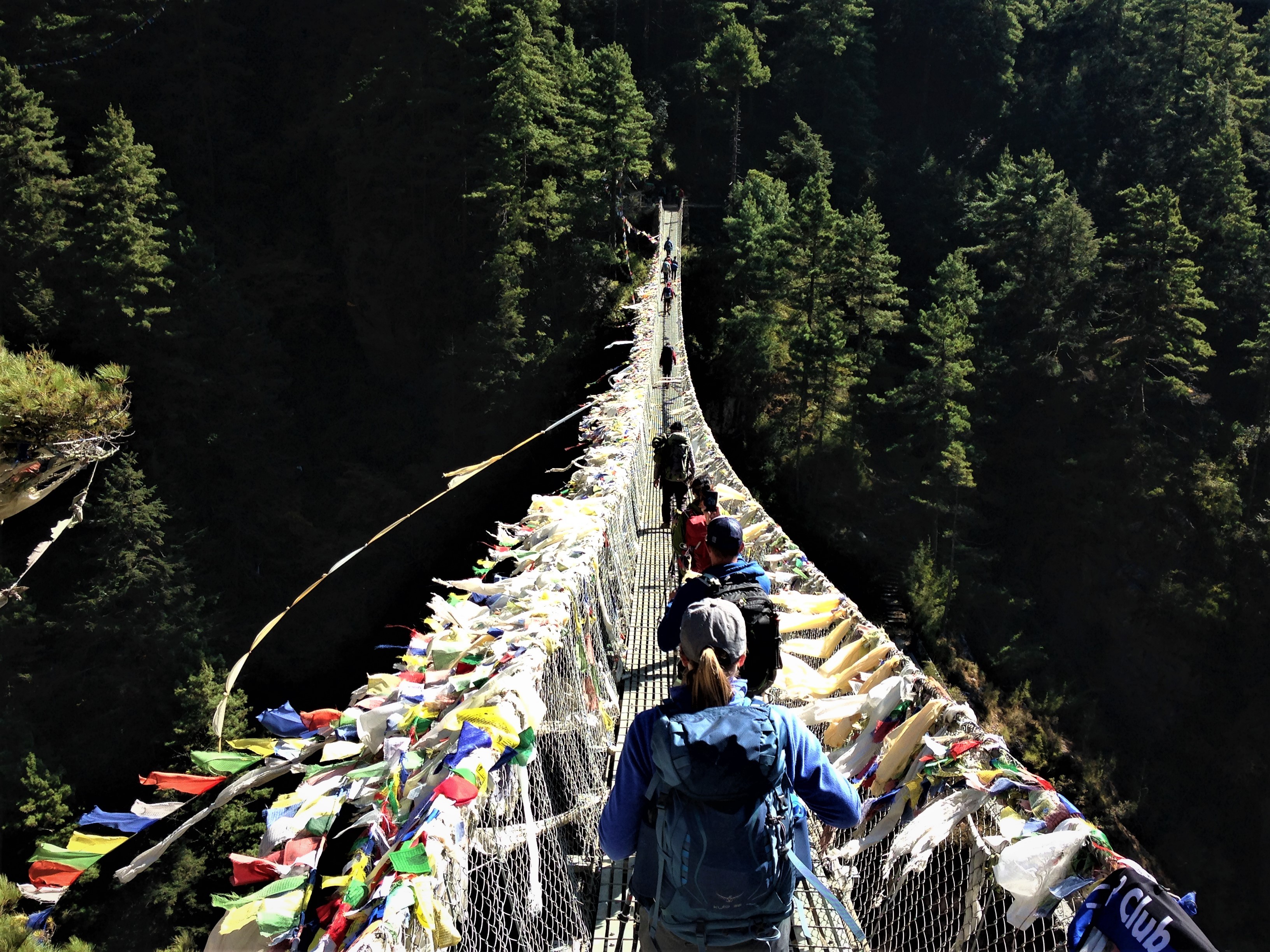 The trail starts in primeval Kathmandu, where you will explore the city at your leisure. Your trek to Everest Base Camp at 5,364m to the foothills of the world's highest peak will take you over suspension bridges traversing chasms of thin air, through unseen Buddhist monasteries and into the heart of the cordial, Sherpa culture and hospitality who enhance a touch of exoticness to the trekking journey. The trek allows you to immerse in the culture of the Khumbu region and relish solitude with the mountains.
You will fall in love with those vibrant towns of Namche Bazaar where the entire town encircled with massive mountain and offer splendid vistas at different hours of the day. The golden mountain backdrop at the sunset was enough to revitalize after a long exhausting trek.
The trek brings you through heavenly landscapes of yaks grazing in the pastureland and stone huts of migrants. Along the trail, you will see several remarkable mani walls, chortens and prayer flags against the sky and the blue sacred lakes.
The blanketed forest of birch and bamboo trees provide a serene nature to trek through. Also, the beautiful backdrop of Silver Mountain makes a wonderful journey that enhances more worth to the final destination of the base camp.
The route is heavenly as you reach closer to the panorama of the highest peaks in the world. Khumbu glacier started appearing to make the views more attractive. After an overwhelming time at EBC, we ascent to rocky Kalapathar to view Everest and several other massive white peaks at closer proximity and standing on the highest point of the adventure at 5,545m elevation.
Along the trail, you will get break easily at night in cozy, local tea houses with our experienced, guides and porters to ensure the safest, most enjoyable, most unforgettable experience.
Note: Below trekking hours, altitudes and distances are approximate, and absolutely for the general idea only.
This is a sample itinerary of Everest Base Camp. We can tailor-make the program as per your needs and preferences.
Map
Itinerary
Fast Facts
Max altitude: 5545m/18,192ft
Trek destination: Everest Base Camp
Suitably designed itinerary for acclimatization
Accommodation in the best selected lodges and tea houses along the trail and in Kathmandu
Thrilling Mountain Flight to Lukla
The highest mountain on earth (Mt. Everest 8848m)
Stunning views of Himalaya, Khumbu ice fall, Makalu, Mt Everest, etc
Trekking through Sherpa villages, learning and experiencing their ethnic culture
Fauna found through the trail: wild – Snow Leopard, Musk deer, wild yak, Himalayan black bear
Everest in the Nepali language is Sagarmatha which means goddess of the sky and it stands at a staggering 8,848 metres (29,029 ft) above sea level.
Home to three of the highest peaks in the world: Everest 8848m; Lhotse, 4th highest at 8516m; and Cho Oyu, 6th highest at 8201m
The Sherpa people of the Khumbu are so closely associated with the trekking business that the name Sherpa is also given to a specific role on a trekking team
Buddhist culture in the Khumbu region
Reviews
Tulsi has provided me with many services over the last 20 years, from organizing raft support on kayaking expeditions, to internal flights (where he seems to have good contacts at many airports around the country, which I think is important when flights are cancelled, delayed frequently), accommodations, to full expedition support. In 1998 I organized a 7 men team to climb Mt. Pumari, and we had an additional 12 friends and family trek to Base Camp. Tulsi competently organized all permits, provision, supporting staff and internal transport. Subsequently similar expedition support was provided in 2001 when we made an attempt to climb Mt. Everest from Tibetan side. We once again organized an expedition to Chomlang and Mera peak on the way back on 2010. His company is competent, reliable, trustworthy and hard working. His ability and network of contacts allows him to solve those problems that present themselves from time to time when traveling in such a country.
I have recommended Tulsi to others to their satisfaction, and have no hesitation in utilizing his services again.