Kala Patthar which literally means "black rock" in English is one of the extraordinary destinations you will have in Nepal. The naming of Kala Patthar came from the coloration of the rock which made up its peak.
Your journey to Kala Patthar will be marked as one of your worthy adventures as the routes to Kala Patthar is considered remarkable. Kala Patthar is located at the south ridge of Mountain Pumori in the Himalayan range above Gorak Shep.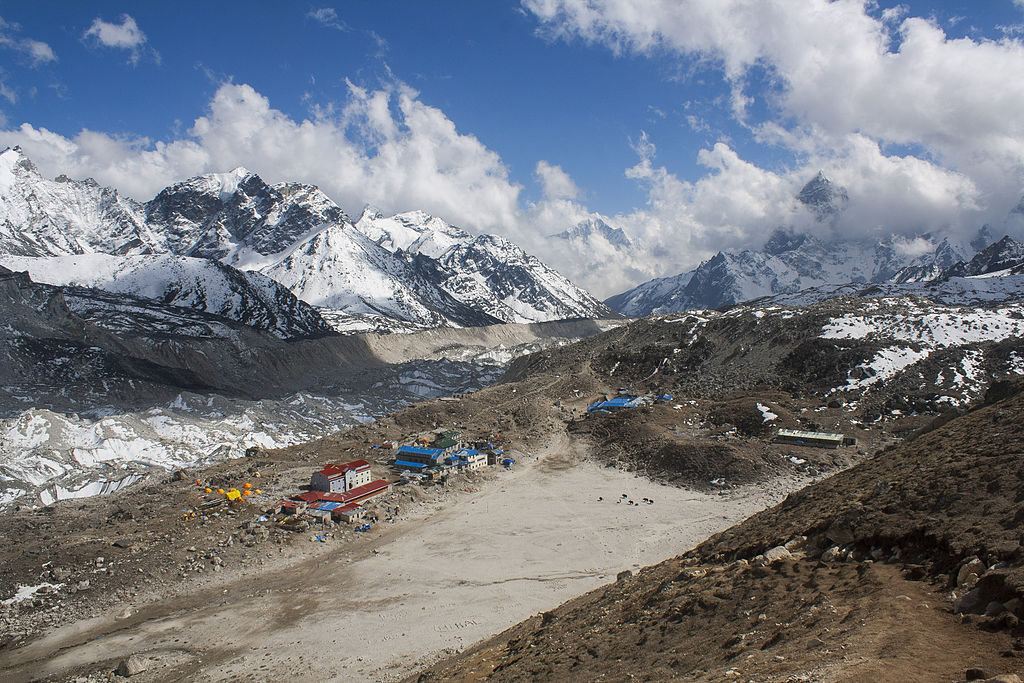 What will you experience?
During Kalapatthar Trek the trekkers gain innumerable wilderness, cultural and Himalaya experiences. Trekking through the picturesque hamlet, alpine forest, lush green forests, glacial rivers, waterfalls, stony trails, mountains and Buddhist monasteries to a Kala Patthar from where a 360-degree majestic backdrop of mountains including Mt. Everest can view without obstruction. Along the trail, you are likely to encounter with blue sheep, Tibetan snow cock, yaks, Himalayan Thar, mountain goat, pheasant and many more. Furthermore, you get opportunities to observe the culture, tradition, primitive lifestyles and warm hospitality of Sherpa.  
The trekkers get boundless photographic opportunities to capture the mesmerizing vistas of Khumbu Glacier, Everest and Nuptse, alpine bushes, junipers, pine forests, rhododendron flowers and picturesque villages. This trek leads you to Everest base camp (5400meters) and Kala Patthar. Therefore, trek to Kalapathar is idyllic and worth to visit.
What is the elevation of Kala Patthar?
Kala Patthar is located at an elevation of 5,644.5 meters/18,519 ft. On December 6, 2006, Dr. Luis A. Ruedas, the assistant professor of Portland State University along with his Garmin E-Map GPS units went to the Kala Patthar to compute its elevation. Those units could average a series of individual satellite readings, which makes the findings more accurate and reliable than single reading machines. The units derived the elevation as 5,643 meters (18,514 ft) averaging 48 readings.
Then again on October 2008, a GPS with WAAS confirmed the elevation of 5,644.5 meters (18,519 ft), confirming the data of 2006.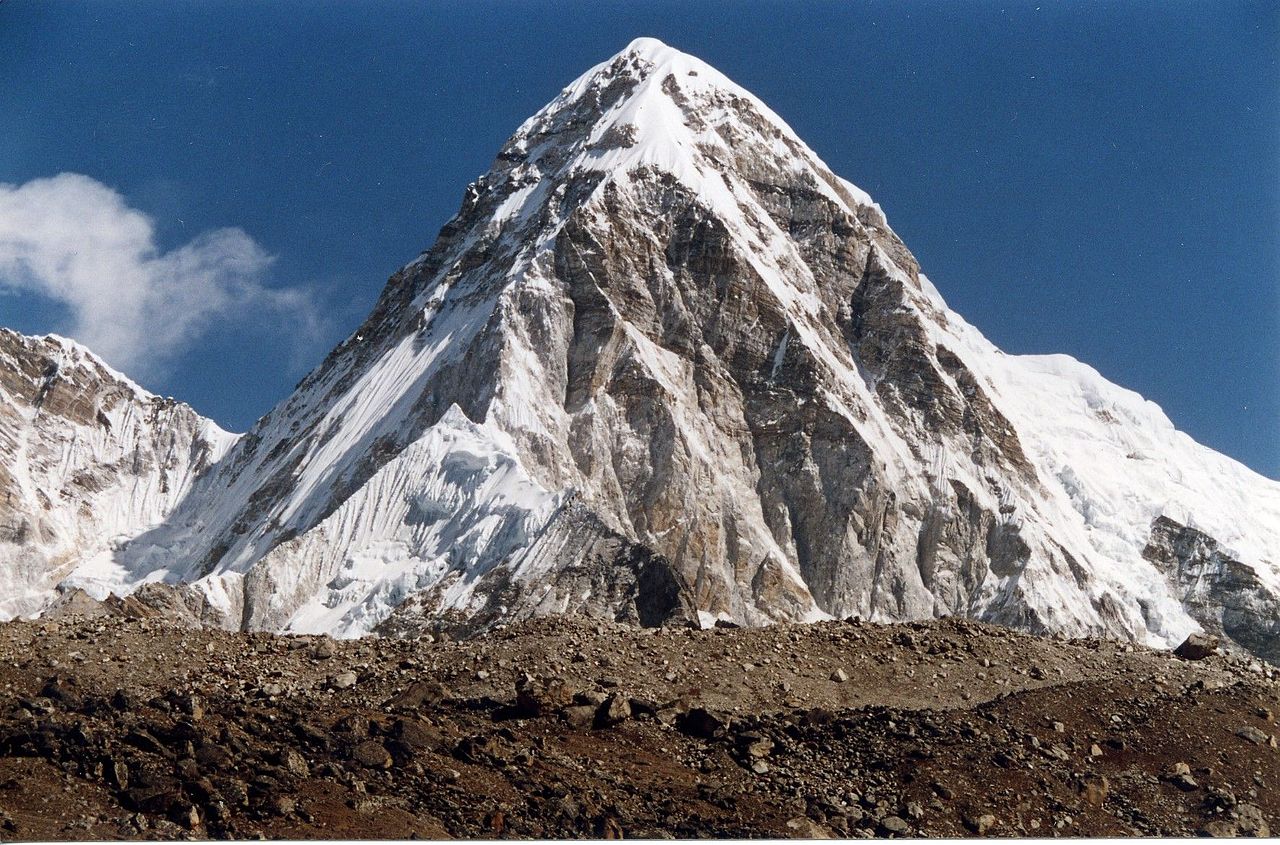 Why is Kala Patthar famous?
Kala Patthar is not exactly a mountain as it stands only 10 meters (33 ft) tall; yet, it is a very popular destination among tourist. The very reason why trekkers want to reach out to Kala Patthar despite its low-standing height; it provides the most accessible close-up view of Mount Everest. Due to the Everest Massif structure, Mount Nuptse blocks its high summit from the surrounding region. However, from Kala Patthar, you can adore the spectacular view of Everest, Changtse, and Nuptse. Well, this not it, from Kala Patthar, you can also have some glimpse of northern flank and Mount Lhotse. To enjoy the stunning landscape of those marvelous mountains, trekkers in the Mount Everest region make sure they visit Kala Patthar.
In December 2009, the remarkable cabinet meeting at Kala Patthar was held by Prime Minister Madhav Kumar Nepal including 23 ministers to address the threat and issues of climate change to the Himalayas.
How to reach Kala Patthar from Kathmandu?
After you arrive in Kathmandu, you trek to Kala Patthar. Kala Patthar is not exactly a mountain, but rather a hill that gives the best and closer view of Everest and other peaks. Kala Patthar Trek is not a much trek, but you can go for Everest Base Camp Trek and reaching the camp, you can take a few hour hikes and reach Kala Patthar.
If you don't want to go for an adventurous trek to the camp of the world's tallest mountain, then, there is still an option for you. You can take a helicopter tour to both Kala Patthar and Everest Base Camp. In this tour, you can get close to Mount Everest. This Heli Tour takes off directly from Tribhuwan International Airport of Kathmandu at 6:30 am. This tour will go to the east side, which is parallel to the Himalayan range and taking you to the Everest Base Camp and Kala Patthar.
How to reach Kala Patthar from Everest Base Camp?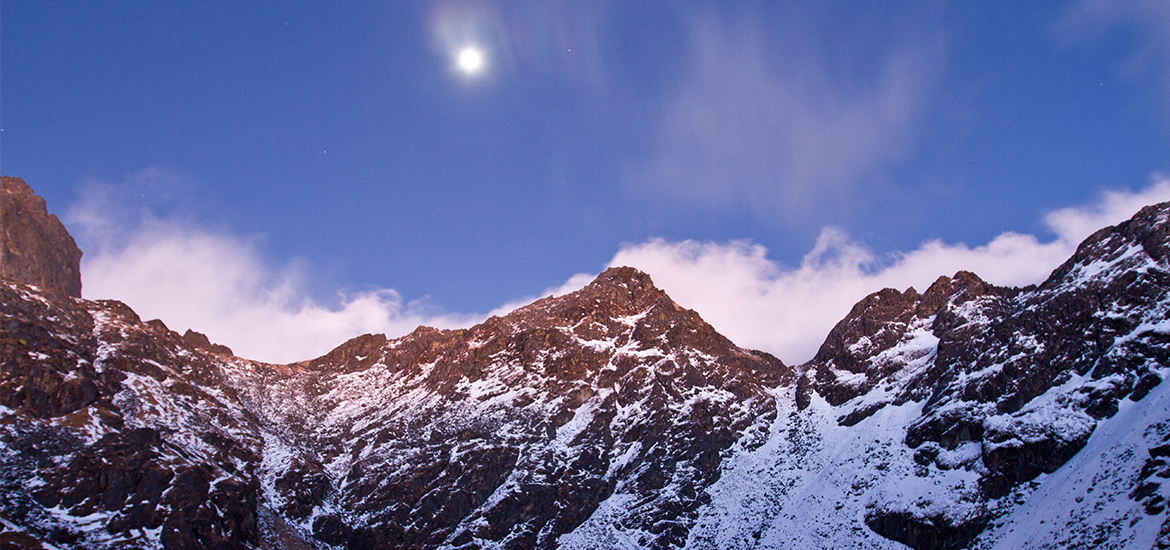 Everest Base Camp is one of the most visited trek destinations for tourists in Nepal. Basically, the duration is 14 – 20 days for Everest Base Camp Trek considering what package you want to choose. You can get a direct flight from Kathmandu to Lukla. However, you can trek to Lukla as well. Your option is limited to air and foot as there are no roads connecting Kathmandu and Lukla.
After arriving at Lukla, your next stop will be Namche Bazaar, which lies at an elevation of 3,440 meters (11,290 ft). It will take about two days to reach Namche Bazaar. After reaching here, you and your team should allow a day rest for acclimatization.  Then, from there it will take another two days to reach Dingboche (4,260 m/13,980 ft elevation). From Dingboche, it will take two days to reach Everest Base Camp. However, your trek may not go as per the number of days as it mostly depends on your trekking stamina.
Now let us come to our actual point, Kala Patthar. Your trek to Kala Patthar begins from Gorakshep, which lies at an elevation of 5,164 meters or 16,942 ft. Gorakshep is a frozen lakebed and the actual base camp of the Mount Everest. From Gorakshep, your trek will make its way up with a series of steep switchbacks. Then your trails will become steep until the wind-swept summit ridge. A walk of about 10 minutes from there will take you to the place with many prayer flags and the splendid view of the Mount Everest, Changtse, Nuptse and a glimpse of other mountains too. Gazing at those magnificent views, you will certainly think, yes, it is a total worth.
After reaching Kala Patthar and obviously, clicking as many pictures in that cold, your backward journey will begin. Through the same ridge and making back to Gorakshep, then to Dingboche, you will finally make it back to Lukla. After Luka to Kathmandu, well, search for another adventure in Nepal.
What are the risks of having altitude sickness in Kala Pattar?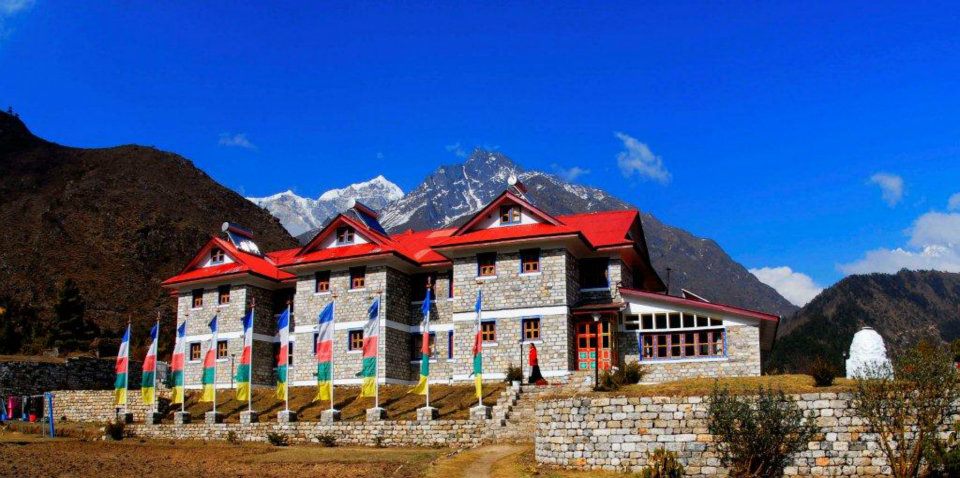 Altitude Sickness or acute mountain sickness is a condition of giving negative health effects because of high altitude caused by the rapid exposure to low level of oxygen at the high altitude. Trekkers with health issues mostly have altitude sickness. In order to minimize the risk of altitude sickness, it is necessary to acclimatize. Acclimatization is the process by which the body adapts to the high altitude conditions like a low level of oxygen and declining air pressure. Nepal Sanctuary Treks carefully design and plan the itinerary and provide enough time to acclimatize the body.
While in your trek to Kala Patthar as well as Everest Base Camp, there are some places where you should stay for acclimatization. Most trekkers don't experience any symptoms of altitude sickness up to the elevation of 2,400 meters. As your trek goes further and reach an elevation of 2,600, most of you may through those symptoms and acclimatization will be important.
According to the research, it will be difficult for trekkers to adjust with the oxygen level above 3,500 meters (11,500 ft). So, you must acclimatize and adjust yourself to a new environment, otherwise, it will be more difficult in higher altitude. Namche Bazaar is close to the height of 3,400 meters, so it will be best to stay here for at least three days as it will be perilous to move to a higher altitude so quickly.
After Namche Bazaar, you should spend at least two nights in Dingboche, which lies at an elevation of 4,260 m/13,980 ft. Your stay in Dingboche will ensure your attitude adaptation in higher altitude. Above the elevation of 5,638 meters/18,500 ft, you will enter the layer of "death zone". Kala Patthar is the highest point in Everest Base Camp, which lies at 5,644.5 meters/18,519 ft. That place is really close to extreme altitude level with less than 50% level of oxygen. So, you must acclimatize in lower altitude.
If you experience any symptoms from below, then, you are suffering from altitude sickness.
Headache
Vomiting
Trouble in sleeping
Dizziness
Lack of appetite
Shortness of breath
If the above symptoms get frequent and serious, then, it will be risky to go for further altitude. So, do return to a lower altitude and get a physician.
What is the best time of day to visit Kala Patthar?
Kala Patthar is few hours of a hike from Everest Base Camp but, do not hurry to Kala Patthar as soon as you arrive in the camp. Most trekkers climb Kala Patthar in the early morning so they can have the best view in the dawn light, but as the sun rises behind the Mount Everest and Lhotse, you won't get a good shot. It will be best if you climb Kala Patthar in the late afternoon as during this time of day sun will be set and you will see those spectacular views of Everest along with other mountains.
Everest Base Camp and Kalapathar trekking is a great experience of a lifetime adventure. Nepal Sanctuary Treks presents you the utmost remarkable trek with quality services, safety, and security. We will be flexible on our Kalapathar treks itinerary in accordance with your preference, timeframe, and design program in such a way that allows clients to get enough time for acclimatization. If you would like to know more about Kalapathar program then please write to our travel expert at info@nepalsanctuarytreks.com or gtulsi@wlink.com.np.