Trekking in the Himalaya is one of the most marvelous expeditions one could possibly experience in a lifetime. It actually is the comprehensive journey, chock-full of all of the elements that any good adventure should possess: hospitable locals, vibrant culture, varied flora and fauna, challenging topography and splendid sceneries. If you are planning for a spectacular trek to Everest Base Camp, then choosing a right trekking agency in Nepal along with these tips may help you have a safe and memorable trekking journey:
1.     Physical Training
The whole trail extent the total distance of 123 km from Lukla to Everest Base Camp to Gokyo and back. The typical walking time is around 4 – 8 hours each day.  Since the trek is the moderate grade, you do not require to have any prior technical climbing experience or even any altitude experience. Nevertheless, the trekkers should possess a good level of fitness with excellent strength, and strong determination to be able to complete the trek. As the trek involves long hours of walking uphill and downhill terrain.
It is advisable to add some physical training in everyday life for four to six months prior to the commencing date of your trek. The more you can build in uphill walking, the better. Any activity that builds muscle and increases stamina will aid you on the EBC trek. The physical exercises comprise walking uphill on a treadmill, improving cardio endurance, strength endurance, and being comfortable carrying a daypack uphill for long periods at a time.
2.      Mentally Prepare
Mental preparation for a trekking journey like an Everest Base Camp Trek is equally as important as your physical training. With physical and mental endurance you will have an amazing time with the exquisite mountain views and exotic sceneries.
It is good to mentally prepare yourself outdoors and living in the mountain. As EBC trek takes you to the far-flung hamlets of the Khumbu region, distantly away from your comfort life. Before making a commitment to Everest trek, it is vital to mentally prepare yourself with outdoors and living in the mountain.
The teahouses dotted along the trails offer a simple room but comfortable to sleep off the tiredness. Some tea houses in the area do have western-style toilets while some will have squatting toilets.
As to shower facilities, there is a teahouse that provides bucket shower facilities with some charges. However, we suggest bringing wipes for a quick freshen-up at the end of the day. Likewise, there are completely no shower as you reach higher elevation.
In addition, if you want to experience real mountain life and immerse yourself in trekking culture, these are just some of the inconveniences that you will have to endure.
3.     Give Yaks and Porter the right way at all time
You can see a group of Yaks roam the trails and carrying loads so it is essential to give way to them. Further, they do not know what is on their backs, as a result, they might accidentally hit you with it.
Therefore, as a yak train approaches, try to stick to the mountainside away from the cliff or stand on the safe zone to get out of the way giving them an amply of space.  This prevents travelers from nudged off the path into the valley.
Also, Sherpa's and porters are frequently carrying supplies up and down the mountains. We can make their life easier by staying out of their way
4. Stay within Luggage Weight Limit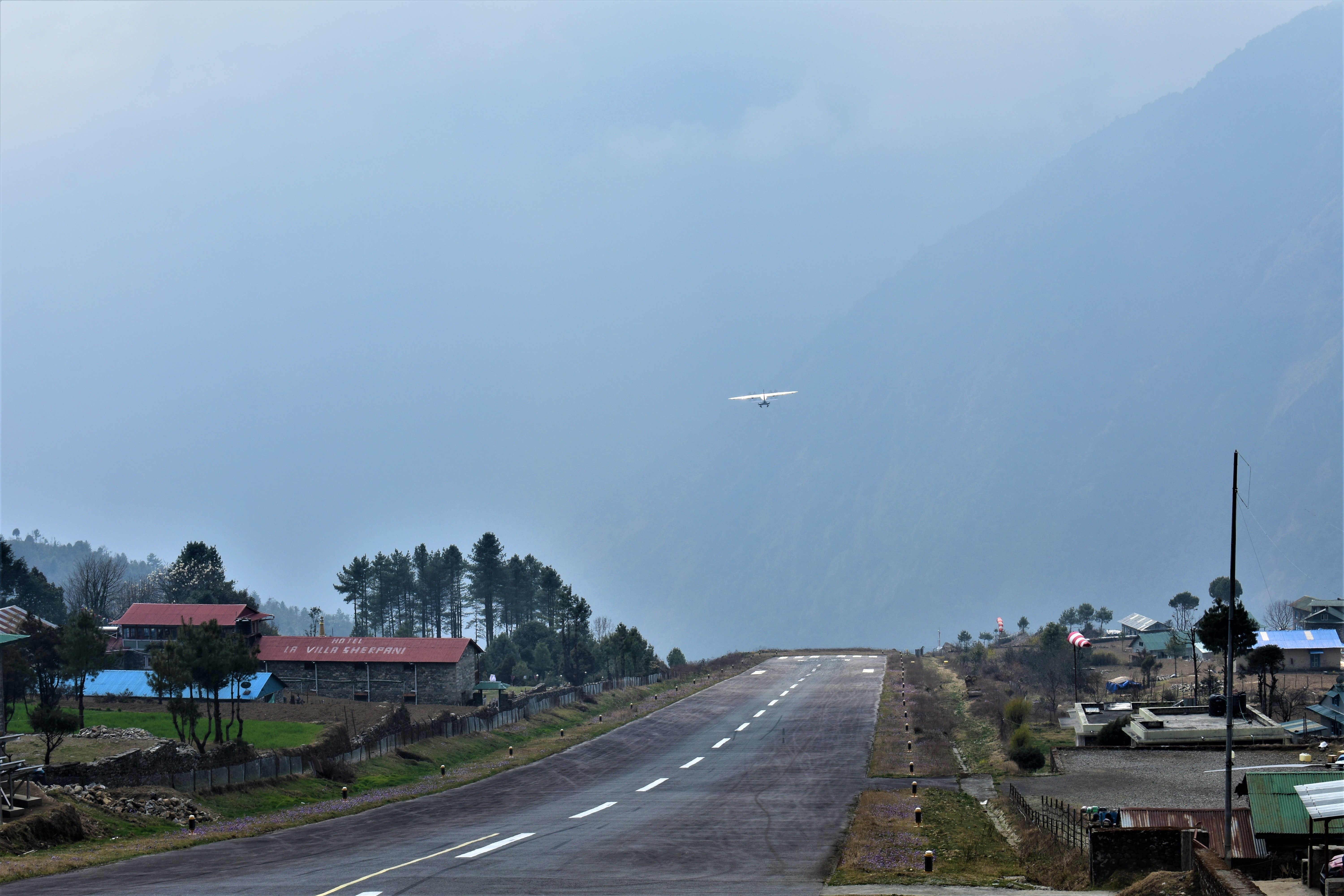 It is very crucial to pack wisely for Everest Base Camp trek. On the flight from Kathmandu to Lukla via either Kathmandu or Ramechhap, the weight limit is 15 kg. The weight limit for a checked bag is 10kg (22 lbs) and carry-on can only be 5kg (11 lbs). It is possible to pay for excess baggage, but it's not recommended. The maximum weight the porter will carry throughout the Everest Base Camp is 30kg. Every two trekkers will get a porter. Therefore, 15 kg is the maximum weight, the trekker is allowed to pack for the Everest Base Camp Trek
Upon your arrival in Kathmandu, Nepal Sanctuary Treks will provide you with a duffel bag that porters will carry for you on the trek. You just need to carry a day pack with essential stuff needed during the day as you won't have access to your duffel till you reach the tea house in the evening.
5. Prepare for flight delays
The Lukla flight depends on good visibility both in Kathmandu and Lukla. The weather can change in a few hours, as everywhere in the mountains region. The sudden climate change such as heavy rain, high winds and blinding fog results in flight delays or even cancellation.
It is advisable to keep sufficient extra buffer days at the end of your trip. This will help to allow yourself some flexibility in the case of any weather delay.
6. Altitude sickness is the main concern
Altitude sickness is one of the issues you have to think through when trekking to Everest Base Camp. Everest Base Camp trek considered a moderately difficult trek. Though there are several ups and downs during this high-elevation trekking, the trails are well-maintained trails for trekkers and easy to walk on.
However, you have to be very cautious about not pushing your body too much. The trail to Everest Base Camp takes you up to an elevation of 5,380 meters. Trekking to the higher elevation means you are likely to get Acute Mountain Sickness (AMS). If you do not take immediate actions or unaware of it then the consequences of AMS may be life-threatening.
You can reduce the risk of Altitude sickness by maintaining a slow pace and a pattern that suits your body.
Further, acclimatization is crucial since altitude sickness can never be considered unforeseen when you are in the mountains. Nepal Sanctuary Treks itinerary incorporates enough rest days that helps the body adapt well to the atmosphere.
Additionally, garlic and hydration greatly help in preventing altitude sickness. We provide knowledgeable trekking guides and porters who are trained and experienced in handling such circumstances.
7.  Hydration is Important
It is very vital to keep yourself hydrated. Drinking enough water can minimize the risk of getting altitude sickness. As you trek higher, your body loses water much faster than at sea level, and you will have to ensure you are consuming water sufficiently to compensate.
It is advised to drink about five liters of liquid (water, soup, hot beverages) throughout the day while in the mountains.
If you are taking Diamox, we suggest you drink more than 4.5 liters of water every day in the trek as one get dehydrate quickly.
It is unsafe to drink water directly from the streams. So we suggest trekkers bring Steipen or purifying tablets to treat the water. If you choose water purifying tablets, you should bring your own reusable water bottles. Alternatively, you can buy filtered and boiled water with some charges in every teahouse along the trail.
8. Carry some cash
Even if you are trekking with your trekking companies, you are suggested to carry some cash in Nepalese currency for your personal expenses.  The majority of the lodges do not accept cards, so you'll need to ensure you have spare cash on hand. As are only a few ATMs on the trek in Namche Bazaar.
You'll be requiring money for a shower, boiled water, internet use, phone calls and charging your devices at tea houses in the mountains. Also, it is important to note that an increase in expenses is directly related to the increase in altitude since transporting the commodities at a higher altitude is difficult and costly.
9. Travel Insurance and immunization
Travel insurance is mandatory while you are in the Everest region. We recommend, trekkers to take out comprehensive travel insurance with a provisional helicopter rescue. At times, you might require helicopter evacuation during your trek. Under such a situation, Nepal Sanctuary Treks will instantly take needful action and later contact your insurance company.
It is advised to get following immunization vaccines if you are planning to embark EBC trek:
Cholera
Typhoid-paratyphoid
Tetanus
Polio (oral)
Malaria (only if you will be visiting a jungle lodge)
Typhus
Hepatitis (gamma globulin an expensive but important shot)
Meningitis Meningococcal A/C vaccine
10.  Pack essentials wisely
This is one of the most significant things you have to do prior to your trek. Several things can be purchased affordably in Kathmandu before you leave for the trail.
Footwear
•           Hiking boots: Good ankle support.
•           Hiking shoe or sneaker
•           Sandals: Slip-on sandals or flip-flops
•           Woolen socks, Light socks
Outwear
•           Down jacket, Fleece jacket
Clothing
•           Hats
•           Insulated Gloves
•           Hiking pants, cargo pants
•           Gaiters (for winter departures)
•           Thermal Underwear/layers
•           Light to mid-weight synthetic top
•           Mid-Weight synthetic bottoms
•           Extra synthetic top lightweight
•           Bandana or scarf.
•           Waterproof rain over pants
•           Rain jacket / Poncho during monsoon
•           Waterproof backpack rain cover
Gear
•                     Day backpack: 25-35 L backpack (depending on one's preferences).
•                     Sack to organize and store your dirty laundry.
•                     Trekking Poles Optional
•                     Sleeping bags: -10° C /14° F for a teahouse
•                     Trekking Towels
•                     Personal first aid kit
Note: we provide a comprehensive group first aid kit but please bring personal medications and other items you might use regularly such as:
•                     Any personal medications.
•                     Malaria prophylactic tablets.
•                     Blister treatment (Compeed patches are the best).
•                     Rehydration powder e.g. Dioralyte.
•                     Analgesics (paracetamol, ibuprofen, and aspirin).
•                     Plasters and zinc oxide tape.
•                     Throat lozenges.
•                     Diamox (helps with acclimatization).
Personal Equipment
•                     Two water bottles (Nalgene wide-mouth bottles are the best).
•                     Water purification tablets (Pristine, Biox Aqua or Aqua Mira).
•                     Favorite snack food.
•                     Books, iPods, and cards, etc.
•                     Camera with spare batteries and memory cards.
•                     Insurance certificate.
•                     Earplugs (optional).
•                     Hand sanitizer (optional).
•                     Personal wipes, Biodegradable soap
•                     Passport size photograph if you plan on obtaining your visa on arrival
•                     Passport and airline tickets
•                     Supply of personal toiletries, including insect repellent, sunscreen, tissue paper, ChapStick, and travel-sized containers
•                     Favorite Herbal Tea or decaf coffee (optional)
•                     Eagle Creek or large Zip Lock bags for packing loose items (optional)
•                     Any prescription medications you require (in their original containers)
Further, if you are planning to have a trek to Mount Everest, then you should contact with the Best Trekking Agency in Nepal. Nepal Sanctuary Treks have all covered that you need to trek to Everest.