Everest Base Camp Trek is the adventure of a lifetime for those whose dreams soar higher than even the clouds. Specifically, the sense of accomplishment reaching the awe-inspiring base camp of  Everest is an experience the children are never likely to forget.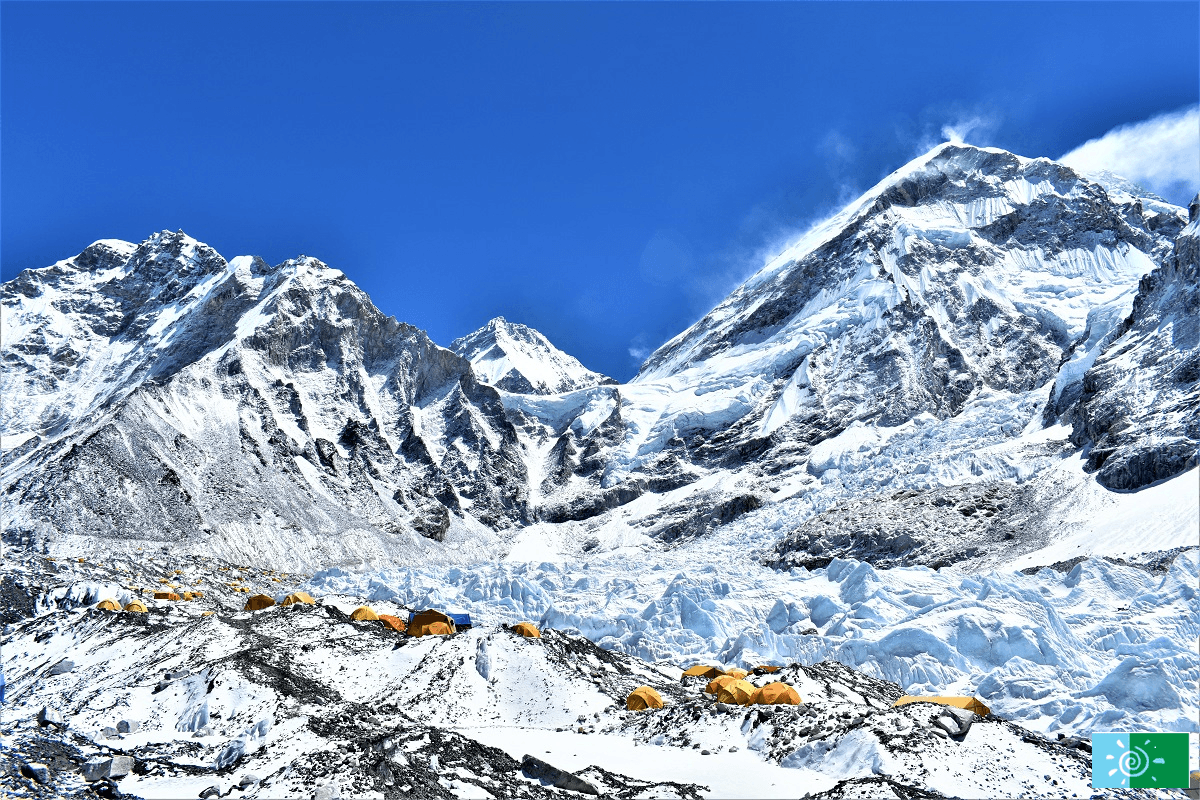 Family adventure trip doesn't get much more adventurous than visiting the renowned Mount Everest Base Camp. It is an ideal and wonderful destination that allows you to feel the liveliness of the Himalayan peaks.  Trekking through the beautiful forest, admiring the beauty of snow-clad peaks, ethnic hospitality, and their culture during the trek to EBC will definitely offer you and your children a lifetime experience.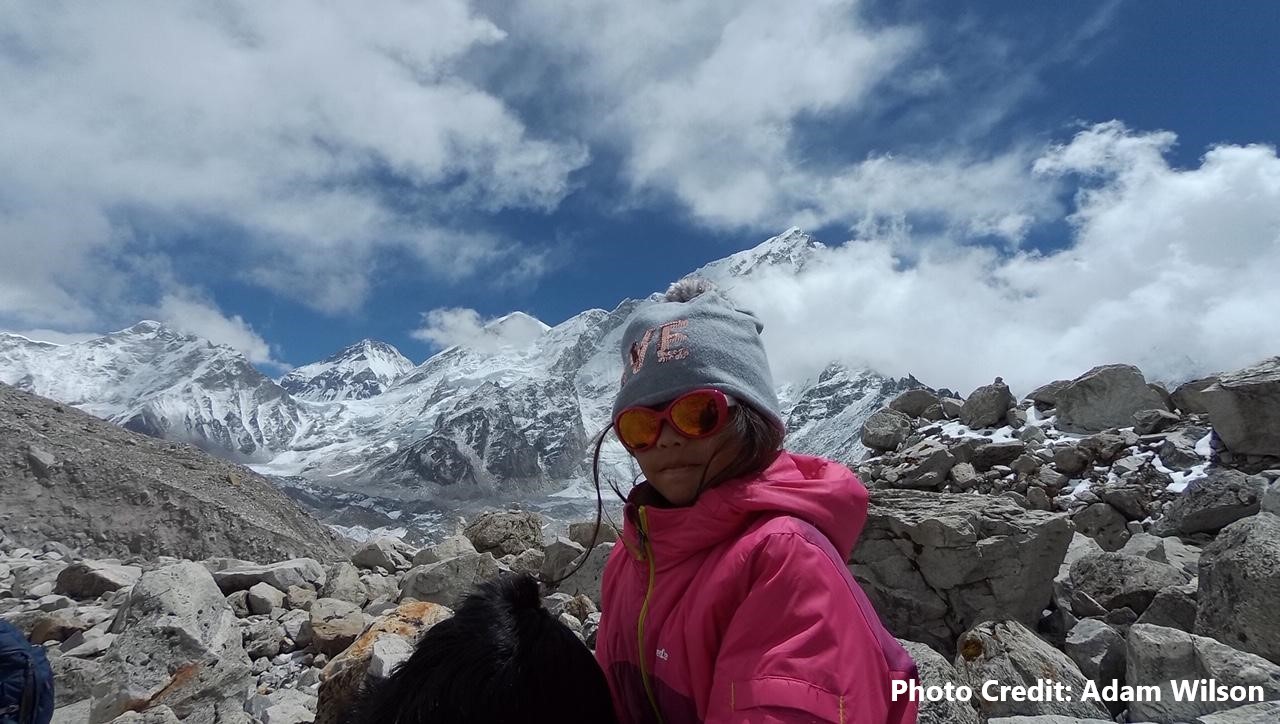 Adventure and Social work devotee Little Sienna summited Everest Base Camp
Nepal Sanctuary Treks is delighted to announce that Ms. Sienna Eve Wilson, 9 years old girl summited the Base camp of the world's highest peak the Mount Everest on April 21, 2019.  Sienna is a British passport holder living in Hong Kong who reached the base camp with her father Adam Wilson. The trek led by the experienced trekking leader Purna Tamang of Nepal Sanctuary Treks. Its second time she trekked with Nepal Sanctuary Treks. Her first trek in Nepal was Kathmandu Rim Trek.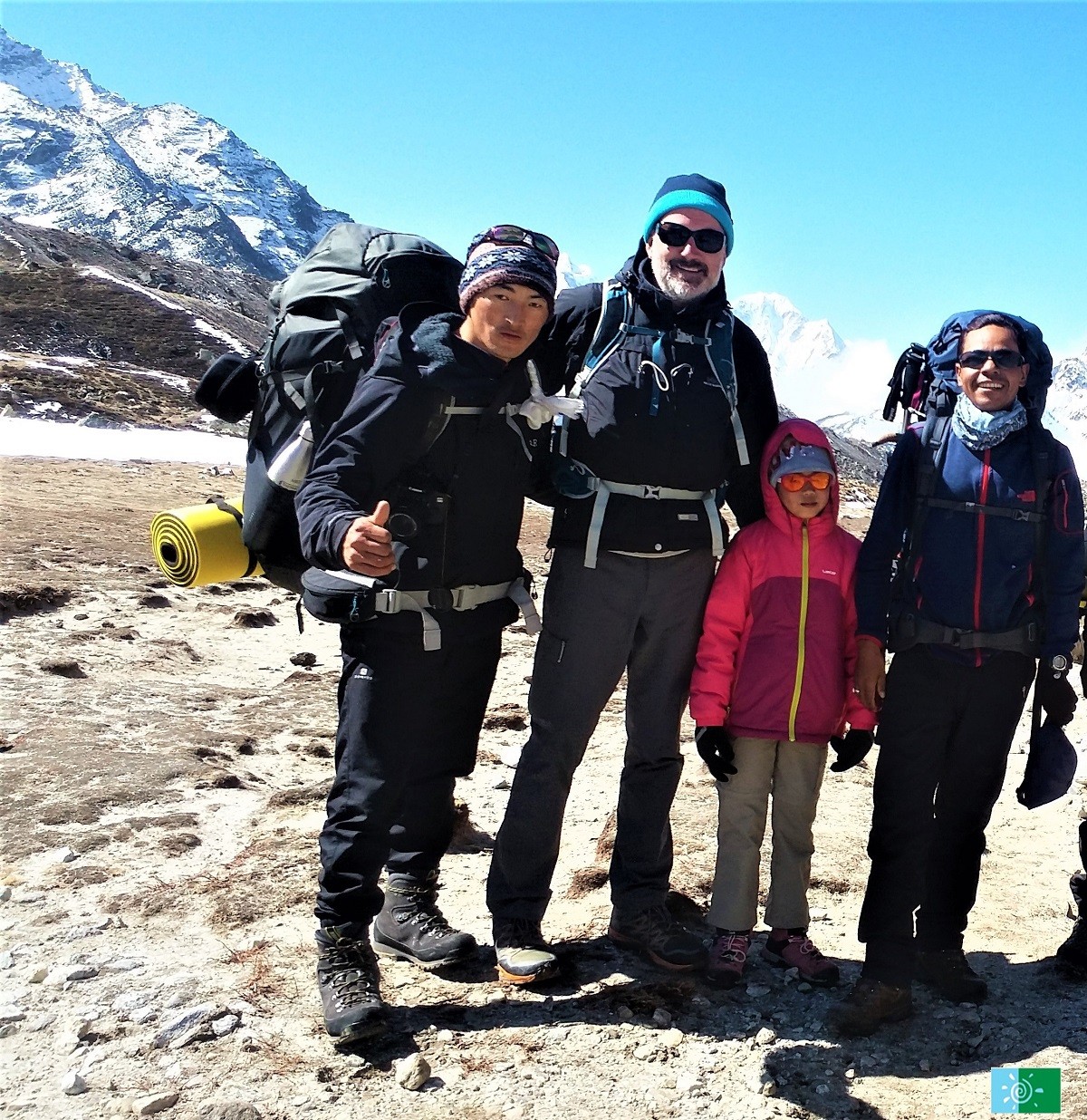 Sienna with her father Adam Wilson, Trekking Leader Purna Tamang  and team
Sienna attends an international school in Hong Kong 'International Montessori School'. She is a keen hiker, gymnast, and swimmer. Apart from her hobbies, she has been actively engaged in community service. She learned to give back to others. From such an early age, she learns to be kindness, compassion, and respect -internal strength that connects her to others.
Sienna along with her father has been raising funds through sponsorship and will donate all funds raised to the charity they support called "Mother's Choice" based in Hong Kong. She has set an example that age is not the factor as far as you have a deep passion in your interest and commitment in serving the community.
Since our foundation in 1998, we have arranged numerous such treks for solo, senior citizen, family with children, and school trekking enthusiasts. However, organizing a trek for a family with such young kids was the first time. Sienna is the first to set the record of the youngest trekkers to the base camp with us.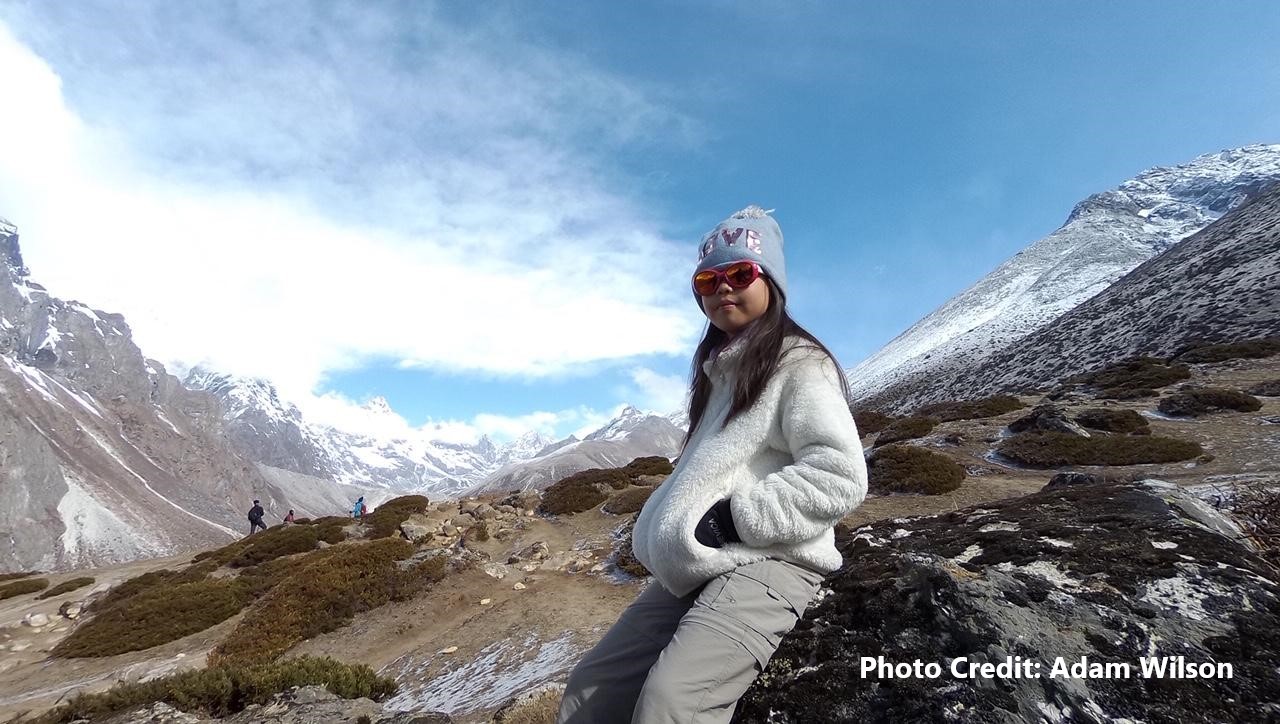 Sienna's Journey to Everest Base Camp
On April 13, 2019, Sienna, her father set off the journey with Nepal Sanctuary Treks Team.  The trek starts with a spectacular scenic flight to the mountain airstrip at Lukla. Further, they trek through the Dudh Koshi valley to the Sherpa settlement of Namche Bazaar (3,440 meters).
Everest Base Camp at 5,364m to the foothills of the world's highest peak take over suspension bridges traversing chasms of thin air, through unseen Buddhist monasteries and into the heart of the cordial, Sherpa culture and hospitality who enhance a touch of exoticness to the trekking journey.   Little Sienna's marveled at the splendor of the scenery. As the enchanting scenery of majestic mountain unfolds before her eyes. The trekkers along the trails got amazed when they saw her strength and stamina trekking through boulders and meandering trails.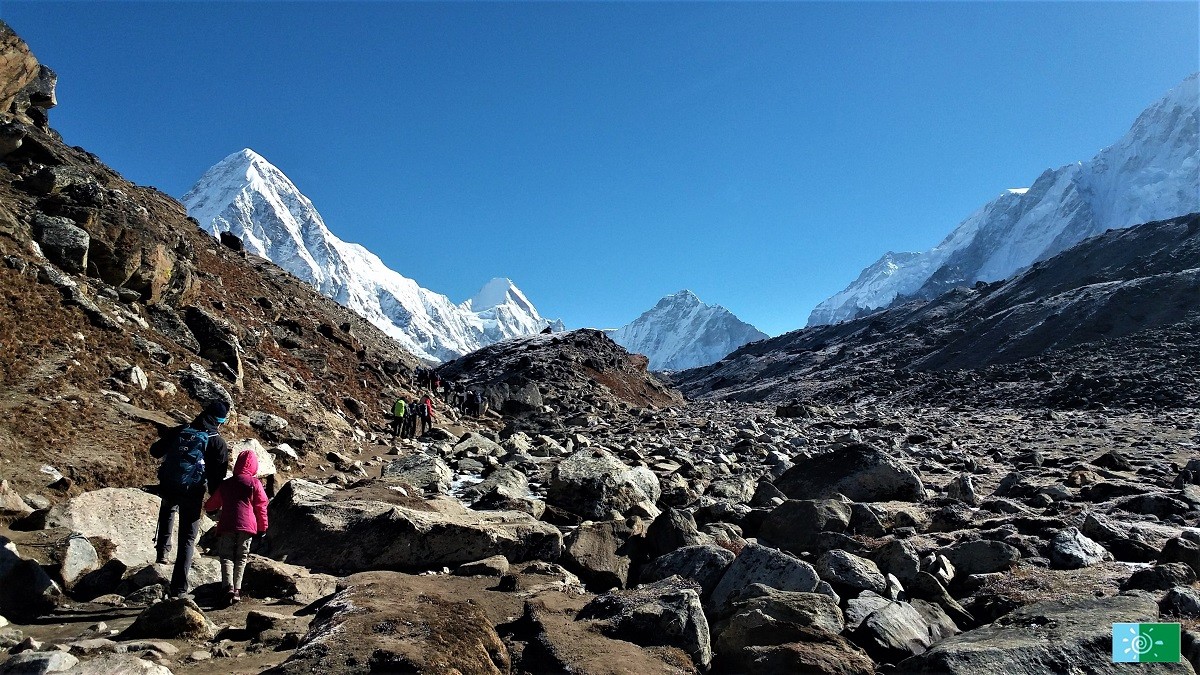 During the expedition, trekking trail past several settlements like Thame, Khumjung, Phortse, and Dingboche. An extra night spent at Dingboche for acclimatization before heading to Lobuche, Gorakshep and Everest Base Camp. The route is heavenly as Sienna reaches closer to the panorama of the highest peaks in the world. Sienna along with her father and the NST team reached EBC on April 21, 2019.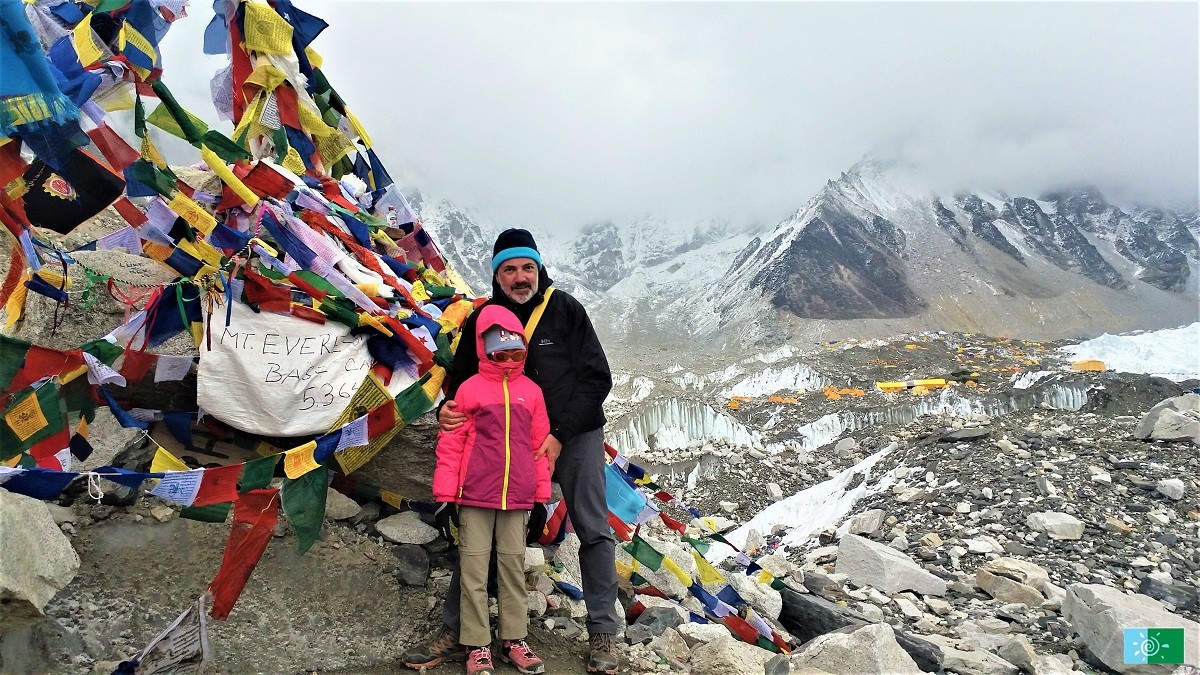 Sienna with her father at Everest Base camp
After an overwhelming time at EBC,  they descend back down to Gorakshep, Periche, Namche and finally took the flight back to Kathmandu.
At an elevation of 5,380 meters, reaching Everest Base Camp is challenging for trekkers of any age.  Due to Sienna's passion and confidence in her ability, as well as a flexible itinerary that allowed for extra acclimatization days indeed successfully ascent to the base camp.
Pondering to trek with us this Autumn?
If you have made up your mind for Everest Base Camp Trek, for coming autumn 2019 and Spring 2020 then get travel advice from our expert by connecting via  info@nepalsanctuarytreks.com.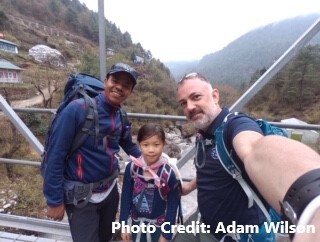 Sienna with her father and passionate trekking leader Purna Tamang
Our departures dates of  Everest region trek for autumn 2019 are as follows. Please check the available dates from the following program link:
For Custom-Made Treks
If you would like to discuss any of our treks then please email us at info@nepalsanctuarytreks.com or sanctuary@mail.com.np. You can also connect with us via our website by filling up form at Contact Us