Trek Highlights
 The trek presents the massive Himalayan ranges over 8000m including the highest Mt. Everest, Cho Oyu, Lhotse, Makalu, 

and the

Ngozumpa Glacier

–

the largest glacier in the Nepal Himalayas.

 Kala Patthar (5,644m) is a remarkable landmark located above Gorakshep offering marvelous views of high peaks, after an exhilarating hike to base camp It is especially popular for a perfect vantage point for the finest close up vistas of Mt. Everest comprising other notable peaks, and Khumbu icefall in Everest Region.

 Visit Tengboche, a picturesque Sherpa settlement where well-known Tengboche monastery outlooks with Ama Dablam at its backdrop. It is a central point to the Everest and a perfect vantage point to witness majestic mountains.

 Everest Base Camp (5,545m) offer the extreme sense of being in the courtyard of Mount Everest (8,848m), the top of the world.

 Gokyo (4,750m) is renowned for turquoise Gokyo Lakes whereas Gokyo Ri (5357m) is a famous vantage point for mountains and peaks. Ngozumba Glacier and Gokyo Valley from Goyo Ri looks spectacular The vistas of the Himalayas comprising Mt. Everest from Gokyo Ri is outstanding.

 Trekking on a fully supported trip with a well-paced itinerary including plenty acclimatization days built in

 The spectacular flight between the snow-clad peaks and over lush green landscapes to Lukla is simply thrilling and phenomenal

The beautiful vistas  of sunset and sunrise over soaring peaks, glacier valley, lakes of Gokyo, and Gokyo valley are just spectacular from the top of high passes

The warm hospitality and warmth of the Sherpa people, their exceptional culture and the homely atmosphere found in the Himalayan land

Namche (3440m) is well known as the Gateway to Everest Region, which is also a well-settled Sherpa town settled by a majority of Sherpa people

 Exploration of Sagarmatha National Park (First National Park of Nepal) incorporating total territory of (1,148 km

2

/ 443 sq mi) which is also declared a World Heritage Site in 1979.

 

The trails wind through the winging and exhilarating suspension bridges, observe the beautiful landscape views all around you and pass the pleasant and vibrant forest of rhododendron, during spring and blanketed forest of pine and birch trees.

 

Come across Buddhist prayer monuments named Mani Wall with a religious inscription on rocks and boulders, a long row of prayer stone slabs with spinning bells.
Trek Overview
'Crossover world's high passes in the shadow of massive Mt. Everest with unparalleled vistas'
Pondering about challenging trek to Everest Region? Everest High Passes Trek is an exhilarating option to surmount the high passes of Everest region an ideal choice for a true adventure seeker. It not only provides an extraordinary feeling for adventure but also gives an opportunity to explore the natural and cultural magnificence of the Himalayas.
Everest High Pass adventure destination is well-known for the superb views of Mt. Everest (8,848m), Mt. Cho Oyu (8,156m), Mt. Lhotse (8,501m), Mt. Ama Dablam (6,856m), Mt. Makalu (8,470m) and other snowy mountains in the Khumbu region.
The trek comprises trekking on popular Everest route while also exploring unrivaled gems of the Khumbu region. The adventure trek traverses two high mountain passes in the Everest region – Cho La Pass (5420m/17,782ft) and Renjo La Pass (5,340m/17,520ft) and sets foot on the Everest base camp, ascend Kala Patthar and Gokyo Ri; and visit Gokyo Lakes. Here what you can witness is the stunning shapes of clouds, blue azure sky, turquoise mountain lakes, and the serene atmosphere. It's more than just beautiful.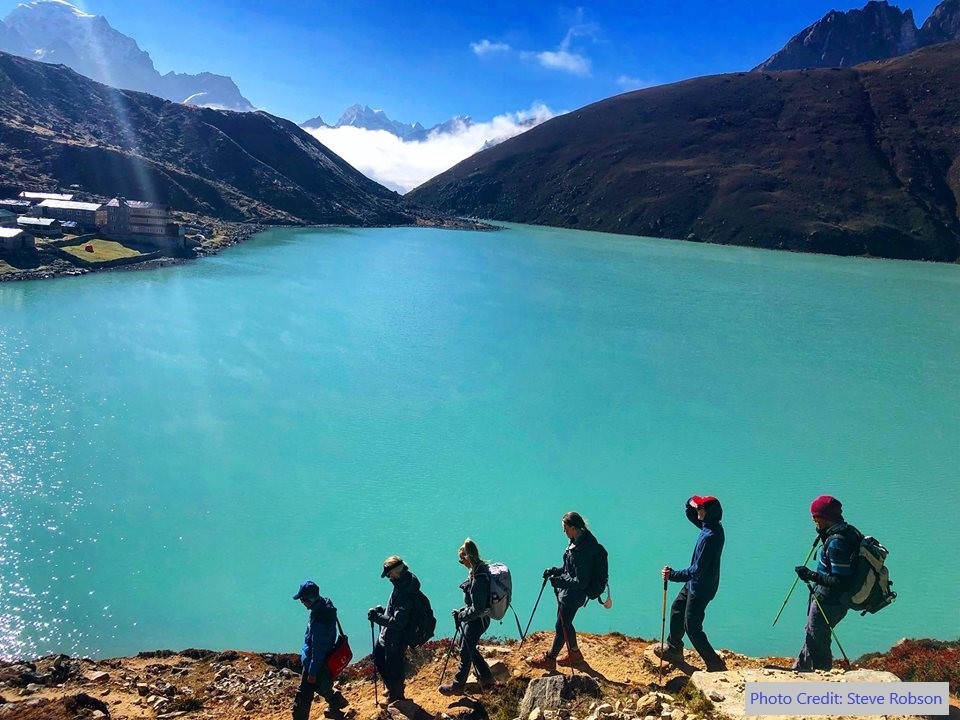 This adventure trek traverses high mountain passes in the Khumbu Region and incorporates all the highlights of the Everest region. The trekking trails wind through the dense lush forest of alpine, bamboo and the rhododendron, narrow ridges, banks of the river, ever-flowing glacier river and glacier lakes, and magnificent villages. The feeling of getting away from it all is unparalleled and all the time is bounded by unforgettable massive peaks.
The rugged landscape of the high passes is inhabited by the famous high mountain people named "the Sherpas".The trekker will get an opportunity to immerse into the culture and tradition of Sherpa people. The pious atmosphere of the monasteries, the vibrant prayer flags, the beautiful chortens, and Mani walls along the trail will enhance your spiritual feelings. Likewise, occasional sightings of endangered wildlife include the musk deer, Himalayan Thar, snow leopard, pheasants, and snow cocks make the trip a memorable experience for a lifetime.
The trekker needs to be physically fit and in good health to embark on this overwhelming trip to cross from one picturesque area to another scenic site of Khumbu valley with ever-present Mt. Everest.
Although the trek grade of Everest Passes Trek is strenuous you will definitely love the journey which set into motion from Lukla after you start to follow the Dudh Koshi Valley. The trek begins with a scenic flight to one of the most extreme airports in the world, Tenzing-Hillary Airport at Lukla (2,827 meters). We follow the Dudh Koshi Valley to Namche Bazaar, the gateway of the Khumbu region, where we spend 2 nights for acclimatization and exploration.
Further, we continue trekking to places like Debuche, Pangboche, and Dingboche. We spend an extra night at Dingboche for acclimatization after having another extra day in Dingboche, Hike to the Nagarjuna Hill (5,050m/16,568ft) or Chhukung Village is organized to acclimatize the body.
After that, we move to the Lobuche, ascending slowly all along a plateau of yak herder shelters.  After we reach Lobuche then we head up to Everest Base Camp. From here, we spend two days getting to Everest Base Camp and Kala Patthar. And descend down to the Lobuche and walk ahead to reach Dzongla On the way to Dzongla, we can have the view of Looming Awi peaks. Then we move towards Cho La pass (5,400m). We spend almost two days in Gokyo valley exploring and ascending Gokyo Ri. Now, we descend through the second pass, the Renjo La (5,092 m) from where we can get the outstanding views of Mt Everest from the top of this pass. Eventually, we trek back to Lukla and flights back to Kathmandu.
The most popular season to trek Everest High Passes is in spring (March-May) and autumn season (September-December). In these months the weather is cool and easy for walking long days. The sky is clear and offers the best shots of the highest mountain in the world.
Note: below trekking hours, altitudes and distances are approximate, and absolutely for general idea only.
Itinerary
Fast Facts
Trekking through  high passes of Everest circuit
Climb to Everest Base Camp and Kala Patthar
Climbing Gokyo Ri and Chhukung Ri peaks
Ancient Buddhist monasteries, Sherpa villages, ancient trading routes
Incredible  views of  peaks like Ama Dablam, Cho Oyu, Lhotse, and Nuptse and Mt. Everest throughout the Everest high passes trek
Everest is also known as Sagarmatha in Nepal and Chomolungma in Tibet; the Everest region is known locally as the Khumbu
Home to three of the highest peaks in the world: Everest 8848m; Lhotse, 4th highest at 8516m; and Cho Oyu, 6th highest at 8201m
The Sherpa people of the Khumbu are so closely associated with the trekking business that the name Sherpa is also given to a specific role on a trekking team
Thrilling and scenic Himalayan flight to Tensing Hillary Airport at Lukla
Rare wildlife habitat such as snow leopard, Himalayan bear, Himalayan goral, red panda, Himalayan Tahr and likely to encounter with  blue sheep, yaks, Tibetan snow cocks , Lophophorous
Mount Everest is the home of "black jumping spider". It has been found at altitudes as high as 6700 meters above sea level.
Major plants that are found including birch, juniper, blue pines, firs, bamboo, wild rose, rhododendron, and hemlock etc.
Sherpa and Tibetan Buddhist culture are everywhere throughout the region.