Nepal is blessed with the natural beauty comprising diverse geography, unique topography, and rich biodiversity, but it is also blessed with rich culture and tradition. Nepal is home to several religion groups including Hindu, Buddhist, Muslim, Christian, Sikh, and Kiranti. These are just the major religious groups; 36 different ethnic groups in Nepal follows their distinctive customs and culture and speak the ethnic language.
Nepal is also home to fascinating festivals, deeply influenced by religion, diverse culture, and spirituality. There's no ideal way to experience Nepal in all its wonderful ethnic diversity than through its vibrant festivals. Filled with color, sacred rituals, culture, the magnificent festivals of Nepal would definitely delight the visitors.
Whether you are solo, family or school groups, the exotic festivals of Nepal would certainly provide you an amazing experience!  Participating in the festival is a perfect way to gain an insight into the diverse treasures of Nepalese culture and to discover Nepal's eccentric charm.
Among the countless festivals, Janai Purnima is one of such festivals which is popularly known as a sacred thread festival observed by Hindu, Buddhist, and Jain.
WHAT IS THE JANAI PURNIMA FESTIVAL?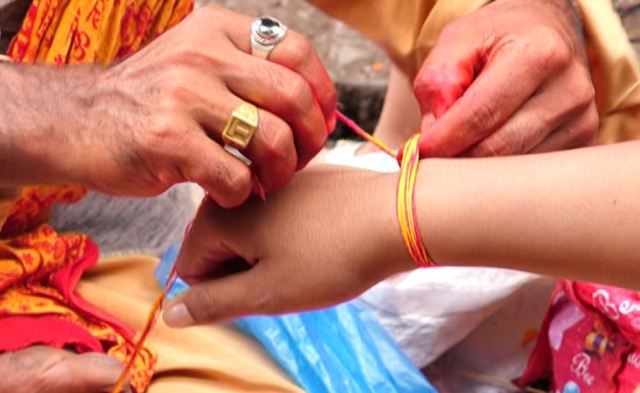 Janai Purnima is one of the religious and cultural festivals celebrated by almost every family of Nepal. According to the Hindu calendar, Janai Purnima falls on the full moon of the month of Shrawan, which puts it in July or August on the Gregorian calendar. This year Janai Purnima occurs on August 15, 2019.
It is a grand day to celebrate the Shaman culture as well. On this day Shamans from all over Nepal meet to do their ancient ritual in sites like the Kumbeshwar in Patan, Gosaikunda in Langtang and Charikot in Dolakha. Likewise, religious fairs take place at numerous temples from early morning at several places including the Pashupatinath and Swayambhunath temples in Kathmandu and the Kumbheshwor temple in Lalitpur. People of diverse cultures observe Janai Purnima with different beliefs but the same highest sincerity.
HOW IS JANAI PURNIMA CELEBRATED?
Janai Purnima is one of the most sacred and important festivals. The festival celebrates the bond of pureness and security. Janai means holy thread and Purnima is the full moon. On this day, some ethnic group performs their annual ritual of changing Janai. Janai is a sacred thread made of cotton worn across the chest they change this sacred thread after taking a bath in the holy river of Bagmati or Vishnumati or nearby rivers.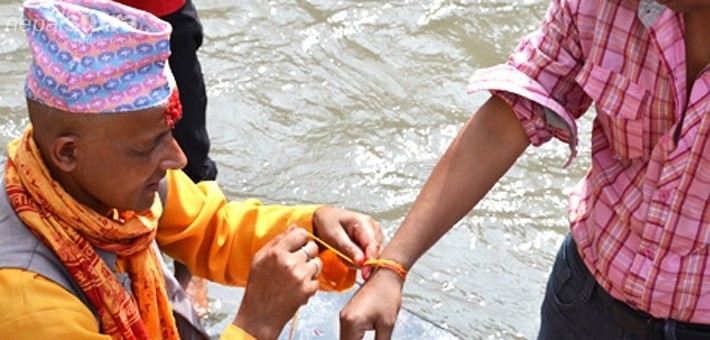 This thread is only worn by males who have performed a religious ceremony called Bratabandhan.Bratabandhan is a Hindu ceremony which is performed as a symbolic representation that a boy has reached the age of manhood and is ready to follow the rules of following the religion faithfully. Janai must be worn every day onwards for their entire life and must not disgrace the religion. In Janai, there are three cords, which symbolize body, speech, and mind and when the three knots have tied the one who wears is supposed to have gained completed control over each of the symbols.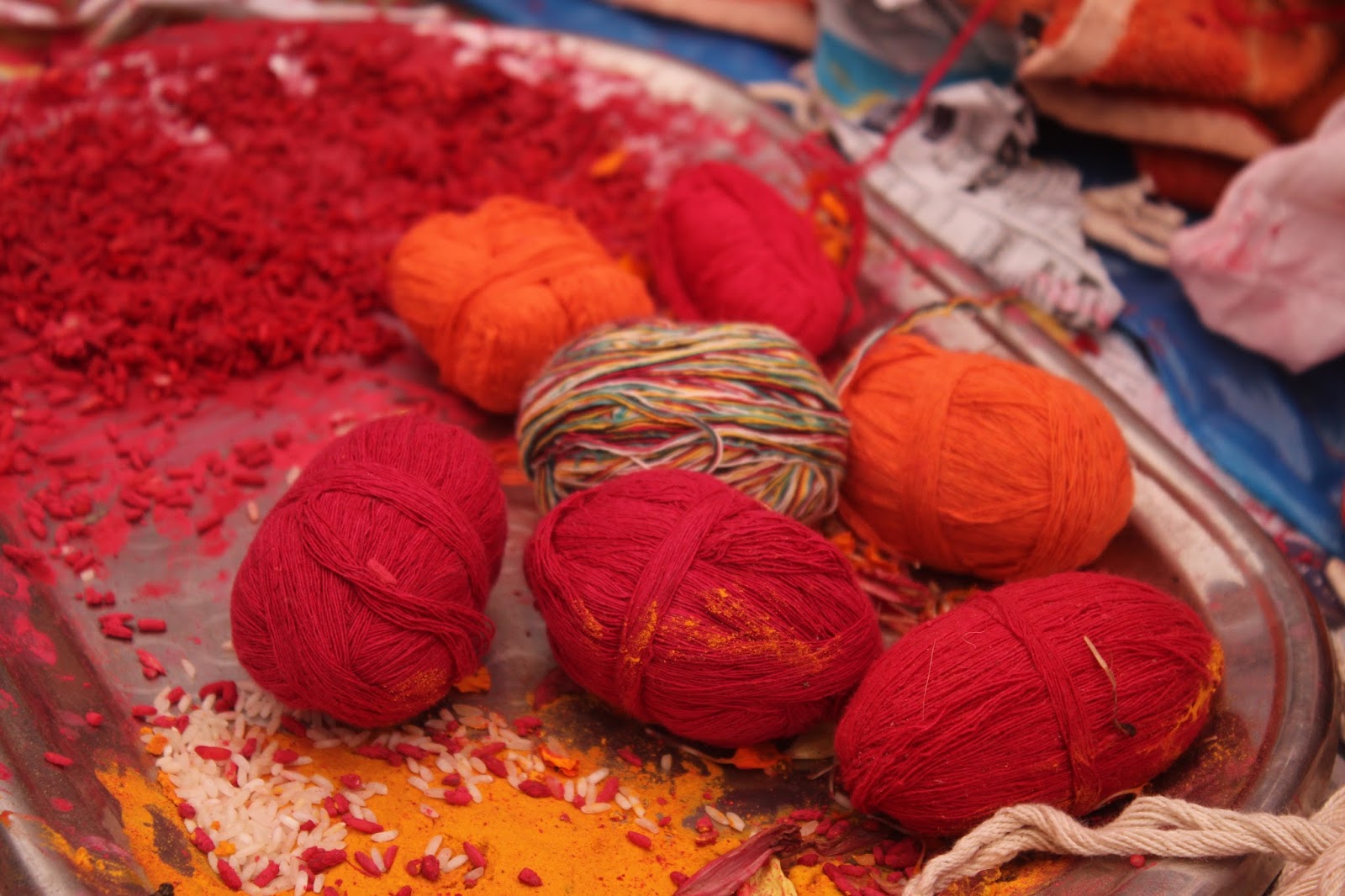 They take a bath and make their offering to Saptarishis (seven legendary rishis or sages) and their departed fathers and ancestors, then Tagadharis (Hindu men wearing the Janai) put the new Janai with a belief of having complete over body, speech, and mind.
Other people who are not wearing Janai, wears a sacred colorful thread called "Doro" around the wrist from Pundits (priest). There is a belief that sacred thread is worn for safety and protection. After some months, that thread is tied in the tail of the cow on the third day of the Tihar festival. This ritual is done for the safe passage to heaven after death. It is believed that after a person dies, he/she would hold on to the tail of the cow as the cow pulls across to the Baitarni River.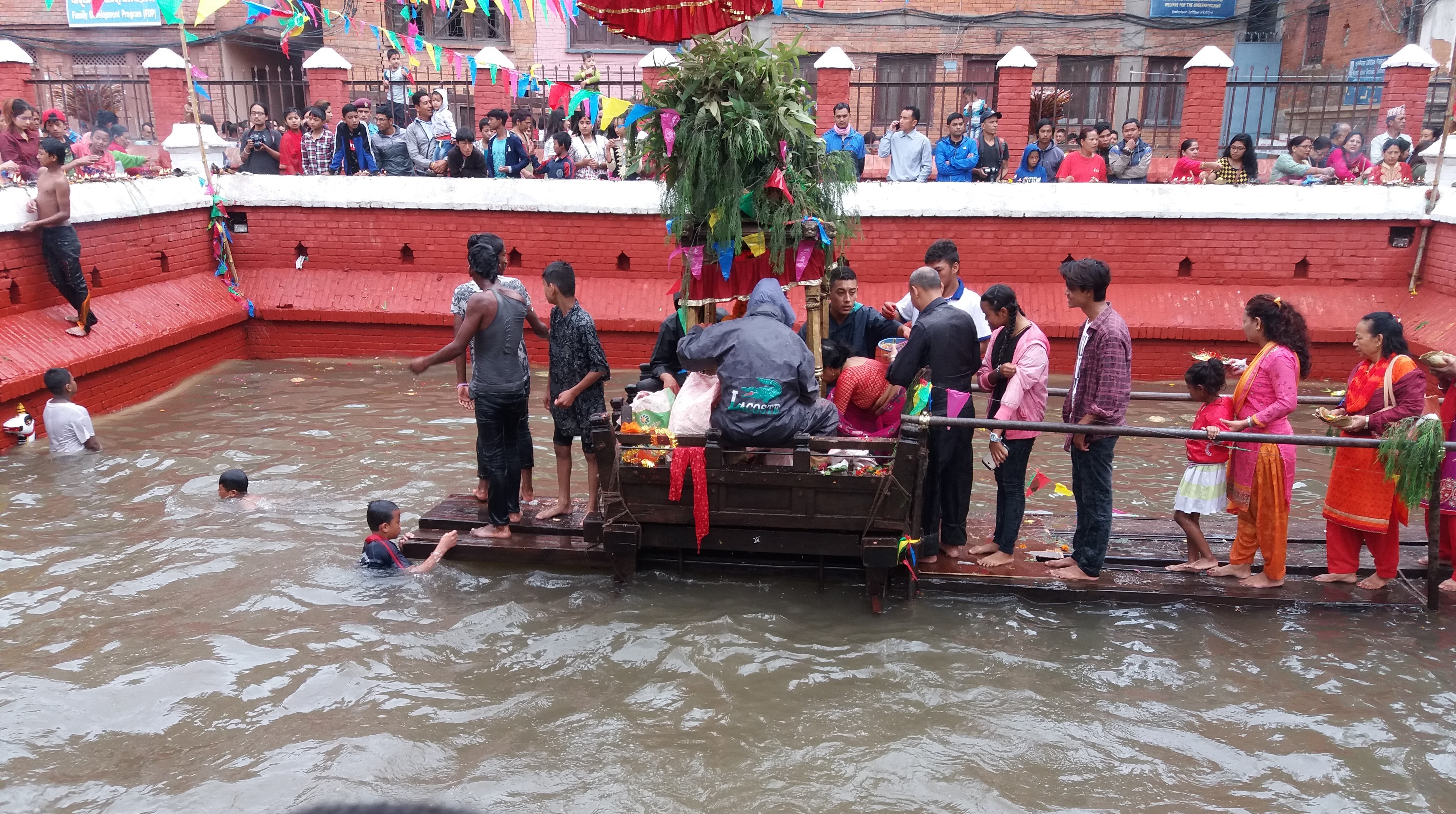 On the occasion of Janai Purnima, thousands of devotees visit the Kumbheswar Mahadev temple of Patan, Lalitpur. The temple lies in a complex that includes other structures like Bangalamukhi, Ulmanta Bhairava, and two hiti ponds. There is a popular belief that the water spring that fills the ponds comes all the way from the holy lake of Gosainkunda, which is located at a distance of 43 km north of Kathmandu. Taking a plunge in that pond during Janai Purnima is equivalent to taking a dip in Gosainkunda itself.
Gosainkunda Shaman Festival Trek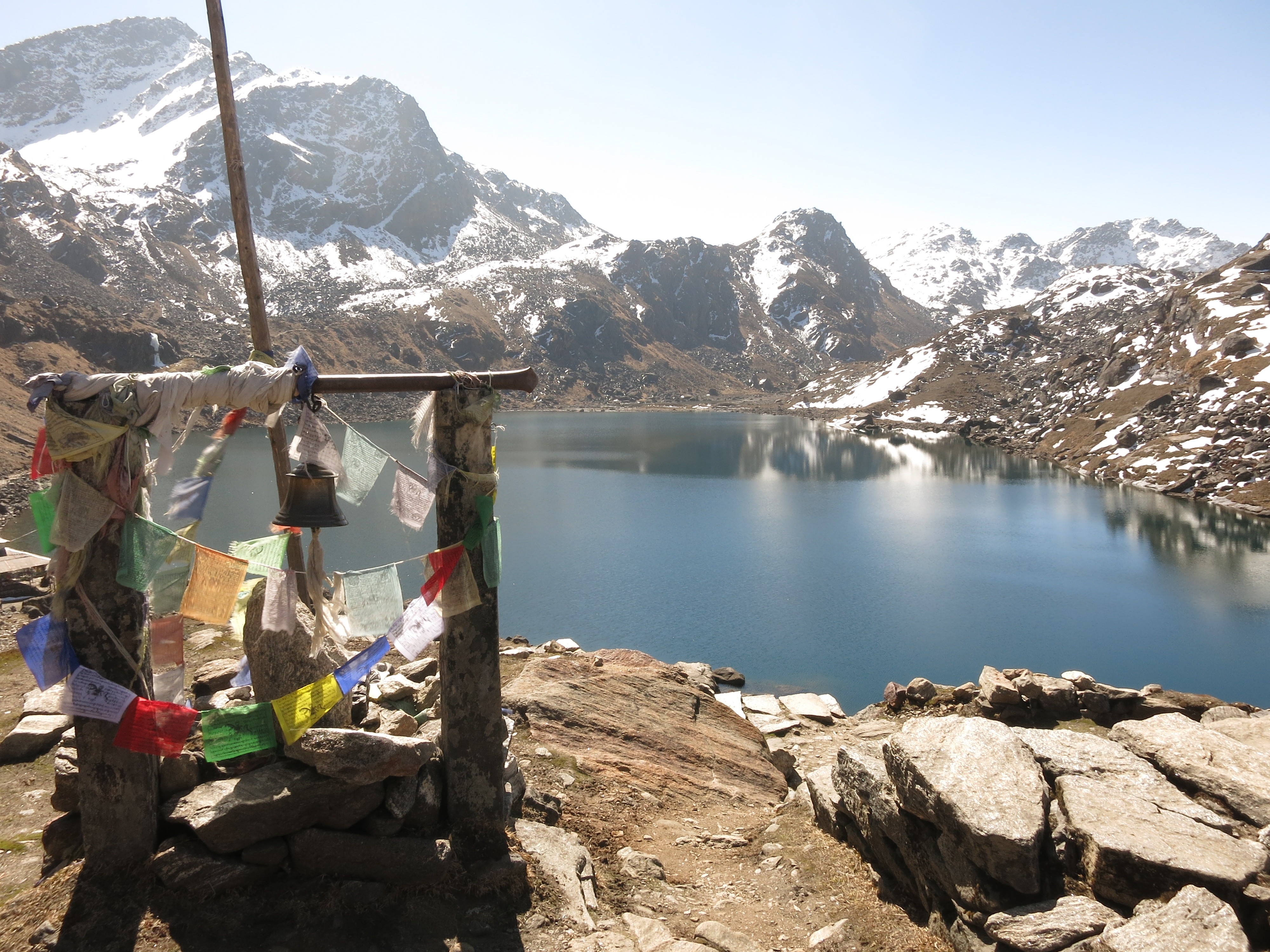 Gosainkunda Lake is a popular and sacred lake nestled at an elevation of about 4,380 m in the northeast of Kathmandu surrounded by the almighty Himalayas and other holy lakes like Saraswati Kunda, Ganesh Kunda, Surya Kunda, Bhairav Kunda. The trek to Gosainkunda determines true devotion to Lord Shiva and to be there during the Janai Purnima is regarded as the most auspicious.   
According to the myth, the lake is believed to have formed from excavating the mountain to extract water by Lord Shiva's Trishul (Trident) in order to quench the burning in his throat after he swallowed poison from the Samundra Manthan. That's 'why the water of this lake considered sacred and at the time of Janai Purnima thousands of visitors from Nepal as well as India visit Gosaikunda.
The Gosaikunda area is reflected as a spiritual place and is dedicated to Lord Shiva and Goddess Gauri. The huge rock in the middle of the lake is believed to be the remains of a Shiva shrine.  Each year during full moon day in August, thousands of devotees pay a visit to Gosainkunda for blessings. It is said that one who takes a holy dip in the cold, crystal clear water of Gosaikunda Lake purge their sins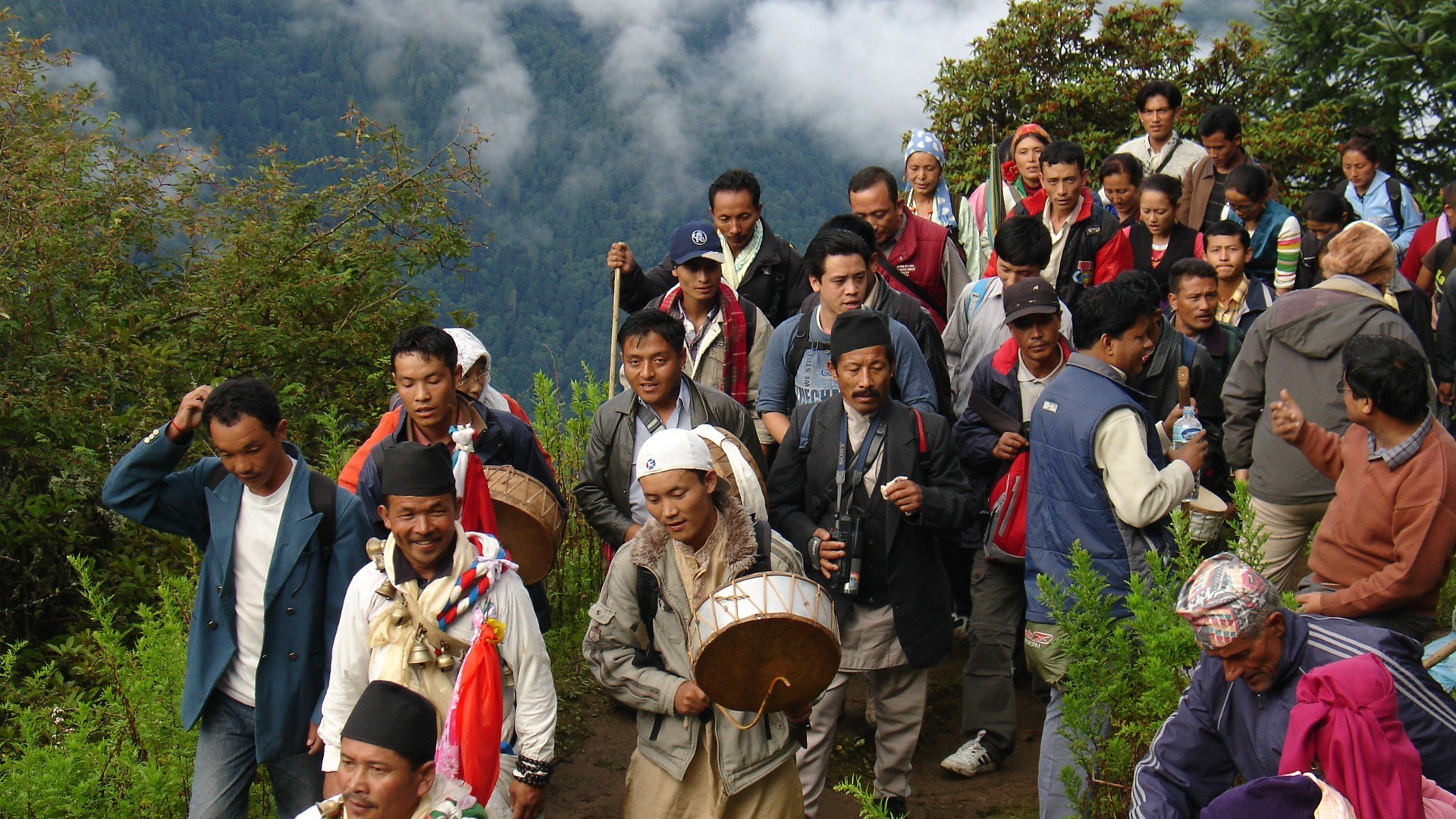 Likewise, hundreds of Shamans ("Dhami") from all over Nepal gather to the lake, to attend on full moon night. Shamans join the festival to boost and renew spiritual power and pray for deceased Shamans. It is believed that performing the ritual and praying to the lakes of Gosainkunda on this auspicious day would receive divine insights.
Also, they perform their unique spiritual dancing and singing ritual followed by drums and sacred rituals which is certainly a sight to see. In this festival, junior Dhami and Jhankri get graduation from the elder Dhami and Jhankri.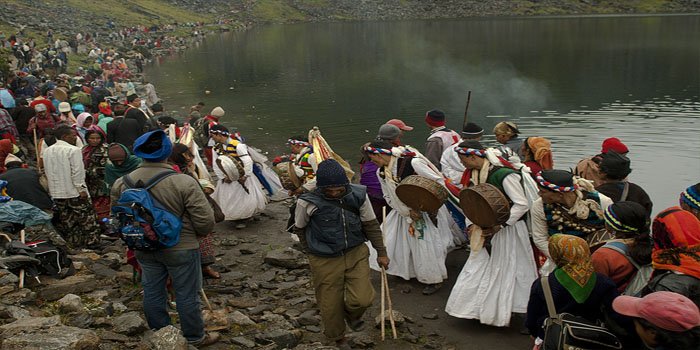 The Gosainkunda Shaman festival Trek is filled with varied array of flora and fauna, blanketed forests of rhododendron, bamboo and oak trees, picturesque villages of varied ethnic groups, enchanted divine glacial lakes, immense mountain panorama, and especially, the myths of Gosaikunda itself, that create exceptional trekking experience and above all, get opportunities to immerse into Nepali traditional festivals . Its a great opportunity for those who have a deep interest in Shaman practice. You will get to interact with Shaman and witness closely the Shaman's way of deep spiritual practice.
Interested to join Gosainkunda Shaman Festival Trek?
Janai Purnima at Muktinath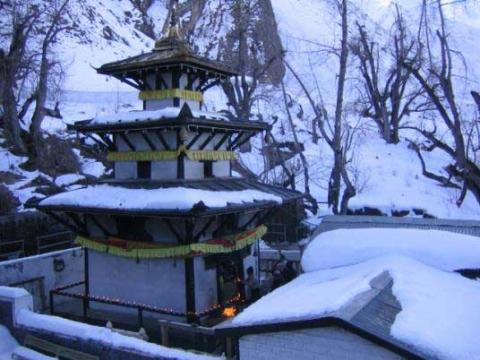 On the occasion of Janai Purnima pilgrims from the surrounding areas, from the neighboring nation and from within the country gather in Muktinath temple to pay homage to Lord Muktinath. Devotees take a shower under the cold water of 108 waterspouts " Muktidhara" considering that it brings them salvation. Afterward, everyone takes a plunge in turn in the two ponds in front of the temple and make offerings to Lord Muktinath.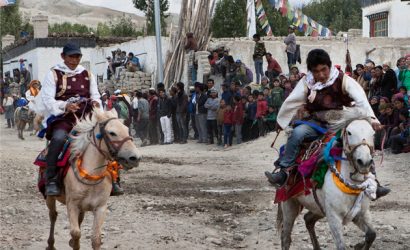 This sacred day also celebrated by the Gurung and Thakali ethnic groups organizing a Yatung mela (fair) on the sites of Muktinath Temple. It is celebrated for consecutive three days with horse races, drinking, and dancing by local Thakali people. Some of the highlights of this fair is a display of local products and horse racing.
During Janai Purnima, the Gurung community residing in the Manang district and the nearby areas have a custom of taking their sisters and daughters to Muktinath for cleansing rituals when they reach the marriageable stage. To make their sister and daughter eligible for marriage, they carry out a special purification ceremony at Muktinath temple of Mustang district.
Witness the unique Yartung Festival in Muktinath
WHAT ABOUT THE OTHER FESTIVALS OF JANAI PURNIMA?
Raksha Bandhan/Rakhi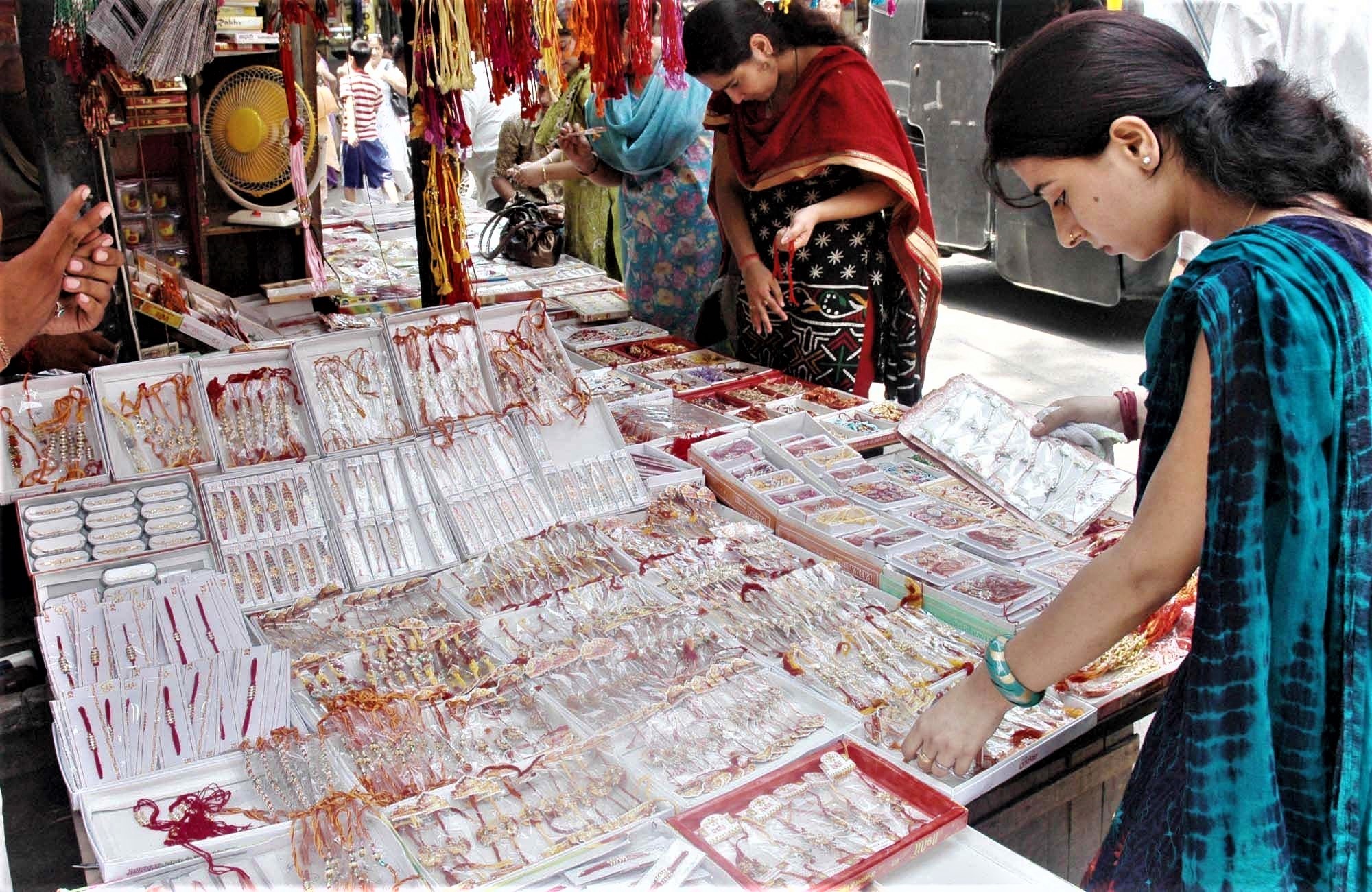 Raksha Bandhan or Rakhi is another festival of this day celebrated especially in the Terai region of Nepal by Hindu and Jain. This festival is also celebrated throughout India. Raksha Bandhan means "bond of protection," Raksha means "protection," and Bandhan means "bond."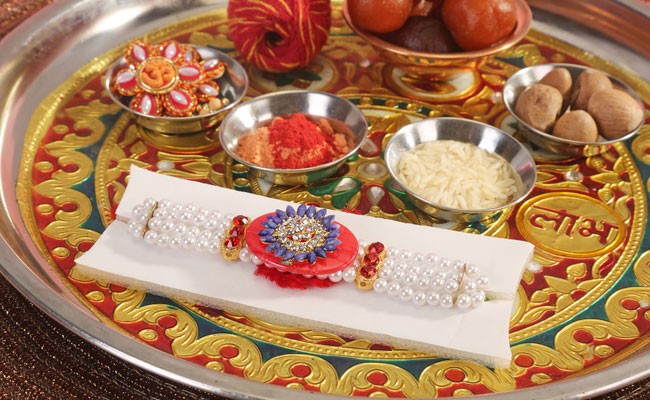 Raksha Bandhan is the festival of brother and sister. On this day, sisters meet her biological brothers, cousins or adopted brother-like friends and tie rakhi on her brother's wrist. Rakhi is a colorfully woven bracelet. After rakhi, brothers and sisters pray together. Then sisters apply tika (colorful mark) on brother's forehead and perform an aarti wishing him a long and healthy life. In return, the brothers take promises to protect his sister and take care of her in all the circumstances. They also give gifts and money to sisters as a token of love and feed each other with sweets, fruit, and other delicious foods.
This festival is very important to build a positive relationship between care and affection between brothers and sisters and the entire family as well. Although this festival is between brother and sister, it is celebrated in the presence of whole family members. That is why nowadays this festival is celebrated in most of Nepal.
Kwati Purnima/Gun Punhi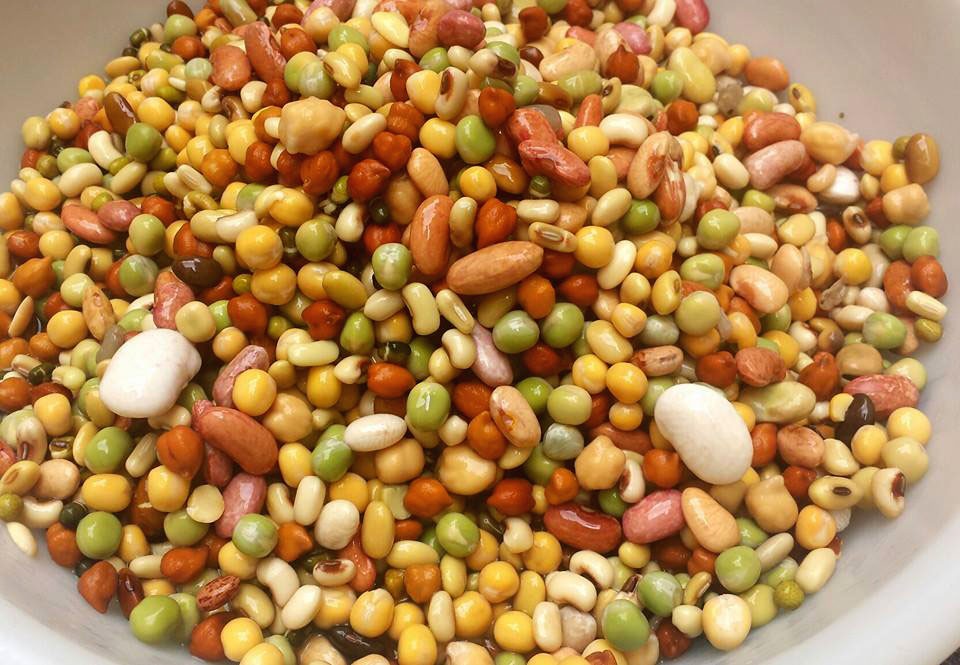 Janai Purnima is also called as Kwati Purnima or Gunhi Punhi. The Newar Community of Nepal mostly celebrates Kwati Purnima. However, nowadays every house celebrates this festival. This day coincides with Shravan Poornima of the month Shravan in the Hindu lunisolar calendar which is celebrated as Janai Purnima.
On this day, a special dish called Kwati is prepared and is consumed as a feast with the rest of the family as a celebration. Kwati is a soup made from a mix of nine different types of sprouted beans. The nine different beans used while making Kwati commonly includes black gram, chickpea, field bean, soybean, green gram, field pea, garden pea, cowpea, and rice bean. The beans are soaked for three to four days in water until the time they sprout. They are cooked with various spices to make a thick soup.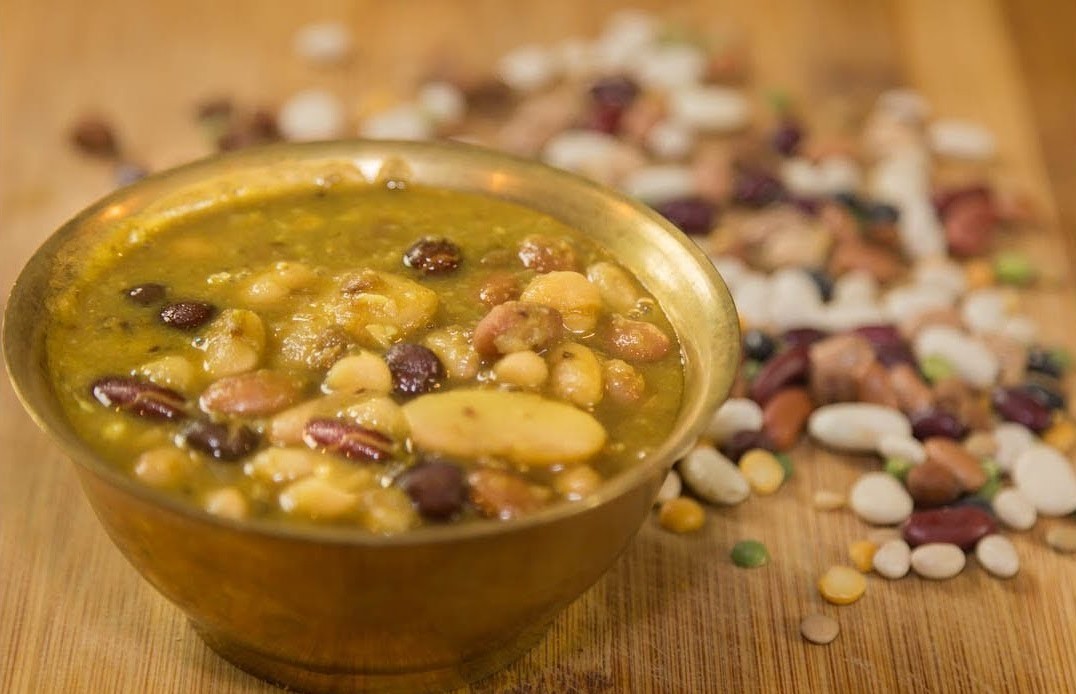 This dish is consumed on the festival of Gun Punhi, the full moon day Gunla. Gunla is the tenth month of the Nepal Era lunar calendar. It is eaten as a delicacy and for health benefits and ritual significance.
Also, in some parts of Nepal, people offer foods like Kwati, rice, and roti (flatbread) in a leaf to the frogs by placing them in fields. According to the belief, frog brings the rain and ultimate farmers get to plant the fields with crops. Therefore, this ritual performed on this day.  Gai Jatra is another festival celebrated on the very next day of Janai Purnima.
Special fair at Swayambhunath
Buddhists celebrate this day in commemoration of the day the Lord Gautam Buddha conquered the evil power of lust. This episode illustrated in the Buddhist scripture 'Lalitbistar'. On this day, the special fair takes place at Swayambhunath of Kathmandu.
LEGEND BEHIND THE ORIGINS OF THE FESTIVAL
There are several history and myths about the celebration of Raksha Bandhan. Some of them are:
There is a myth that after Lord Vishnu won all the three world from the demon king Bali. Lord Vishnu granted a wish of Bali to stay with him in his palace, but Lord Vishnu's wife Goddess Lakshmi did not like the palace. So Goddess Lakshmi went to Bali, ties a rakhi made him her brother. In return Bali asked what gift she wants, then she asked him to free Vishnu from the request that he lives in Bali's palace. Bali granted Lakshmi's wish and accepted her as his sister.  
According to another legend, in the war between gods and demons. The deity of the sky, rain, and thunderbolts, Lord Indra, was disgraced by the demon King Bali. Then, Lord Indra's wife Sachi went to Lord Vishnu and asked for his help. Lord Vishnu gave her a holy bracelet made of cotton thread. Sachi tied that holy thread around the wrist of Indra, blessed with her prayers for his victory. Then Lord Indra defeated the demon king Bali. This legend inspired the protective power of the holy thread.
This legendary narrative relates to India and goes back in a time when Alexander the Great invaded India in 326 BCE. During that time, the wife of Alexander the Great, Roxana sent a sacred thread to Porus, the king of Kaikeya kingdom, asking him not to harm her husband in battle. Kind Porus respected the importance and significance of rakhi and wore the rakhi. In the battle of Hydaspes, King Porus stopped himself from killing Alexander personally when he saw the rakhi on his wrist.