Bidding farewell to one of the main festivals of Nepal (Dashain) currently, it's time to welcome another most important festival, (Tihar) .  Tihar which is known as Yamapanchak or Deepawali and also Swanti among the Newar is celebrated for five consecutive days. This joyous festival brings fervor, enthusiasm, lights up the mood with social gatherings. i.e. Deusi and Bhailo programs, bonding over crackers, festive food, games and, much more.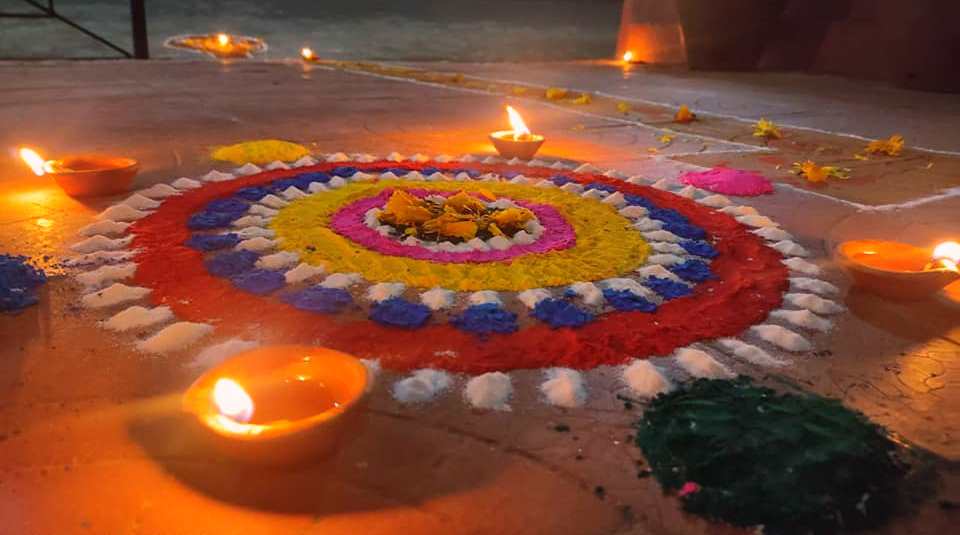 However, this year, the enthusiasm in the air feels different due to the ongoing pandemic. To ensure public safety, the government has issued guidelines on preventive measures to contain the spread of the Covid-19 pandemic. It is crucial to lay extra emphasis on following physical distancing and hygiene amidst the COVID-19 outbreak. 
When is Tihar 2020?
According to the English calendar, Tihar is celebrated in the month of late October to the starting of November month. However, the date of observing the festival depends upon the cycle of the moon. This year the festival takes place from 13th – 16th November 2020.
Why do we celebrate Tihar?
Tihar is also known as "The Festival of Lights" and"Festival of Flowers", as the houses are illuminated with additional lights and adorned with garlands. The five-day festival of lights, honors Yama, the god of death, and marks prosperity or praying for it to Goddess Lakshmi.  Also, each day is devoted to different religious figures comprising cow, crow, and dog, which signifies a sacred and unique bond between human beings, god, and animals. Playing Deusi-Bhailo, and worshiping different animals and birds as parts of nature are important aspects of this festival.
Celebrating Five days of Tihar/Deepawali
Day 1:  Kaag Tihar/Crow Day, worshiping crows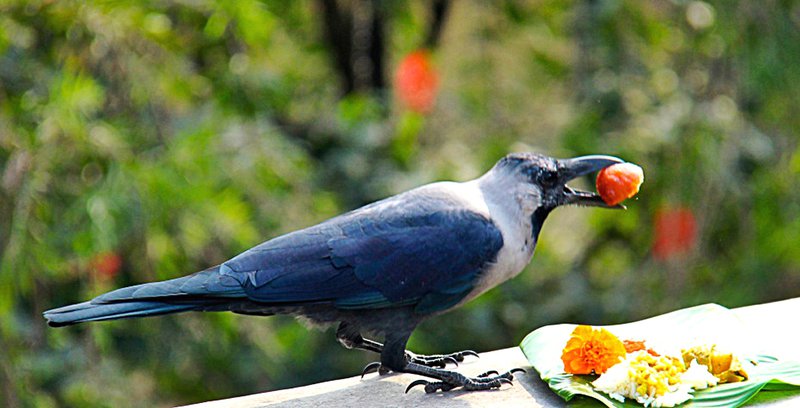 The first day of Yama Panchak is dedicated to Kaag or Crow considered as the messenger of death. The cawing of crows means sadness and grief in Hinduism. On this day, the crow is fed well and worshiped with the hope that they would not bring any news of sorrow to the family and prevent bad omens.
Day 2: Kukur Tihar/Dog day, worshiping dogs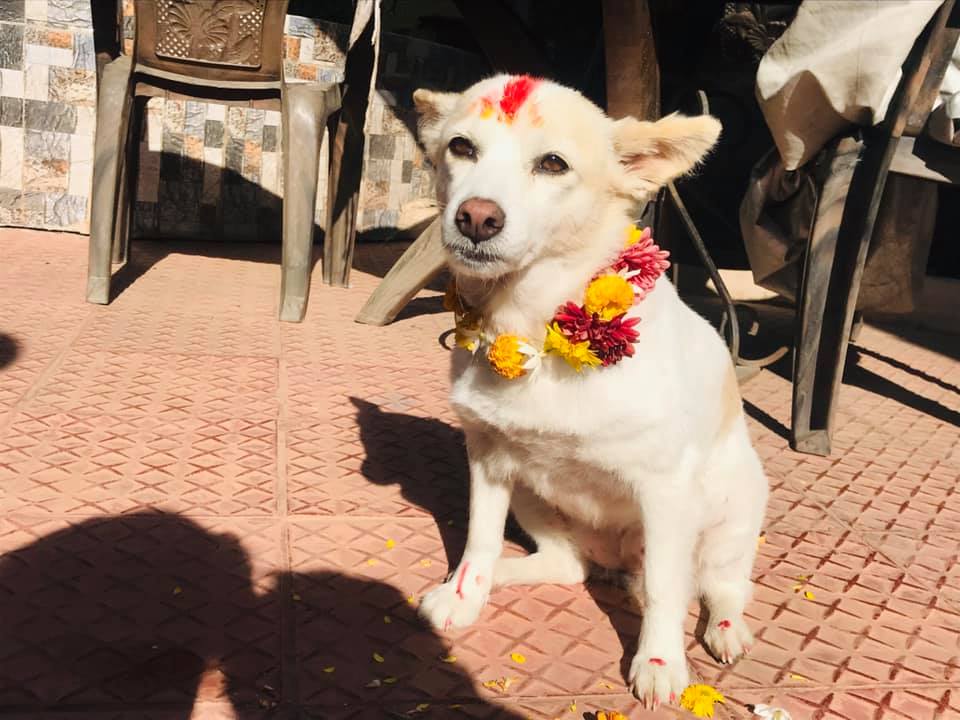 The second day of "Tihar" is devoted to dogs, the ride of Lord Bhairava- one of the manifestations of Almighty Shiva. A dog is the most faithful friend to human beings and it is also regarded as an agent of Yama, the deity of death. There is a belief that Yama possesses two guard dogs, each with four eyes. The dogs are supposed to watch over the gates of Naraka (Hell).
On this day, community and pet dogs are showered with flowers, adorned with garland, vermilion on their forehead, and offer various delicacies after the ceremonial function.
Day 3: Gai Tihar/ Cow day and Laxmi Puja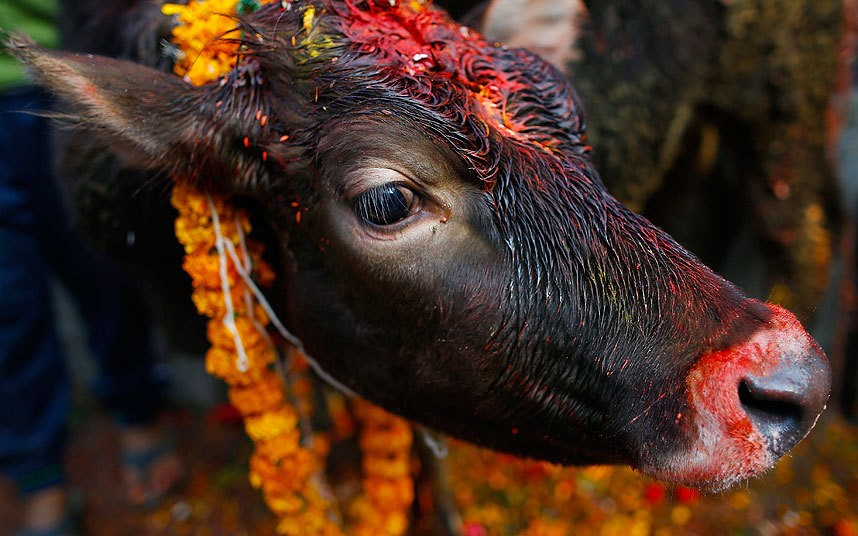 The third day is devoted to a cow which is regarded as mother and nurture since they provide nourishing milk.  A cow is also considered to be a manifestation of Laxmi- the goddess of wealth.  
People show their gratefulness to the cow by worshiping with sesame oil light, smearing them with auspicious red and yellow colors, garlanded with marigold flowers, and offered them the best grass and fruits. 
Devotees performing cow worship may also keep her manure in different parts of the home, consume a drop of the cow's urine and even dip an edge of grass into the urine and sprinkle it on each other's body. As part of the ritual, devotees try to pass in-between four legs of the cow.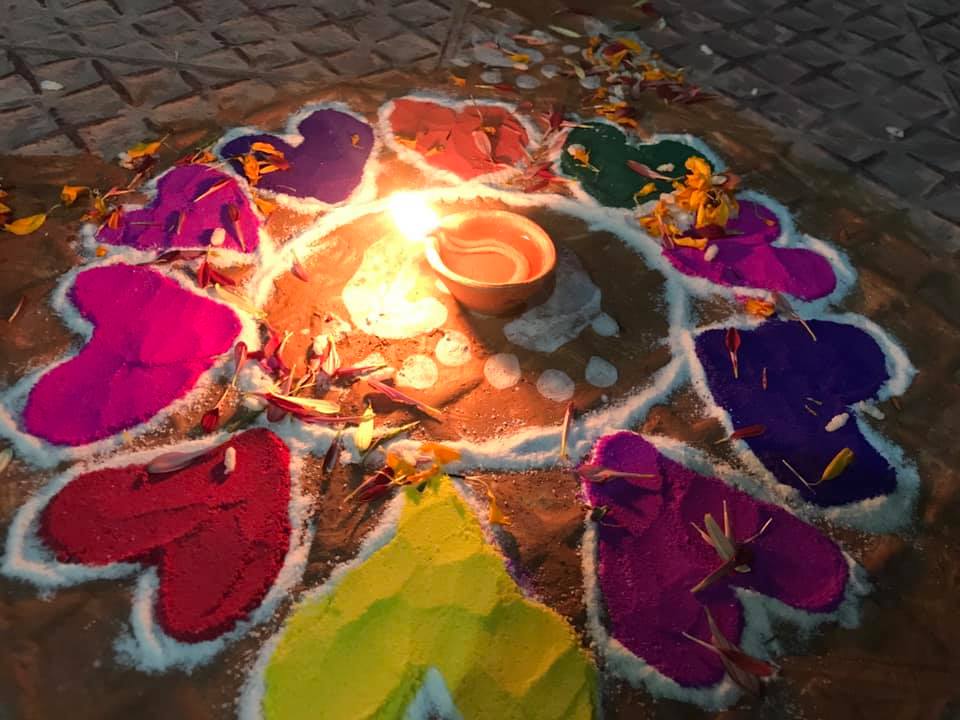 In the afternoon, people clean their homes, adorn homes with flowers, and the floor is coated with red mud (Rato Mato) and cow dung (gobar). A small mandala is drawn with rice flour or colors in front of the entrance decorated with elaborate designs. From the main gate to the prayers room, small footprints are painted onto the floor. These footprints are believed to be the footsteps of Goddess Laxmi. Beautiful patterns on the floor of courtyards are made using colored rice, dry flour, colored sand, or flower petals outside their house, known as Rangoli.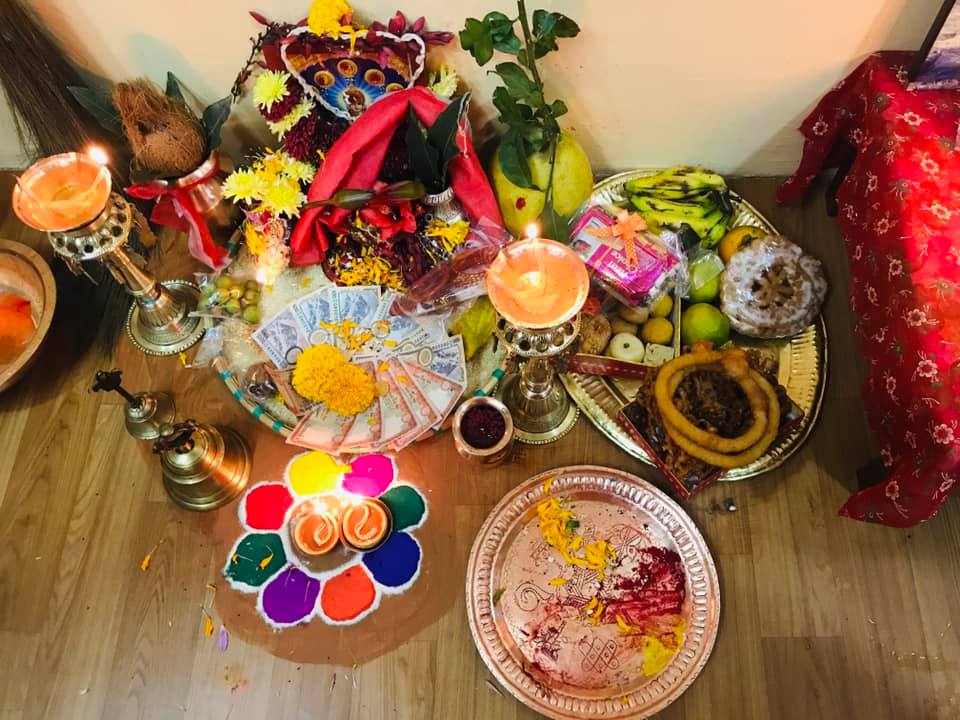 In the evening, people lit up fairy lights and earthen lamps all over the houses. To welcome goddess Laxmi, devotees perform Laxmi puja with prayers and offerings wishing for prosperity in personal life as well as business.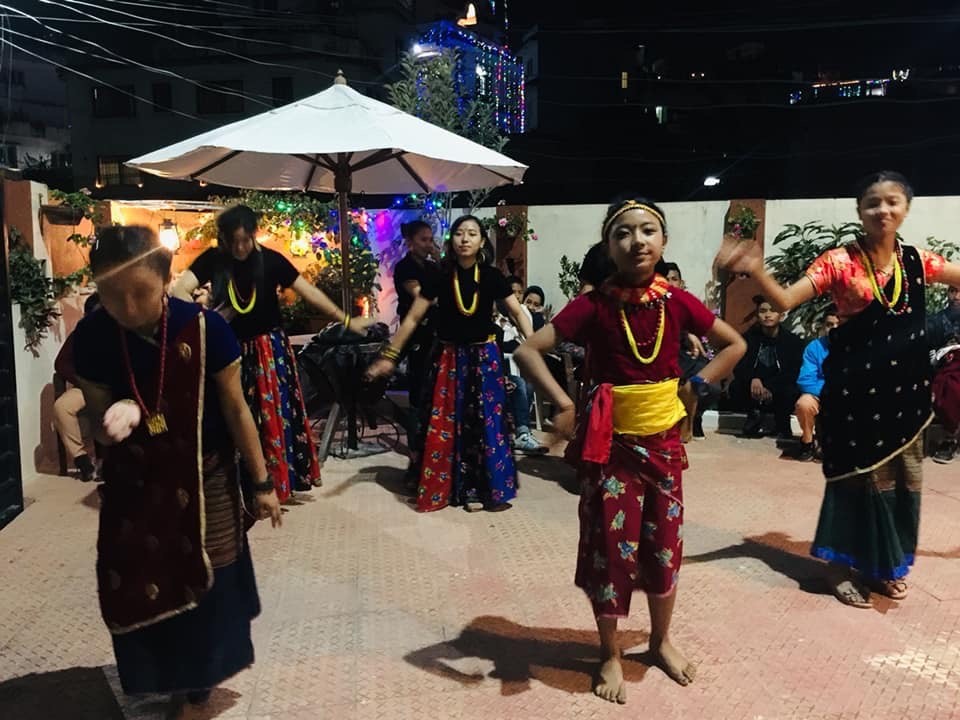 As part of a tradition, girls go from house to house dancing, singing, and showering the blessing which is called Bhailo. It is believed that Bhaili blessings bring happiness and fortune to the family. In return, households offer rice, fruits, roti (home-made round bread), and some money.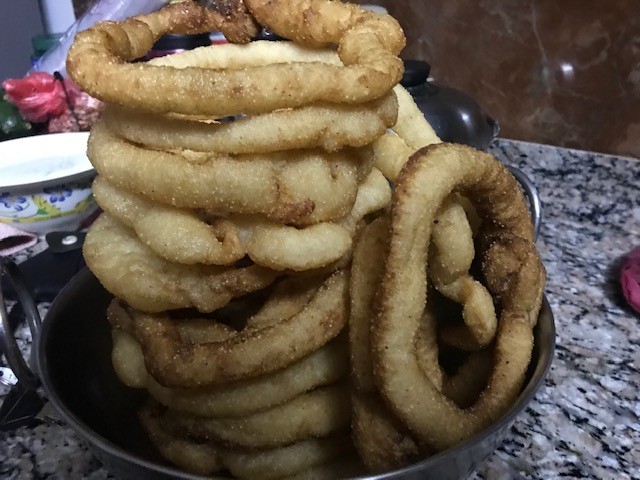 Women in the family prepare different delicacies, comprising sweets and typical Nepali sweets made from rice flour. There is also a tradition of purchasing new kitchenware, gold or silver jewelry to worship Goddess Laxmi.
In addition, gambling, particularly card games are also popular aspects of the celebrations and considered auspicious. It is beloved that goddess Laxmi pays a visit at home if people stay awake and play gambling until late at night. 
Day 4: Govardhan Puja (Worshiping replica of hillock) and Mha Puja (Worshiping Inner Self)
On the fourth day of the Deepawali, devotees worship a small hillock made out of cow dung (representative of Govardhan Parbat). According to myth, Lord Shri Krishna lifted the Govardhan hill by his hand and saved the villagers of a place called Gokul from torrential rains showered by Indra, the God of rain. It is said that the rain God was angered and thereby caused the heavy downpour.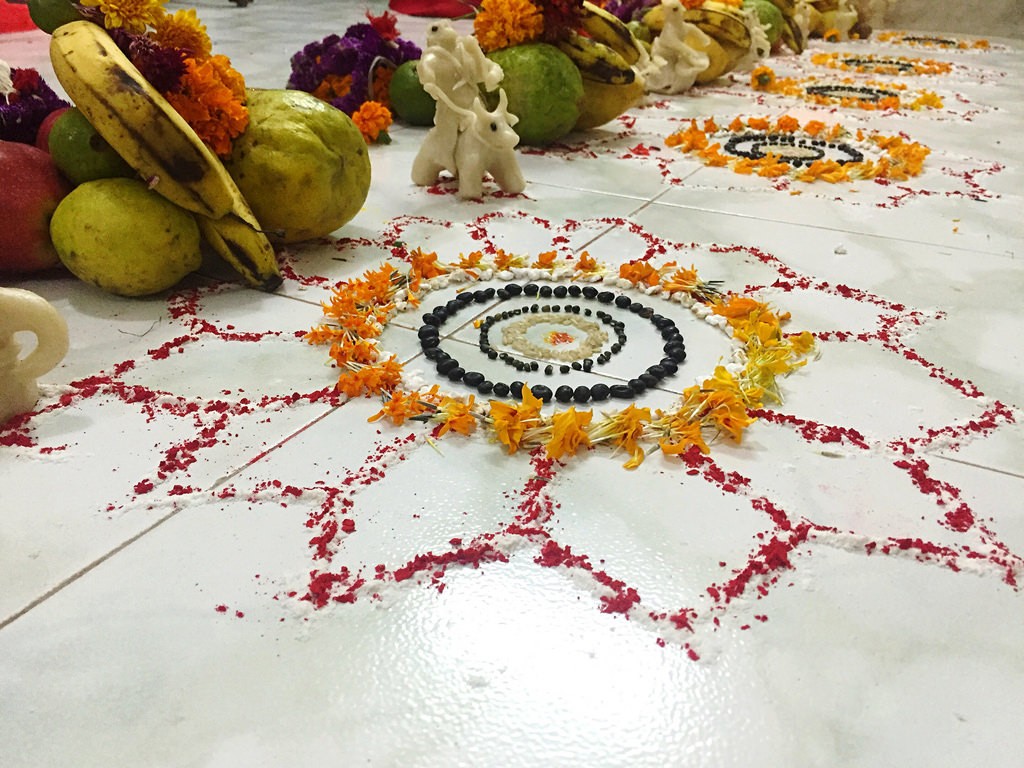 Every year people from the Newar community celebrate the fourth day of Tihar as Mha Puja (worship of oneself). During Mha puja people perform ritual worship that purifies and inspires one's body and soul. This ritual is generally conducted in the evening.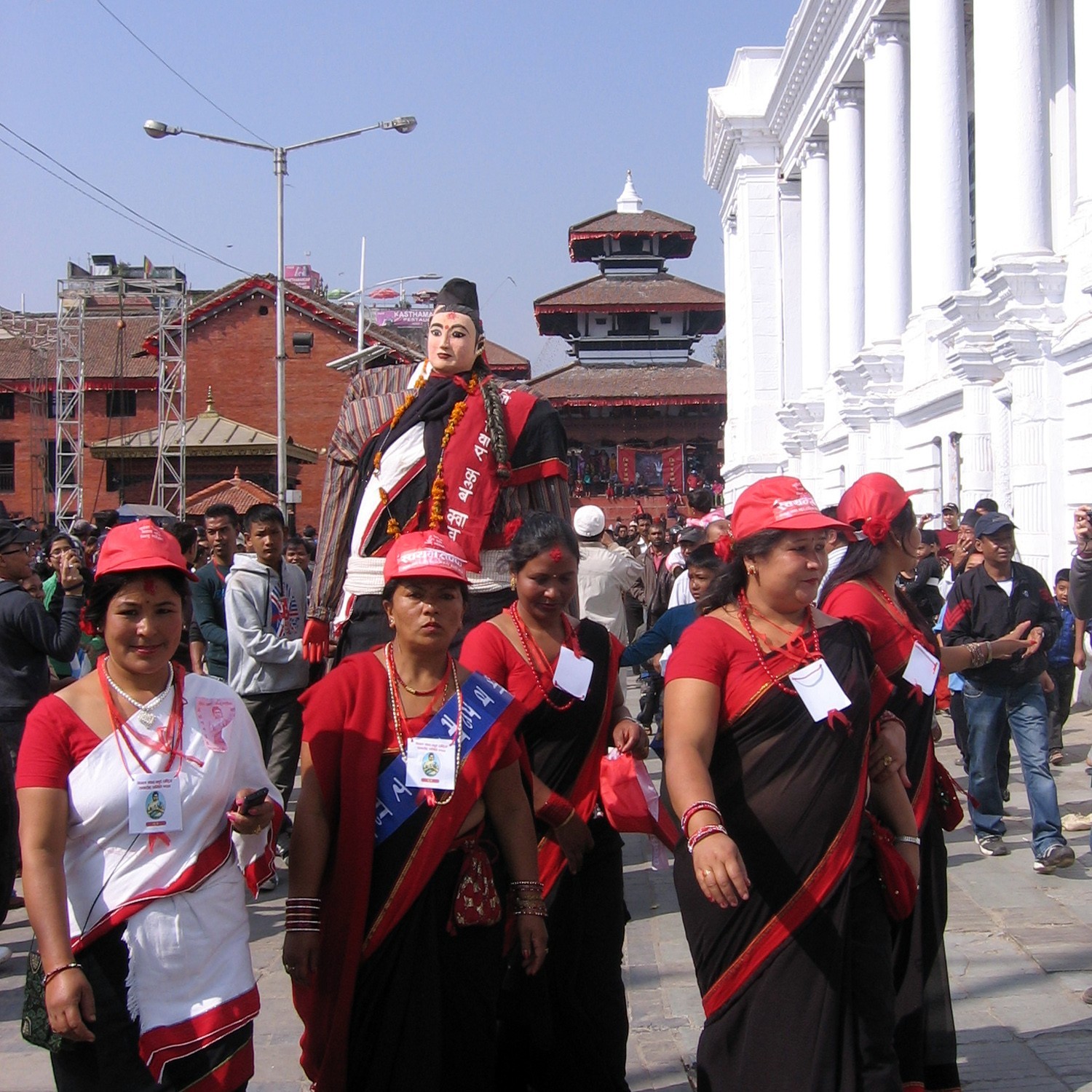 This day is also celebrated as the New Year of Newari community generally known as Nepal Sambat. On the occasion of Nepal Sambat, people from Newari community organize numerous programs on the streets comprising Newari dances, singing Newari songs, and many more.
The fourth day of Tihar is the most significant festival in Newar community as it is regarded as "New Year" and the '"worshiping of the self"  in Newari culture.
As dusk falls, troops of boys go from door to door invoking the blessings from gods which are called Deusi. The host families provide them money, sweets, and other offerings since it is thought to be an auspicious moment for offerings, and these offerings are believed to increase the wealth.
Another interesting aspect of this festival is witnessing sparks of dazzling firecrackers up in the sky that leaves anyone fascinated.
Day 5: Bhai Tika, Warm Bonding Between Brothers and Sisters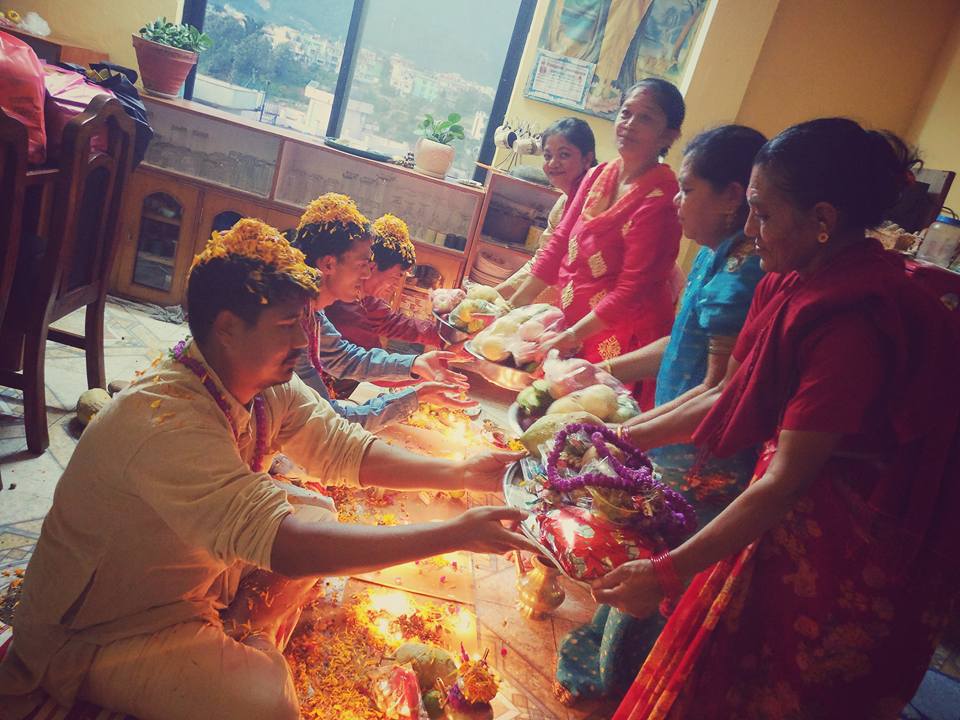 The festival concludes with Bhai Tika also known as Kija Puja that rests on the premises of love, rituals, reverence, and worship performed mainly for one's brother. This day honors brother-sister bonding, celebrating the sacred emotional connection that they share. It is marked by offering special prayers for each brother's happiness and longevity.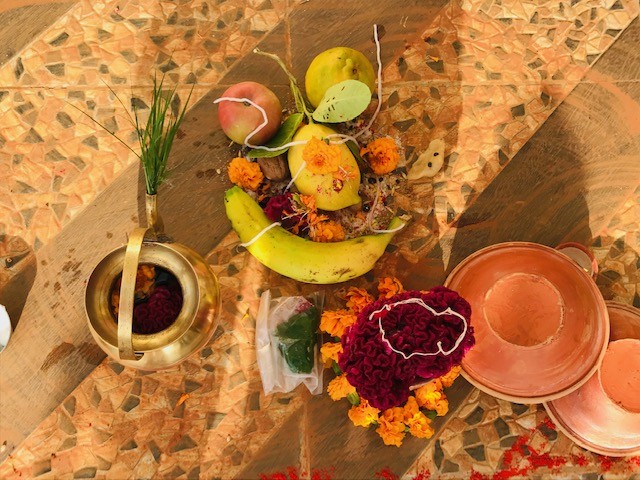 On this occasion, sisters perform a special traditional ritual and apply seven-colored tika on their brother's foreheads. This tika is locally known as Saptarangi as it includes seven different colors. Sisters also offer a garland of globe amaranth Marigold or Chrysanthemum, sweets, fruits, dry fruits gifts, and special dishes to the brothers. In return, brothers also put Saptarangi tika to their sisters and offer them money and gifts.
The ritual of cracking a walnut is one of the fascinating aspects of Bhai Tika. Sisters break the hade okhar (walnut with a hard shell) with the stone which is placed on the middle area of the entrance door of the house, wishing that they could lessen their brothers' grief.
On this day, those who do not have siblings go to Rani Pokhari or Queen's Lake in Kathmandu and receive tika. This is the only time in a year the temple is open to the public.
The legend behind Celebrating Bhai Tika
According to a legend, Lord Yama Raj (Lord of Death) has a sister named the Yamuna. They both wanted to meet each other but Lord Yama was very engaged with his works. So, Yamuna desired to meet Yama and send him an invitation message through a crow, a dog, and a cow as the messenger. But still, Lord Yama didn't come to see his sister Yamuna. Finally, she decided to go herself and visited on the fifth day which is observed as "Bhai Tika".
She worshiped her brother then applied a multi-colored tika and a garland of Amaranth flower on his neck. Then she made a circle around her brother dipping a special grass, Cynodon dactylon (Dubo) in mustard oil, and served him delicious dishes, sweets, fruits. In return, Yam Raj offered special gifts and blessings to his sister Yamuna. She then announced that no one will die on the day of Bhai Tika after receiving tika from his sister.
Since then, Bhai Tika is celebrated as a special occasion to strengthen the bond between brothers and sisters.
Nepal Sanctuary Treks wishes everyone a very Happy and safe Deepawali!