Nepal is a country of diversity. It is small in area, yet the diversity in here will make you ponder if Nepal really has so many a variations. Nepal has a history of thousand years, before the civilization of humans, during the time of Gods, some of the most prominent Hindu pilgrimages are here in Nepal. Keeping aside the fact that Nepal has a history of thousands year old with Hinduism, Nepal is also the place where Lord Buddha was born.
In Nepal, there are mass followers of Hinduism and Buddhism, but there are several other religion too, which people have been following for many years. There are many temples, monasteries, church, mosque, and shrines visited by peoples of their respective faith and religions Hindus, Buddhist and other religions like Kiranti, Christianity, Islam, Sikh, and others.
So today, let us take a look at the holy pilgrimages, the ultimate place of faith and belief, which has bind people of this country despite the diversity between them.
Pashupatinath Temple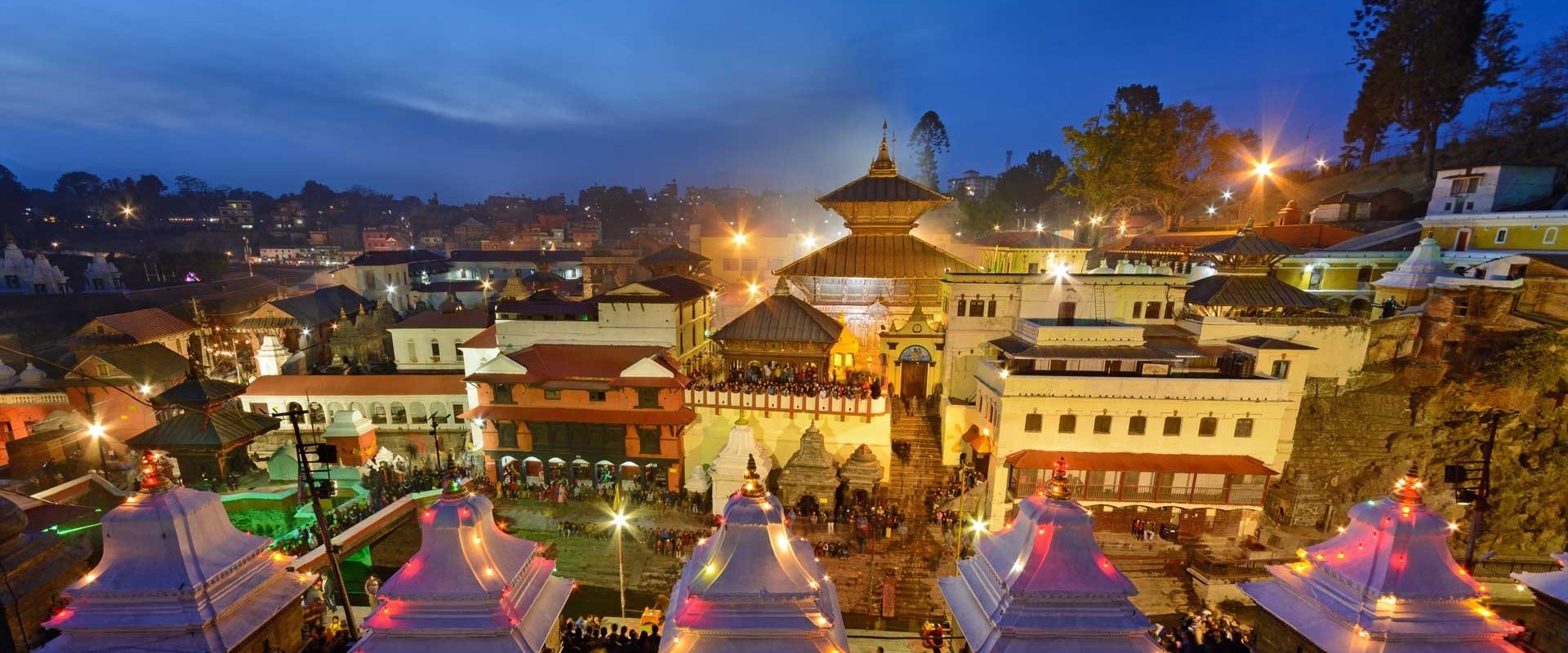 Pashupatinath is not only one of the most famous pilgrimage place in Nepal but also one of the most sacred temples among Hindus. This temple is located on the bank of the holy river Bagmati, which lies at a distance of approximately 5 kilometers north-east of Kathmandu.
Pashupatinath Temple is dedicated to the Hindu Lord Shiva. The existence of this very temple is dated back to 400 B.C. The temple is built in a pagoda style with the gilded roof, four sides which are covered in silvers and has the finest wood carving.
The temple has also been enlisted on the list of UNESCO World Heritage Sites in 1973. Pashupatinath is a place of temples, ashrams and image inscription which are raised over the centuries along the bank of holy river Bagmati.
Upon your visit to the temple, you can find many devotees, sadhus and babas, tourists, and locals. The temple is open seven days a week, where people perform worship, aarati (Chanting), and several rituals. However, on the day of Shivaratri, Pashupatinath becomes one of the most crowded places with over one million devotees, who visit to pay their respect to the god.
Lumbini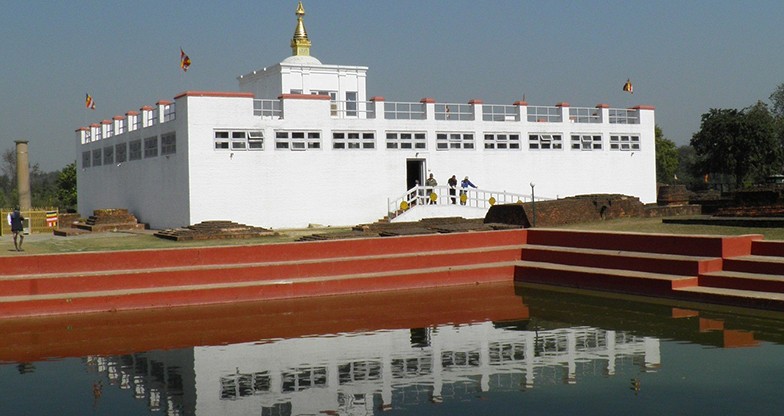 Lumbini is a very famous pilgrimage site for Buddhists. However, it is also a tourist centre, where national, as well as international tourists, pay a visit. It is a place where Queen Mayadevi gave birth to Siddhartha Gautama in 563 BCE. Prince Siddhartha, however, left that palace and went in search for enlightenment and achieved in sometime around 528 BCE.
Lumbini comprises several monuments and monasteries which are built by several countries like Myanmar, Thailand, China, Germany, Japan, Sri Lanka and others.
It is a beautiful place, which is spread over 1.95 hector area. There is a sandstone craving about the birth of Buddha, by the Malla King, Ripu Malla, in the 14th century, when Buddha's mother, Mayadevi was worshiped as an incarnation of the Hindu Goddess.
Another attraction of Lumbini is the Asoka Pillar, which was built by, the great Indian Emperor Asoka himself, during his time of visit to the birthplace of Buddha back in 249 BC.
Lumbini is 259.5 kilometers from the capital, Kathmandu. It can be reached in around 6 and half hours by bus via Prithvi Highway.
Muktinath Temple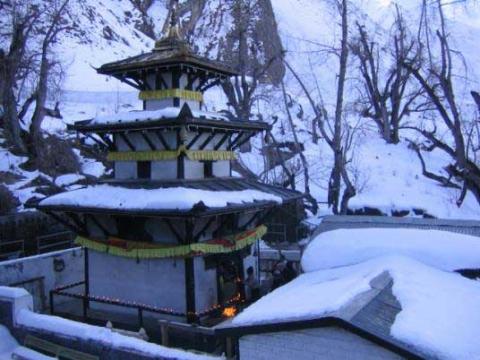 Muktinath Temple is a holy site which is famous for both Hindus and Buddhists pilgrims. The area of Muktinath is also called Mukti Kshetra in Hinduism, which means the place of liberation.
Muktinath is one of the very ancient Hindu temples of Lord Vishnu. The statue of Lord Vishnu is made of gold and is tall enough to compare with the height of a man. The courtyard of the temple has 108 bull faces through which water is poured. 
According to the history, the temple was formed when Guru Rinpoche, also known as Padmasambhava, meditated at Muktinath on his way to Tibet. Padmasambhava is the founder of Tibetan Buddhism. Muktinath has importance from Hinduism point of view, with the several narrations on Vishnu Purana about the temple's significance.
It is very hard to make access to the Muktinath due to harsh weather conditions in Mustang. However, it is best to visit from March to June. Flights from Kathmandu to Pokhara should be taken and then to Jomsom Airport. After reaching Jomsom, you can take a jeep to Muktinath or trek all the way. Some tourists also take a charter helicopter for 45-minute flight.
Swayambhunath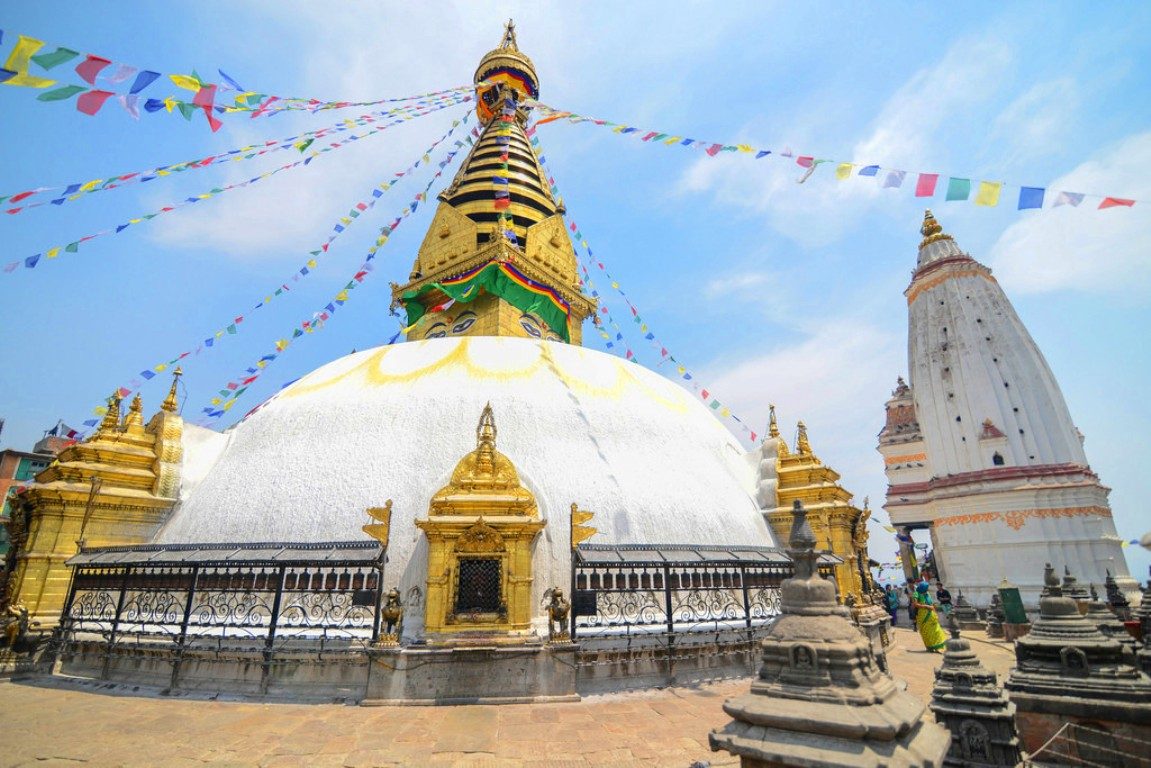 Swayambhunath is an ancient religious architecture and one of the sacred pilgrimage site for Buddhist. Following the mythology, the whole Kathmandu Valley was once an enormous lake. Later, the valley came to be known as a Swayambhu. Swayambhu, which means self-created.
Swayambhunath is also called Monkey Temple as there are hundreds of monkeys residing near the area of Swayambhunath. It is located 3 kilometers west of the Kathmandu city.
The stupas, temples, and shrines of Swayambhunath are very ancient, some even belong to the Licchavi period. Some of the most recent additions are the museum, library, and monastery.
Boudha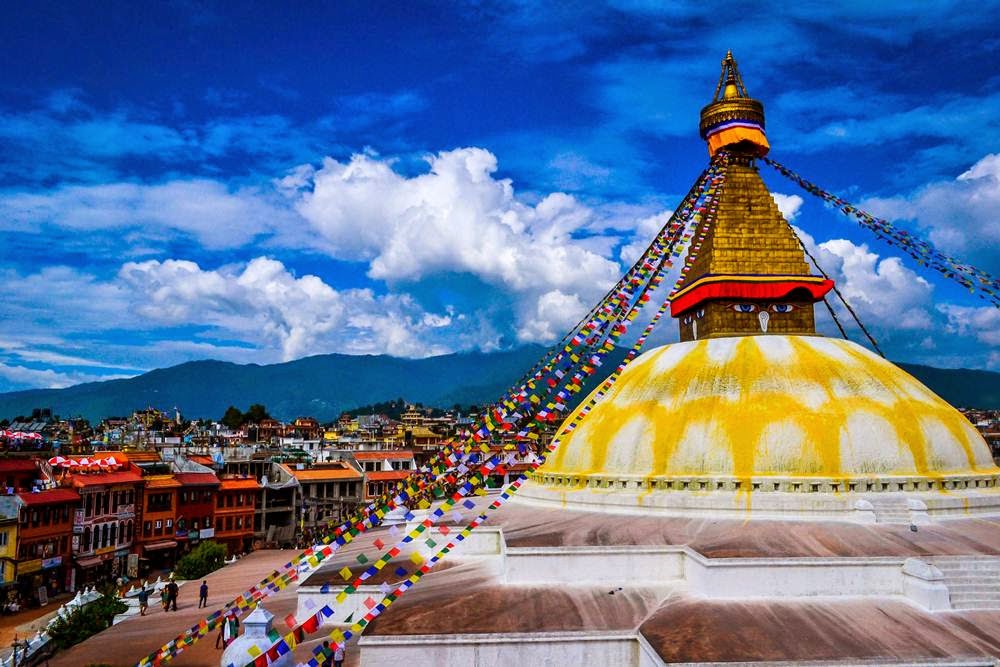 Boudha is one of the religious and holy pilgrimage places for Buddhists. It is one of the largest stupas in the world and popular tourist site in Nepal located about 11 kilometers from the outskirts of Kathmandu.
Boudha mostly comprises of Tibetan merchants, who entered Nepal from Tibet in 1950s. They decided to have live in Boudha and offered their prayers for many centuries.
According to the Newar Buddhist mythology, Licchavi King, King Bikramaditya sacrificed himself so that water could run from the dhunge dhara (stone water tap). As the King sacrificed himself, the prince decided to flew a hen from the place where Kings Head had landed, with a decision to construct a stupa wherever the hen lands. The hen landed where Boudha stupa stands today.
Boudha suffered a huge damage during the earthquake on April 2015. However, now the stupa has been restored and built in its original form.
Budhanilkantha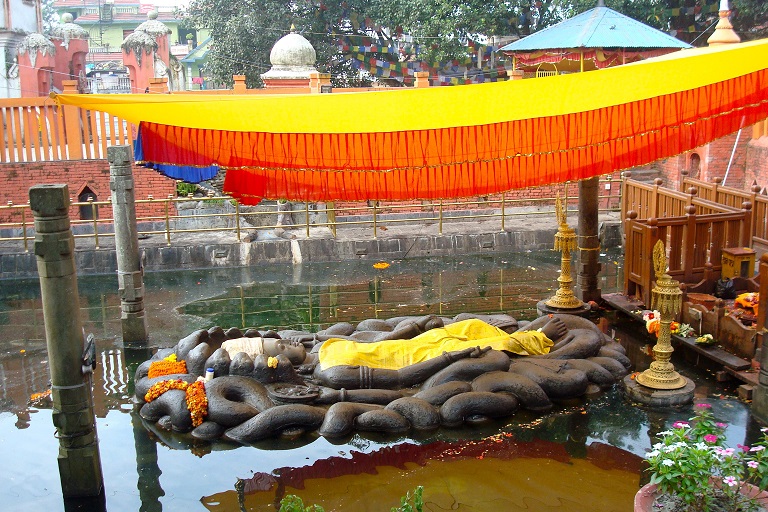 Budhanilkantha is one of the holiest places of Hindu pilgrimage in Nepal. Budhanilkantha is a Lord Vishnu's temple which is located at the foot of Shivapuri Hills in the northern-most part of the Valley. The distance is about 8 kilometers from the Kathmandu city.
Budhanilkantha has the most unique statue. The statue of Vishnu is in reclining position, lying in the bed of snakes in the middle of a lake. The 5-meter long statue was craved back in Lichchhavi period out of a single rock.
As per the local stories, a farmer, while working in the field got his plow struck in a big rock and to his extreme surprise, blood started oozing of the cut in the stone. Later as it turned out, the big rock was a lost deity of Budhanilkantha and was recovered and placed in this current position.
Halesi Mahadev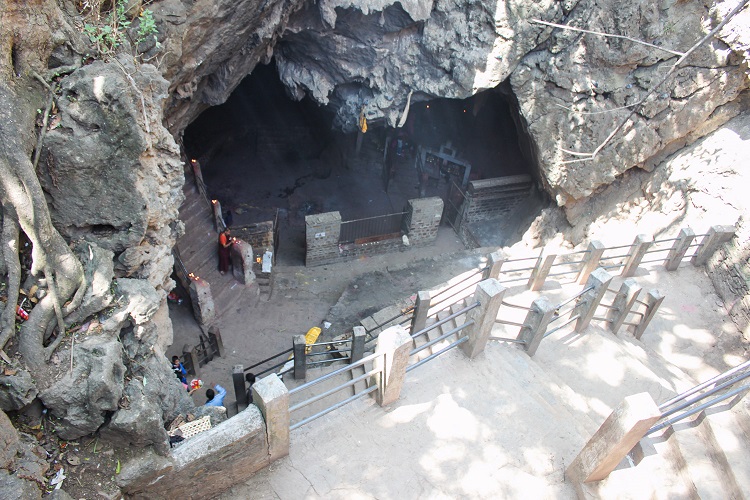 Halesi Mahadev is a sacred temple for both Hindu and Buddhists. It is also known as The Pashupatinath of eastern Nepal. It is actually a cave, where a temple has been built. The cave is of round shape with about 67 ft. below the surface of the land.
According to the legend, the cave used to be a hiding place for Lord Shiva from the demon Bhasmasur for 6000 years.
Haleshi Mahadev is located at Khotang district. It is 185 kilometer southwest of Mount Everest. This place is normally very cold and rainy during the most part of the year. It takes around 6 hours and 35 minutes to reach Halesi Mahadev from Kathmandu by bus.
Pathibhara Temple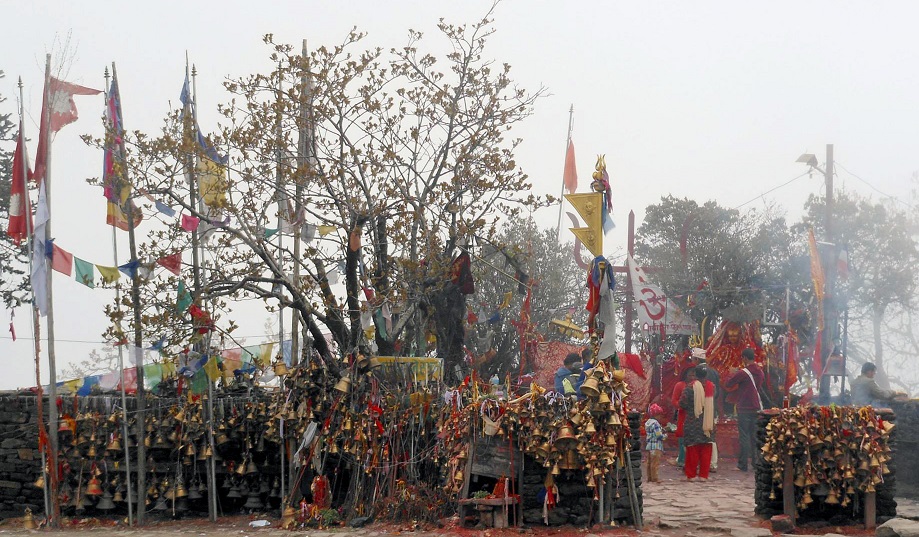 Pathibhara Temple is one of the most significant temples in Nepal. Although it is considered as the holy place for the Limbu community, peoples from different parts of the country, as well as people from India, visit to this temple on many special occasions. It is also said that the temples fulfill the wish of pilgrims.
Goddess Pathibhara is considered as a fierce goddess, as a manifestation of the divine feminine, who is also known by other names as Maha Maya, AdiKali, Maha Rudri and others. It is believed that Goddess Pathibhara can be easily pleased with a simple and selfless act of compassion, prayer, and sacrificial offerings, but she can be unmerciful to those with malicious intentions.
According to the history, once a local shepherd lost his hundreds of sheep while grazing at the same place where the temple is today. The shepherd had a dream in which the Goddess ordered to carry out a ritualistic sacrifice of the sheep to build a shrine in her honor. The shepherd's lost herd returned after the sacrifice was made. After this incident, a temple was built and named as Pathibhara.
The ex-royal family of Nepal is among the list of devotees of Goddess Pathibhara. Animal sacrifices, money, gold, and silver are offered to the Goddess by her pilgrims to please her.
Pathibhara Temple is located at Taplejung district and it is also a secondary route of Kanchenjunga trek. You have to travel to Charali from Kathmandu which is 627 kilometers away. Then from Charali to Taplejung, which is approx 240 kilometers. From Taplejung you can either hike or take a van or jeep.