Nepal is a biodiversity-rich country where you can find rare flora and fauna and species. With eight of fourteen mountains above 8,000 meters, Nepal is undoubtedly a gifted country, with the alluring Himalayas. Nepal attracts thousands of tourists with its beautiful topographical features, glorious mountains, a variety of wildlife, cultural heritages, adventures and exploration and mesmerizing lakes.
Nepal is the second richest country in inland water resource with over 6,000 rivers and rivulets. The melting of snow in the mountains gives away many beautiful lakes, ever-flowing rivers, and stream. All those rivers, lakes and every water resources are considered as the jewel in Nepal which enhances the beauty of Nepal.
Nepal is home to diversified culture and tradition, where there are hundreds of sacred site for every religion and many of them are the lakes and rivers. In Nepal, lakes are not just a source of water or nature's art, they are the embodiment of religious and cultural significance and devotees and tourist from all over the world pay a visit to those sites.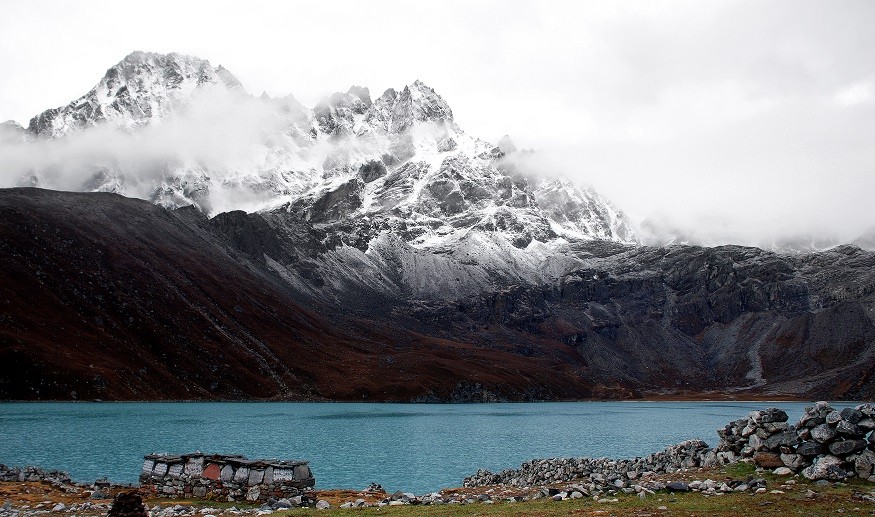 Gokyo Lakes Trek via Everest Base Camp, renowned for the sequence of mesmerizing alpine lakes in the Gokyo valley and the well-known Cho La Pass that lead us through the landscapes of the Khumbu region with impressively sky-high snowcapped mountains, warm hospitable of Sherpas, vibrant monasteries and prayer flags, the Namche Bazaar, Everest Base Camp and Kalapatthar
Amongst many of those sacred lakes which are equally mesmerizing, Gokyo Lake is one of them. Gokyo Lakes are located in north-eastern Nepal in Solukhumbhu District in Sagarmatha Zone.  Your trek in Gokyo will give you the once in a lifetime moment to see the glorious Himalayan ranges over 8,000 meters which includes Mount Everest, Makalu, Cho Oyu and the Ngozumpa Glacier. Gokyo Village its self is a distinctive village with the house built of stone and magnificent views all around. Gokyo Lakes comprises six lakes; Gokyo Cho, Thonak Cho, Gyazumpa Cho, Tanjung Cho, Ngojumba and Longpanga Cho.
Are you planning to visit Nepal for Gokyo Lake Trek? Get full itinerary now.
Gokyo Cho
Gokyo Cho is the main lake among six lakes of Gokyo Lakes. This lake is also called as Dudh Pokhari and is spread in an area of 42.9 hector/106 acres and its depth is 43 meters. It is the most sought lake by tourists which makes it famous than the rest of the five. Gokyo Cho is the third lake to make an appearance in the synchrony.
Thonak Cho
Although the title of most famous goes to Gokyo Cho, Thonak Cho is the largest one with an area of 65.07 hector/160.8 acres. It is also the deepest among the six with the depth of 62.4 meters.
Gyazumpa Cho
Gyazumpa Cho is another beautiful lake among the six. The lake has an area of 29 hectors/72 acres.
Tanjung Cho
Tanjung Cho is spread in an area of 16.95 hectors/41.9 acres.
Ngojumba Cho
Ngombua Cho is smaller than rest with an area of 14.39 hector/35.6 acres.
Longpanga Cho
Longpanga Cho is the sixth lake of Gokyo lakes and the first to appear in the synchrony.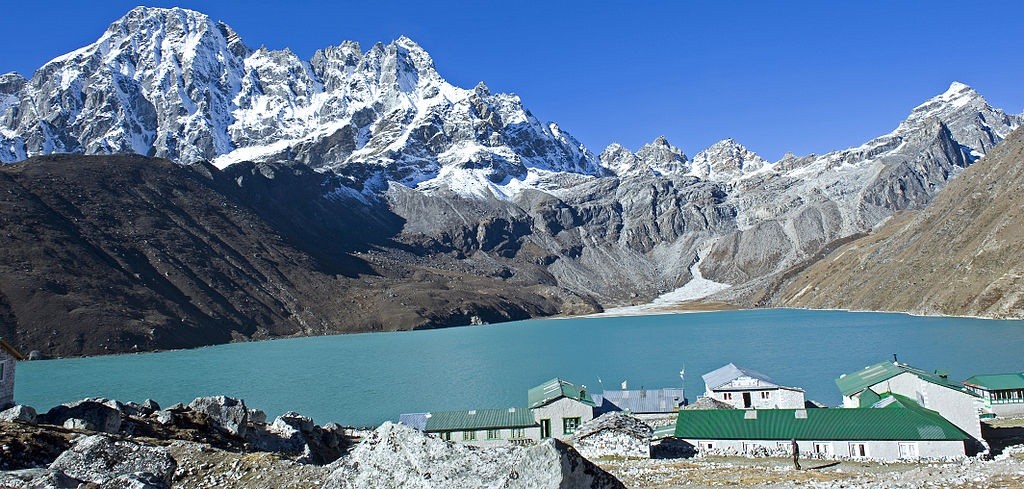 How to reach Gokyo Lakes?
Gokyo Lakes is one of the famous trekking destinations among tourist in Nepal. The journey towards Gokyo Lakes begins from Lukla Airport. You have to take 35 minutes spectacular flight from Kathmandu to Lukla (2,886m.) The flight presents you close up vistas of the Himalayas and quixotic landscapes of hills, farms and rivers. Upon arrival at Lukla, the trek begins with a steady ascend up the mountainside on the left bank of the Dudh Koshi River to the village of Phakding. On the next day, you will trek to Namche Bazaar. Namche Bazaar is a beautiful village and a trade center, which provides lodgings and stores catering as well as internet cafes.
You will also find the Tibetan market where clothing and cheap Chinese goods are main items on sale. In Namche Bazaar, you will savor the spectacular view of Khumbu Mountains like Thamserku (6,608 meters), Ama Dablam (6,856 meters) and even the Mount Everest. Whilst  you trek towards Machhermo, you will be captivated by the stunning views of Cho Oyo (8,188 meters), Thamserku (6,623 meters) and Kantega (6,782 meters). After 4-5 hours of trek you will reach at Gokyo, a small yet spellbinding in Solukhumbu District nestled in the lap of Himalayas. It is on the eastern shore of Gokyo Cho (Dudh Pokhari) and at the foot of Gokyo Ri.
Gokyo village is at an elevation of 4,750 meters, which makes it one of the highest settlement in Nepal as well as in the world. As the village has a small settlement, almost all the buildings are guest houses for trekkers. You will encounter all the emerald blue Gokyo Lakes as you keep exploring them. After arriving at Gokyo and seeing all six mesmerizing lakes.
Next you will be hiking up to Gokyo Ri view point at the elevation of 5,357 meters to witness the panoramic backdrops of Himalayas including Mount Everest, Lhotse, Makalu, Cho Oyu and several other peaks. If the weather is favorable, you can spend few hours at the top of the Gokyo-Ri and savor the glory of Himalayas.  
After Gokyo Ri, you will trek on to Dragnag (4,830 meters) and then to Dzongla, a small village, which you will pass through Cho La Pass which is at an elevation of 5,420 meters. From Dzongla, you will arrive at Lobuche then you will arrive at your ultimate destination Everest Base Camp (5,380 meters).
Once you arrive at EBC, your return journey will start. From Everest Base Camp, you will descent to Gorak Shep (5,164 meters) where we stay overnight. Next day we will wake up early and hike up to Kala Patthar, which gives a closer view of the Mountain Everest. Returning from a short hike to Kala Patthar, you will be back to Gorak Shep and then to Pheriche for overnight and finally retrace back to Namche Bazaar.
Sources of Gokyo Lakes
Gokyo Lakes is the permanent source of fresh water, that's why it not only has religious value but hydrological value as well. The lakes feed on the water from different sources like seepage from Ngozumpa glacier, which is the longest glacier of Himalayas, stream originating from the Ngozumpa glacier itself in the east and another stream from Renjo La pass from the north-west.
These glacier-fed water wetlands and the water get discharged to the Dudh Koshi River through the way of Taujon Lake and Longabanga Lake.
However, the Gokyo lakes are in a very vulnerable state as it lies in an ecologically fragile and unstable zone. The existence of the lakes will come in stake if Ngozumpa glacier outbursts.
Where to acclimatize during the trek?
Climbing at the higher altitude always possess the risk of altitude sickness, so you must acclimatize in some places so your body gets adjusted in the extreme altitude. As your trek moves forward, you should acclimatize for a few days in Namche Bazaar.
After Namche Bazaar, your next place for acclimatization will be at Gokyo. However, you can acclimatize in any place near, in case you start having the symptoms of altitude sickness. The aforementioned places are general where trekkers stay to acclimatize.
Best time to visit Gokyo Lakes
The best time to visit Gokyo Lakes will be in autumn (September – November) and spring (March-May) as the weather will be warm and sunny giving you the excellent view.
But if you like to avoid the crowd, then you might visit during December – mid January.
Trekking can be undertaken during June-August, however due to monsoon season the visibility can be poor and Lukla flight may get canceled.
Are you planning to visit Nepal for Gokyo Lake Trek? Get full itinerary now.
What is the religious importance of Gokyo Lakes?
Gokyo Lakes is a sacred site and has religious importance. The lakes considered a holy site by Hindus as well as Buddhists. During the festival of Janai Purnima which generally occurs in August, hundreds of devotees visit this place and about 500 Hindus take a holy bath in the lakes.
This place is worshipped as the residing place of Nag Devta (Snake God); a temple of the Hindu Gods Lord Shiva and Lord Vishnu is at the western corner of the lake. There is a traditional faith in the area that birds and wildlife should not be harmed, this belief has largely helped to protect fauna.