Khopra Ridge trek is one of least explored and incredible trekking destinations in Nepal. It is located to the south of Annapurna ranges. Khopra danda trek is often compared to its neighboring destination Ghorepani Poon Hill trek. However, regarding altitude, Kopra danda rises to an elevation of 3,640 meters whereas Poon hill is located at 3,210 meters.
Hence, Khopra danda naturally offers better Himalayan vistas. It is arguably the best place to observe Mt. Dhaulagiri (8,167 meters), Annapurna I (8,091 meters), Nilgiri (7,061 meters), Bahrashikhar (7,647 meters), Annapurna South (7,219 meters), Annapurna II (7,937 meters) and many other mountains from a close distance. It has a concise history of being a trekking destination.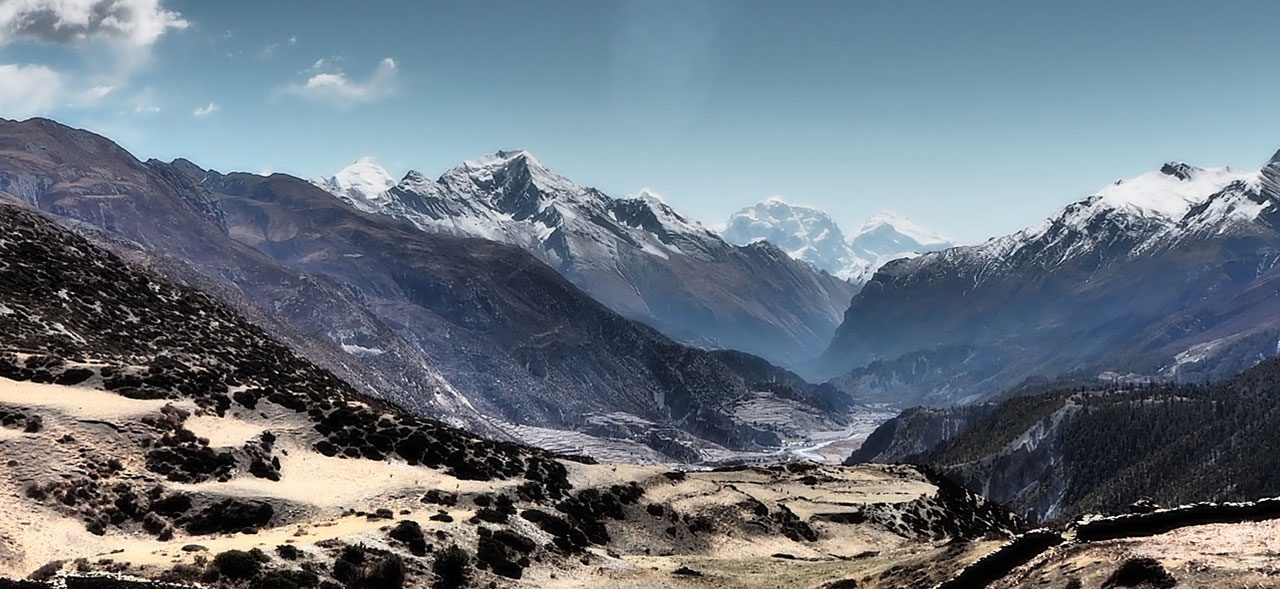 Though it is in the heart of Annapurna region trekkers, have often underrated this destination because it is hidden from the main trail of Annapurna circuit. Kopra ridge is one of the shortest trekking destinations, but it can be lengthened by adding Khayer lake to your itinerary.
This lake is located at the altitude of 4,660 meters. You can either spend a week-long period, or more depend on your final destination. One thing is sure that it is a beautiful destination for both nature lovers and adventure seekers. If you think out of the box and do what most people have been negligent of, the joy and adventure you gain will be worth the effort you put in.
The trail of Khopra ridge trek is partially moderate and partially strenuous. With enough preparations, any new trekker can accomplish the journey, though. The path to Kopra goes through dense and lush green forests of pine, oak, and rhododendron. In the meantime, you can observe the high Himalayan panoramas from various angles.
Moreover, the green terraced farming lands of the lower valleys play a significant role in decorating the trail. On the route, you will see especially the Magar and the Gurung communities who have developed for themselves the identity of successful hospitality providers.
You can find tea houses for some initial days, and after that, you have to spend remaining few days in community lodges. Staying especially at community lodges on Kopra ridge trek trail is a splendid opportunity to explore the exotic lifestyle and culture of local communities.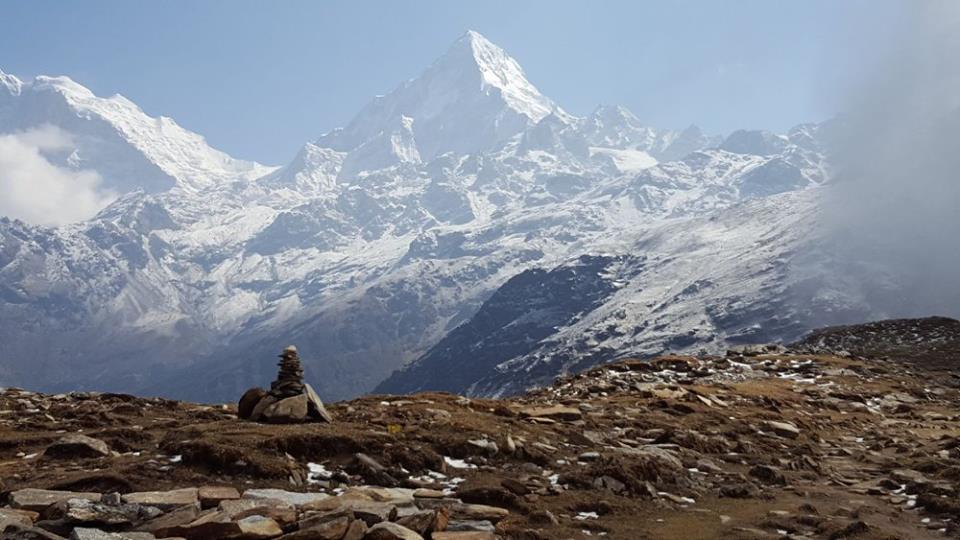 You can become a participant observer and feel what it means to live in secluded, high mountainous zones. You can exchange life experiences and gain life-changing motivations from them. Information mentioned above proves that you will not experience heavy traffic in this part of the world.
Hence, you will have a quiet, peaceful and fresh trekking experience. If you wish to add more challenging adventure, you can extend your destination further to Khayer lake. It is more challenging because once you leave Khopra danda, there is no lodging facility ahead.
Therefore, you have to manage full board camping trek. In addition to the lake, you will get to visit the Khayer Barah temple.
A general Khopra Ridge trek Schedule
Day 1: Kathmandu – Pokhara – Kimche – Ghandruk (1,940 meters)
Take a short flight from Kathmandu to Pokhara as early as possible in the morning. It will take between 25 minutes to half an hour. Approximately 3 hours of further driving will take you to Kimche from where the Kopra ridge trek officially begins.
The vehicle will take you through some of the famous villages like Lumle and Nayapul. You can have lunch either in Pokhara or Kimche, depending upon the time. Once you disembark from the vehicle at Kimche, you will get to observe the rural life.
After one hour's hike, a warm welcome awaits you at Ghandruk, arguably the most famous Gurung village in Nepal. From Ghandruk, located at the elevation of 1,940 meters, you can see the panorama of vast mountains like Annapurna South (7,219 meters), Hiunchuli (6,441 meters), Machhapuchhre (6,993 meters), etc.
Day 2: Trek from Ghandruk to Tadapani (2,630 meters)
You can stroll around the village for some time in the morning and observe the lifestyle of Gurung community. Watching the mountain ranges is an unavoidable part.
You can leave for your next destination, Tadapani, either after the breakfast or after the lunch because you will have an easy trekking day. After 3 hours' hike through oak and rhododendron woods, you will reach Tadapani (2,630 meters).
The sound of waterfalls and chirping of birds will endlessly give you the pleasure of nature. There is no particular village on the route, but there is a huge buffalo pasture where you can stop and have some dairy snacks.
Tadapani is an excellent place to view the panoramic vistas of snow-capped mountains like Annapurna II (7,937 meters), Annapurna III (7,555 meters), Annapurna IV (7,525 meters), Lamjung Himal (6,931 meters), etc. Moreover, it is also an excellent place to have sunrise and sunset views over the top of those mountains.
Day 3: Trek from Tadapani to Dobato (3,420 meters)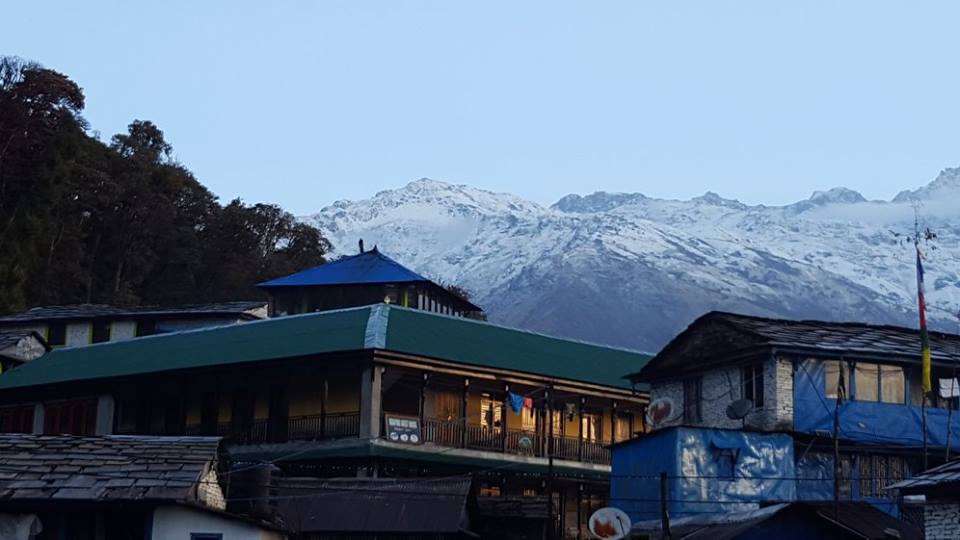 You should take breakfast before leaving Tadapani. On this day, you will divert from the Annapurna Base Camp Trekking trail to a less used path. Walking through rhododendron forests, you will come across buffalo pastures and small clearings.
Though you have to ascend hills, it will not be a tiring day. It takes approximately three hours to reach Isharu where you can have lunch. After that, you have to go through rhododendron forests again for about two and half hours to reach Dobato.
If you have spare time, you can visit Muldai View Point which is half an hour's ascent away from Dobato. It is an excellent place to observe the panorama of Himalayan ranges like Machhapuchhre, Dhaulagiri, Annapurna, etc. Morning is the excellent time for sunrise view over those giant mountains.
Day 4: Trek from Dobato to Chistibung (3,026 meters)
It will be a fascinating thing to hike for 30 minutes uphill to Muldai View Point early in the morning for sunrise view. You have come back to your lodge in Dobato for breakfast before setting out for yet another incredible journey.
The trail will be now uphill and downhill in a moment through rhododendron forests again. It requires an hour's walk to reach Bayli Kharka, a beautiful pasture, from where you can see the Dhaulagiri range at close distance.
From this day onward, you will start experiencing a real rustic Nepal. It takes approximately three more hours to reach Chistibung from Bayli Kharka.
There are a small community and private lodges in Chistibung which will provide you with a reasonably satisfactory accommodation.
Day 5: Trek from Chistibung to Khopra Ridge (3,640 meters)
On this day you will have a reasonably easy time trekking to the Khopra ridge, for it takes only 3 hours at most. It is advisable to take sufficient breakfast and to carry some in order not to lose your energy before reaching the destination.
Because it is an uphill trek, you might need to take rest very frequently. You can expect to see the Himalayan tahr (the wild goat) and the national bird of Nepal, Danfe. You will undoubtedly feel elated upon reaching the Kopra ridge for lunch. You cannot even describe how good a place it is to view the panoramic vistas.
Almost all members of Annapurna range, Dhaulagiri range, Nilgiri, Bahrasikhar, along with their foothills, are visible at a close distance from here.
Khopra community lodges have distinguished identities for the warm love they shower to their guests and their attempts to provide as much facility as possible.
Day 6: Trek from Khopra Ridge to Khayer Lake (4,660 meters)
It might be an exhausting journey from Khopra danda to Khayer lake. But the beauty of this high altitude lake and Brahma temple is worth more than your effort.
The problem, however, is that you will not find lodges there. Hence you have to manage staffs who will set up tents and do the kitchen works for you. It takes approximately five hours to reach this holy place.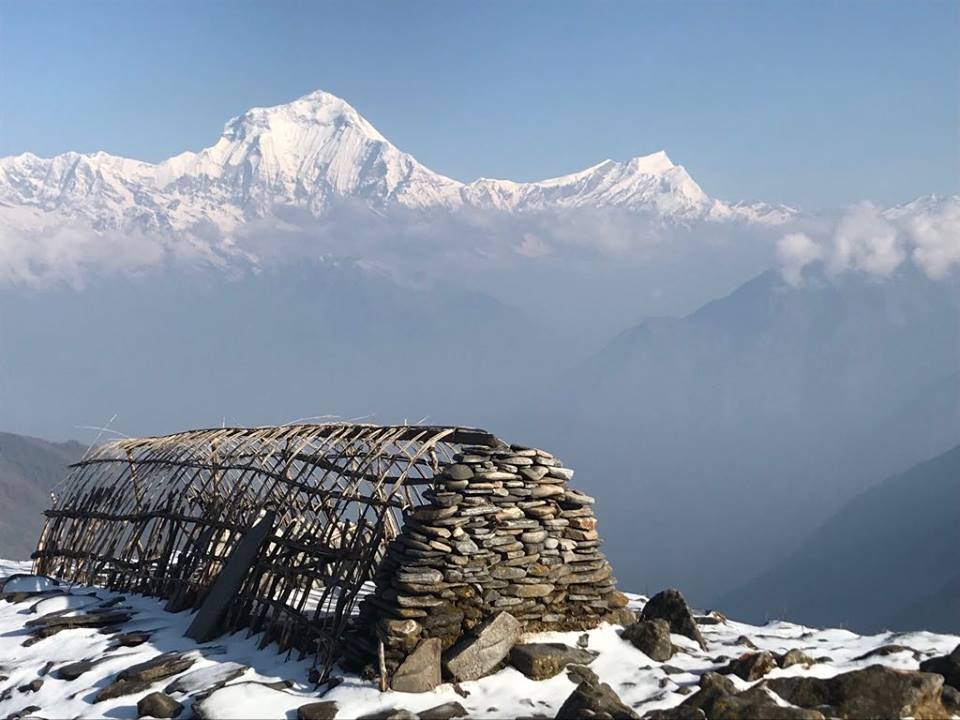 Day 7: Trek from Khayer Lake to hRidge
You have to come back the same route that you had used while going up. Walking down through a highly remote area for more than four hours, you will reach Kopra danda where you can spend yet another night.
Day 8: Trek from Khopra Ridge to Swanta Village (2,214 meters)
After observing a 360 degree of panoramic vistas and having taken breakfast, you can descend the hill to Chistibung. Even a relaxed walk will take only two hours at most. You should take lunch at Kharka in an hour's journey down from Chistibung.
Then the route goes instantly up and down again which continues till you reach Swanta, a beautiful but less known Magar habitation.
Altogether, you will have walked for five hours by the end of your trek on this day. You have the right to choose a lodge at a suitable location.
Day 9: Trek from Swanta to Ulleri (2,050 meters)
This day's trail does not require much going up and down. It is mostly level which meanders at times. The joy of walking amidst the aroma of rhododendron is beyond explanation. You will not have any difficulty finding lodges there.
Day 10: Trek from Ulleri to Nayapul and drive to Pokhara
It is the last day of your trek. After trekking for 2 hours partially downhill, you will reach Nayapul from where you can catch a bus to Pokhara.
After one and half hours driving you will find yourself in Pokhara, the beautiful lake city. You will most probably have some spare hours during which you can visit different places of tourist attractions.
Or else if you wish to stay a whole day, you can think of spending two nights there so that you can visit most of the tourist destinations.
Day 11: Either Drive or Flight to Kathmandu
You can choose the means of transportation as per your preference. If you are in a hurry, it is better for you to choose a flight because it takes a whole day of driving to reach Kathmandu. But if you have sufficient time, it will be a pleasant experience riding a bus to Kathmandu for around eight hours.
Manaslu Trek: An ultimate guide to most popular tea-house trek