Nepal is the most beautiful country nestled by several Himalayas ranges. Nepal is a popular country for trekking all over the world. It is home to world's highest peak and also largest lake, glaciers, lush hills and dwindling white river.
It is a  perfect choice who love to trek and explore. More than 200,000 tourists visit Nepal every year. Nepal has always been on the top list for mountain trekking. It is also popular for the ancient heritage, old culture, traditional lifestyle and natural beauty.
During the traveling, you can experience the views of the breath-taking mountains, beautiful green forests, wildlife and thrilling rough and tough terrains and heights of the hills. Also, you will get chance to know the different culture and life at different places.
Nepal is small in geographically, but it has huge, diverse land terrains. It's a one time opportunity to explore yourself trekking in Nepal.
If you had lots of experience in trekking and want to trek in next level, then you can trek to Himalaya region such as Everest Base Camp, Annapurna Circuit Trek, Upper Mustang and others mountain region. Or if you are looking for both combination of cultural and adventure trek; you can treks like Poonhills, Gandruk, lower Mustang, Shivapuri and several others.
Before going to the trekking, there is something you need to consider. You need to be physically fit and have enough knowledge about the trekking. The difficulty of trek depends upon a traveler's physical condition. Short treks are considered to be easier while longer treks require some mental and physical fitness. The trekking usually requires 5-6 hours of walking per day and some days traveler even needs to walk up to 8-10 hours at high altitude. So sometimes training is necessary for few of the difficult trekking.
The things before the trek you need to consider and they are:
Firstly, state your physical ability and mental wellbeing.
The total duration of the trekking.
Level of trekking difficulty that you are seeking.
The trekking route; Tourists route or Non-tourist route.
The complete budget of the trek.
Season for trekking.
Size of the group to trek.
Trekking permits and necessary documents.
Here we have compiled 10 best treks in Nepal with their pros and cons. We have also tried to write some of the details of these treks. If you need additional information on these treks you can directly contact us from our Contact Us page or you can chat with us with icon below.  Hopefully, that will assist you to select the favorite trekking destination.
Everest Base Camp
View images here.
The world highest summit lies in Nepal at height of 8,848 meters tall. Everest Base camp is one of the best trekking destinations in Nepal. More than 25,000 trekkers trek to Everest Base Camp yearly. Due to its popularity, the base camp is a bit crowded during the peaks climbing season. No doubt Everest base camp is onf the best treks in Nepal.
While trekking, you get an opportunity to look closely at the lifestyle of the Sherpa people living in that region. During the trek, you will see many Buddhist Monastery, prayer flags, suspension bridge, traditional houses and magnificent jaw-dropping view of mountain ranges.
Everest Base Camp Highlights:
Close view of Mount Everest(8,848m)
Amazing view of Mt. Kanchenjunga, Mt.Lhotse, and Mt. Makalu.
Visit old Buddist monastery of the region.
A close look at Sherpa Village and their traditional lifestyle.
To get in the Everest Base Camp fly to Lukla from the Kathmandu airport and trek from Lukla to Namche Bazaar to Everest Base Camp. Namche Bazaar is the gateway to Everest Base Camp.
Trekking Details:
Maximum Height of Kalapathar at 5,600 m.
Best time to trek: Autumn(October to November) and Spring(May to June)
Trekking days: 14 days to 16 days
Trekking Difficulty: Medium
Trek permits.
High-Price
Annapurna Circuit Trek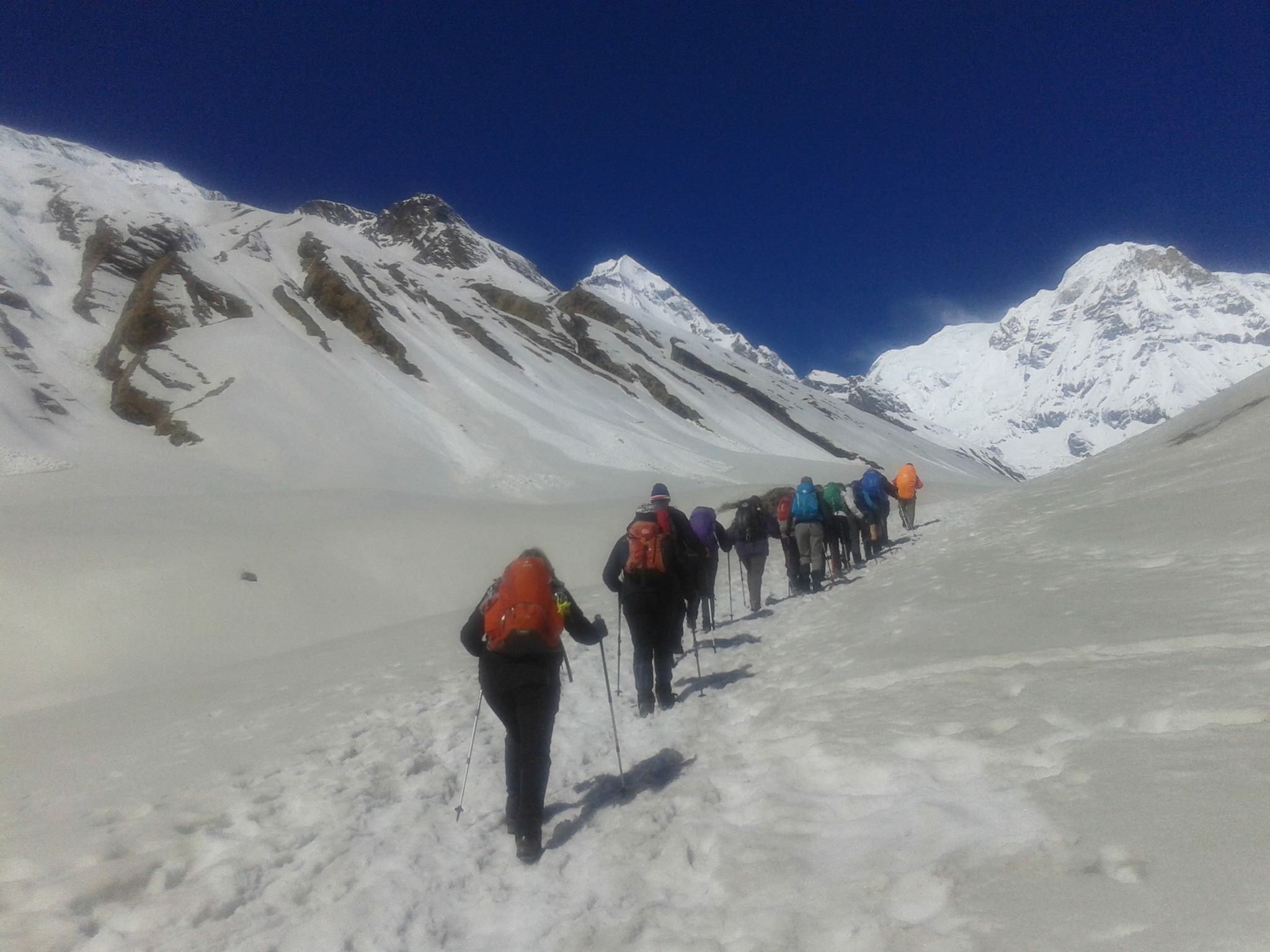 This image was clicked by our One of our Trekking Guide Gopal Lama. You can view more images of ABC here. 
Annapurna is the second best trekking route of Nepal. Annapurna is the tenth highest mountain on the earth at the altitude of 8,091 meters. Annapurna Trek cross two different valleys and encircle the massif Annapurna.
Trekking to the Annapurna, you will see the beautiful Annapurna mountain ranges like Dhaulagiri, Machhapuchre, Manaslu, Gangapurna, Tilicho Peak, Pisang Peak, Paganda Peak and spectacular sunrise view. Also discovery the Hindu holy sites and Buddist along the way;  Gurung villages with lush green forest, the lifestyle of the local people and their unique cultural heritage. Annapurna Trek crossing through the point at Thorong La pass (5,416 m).
There are four regions that passed through on the trek; Lamjung, Manang, Mustang, and Myagdi. Annapurna treks begins from the Besisahar or Bhulbhule in Marsyangdi river valley and concludes in the Kali Gandaki rivers. The trails pass through the various villages, Subtropical forest, several waterfalls and gigantic cliff along with paddy fields. That is why Annapurna Base Camp is considered is one the best treks in Nepal.
Annapurna Circuit Trek highlights:
Breath-taking mountain views of Annapurna I, Annapurna II, Annapurna III, Annapurna IV, Himchuli, Machhapuchre, Dhaulagiri and others mountain peaks.
Walk through the subtropical forest including oak, bamboo and rhododendron trees, Buddhist villages and Hindu holy sites.
Crossing the widest pass in the world, Thorong La Pass (5,416m).
Trekking Details:
Highest elevation- 5,416 meters
Duration – 15 to 17 days
Very Commercial and busy route.
Best seasons- Autumn (October to November) and Spring( March to May)
High price
Trekking Difficulty- Moderate
There are many teahouses through the trek.
Poon Hill Trek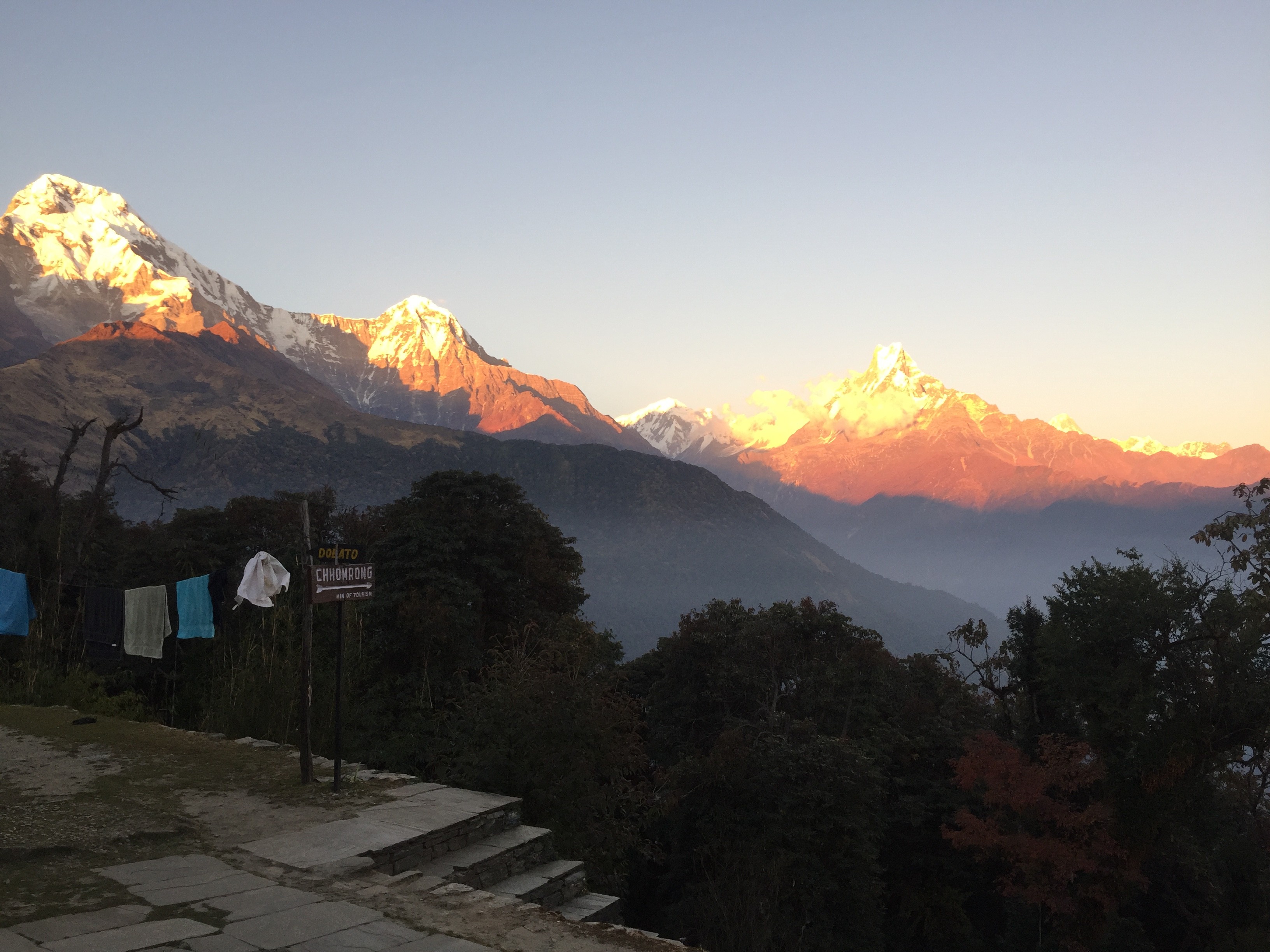 This image of Poon Hill Sunset Gopal Lama. You can additional information here.
Poon Hill Trek is popular for short and easy trekking that you will explore major attraction during the trekking in just 5-7 days in Annapurna region. It is very exciting tours and takes you through the stunning panoramic views of mountains such as Annapurna, Dhaulagiri as well as others Himalayan ranges. The short trail continue through the forest of rhododendron and bamboo and takes through Gurung and Magar villages. You can not miss Poon Hill when talking about best treks in Nepal.
25 minutes of flight from Kathmandu to Pokhara. The trek begins from Nayapul heading towards Tikhedhunga. Then Tikhedung to Ghorepani to Poonhill and head back to Tadapani to Gandruk to Pokhara.
Poon Hill Trek Highlights:
Best Sunrise and Himalayas view.
One of the biggest settlements of Gurung and Magar
Stunning view of Dhaulagiri, Annapurna ranges, Manaslu and other mountains.
Easy and short trekking in Annapurna region.
Trekking Details
Maximum height altitude of 3210 meters.
Trekking Duration- 5 to 7 days
Trekking Difficulty- easy
Best Season- September to November and March to May.
Price depends upon travel agency.
Langtang Valley Trek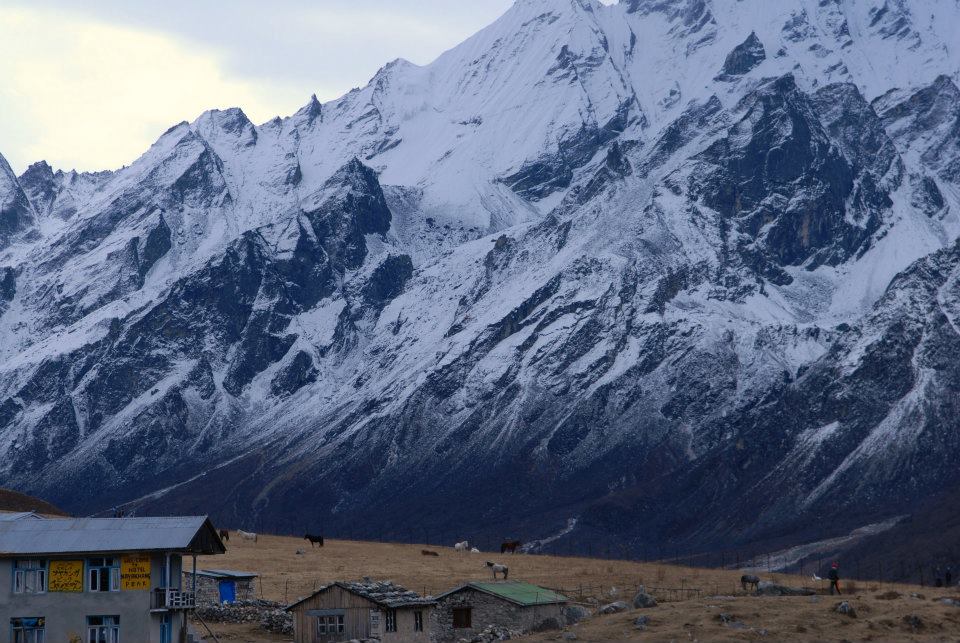 Langtang valley trek is situated at a distance just 19 miles to the north of Nepal. It is popular as the valley of glacier treks. Langtang is a beautiful and one of the mesmerizing place to see snow-capped mountains. Langtang valley offers pine woodland forests, lush green slopes, stunning views of the Himalayas and rugged rock.
Langtang trek takes around 8-9 hours of drive from Kathmandu. The trekking starts point is Syavrubesi where you follow the Langtang river to Kyanjin Gompa and stay overnight then continue to Langtang Valley. Trek back to Kyanjin Gompa to Syabrubesi to Kathmandu. During the trek, you can visit ancient Buddhist monastery, the local villages where you can have a small talk to Tamang people who are very frank to tourist.
Langtang Trek Highlights
Langtang Valley Trek is also known as The Glacier of Trek.
Climbing the Tersko Ri Peak.(5,000 m)
Nice view of the Sunrise and Himalayas.
Ancient Buddhist Monastery and typical life of Tamang people.
Trekking Details:
Duration- 7 to13 days
Best Season- Autumn (October to November) and Spring (March to May)
Trekking Difficulty- Moderate
Price- reasonable
Accommodations- Hotel and lodge are available.
Manaslu Trek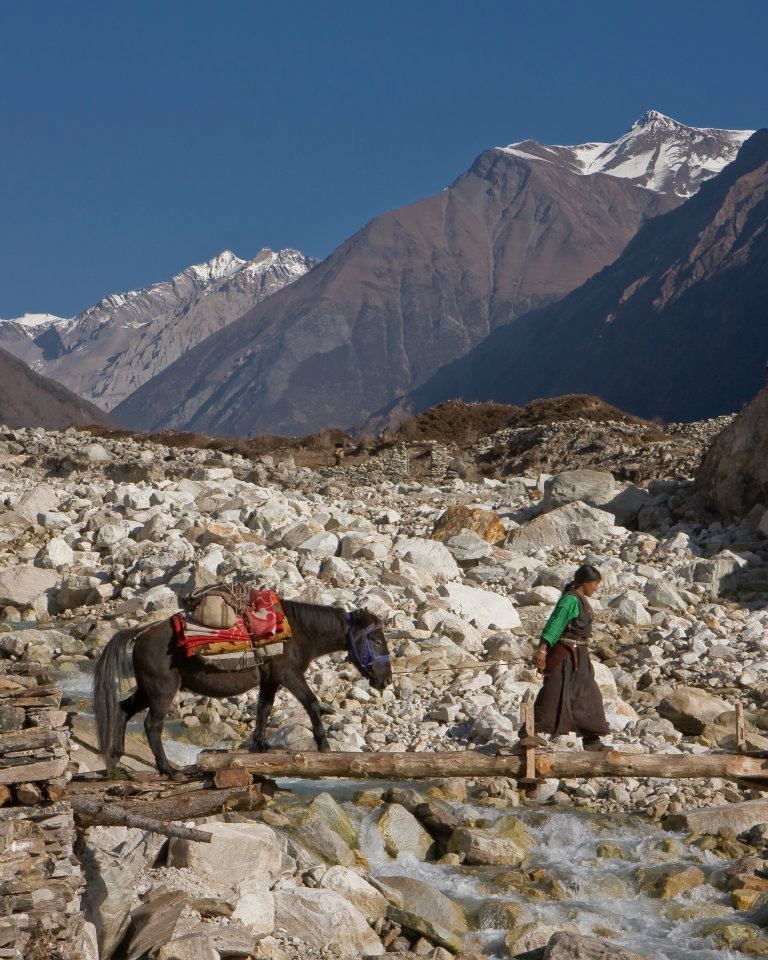 You can view more images like this in this link.
Manaslu is the eighth highest mountain in the world at 8,163 meters (26,781 ft) above the sea level, located in the Mansiri Himal in the west-central part of  Nepal. The name 'Manaslu' means 'mountain of the spirit.' Manaslu comes from Sanskrit word Manasa; it means intellect or soul. The Manaslu region was opened for trekking only in 1992 AD.
The Manaslu Circuit trek offers the stunning view of snowcapped mountain range and the ancient trail along with mix culture, heritage and hospitality of authentic Hindu and Tibetan-style Buddhist village. The trail follows the spectacular Burhi Gandaki River towards its sources.The highest point in this trek is the 'Larkya La Pass' at an elevation of 5,106 meters (16,752 ft).
The Manaslu Himalayan region is a adventures trek in Nepal. The beauty of Manaslu is unpredictable. The trekking to Manaslu area is considered one of the finest destination of Nepal. The area is highlighted by two culture; Gorkha which is the ancestral seat of the reigning Shah dynasty and the temple of Manakamana.
The Manaslu Trek starts from Kathmandu to Arughat about 5-6 hours drive. The trekking route for going and coming back isn't the same route. You will go one route then return by another route.
Manaslu Highlight:
Manaslu is the most difficult trekking in Nepal.
The scenic view of the back Mount Manaslu, Ganesh Himal, Mt. Himchuli and other mountain ranges and the subtropical forest at the lower part through the Himalayas foothills to the high, cold and challenging crossing of the Larkya La at the elevation of 5,106 meters (16,752 ft).
Many tea houses are there for the trekkers, so they don't worry about food.
Explore the traditional culture, rich heritage and the lifestyle of the locals.
Pristine Budhi Gandaki River Valley.
Scenic view while driving from Kathmandu to Arughat and Beshishar to Kathmandu.                                                
Trekking Details:
Highest altitude at 8,163 meters
Duration- 16 to 18 days
Best time- Autumn (September to November) and Spring (March to May)
Trekking Difficulty- Very Difficult
Trekking Permits
Upper Mustang Trek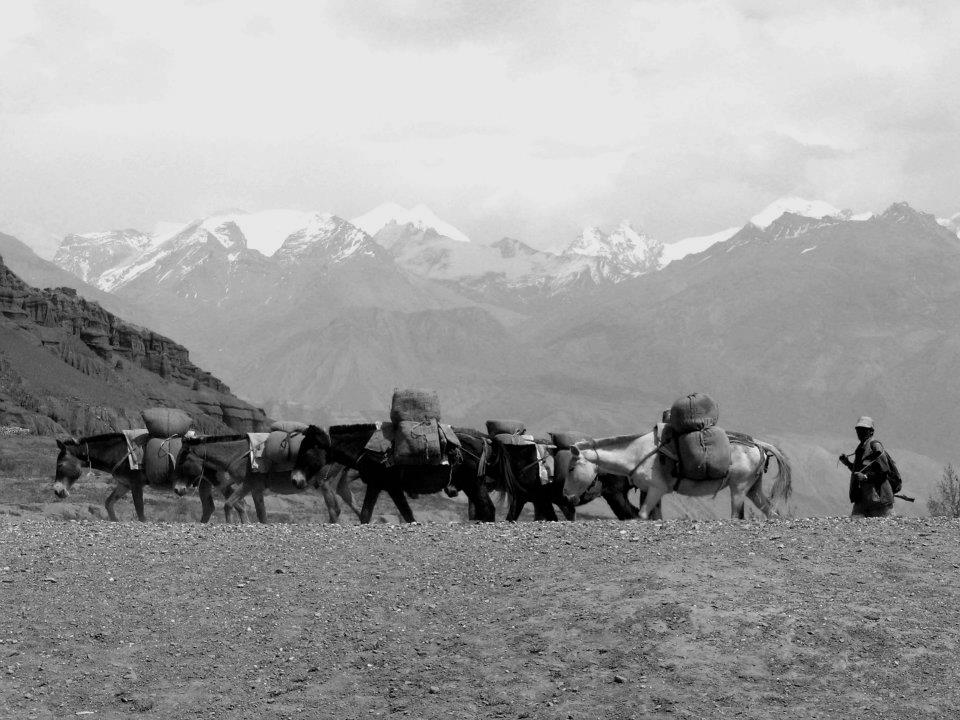 You can view more images like this here.
Mustang is rich in the natural beauty, cultural heritage, and a historical place which situated in Dhaulagiri zone in Nepal. This beautiful land divided into two parts; the Upper Mustang and the Lower Mustang. The Lower Mustang is full of natural scenery, and Upper Mustang is popular for the adventurous trekking. Snowfall mostly in the winter season, visitors enjoy playing with snow during this season. The beautiful places lie in the Mustang district such as Jomsom, Kagbeni, Lo Manthang and many others. Muktinath Temple is a holy place for both Hindus and Buddhists. Within, Hinduism it is called Mukti Kshetra which means the 'place of liberation or moksha' and had 108 water taps.
Upper Mustang trekking was officially opened in 1992 with a limited number of trekker are allowed to visit there to protect the Tibetan Culture. Upper Mustang is then in the best trekking route even in the monsoon times. The best things to visit in monsoon is that local peoples are busy with everyday works and get the fabulous view of cliff mountains, beautiful hills, and snow-capped mountains. To reach Upper Mustang take a flight to Jomsom and treks to Kagbeni.
Upper Mustang Highlight:
Majestic views of mountain ranges like Nilgiri, Dhaulagiri, Tukche, Annapurna.
Get to see the old Buddhist monasteries, houses made by the stones, traditional culture of Tibetan and yaks.
Travel through landscapes of arid regions, barren edges, deep gorges, and mountain valleys and eroded rock faces.
Crossing through the two high peak Thorong La and Mesokanto La.
Trekking details:
Duration- 15 to 17 days
Best time- Autumn (September to November) and Spring (March to May)
Trekking difficulty- Moderate
Need trekking permits
High-price (Including accommodation, meals and other equipment)
Mardi Himal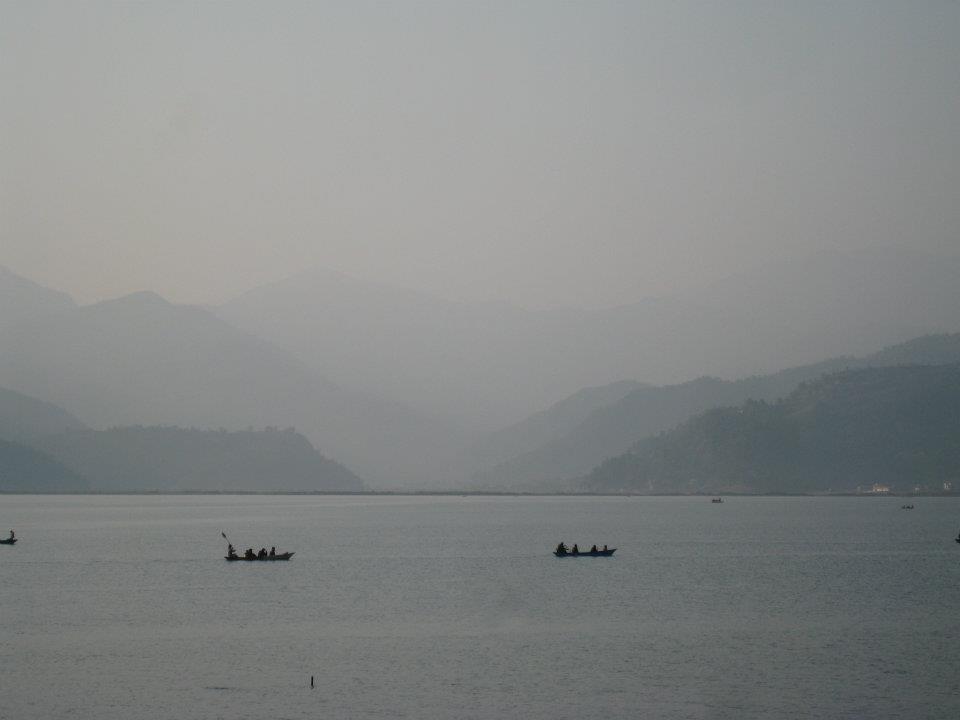 View more images of Mardi Himal on our Facebook Page
The Mardi Himal is newly opened route in the Annapurna region and also known as hidden treasure trek too. The Mardi Himal Trekking is a short, easy; well manage camping and tea house trek that discovery the beautiful view of Annapurna area.
Mardi Himal is least visited of the trekking peak, and this trek is the best destination to avoid the crowd. Though the availability of foods and accommodation on the route is at a bare minimum. Mardi Hima Treking is still an enjoyable trekking route which requires minimum efforts Mardi Himal Trek is about a week-long trip in the Himalayas with stunning views of snowy peaks through small Nepali Villages. It is an interesting trek compared to other popular treks in Annapurna region.
Mardi Himal is located to the east of the Annapurna Base Camp. Mardi Himal offers the spectacular view of Annapurna, Dhaulagiri, Machhapuchre (Fishtail) and Manaslu Himalayas ranges. Also, the natural beauty allows seeing the Nepal national bird-Pheasant, national flowers- Rhododendron, Musk deer, Snow Leopard, Himalayan Thar and many more wild animals and several plants which are used to make medicine.
Mardi Himal has different trekking route from beginning to the end of the trek. The trek starts from Phedi and ends in Lwang.
Mardi Himal Highlights:
Mardi Himal Base Camp is at 4500 meters marks the highest point of the Mardi Himal Trek.
The highest sleeping point on Mardi Himal Trek is at High Camp.
Mardi Himal Trek is popular the Annapurna Range where you can see amazing views of Machhapuchre (also known as Fishtail, 6,993 m), Annapurna South (7,010m), and Mount Hiunchuli (3,441 m).
Mardi Himal trek route has been popular over past five years, and Teahouse (guest house) has established there for visitors.
Trekking Details:
Highest altitude: 4500 meters
Duration – 8 to 10 days
Best time- Autumn (September to November) and Spring (March to May)
Trekking Difficulty- not too difficult
Trekking permits
Accommodation – Teahouse, lodge, homestay
Price depends according to travel agencies.
Upper Dolpa Trekking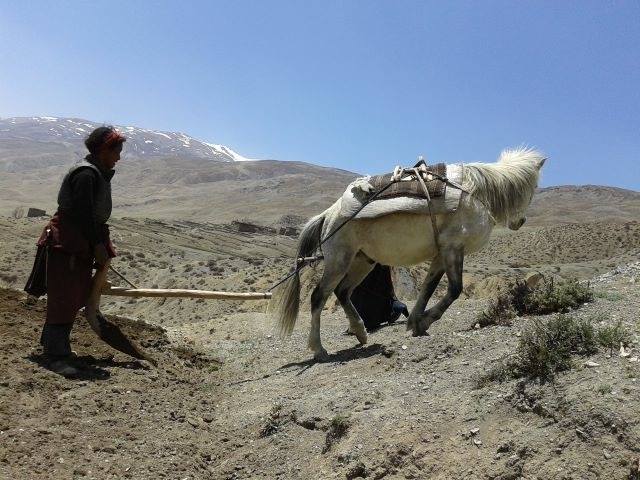 Know more about Itinerary of Dolpa Trek.
The beautiful Dolpa is situated between Dhaulagiri region and the plateau Tibet. Dolpa is the most remote trekking route of Nepal which is opened in the 80s. Dolpa is most beautiful and still fresh trekking which never affected by the outer world. The trekkers visit Dolpa to mesmerizing views of the Himalayas such as Dhaulagiri, Annapurna Kanjirowa mountains. Treks pass through several Himalayas, Gompa Monastery, Jhunphal and also enjoy the beauty of the deepest glacier lake, Phoksundo lake in Nepal.
 It is not only the adventure treks but also a cultural treks. It is the mixture of Tibetan and Nepalese Culture.
 The Caravan was filmed in Dolpa region which was nominated in Oscar movie. Upper Dolpa was also mention in the books 'The Snow Leopard' by Peter Matthiessen, 'Himalayan Pilgrimage' by David Snellgrove and 'Stones of Silence' by George Schaller.
Upper Dolpa trekkings begins from Jhunphal (2,285 m/ 7495 ft). The trail passes through numerous terrains of mountain ranges, over the Numa La Pass (5,190 m/ 17,028 ft), until to reach Phoksundo lake at Ringmo village inside the Phoksundo National Park and finally terk to Jumla and end the trek.
Dolpa Trekking Highlights:
Hike in an isolated and less tourists region of Nepal.
Visit Phoksundo lake, the deepest lake in Nepal.
Stunning views of Kanjirowa mountain.
Unique and traditional culture of Himalayas people.
Visit ancient old Gompa Monastery.
The abundance of Wildlife including Musk Deer, Himalayan Blue Sheep and rare Snow Leopard which makes the environment more beautiful.
Trekking Details:
Duration- 25 to 27 days
Trekking Difficulty – Difficult
Best time- Autumn (September to November) and Spring (March to May)
High-price
Trekking Permits
Accommodation- Camping
Trekking Area- Very remote
Kanchenjunga Trek
Kanchenjunga is the worls's third tallest peak at 8,586meters of the remote region which lies in the border of Nepal and India. The trail difficult due to it situated far north-eastern corner of  Nepal. Mt. Kanchenjunga to be one of most beautiful mountain massifs in the world. The name Kanchenjunga means 'Five Treasures of The Great Snow' which is In references of five summits which make up Kanchenjunga.
The 25 to 27 days of trails begins after fly to Suketar from Kathmandu. The journey has a unique insight of the rural Region of Nepalese lifestyle. Through the trekking, you discover Pipal Tress, villages, Limbu People famous for inventing Tongba, Oak and rhododendron forests, High terrains. Crossing the Mirgin-La Pass gives you views of Makalu, Chamlang, and Everest. After passing the Glacier, you will view of Kanchenjunga Peak from Kanchenjunga Base Camp.
Kanchenjunga Highlights:
Kanchenjunga Base Camp
Splendid view of Mt. Everest, Makalu, and Kanchenjunga
Crossing the Mirgin La Pass and Lapsang La Pass
Villages of Sherpa and Limbu
Trekking Details:
Duration-25 to 27 days
Trekking Difficulty- easy/ moderate
Best time- Autumn and Spring
Trekking Permits
Accommodation- Camping
Gokyo Valley Trek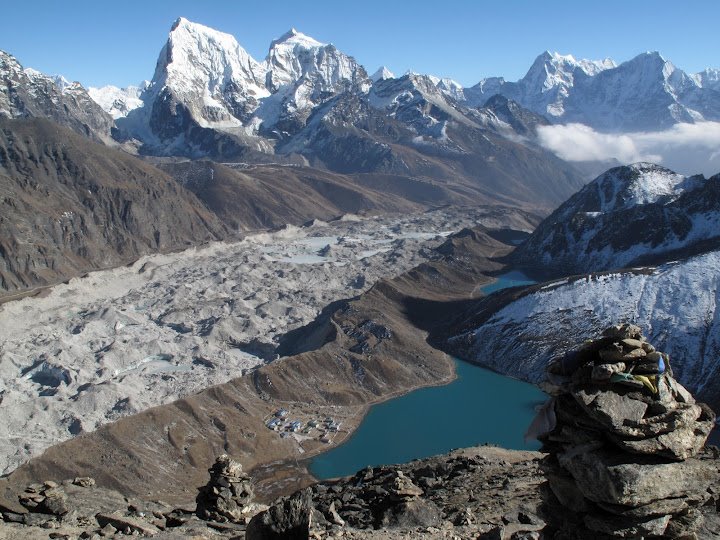 Gokyo trek is situated in the west of Everest Base Camp. From Gokyo Ri, you can have a magnificent view of Mt. Everest, Lhotse, Makalu and Chu Oyo mountains. Gokyo is one of the popular trekking destination of Nepal, and many tourist come here to enjoy the natural beauty.
Gokyo Valley trekking starts from the Lukla where trekking is the only one means of transportation. Then trek to Namche Bazaar which is a small town with various shops, hotel, lodge, restaurant and the settlements of Sherpa people. After you reach the Gokyo Ri, you will view the heart-melting mountains views.
While you trek to the Gokyo Valley, you can see the old historical Buddhist monastery, the traditional life of the local peoples and never forget to taste the Sherpa's Cuisine.
Gokyo Valley Highlights:
Most amazing view of the Mt. Everest, Makalu, and Chu Oyo Mountains.
Close look to Sherpa Lifestyle.
Five emerald lakes of Gokyo Ri
Scenic view of Gokyo Ri lakes
Buey and commercial route
Trekking Details:
Maximum Altitude- 5,360 m
Duration- 14 to 15 days
Best time- Autumn and Spring
Trekking Difficulty- very difficult
Accommodation- Hotel, lodge, and teahouse
Price-High
Trekking Permits
Top treks of Nepal does not end here. We will keep on adding more trekking routes and their description. Anyway if you have any queries regarding these treks or anything about Nepal drop us an email at info@nepalsanctuarytreks.com or you can directly chat with us with the button below. And don't forget to like our facebook page.