If you are thinking of doing some thrill and adventurous activity, the river rafting in Nepal presents you with an electrifying experience of sailing on the wild white waters. It has become one of the most widely held activities for the ultimate thrilling experience. This fun and invigorating open-air recreational activity has given adventurers an entirely new level of challenge and enthusiasm.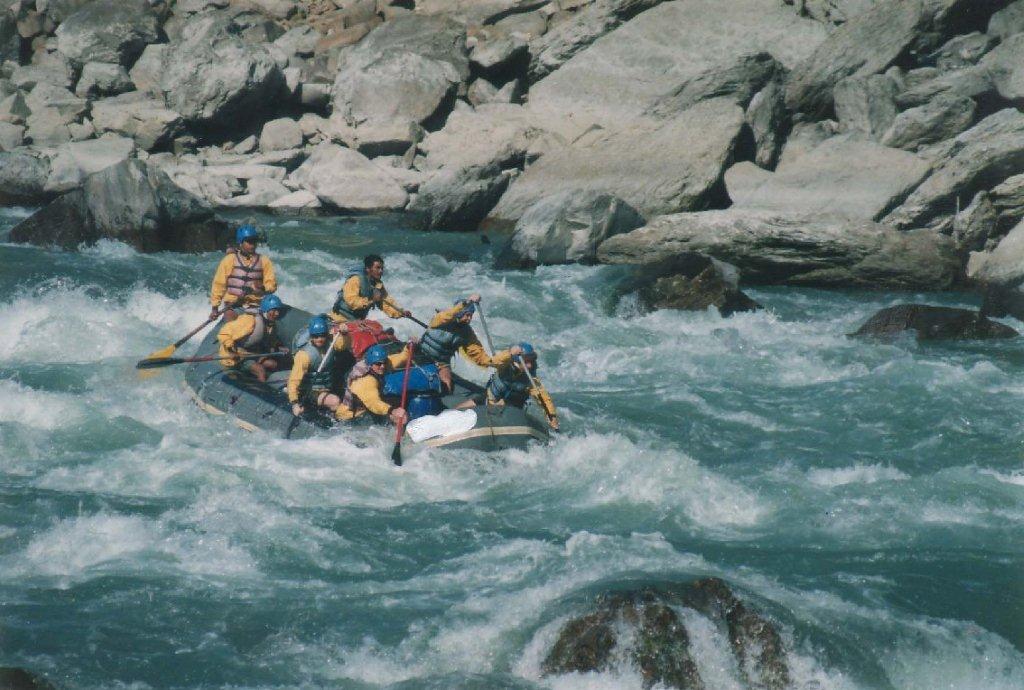 This thrilled rafting fills your soul with exhilaration and joy and simultaneously need you to be seated tightly in the same spot. River Rafting is one of those venture sports where you grasp you tight to your raft, sit back and paddle your way through daring waters. It isn't just a thrilling experience but also a cooperating with your team to make your ride an unforgettable experience. Rafting devotees define it as one of an adventure sport and an entirely distinctive feat.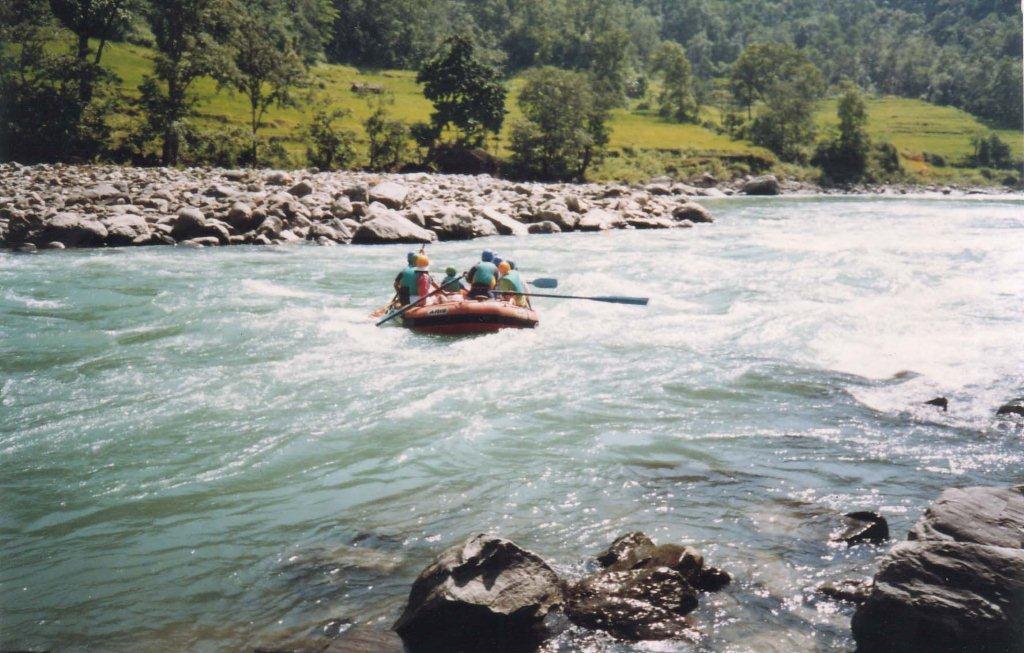 Rafting can be enjoyed and experienced in various parts of Nepal. Some of the popular and ideal spots for River Rafting in Nepal are Trishuli, Bhotekoshi, Marshyangdi, Sunkoshi, Seti River. You will experience the moments of a pure thrill, times of total tranquility, a feeling of closeness with your group and a deep connection with the environment all of which integrate a truly life-changing experience.
Scenic Rafting Adventures for Family and School Groups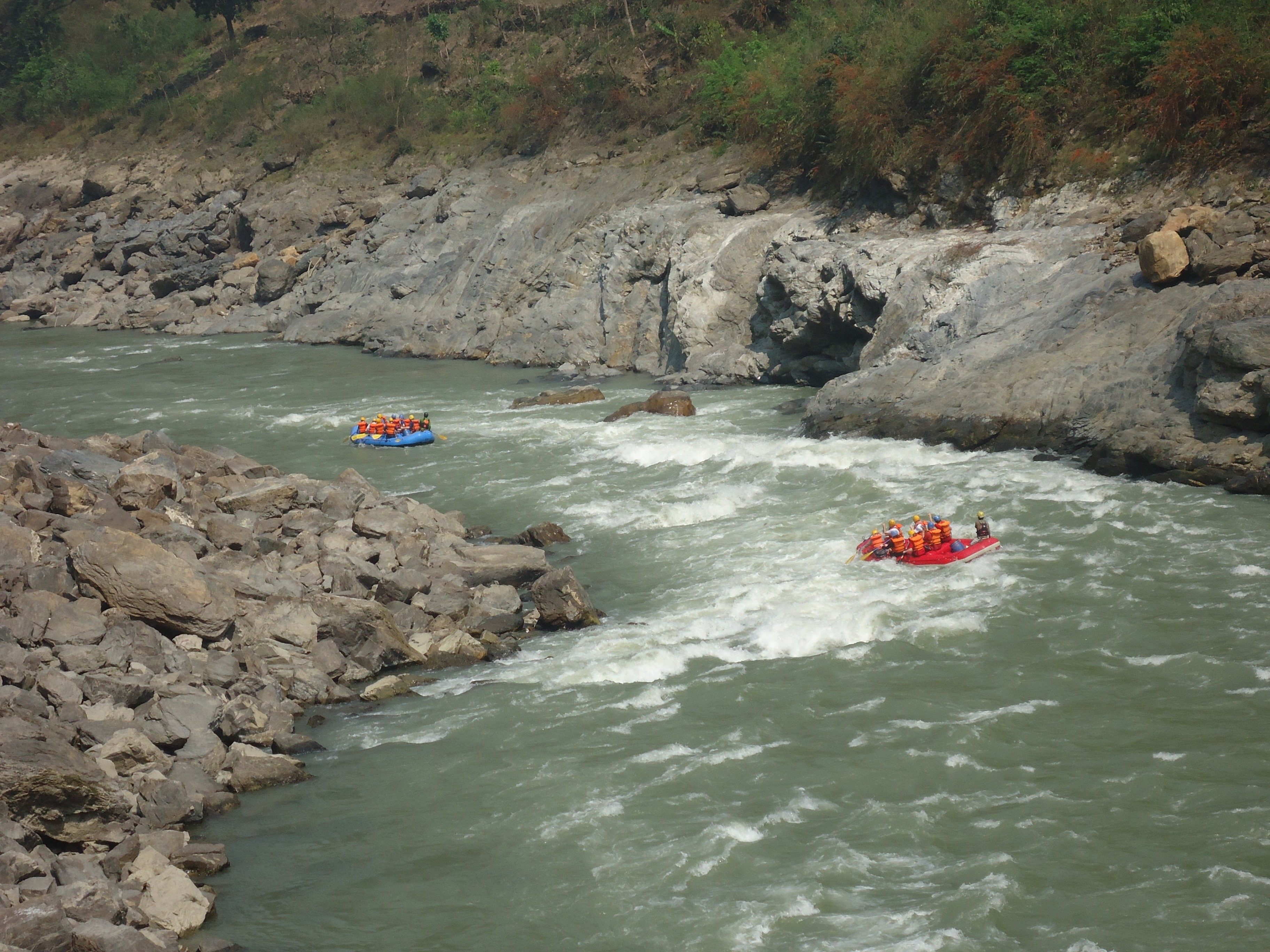 Family Rafting in Nepal presents a perfect blend of adventure, relaxation, and connection to nature. Whether your family is made up of young children or teenagers, Nepal Sanctuary Treks is here to organize rafting for children of all ages as well as for both first-timers and those who have been rafting previously.
Depending on your time and interests, there are numerous options of family and school rafting trips with full-day, multi-day, Luxury River Camp. Several wonderful, scenic river rafting trips in Nepal are available that is suitable for family with children of all age groups. Trishuli, Seti, and Kali Gandaki are a gentle grade (2 -3 rapid) and calm river rafting destination appropriate for a family rafting trip. These destinations cater to everyone, particularly people seeking for a scenic and distinctive river experience.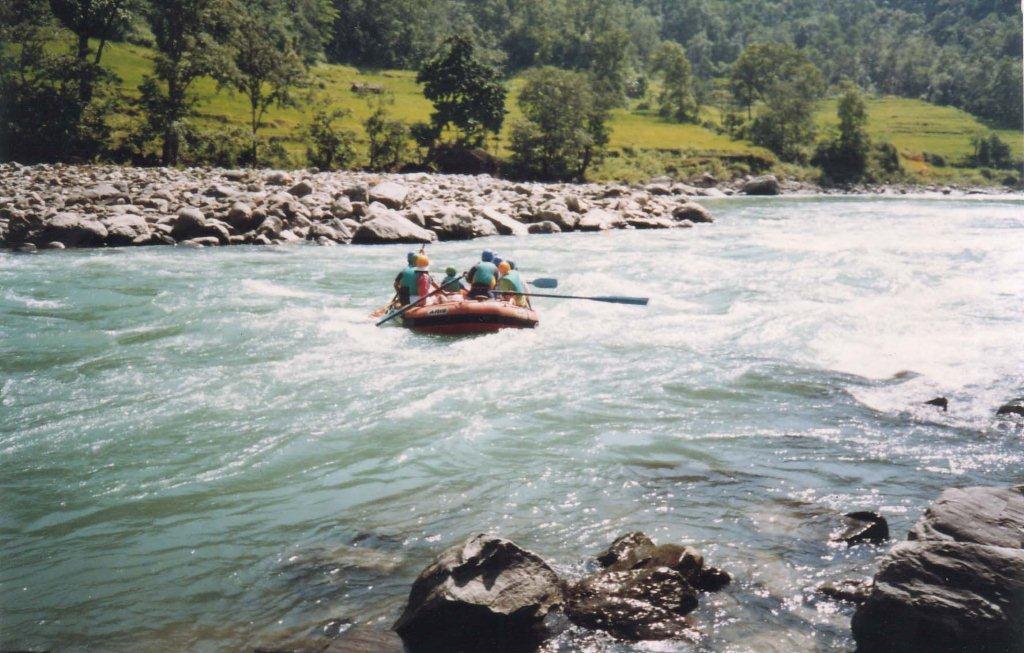 Experience an incredible trip to the river through the diverse charming villages and observe the Nepalese lifestyle. You'll spend your days running fantastic water, sightseeing unseen waterfalls, traditional villages and relax on extensive sandy beaches in the evening.
Landing the boats at the isolated exquisite beach and staying on the tent, cater with delicious food and being at nature enclosed by stunning the backdrop of mountains, dense remote jungle, traditional village, accompanied by melodious sounds birds and roaring water is something that you will experience.
The raft will let your children have the fun of camping, swimming and give them an understanding of nature and culture. Additionally, you will get an opportunity spotting wildlife and enjoy resting with the kids on a tranquil sandy beach of the river.
Lower Seti River  Rafting  2 days Class II / III
If you looking for a unique family adventure and school trip, then the Lower Seti River is the ideal one. Starting only 1 ½ hour from Pokhara, this is a mild river providing abundant scenery comprising traditional settlement, terraced rice fields, cascading waterfalls, suspension bridges, and forests.
Trishuli River 1-2 days: CLASS III / III+ 
Trisuli River Rafting is one of Nepal's well-known river trips and perfect for family, friends and first-time rafters. During the river trip, you can enjoy picturesque valleys, terraced rice fields, and impressive gorges. With pool and drop torrents, there is adequate time in between the excitement to relish swimming, cliff jumping and simply appreciating the beautiful nature.
Lower Kali Gandaki River Rafting 6 days: Class II+ / III+
Kali Gandaki is named after "Kali" the goddess of destruction considered as Nepal's most sacred rivers. The river starts from the high Tibetan Plateau, where the "Mighty Kali" flows down through the Himalayas; the river carving out one of the world's deepest gorge between massive Mt. Dhaulagiri and Mt. Annapurna. Lower Kali Gandaki rafting is adventurous with the fun-filled white waters, spectacular mountain vistas, endless suspension bridges, waterfalls, charming villages, unspoiled forest, deep gorges and exquisite sandy river beaches for camp.
Are you looking for a mild river adventure, traveling with children?
White Water Experience in Bhotekoshi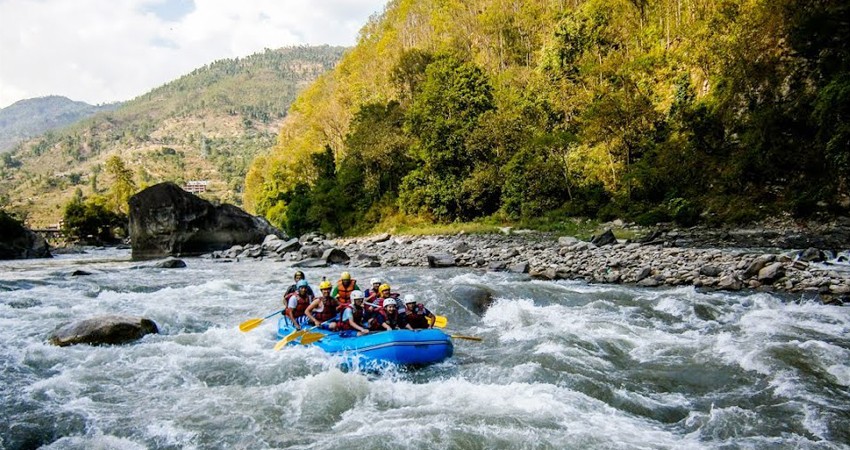 Bhote Koshi River trip is an overnight excursion situated in a convenient three-hour drive from Kathmandu.   The trip can be undertaken a full day trip if you have a short span of time or can stay overnight camping. A number of camps and resorts are at the periphery of the river and the Araniko Highway, leading to Tibet, which goes alongside it. Most resorts comprise the beautiful greenery area, swimming pools, bars/restaurants, and peaceful common areas, comfortable tents that provide a comforting and excitement-filled vacation.
 "Bhote" literally denotes "River from Tibet and is one of the rapid raging white rivers in Nepal which rise from Tibet and muddled with Sun Koshi. Bhotekoshi River Rafting is an ideal trip for those who look for an electrifying whitewater expedition. It is a steep mountain river with a long series of 3+ to 4- deeps. The rafting at the steepest Bhote Koshi River of Nepal is an absolutely thrilling and fascinating rafting trip that blends with bountiful of lush hills, picturesque villages.
The adrenaline-filled adventure-White Water Rafting starts with a hearty breakfast in the morning. Before loading the buses, every paddler receives a life jacket, a helmet, and a paddle.  The tour started between 10:30 to 11:00 am when our buses and van picked up the adventurers in the resort. After a 10-15 minutes' drive from the camping site, we reach our rafting spot. The entire group assembled the area where the guides gave a safety speech. The instructor who was our raft head taught us the hazards and precautions that should be taken while rafting and also instructed the usage of the paddle.  They lead through a detailed training on just what it means to safely ride in a raft, and how to work it as a group, how to experience the white water, and more safety rules.
After the briefing, the group of 8 is divided for each raft. Our guide made sure that our life jackets were tight and helmets on the place.  After headed towards the raft, we had a short paddling session before facing Bhotekoshi whitewater rafting. The handed paddles were longer than I was. I imagined how much power I would need to move it through the water.
There was no room for nervousness and frightfulness in my mind. Slowly and gradually, our raft started to move. The guide shouted paddling instruction from his seat at the back of the inflatable boat: Forward! Left-back! Harder, harder! Forward again! Get down!.  We were fascinated by the rapid rolling river as our rafting in full swing. The sound of waves collided at the shore and when we started to move; the water backward and forward, our excitement level begun to soar.
The guide informed us that we were nearing the rapids and here we would need to paddle harder. The real thrilling, incredible series of the rafting started when the raft and we sat in the raft came across the titanic waves of water that completely drenched us with water and made our raft shake as if a quake had come in the river. When we saw waves approaching near us, we stayed still like a statue and enjoyed that moment entirely along with precautions. We did high 5 after crossing every hurdle with our paddle.
During the interval, we were stopped at the spot where we got time to relax and photograph the opportunity to capture the spectacular surroundings. While rafting, one can enjoy the picturesque view of nature including mountains, green scenery, and rural settlement.
With all those "Forward, forward, backward, backward, stop and "high 5, we completed our 2 ½ hours long yet thrilled voyage filled with full of adventure, shouting and laughter. There is something about the feeling of triumph when you reach the end of this exhilarating activity that indeed made this an unforgettable experience.
When would it be the best time to go white water rafting?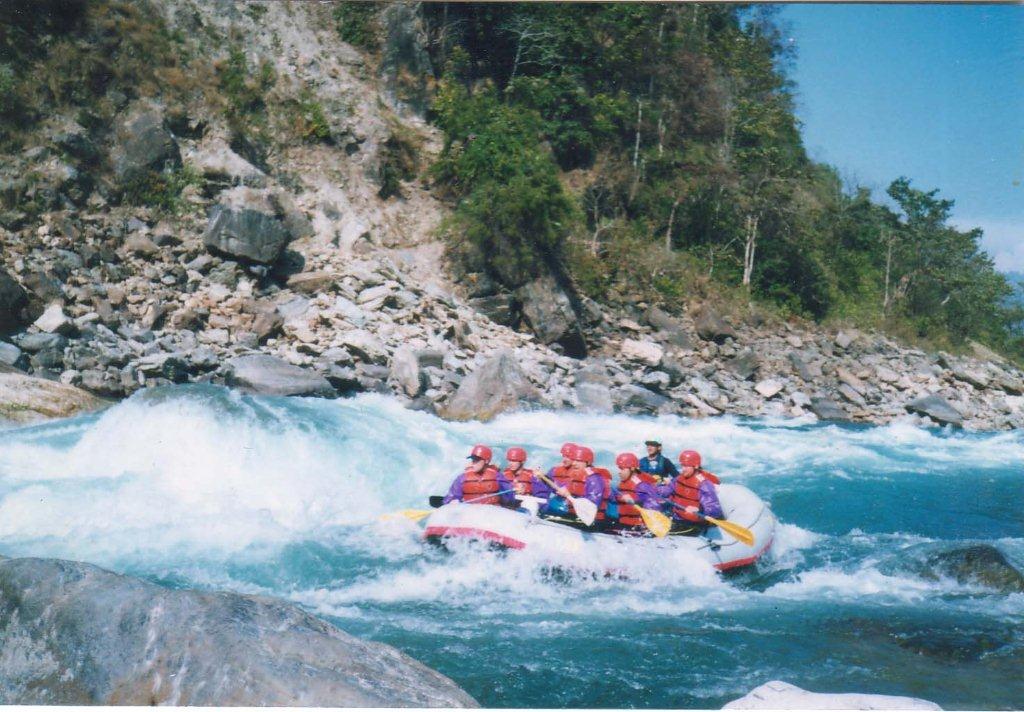 Spring (March-May) and autumn (September-November) is the peak and ideal seasons in Nepal for rafting. Water levels are a significant aspect of white water rafting. In the spring, the river's levels are low, and the water temperature is warm. The spring is often misty whereas, during late summer and spring, it is likely to get a shower.
In autumn, after the monsoon, there is an increased level of water which can make for some thrilling fast-moving water and sometimes a bit too exciting earlier around September.
Though the nights are getting quite chilly for camping by late November, its perfect period for rafting as the monsoon is over, and the surrounding filled with greenery, clear sky and rivers are moderately high, the temperature is generally warm with scenic mountain vistas.
Planning to raft this Autumn?
Items to Pack for Your Rafting Adventure
Swimsuit and swim shorts
Towel
Sunscreen and hat
Glasses strap
Shirts and shorts or light cotton trouser
Suntan lotion
Secured- fitting sandals with straps or tennis shoes
Raincoat
Personal Toiletries
Dry change of clothes
Waterproof cases for mobile and camera
Water bottle
And the medication you may need
Things to consider about white water rafting
A white water rafting journey is a truly exhilarating activity that can be liked by people of all ages and experience levels. Ensure that your voyage out on the river will be an unforgettable and fun one and make certain that the following things to consider about white water rafting
Select a licensed and professional rafting outfitter.
Before embarking on a rafting adventure, consider choosing a reliable company with excellent safety record, and trained guides. You should ensure that the company provides you with a well-functioning raft that has been quality tested and comprises complete safety setup such as first-aid kit, helmet, life jacket safety kayaks accompany rafting trips.
Always wear a life jacket and safety helmet
It is advised to wear a life jacket properly and correctly. All buckles must be clipped and ensure your life jacket fits snug to your body. If you are not sure then seek the help of an expert guide to fit your jacket to assure a perfect fit. Likewise, the safety helmet is mandatory to wear during raft.
Right Outwear
It is recommended to wear swift drying clothing like a wet suit, splash jacket, sunscreen, pair of sunglasses with UV protection and secured fitting sandals or tennis shoes to make your trip more comfortable, This will let you enjoy them adventurous rafting to the fullest.
Hold the paddle properly
Holding the paddle correctly is one of the main aspects of a huge safety concern. One of your hand needs to be at the base of the paddle on the shaft.  The other hand must hold at the end of the shaft over the "T" grip at all times. Keeping your hand over the "T" grip will keep control of the paddle and cushion the blow if it should happen. 
Team Coordination and new acquaintance
River rafting is all about team effort and harmonization. The paddleboat involves well-coordinated teamwork among the paddlers and river guides who give the instructions every time during raft. During a couple of hours raft, enjoy, be considerate and make a new acquaintance. You're there to enjoy the fullest and so is everyone. River rafting can be a wonderful bonding experience and an opportunity to have fun with new friends during a rafting journey.
Listen to your guide during the safety talk and on the water.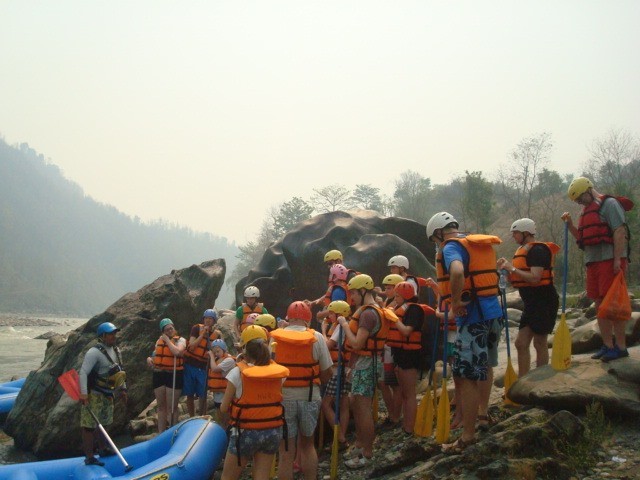 Your experienced guide instructs on how to handle any sort of circumstances that come across while on the river. During safety orientation and on the raft you should always pay attention to your guide's instructions.  If you follow this advice, you will certainly be safer. 
Keep hydrated and eat light
Whitewater rafting in Nepal involves full strength and power. Therefore, it is advisable to consume a light meal prior to rafting adventure. Likewise, staying hydrated before, during and after the rafting is vital as rafting is carried out during daytime when sweat leads to loss of water from the body which in extreme cases may result to severe headaches, nausea, and dizziness.
Leave no Trace
Nature is generous enough to allow us to relish everything it has to offer. So it's our duty to preserve the environment so its benefit will persist enough for upcoming generations to enjoy them. Appreciating the unspoiled nature of the almighty white water and "Leave No Trace" principals should integrate into the trip as part of a commitment to responsible travel.
Want to combine your trekking with adventurous white water rafting as a side trip?