Nepal is the holy land for fast flowing waters. The vast variation of altitude from 70 m to – 8848 m in a distance of less than 200 km, has blessed Nepal with numerous fast running rivers that gush down from the Himalayas cutting through mountains and carving deep gorges on their way to the lowland plains.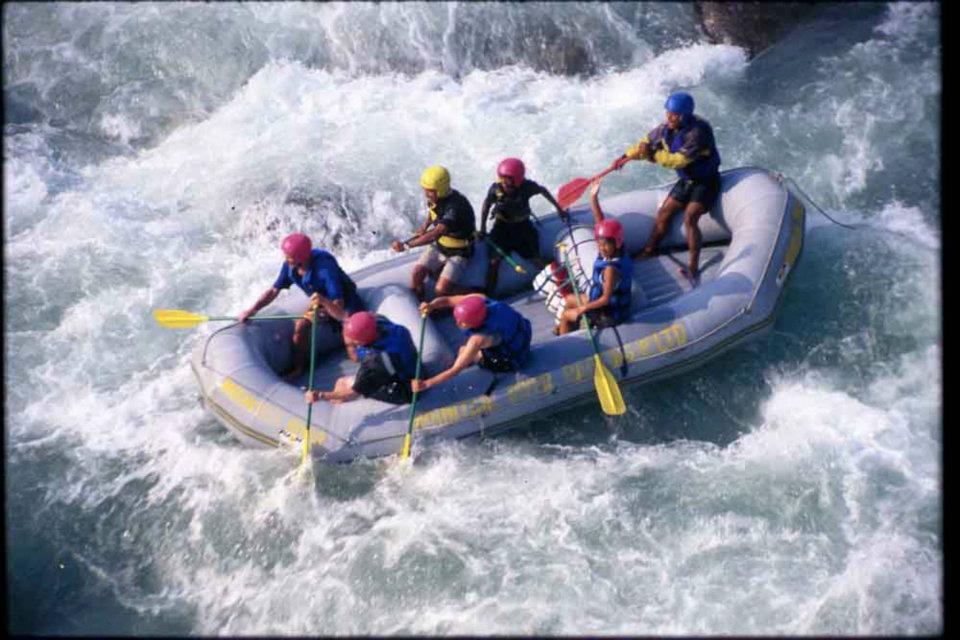 White Water Rafting in Nepal
Nepal is popular in tourism activities majorly for trekking. Nepal has over 6000 different rivers and major rivers like Kosi, Narayani, Gandaki, Karnali, and Mahakali originates from the glaciers of the mighty Himalayas. The massive altitude decline from the Himalayas to the Terai region of Nepal makes water flow crashingly in high waves with massive force. This force of running water has identified Nepal as the most potential for generating hydroelectricity.
Experienced as well as amateur rafters have the option of choosing the river to raft according to the difficulty level of the river and climate during the raft. Rafting in Nepal adds a natural thrill,  scenic view of hills, traditional villages and sandy beach stay to your experience of Rafting in Nepal.
According to National Geographic, Rafting in Sunkoshi river is considered in among the top 10 rivers to raft in the world. This mention signifies the importance to try white water rafting in Nepal.
You can also enjoy deep gorges and vast river basins in famous rivers like  Sun Koshi, Bhote Koshi, and Trisuli. Rivers like the Marshyangdi and Arun, provide some of the most scenic views for rafters. Diverse wildlife and flora along the routes add to the essence of these trips.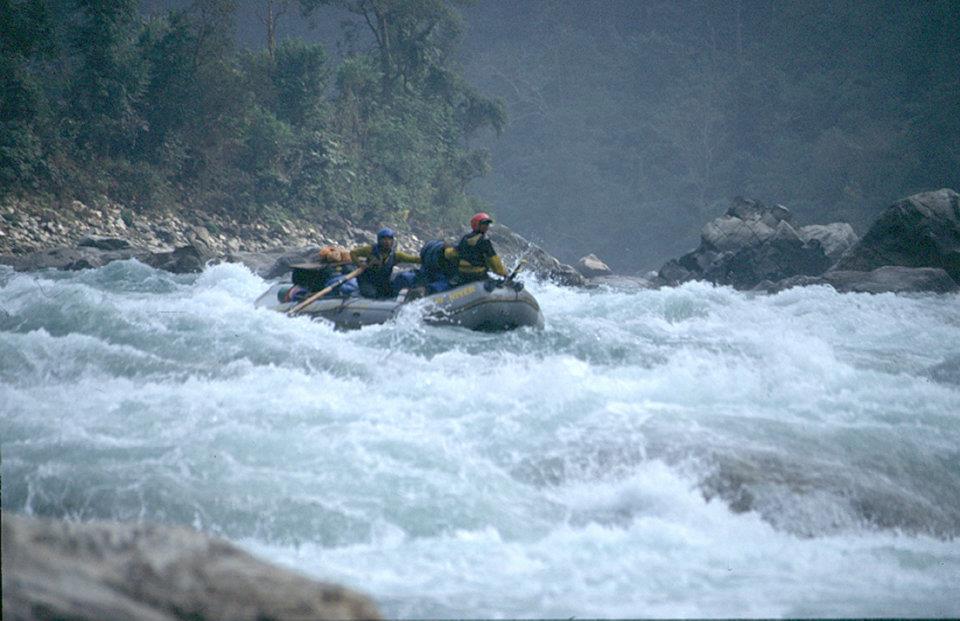 The best rafting experience in Nepal can be through these white-water rivers.
Sun Koshi River Rafting: Sun Koshi river features in many International articles and magazines for the top 10 destinations for white water rafting. Many tourist and professional rafters come to tackle and train in this so-called "River of Gold." The river and the beach sand sparkle along the way.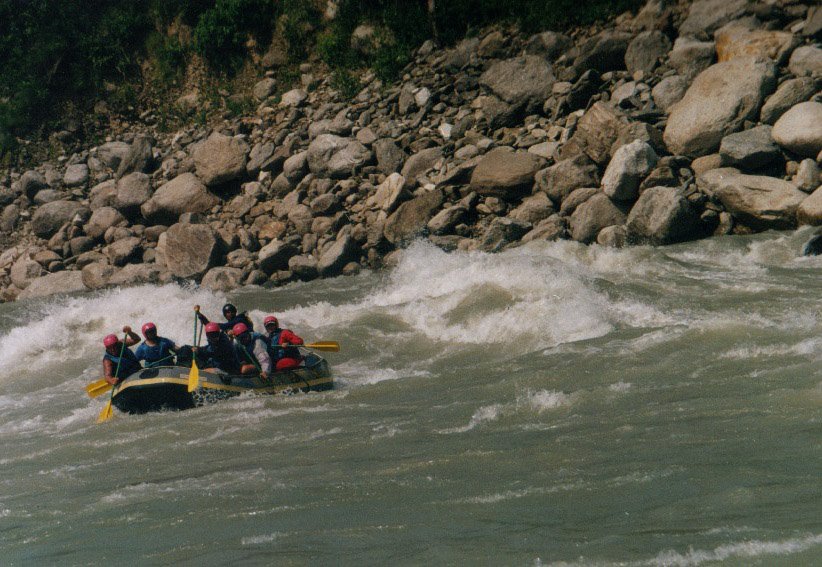 Sunkoshi is very near to Kathmandu as it takes just 4 hours to reach the rafting spot. The camping beaches are clean, remote and on the banks of the river. The scenery of the hills and views of flat plains of the Terai are seen near the end of the raft. There are plenty of mid- and big-sized rapids for exhilarating thrills and a genuine rafting experience.
 Trisuli River Rafting: Trisuli is the most commonly preferred rafting option in Nepal. Both domestic and international tourist enjoy rafting in this river. The raft is of average difficulty but is even harder during the monsoon season. Trisuli Rafting spot is 6-hour drive away from Kathmandu and can also be completed in one day.
Bhote Koshi River Rafting: The Bhote Koshi River, also called Tibetan River is north of Sun Koshi river and has steeper turns and rocky rafting paths. It is one of the most challenging rafting in Nepal. The destination is near famous Bungee spot, and beautiful beach hotels are available for stay in the location. The rafting, however, is dangerous and consider tagging along with a team instead of rafting alone in these rarely charted waters.
Bhotekoshi used to have a long raft section, but after a landslide in 2014, the total raft section was reduced.
Seti River Rafting: Seti river lies just 30-minute drive away from Pokhara The raft goes through a short section of the river but consists of numerous Grade 3 and Grade 4 rapids. The raft also encompasses views of Pokhara valley and scenic beauty of Annapurna Range.
Marsyangdi River Rafting: Marsyangdi is known as the whitest river and the fastest river in Nepal. Rafting in this river is not for faint-hearted. If you are looking for top entertainment activity and heart-to-mouth rafting experience, Marsyangdi rafting in Nepal is what you seek. The river follows the length of 150 km running down the steep hills in the Hilly region of Nepal passing through rocks and cutting through corners with tremendous force.
Tamur River Rafting: Tamur river lies in the Eastern region of Nepal. The river originates near the base of Kanchenjunga mountain and flows through hills and ends in the mighty Sapta Koshi river. The trip is a multi-day trip consisting of both trekking and rafting. Rafting in Tamur is challenging for beginners and can attempt with a support crew or with a group.
There are plenty of rivers in Nepal to try rafting. Be a beginner or an experienced rafter, the sheer abundance of rivers always provides a new river and a possibility of a new adventure in the rivers of Nepal.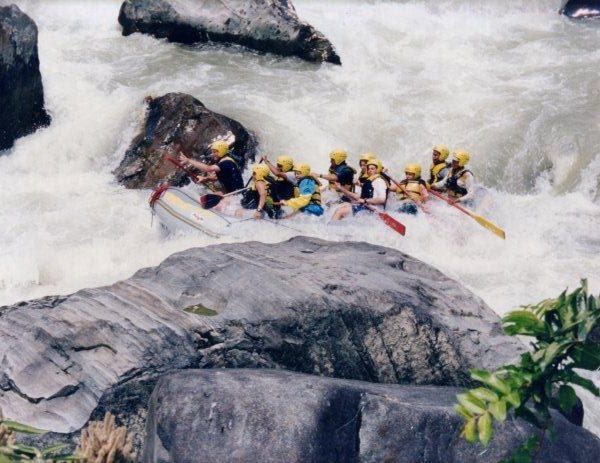 Season for Rafting in Nepal
Nepal has four seasons of climate, Summer, Monsoon, Autumn, and Winter. Rafting rivers flow even in winter season too, but the water might get a bit chilly. People with rafting experience can try rafting in monsoon season (May-July) as the water level rises and carries much more force and speed in the waves. People prefer October to December as the period for rafting. The climate is warm, and the rivers have gentle waves too. Rafting in monsoon season is tricky but provides more thrill and fun. Whenever you decide to go rafting, We do not advise you to go alone, but it is better to go in a group just to avoid mishaps.
How are the rivers difficulty levels classified?
Rafting in Nepal has become a kind of sport, not for competing, but for enjoyment. Since there are many rivers with varying speed, power, and direction, government agencies have graded rivers as per the difficulty level for rafting purpose.
The grades are from 1 to 6, 1 being the easiest and 6 the hardest.
Grade 1: Slow moving current with fewer obstacles
Grade 2 and 3: Generally fast and little obstacles and middle size rapids
Grade 4: The rivers have long, continuous sections of white-water and large waves which requires strong paddling and good teamwork in the boat.
Grade 5: The rivers have great prolonged sections of rapids and big holes, which requires very strong paddling and preferably some significant rafting experience.
Grade 6: The river almost impossible to raft.
The rivers till Grade 5 can be raft upon with experienced guides.
Do you need river permit in Nepal?
If you are not a citizen of Nepal, then yes, you do need a river permit. The fee for river permit is Nepalese Rs. 80 and Nepal Rastra Bank accepts this permit deposit. The permit is attained through your travel agency too.
How to go rafting in Nepal?
The most prominent and easy way to access rafting is through travel agencies. Trying to go rafting without travel agency is also possible, but you need a river permit, rafting clearance, and other documents. Thus, choosing a travel agency to plan your raft is ideal to get maximum experience of rafting in Nepal. The travel agency will prepare the entire rafting trip, the destinations to ride, the residing hotels and food materials needed during the trip.
Choosing A Travel Agency?
We, Nepal Sanctuary Treks are registered tourism agency experienced in planning a custom itinerary as per your trip needs and requirements. We also provide all required equipment used for rafting purpose.
You can contact us for any further details regarding the trekking routes, places to visit and any other aspects of your travel needs.