The Mardi Himal is a newly opened route in the Annapurna region and is also known as the hidden treasure trek too. The Mardi Himal Trekking is short and easy with well-managed camping and tea house trek offering a beautiful view of the Annapurna area.
Mardi Himal is the least visited trekking peak, and this trek is the best destination to avoid the crowd.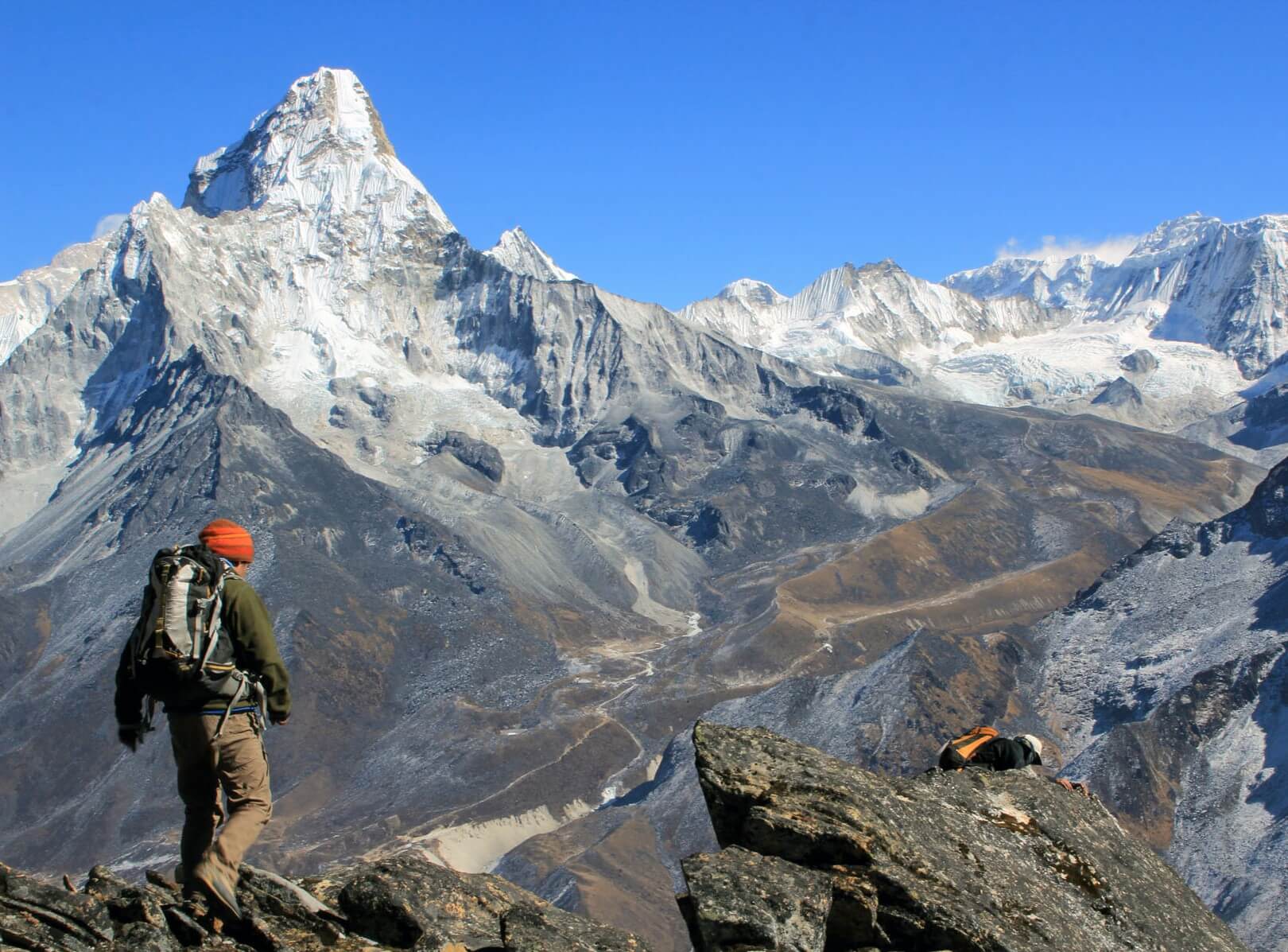 Though the availability of food and accommodation on the route is minimum, Mardi Himal Trekking is still an enjoyable trekking route that requires minimum effort.
Mardi Himal Trek is about a week-long in the Himalayas with stunning views of snowy peaks through small Nepali Villages. It is an interesting trek compared to other popular treks in the Annapurna region.
Mardi Himal is located to the east of the Annapurna Base Camp. It offers a spectacular view of Annapurna, Dhaulagiri, Machhapuchre (Fishtail) and Manaslu Himalayas ranges.
Also, its natural beauty allows you to view the Nepal national bird-Pheasant, national flowers- Rhododendron, Musk deer, Snow Leopard, Himalayan Thar, and many more wild animals and several plants which are used to make medicine.
Mardi Himal Trekking
Mardi Himal is 4,500 meters above sea level. The Mardi Himal Trekking trail starts from Kathmandu to the beautiful city Pokhara. Traveling from Kathmandu to Pokhara has two options, either a flight which takes only half an hour or a drive for about 6-7 hours drive.
Drive from Pokhara to Phedi (1600 m) drive 30 minutes. Walking along the trail, you will go slowly up and then trek from Pothana to Deurali (2100 m) take 4-5 hours.
Also, you can start your journey to Mardi Himal from Kande after 1 Hour of driving from Pokhara Balung Highway. The first walk is easy, and you will have to walk for about 1 and a half hours to the ridge (2060 m), then slowly walk towards Australian Camp.
The place is full of amazing views of the Annapurna range and Pokhara valley. Then the trek continues from Australian Camp to Pothana and then again up to Deurali.
From Deurali, the trek continues to Forest Camp (2900 m)-walk for 6-7 hours. Then you will pass through the Rhododendron forest, which makes the whole forest more beautiful with a gradual uphill. There is no tea house along the way, so you must carry lunch and water yourselves.
The trail gradually extends up to the Low Camp almost 3000 meters which takes 5-6 hours. There is a couple of tea houses where trekkers can take a rest and enjoy the scenario of Mt. Fishtail.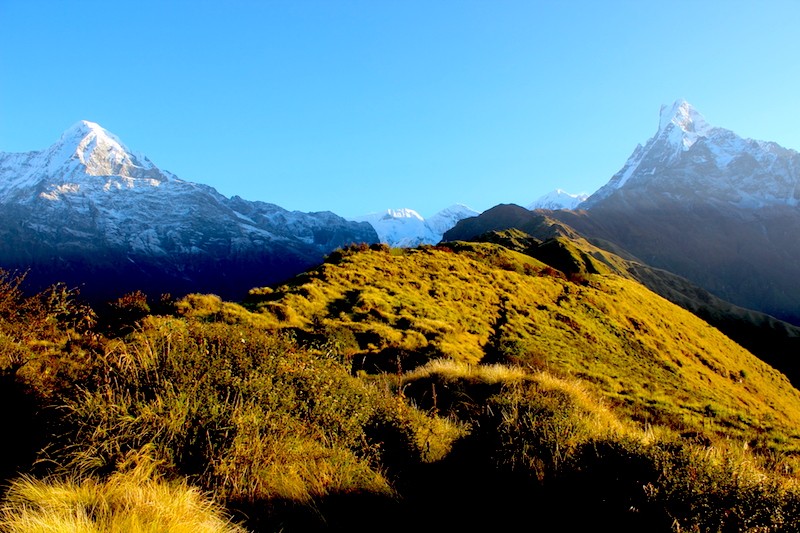 The Low Camp provides you with the best view of Machhapuchhre anywhere in Nepal along with accommodation for the sunrise and sunset views.
The further walk to Badal Danda (Cloud Hill) almost 1 hour above the tree line and trek to high camp from there you will see better view than before.
Now, you need a short walk to High Camp, 6-7 hours continuously, and then you will see the snow-capped peak of Annapurna South, Huinchuli, and Fishtails that are closer to Snowcapped.
After a steep climb and a longer walk, you will finally reach to Mardi Himal Base Camp (4500 m) from where you can view Mardi Himal.
After exploring the Mardi Himal Base Camp, the returning trail is different; you will go through Siding village through the pine and Rhododendron Forest.
Then trek to Ghalel to Lwang to Khoramukh and back to Pokhara. Take a flight or drive heading back from Pokhara to Kathmandu.
Mardi Himal Trek Route
| | | | |
| --- | --- | --- | --- |
| SN | Route | Time Duration(walk and drive) | Highest Altitude |
| 1 | Pokhara to Phedi | 1-hour drive | 1650 m |
| 2 | trek to Deurali | 4-5 hours | 2100 m |
| 3 | Duerali to Forest Champ | 6-7 hours | 2900 m |
| 4 | Forest to Low Camp | 5-6 hours | 3050 m |
| 5 | Low Camp to High Camp | 6-7 hours | 3500 m |
| 6 | High Camp to Base Camp |  6-7 Hours | 4500 m |
| 7 | High Camp to Sidhing | 5-6 hours | 1,700 m |
| 8 | Sidhing to Lwang | 5-6 hours | 1460 m |
| 9 | Lwang to Pokhara | 1-2 hours, 2.30 hrs drive | 827 m |
Mardi Himal Trek Cost
The trek cost is USD 20 including a 13% Vat that is paid to an Annapurna Conservation Area Project, and Trekkers Information Management System (TIMS). The individual trekkers must pay USD 20 for TIMS, and the trekkers who travel via Trekking Companies costs USD 10 only (if you are with a group).
For those who can't afford the expensive tours, the package tours are also available. The package tours depend on the days. Following package tours such as six days, 5-7 days, and 10-12 days can be booked online. The charge of the guide is also included.
Mardi Himal Weather
The best season to go to Mardi Himal is Autumn and Spring for trekking and Mountaineering the weather is clear, and the temperature is moderate from September to November.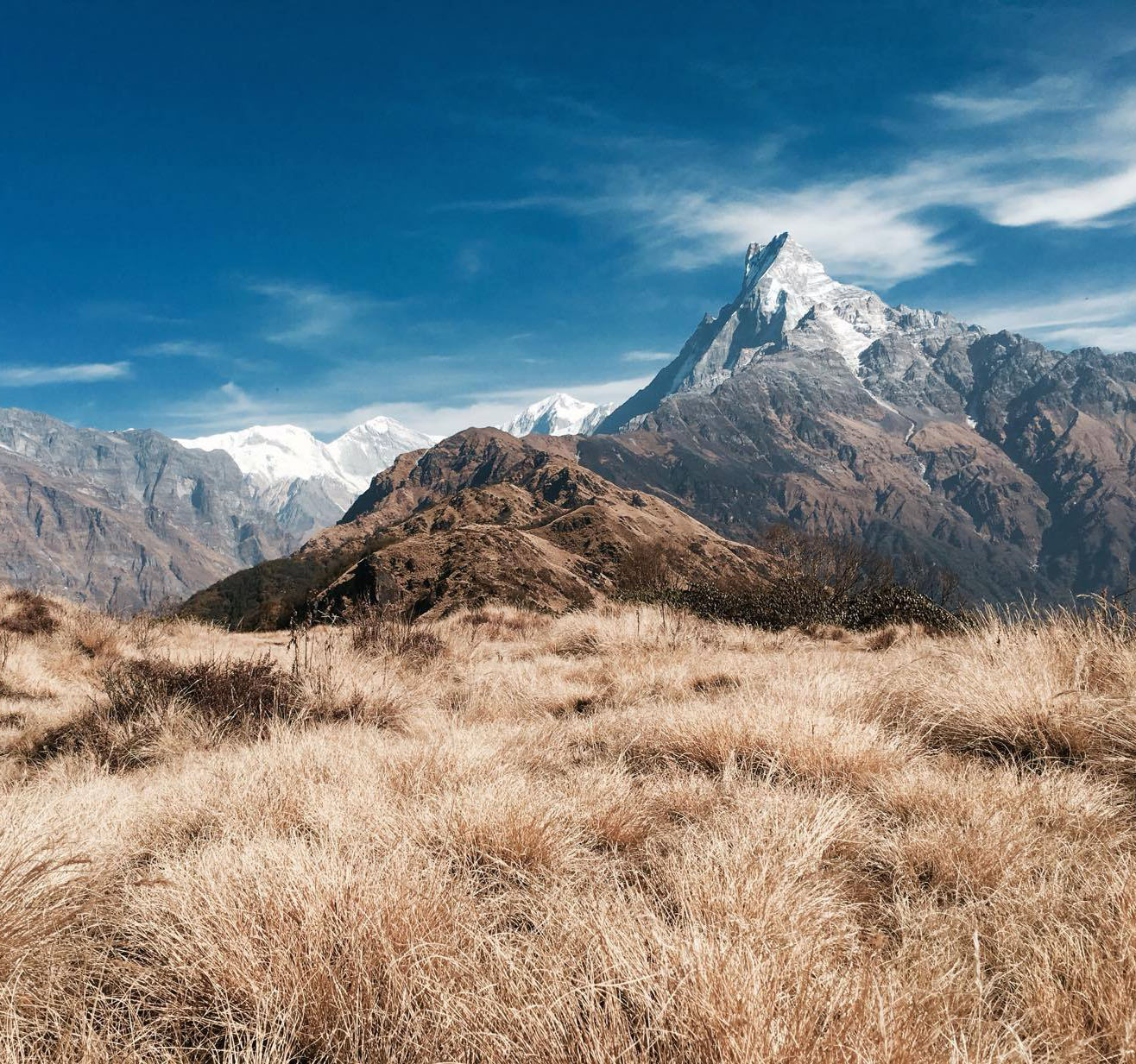 Thus, you can see a clear and beautiful view without any hindrance. March to May which is the season of flowers, plants, and animals walking also can be seen. At the end of the dry season and the best time for trekking.
Summer and Winter are the risky seasons to visit. June to August is the month of heavy rainfall. December to February is the coolest weather, at that time temperature fall to zero degrees or even below.
Mardi Himal Trekking Difficulties
Trekking to Mardi Himal is not that difficult. You don't need ropes, and ice picks because there is no vertical climbing. But if it rains, it will be difficult to trek as the way becomes quite steep and slippery.
The only difficult section is the last non-stop six hours hike from High Camp to Base Camp because of the steep and rocky path. People of different ages from all around the world can easily experience the glory od trekking and Climb the Mardi Himal.
Things you need
You must know some important things before going for a trek. Firstly, you must take the permits from Annapurna Conservation Area Project (ACAP) and Tourism Information Management System (TIMS) with the help of agents or through the official Nepal Tourism Board offices in Kathmandu and Pokhara.
Then the duration of trekking depends upon you. According to the duration of the trek, you need to arrange your luggage containing warm clothes, Down jacket, Trousers, Long sleeve T-shirt, a pair of hiking boots, Shorts, Socks, Rubber sandals, water bottles, Sunglasses, walking steak, Headlight, Sleeping bag, warm winter hat, etc. And the most important thing is a map.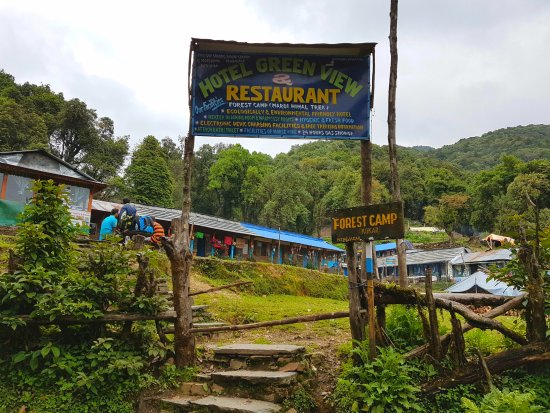 The restaurants and café are available from one stop to another stop with different cuisine, so you don't have to worry about food. While you are traveling to Mardi Himal, the one thing you should care about is to carry food.
Facts about Mardi Himal
Mardi Himal Base Camp is at 4500 meters and marks the highest point of the Mardi Himal Trek.
The highest sleeping point on Mardi Himal Trek is at High Camp.
Mardi Himal Trek is popular in Annapurna Range where you can see amazing views of Machhapuchre (also known as Fishtail, 6,993 m), Annapurna South (7,010 m), and Mount Hiunchuli (3,441 m).
Mardi Himal Trek route has been popular over the past five years, and Tea house (guest house) has been established there for visitors.
Mardi Himal Map