Namche Bazaar is known as a gateway to the high Himalayas of Mt. Everest region.
Rising to an elevation of 3,440 meters, this relatively small town is a bustling tourist zone and trading hub of the Khumbu region. This stunningly beautiful village, in Solukhumbu district of north-eastern Nepal, is perched on a sloping hill.
It is hemmed in on all sides by gargantuan mountains. In the west of this town is Kongde Ri which is 6,187 meters in altitude and to the east is Thamserku at an elevation of 6,608 meters.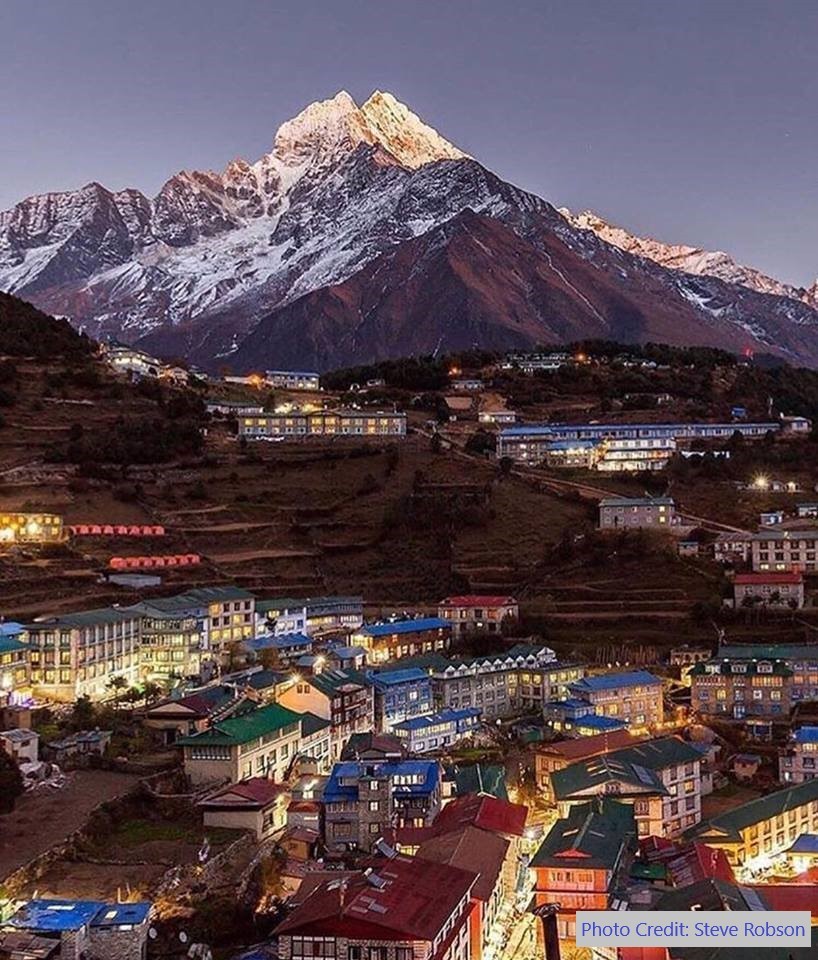 Apart from the abundant hotels and lodges, Namche boasts three museums, a monastery, a Stupa at the bottom of the village, several bakeries and storehouses of trekking stuff.
Even in the communication sector, this particular village is far ahead of all other villages of the Everest region trekking route. It serves as a junction from where different Everest region trekking routes diverge.
Here are top 18 facts about Namche Bazaar which are of high interest and equally important to anyone trekking in the Khumbu region.
Administrative Center
As there are many governmental offices, Namche Bazaar is a big administrative center of the Khumbu region. The Sagarmatha National Park is headquartered there.
There is the office of a local electricity authority named Khumbu Bijuli Company which was built during the late 1990s with the financial assistance from the Austrian government and the then His Majesty's Government of Nepal.
Likewise, there is the Wildlife Crime Control Bureau which is responsible for punishing the poachers and alleviation of the wildlife poaching. Moreover, Namche has a post office of its own.
For maintaining safe trekking in Khumbu region, a community police check post is stationed there.
First Acclimatization Spot
Namche Bazaar is renowned for being the first acclimatization spot on the way to Everest region trekking.
Tourists, heading to the Mt. Everest, Gokyo and many other destinations for both trekking and expedition, have at least two nights of a stopover in Namche as a part of acclimatization.

During their stay in Namche area, tourists normally visit the neighboring Khunde village which is famous for the Hillary hospital and Khumjung village where Hillary school is located.
On the acclimatization day, we can see many tourists climbing uphill to have lunch at the Everest View Hotel, the hotel at the highest altitude in the world. The feeble people, however, can be seen strolling through the town.
Busy Hub
Before the successful ascent of the Mt. Everest by Sir Edmund Hillary and Tenzing Norgay Sherpa in 1953, Namche bazaar had been a very rustic place.
Despite that, it was a place where people from lower region bartered agro-products for locally produced cheese and butter. The ascent of Mt. Everest drew global attention and the number of tourists gradually increased.
Now, it has become a bustling tourist zone where economic exchanges have completely replaced the barter system.
Climate
At the altitude of 3,440 meters, Namche is cold. Winter is cold and dry. During the period between December and February, the day temperature is normally between 5 to 8 degree Celcius whereas during the night temperature falls between -6 to -8 degree Celcius.
Summer can be the best time to visit Namche since it is warm when the day temperature rises to 16 degrees and which falls to 8 degrees Celcius during the night. Summer is, however, characterized by frequent mists which blur the views of mountainous ranges.
During the monsoon season, it is neither too cold nor too hot, but the streets get quite muddy, and puddles are formed.
Sagarmatha National Park Visitor's Center
Sagarmatha National Park Visitor's Center is located at the top end of Namche Bazaar on the way to Tengboche. It provides detailed information regarding the wildlife of the Sagarmatha National Park.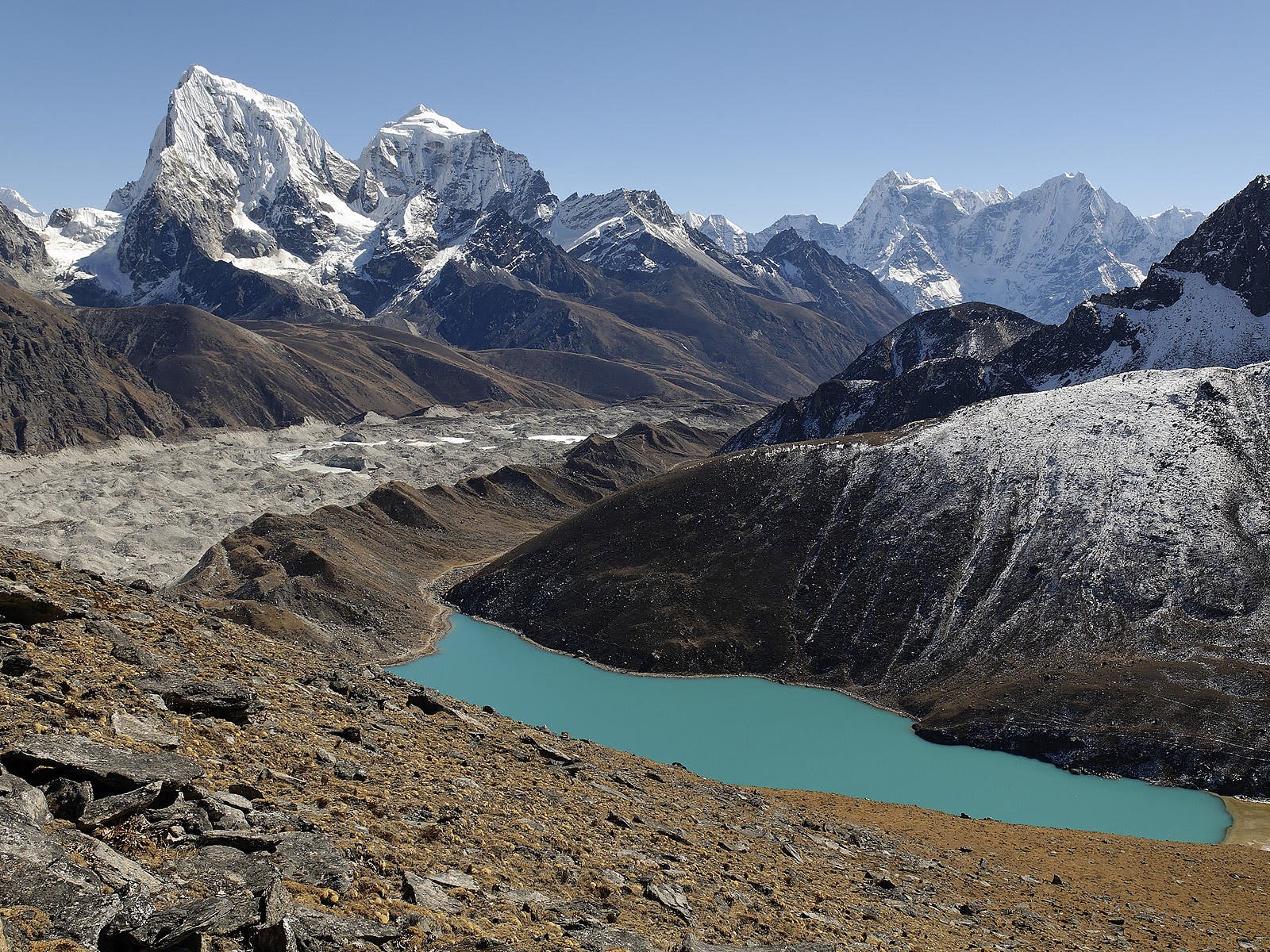 More than verbose descriptions this center features real pictures of the real flora and fauna found in the national park. Moreover, some replicas of mountaineers, including Sir Edmund Hillary and Tenzing Norgay Sherpa, are also on display.
Sherwi Khangba Center
'Sherwi Khangba' in Sherpa language means 'Sherpa's home.' Sherwi Khangba Center is a traditional Sherpa house which is dedicated to preserving the Himalayan Sherpa culture.
This house has many features which reflect the typical Sherpa lifestyle. It consists of a Sherpa cultural museum in which ancient Sherpa artifacts can be observed.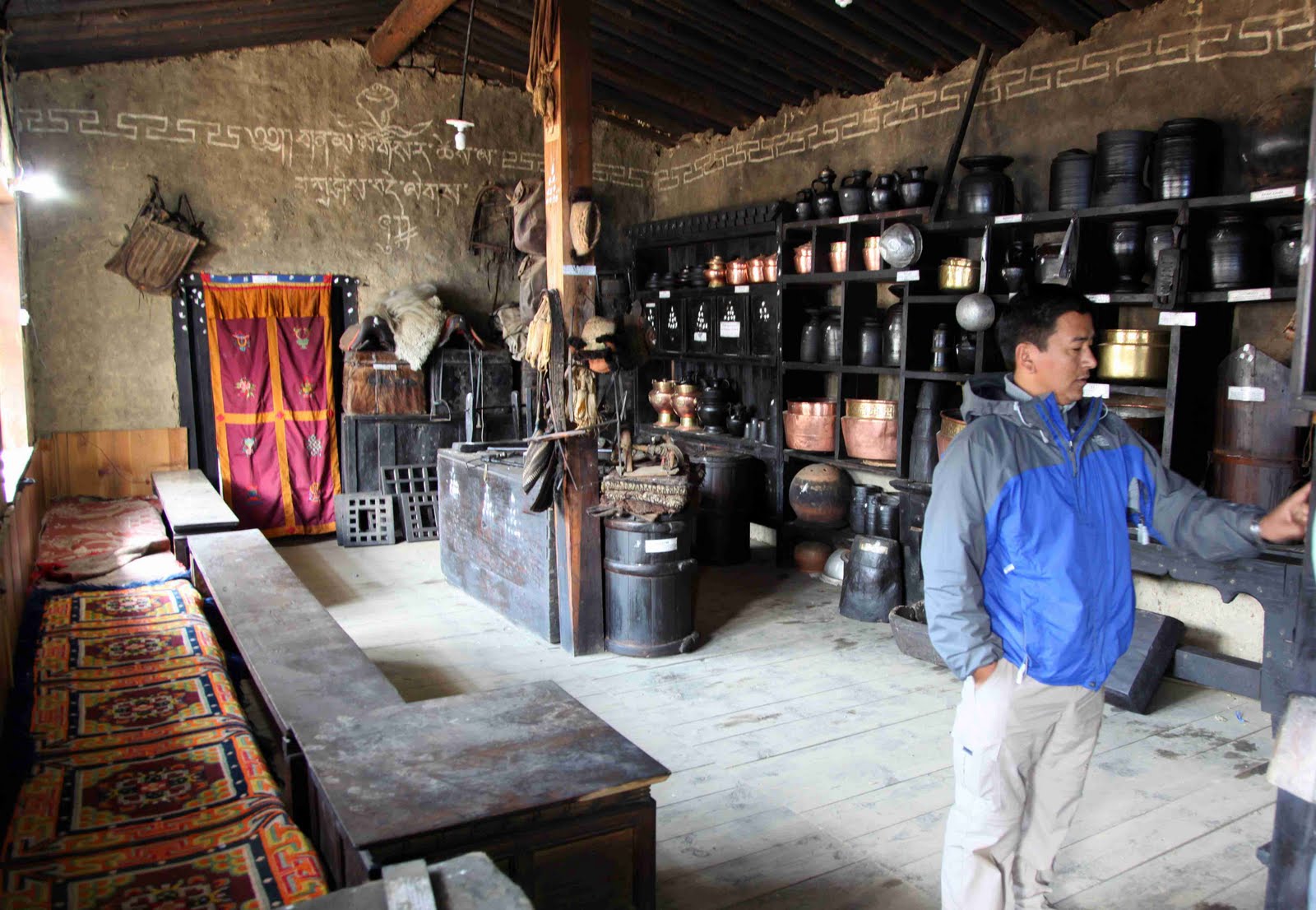 It also has Mount Everest documentation center which has kept a clear record of Sherpa climbers. Likewise, there is Sherpa culture photo gallery where we can thoroughly study the Sherpa culture and lifestyle through photography.
Another part of this center is Khumbu international library in which there are huge collections of books, audios, and videos on national and international mountaineering and trekking.
Moreover, Sherwi Khangba also has a hotel of its own and an international conference hall which can be reserved for rent.
Namche Market
Namche bazaar runs a weekly market every Saturday. From early morning, people from Namche and nearby places bring their agricultural products for sale on the eastern corner of the village.
In addition to agricultural products, they sell woolen clothes, trekking gear, butter, cheese, electronic devices, etc.
It can be advantageous if you plan to buy souvenirs when there is a market because you can get everything at the same place and you can bargain the price.
Syangboche Airport
Little ahead of Namche Bazaar is Syangboche Airport at the altitude of 3,780 meters. It is not licensed for commercial air operations.
Instead, most aircrafts landing at this airport are chartered flights from Kathmandu and Lukla. Syangboche airport is not a safe place for landing an airplane. Therefore we mostly see helicopters supplying both goods and people.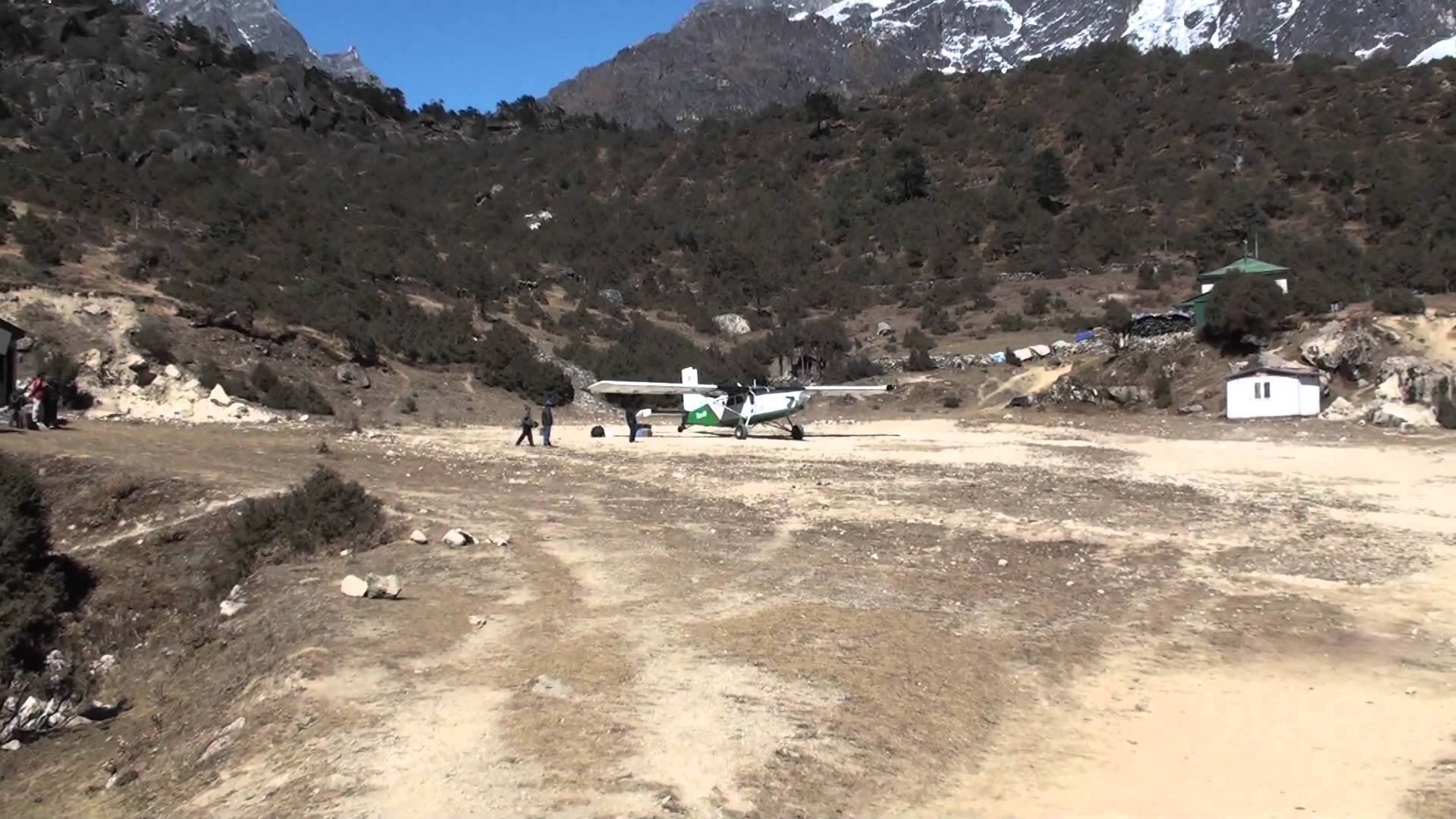 Normally those who do not intend to go any further from Namche Bazaar normally charter a helicopter and land at this airport.
In spite of being deprived of scheduled flights, Syangboche is a wonderful place to observe mountainous ranges at 360 degrees.
Oral and Dental Clinic
Oral and Dental Clinic in Namche Bazaar is the only dental clinic in the entire Everest region, which was established in 1991.
Its establishment was Dr. Brian Hollander's concept which he developed upon learning that Khumbu region's children had a serious problem of teeth decaying.
Though there is only one Dr. Nawang Doka Sherpa, people visit this hospital walking for up to five days. Annually approximately 40 thousand people visit this hospital from a normal check up to oral and dental surgeries.
This community hospital lacks advanced technologies, but X-ray and ultrasonic dental cleaning are possible now.
Honorary Visit
The 39th president of the United States of America, Jimmy Carter, visited Namche Bazaar in October of 1985 with his wife Rosalyn.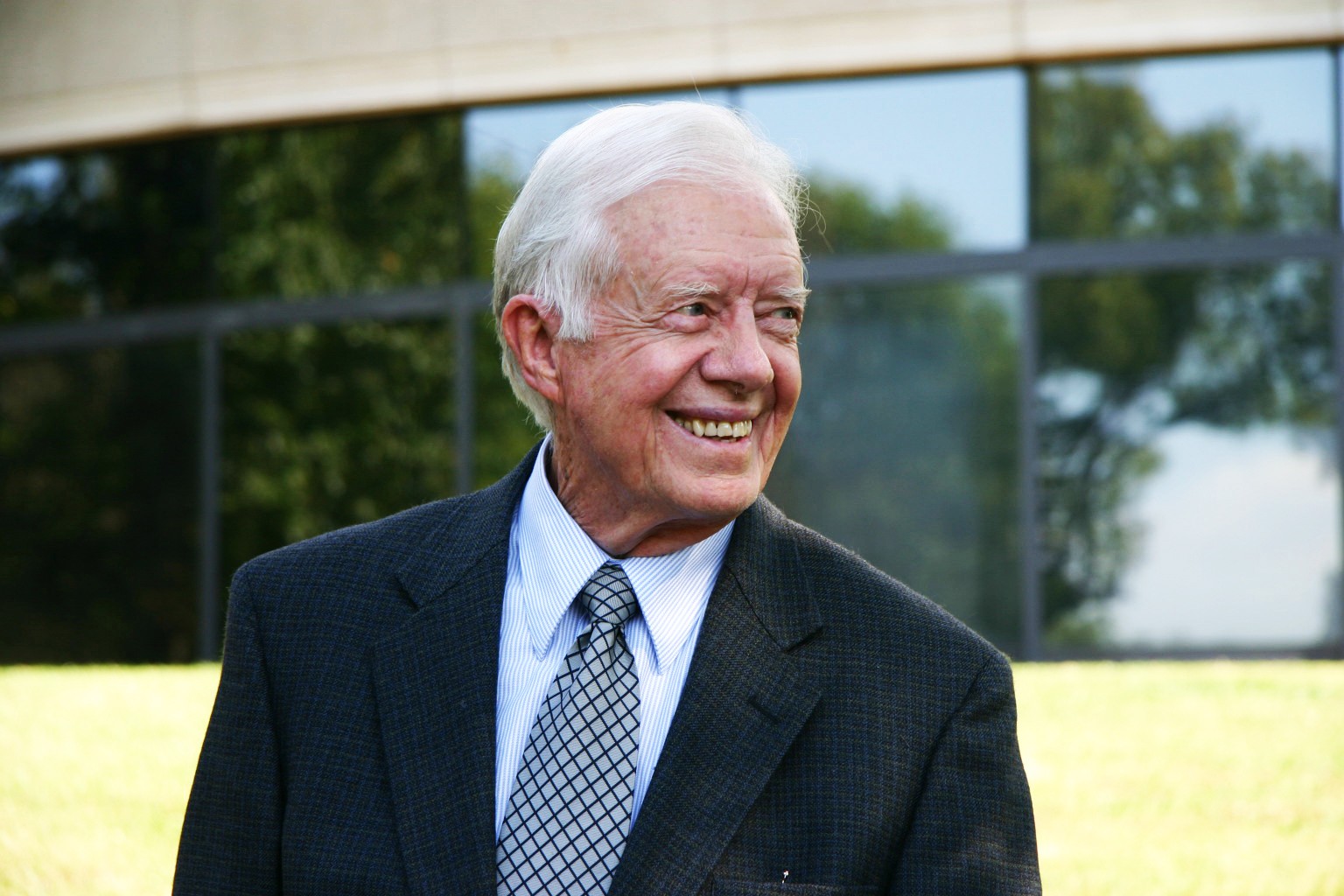 They were escorted by Nepal's government's security in a personal chopper of the then king, late Birendra Bir Bikram Shah Dev.
They had spent a couple of hours for lunch at Khumbu lodge. For this the lodge enjoys a massive fame till date.
View of Mt. Everest
Just after leaving Jorsalle below Namche Bazaar, you will see the Mt. Everest partially from a distance. Even from that distance, tourists seem very excited to take some photographs of that gigantic peak.
When you reach Namche Bazaar, the excitement level drastically increases and you will be in raptures over the thought of your prospective arrival near the Mt. Everest.
When you go a little further to Everest View Hotel, you will see clear and awe-inspiring scenery formed by Mt. Everest, Mt. Lhotse, Mt. Nuptse, Mt. Amadablam, etc. nevertheless, your focus will mostly be set upon Mt. Everest.
Highest Placed Everest View Hotel
Approximately an hour's hike from Namche Bazaar will take you to Everest View Hotel which is placed on a ridge overlooking the Mt. Everest range.
It was opened in 1971 and today, it holds a Guinness world record for being the highest placed hotel on earth at 13,000 ft. The unique feature of this hotel is that you can see the Mt. Everest from any room.
In order to immerse in the beauty of nature and the hotel itself, tourists go there for lunch on accommodation day and come back to Namche towards the evening.
Traditional Handicrafts
Apart from hotels and lodges, Namche Bazaar boasts a significantly high number of shops for both commercial purpose and publicity of local products.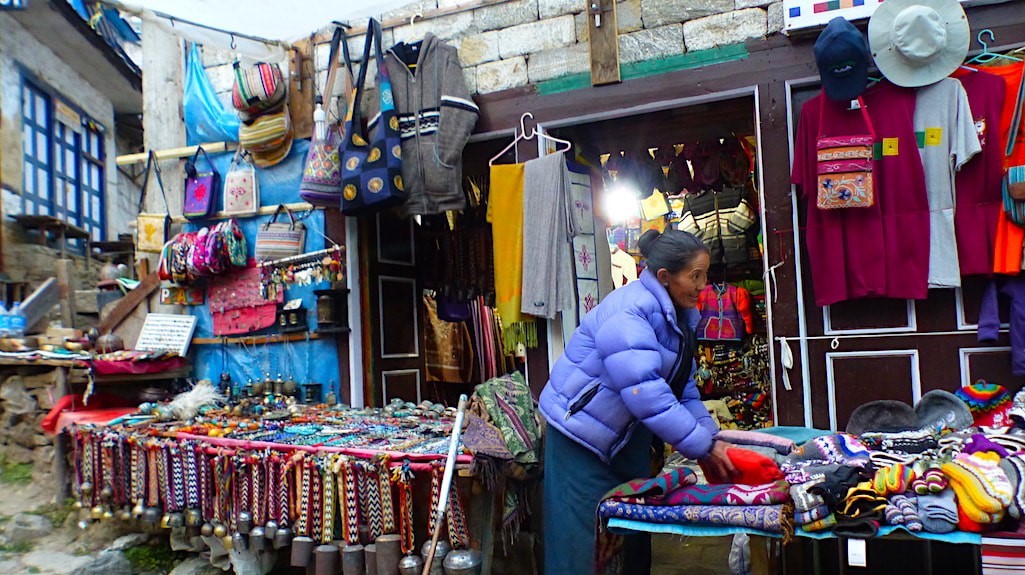 Those shops are run by a majority of Sherpas and few Tibetans. Saturday market is held only once a week, but the shops remain open throughout the week and they both explicitly and implicitly contribute to the Nepalese economy.
They sell traditional handicrafts, including woolen, wooden and metallic products. We can observe tourists buying them in order to take them to their homeland as souvenirs.
Butter and Other Dairy Products
Namche is a central spot for selling and buying of dairy products.
Upper Khumbu's products are unquestionably supplied to Namche, but it is difficult to believe that even the dairy products of Solukhumbu's neighboring districts, Khotang and Bhojpur, are brought to Namche in search of good market.
It takes about a week to ten days only to supply the products like butter, chhurpi, ghee, etc. For this reason, they do not seem to earn as much as they deserve, but they still persist.
Major Uphill Climb in the Everest Region
The necessity of acclimatization at Namche Bazaar has a reason that might be unpleasant to some trekkers.
Upon crossing the bridge over the Dudhkoshi river, a severe uphill starts. It takes about two and half hours to complete the ascent.
If you reach Namche on the second day of the trek, you will have ascended 800 meters that day which is above the normal 500 meter level.
Once you cross the bridge, you will start experiencing the impact of thin air and you will have to stop now and then to gather breath. This ascent results in a day's compulsory acclimatization at Namche Bazaar.
Home to Legendary Tenzing Norgay Sherpa and Apa Sherpa
Thame, a yet another smaller village in Namche village development committee is home to so many mountaineers including two legends Tenzing Norgay Sherpa and Apa Sherpa.
Tenzing Norgay was born in Thame and later moved to Darjeeling before teenage. He holds the record for being the first ever human to set foot upon the Mt. Everest along with Sir Edmund Hillary.
Apa Sherpa also was born in the same village of Thame. He holds a 21 times Everest ascent record. Now, he is a brand ambassador for raising awareness of global warming in the high Himalayas.
Dumjee Festival
Namche Bazaar holds an annual Buddhist festival called dumjee, which has been a major attraction for tourists in recent days.
It is celebrated also in other Sherpa villages but specifically that of Namche is quite special due to presence of a variety of people.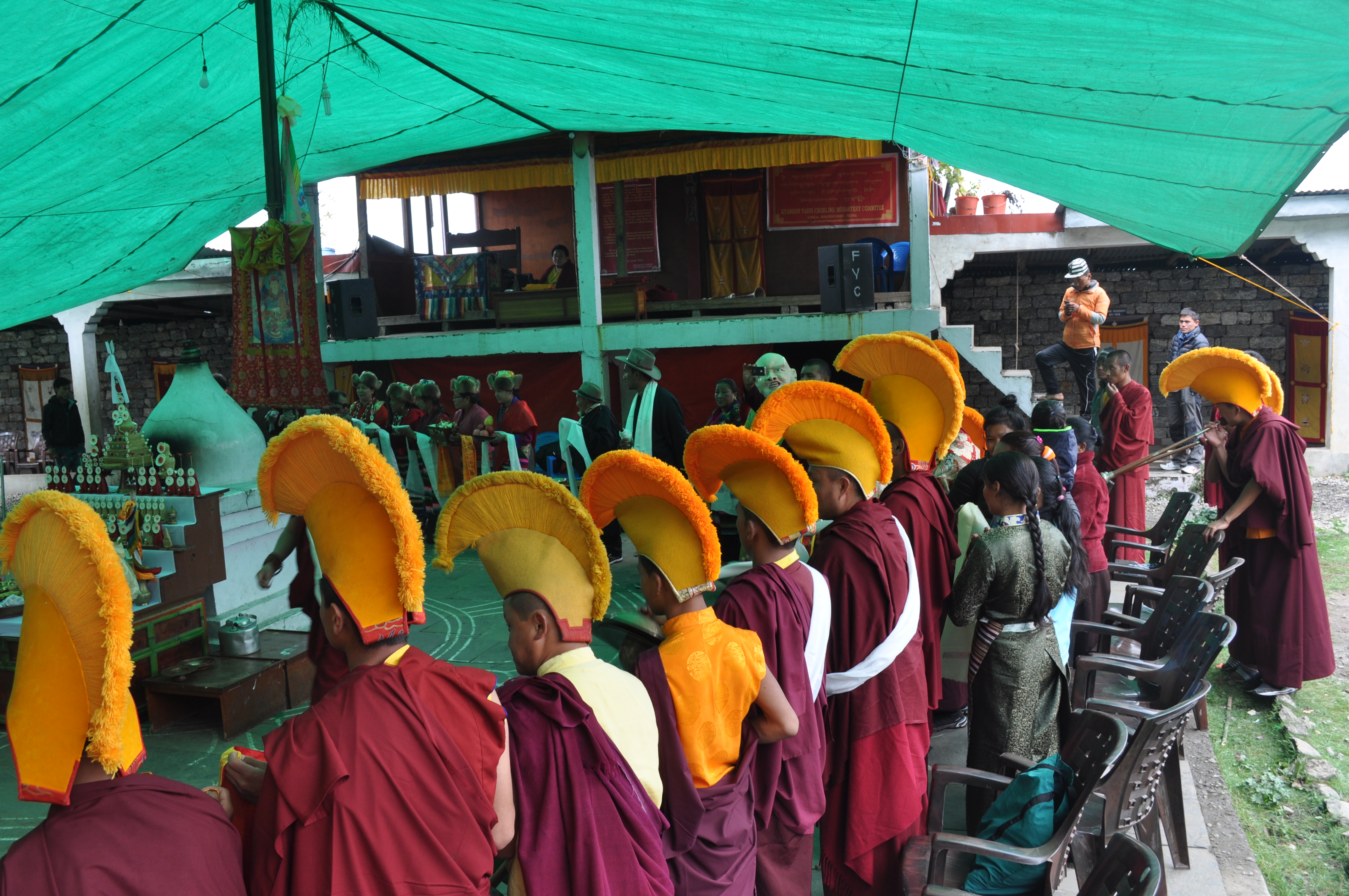 The first few days are spent sharing visits with the neighboring homes and enjoying delicious typical Sherpa food items.
During the final few days, the entire people of the village gather at the Namche Monastery to mark the celebration of highly respected Sherpa monks' achievements.
The ceremony, which involves breathtaking lama dances and rounds of traditional Sherpa dance called Shyabru, is led by the incarnate lama of Tengboche Monastery.
Stone and Mud Houses
Even to this day, cemented houses are very rare in Namche Bazaar. Due to the easy availability, people still use stone and mud to build houses.
It is neither a wonder because the transportation of bricks and cement is next to impossible. There is no path even for biking, let alone driving four-wheelers.
However, the stone houses are even more beautiful. Some of the old shelters might look precarious, commercial hotels and lodges are strongly built.
The interior of the hotels are designed with wooden frames. You will, hereby, have a wonderful experience of staying in a countryside hotel.