Nepal is a land of ethnic and religious diversity, dominated by people of Hindu religion and followed by Buddhist religion. There are more than 55 festivals celebrated in a calendar year in Nepal. The vast number of festivals arises from the ethnic diversity present in Nepal. In a small area of 1, 47,181 sq. meter resides more than 125 ethnic groups, each with their different festivals. In spite of the diversity in ethnicity and festivals, all the communities live and celebrate each other's festivals and rituals with joy, respect, and excitement.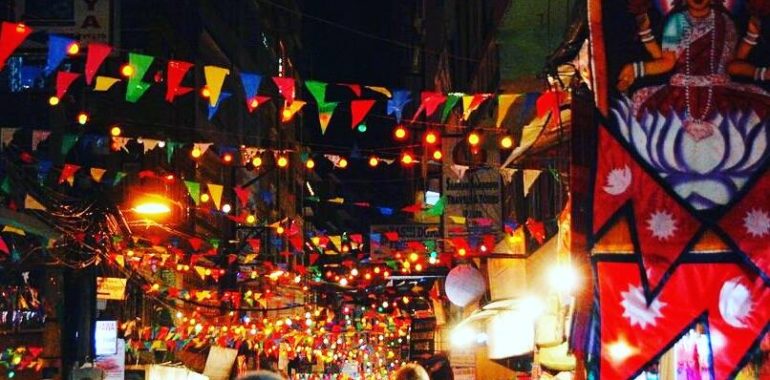 It is certainly true that there are more festivals in Nepal than days in a calendar, but not all festivals receive nationwide attention. Some important festivals gain more attention and have greater religious and historical significance than others. The celebrations have also become a tourist attention grabber. Many tourists express their desire to come back and experience the festivals in the future. Some of the paramount festivals of Nepal celebrated and enjoyed by people of all ethnic groups are:
Holi (Festival of Colors)
Holi, traditionally called Fagupurnima is the festival of colors. The festival falls on the month of Falgun and Chaitra of Nepali calendar. Holi is one of the most lively and enjoyable festivals of Nepal practiced by people all over Nepal. People celebrate Holi to celebrate the death of "Holika.", who tried to kill a devotee of Vishnu, Prahlada. A Fire was lighted to both Holika and Prahlada, but only Holika burnt to death. Maybe this is the reason why we splash water in Holi.
Colors are another feature of Holi. Holi signifies the end of winter and start of spring, giving birth to colorful flower blooms and warmer climate. This also may be the reason we celebrate happiness with various colors in Holi.
Tourists visit widely to Nepal to enjoy this lively, joyful festival. Random strangers on the street become friends and celebrate by putting colors on the faces of each other. Undoubtedly, Holi is the most joyous and enjoyed festivals of Nepal.
Lhosar
Lhosar, also referred to as Losar is another widely celebrated festivals of Nepal. The Buddhist community is from where Lhosar originated. Lhosar is a new year's festival celebrated on the first day of Lunisolar Tibetan Calendar. Different communities celebrate Lhosar in different dates. There are three different Lhosar celebrated in Nepal, Tamu Lhosar, Gyalbo Lhosar and Sonam Lhosar. Gurung community celebrates Talu Lhosar, Tamang and Yolmu communities celebrate Sonam Lhosar, and Sherpa and Tibetan community celebrates Gyalbo Lhosar.  
Lhosar is a festival of dancing in traditional dresses, eating foods and family gatherings. People also pray in monasteries, clean houses and surroundings and decorate homes and monasteries. They clean the surrounding to make a clean path for the gods to visit their home.
Dashain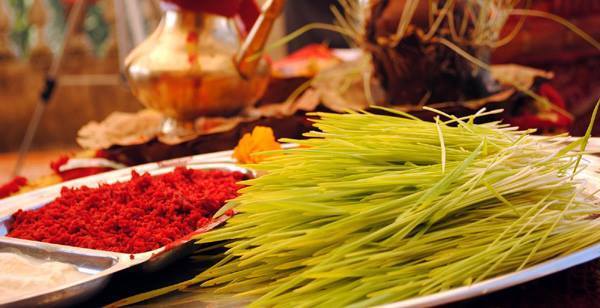 Almost all Hindus in Nepal celebrate Dashain. More than 80% of Hindu people celebrate Dashain, the tika festival in Nepal. Dashain is considered as one of the major festivals of Nepal. It is a fifteen-day long festival. The first day, Ghatasthapana marks the start of Dashain. In Dashain, people worship different deities for 8 consecutive days, the 8 Tantrik Goddesses and nine incarnated forms of Goddess Durga. The tenth day, Vijaya Dashami is the most important day of the festival. People receive red tika and Jamara from elders and ask for blessings.
People travel all over the country to receive tika and blessings from their relatives and elders. The last day of the festival is in the full moon and called Kojagrata Purnima. People also enjoy huge swings made of bamboo (Linge Ping), play cards with family and cousins, and buy new clothes and equipment.
Tihar
 Tihar is the festival of Lights. It is a five-day festival that comes after the end of Dashain. Tihar focuses on worshipping the animals ridden by gods and goddesses. People worship animals like dogs, crow, and cow in Tihar. Laxmi Puja is a significant day of Tihar. People light the houses in handmade Diyos and light up electrical lights over the entire house.  Laxmi is the goddess of wealth, and people keep the house and surroundings clean and pave a path with lights to guide the goddess inside peoples home.
Tihar is also a festival of sweet dishes. Many dishes like Selroti, Anarsha, Fiini, and Thekua are made and offered to the animals, goddess, and people. The sight of streets gleaming with different colored lights covers the entire country.  Close friends form a group and sing Dheuso Bhailo from house to house and ask and give blessings for prosperity and good fortune.
Mha Puja
Mha puja falls on Newari New year which follows the Nepal Sambhat calendar. It translates to Me puja where people worship themselves. The Mha Puja is the most important festivals of Nepal specific to the Newar ethnic group. It falls on the fourth day of Tihar. People worship themselves and perform rituals to purify and empower ones' soul and body. The family members sit in a row on the floor in front of a drawn mandala, a sand painting of a sacred circular diagram.
Buddha Jayanti
 Buddha Jayanti is the most important day for all Buddhist followers. Buddha Jayanti marks the birthday of Gautam Buddha, the founder of Buddhism and the light of Asia. This a joyous day not just for Buddhist followers but for all the people of Nepal. People of different ethnic groups collaborate with monks and Buddhist followers and spread the teaching of Gautam Buddha on the day. Many Buddhist followers visit shrines like Lumbini, Swoyambhunath, and Boudhanath to pray and offer homage to their leader. The shrines of Gautam Buddha are lit with butter lamps as a sign of respect and admiration.
Monks, nun, and followers travel in parades on Buddha Jayanti chanting prayers of moral of life. Many people refrain from killing animals in Buddha Jayanti and eat vegetarian dishes on the day to respect the teachings of Gautam Buddha.
Teej
Teej is a Hindu festival celebrated by most of the Hindu women. Teej is a festival focused on women of Nepal. Married women fast on the day in hopes of longer life and prosperity of her husband. Young and unmarried girls fast in faith to find a kind and loving husband. Women wear red saris with ornaments and dance in music and celebrate the festival. They end the fast by eating delicious foods and visit relatives.
Indra Jatra
Jatras are festivals celebrated by people of the Newar community. Newar people of Kathmandu celebrate Indra Jatra(Yenya) to honor Lord Indra, God of rain. The festival is 8 days long and takes place in Kathmandu Durbar Square. Several chariots of Goddess Kumari, Ganesh, and Bhairav round the city along with mascots and traditional bands. People imitate different Bhairavs, Dashavtaar and Lakhey and dance around the chariot. People celebrate Indra Jatra in celebration of the release of God Indra, who was captured by locals. On the release of God Indra, his mother blessed the city with rain. So, god of rain, Lord Indra is worshipped and celebrated in Kathmandu.
Gai Jatra
Newars of Bhaktapur strongly follow Gai Jatra. The festival is one of a kind in Nepal. Gai Jatra is a humorous festival. The Jatra is nine days long and falls in the month of Bhadra. People make sarcastic jokes and comments, satire each other to make people laugh. Many magazines, Tv shows, and theatre play funny shows and plots to celebrate Gai Jatra. This Jatra takes place in the Bhaktapur Durbar Square.
Gai Jatra originated from the regime of Pratap Malla. The son of Pratap Malla died early, and his queen was grief-stricken. King Pratap arranged for an occasion to lessen the pain of his queen. The king ordered every family who has lost loved ones join in an event where people dress ridiculously as ghouls and comic appearance to make the grieved ones laugh and forget about their pain. People dress similar to cows, as cows are believed to lead the soul to the other world.    
Rato Machchhindra Jatra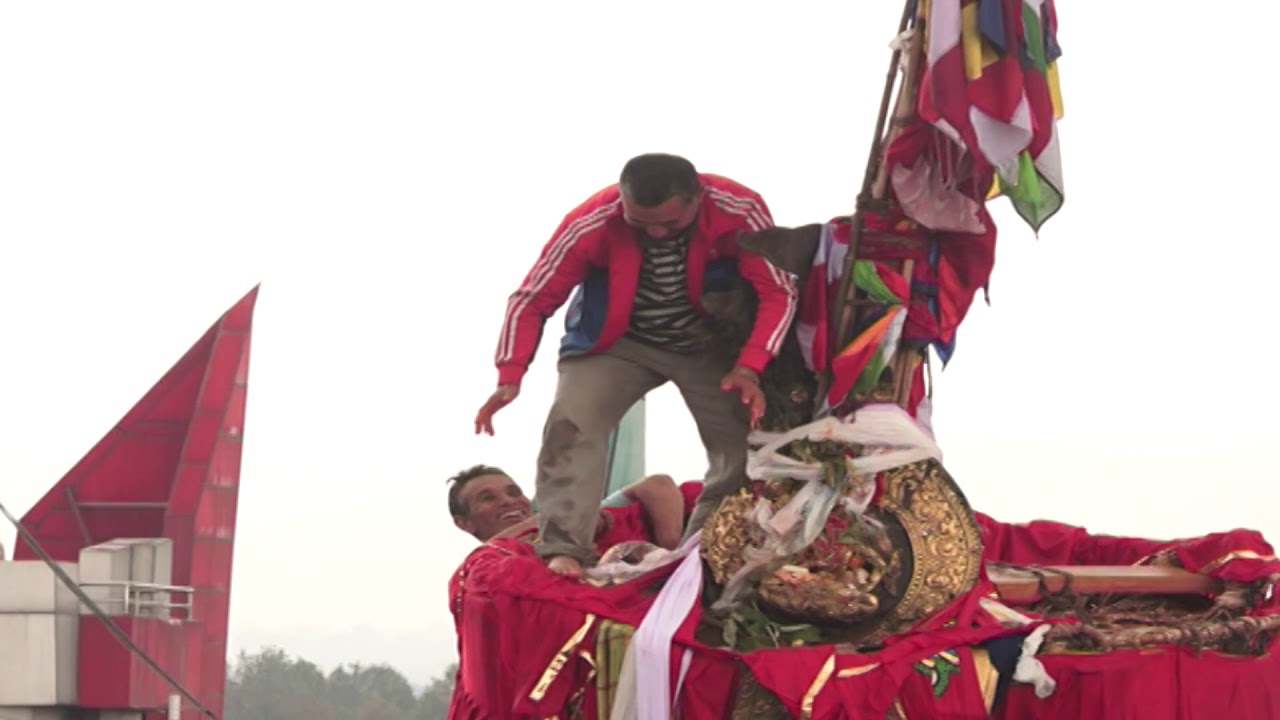 Rato Machchhindra Jatra is a prominent festival of Nepal seen followed in Patan area of Kathmandu Valley. People make a chariot from wood and bamboo from forests that have religious importance. Hindus and Buddhists follow Rato Machchhindra deity. An idol of Rato Machchhindra is put inside the chariot and pulled places of Lalitpur like Gabahal, Sundhara, and Lagankhel. The festival ends when a marvelous Bhoto is shown to the people from the chariot. The chariot is then dismantled, and the idol of Rato Machchhindra is placed in a temple at Bungamati village.
Above mentioned are some of the most celebrated and followed festivals of Nepal. There are several others festivals in Nepal that people follow in huge number. Some other important festivals of Nepal are Bisket Jatra, Chhath, Maha Shivratri, Saraswati Puja and many more. You can visit Nepal in any of the festivals and be a part of our culture, traditions, and celebrations.
For further information regarding festivals of Nepal, make sure to leave us a message on our contact page.
You can also glance upon out tour and travel packages and different destination to travel in Nepal in our blog.