Nepal is famous for beautiful Himalayan ranges where the highest peak Mount Everest lies in Nepal. Not only Nepal is renowned for the mountain trekking and mountaineering worldwide but also offers for the adventurous jungle safari. Nepal is rich in biodiversity, wildlife as well as vegetations.
Nepal has ten national parks, four wildlife reserves, one hunting reserves and six conservatives areas. There are various flora and fauna in Nepal and also the treasures of medical herbs.
The southern part of Nepal, Terai low land tropical area preserve some endangered species. Jungle safari is a fantastic experience where visitors can get a chance to see the wildlife such as Bengal tiger, Musk deer, Elephant, One-horn Rihno, Gharial, Crocodile, Blue bull, wild buffalo and many other endangered species of animals, birds and so on. You will often know the traditional life of local people, variety of language and costumes.
The most popular jungle safari in Nepal.
Chitwan National Park
Chitwan National Park is the oldest national park of Nepal and also list in the World Heritage Site. Chitwan National Park is located in the subtropical Inner Terai lowlands of south-central Nepal, covers 932 sq. Km (360 sq mi). The area stretches in the districts of Nawalparasi, Parsa, Chitwan, and Mankwanpur.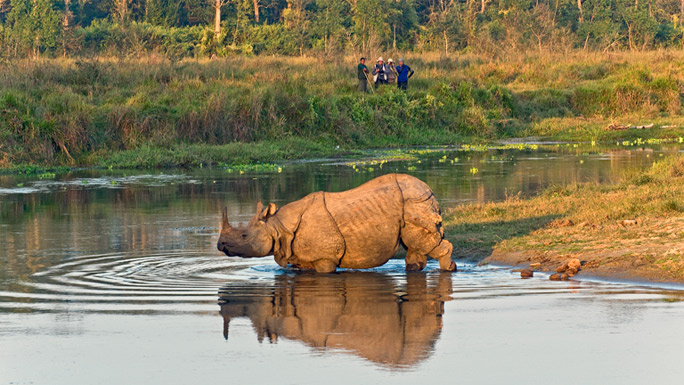 Image from WelcomeNepal
Chitwan National Park was established in 1973 and granted the status of a World Heritage Site in 1984. Its altitude starts from 100 m (330 ft) in the river valleys to 815 m (2,674 ft) in Churia Hills.
Chitwan National Park offers jeep safari in the jungle around the national park where there is various species habitat. Chitwan National Park is the home to 68 mammals species, 600 species of birds and 55 species of amphibian and reptiles.
Chitwan is mainly known for One-horn Rhino and the king of the jungle, Bengal Tiger which lives in the dense of the forest. Besides tiger and rhino includes many species of mammals such as sloth bears, wild dogs, golden jackals, jungle cats, wild buffalo, elephants, deer, etc. Likewise, there are different kinds of birds like peacock, white-throated kingfisher, male paradise flycatcher, cuckoos, woodpeckers and many others. Similarly, includes many types of snakes, python, crocodile, gharial, etc.
Chitwan Park is one of Nepal's most popular tourist's destination.
Sauraha and Meghuali are two main entrance to Chitwan National Park.
Many visitors travel there to spend a vacation or have a wonderful weekend with family and friends.
Tharu community is the local inhabitants of this area. Tharu village is famous for its culture. Tharu people live near to the Chitwan National Park where they reflect the tradition.
Best time to visit Chitwan National Park is between September to March. On the months, the temperatures remain 25-35 degree Celsius.
Bardiya National Park
Jungle Safari in Bardiya National Park is a great experience, and Bardiya National Park is the largest and most undisturbed national park that was established in 1988, covering 968 sq. Km (374 sq mi) in Terai lowland Nepal. Bardiya National Park joins the eastern bank of the Karnali River and bisected by the Babai River in the Bardiya district.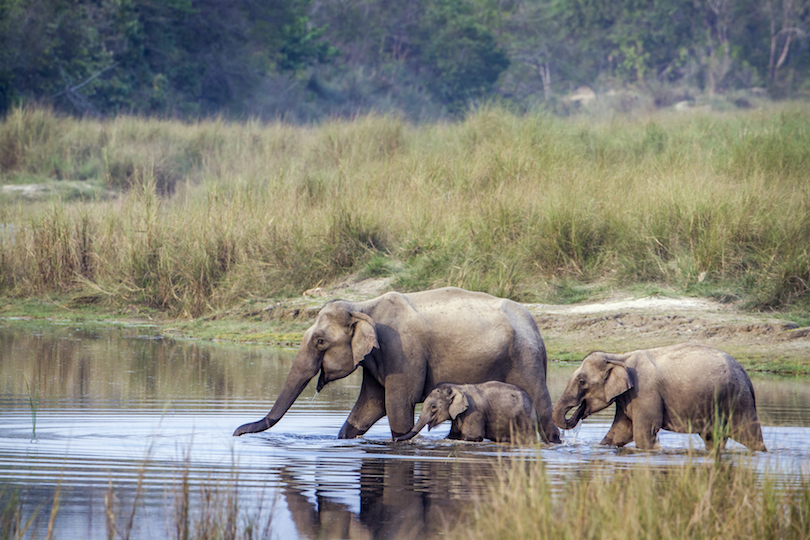 Bardiya National Park is the home to endangered Royal Bengal tiger and One-horn rhinoceros. Geographically the dense forest is cover by various factors of Sal, Savannah, grasslands with different wildlife.
The park has 53 species of mammals, 400 species of birds and 23 species of reptiles and amphibian. There are 839 species of flora and 642 species of fauna in this park.
The park offers the opportunity of fishing in Karnali River and Babai River.
The best time to visit in Bardiya is autumn, winter and early summer when the weather is warm and dry. Roads can reach Bardiya or by a flight from Kathmandu to Nepalgunj and from Nepalgunj travel by the bus to get there. Watch the various birds and mammals through jungle walk.
Shuklaphant National park
Another jungle safari in Nepal can be done in Shuklaphant National Park. It is a protected area of the Far-Western Region located in the Kanchanpur district in Terai, covering  305 sq. Km (118 sq mi). Shuklaphant National Park is famous as the hunting area for many years.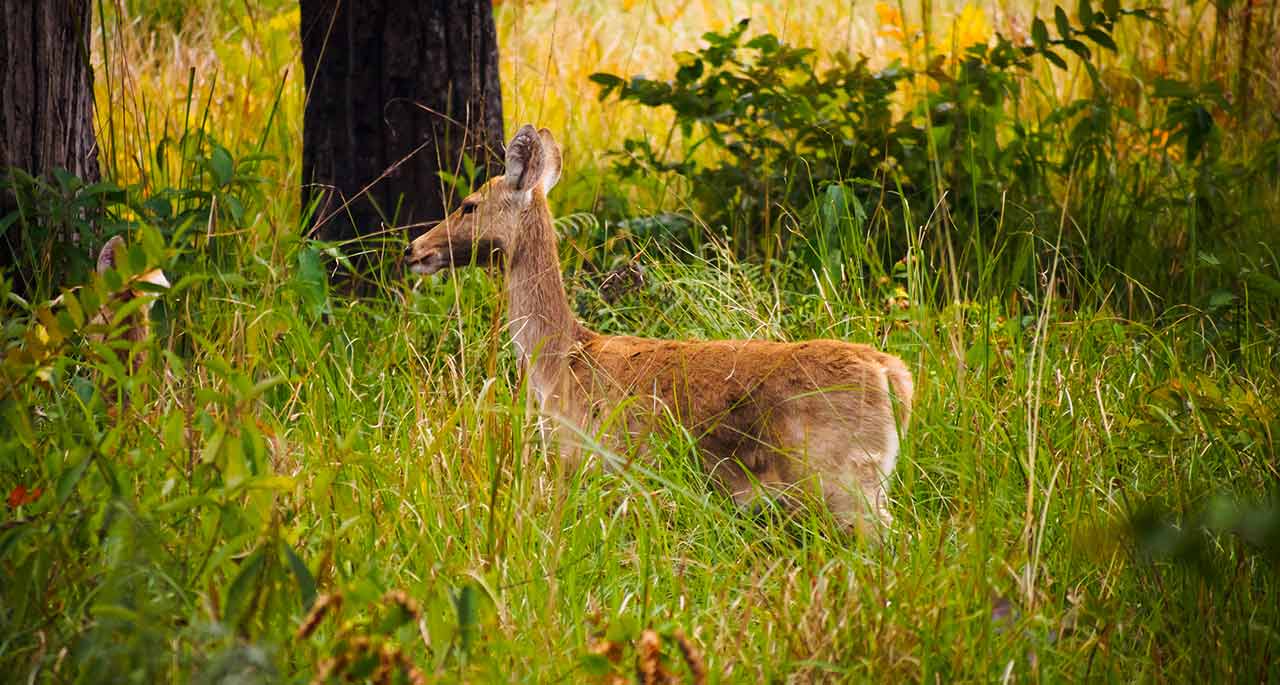 The park was declared a Royal Hunting Reserve in 1969 and gazetted in 1973 as Royal Shuklaphant Wildlife Reserve. In 2012, the status of the protected area was changed to a national park.
The tropical wetlands at an altitude of 174 meters (571 ft) to 1,386 meters (4,574 ft) which extend from north of the east-west highway to Sivalik Hills.
Shuklaphant National Park is one of the best conserved examples of floodplain grassland and part of the Terai-Duar savanna and grasslands ecoregion. Shuklaphant contains 700 species of flora where grassland constitutes almost half of the reserve vegetation including 46 species of mammals, 28 fish species, 423 species of birds, 12 reptiles and amphibian.
Shuklaphant National Park can be explored by jeep or walk around the jungle.
The forest occurs different types of vegetation like Sal, Sisso, Khair includes grassland like; Themeda, Siru, Kans, Munj and so on. Similarly species of wildlife such as Bengal tiger, Indian leopard, elephant, Swamp deer, owl, woodpecker, Sarus crane, grey-headed fish eagle including reptiles many types of snakes, Indian cobra, python and mugger crocodile.
The best time to go for Shuklaphant Jungle Safari is in winter season from November to February because the temperature is moderates and the views are clear.
Koshi Tappu Wildlife Reserve
Koshi Tappu Wildlife Reserve is the smallest protected area in the Terai of eastern Nepal covering 175 sq. Km (68 sq mi) in three districts: Sunsari, Saptari, and Udhyapur. Koshi Tappu Wildlife Reserve was established in1976 and announces as a Ramsar site in December 1987. It contains mudflats, reed beds, and floodplain of the Sapta Koshi River. The altitudes range from 75 to 81 m (256 to266 ft).
Koshi Tappu is known as a home of birds.
Koshi Tappu is mainly established to conserve the birds and wild buffalo Arna. There are more than 280 species of birds in the reserve in which watercock, Indian Nightjar, striated grassbird, large adjutant stork and many others. The Koshi Tappu barrage is extremely important as a resting place for migratory birds.

Despite birds, there 31 species of mammals recorded. Wild Buffalo is a protected animal including Asian elephant, spotted deer, wild boar, golden jackal, sloth bear, in which the number of Gaur and Blue bull has declined. Also, include the endangered Gharial, crocodile, and Gangetic dolphin have been preserved in The Koshi River.
The vegetation is a mixture of the riverine forest, marshy and grasslands. The grassland covers the most land compared to the forest. Local villagers are permitted to collect grass which is used for thatching roofs.
In the extensive wetlands 514 plants are found including sugar cane, kapok, reed, eelgrass, lotus and 200 species of fish as well as different species of snake. The reserve is also available for fishing.
The best time to visit in Koshi Tappu Wildlife reserve is between October to March where visitors can explore the migratory birds resides.
Travelers can go through there by air flight, private vehicle, and jeep. There are many hotels and resorts available to stay.