Ruby Valley Cultural Trek is a newly opened trekking trail of Nepal which is considered as the hidden trail situated in the central region of Nepal. Ruby Valley is named after the precious stone – Ruby, as this valley, is said to have the deposits of the gem Ruby.
Situated between Langtang National Park and Manaslu Conservation Area, Ruby Valley Trek is one of the pristine trekking routes that serve the trekkers with varied geographical conditions, biodiversity, and culture.
This trek is a perfect alternative to appreciate the beauty of the unspoiled natural surroundings whilst letting the trekkers witness the exceptional culture of the inhabitants in the trekking routes. Ruby valley Ganesh Himal Region is populated originally by Tamang and Gurung to the north high land parts and Bramin, Chhetri, Dalit, Newar and some other are the lower parts as southern sides. Thus Ruby Valley Trek lets trekkers experience a fascinating cultural and biological variety of numerous Nepalese ethnic groups.
The trail Ruby Valley Trek comprises diverse landscape as it comprises flatlands, low terraced farms, spectacular meadows, passes, gradual and steep ascends, the beautiful backdrop of verdant coniferous forests and lofty snow-capped mountains. Trekkers can enjoy quintessential views of famous peaks including Ganesh Himal, Langtang Lirung, Boudha Himal, Hiunchuli Dorje Lakpa and other mountains of western and central Nepal.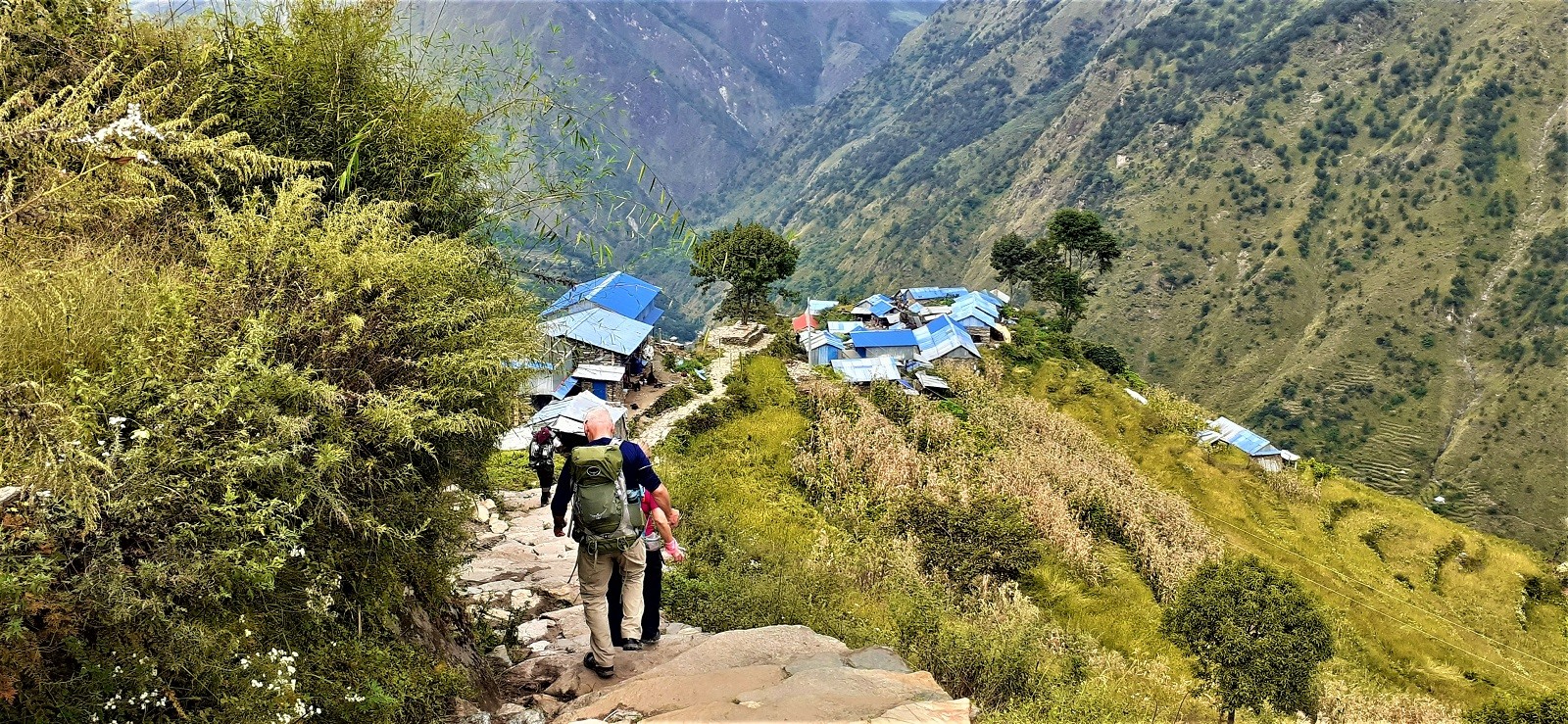 Ruby Valley trek is perfect for those who are seeking trekking in Himalayas of Nepal individually, family or school group.  It is the ideal trekking routes for the trekkers searching the pristine and less trodden route close to Kathmandu.
Ruby Valley's Pristine Route
1. Gatlang Village (2,610m)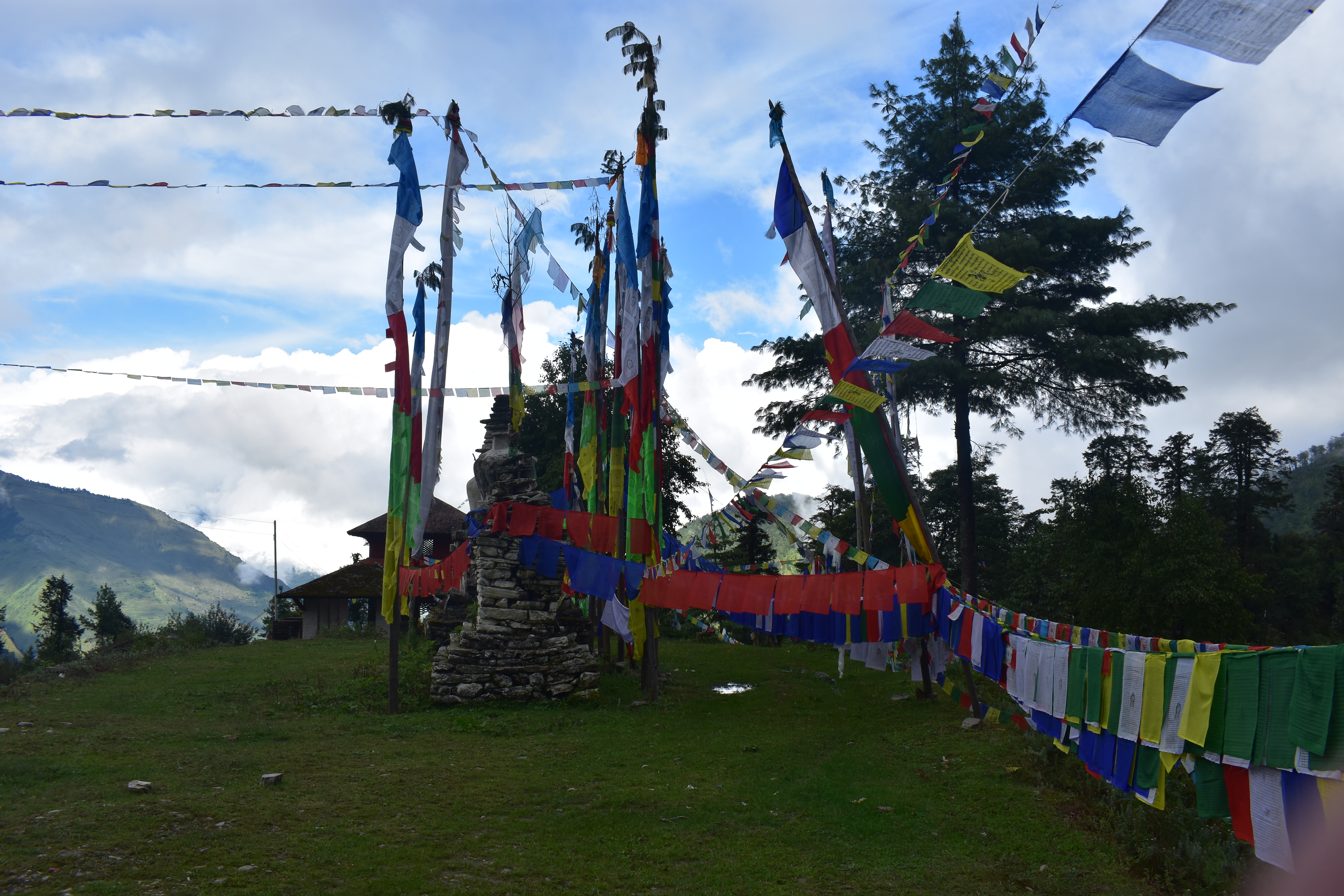 Gatlang village links with the Tamang heritage trail which is was developed by the Tourism for Rural Poverty Alleviation Program (TRPAP) in 2012. It is a picturesque village inhabited by the Tamang ethnic community. The livelihood of this village relies on the field of terrace land. The houses built with wood crafted doors and windows and people adorned with beautiful ornaments and local costumes. If you are keen to climb 40 minutes uphill, you can take a side trip to the sacred Parvati Kunda-a natural alpine fresh lake. Named after the famous Hindu Goddess Parvati,  the Kunda holds religious significance as local folks gather every year to perform rituals. On a clear day, one can see the marvelous vistas of Langtang and Lirung Himal from the village.
2. Somdang (3,270m)
Somdang trail ascends through the forest of pine and rhododendron trees to Yuri Kharka before proceeding to Khurpa Bhanjyang. Further, continue to hike down to the Somdang River via Khurphu Bhanjyang that lead to Somdang village. The melodious chirping of birds, surrounded by tall trees and the clatter of the river makes the trek more pleasant and enjoyable. Along the trail, you can witness the soaring hills and trees towering towards you. The hike winds through a picturesque valley featuring the 200m Chukarma Waterfall.
3.Pangsa la Pass (3,850m)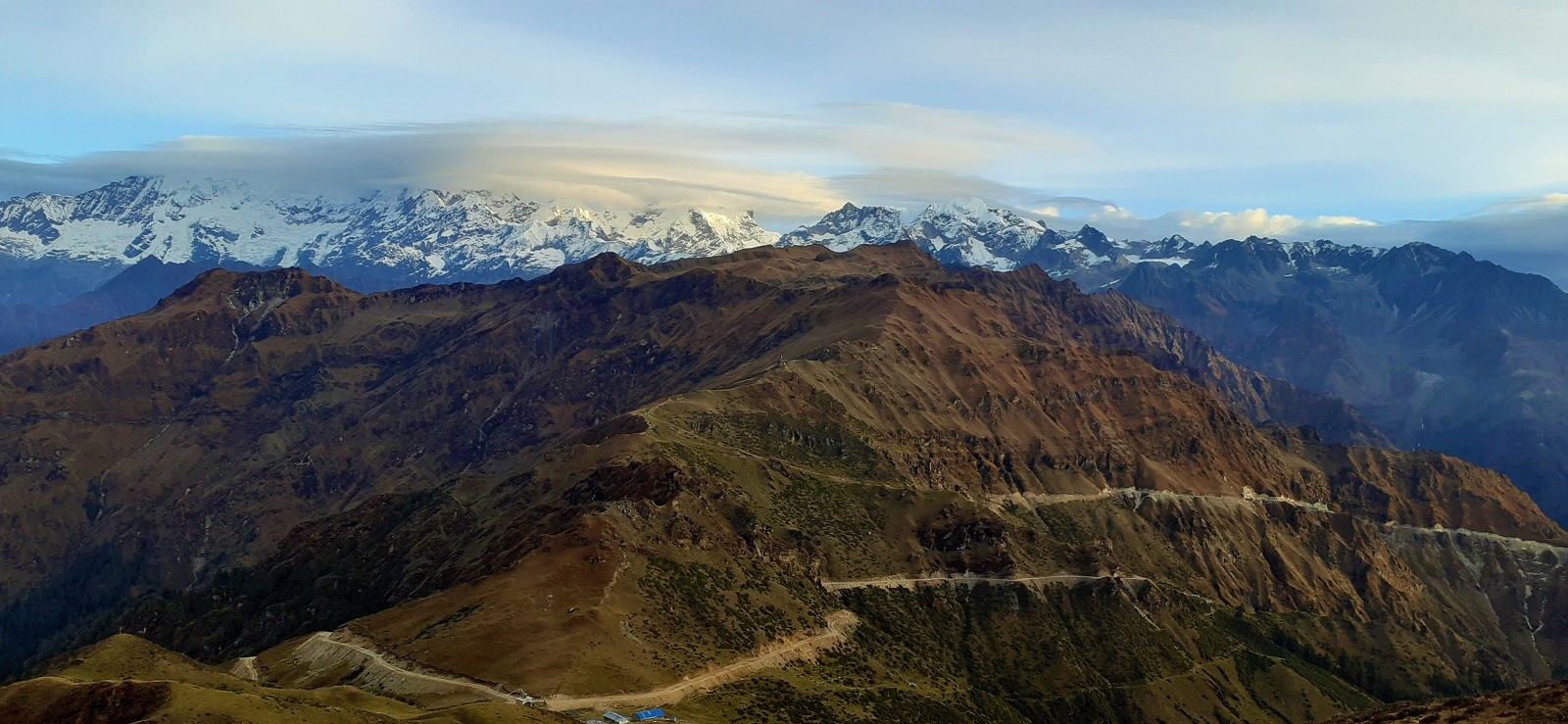 Pangsa La Pass situated on the top of the Somdang village and Tipling village.  It is a spectacular vantage point with a wide panorama of the surrounding landscape. One can enjoy the soaking views majestic peaks like Langtang range in the east and Mount Ganesh, Manaslu and Annapurna range in the west.
The huge pasture adorned with a giant entry gateway and is a perfect site to view the extraordinary scenery.  Further, when you make it at the pass, you will have an awe-inspiring backdrop overlooking a quaint village Tipling at the bottom.
4. Tipling (2,078m)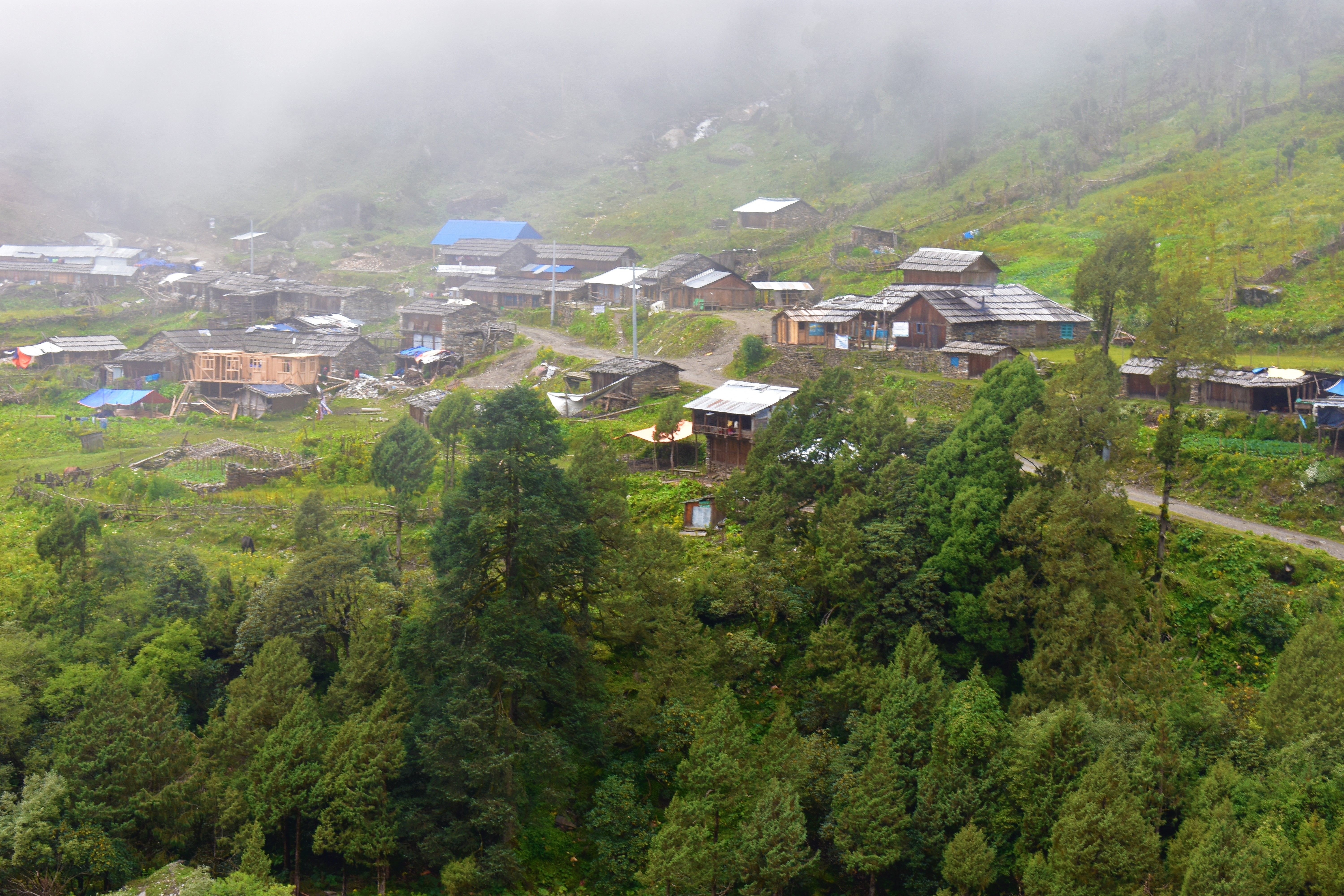 Tipling village is an old quaint village that offers a close and commanding view of Mt. Ganesh Himal and a fascinating glimpse of mountain culture. The people living in these villages are predominantly Ghale and Tamang ethnic and some Blacksmith (kaami). The religious in the villages are Christian and Buddhist. The people residing in this village practice the culture similar to Tibet. People celebrate Mane Jatra during winter which has been followed for generations. Likewise, Jhakri or Bombo (Witchdoctors) can be seen performing during the Janai Purnima festival. Tipling hosts two Buddhist gompas as well as both Protestant and Catholic churches. Along a ridge top to the east is a monastery and cremation ground for both Buddhists and Christians covered with vibrant prayers flags.
5. Sherthung (1,875m)
The name Shertung signifies 'place of gold'. According to a myth, it is said that two brothers found this place in search of gold.
Tamang people exhibit shaman dance and horse dance, which are thought to have been inspired by Tibetan culture. The Jhankri (shaman) tradition is still prevalent in this area with the worship of natural forces and indigenous local divinities interwoven with Hindu and Buddhist practices. They perform shaman practices as a healing ritual. In addition, trekkers can visit the blacksmith village of Sherthung to observe how the locals produce mostly tools and farm implements.
6.  Chalise Village (1,674m)
 Chalise is populated mainly by Gurung, Ghale, and Kami ethnic groups. The friendly people of this area have distinctive customs and craftsmanship. If you trek during the festive season, then trekkers get a chance to observe the traditional dance of locals such as Maruni Dance during Dashain and Tihar, Hai Nelo Dance of Tihar, and the Ghatu (Ghasiri Dance) that happens in Chandi Purnima.
Interested to explore scenic valley and interesting local culture?
Explore the similar package:
Ruby Valley and Ganesh Himal Trek
Frequently asked questions
What is the ideal season to trek Ruby Valley?
The ideal seasons to embark in Ruby Valley Trek are autumn (September to November) and spring (March to May). Every spring and autumn, the hills covered with numerous shades of rhododendron flowers, pines, oaks trees and wildflowers. The landscape dotted with undulating rivers, streams, and cascading waterfalls.
Do I need a permit to trek Ruby Valley?
To embark Ruby Valley Trek, trekkers need TIMS card and Langtang National Park entrance permit. Nepal Sanctuary Treks are happy to arrange the all necessary permits for trek.
What kind of accommodation is available along the Ruby Valley trail?
The teahouse and homestay comprise basic accommodation with a simple meal.  You will observe genuine Nepali tradition in their homestay with the warm hospitality of local people and taste a range of local organic and fresh cuisine.
How do you rate the difficulty of this trek?
Ruby Valley Trek is a moderate trek that does not demand physical training and trekking skills. The walking parts of these trips are moderate and should not exceed 6-7 hours a day. We advise to prepare yourself for trekking by setting a workout schedule. 
How do we make contact with emergency services if necessary?
If ever the need arises, tour trekking crew can establish immediate communications with rescue crews and medical personnel. In the event of urgent evacuation, we try to do an immediate helicopter rescue and sends it back to the hospital in Kathmandu. For a safety measure, our trekking leader checks your pulse rate, blood oxygen saturation level, assessing your acclimatization status using the Lake Louise system and oximeter chart on a daily basis. 
Do we need to bring a mattress?
Every teahouse and homestay have a mattress which is pretty simple and basic in some places. It would be great to bring a rolled-up mattress with you.
How do we get our daily water during the trek?
In every teahouse and homestay, you can find the natural stream and tap water.  The bottled water is available in some places. We would like to suggest you bring water purification tablets with you to treat the water. 
Can we rent a sleeping bag in Kathmandu?
Yes, you can rent a sleeping bag in Kathmandu. The daily charge for the bag is USD 1.5 per day.
Will there be electricity in homestay/tea house for charging phones?
The homestay and teahouses have access to electricity for charging phones except at Pang Sa La Pass teahouse. For charging devices, there are central plug points in the communal dining area of teahouse/homestay. They will charge a small amount for charging the phone or camera batteries. (Note: There are no power socket in the room). 
Have any questions regarding Ruby Valley Cultural Trek?