Teri La pass is a mountain passage nestled close to the Tibetan border. Teri La is a remote, adventurous and a very serene  high walking route. The trek is considered as an easy category, but the altitude of Teri La pass makes the trip very tricky and challenging.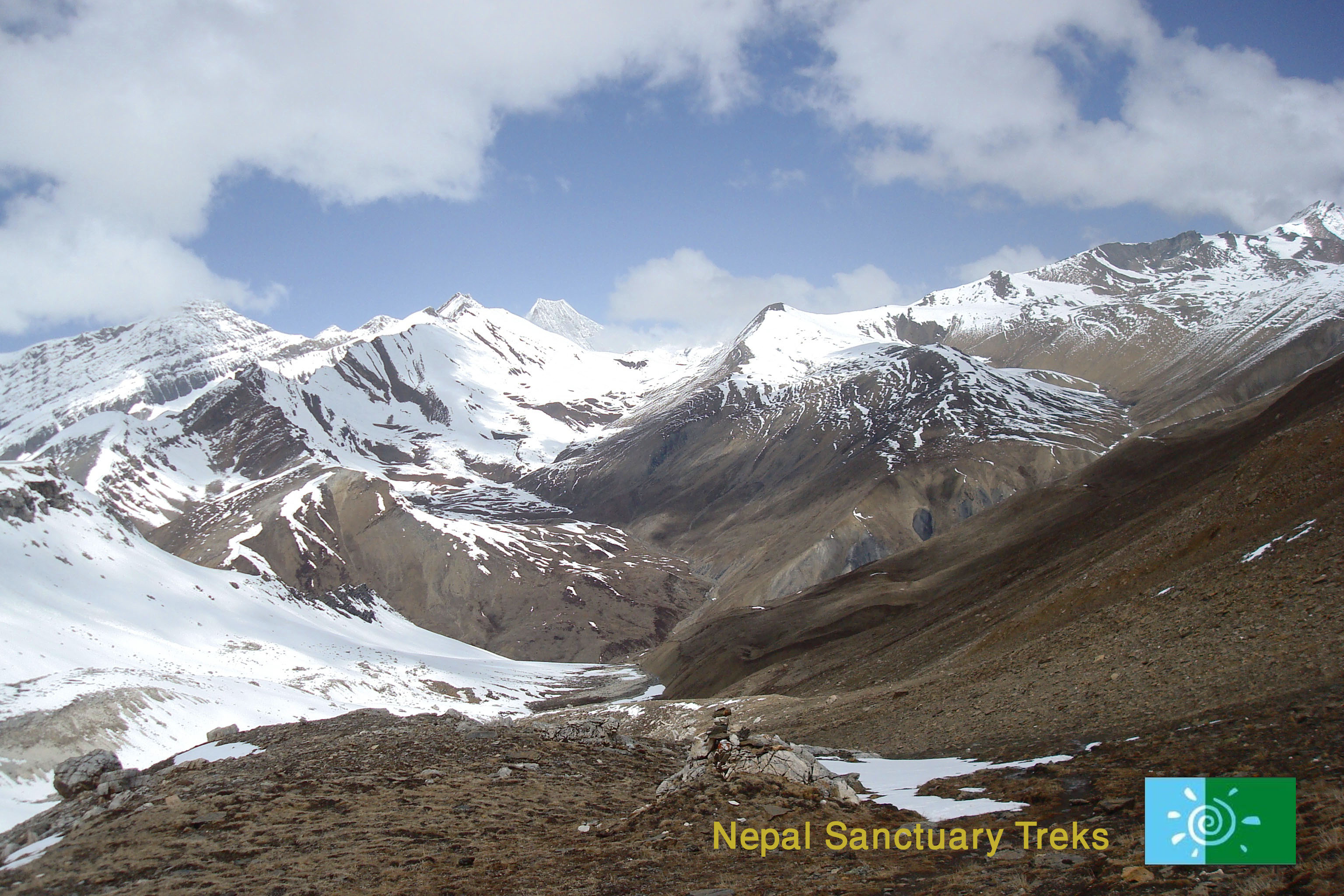 Way to Teri La Pass
Teri La pass lies in the most rugged and remote region of the Damodar Himal amid Nar and Mustang at the altitude of 5,595 meters above sea level, a height even higher than the Everest Base Camp (5,380 meters). After traversing rarely trekked Teri La Pass, trekkers can enter either to Nar Phu Valley or Upper Mustang. Nar to Mustang Trek via Teri La Pass is perfect to explore and experience pristine and rich Buddhist culture in undisturbed form that prevails in these regions. Teri La Pass follows a enthralling trails and untouched picturesque Narphu village to enigmatic caves of Mustang.
Teri La is one of the highest passes in the trekking routes of Nepal. Therefore, people who intend to trek to Teri La should be physically fit and must have prior trekking experience. People with health issues and altitude sickness history should reconsider trekking to Teri La.
Getting to Teri La
Teri La is mountain pass lying in the Mustang region of Nepal. The trip to Teri La is a long and painful one, but the effort put to reach Teri La is all worth it. The 360° view of Himalayas from the altitude of 5,500 meters sweeps away all the fatigue suffered during this long trip. If there is heaven on Earth, one of the places to find it is Teri La Pass.
One must trek to Teri La by foot. Porters are available to carry heavy loads, but mules and horses can't reach the pass. Therefore the only travel method is by foot. Teri La is in the very remote land. Mustang itself is dubbed the forbidden kingdom and Teri La lies past the forbidden kingdom. "A place beyond the forbidden kingdom," the phrase itself signifies the remoteness of Teri La.
Touching Mountains on Teri La Pass
The trek to Teri La starts from Jomsom in Nepal, reached by the place from Pokhara. The trek route passes through places like Kagbeni and Lo Manthang, the former capital of Kingdom of Mustang. After visiting Lo Manthang (3840m), the trek starts to reach even higher altitude. Yak Kharka and Samana Khola are prior stops to Teri La Base Camp(4630m). After resting and sightseeing in Teri La base camp, we trek to Teri La pass(5,595m.)
Why Visit Teri La Pass
Teri La Pass trek enriches your experience in existing Tibetan cultures and Buddhist traditions. The pass is isolated in the rusty hills north of Upper Mustang. The Teri La pass is in close proximity with Damodar Mountain. The main attraction of Teri La pass is ancient villages of Nar Phu, monasteries and caves still remain untouched by modern civilizations.
The trip to Teri La consists of enigmatic landscapes and terrain. The trek gives a panoramic view of Mustang region which was previously restricted to outsiders. Teri La trek is a natural trek outside your comfort zone. There aren't fancy hotels, swimming pools and buffet dinner in the trek. The trip is through rough and uninhabited parts of Nepal. You will spend the night sleeping in tents and eat stock food or food made in the camp.
Get ready to leave all modern luxuries like smartphone, laptops, Wi-Fi, and other exotic items and experience the mountains and chilly winds of the Himalayas. The Teri La pass can be the Elixir of Life you seek for future inspirations and ambitions.
Essential Things For The Trip To Teri La Pass
A well-experienced guide and local inhabitant staff and also a medical staff if possible
Ice Axe, Ice Boots and Climbing Rope (Approximately 50 meters)
A full detailed map of the region
Quality Sunglasses
Satellite Phone and GPS
Pair of Quality Trekking Stick
A Strong Headlight
Water and Wind Proof Clothing Materials and Boots
Sleeping Bag, Mat, Warm Socks, Mufflers, and Gloves