Nepal is a home to many traditions and culture. People in Nepal follow their customs, ritual and speak their ethnic language although they belong to the same religious group. The cultures and festivals are different as per our religion and ethnic group. In Nepal, mainly Hindus and Buddhists can be found. However, people belonging to Kiranti, Sikh, Christians, and others can be found as well.
More than 55 different festivals are celebrated in Nepal. From year's main festival Dashain, which is celebrated by almost every religion to the Udhauli and Ubhauli which are celebrated by Rai Community of Nepal, Nepal celebrates many such festivals depending on religious, ethnicity and castes. Not only has our ethnicity decided the festivals we celebrate, but the region where we belong too.
Chhath is a Terai festival and Mithila region of Nepal, which is celebrated by Tharus, Maithils, and Madhesi ethnic group. The newar community of Bhaktapur celebrates Bisket Jatra, GauraParva is celebrated in Hilly region of Far Western Development Region. These are just a few examples of the varied number of festivals in Nepal as per caste, ethnicity, region, places, and religion.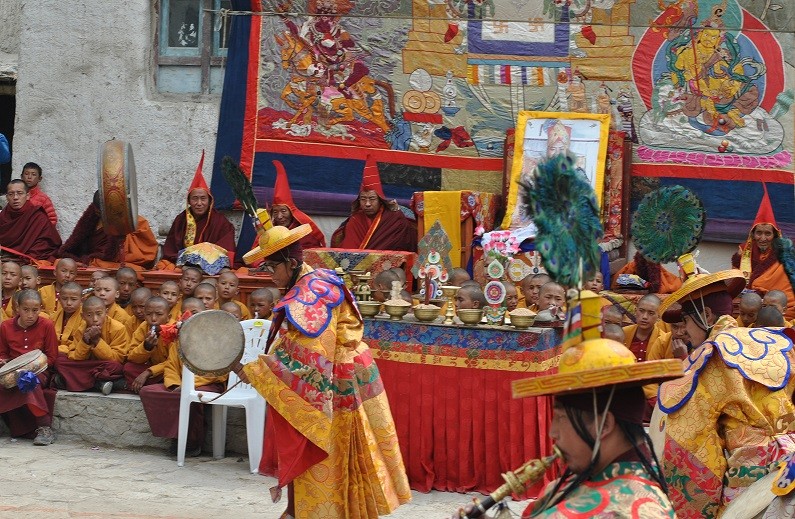 Festivals in Nepal has meaning and different stories of their own. Dashain is celebrated as a victory of good over evil. Tihar signifies the importance to not only gods and humans, but also to animals like dog, ox, cow, and crow. Holi signifies victory of good over evil; it is a day to forgo your past mistakes, to end conflicts by meeting others and a day to forgive and forget. Our festivals aren't just celebration, they also teach us the way of life and keep our faith in good.
Amongst many of such festivals, Tiji festival is also the one which is observed as a victory of good over evil and it is celebrated in a particular region of Nepal. So, today we will know about this distinctive festival.
What is Tiji Festival?
Tiji is a very joyous and vibrant festival celebrated in Lo Manthang, the walled city of Lo region of Upper Mustang of Nepal. The name "Tiji" is an abbreviation of the word "Tempa Chirim" which means "Prayer for World Peace." This three-days long festival is celebrated to mark the victory of good over evil with prayers, chants, and dances in very colorful dresses. Tiji festival has religious as well as spiritual importance.
Why is Tiji festival celebrated?
Like many festivals, Tiji is also celebrated for the victory of good over evil. And it is rather a fascinating festival which goes for three days. Tiji festival celebrated the victory of Dorjee Sonnu (Lord Buddha's incarnation) over a very vicious demon named Man Tam Ru who bought mayhem feeding on human beings and causing droughts and strops. This festival consists of Tibetan rituals that celebrated the myth of a son who had to save the kingdom of Mustang from destruction.
During the three days of the festival, the monks of Choedhe monastery of Lo-Mantang perform rituals dances. On the first day, a dance called "Tsa Chham" about the harassment of the demon, Ma Tam Ru Ta. The second day "Nga Chham" about the birth of Dorjee Sonnu as the son of the demon and the final day, the attempts to return the demon to the realm of Lord Buddha. All this enacted in the dance performance.
Choedhe Monastery organizes the dances of the festival. Rimpoche is the head of this monastery, where 65 other monks from Lo-Manthang, Chhosyer, and Nhenyul resides.
What is the spiritual importance of Tiji Festival?
Though Buddhism is one religion; there are several practices in the same religion too. In Vajrayana Buddhism, Vajrakila (Dorje Phurba) or Vajrakumar (Dorje Shonnu) is a name of the guardian deity named Yidam. This practice is rather old and very popular in Nepal as well as India. The Buddhist masters of Nepal; Padmasambhava, Vimalamitra, and Shilamju introduced this practice during the 8th century in Tibet. The Vajrakila practice has many lineages in Tibet and among many such practices, Khon tradition Kila (Phurba) is one of the major practices of Tibetan Buddhism in Sakyapa School. Padmasambhava instructed the major dance steps of the sacred dance of Vajrakila at Samye Monastery in Tibet. Vajrakali practice and rituals are very famous in the Chhode Monastery of Lo-Manthang in the Mustang area.
Ready to explore & enjoy Tiji Festival in Hidden kingdom of Upper Mustang?
However, Tiji festival came into existence after a long time, to be precise in the 17th century. The king of Mustang, King Samdup Rabten invited Sakya Trizin Ngawang Kunga Siman to come and stay at Lo-Manthang. Sakya Trizin came and stayed at Chhhode Monastery of Lo-Manthang. Sakya and started to perform a very special Vajrakila ritual for the well being and better of a sentient being and eliminating the negative energies in Mustang. He also started a special religious dance related to the meditation of Vajrakila. And, since then, the monks of the Chhode monastery have been performing this religious dance with rituals for the wellbeing of Mustang.
How is the Tiji festival celebrated?
In Tiji festival, the main dancer, Tsowa completes a three month of retreat before the main event of the festival. During the main event, the members of Mustang royal family and all the villagers of the seven provinces of Upper Mustang/Lo Chhodun participates to witness this sacred dance, which is done along with many other rituals. According to the Mustang (Lobo) dialect, it is Tiji or Tenchi, which is the part of the meditation practice based on the Tantra text related to Vajrakumar/Vajrakila. However, the original name of this sacred dance is Tenpa Chirim, which means the benefits of Buddha's teaching and all sentient beings. It is also believed that the performers of this dance receive empowerment of Vajrakila.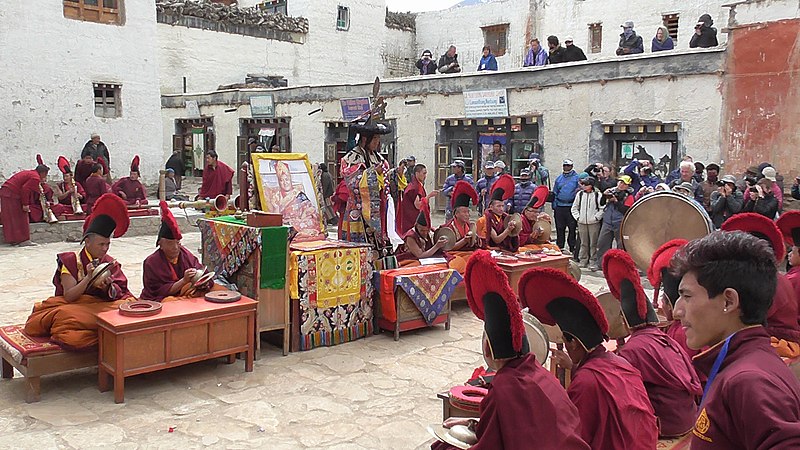 During the sacred dance, the most important elements of the meditations are performed. There are two types of activities which are performed during the development phase of meditation; first, peaceful dance steps, which is followed by a second activity which eliminates all the negative energies.
The dance is divided into three parts, which are preliminary, main practice and conclusion. At the first or preliminary part of the dance, there are total 15 steps. Then, comes the main practices where the generation of celestial palace and generation of deities are portrayed in dance in two steps and the conclusion part clears out all the nihilistic and eternal views and fills with optimism.
The various poses and gestures that are used during the dances symbolically imply different processes of meditation. The Buddhist masters use this sacred dance ceremony as a skillful means to benefit the sentient beings. Every steps and detail of dance depict deep meaning which is believed to clear our obstacles in life by enlightening us with faith and respects.
When is the Tiji festival celebrated?
It is a very interesting festival with the spiritual importance which is celebrated every year during May for three continuous days in Lo-Manthang, Upper Mustang. Originally, this festival used to celebrate at the end of the twelve months of Tibetan calendar, but now, it has been celebrated at the third month of Tibetan month which is May.

Tiji Festival in 2019
Teji festival is being celebrated on 30 May, 31 May, and 1 June in 2019. As this festival is very popular bookings get started before month of the festival, so hurry and contact us before all seats are taken.
Where is Upper Mustang?
Upper Mustang is a remote yet a very popular area by Tibetan border. Formerly known as the Kingdom of Lo, it is an isolated region of the Nepalese Himalayas. Upper Mustang is one of the popular trekking destinations in Nepal. Closely tied in Tibetan culture and language, Mustang was once an independent kingdom. The monarchy of Mustang ceased to exist on October 7, 2008, by order of Government of Nepal.
Find more about Tiji Festival and Upper Mustang with us.
More and more trekkers are being drawn to the enigmatic of this region and Nepal Sanctuary Treks is here you to make your trekking experience more wonderful and adventurous.   If you would like to know more information please write to us at info@nepalsanctuarytreks.com or gtulsi@wlink.com.np