Ghorepani Poon Hill is one of the shortest and most sought-after trekking destinations in Nepal. Poon hill is located at an elevation of 3,210 meters in Ghorepani village (2,874 meters) of Myagdi district in north-central Nepal. Ghorepani offers accommodation to the visitors who are Poon hill-bound.
Due to its rustic setting and being one of the best places to have the sunrise view, this hill is one of the major attractions inside the Annapurna Conservation Area. The primary purpose of reaching the top of Poon hill is to have a glimpse of and capture the sunrise view of Mount Annapurna.
Hence, a throng of tourists gather there at dawn and they could be seen extending their cameras to the Mt. Annapurna, hoping to capture the best possible sunrise glimpse. For this reason, the journey to Poon hill is often called the Annapurna sunrise trekking.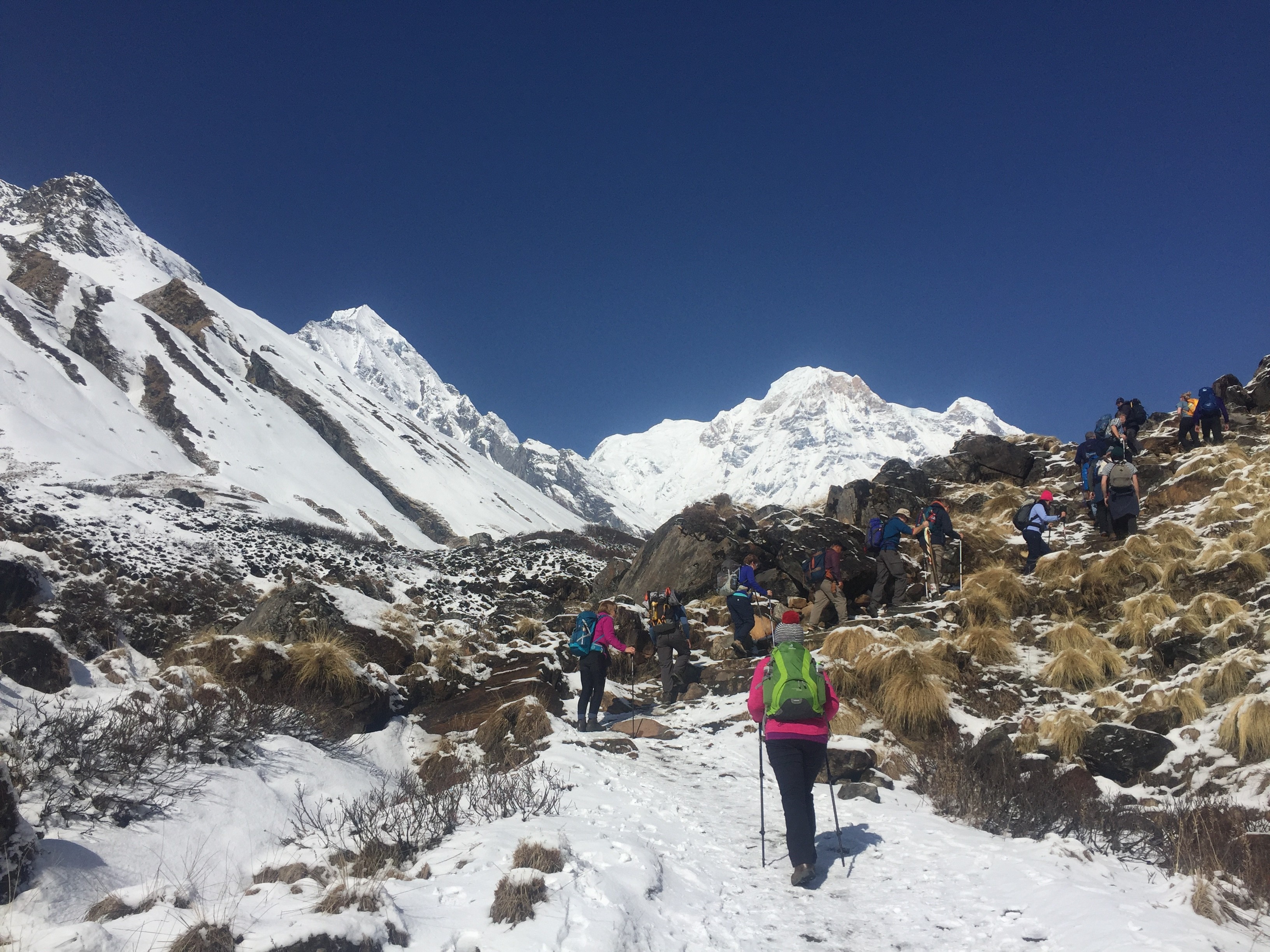 In order to secure the best seat for capturing the sunrise view, you are recommended to get up early and leave Ghorepani at dawn. By the time rays of the sun appear at the top of Mt. Annapurna and Mt. Dhaulagiri ranges, a crowd of people will be ready with their gadgets to take photographs.
When the sun finally appears in yellowish-red attire, it will attract more cameras than any leader of the world. Ghorepani has been a stopover since the ancient period when traders used to take a rest to feed their horses with water.
Hence, the place is christened Ghorepani which can be roughly translated as 'water for horse.'
The serpentine trail to this destination takes you through villages of ethnic Magar and Gurung communities. Therefore, in addition to the inevitable adventure, it is a massive opportunity for any visitor to explore the conventional ethnic culture.
Another glorious aspect about this trail is that you will be passing through dense rhododendron forests which blossom between the late March and throughout the April, making the entire view more charming than a beautifully decorated bride.
Moreover, Ghorepani Poon Hill trekking will also let you walk along terraced slopes and beautiful paddy fields and observe the excellent culture and lifestyle of Magar and Gurung communities. Likewise, the route involves steep stone steps, suspension bridges and farms as well.
Due to its moderate elevation, people seldom suffer from high altitude sickness while trekking to Ghorepani Poon hill. However, the partial steepness en route demands of you a specific physical fitness.
Throughout the trekking duration, you will remain awestruck by the exquisite views of Mount Machhapuchhre (6,993 meters), Mt. Annapurna (8,091 meters) and Mt. Dhaulagiri (8,167 meters). Poon hill discloses the panoramic views of mountains like Mt. Dhaulagiri ranges, Mt. Annapurna ranges, Gangapurna, Lamjung Himal, Barasikhar, Nilgiri, Hiunchuli, to name a few.
For some trekkers, the steep ascent might turn out to be a hard-fought victory, but the pain of the ascent is nothing compared to the joy of ultimately inhaling the fresh air at the hill and grasping what nature has to offer.
A general overview of Ghorepani Poon Hill Trekking
Depending on the amount of time and your physical fitness, you can customize the itinerary for trekking to Ghorepani Poon Hill.
First of all, you have to make sure how many days you can invest. Based upon that, you can choose the route and prepare an itinerary accordingly.
According to your wish, you can either catch a flight or go by bus from Kathmandu to Pokhara. After one and half hour's drive from Pokhara, you will reach Nayapul from where the trek begins. Followings are the options of itinerary you can choose from.
4 Days Ghorepani Poon Hill Trek from Kathmandu
Day 01: Kathmandu – Pokhara – Nayapul – Ulleri
To make it to Ulleri on the first day of your trek, you have to catch the first-hour flight from Kathmandu to Pokhara. It takes only 35 minutes to reach there. Because you have a tight schedule, you have to embark a bus that goes to Nayapul immediately. It does not take more than one and half hour to reach Nayapul which is also the bus terminus of Poon Hill trekking route. From Nayapul begins the Ghorepani Poon Hill trek. Approximately four hours' hike will take you to Ulleri (1,960 meters), the first day's destination.
Day 02: Ulleri – Ghorepani
Trek from Ulleri to Ghorepani gives you a pleasant experience of walking through rhododendron forests. Ghorepani is situated at an elevation of 2,874 meters which indicates that the journey from Ulleri to Ghorepani demands your perseverance in making an uphill ascent. The trip, however, is eased by the many stone stairs, mostly covered by dry leaves of rhododendron. All visitors, willing to observe the sunrise from Poon Hill, gather at Ghorepani.
Day 03: Ghorepani – Poon Hill – Tadapani – Ghandruk
The third day of the trek to Poon hill is the most joyous day for anyone. To record the best possible sunrise view of Mt. Annapurna and Mt. Dhaulagiri ranges, you should leave Ghorepani at dawn and choose the best possible seat. You have to consult your trekking guide to make sure that you won't miss the chance to see the sunrise. Moreover, you should not forget that it takes an hour to reach the top of the hill from Ghorepani. You have to wear warm clothes to survive in the climate of 3,210 meters altitude. After that, you will come down to Ghorepani for breakfast and leave for Ghandruk. At first, you will be hiking up to Deurali pass at a similar elevation to Poon Hill. Then your downhill journey begins via Tadapani to Ghandruk. Ghandruk is one of the largest and most popular Gurung villages which operates world-famous home-stay hospitality. By the time you reach the third day's destination, you will have walked approximately six to seven hours from early morning till late afternoon.
Day 04: Ghandruk – Nayapul – Pokhara – Kathmandu
On the fourth and final day of Ghorepani Poon Hill trek, you have to walk for about two hours from Ghorepani to Kimche and an additional two hours' drive will take you to Pokhara. From Pokhara, you can take a Kathmandu-bound flight on the same day.
3 Days Trek from Pokhara to Ghorepani Poon Hill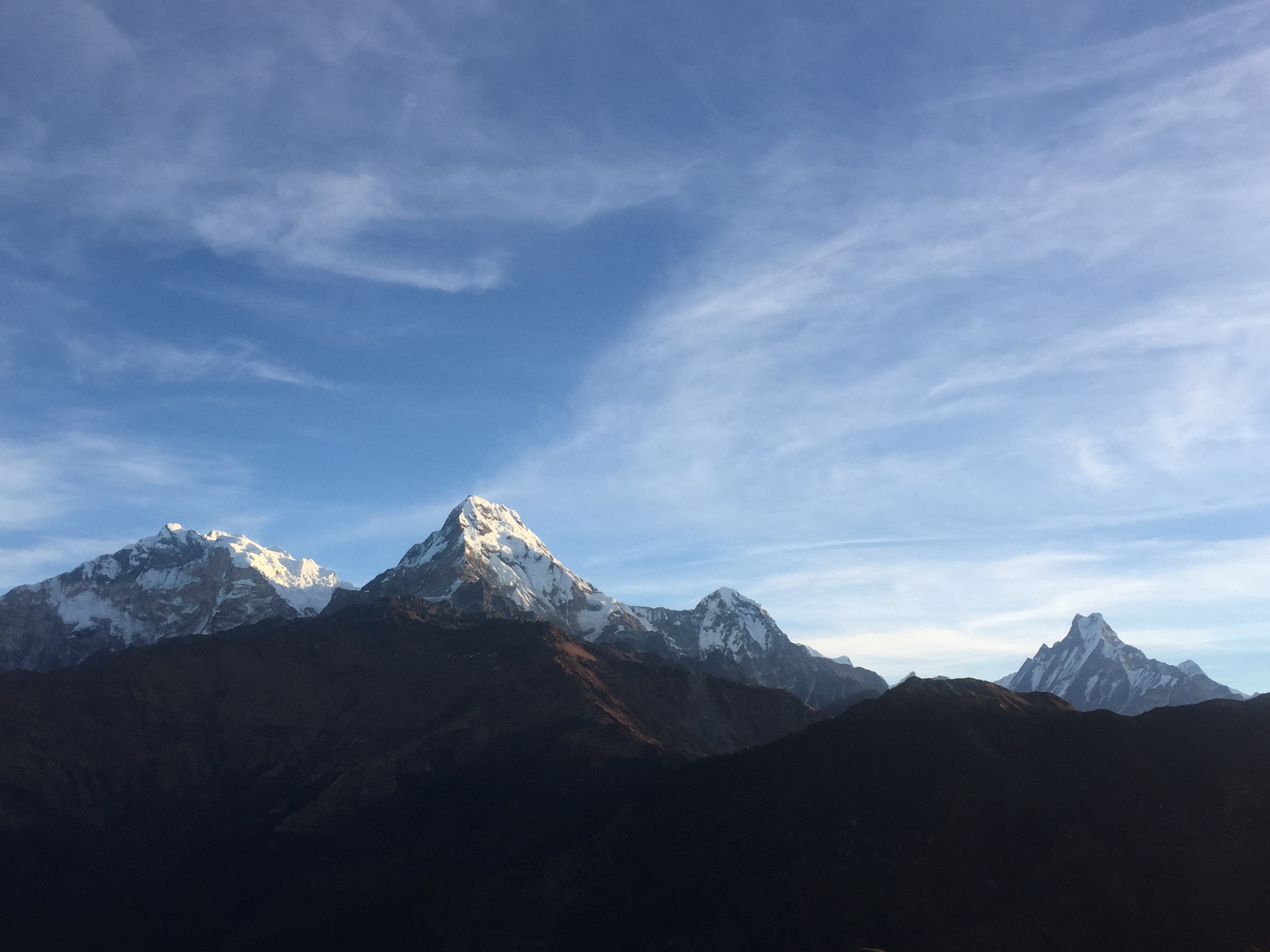 If you are on an even tighter schedule, you can go according to the following itinerary with which you can complete your trek in just three days.
For that, instead of going to Ghandruk you will come down the same route that you took while hiking up. If you have spare time, you will have a fantastic option to spend a day or two in the beautiful city of Pokhara.
You can add more to the package of your joy by exploring the beauty of Phewa Lake, Begnas Lake, Mahendra cave, Chameri (bat) cave, Gupteshwori cave, Davi's falls, Sarangkot hill, World Peace Pagoda, etc. while in Pokhara.
Day 01: Drive from Pokhara to Nayapul and trek to Ulleri
Day 02: Trek from Ulleri to Ghorepani
Day 03: Hike to Poon Hill – back to Nayapul – drive to Pokhara
5 Days Ghorepani Poon Hill Trek either from Kathmandu or Pokhara
You can make your trek even lengthier by following a slightly different and more luxurious itinerary. If you count the beginning of your trek from Kathmandu, you will have to take a flight to Pokhara and back to Kathmandu as well. It means you will not be spending any night in Pokhara.
Day 01: Pokhara – Tikhedhunga
Tikhdhunga is 42 kilometers away from Pokhara. On the first day, you have to ride a bus for about two hours from Pokhara to Nayapul, from where the Ghorepani Poon Hill trek begins. It will be an easy day because the route does not involve many ascents. You will somewhat follow the Modi river and go along rhododendron forests. Approximately two hours' easy trek will take you to Tikhedunga.
Day 02: Tikhedhunga – Ghorepani
The second day of your trek will mostly consist in ascending steep uphill. You might be pushing yourself to the limit on this day because it is the most challenging day of the entire trekking duration.
Throughout the trail, you be stepping upon beautifully crafted artificial stone stairs. Moreover, the rhododendron forests cover a vast section of the trail.
Apart from that, you will get to observe the spectacular views of Mt. Macchapuchhre (6,997 meters), Mt. Hiunchuli (6,441 meters) and Mt. Annapurna South (7,219 meters).
Day 03: Ghorepani – Poon Hill – Tadapani
After observing the sunrise view of Annapurna and Dhaulagiri ranges, you have to come back to Ghorepani for breakfast. You have to make yet another ascent of Deurali hill before descending to Tadapani. This day, however, will be relatively more relaxed due to less ascent and less distance coverage.
Day 04: Tadapani – Ghandruk
Day 4 is the most comfortable day of the entire trek. Walking for just two to three hours will take you to the beautiful Gurung village of Ghandruk.
Day 05: Ghandruk – Pokhara
On the final day of your trek, you have a trek to Nayapul from where you can catch a bus and come to Pokhara.
 Ghorepani Poon Hill Trek Difficulty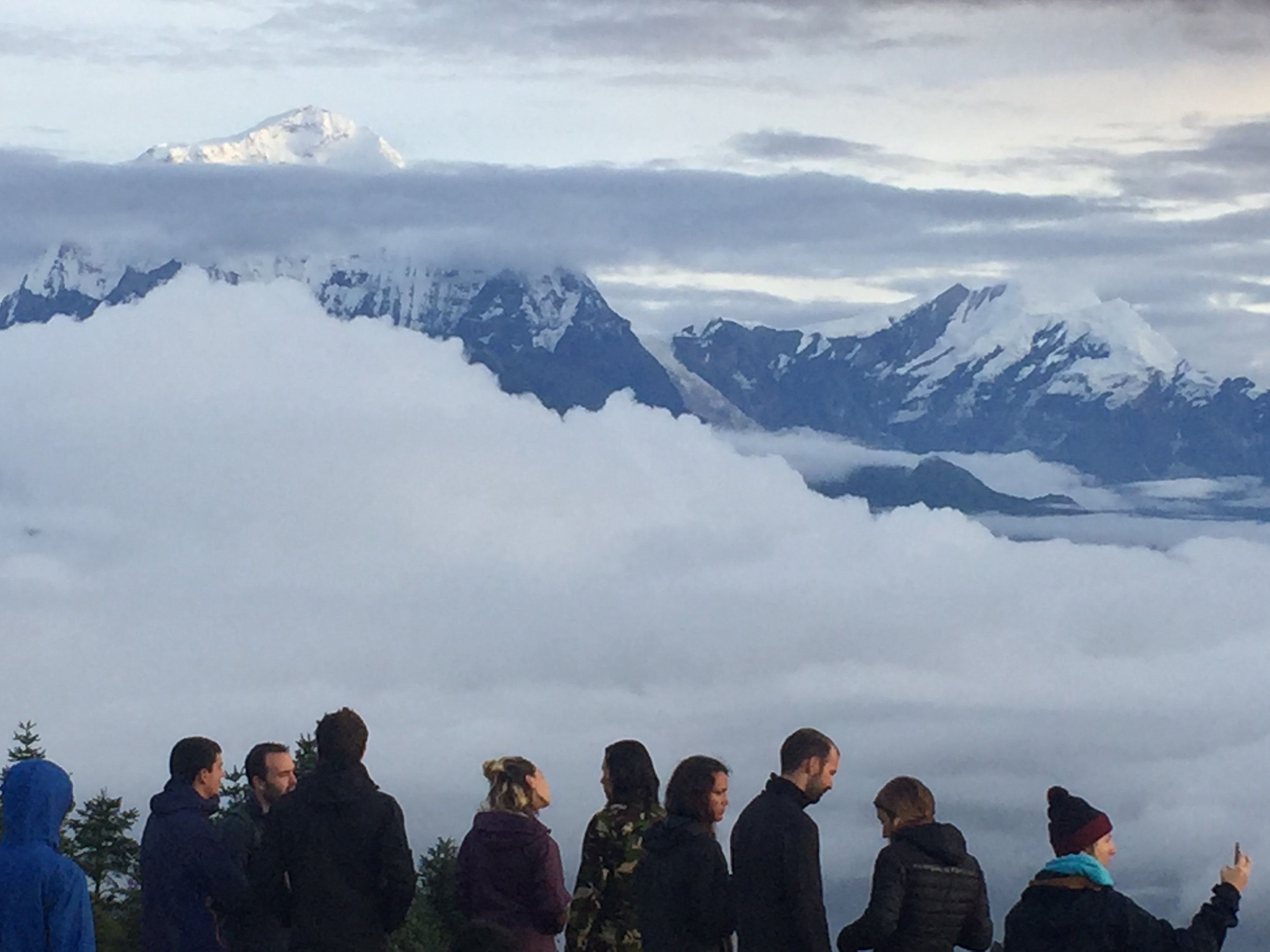 Ghorepani Poon Hill is a relatively easy trekking destination in Nepal. In spite of being low at elevation, i.e., 3,210 meters, the difficulty of this trail is graded as moderate.
It is because on the second day you will be making an ascent of around nine hundred meters on a single day without acclimatization. Otherwise, other days are counted among most comfortable trekking days of Nepal.
Poon Hill trail requires you to have a certain level of physical fitness so that you can persevere through the quite strenuous uphill ascent. The path has been made far more accessible by the stone stairs. Trekking to Poon hill does not require you to practice exercises for months.
If you have a regular habit of hiking, bicycling and or swimming, that will be enough preparation for this adventure. Nonetheless, you need to have a functional health status because you will be walking uphill for five to seven hours.
If you go trekking during the winter, you might face difficulty finding a suitable teahouse for accommodation because most of them remain close.
In the Poon Hill section of Annapurna Conservation Area, trekkers rarely suffer the altitude sickness, but still, you cannot be utterly negligent.
Also Read: