Mustang is located at the northern part of Nepal. "Mustang" is a Tibetan word which means "Plain of Aspiration" Although Mustang is one of the remotest regions, it is a very popular and one of the favorite tourist destination. This area is also second regarding the sparsity of population. Formerly, Mustang used to be known as "Kingdom of Lo." It remained as an independent kingdom until at the end of 18th century the kingdom was annexed by Nepal and became a dependency of the Kingdom of Nepal since 1795. The monarchy of Mustang came to an end by order of Government of Nepal in 2008. You might get to see the last official king of Mustang, Jigme Dorje Palbar Bista, who ruled from 1930-2016.
Mustang is an ancient forbidden kingdom, and its culture language is closely related to the Tibet. The place has very strict regulation for tourist, and it has aided a lot in keeping Tibetan tradition. The upper region of Mustang was a restricted place until 1992: this makes it one of the most preserved regions in the whole world because of its isolation from the outside.The region is bordered by the Tibetan plateau and has some of the tallest mountains of the world including Annapurna and Dhaulagiri.
Mustang is one of the popular trekking as well as a holiday destination of Nepal. The unique set of culture and tradition, the isolated living and the natural beauty, these all features are the reason why Mustang is on visiting list of many people. You will encounter several beautiful and mesmerizing view of mountain peaks, along will also come across the Kali Gandaki Gorge, which is by some measure the deepest gorges in the world.
Mustang lures thousands of tourist from across the world and from Nepal itself. Mustang is not a place where one activity is enough. You will keep on finding out the villages and valleys which are equally beautiful and represent unique culture and lifestyle. Here are some of the things you must do, be it visiting any places or trying out some new.
Book your trip to Mustang for this season.
Visit Muktinath
Muktinath is one of the most celebrated sacred sites of Nepal. This temple is a very popular pilgrimage site for Hindu as well as Buddhist. The temple is at an elevation of 3,710 meters and very close the village called Ranipauwa.
Muktinath is also called as "MuktiKshetra" by Hindus, which means "place of liberation." It is believed that this temple is 106th among the available 108 Divya Desam (premium temples) by the Sri Vaishnava sect of Hinduism. In ancient period Muktinath was called ThiruSaligramam, which is according to Sri Vaishnava literature and before the Buddhist origin. Muktinath is also one of the 108 Siddhpeeth.
As per the Buddhist, it is called "Chuming Gyatsa," which means "Hundred Waters" in Tibetan. This place is sacred for Buddhist although it has a Vaishnav origin because it is believed that Guru Padmasambhava mediated in this place for some period. This place holds importance for the Tibetan Buddhist as well because of Dakinis (goddesses known as Sky Dancers) and also it is one of the 24 Tantric places.
Visiting Muktinath is of the very satisfying thing as you pass through the beautiful entrance gate, encounter the unique temple, see the holy bells, burning incense and candles, and come across the 108 holy tap water of Muktinath. Experiencing these things will fill your inner self with sudden religious essence.
Stay in Jomsom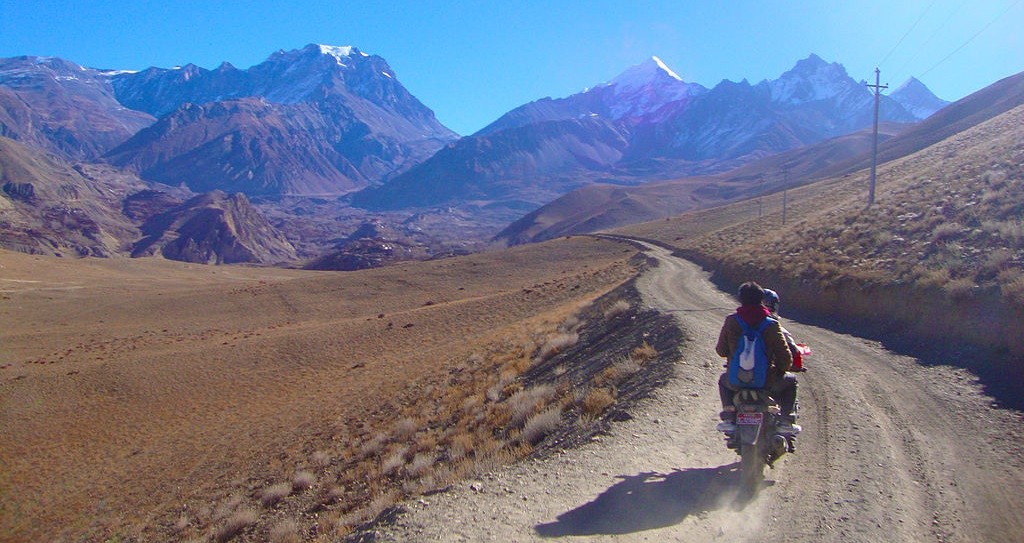 Jomsom is at an elevation of 2,700 meters and is also known as Dzong-Sampa or New fort. You will come across Jomsomwhile on your journey to Mustang. Although Mustang is your ultimate destination, Jomsom is also one of the popular places to visit. Jomsom is a unique and beautiful place, an administrative and commercial center which offer all the necessary accommodation and provision. Jomsom offers you the mesmerizing view of mountains, green and beautiful paddy fields, gompas and traditionally built houses.
Jomsom extends over both banks of Gandaki River. You will find the black tones in the bank of Gandaki River which is called shaligram in the Hindu culture, and those stones are believed to the form of Lord Vishnu. You will also see the glorious and soaring peaks of Dhaulagiri and Nilgiri.
Visit the historic village: Kagbeni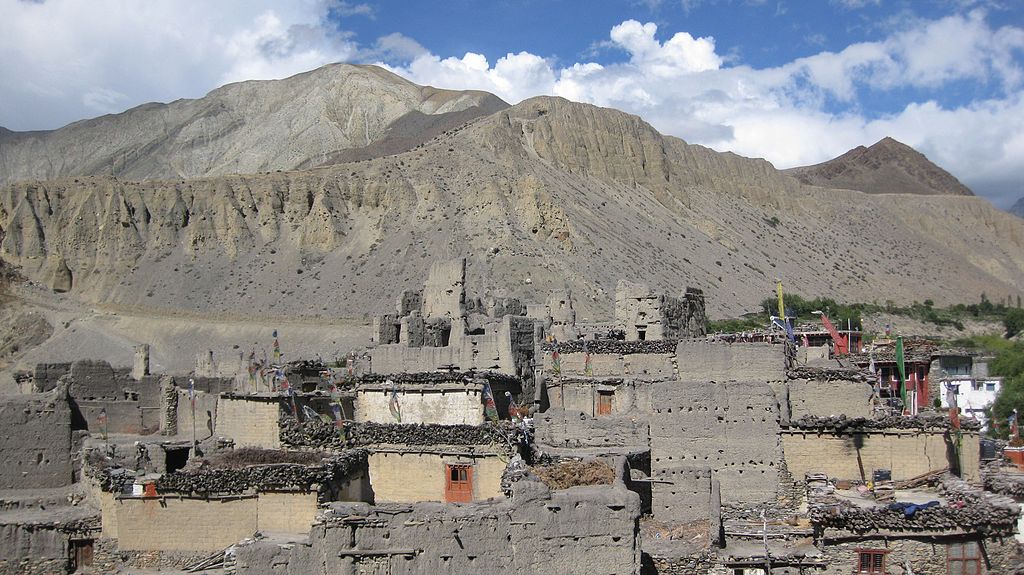 Kagbeni is a village in the Lower Mustang region. It is Tibetan influenced village filled with prayer wheels, chortens, and a Buddhist monastery. The main attraction of Kagbeni is a fortress ruin which was built before the establishment of the village in the second half of the 16th century. It is believed that the king of Muktinath valley built a fortress for his son at the convergence point of four trade routes. This strategic location allowed to levy taxes on the goods and animals that pass through the valley. There are holes in the fortress walls, which are unique. It can be only guessed that those holes were designed for a defense mechanism against invasions.
Another attraction of Kagbeni is a red monastery, and it is called KagChodeThuptenSamphel Ling Monastery. It is built at the confluence of two rovers and was founded by a famous Buddhist scholar from Tibet in 1429. In Kagbeni Buddhism is the main part of the culture, although there is a general decline of the monastery.
You will also encounter a series of cave ruins above Kagbeni which dates back to the prehistoric times. There are more than 10,000 abandoned cave settlements which are dug into the sides of cliffs throughout the Mustang.
Try some adventures
Mustang is very richly designed region with unique geography. With its rich topography, Mustang is the perfect place for adventure. Trekking is undoubtedly the most famous one, but there are other several activities you can in Mustang. The structure of Mustang is comprised of highland and lowlands and plain roads too. Adventurous sports like cycling, rock climbing, and horse riding is perfect in this region. It won't be quite fun if you go for trekking in Mustang region and return without trying any other activities.
Celebrate Tiji Festival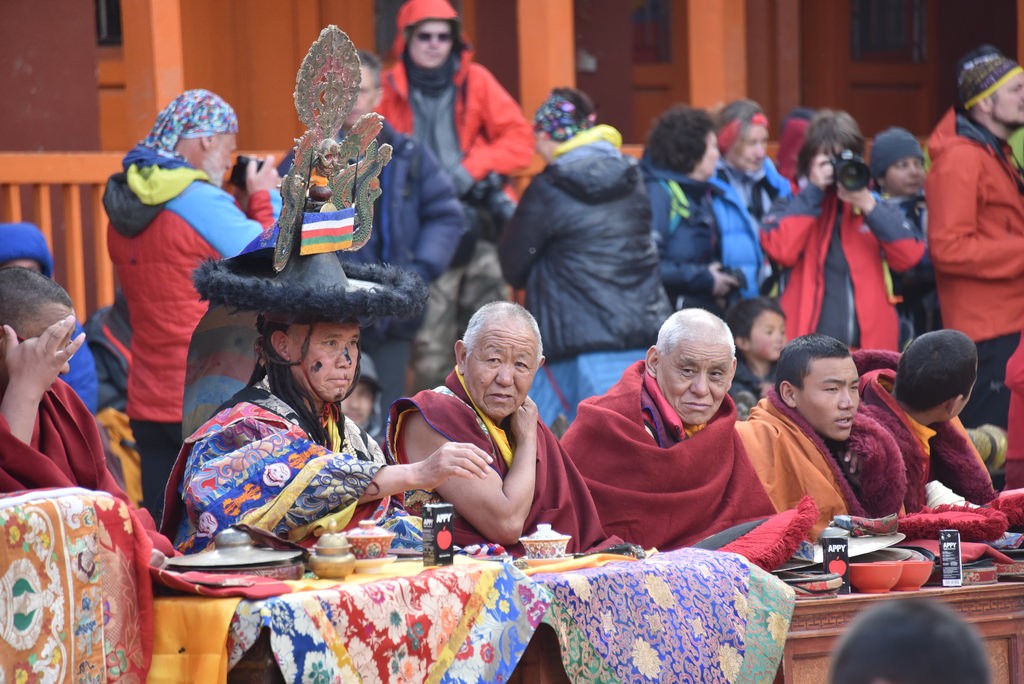 Tiji festival is celebrated in the Lo Manthang, the walled city of Lo region of Upper Mustang. "Tiji" is an abbreviation of the word "TempaChirim" meaning "Prayer for World Peace." It is a very joyous festival which is celebrated for three days as a mark of victory of good over evil with different prayers, chants, and dances in colorful dresses. This festival has religious as well as spiritual importance.
Religious importance in essence to the victory of DorjeeSonnu (Lord Buddha's incarnation) over a demon called Man Tam Ru and spiritual, in essence to the good of all the sentient being and eliminate the negative energies from Mustang.
This unique festival is celebrated in the third month of Tibetan calendar which is generally May. As your chance of witnessing Tiji this year is over, you can watch this vibrant festival in 2019 on May 30, May 31 and June 1.
Enjoy the local cuisine
The ethnicity, custom, and region define the food of Nepal. There are different menus in different places and of different ethnicity. As Mustang is a rich in culture and tradition, where different ethnic group resides, you must try the local cuisine of that place.
Thakali food, which is famous in all over Nepal, is one famous cuisine of Mustang. You will also get to have the authentic Nepali food. Also, some local cuisine like Tibetan bread, local tea mixed with salt and butter, brandy from Marphais must try.
Do you have any questions regarding Mustang Nepal? Send us a quick message.
Capture the exotic beauty
Mustang has some stunning view of the mountain ranges like Annapurna range and Nilgiri range and beautiful landscapes of hills and villages. Colorful rhododendron forest and apple fields add even more beauty to this place. The beautiful and distinctive places like Jomsom, Kagbeni, and Lo-Manthang, which are rich in culture and traditional is one main jewel of Mustang.
As you come across these places and find yourself in awe make sure you capture these moments in your camera lens. Himalayan settlements, monasteries, and snowfall make it even more perfect.
Lo Manthang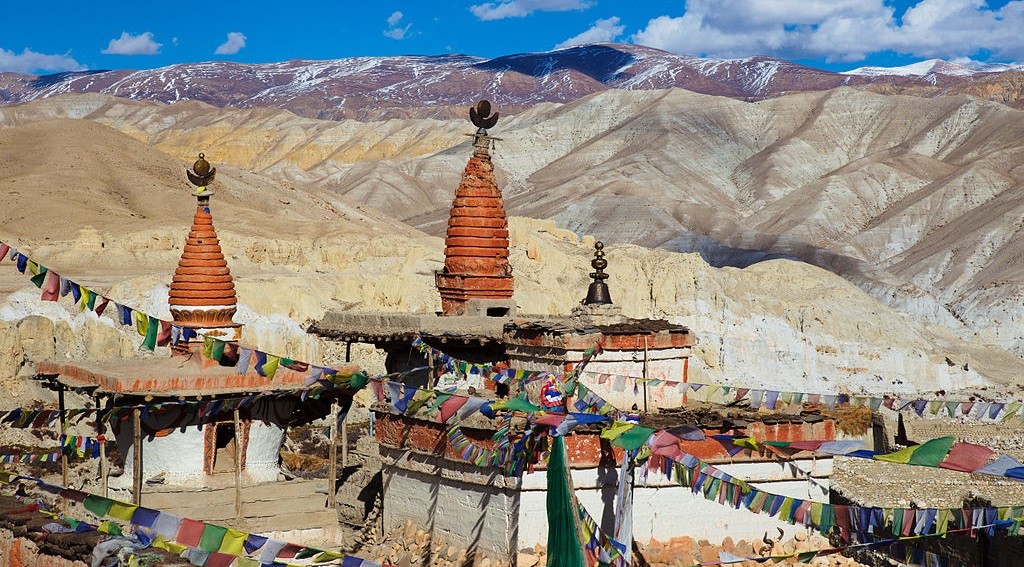 Lo Manthang is one of the main attractions of the Mustang region. It is popular for tall whitewashed mud-brick walls, gompas and royal palace of Mustang, which is a nine-cornered, five-story structure, built around 1400. The palace suffered multiple cracks in the devastating earthquake of April 2015. You will also come across four major temples, which is Jampa Lhakhang (Jampa Gompa) also known as "God House", which is oldest among them built in early 15th century, Thubchen Gompa, built in late 15th century with a huge red assembly hall located just in the southwest of Jampa Lhakhang, Chodey Gompa, now the main city gompa and Chopramg Gompa, also known as "New Gompa".
Your visit to Lo Manthang will give the opportunity to explore the core culture and tradition of Mustang along with beautiful views all around.
Chosar Cave
Mustang is an ancient village that dates backs to the thousands of years. In Mustang there are some 10,000 human-made caves dug into the side of valleys. From the exploration of many groups of archaeologist and researcher, those stacked caves were found and partially mummified bodies and skeleton that are at least 2,000 – 3,000 years old.
In Mustang you can see several of those sky caves in Chosar village of Lo-Manthang. These thousand-year-old caves have also led to the discovery of valuable Buddhist paintings, sculptures, manuscripts and several artifacts from the 12th to 14th century.
Drakmar
Drakmar is one of the most visit places in Mustang. But, there isn't much mention about this place except in some books that refer to it as a place from which some emissaries came to the King's court in the 18th century. Drakmar is located near the village of Kag, just beyond the Monastery at Te. As per the local legend, Drakmar is the place where Guru Rimpoche slew an ogress named Balmo, and he placed great chores on her organs so she couldn't come back to life.
The red cliff of Drakmar is  very famous, and it is believed that that red cliff is stained with Balmo's blood. Locals around that place say that the chorten has fallen and Balmo is alive again, and some ghosts serve Balmo, and they take people who venture too close. You will find dramatically colored cliffs riddled with many human-made caves.
Lurpa Village
Lurpa is a traditional Bon village of Mustang. Hidden in the Panda Khola gorges between Kagbeni and Jomsom, Lurpa is an ancient village with traditional values. Despite the growth of Mustang as a tourist landmark, Lurpa has able to keep its charm intact. This isolated village is far from the trekking trails of Mustang, and it is the very reason the core culture of pre-Buddhist shamanistic belief, Bon religion is alive.
This village is very attractive with the tightly built traditional houses. The walls of the houses are made of adobe and cobble extracted from rivers around. The coating is done out of the pigmented soil from a cliff nearby. Lurpa is untouched by the modern world, so there is a perfect balance between the habitat and natural environment.