Gosaikunda Lake is one of the most famous religious and pilgrimage sites in Nepal. It is located at an altitude of 4,380 m (14370 ft.) and surrounded by peaks in Langtang National Park in Rasuwa District with a surface of 13.8 ha (34 acres). Gosaikunda also spelled Gosainkunda, which is an alpine freshwater lake and a Ramsar site (since 2007) which means a wetland site.
Many foreigners choose Gosaikunda Trek as one of their trekking destinations while traveling to Nepal. The main attraction of this trek is an exotic 108 glacier lakes, small to medium in size that is scattered around the Gosaikunda region surrounded by Himalayas range, delightful forest, beautiful scenario, and lush wild nature.
The fascinating beauty along with the traditional civilization of Tamang people and their culture and values, renowned cheese business, and abundant wildlife make Gosaikunda a famous tourist destination.
Climbing to Gosaikunda is not so difficult. However,  the roads are a little steep and rocky. You need to be careful during the trek as you will encounter lots of worms while walking through the forest. The Langtang valley is rich in the pine tree, bamboo, and rhododendron, Flora and Fauna.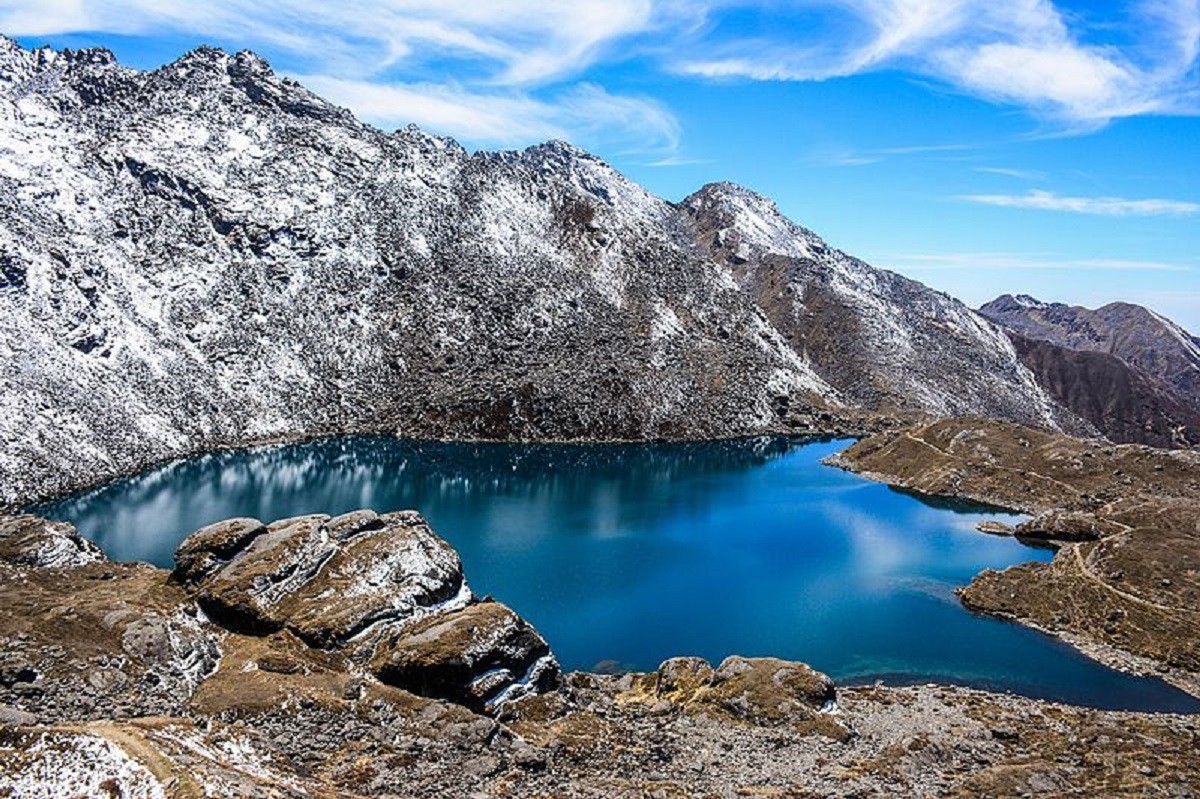 Religious importance
Gosainkunda is a holy place for both Buddhist(Sharmans)and Hindu Pilgrims. Every year in Janai Purnima in the month of Bhadra (August full moon day),  according to the Nepali Calendar, thousands of Hindu pilgrims come here to worships God Shiva. Sharmans ('Dhami or Jhaakri'), also called Bon-Po in Tamang language and pre-Buddhist visit on the full moon day from all over Nepal.
Sharmans perform spiritual song and dance during the trek at the beginning of their journey until they reach Gosaikunda and, on that day the 'junior Jhaakri' obtain the graduation from their masters.
In Hindu mythology, Gosaikunda is an abode of Lord Shiva and Gauri.
According to the Hindu scriptures Vishnu Purana, Bhagavata Purana and the epics of Mahabharat, Ramayan refer to Samundra Manthan, which is related to the Gosaikunda.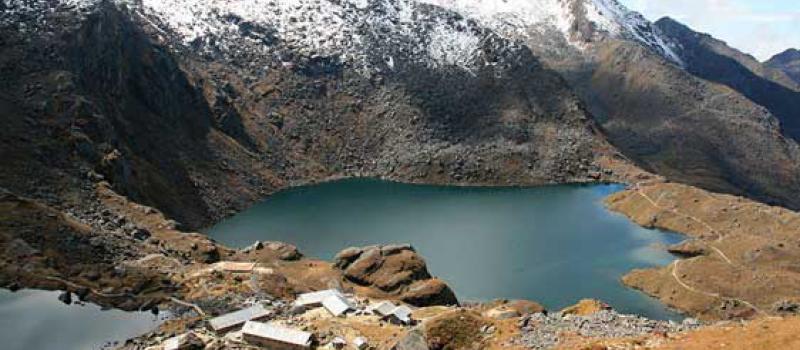 It is believed that Lord Shiva is the creator of the lake because when he thrust his Trishul (holy Trident) into the mountain to extract the water to drink so that he could cool his stinging throat after he had swallowed poison.
It is believed that once you take bathe in the holy lake, all your pain, sorrows and sins are washed off.
Gosaikunda Trekking
It is a short, easy and scenic trek from Kathmandu to Gosaikunda. The trip from Kathmandu to Gosaikunda takes six to seven days.
After an hour of drive from Kathmandu to Sundarijal. Sundarijal is the first destination of the trek to Gosainkunda. Sundarijal is a scenic recreation, a picnic spot for local people of Kathmandu and they visit the place especially to enjoy the waterfall.
It is two hours walk from Sundarijal to Mulpani village where you can have lunch/snacks and then climb through the forest to Chisapani which takes two and a half hours to reach there.
Chisapani is one of the most popular hill stations near Kathmandu Valley and during the trek you can enjoy the view of mountains.
After taking rest for one day at chisapani, you can start the trek to Tuksang the next morning. This trek will take approximately 5-6 hours. You will be amazed by the natural beauty while walking through the forest.
Tuksang is a village of Tamang communities with traditional houses,  chirping birds and stunning views of Himalayas. Tamangs followed the pre-Buddhist shamanistic and animistic practices that are now dominated by the Buddhist.
Then you will start trekking from Tuksang to Ghopte (3340 m) for 6-7 hours. The walk becomes more energetic through the green forest to Ghopte, where a number of population is low and the temperature and scenario are amazing. You can also find Local Lodges to stay there.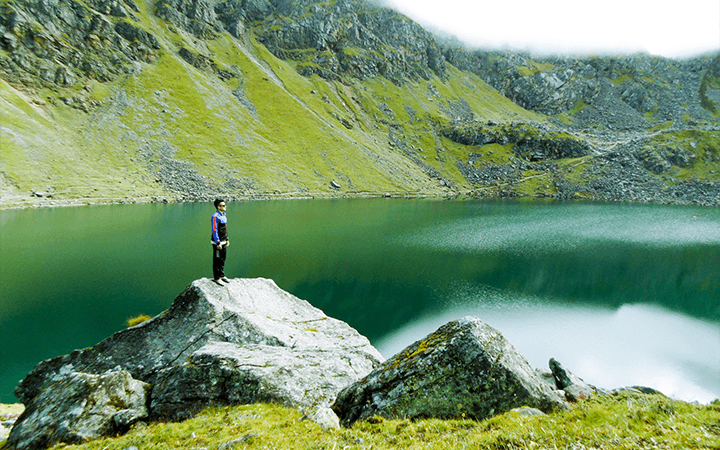 The next trek is from Ghopte to Gosainkunda which is a long walk of 6-7 hours. Gosaikunda is a lake cover all around by the hills. Gosaikunda Lake is 1,030 ha (4.0 square meters) in the area.
The Gosainkunda lake is frozen for six months in a year. After visiting the place and enjoying the scenery of Gosaikunda, you can come back through the same route or also return from another route.
While returning you will walk from Gosaikunda to Dhunche (1764 m). Dhunche is a district headquarters of Rasuwa.
The trek to Dhunche takes 5-6 hours. After arriving at Dhunche, you will get on the bus and travel towards Kathmandu and arrive in 6-7 hours.
Best time to visit Gosaikunda
Autumn and Spring season are the best time to visit Gosaikunda. Due to the instability of the weather, it's better to go there at the end of February to the beginning of June, and the beginning of September to the end of December. 
You can also travel for the month of July and August, however, the scenery will be a blur due to the rainfall.
Gosaikunda Weather
The weather in Gosaikunda is quite unpredictable and can change in a minute. The weather is always wet so before traveling to Gosaikunda, arrange all necessary stuff you will need during the trek. Keep warm clothes, hiking boots, walking steak, gloves, water bottles, sunglasses, raincoats, medicine and also some food too.
Gosaikunda Trek Cost
Gosainkunda Trek is one of the important and popular trekking routes for domestics tourists. Firstly, the trekkers have to take the trekking permits from Nepal Tourism Board which located in Kathmandu and TIMS (Trekkers Information Management System). Nepal Sanctuary Treks customize the trekking program as per needs, preferences, a number of trekkers and time constraints. For more details and cost regarding Gosainkunda Trek Contact Us 
Gosaikunda Map