Solo Female travel and trek is one of the fastest emergent segments of adventure travel. Women in any culture enjoy to experience the magical things, sharing diverse perspectives, discover the exotic locales and step outside from comfort zones. Likewise, Solo female trekker can grab an incredible opportunity to be the architect of own adventure. Travelling solo experience thrilling, independent and incredible lifetime experiences.
Many women reluctant to travel solo due to fear, cultural shocks and safety concerns. But if you are cautious, prepared and have a good research on well-established trekking companies then this will surely increases your chances of a stress-free trekking experience. If you are thinking of travelling solo then select the established trekking company that consider client safety, offer best customized itineraries, reliability and client testimonials.
Why choose Nepal for Solo Female Trek?
If you are looking for the destination, there could be no better destination than Nepal for Solo Female Trek. The tourism in Nepal is thriving and considered as safe destinations for travelers.
Nepal is a perfect destination for adventure seekers. Bungee jumping, rafting, paragliding, mountain climbing and many more activities make the journey to Nepal extra adventurous. The naturally blessed country with varied topography, wilderness and the stunning mountains will drive you crazy. Apart from this, Nepal is a small yet amazingly diverse country in terms of ethnicity, culture, traditions and lifestyle. For a female trekker who is coming alone in Nepal, the country will prove that you made a great decision.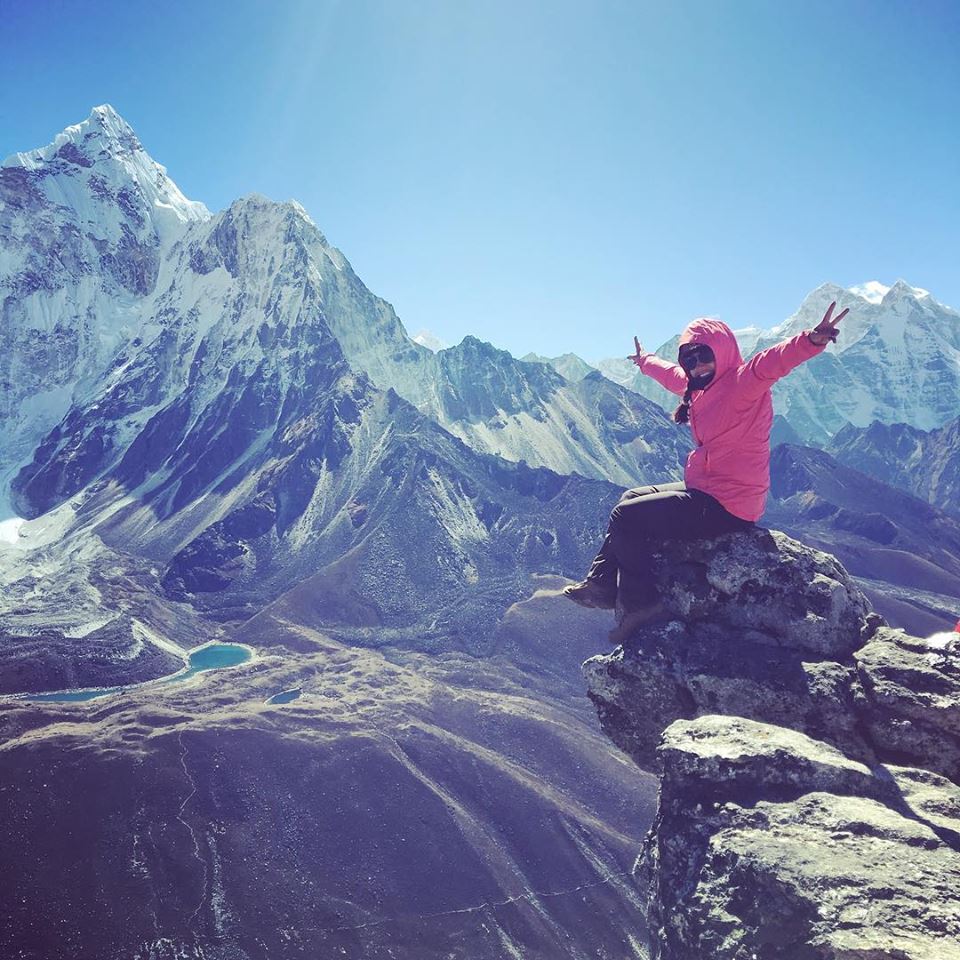 Photo Credit: Richa Shrestha
"As a woman when I travel solo , the biggest thing I care about is safety. Whenever I travel solo, I need to trust my instincts and common sense. and trekking in Nepal is so safe. On top of safety, it is important to me to handpick a trekking company who I can rely on and Nepal Sanctuary Treks helped me to create a travel plan that I felt comfortable with". Richa Shrestha, Solo Female Trekker and Adventure seeker
Why is it indispensable to select well-established and sustainable trekking company?
To make your entire trip safe and stress free, it is essential to take right decision while choosing trekking companies. As a female traveler, one must consider the company that cater to the female travel and provide safe and accommodating trekking plan. Research about past clients testimonials and word of mouth are another aspects that need to determine while selecting trekking company.
Things to consider while choosing trekking companies by Solo Female trekkers
Expert itineraries and experienced guides
While picking trekking companies, one must consider on itineraries that are designed to provide you with plenty of time to acclimatize for your high altitude adventure and experienced guide.
Nepal Sanctuary Treks offers range of treks and expeditions and create itineraries that will take you off the beaten track to totally adventurous experience in exotic places and culture. The company furnished with knowledgeable guides who are exclusively placed to enhance richness and spontaneous moments to every trip. Every trip consist of all-inclusive and carefully handcrafted programs.Our well planned trips have the flexibility where travel expert designed the program according to trekker's preferences and taste. Besides our professional guides  take care of every elements and ensure that adventure trekking experiences meet the expectation of the trekkers.
Safety
Traveling Solo to a new place is one of the most freedom experiences on the earth. It can be enjoyable, soothing and insightful, however, safety is often the foremost concern for women traveling solo. As long as you do some careful planning, remain attentive, select the safety concerned trekking companies and follow guidelines for the safety, you are to have a safe and blissful trekking experiences. In addition, weather condition, well-prepared itinerary and safety equipment for treks are also the aspects of safety.
Nepal Sanctuary Treks is here to plan your trekking holiday with safety first in mind. The primary aim of our itineraries is to insure enough time to acclimatize for your high altitude adventure. While designing the itinerary, we give importance to the best lodges and take into consideration weather conditions in that particular season and also the trekker's physical capacity. Besides, we are well equipped with portable Altitude Chamber (PAC), Oxy-Meter, oxygen supply and a comprehensive First Aid kit on treks and expeditions. The company uses Satellite phone to communicate with the office to update on a trek condition and to inform the concerned family right from the mountains.
Hand-picked accommodation
As a solo female traveler, you deliberate to select the accommodation on the safety of its location. Accommodation type based on preference or budget whereas you should consider the safety, comfort and sustainability simultaneously. As a sustainable adventure company, Nepal Sanctuary Treks carefully select accommodation to balance comfort and safety. We select the best lodges along the way for lodge based treks and use the best branded tents and equipment for the tented accommodation for treks in the Himalaya.
Responsible travel
Whilst selecting trekking companies for you trip, it is very essential to research whether the company follows and implements sustainability practices and has responsible travel code of conduct.
As a traveler, we experience the beautiful nature and that experience underpins our responsible travel philosophy. Whether we are solo or group traveler the main aim is to experience and enjoy the nature. However, this must not  deplete the original state of environment, and the culture of destination.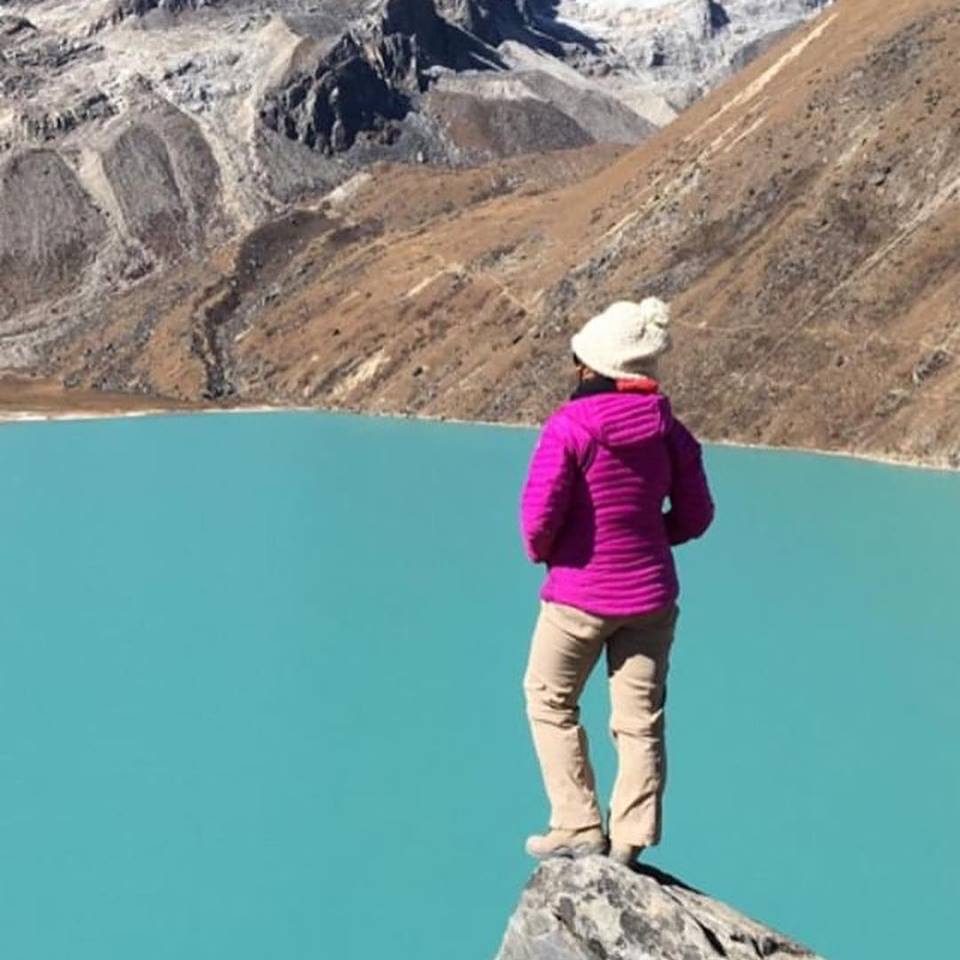 Photo Credit: Richa Shrestha
Make your own research
Making own research prior to trip helps stress free journey. Make sure you know enough about the  right precautions, culture, customs, local laws of your destination. This will help to ensure better adaptation and safety to make solo travelling safe, fun and extremely rewarding. Beside these, you can also learn some responsible travelling tips and basic Nepali phrases that would help to communicate with locals. 
Word of mouth and client testimonials
Word of mouth, referrals are the best ways that help to make a rational decision to select the trekking company. Prior to your trip, you can get the information from your acquaintance who have general experience with a travel company of the country you are going to travel. Additionally, you can go through company website and research about company history, services and client reviews.  Read the experience of past service users in various internet portals and get an idea of services available. TripAdvisor provides a somewhat fair review of trekking agencies.Each agency posts its personal client's testimonials on the website. 
How are women treated in Nepal?
While thinking about travelling solo in Nepal, the first thing that strikes is 'Is Nepal safe for females to travel solo?' The answer is YES. Nepal is actually Very Safe for the solo female travelers.
Nepal is a culturally rich country and each culture has great respect towards women. Nepalese always respect females, either they are alone, in couple or in groups. As a solo female trekker, Nepalese people are very respectful towards the trekkers. Not only have the females, the males also treated the female trekkers in a good manner.
Nepali women are always happy to build up a friendly relationship with the solo travelers. Once, you introduce yourself to them, they are always helpful and will support you in any way they can. It is easier for the solo female trekkers to be a part of the local families than men.
Are you Excited to Trek in Nepal with Insured Safety and Adventure?
Contact Us
Nepal Sanctuary Trek will be glad to arrange you with the experienced and friendly guides to support in your trek. We will make your trek easier, comfortable and more exploring by managing everything you will require.
HAPPY SOLO TREKKING LADIES