You are suggested to go through the following list of what you should know before going to Everest base camp as a trekker. They are listed in no specific order.
Everest location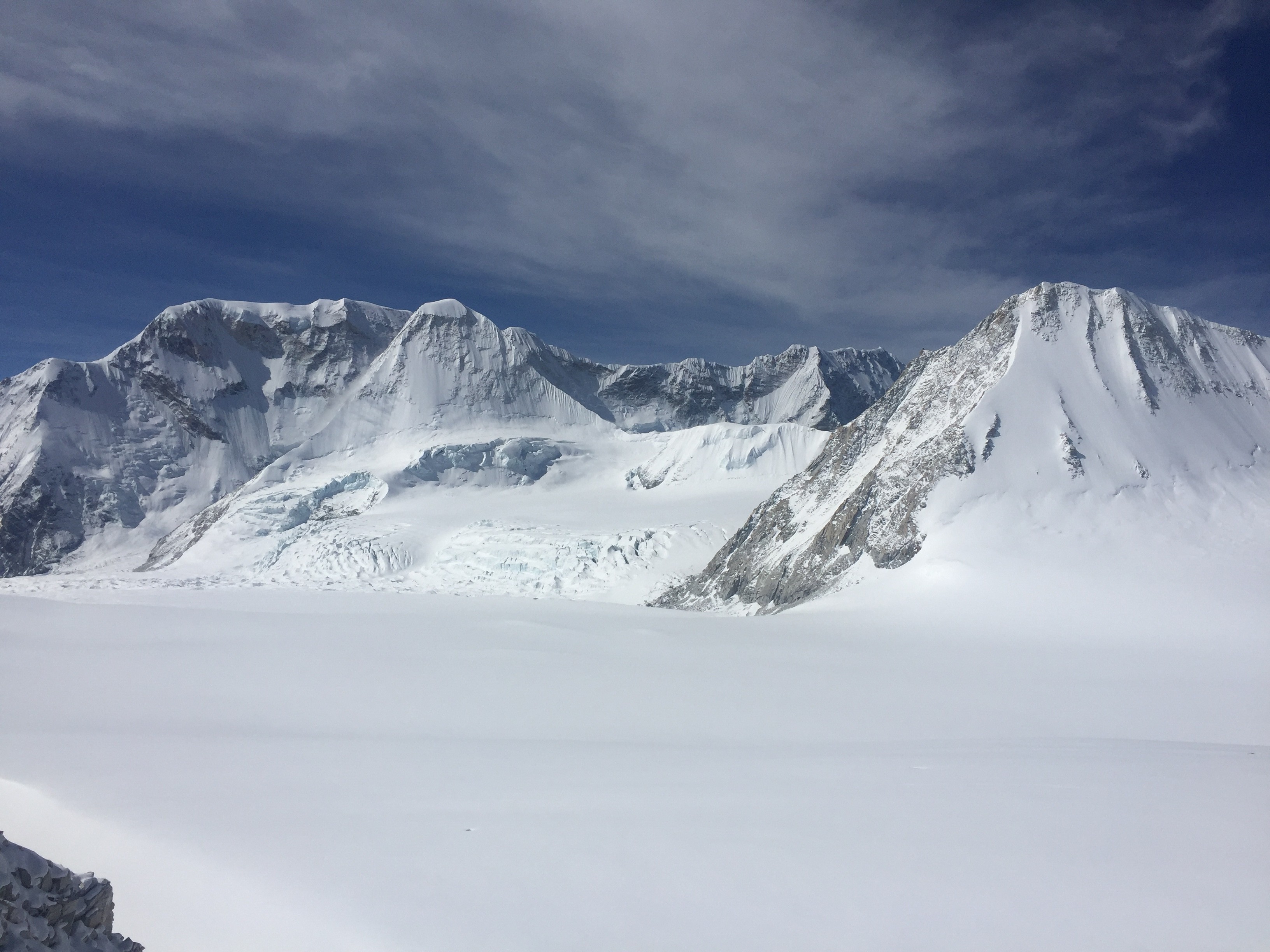 Known as the roof of the world for being the tallest mountain on the Earth, Mt. Everest (8848m. / 29029ft.) is in Solukhumbu district of North-Eastern Nepal. It marks the international border between Tibet and Nepal.
Mount Everest is the most outstanding part of Mahalangur range of great Himalayas. After trekking for approximately a week, you will reach the base camp of this mountain.
Best season for Everest base camp trekking
There are two preferable seasons for Everest base camp trekking: Spring and autumn. The spring season starts from mid-February and ends towards the end of May. The period between March and May is the hottest time of year when temperatures might go up to 30°C. 
The autumn season starts from mid-September and lasts until the end of November. It comes with features of dryness, clear blue sky and a mild breeze.
Board a flight to Tenzing-Hillary airport
Tenzing-Hillary airport in Lukla has largely eased the access to Mt. Everest base camp. It takes just 35 minutes' flight from the Tribhuvan International Airport in Kathmandu to reach Lukla.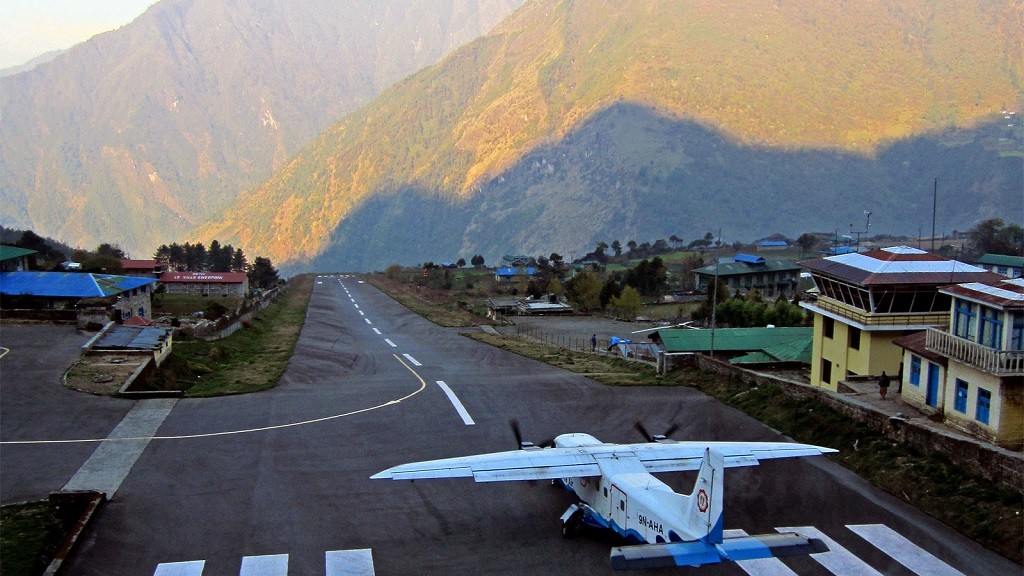 The flight takes you through a sea of cloud and penetrating through it you can view mountainous ranges all around. If you choose to board a flight to Lukla, your trek starts the same day. Otherwise, you have to catch a bus to either Jiri or Salleri and spend some extra days of hiking before reaching Lukla.
Nature of accommodation
Since it is a tourism-flourishing business zone, almost all houses you see in upper Khumbu region are lodges. If you are going to the Mt. Everest base camp or Gokyo, lodging can be the preferable accommodation.
Now, you do not have to worry about finding a lodge for comfortable accommodation in this part of the world. Almost all hotels are quality providers, but even among them, you can choose the standard based on your budget, for there is  a range of options.
However, you need not worry about the basic facilities in any hotel.
Regarding food, you will be provided a menu from where you will get to choose Nepali, Continental, and some Chinese items. The most special thing about those hotels and lodges is that they serve locally produced vegetables and food. Hence, they are healthy and hygienic to eat.
Everest base camp trekking cost coverage
There is no fixed price for hiking up to the Mt. Everest base camp. It differs from company to company. By and large, the cost is determined by nature of accommodation, seasons, your special requirements, etc. At a normal range, you will be charged from US$ 1000 to US$3000 for an average 12 days – 17 days' trek.  The cost is normally exclusive of a hot shower, battery charging, telephone, internet, beverage and personal shopping.
Trekking route to Mt. Everest base camp
The most often used itinerary for Mt. Everest base camp trek is of 8 days. Sometimes, some trekking companies might offer their clients a quite different trekking route from the traditional one.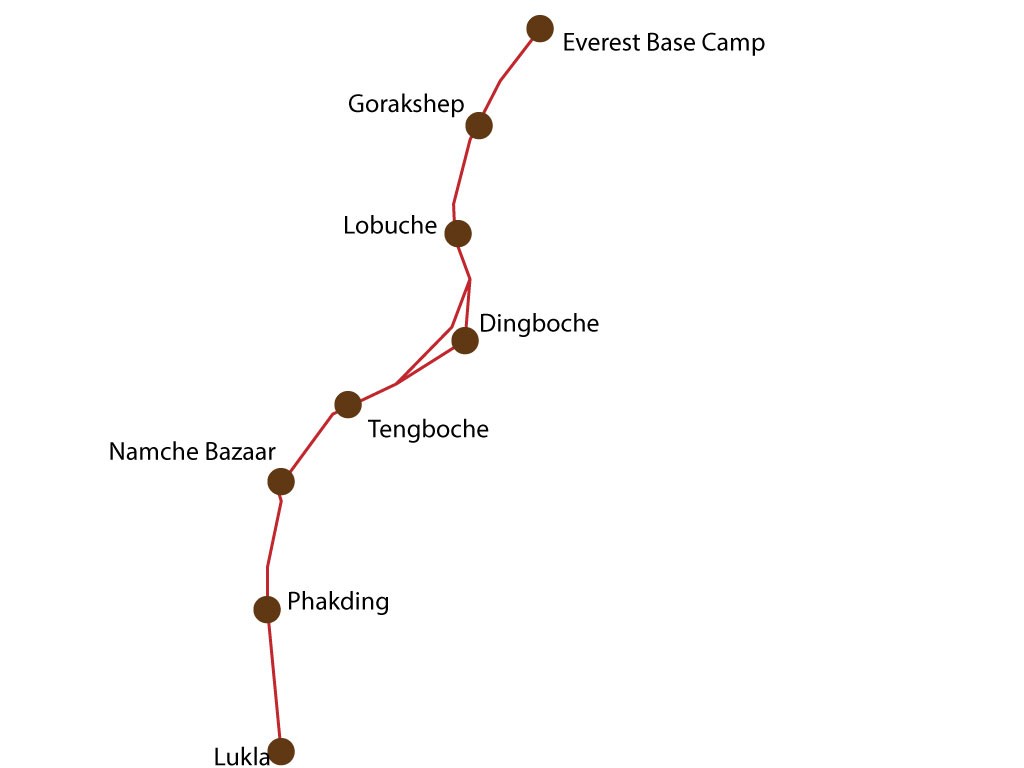 The traditional route is: Kathmandu – Lukla – Phakding – Namche  -Tengboche – Dingboche – Lobuche – Gorakshep – Everest base camp. Nonetheless, you are always welcome to review and make changes to the route.
Hire a trekking guide
First of all, the law of Nepal has legalized the necessity of a trekking guide for any foreign trekker in the Himalayas. If you hire a guide, he will manage all the necessary preparations for the trek.
He will give you so much of information about the place and people. Many obstacles might occur during the trek. If you fall sick before the end of your journey, the guide will be of huge help.
Hence, you have to consider hiring a guide who is very much familiar with the route and your destination.
Both group and solo hiking are possible
A trekking agency can deploy staffs for any size of guests' team. It is all up to the tourists' choice. If you love traveling alone, you can simply hire a guide and make a move with him.
Trekking itinerary might be more flexible if you love solo trekking. If you feel insecure alone, you are suggested to come with a group. Another advantage of group trekking is that the bigger the group size, the lesser the price.
Necessary trekking gears
Trekking gear list depends upon the season of your travel. The basic gears include lightweight hiking boots, waterproof boots, a pair of sandals, hiking socks, windproof jackets, sunglasses, gloves, quick-dry underwear, day pack, sleeping bag, headlamp, trekking poles, etc.
Required documents and permits
For Everest base camp trek, TIMS (Trekkers Information Management System) card and Sagarmatha National Park entry permit are requirements. If you are on a guided trek, your guide will help you in obtaining the permit and TIMS card. Moreover, you can also obtain them on your own from Nepal Tourism Board or the Sagarmatha National Park entrance. You have to pay US$ 20 for TIMS card whereas Sagarmatha National Park entry fee is US$ 35. For both purposes, you have to bring at least five passport size photos altogether and two copies of your passport.
Is altitude sickness a huge problem up until Base Camp?
There is no age, gender or physical discrimination when it comes to suffering from high altitude sickness. There are, of course, cases where we can see guides carrying their clients on their back to lower region overnight.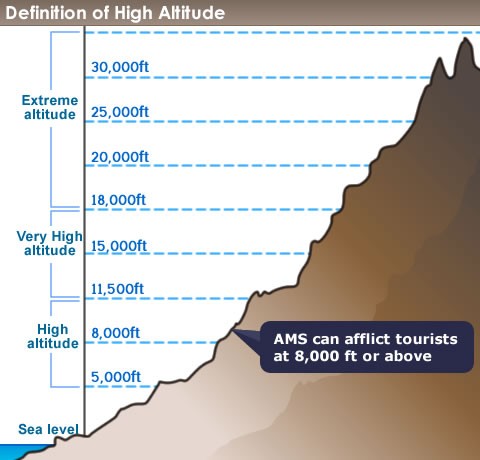 Due to the increased awareness, however, high altitude sickness has been less severe in recent years even in the Mt. Everest region.
Symptoms of high altitude sickness
The symptoms of high altitude sickness include a headache, fatigue, loss of appetite, difficulty in sleeping, vomiting, increase in pulse rate, dizziness, etc.
High altitude sickness can be prevented
What everyone has to understand is that proper acclimatization is the best fight against this disease. It has been customary to spend at least two nights in Namche Bazaar for acclimatization.
Since you frequently go across villages, you should rather comfortably ascend from 300 to 500 meters per day. It is advisable to consult a physician to determine whether you can survive the harsh weather.
You should not go on any medication without a doctor's prescription.
Everest base camp can become dangerous
Everest base camp trekking nowhere involves dangerous trail. Nevertheless, the nature of mountains is unpredictable. The thing we have to fear most is the weather.
During the rainy season, the path becomes slippery and muddy, and leach might attack you at the same time. Likewise, during the winter, the temperature goes below -30 degree Celsius.
Hence, you are frequently suggested to hire guides who will play remarkable roles in maintaining your safety and comfort.
You need to hire porters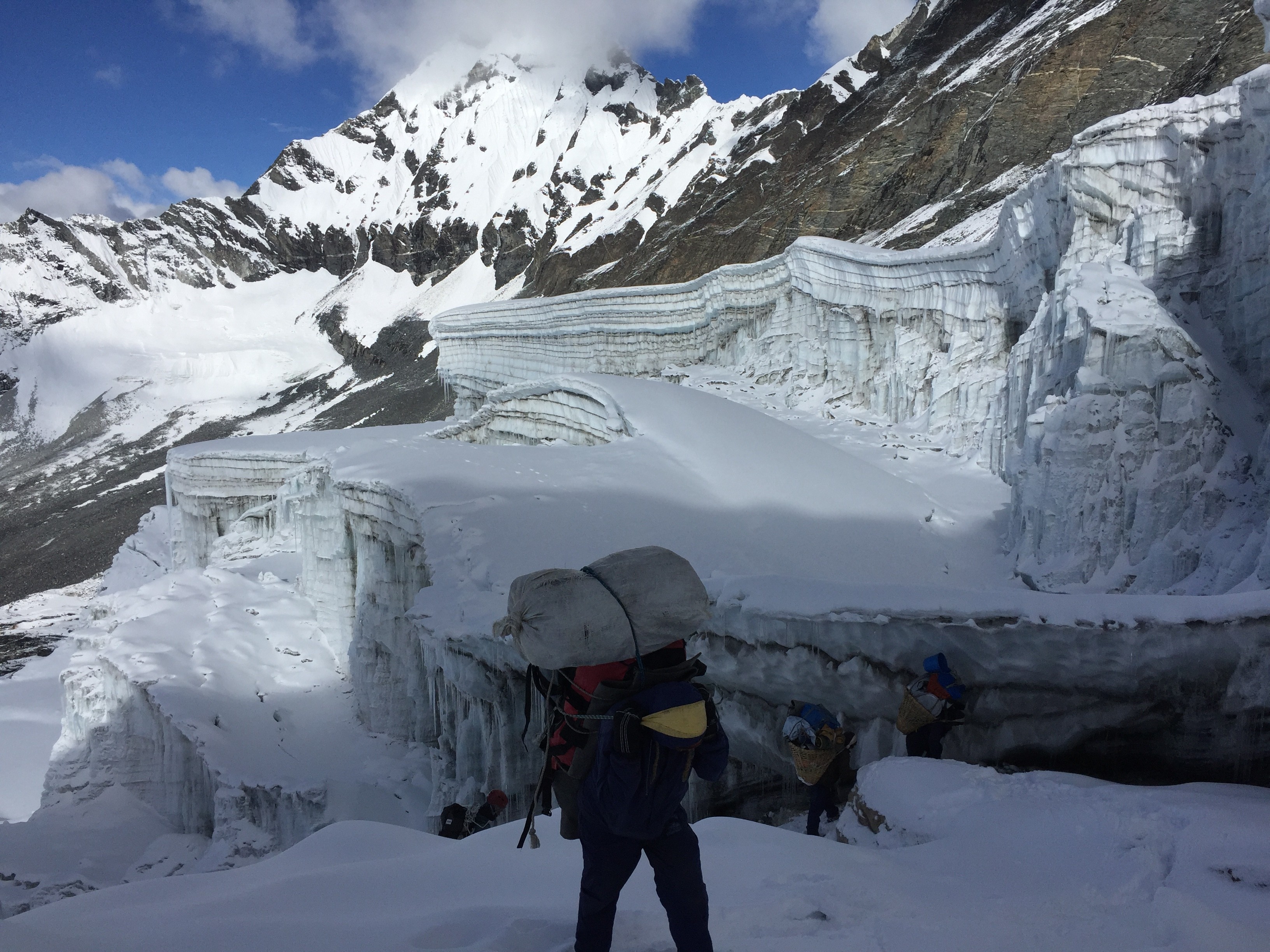 It is customary to hire a porter to carry your bag to your destination when you are heading to the Everest base camp. It is not that you cannot carry your luggage on your own, but the fact is the higher you go, the more burdensome it becomes for you.
If you hire porters, they will carry your whole luggage to your desired destination, and you can carry just a daypack containing your private stuff. Adopting this strategy will pay you off with a comfortable trek.
You can have access to the internet
Most hotels today have wireless fidelity connections. So, you can use wi-fi paying a certain amount. Cyber communications are also being operated everywhere on the way to Mt. Everest.
Before leaving for the trek, you can also buy a Sim card in Kathmandu. Whenever there is a network, you can buy data packs and use the internet for your convenience.
You should carry Nepali currency
It is necessary for you to carry Nepali rupees during the trek. Upon landing in Kathmandu from your respective country, you can exchange currency almost everywhere, including the airport.
It is necessary for personal shopping, tipping, etc. If you do not have a guide, it is better for you to exchange an amount of money which will suffice the whole trek.
Casualties on the way to Everest base camp
So far, there is no officially recorded death during a trek to Everest base camp. Every year, we hear the news of death at Everest, but it is during expeditions that some people, unfortunately, breathe their last.
If you have health issues, you should have constant communication with your guide so that he will take necessary measures.
The truth is life is meant for death. So, if somebody dies en route to Everest base camp, the trek cannot always be the reason for the casualty.
Train yourself for Everest base camp trek
It is not mandatory to have prior experience of trekking. The trek to Everest base camp does not demand any technical skill hence you do not need to have any previous technical climbing experience or even any altitude experience to complete the trek.
Nevertheless, you should be aware of your health. A comfortable trek requires you to be physically fit and to have excellent strength.
To maintain the required fitness, you can personally train yourself by hiking to higher altitudes, running, cycling, etc. for some weeks before coming to Nepal.
You should be mentally prepared
You need to be mentally prepared for life in the mountains depending on your level of comfort with the outdoors.During your trek, aside from joy, you might as well miss whatever you have left behind.
Though Nepalese are very friendly people, you might face difficulties due to cultural differences. Misunderstandings also might occur, and sometimes they might not be able to fulfill your expectations. Hence, you may need to prepare yourself for what is to come.
Poaching in the Sagarmatha National Park is against the law
Poaching is strictly prohibited inside the Sagarmatha National Park. You can observe many species of flora and fauna, but you are allowed to harm none.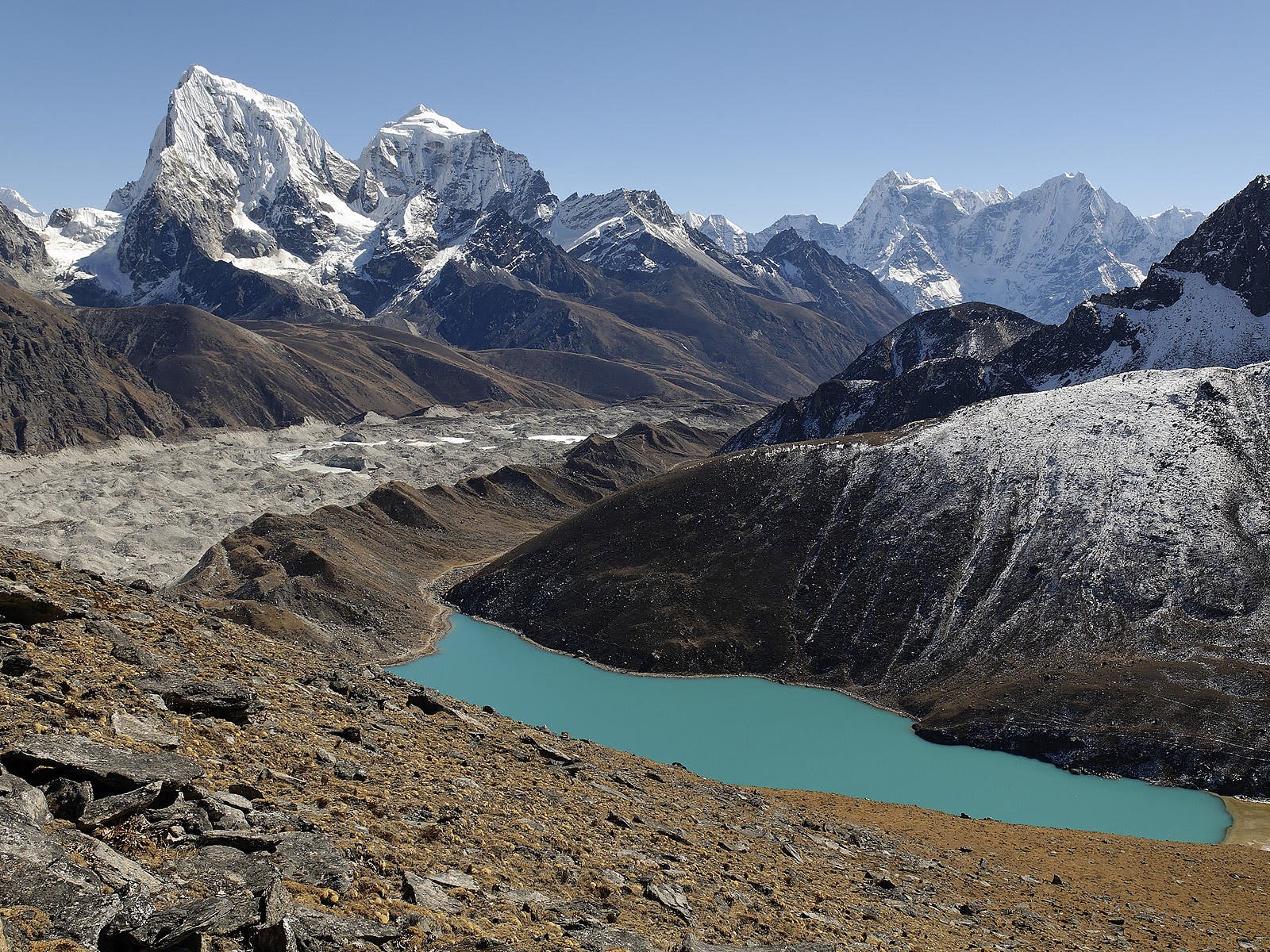 You should consider being under strict inspection from community police check posts. In case of poaching, the culprit will be condemned to serve long-term jail.
You need insurance
It is essential to have proper insurance while coming to Nepal for trekking to the high Himalayas. Everest base camp trek itinerary involves going as high as to Kalapatthar (5,643 meters).
In spite of having physical fitness and strong health, you might be subject to high altitude sickness. In case of emergency health issues, air evacuation might be necessary. Hence, you are highly suggested to have far-sightedness.
You cannot see the top of Mt. Everest from the base camp
Though your final destination is Everest base camp, you cannot see the top of Mt. Everest from its base. Hence, you are requested to visit Kalapatthar for a close view of Mt. Everest peak.
Best Everest base camp trek agency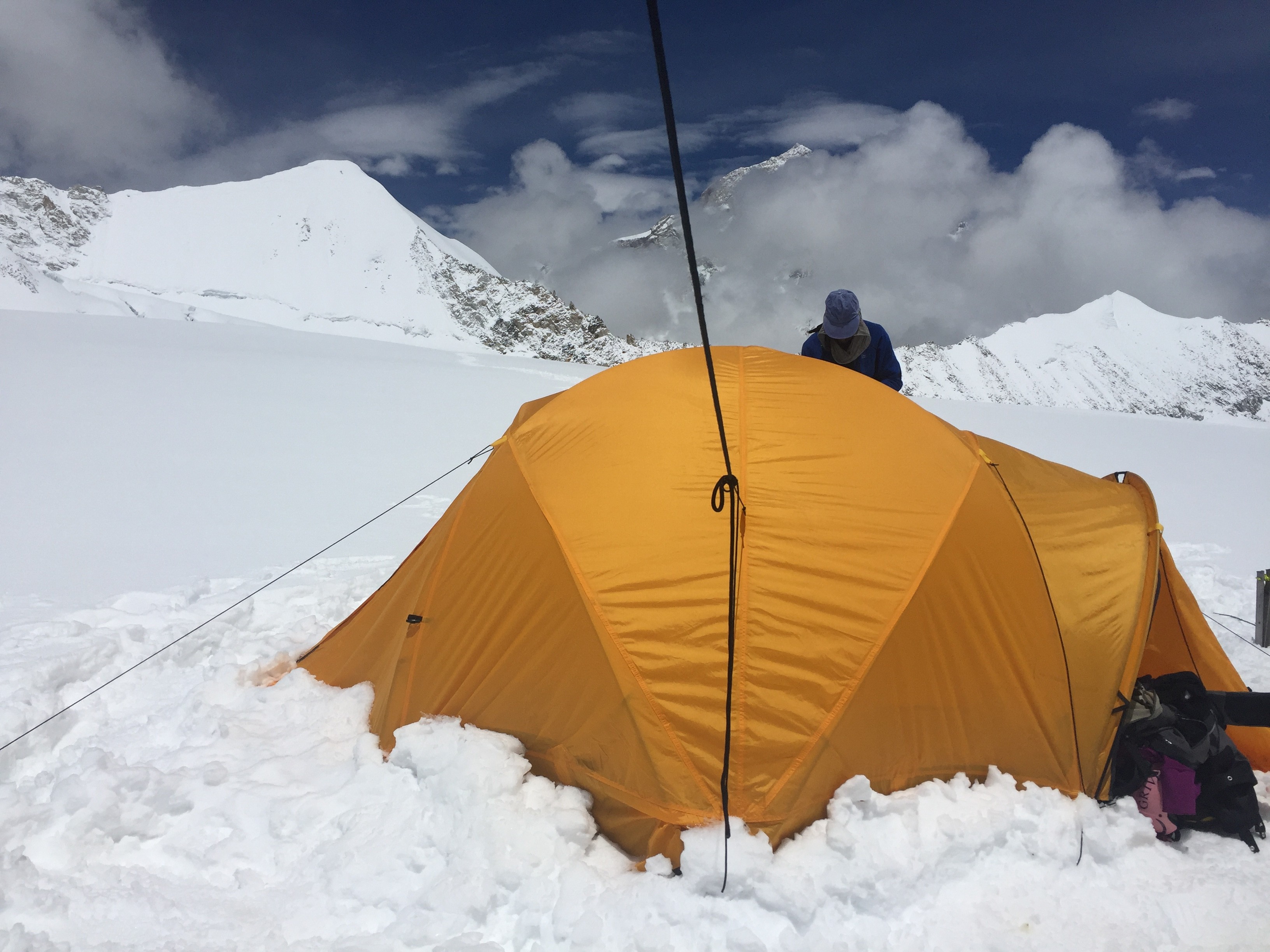 No categorization of trekking agencies regarding their quality service has been made so far. Comfort level of trekking mostly depends upon the mutual understanding between the trekking agency and its clients.
The agency's staffs aim is to make their clients' journey comfortable, safe and joyous. In spite of the given fact, you are highly suggested to choose an agency with long trekking history.
You should go to Kalapatthar for a sunset view of Mt. Everest peak
Kalapatthar, in Nepali, literally means black stone. After an hour's hill ascent from Gorakshep, you will reach a place where you will see a massive rock which is black.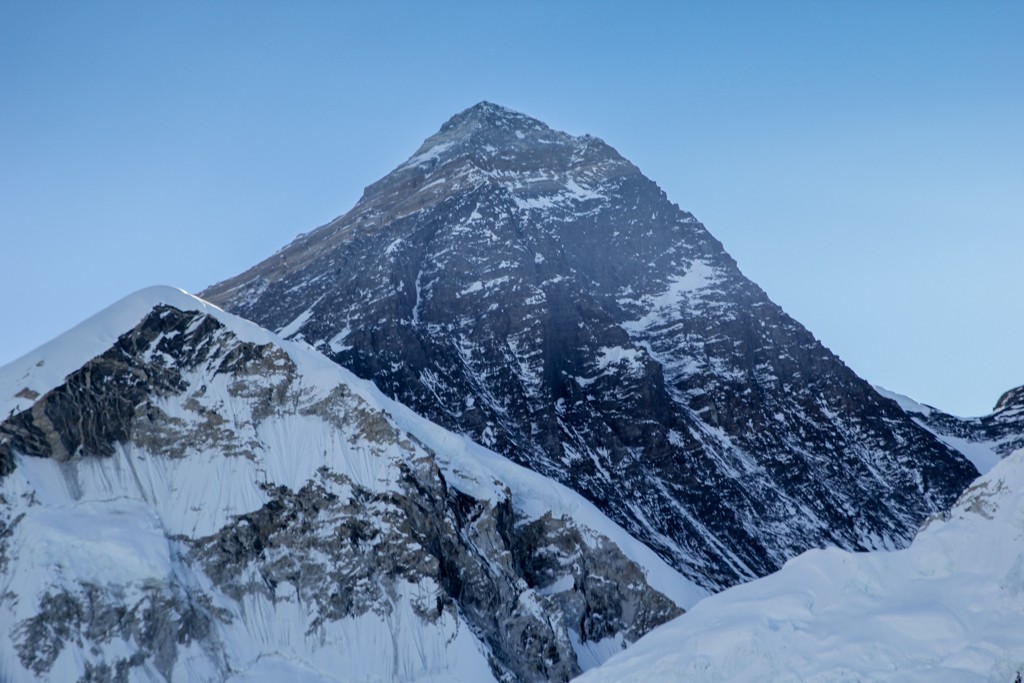 The top of this rock rises to an elevation of 5,643 meters, from where you can have a spectacular view of the Mt. Everest. When the weather is clear, the view of Mt. Everest during the sunset gives you a sublime feeling.
The setting sun paints yellowish gray color on what is known as the roof of the world.
Don't take many showers
The first thing is you will hardly take a bath during the trek, thanks to the coldness. It is almost impossible to even for the local people to take a cold shower. Most lodges offer the facility of the hot shower, but for that, you need to pay a supplementary charge of up to 5 US dollars.
You cannot wash all kinds of clothes
During the acclimatization period, you can wash lightweight t-shirts, socks, underwear, etc. which will be dry within some hours. Washing heavy clothes will only create an additional burden.
You have to be convinced that in spite of being dirty, your clothes will not stink. Wearing them will not cause you any harm, washing them might result in difficult consequences instead.
Use wet wipes instead of cold water
There are water taps and streams throughout the route. However, we recommend you not to wash your hands and face with cold water very often. Instead, a wet wipe is a perfect alternative.
Since everything is cold, you should try to avoid touching cold water so that you will not have to suffer. Using wet wipes has been the most customary practice for any trekker going to the Everest base camp.
You can buy trekking kits in Nepal
Some tourists bother themselves by bringing all necessary gears from their country while some much familiar tourists prefer buying them in Nepal. Thamel area in Kathmandu can be the best place to buy trekking kits.

Before doing your shopping, you should consult your hiking company for the required kit list because different seasons require you to have different kits. The North Face Shop, Mountain Hardware Shop, etc. on Tridevi road in Thamel and Redfox, Sherpa, Black Yak, etc. in Durbarmarg area are some of the best places to buy trekking gears.
You can buy them even in places like Namche and Lukla, but the price will be more costly.
Sherpas own the hotels and lodges
Anywhere you reach in Khumbu region; you will mostly see Sherpa people. Since they are born in the Himalayas and grown up there, the Sherpas open hotels and start their career in mountaineering and trekking. Hence, almost all hotels and lodges, on the way to Everest base camp, are owned by Sherpa.
Bring tools of entertainment
While hiking up to Mt. Everest base camp, there are some days when you have to walk only for 2 to 3 hours. There are unquestionably wonderful scenes to view or go to, but sometimes you might love to stay inside the hotel and enjoy there without bothering your feet.
Many tourists can be seen reading, especially when they have to wait for their order. Moreover, if you are in a group, you can play card games, ludo, etc. Hence, you are advised to come with the necessary tools of entertainment.
Electricity is available
Throughout the Everest base camp trek trail, hotels and lodges have electricity. You can charge your electronic devices for a certain amount. It is not an issue to worry about, for the charge is not costly.
You are suggested to bring additional batteries and chargers for your comfort. You do not need to pay for the light, though.
What happens if I go to Mt. Everest base camp during monsoon?
If you love the extreme level of adventure and if you have the endurance, you can go trekking to Mt. Everest base camp during the monsoon. But for most trekkers, it is the least preferable season.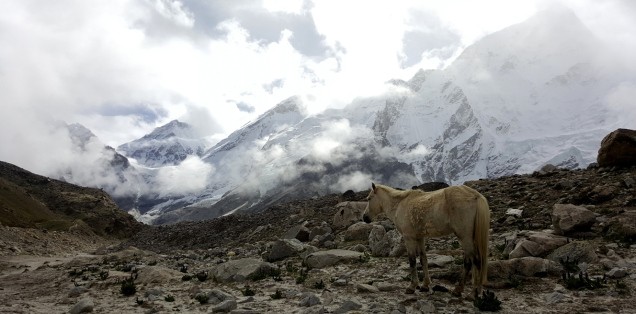 During monsoon, you will experience frequent downpours. Since the path is mostly off-road, there will be puddles, and the path will be muddy. The path will be slippery, and there are chances of landslide too. Also, leaches can cling to and bite you anytime without your awareness.
The greatest problem you might face is though you have an umbrella, you will get drenched, and your clothes will be dirty with mud.
Have vegetarian diet
Once you leave Lukla for your journey ahead, you should consider rather having a vegetarian diet. The Sherpas do not murder animals up in the Himalayas.
Hence, if you are offered meat understand that it is imported from lower valleys. Since meat is not refrigerated and because it takes considerably long time for transportation, it might not remain fresh.
In contrast, most vegetables are locally produced, and they are not at all poisoned.
Limit your walking pace
You are advised to walk at a leisurely pace. Since it is not a marathon and nobody is going to judge your speed, you should focus more on your health.
Trying to move faster and reaching the destination earlier than the scheduled day might cause you serious health problems. You need proper acclimatization before reaching Mt. Everest base camp.
You will see changes in your skin
There is a vast difference between the climate of Kathmandu and that of Everest base camp. Leaving Kathmandu suddenly and going to Mt. Everest base camp will certainly have consequences. Due to extreme coldness, you might lose a layer of your skin, and the skin color will be blackened.
Most tourists use sun-cream to avoid direct exposure to coldness and the sun. Fortunately, when you descend to the lower region, your skin will start gaining normalcy.
Be careful from yaks
You will see a lot of yaks commuting to and fro caring loads on their back. Although there is no record of yak attack so far, you should still be careful from them.
It is because you never know when they turn violent. There are several suspension bridges over rivers and streams. They are wide and strong enough to occupy two-way transportation. Despite that, you should be patient and let the yaks cross the bridge first.
Carry first aid kit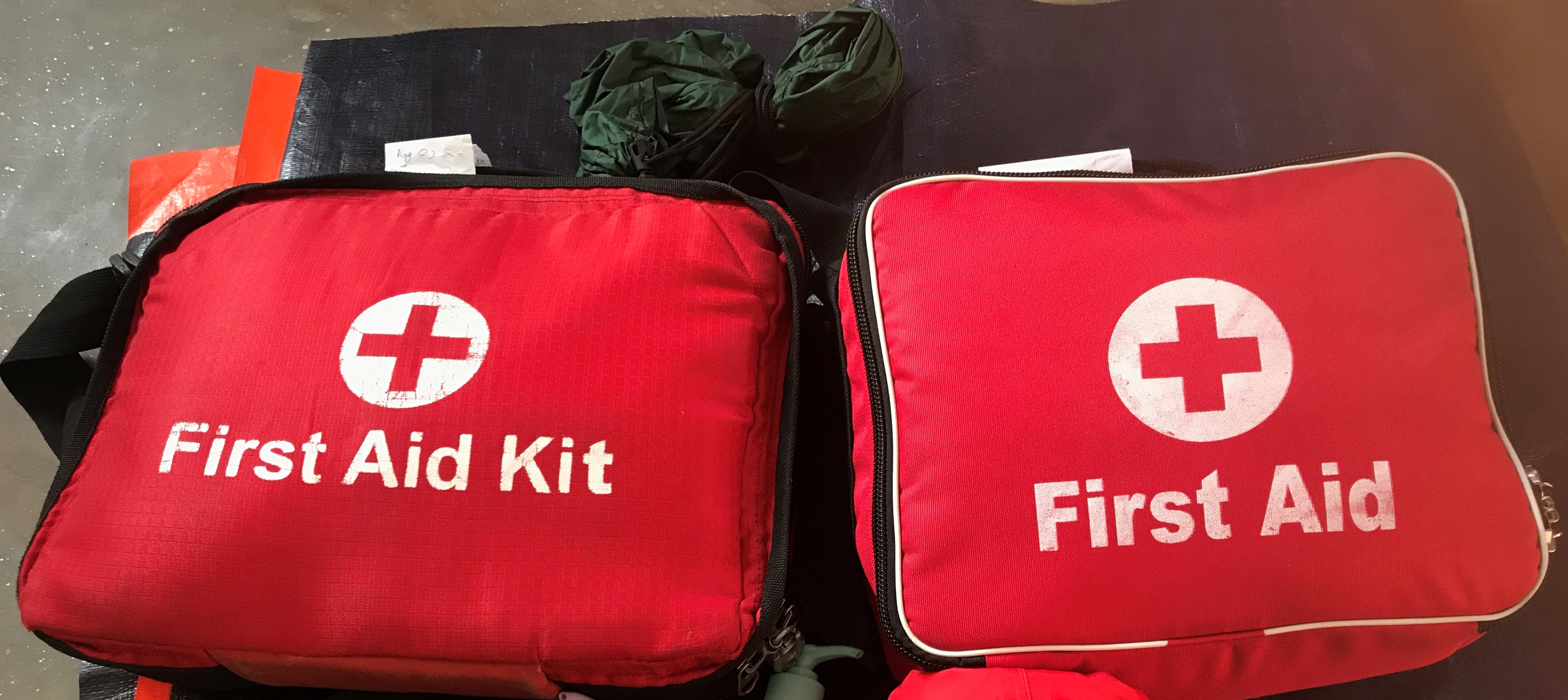 Before setting out for your journey make sure that you have carried the first aid kit. Prevention is better than cure, but you cannot prevent some accidents or diseases.
Normally the trekking agency provides their clients with the first aid kit in case of necessity. But still, you have to ask them whether they have carried before your journey begins.
The first aid kit for Everest base camp trek consists of Diamox, handy plus, bandage, etc.
The higher, the more expensive
The higher you go, the more expensive everything becomes. Due to difficulties in the transportation of goods, the upper Khumbu region is more expensive.
Porters, yaks, and mules are employed for supplying goods from the lower valleys. Some of the stuffs are delivered from Kathmandu by helicopter. Hence, it is no wonder that the further you go, the more costly the trek becomes.
You will not spend the night at Everest base camp
There is no human settlement at the Everest base camp. Only the expedition teams set up their tents for extensive training. Therefore, you will be staying at the nearest village, Gorakshep which is the last village of Everest base camp trekking trail.
The most useful toiletries
You have to carry tools like sun cream, lip balm, toilet roll, wet wipes and biodegradable soaps in your daypack because you might need them any time of the day.
Keep your batteries in your sleeping bag overnight
In order not to let your batteries lose their charge put them inside the sleeping bag overnight. Exposure to extreme coldness might cause them to go dysfunctional. Hence, you better be conscious.
You need to carry a water purifier
You should drink a lot of water throughout the trekking duration so that you will have low chances of suffering from altitude sickness and other diseases.
Drinking water from streams and taps is normally healthy in the high Himalayas. In spite of that, you should carry water purifying tablets, for some water sources can be contaminated. In case of boiled water, purification is not necessary.
Do not hang any cloth outside during the night
If you have dried your clothes in the sun, you must collect them by the evening. In case you leave them outside at night, they will be wet with dew and freeze which takes hours on end to dry. It will additionally ruin your clothes.
The trek begins and ends in Kathmandu
Kathmandu is the transition between your home country and Mt. Everest base camp. Since Tribhuvan International Airport in Kathmandu is the only international airport in Nepal, you are bound to land in Kathmandu before the trek, and upon the end of your trek, you must go to Kathmandu again.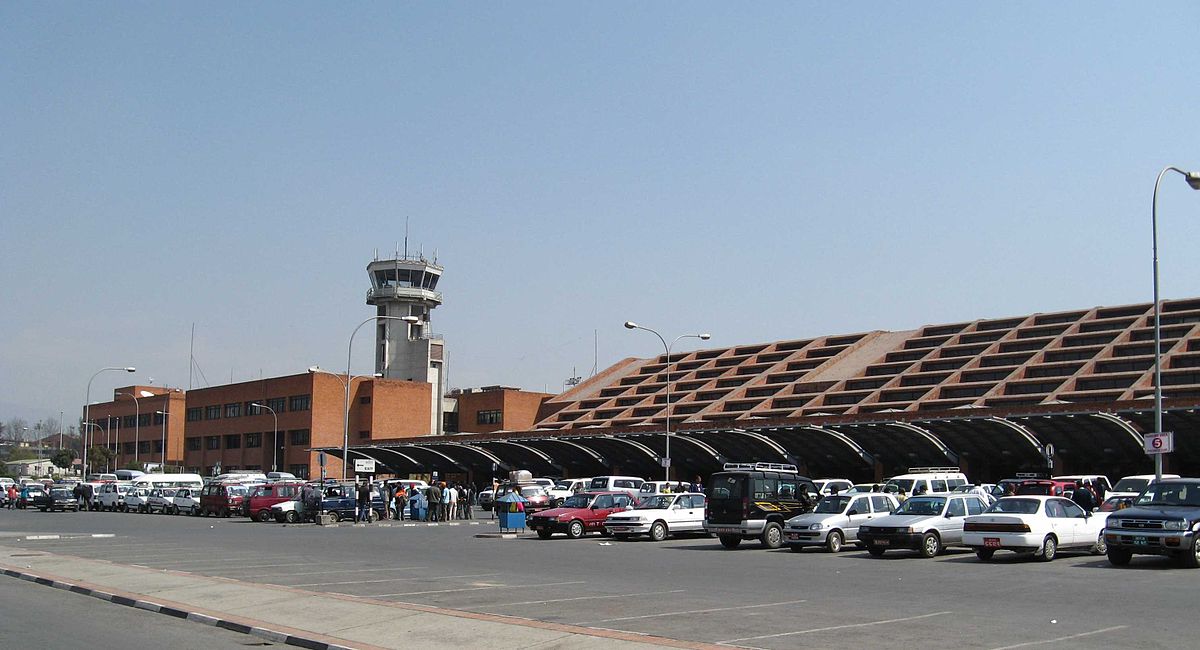 In addition to being the capital city of Nepal, it is a melting pot where people from all over Nepal stay. In Kathmandu valley, you will have a couple of days for sightseeing around the world heritage sites and places of great religious and cultural importance.