Trip Facts


Trip Difficulty
Strenuous

Best Season To Visit
Start from Sep 4-Sep 23, 2020
Trip Itinerary
Day 01: Arrive at Kathmandu airport (1,302 m/4,270 ft)
On arrival at Tribhuvan International airport, our representative will be awaiting you to cordially welcome with great hospitality.  The representative will be displaying the "Nepal Sanctuary Treks" placard outside the airport terminal. You will be then escorted and transfer to the hotel in our private vehicle. Further details and short preliminary briefing will be provided after transferring to the hotel. You will have leisure time to relax and freshen up.
Day 02: Optional Morning tour to ancient marketplace and visit world's UNESCO Heritage sites
After early breakfast, we will start our fresh morning by wandering Ason and Indrachowk marketplaces to get a glimpse of traditional Nepalese life. You'll witness the bustle of the market, see how locals purchase the products and haggle for a bargain. Whilst walking around enjoy the lively and vibrant atmosphere this local market has to offer.
We walk through a narrow alley and see people rushing. Observe the first hand the local produce people from Nepal actually purchase. You will also take in the sights and smells of the market. Your friendly tour guide will explain in full detail all the products and procedures you will see. There is plenty of opportunities to buy something for your selves and lots of photo opportunities to capture in your camera.
Next, we head towards Kathmandu Durbar Square, also called Hanuman Dhoka Durbar, and used to be the residence of the Nepali royal family and administrators. These ancient sites situated in the traditional heart of Kathmandu that incorporates an architecturally extraordinary complex of ancient palaces, temples, courtyards, and shrines dating from the 15th to the 18th century.
The most revered places of Kathmandu Durbar Square is the three-storied temple named Kumari Bahal. The structured like a typical Newari Vihara. In this house lives Kumari, a girl who is respected as the living goddess. During the festival of Indra Jatra, the Kumari is paraded around the square in a custom-built gilded chariot and worshipped by the people.
The tallest temple of Kathmandu valley 'Taleju Bhawani' built-in 1549 AD. This temple is deliberated to be the most outstanding work of art in the Durbar square and considered to be the royal goddess.
Jagannath temple built in the 16th century is well-known for erotic carvings, and the Hanuman Dhoka (the royal palace) is situated in Kathmandu Durbar Square.
Kalbhairav is considered to be the destructor form of Lord Shiva. Built-in the 17th century, this, 10 ft. high stone statue of terrifyingly portrayed Kal Bhairav is sited near Jagannath temple.
Temple of Shiva Parvati, rectangular in shape enshrines Nava Durga, a group of goddesses on the ground floor. It has a wooden image of Shiva and Parvati at the window of the upper floor looking out at passerby in Durbar Square.
Swayambhunath:
You are then taken to Swayambhunath (monkey temple) which is the magnificent ancient religious architecture and center faith of Hinduism and Buddhism. Its lofty white dome and dazzling golden spire are visible from far and wide. Upon arriving at the top, you can hear the Buddhist songs "Om Mani Padme Hum" resound everywhere. The candles and the aromatic fragrance of incense that burns constantly create a serene vibe and we can turn the enormous prayer wheels which encircle the stupa.
Boudhanath:
Buddhist shrine of Boudhanath, one of the largest stupa in Nepal as well as the sacred Buddhist sites in Kathmandu. You will observe the monk chant in the prayer hall while people lighting butter lamps and reciting mantras. You can see the vibrant prayer flags tied to the stupa that conveys mantras and prayers into the universe while fluttering in the wind. Traditionally, prayer flags come in sets of five, one in each of five colors. The five colors signify the elements and the Five Pure Lights.
Pashupatinath:
Further, we visit Pashupatinath temple, a Hindu shrine dedicated to Lord Shiva located on the bank of Bagmati River. You can see elaborately dressed holy men meditating outside the temple and pilgrims placing offerings at the shrines. You can also observe people performing the religious ritual and funeral pyres burn at open-air cremation.  After visiting fascinating cultural heritage sites, you will transfer back to the Hotel. The evening can either be spent strolling the marketplaces in Kathmandu or resting at the hotel.
Day 03: Flight from Kathmandu to Pokhara (895m/2,938ft)
We fly to Pokhara early in the morning. We can catch stunning views of the Himalayas from the right side of our airplane. Upon our arrival in Pokhara, the beautiful lake city, we are rewarded with superb views of the Himalayas including Dhaulagiri, Manaslu, Machhapuchhre, the five peaks of Annapurna and others. Stay overnight in Hotel.
Day 04: Pokhara to Jomsom (2,800m/9,186ft.), Hike to Dumba Lake (2,900m); 4 hrs approx
We will have an early breakfast and then be transferred to the airport from where we will take a flight to Jomsom. You can see the spectacular scenery onward from Jomsom. It looks like dessert though encircled by the snow-capped Himalayas on either side.
We start off our short hike to Dumba Lake, a hidden gem of Mustang. We traverse the wooden bridge there to reach the left side of the airstrip. You will see a signboard directing towards the way to Dhumba Lake/Thini Village. The first landmark of the trek will be Thini Village which is approx. 5 km from Jomsom. The next half kilometer trek will take you to Dhumba Village and subsequently to Dhumba Lake.
Day 05: Trek to Muktinath (3,760 m) - 6 to 7 hours
A short walk along Kaligandaki to Eklebhatti and to the Bon town of Lupra. The trip is accompanied by the beautiful Himalayan pheasants and blue sheep that are seen on the trail at times.
There is a cave at the base of the river, approximately fifty meters above it, before crossing to the Lupra side. The cave is used for long term meditation that could last from thirty days to six months or even more. A young monk named Yong who was schooled in India serves as a caretaker of the cave and prepares it for other's meditation. The cave has a balcony with a seating area for meditation, a small cooking area and sleeping quarters with shelving, however, the upper level where the heavy-duty isolated meditation takes place includes a very small area with a four-foot ceiling, three feet deep and even less across. Also, a slot to insert food and drink for the monk is there and the monk who had meditated here once for thirty days accepts never wanting to do it again.
The newly renovated gompa a little above the main road across the river to Lupra is also one of the major attractions here. The Bon religion is said to predate Buddhism.
After lunch we commence our trek walking along the ridge with unparalleled sights of Mt. Dhaulagiri (8,167m), Nilgiri Peak (7061m), Tilicho Peak (7,134m), Annapurna I (8091m), and so on. Ascending along the bare hills on a sandy path to Muktinath.
Day 06: Rest day
Today is also a rest day; we stay back in Muktinath. After a decent breakfast, we can either rest or explore the area. We can visit the temple and 108 waterspouts at Muktinath are sacred to Hindus and form part of the cultural history of Nepal. Hindus consider Muktinath temple to be a source of the celestial energy.
Day 07: Trek over Thorung la (5,415m) to Lethdar- 7 to 8 hours walk
After breakfast, we trek to Lethdar by crossing Thorong La Pass. The pass is situated on a trail that links the village of Manang in the Manang District to the east, with the temple of Muktinath and the adjacent village of Ranipauwa, in the Mustang District to the west. Stay overnight at Lethdar.
Day 08: Short trek to Manang (3,540m) - 3 hours walk
After breakfast, we leave Lethdar behind and trek towards Manang. Manang comprises Gangapurna Lake, the turquoise glacial lake from the Gangapurna glacier. We can also hike above the lake where there is a Chongkor viewpoint which offers spectacular mountain views and the majestic Gangapurna Lake itself.
Day 09: Trek to Chame (2,670m) - 6 to 7 hours walk
After breakfast, we trek to Chame a district headquarter of Manang with a bank, police headquarters, district administration. There is a hot water spring at Chame that will make you relief from pain. On the way to Chame, we will see the renowned Dudh Khola pouring from the south face of Mt Manaslu.
Day 10: Trek to Surki Khola (3300m) - 5 to 6 hours
Today after breakfast, we leave Chame behind and head towards Surke Khola on the Manaslu circuit. The trail continues through a stone arch, cross the Dudh Khola and follow along its embankment ascending through the scrub forest to Tilje, a large Gurung village, from here we walk through fields and intermittent stands of rhododendron and oak to arrive at Surki Khola for overnight.
Day 11: Trek to Bimthang (3,590 m) - 4 to 5 hours walk
The river rises from the Suti Glacier one of the several glaciers that flow south from the enormous curve of ice giants along the Tibetan border that tower over the Ponkar Lake region. Today's trail meanders up the Dudh Khola Valley through the wonderful varied forest. We further trek to some steep sections comprising the final ascent to Sangura Kharka (a yak pasture, 3 020m). Then we proceed up the forest trail to Hompuk (3 430m), a rock shelter and Goth (herder's hut). Ahead is the lower end of the Bimthang Glacier. Leaving the forest onto its moraine and descend on wobbly gravels to traverse the glacier. The ascent on the far side is easier, the trail then follows the eastern bank as it rises gradually to Bimthang. Stay overnight in Bimthang.
Day 12: Cross Larkya La (5,135m), to Dharmasala 7 to 8 hours walk
After breakfast, we traverse over Larkya La pass and trek towards DharmaSala.Larkya la Pass is one of the highest point (5106 m) in Manaslu trekking region. It is located between Bimthang and /Dharmasala. Crossing this pass in the most audacious task in Manaslu trekking and the trekkers.
Day 13: Trek to Lho (3180m) - 6 hours walk
Today we leave Dharmasala behind and trek to Lho. Lho is an important village with a monastery and a Lama school along with the majestic view of Manaslu and Kutang Himal. Once you arrive at Lho you can visit Ribang Gompa, stupas, Mani walls, and Kani doorway.
Day 14: Trek to Lho (3180m) - 6 hours walk
Today we leave Dharmasala behind and trek to Lho. Lho an important village with a monastery and a Lama school along with the majestic view of Manaslu and Kutang Himal. Once you arrive at Lho you can visit Ribang Gompa, stupas, Mani walls, and Kani doorway.
Day 15: Trek to Ghap (2,630 m) - 6 to 7 hours trek
We start our trek after breakfast through the forest of fir and rhododendron trees which bloom every spring season. Along the way, you can see the picturesque woodcraft house and the fields. At Ghap, the Tibetan culture begins with Mani stones and chortens all around.
Day 16: Trek to Philim (1,570 m) - 7 hours walk
After breakfast, we trek down to Philim, the popular Gurung Village in the region. Today we walk through few ups and downs through the forests and traverse Buri Gandaki.  Further, we cross the suspension bridge over Shringi Khola. Along the way, we traverse the wooden bridge, past waterfalls, Deng Khola to bamboo forests and the villages like Deng and Serson all the way to Philim.
Day 17: Trek to Macha Khola (869m) - 7 hours walk
After breakfast, we cross the suspension bridge and past the stone houses of Ghattu Khola. Then the trail ascent to Setibas passing beautiful Mani walls (prayers engraved into wayside rocks). Further, when you reach the ridge you can see the superb views of Shringi Himal. Then you will take a decent trail to Jagat, Thado Bharyang. You will be passing landslide area, teashops at Duman, and Dhoban. Then, we cross the suspension bridge over Buri Gandaki and reach Tatopani. Tatopani is a hot spring where you can enjoy the bath and unwind for a while enjoying the nature around. From Tatopani, we take a steep descent to Machakhola for overnight.
Day 18: Trek to Soti Khola (597m) - 7 hours walk
After breakfast, we take a decent trail all the way to Soti Khola. You can see the glimpse of the southern slopes of Annapurna, Manaslu, Ganesh Himal, and Langtang Himal.
Day 19: Drive back to Kathmandu approx. 8 hr. drive. Overnight Hotel
After breakfast, we take 8 hours long scenic drive back to Kathmandu.
Day 20: Leisure day in Kathmandu
After having breakfast at the hotel; you have leisure time to take relax or explore around marketplaces to shop the souvenir for loved ones.
Day 21: Final Departure
It is time to fly back to home keeping all the terrifying experiences of Nepal in mind.
The representative from Nepal Sanctuary Treks will transfer you to TIA airport where you should check-in 3 hours prior to your scheduled flight.
Price Included
What's Included
Airport transfers,
Internal flight Kathmandu/Pokhara/Jomsom
Land transfer from Soti Khola
Restricted area permit, TIMS, conservation fee,
Trekking guides, cook, porters & other supporting staffs,
Tented accommodation during trek on full board
Staff insurance on the trek,
Duffel bag
Four nights in Kathmandu Guest House in Kathmandu with breakfast
Safety equipment including high altitude chamber and satellite phone
What's not Included
Additional tours and meals that are not mentioned,
Beverages,
Personal bills,
Visa fee: US$ 30 for 15 days and US$ 50 for 30 days and US$125 for 90 days multiple entries
Insurance (for cancellation, accident, health, emergency evacuation and loss, theft of or damage to baggage and personal effects), liability insurance
Excess baggage beyond 20 kilogram
Crampons
Personal Equipment ( Please refer to the packing checklist) section
Tips
Faqs
What are the essential packing list for this trek?
othing
1    Waterproof Jacket and Pants both ventilated (pit zips, side zips, etc.)
1    Down jacket
1    Windproof Soft Shell jacket and pants for windy/cold days.
1    Fleece top and pants
2    Thermal tops
1-2    Thermal long johns depending on how much you feel the cold
4    Pairs of Coolmax Liner socks
2    Pairs of undies for cool/cold weather
2    Pairs of undies for warm/hot weather
2    Pair walking trousers
2    Loose fit trekking shirts with pockets
2    Lightweight synthetic T-shirts
1    Broad-brimmed sun hat
1    Warm hat and gloves
1    Polarizing sunnies with 100% UV protection
1    Buff or trekking Scarf
Footwear
1    Pair waterproof walking boots that can take crampons
1    Pair sandals to let feet breathe in the evenings and for washing
2    Pair of Warm Weather walking socks (e.g. Bridge dale Light Hiker)
2    Pair of Cool Weather walking socks (e.g. Bridge dale Trekker)
1    Pair of Cold weather walking socks that can also be used as bed socks
General Gear
1    Sleeping Bag rated to -15 Celsius / 3 Fahrenheit
1    Sleeping sheet and pillow (you will be given a pillow if you prefer)
1    Inflating sleeping mat (you will be given a mat if you prefer)
1    45-ish liter pack for trekking
1    Pair of Trekking poles
1    Head torch and spare batteries
1    sunblock
1    lip balm with sunblock
1    Mozzie/fly repellant
1    toiletry bag with essentials (no hairdryers!!)
1    pack towel
1    Neck pillow for plane/bus trips if required
1    Camera with back-up batteries if needed
1    2 to 3 liters of water bottles or bladder system depends on how much you normally drink
Waterproof compression bags for storage in a tote bag
1    Reading material/diary spare pens
1    General repair kit
1    Tent for appropriate conditions
1    Tote Bag for the spare gear you do not carry
1    Pillow or stuff sack for clothing
1    Medical kit
Water purification tablet
Note: we provide a comprehensive group first aid kit however please  bring personal medications and other items you might use regularly such  as:
Any personal medications
Blister treatment- Compeed patches are the best
Plasters
Multivitamins plus iron supplement
Analgesic- paracetamol, ibuprofen, and aspirin
Throat lozenges
Diamox (optional)- helps with acclimatization, can buy in Kathmandu
Optional
1    Chair kit for a sleeping mat
1    Shorts for bathing/swimming in rivers
1    Closed-cell foam mat
1    Sarong for bathing, around camp on hot days.
1    Anti-bacterial hand gel
Toothpaste, Toothbrush
Mini Towel
Toilet paper
Soap
1 crampon for each group member
Similar Tours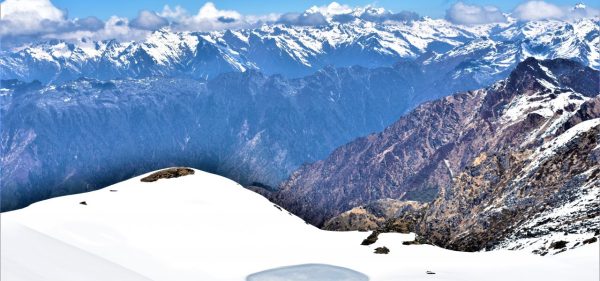 Altitude:
6143 m/20,154 ft.

Difficulty:
Strenuous

Altitude:
5,515 m/18,093 ft.

Difficulty:
Strenuous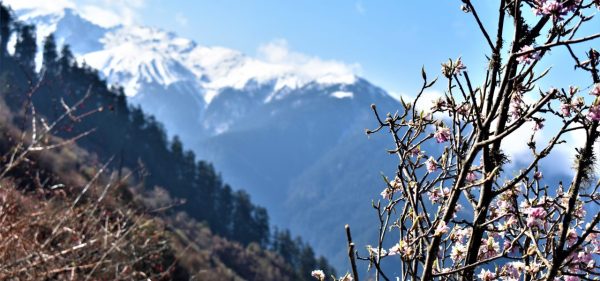 Difficulty:
Strenuous
Ask Our Travel Expert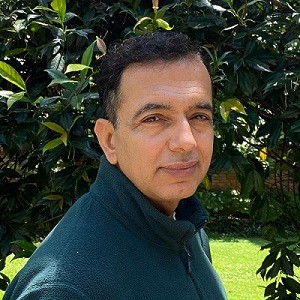 Tulsi Gyawali
Managing Director