Nepal a popular country for numerous vibrant and interesting festivals besides mountain views, dramatic landscapes enriched with lush vegetation, and rich biodiversity including picturesque hamlets with ancient affluent culture and traditions.
The culture of Nepal cherishes and respects every relation, they not only worship God, but they also worship brothers for being the protector of a sister, worship mothers, and fathers, worship dogs for their loyalty and friendship, and worship the husbands as to the ultimate pride.
Teej is a prominent festival celebrated by women to show their devotion to their husbands, wishing happiness and prosperity in their life and wellness of the family. This joyous festival observed throughout the country with full zeal and enthusiasm.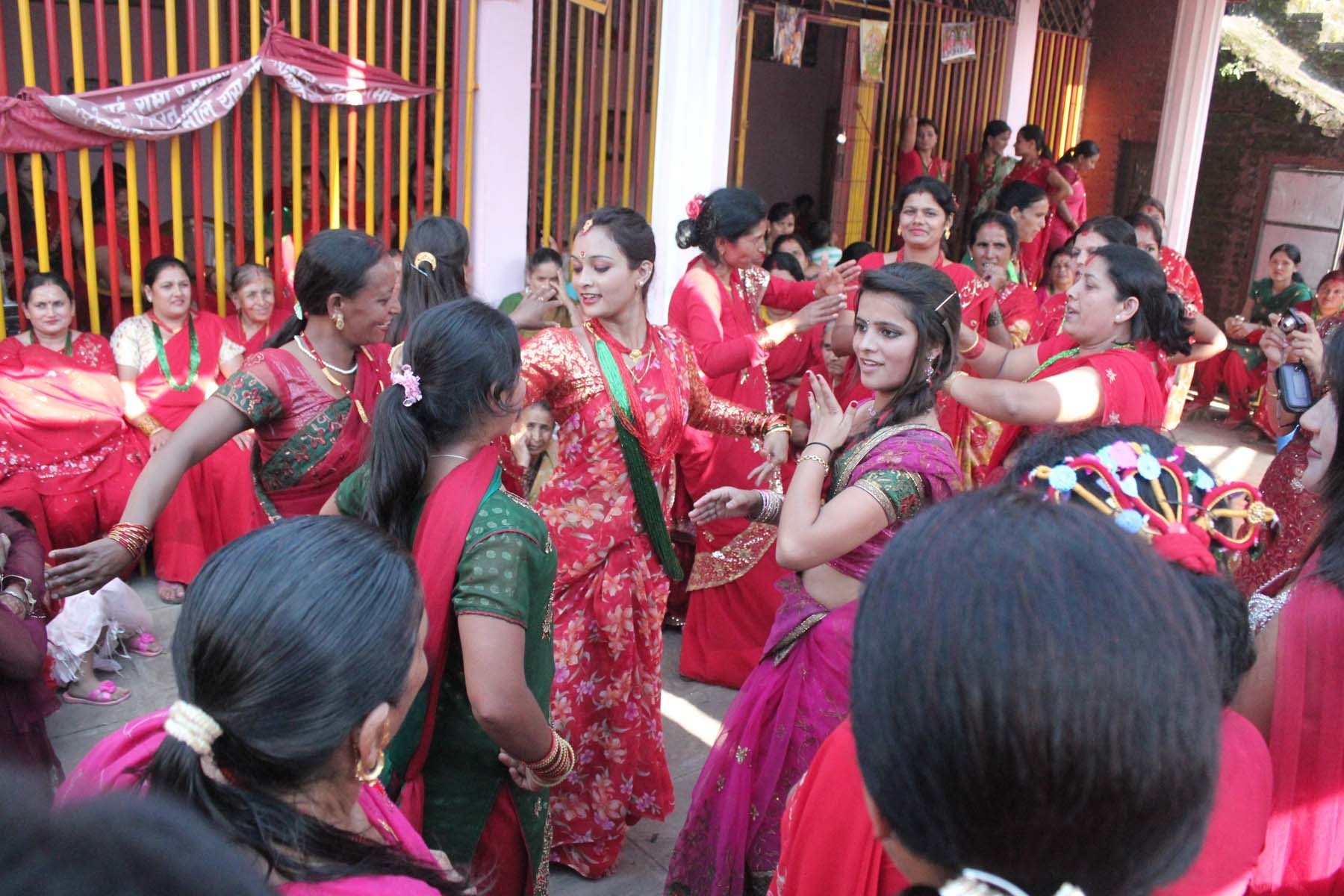 The festival usually takes place on the third day of Shukla Paksha (bright fortnight) in the month of Bhadra according to the lunar calendar. This year the Teej will be celebrated on Bhadra 16 (September 2, 2019.)  whereas Rishi Panchami on Bhadra 17 (September 3, 2019)
The three-day-long festival incorporates gatherings' singing' non- stop dances,  scrumptious feast, and tough fasting. The festival accompanied by traditional music and dances that enhance more zest to traditional values of Teej. It is fascinating to see women, in "Red" dancing and singing on the street, going to a temple in the sacred and fasting mood.  It's also the festival of creating a bond of sisterhood. Long before the main day of Teej, women exchange gifts and tokens with each other. These gifts comprise red bangles and bracelets, bindis, and clothes.
Facts about Teej Festival
Hari Talika Teej
Teej is short for Hari Talika Teej. Hartalika derived from the word "Harat" and "Aalika"' which denotes "abducting of a woman friend". According to a myth related to this Teej festival, Goddess Parvati requested her friend to kidnap her to thick forest so that her father could not marry her to Lord Vishnu against her will. Goddess Parvati made an idol of Lord Shiva with sand and worshipped with the quest to have Shiva as her husband. Impressed by her determination, Lord Shiva revealed his identity. And finally, Lord Shiva married Parvati and since then the day stated as Haritalika Teej as Goddess Parvati's friend (aalika) kidnapped (harit) her so she could attain her goal of marrying Lord Shiva.
Festival dedicated to Lord Shiva and Goddess Parvati
It is believed that Goddess Parvati has gone through many hardships and took 107 birth on the earth to finally unite with Shiva. According to Hindu Legend, on this day, Parvati came to the Shiva's abode, symbolizing the union of the husband and wife. The union of a supreme couple of Lord Shiva and Parvati reflected the representation of ultimate love and dedication. Teej exemplifies the sacrifice of a wife to win the mind and heart of her husband. Some scriptures stated that Parvati performed a rigorous fast for 108 years to prove her love and sacrifice for Shiva before he accepted her as his wife. Teej exemplifies the devotion of a wife to win the mind and heart of her husband.  So it is thought that observing and worshipping Lord Shiva and Goddess Parvati on this day will bless a woman with marital bliss, sound health of husband and children, and peace in conjugal life.
"Teej" the name comes from a red insect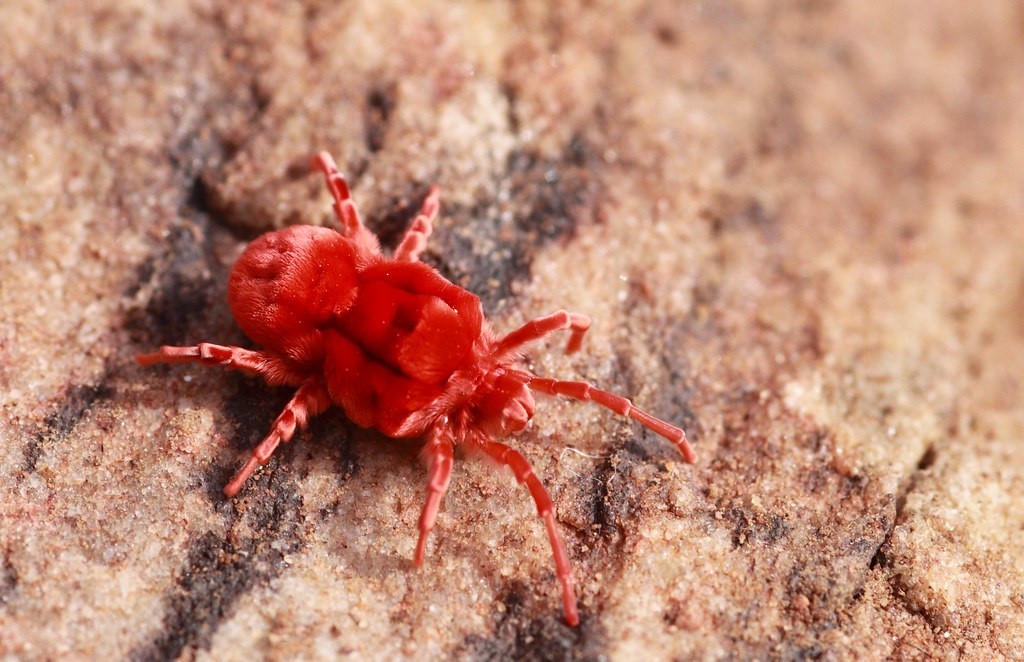 Teej is a small red insect (Red Velvet Mite or rain bugs) that emerge out of the soil during the monsoon season. It is believed Teej got its name from the same red insect. Therefore, Teej is celebrated in red. As red is also considered as an auspicious color for married women. On this particular day, married women put on bangles, 'pote' (a necklace made of glass beads), and 'Sindur' (vermillion powder) as the signs of marriage and clad in exquisite red dress along with ornaments.
First day: Daar Khane Din (Scrumptious feast day)
This day is known as Dar Khane Din which means feast day, before Teej. The first day of Teej starts from having a special delightful meal called the 'Dar'. Dar is a grand feast with several varieties of food and sweets. The women gather in one place clad in an exquisite dress and ornaments and perform dance and sing devotional songs. This festival not only observes the triumph of a women's love and devotion towards her husband but also gives a considerable opportunity for a family reunion. Women get invited by their maternal and relatives where they gather and join a feast on the eve of the Teej. The feast continues till midnight, after which the fast for 24-hour begins.
Second Day: Rigorous Fast and worship of Lord Shiva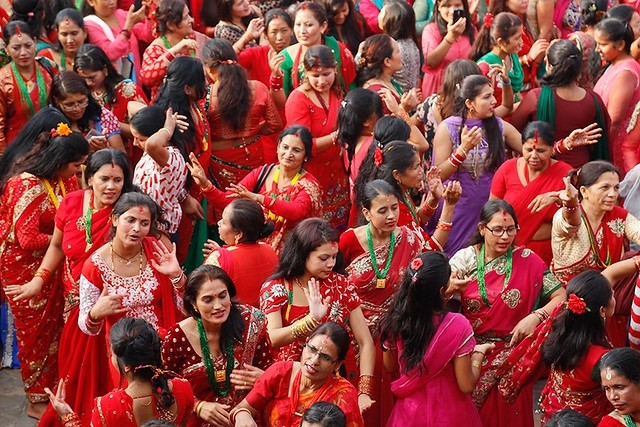 This is the main festival day of Teej related to fasting, worship and praying Lord Shiva for longevity, happiness, and prosperity of their husbands. After having a grand celebration, women fast for the next 24-hours without consuming food and drink throughout the day for the long life and prosperity of their husband and family. While unmarried women and girls take fasting and pray to the deity for an ideal groom. Women fast in their own way, some prefer fruits and liquid while many prefer to fast without taking a single drop of water and no food and fruits.
On the second day, women adorned in a beautiful dress of red color and visit the nearby temple of Lord Shiva where they offer their prayer.  They enjoy the entire day with songs in traditional lyrical melodies and dances, at temple premises and public places.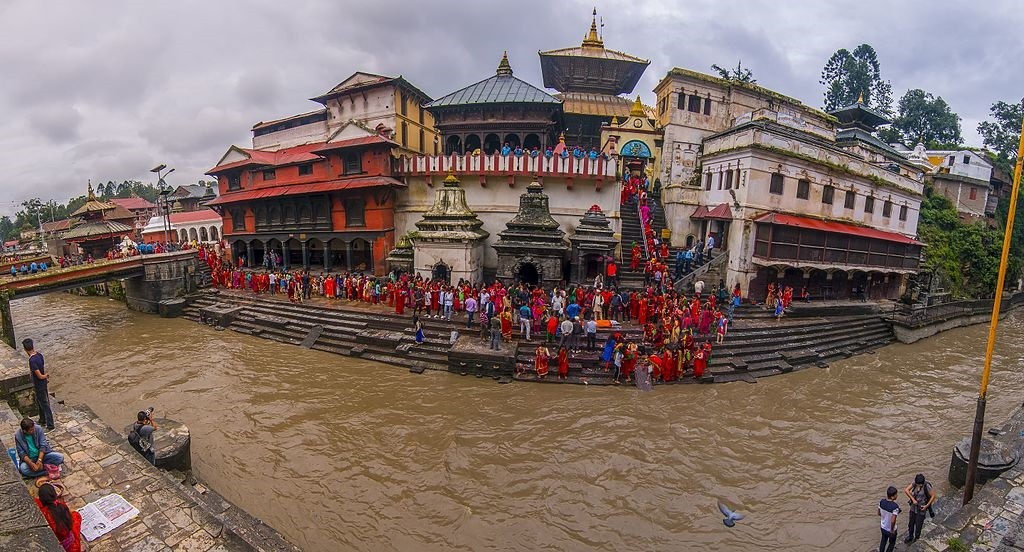 The sacred Pashupatinath area and other Shiva temple covered by the mass of devotees for the religious ceremony, to pay homage to Lord Shiva Lingam. They offer flowers, sweets, and coins along with the burning lamp inside the temple area. From several rituals of the worship, the lighting of an oil lamp is a significant aspect of the worship ceremony. It is believed that the oil lamp should be lit throughout the night to bring harmony and prosperity to the husband and family and to avoid bad omen.
Third-Day: purification of own body and soul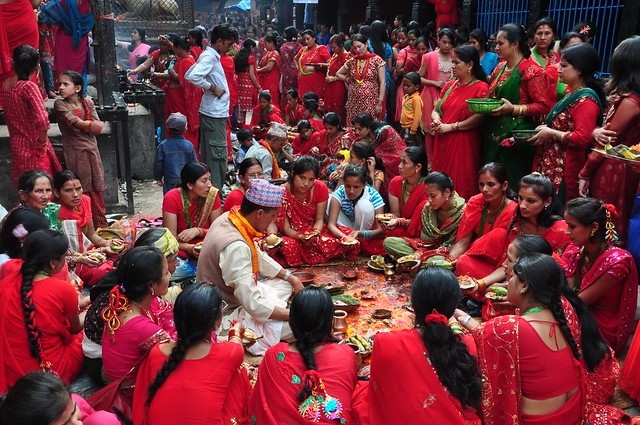 "Rishi Panchami is the last of Teej also known as the act of cleansing. This is the day to wash off all impurities to mark the end of Teej. Women rise up early at dawn to have a ritual bat at Holy River, using the red mud, leaves, and roots of the sacred datiwan bush to help with the cleansing and to scrub the skin.
 It is said that taking a ritual bath removes all sins of the previous year. Finally, after completion of bathing, they sit in a semicircle while a priest sitting in the center chants religious prayers. Then they offer food, money and several other offerings to seven sages with a clean soul.  After the prayer, they break the fast-eating pure dishes especially Karkalo vegetables (Taro leaves) with rice and ghee (caramelized butter).
Expression of  feeling through music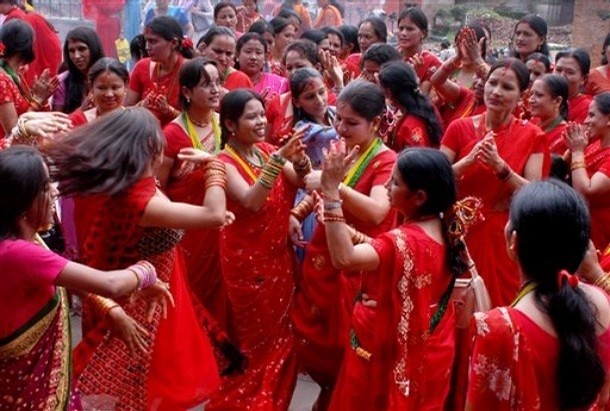 Teej festival also considered a day in a year that lets women full freedom to express their pain and emotion by the means of beautiful devotional songs.  The essential aspects of this festival are all women have a gathering where they celebrate by dancing, singing, and storytelling. Married women leave their in-laws' homes and gather at their maternal place, with their friends and relatives. This gathering accompanied by music that reminds nostalgic memories. Therefore it also serves as a medium to share and flood out their distresses and life struggles. Music is the main mood setter of this festival as all their bottled-up emotional states conveyed through music.
This is also the festival that meets up in a maternal home for married women. There is a practice that, a married woman comes to her maternal home only at the invitation of parents or brothers. So the  Teej festival is a celebration of gatherings with family and relatives. So this festival brings joy and happiness to every woman where they can share their joys and sorrows.
[calltoaction button_text="Contact Us" button_url="https://www.nepalsanctuarytreks.com/contact-us/"]Have queries about Teej?[/calltoaction]
Chaurchan festival: Moon Festival celebrated by women on the day of Teej
While the country is rejoicing Hartalika Teej, Nepal's Mithila region in Terai also celebrates the Chaurchan festival. According to the lunar calendar, the festival takes place on Bhadra Shukla Chauth, the same time around which Teej is celebrated.
This festival observed mostly by girls and women in the Terai where they go on fast throughout the day and pray the moon after the sun has set. The festival is about celebrating the moon wherein the people offer fruits, curd, pudding, flower to the moon. The way and purpose of celebrating this festival are much alike to that of Teej.
Despite this, rigorous fasting Teej brings smiles on the faces of women as they feel blessed fasting for the longevity of their husband and well being of the family.  Also, married women to visit their maternal home during this festival as women living in the countryside of Nepal get a rare chance to meet their parents and siblings. Therefore,  Teej is one of the prominent and rich festivals of Nepal celebrated by women with great enthusiasm and devotion. Let us enjoy the days that lead to this lively and auspicious festival with spirits of unity and harmony. Happy Teej!