Holi, the festival of colors is around the corner. Everyone gets delighted at the advent of Holi as the season itself is so joyful. Holi, also known as Spring Festival signifies the entry of spring, symbolizes rejuvenation and the season of hope and happiness. After the gloomy winter weather of chilly snow and ice, the arrival of the spring festival promises cheerful summer days. The myriad flowers burst the spring color spreading the perfumed fragrance in the air.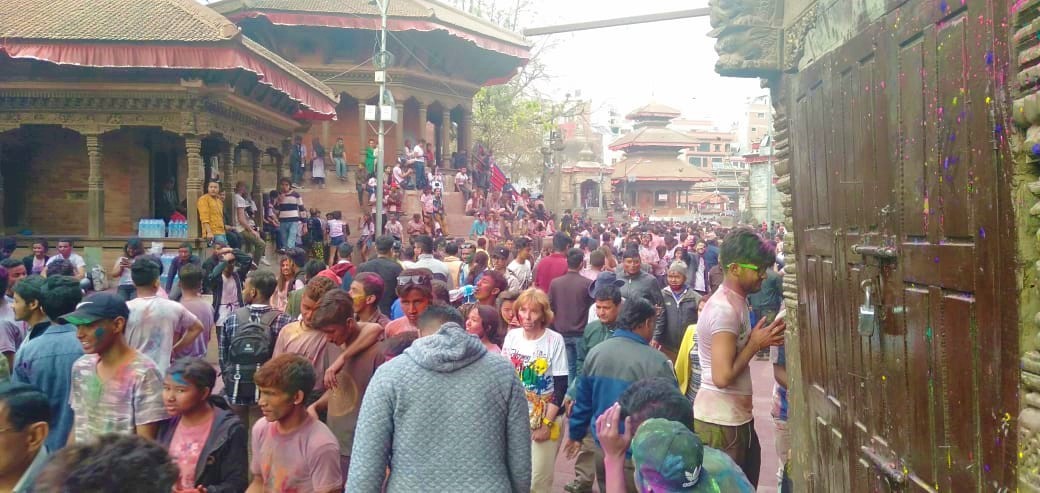 Holi Celebration and its Significance
Holi is one of the most enjoyable festivals celebrated all over the globe particularly in Nepal and India. With great enthusiasm, this festival is observed on the full moon day that falls in the month of between Falgun and Chaitra, which is the month of March according to the Gregorian calendar. This year, Holi is on 26 Falgun 2076 (09 March, 2020) and 27 Falgun 2076 (10 March 2020).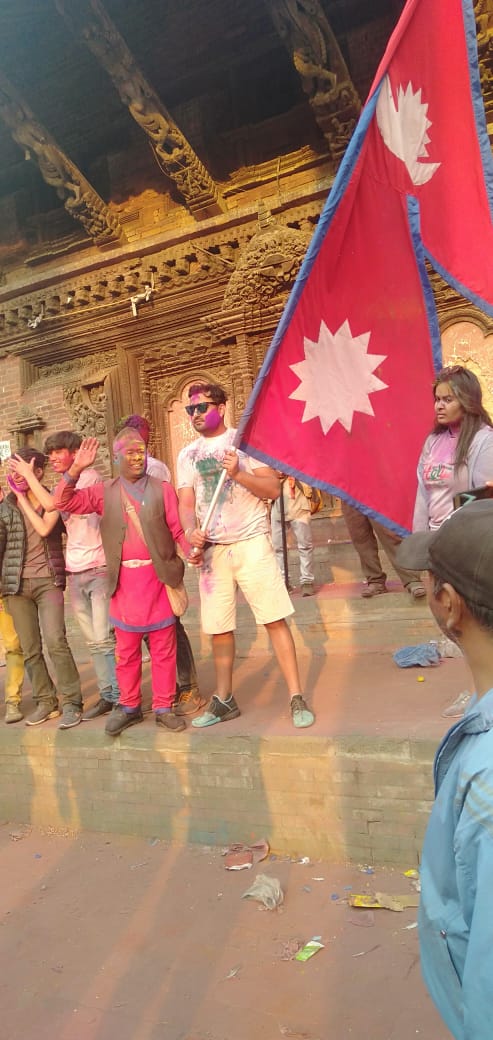 The festival of colors is celebrated for two consecutive days- the first day in Kathmandu valley, hilly region and the following day in Terai plains. Holi alongside many other festivals celebrates in Nepal as a national celebration.
The festival marks color, affection, and the triumph over fiendishness and numbness by good. It also denotes the sanctification of God for the upcoming grain harvest and the fruitfulness of the land.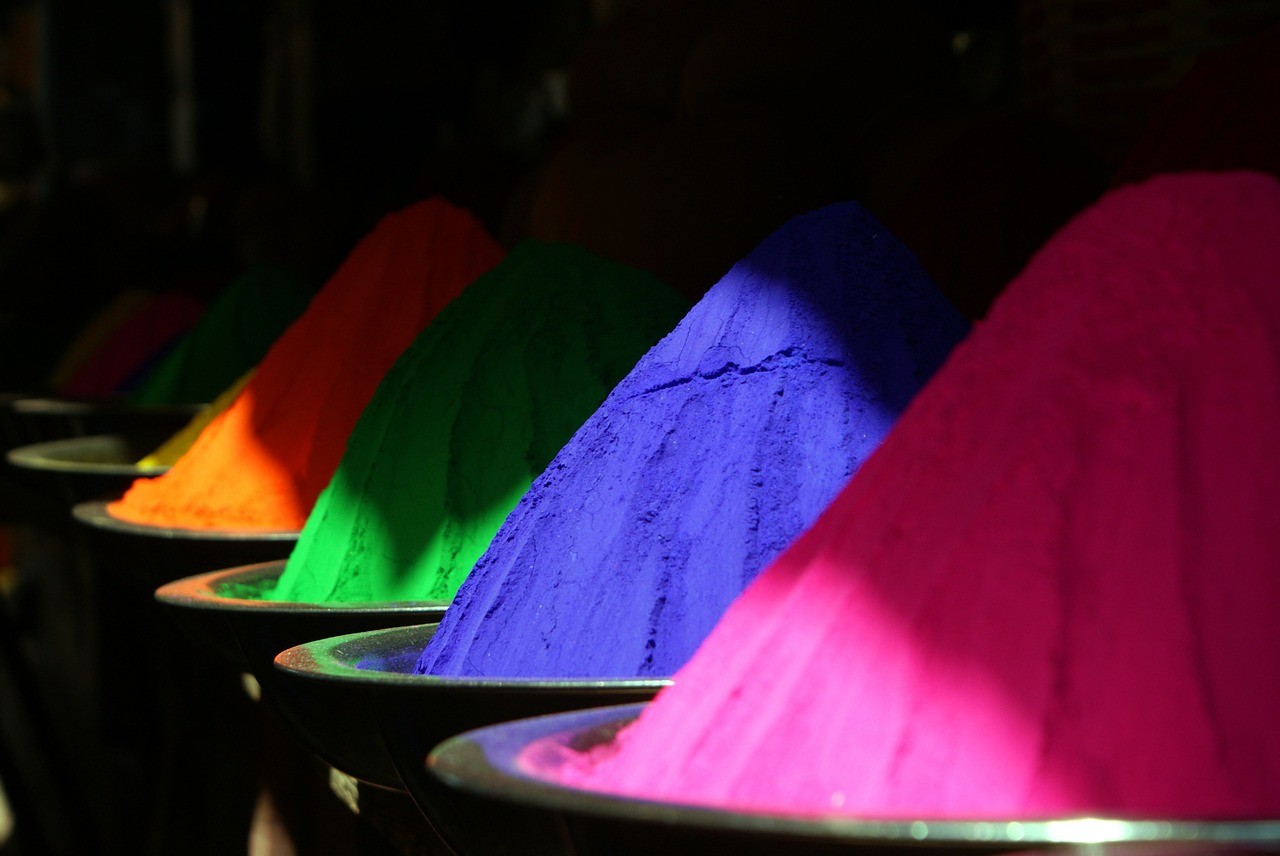 The History behind the Holi Festival
There is numerous reason behind celebrating Holi festival and there are some common legends related to Holi
Legend of Prahlad and Lord Vishnu
The origins of the festival can find in numerous myths in Hindu legend, one of which states the story of a demon, Holika, and her brother, King Hiranyakashipu. King Hiranyakashipu had received the blessing of immortality from Lord Brahma. So, he commanded everyone to worship and idolize him as a god. However, his son Prahlad turned into a devotee of Lord Vishnu.
Hiranyakashyap attempted numerous ways to destroy his son's belief and tried to execute him. But, Lord Vishnu protected him every time. Once, he called his sister Holika who had an enchanted robe and to sit on a bonfire with Prahlad in her lap. As soon as they entered the fire, Prahlad started praying Lord Vishnu to protect him. 
Due to his extreme devotion towards Lord Vishnu, he remained untouched while Holika burnt despite her enchanted robe. Soon after, Vishnu killed Hiranyakashyap and Prahlad became king.
So, Holi is observed to mark the death of evil Holika representing a victory of good over evil.
Legend of Radha and Krishna
According to legend, King Kansa sent the demoness Putnana to feed poisonous milk in order to kill Lord Krishna. The demoness burst into blazes when Krishna drank poisonous milk and sucked out all her blood. Due to poisonous milk, Krishna's skin turned blue.
Apparently, when Krishna grew up, he despairs whether the goddess Radha would not fall in love with him. At his mother's suggestion, he played a prank by smearing color on Radha's face to make her a match for himself. That prank became a way of lovers conveying a love for each other and commemorated as Holi.
Legend of Kaam Deva
 After Sati's death, Lord Shiva was in misery and disconnected from the worldly events. At that time, Lord Kamadeva (God of lust) shot a love arrow on him to disrupt his trance. When Lord Shiva opened in the third eye on him with anger, Kaamadeva burnt into ashes. On Kamadeva's wife's request, Lord Shiva later restored him. Therefore, many people worship Kamadev for his sacrifice on the day of Holi.
Holi Celebration in Nepal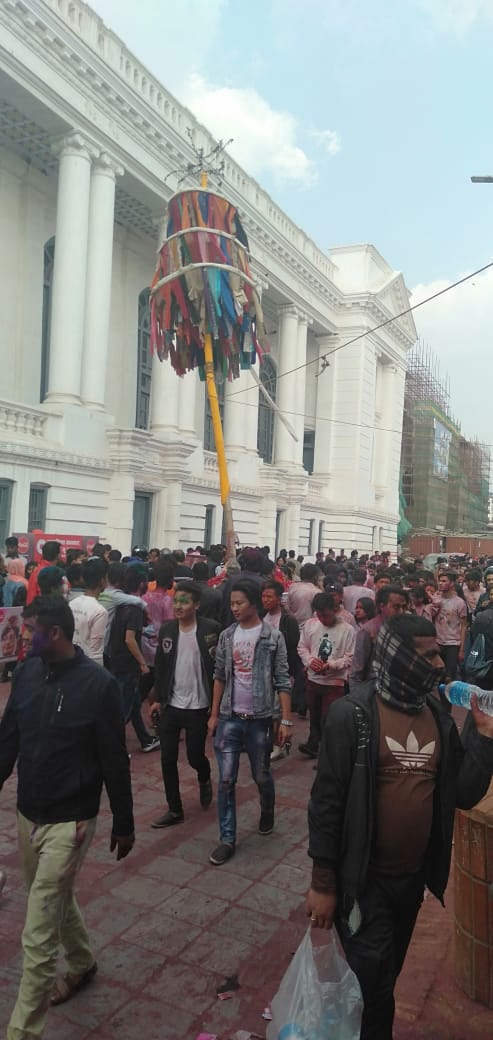 In Kathmandu, the Holi begins with the erecting of the Chir (ceremonial bamboo poles) tied with dhwoja pataka (colorful strips of cloth) in Basantapur. The pole set up one week prior to the Holi and remain till the end of the festival.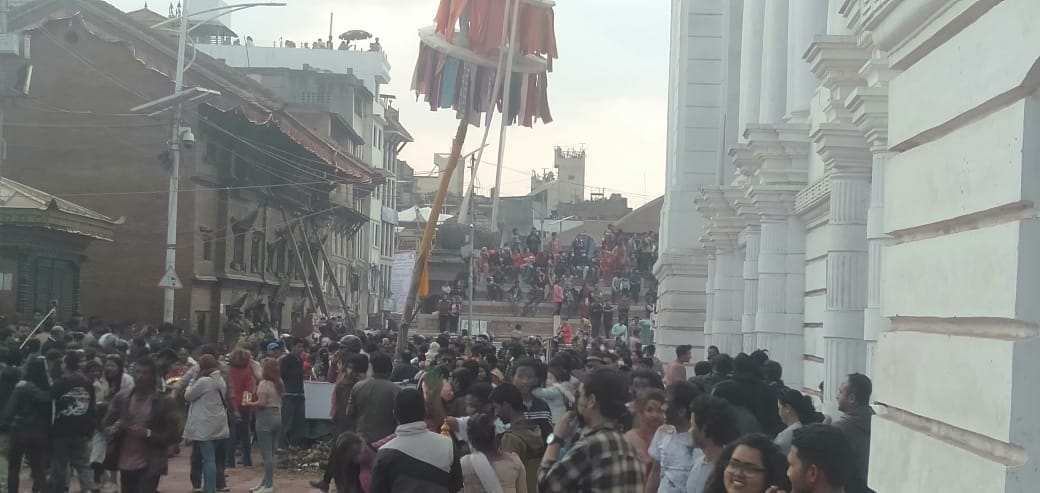 On the final day, the ceremonial pole is lowered at Basantapur and the crowd rushes to grab a piece of the tiers of cloth. There is a belief that those pieces of cloth from pole keep away from evil spirits. The pole is then pulled to the Tundikhel ground to be burned in a bonfire.  Women toss coconut shells into the fire and people take ashes and coal after the ceremony to purify their homes. The bonfire signifies the death of the evil Holika.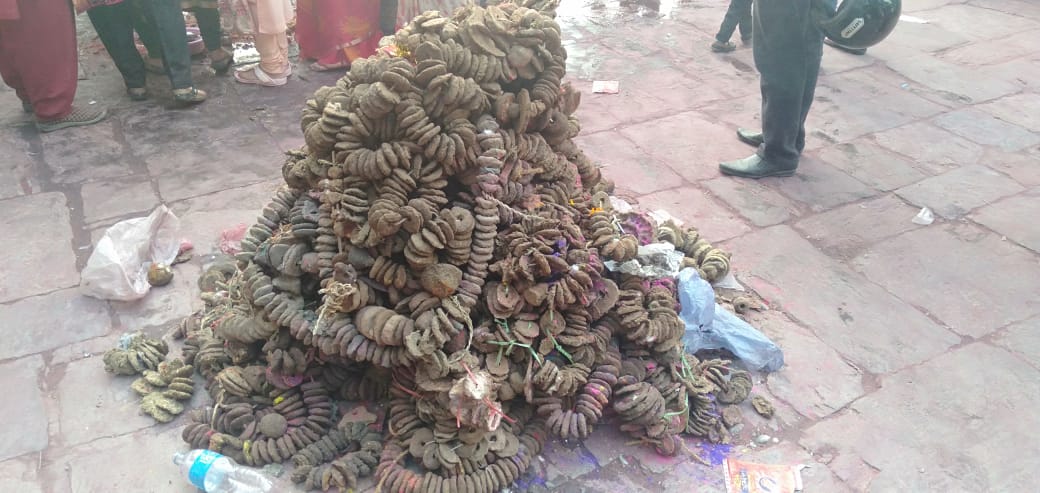 Would you like to participate in the joyous festival as a part of your side trip?
This custom correlates to Krishna as it is said that the cloth strips (chirs) denote the tree on which Lord Krishna has hung the clothes of the Gopinis while they were bathing in Jamuna River.
During this ceremony, people gather in places like Basantapur, Tudikhel, Pokhara, Thamel to enjoy a colorful and joyous festival.   In these main junctures, there are different events happening to make the colorful atmosphere more entertaining and vibrant i.e. live music, street parties, and many more. Many restaurants and hotels also organized entertaining programs and concerts.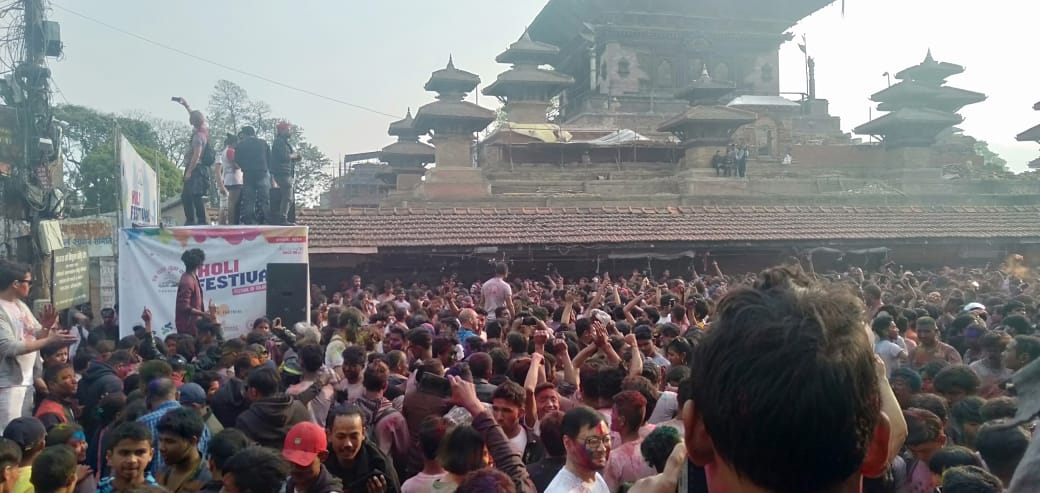 The entire country immersed in the festive mood where people celebrate energetically and happily. You will find revelers merrily screaming saying "Happy Holi." The enthusiastic crowd smeared in vibrant colors, dancing in the street, splashing water to each other and applying colors even to a stranger. Children often toss water with Pichkari (Water Pistol) and the Lola (water-filled balloon).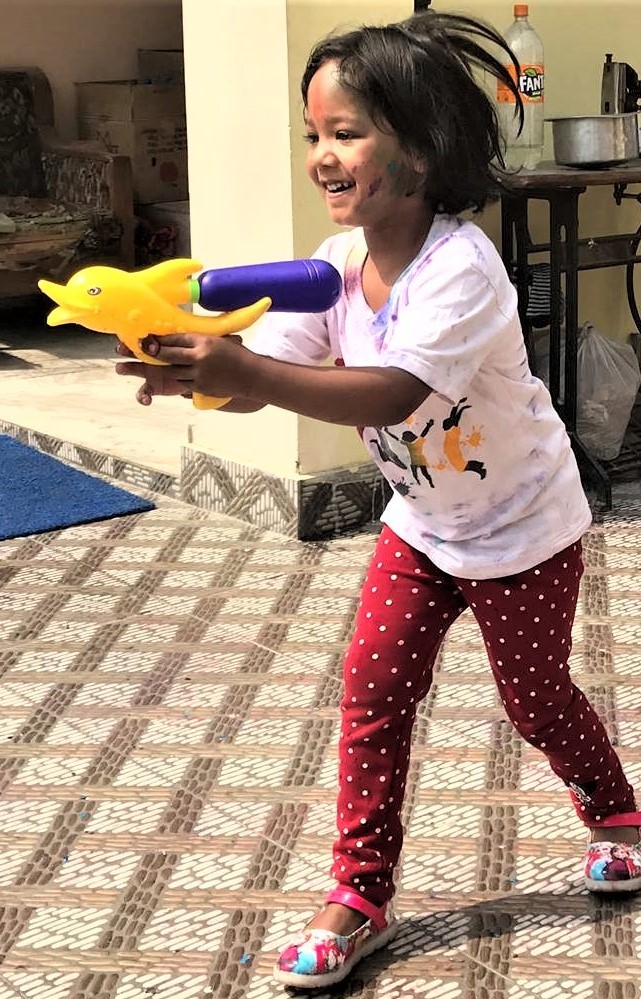 Those who don't prefer to go to such huge crowds celebrate it in their family, neighbor or their close group at home. This festival is the best time to get together with acquaintance, family, and relatives and celebrate with the colors, music, sweets, and water until sunset. After the entire day of the carnival, people do visit near ones or simply relax at home.
Want to know more about colorful Holi?
If you will be in some trekking area of Nepal, you can still enjoy Holi as you will witness children playing Holi everywhere however it's not like as being in Kathmandu. Likewise, you can combine this Holi festival with Kathmandu Cultural Introductory Tour. So grab the opportunity to get the experience of vibrant festival by planning your holiday with family, individual or school groups to be in Kathmandu by the time of Holi.
Tips of celebrating Holi
Holi Outfits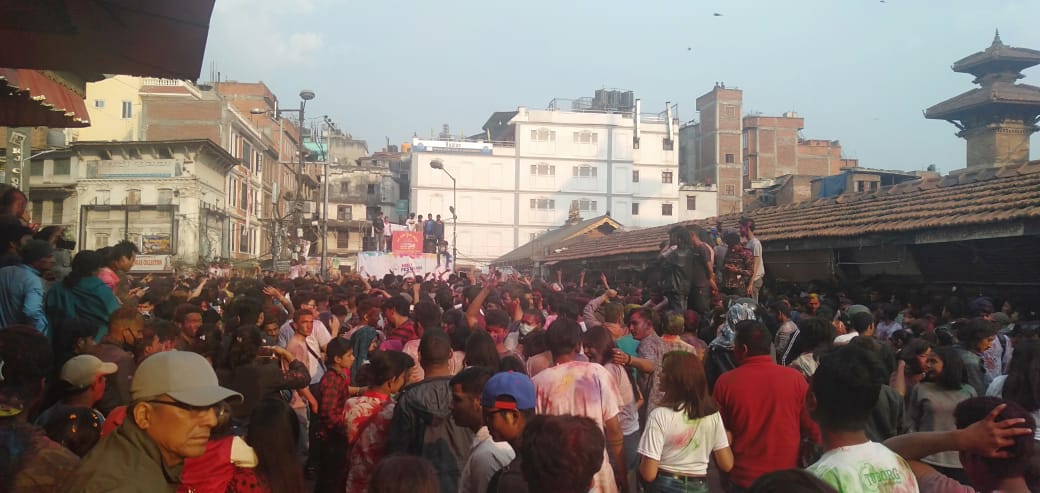 As for clothing, it is better if you wear white cotton fabric because the colors reflect nicely on white that looks more vibrant than in fabrics with other shade outfits. Alternatively, you can put on an old attire else the new cannot be used next time due to the color stains.
Leave your valuables
If you are planning to play Holi then you have to leave valuable items at your hotel. Ensure you put your camera and phone in a protective case or Ziploc bags. A dry bag is an ideal way to keep money and other necessities.
Holi is a wonderful and enjoyable festival not only for Nepalese but also for people coming from various countries.  Whether you planning to celebrate Holi in Nepal with family, individual or school groups, you will definitely have one of the most unforgettable and cherished travel experiences of your life! 
Grab it with both hands and get a smear with the color of the rainbow if you ever get the chance to experience the Holi!
Nepal Sanctuary Treks wish yo everyone has a fun and safe Holi!