Creativity, Activity, Service (CAS) is a unique program performed by students studying Diploma Programme (DP) by colleges affiliated to International Baccalaureate (IB). CAS is a mandatory programme that every student must take part in to complete the IB Diploma Programme.
The CAS activity involves students in a range of activities besides their academic studies. CAS programme is designed to enhance the personal and interpersonal skills, promote healthy living and thinking, and encourage learning through experience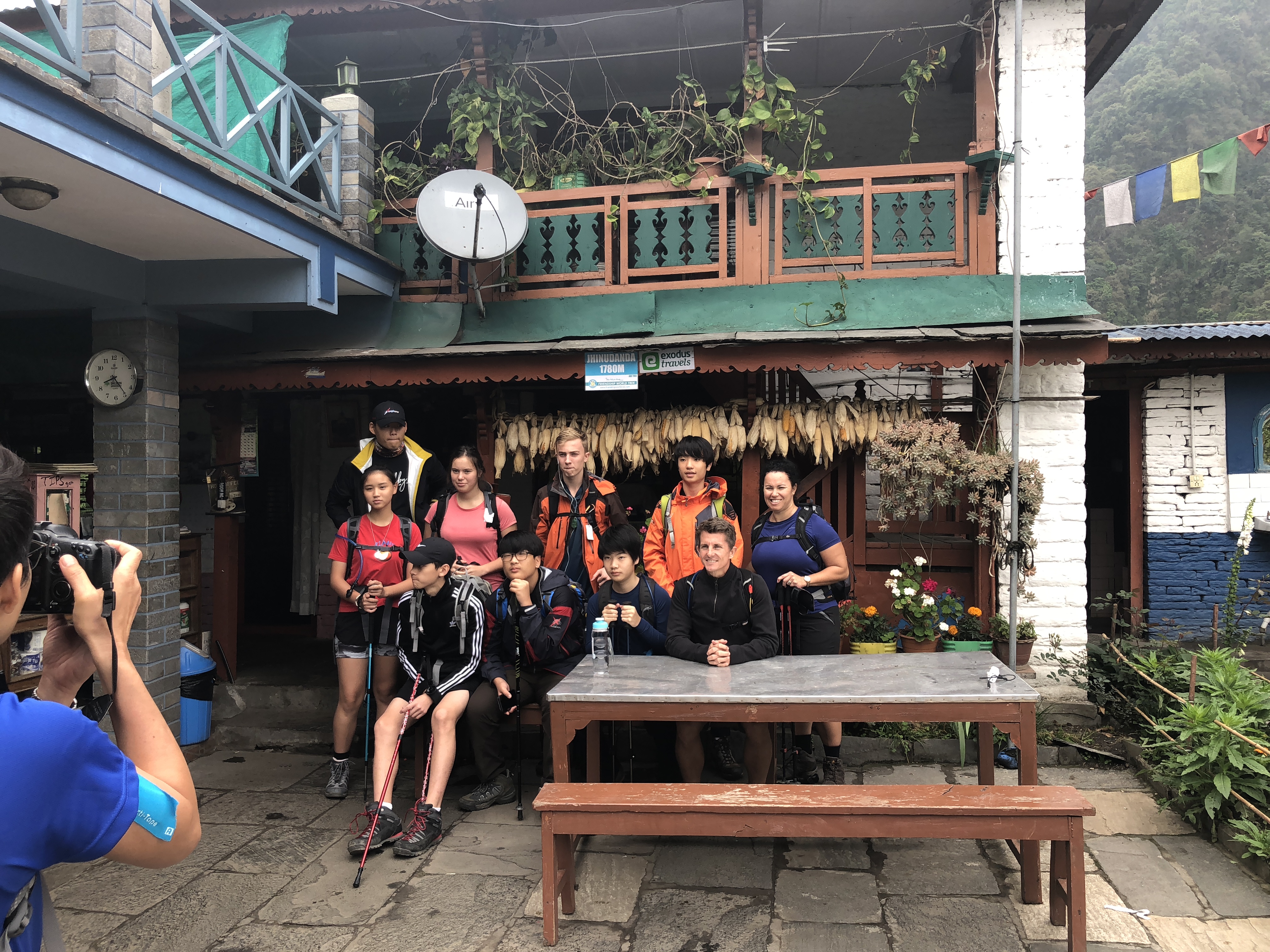 Core Component of CAS
CAS involves three major activities. These activities must be meaningful and must contribute back to the environment, people and the society. The activities of CAS must circle Creativity, Activity, and Service.  CAS oversees the following factors in the programme to qualify the achievements for completion of the Diploma Programme.
Creativity
The literal meaning of Creativity is the use of imagination or original ideas to create something.  The inventiveness and originality in the activities of the students are crucial in passing the creativity section of the programme. The supervisor is the one who decides to accept or reject your CAS idea. So, the idea you present for CAS must be genuine and showcase your individual work.
Activity
The activity section of CAS is structured so that students exert physically contributing to promote a healthy lifestyle. The physical action of CAS also compliments personal and mental growth of students on the importance of living a healthy life. The major action activities include trekking, hiking, biking, and another form of sports and any exercise that challenges you to live healthily.
Service
The service part of CAS of IB Diploma Programme is a major component to pass the diploma programme. The CAS must contribute directly or indirectly to an individual, society or an organization. The service activity must be voluntary and unpaid and must provide a valuable learning experience to the students. The main learning viewpoint of service activity is to develop and apply personal and social skills in real life situations. The experience is meant to improve decision-making, problem-solving, responsibility and accountability in daily actions of students.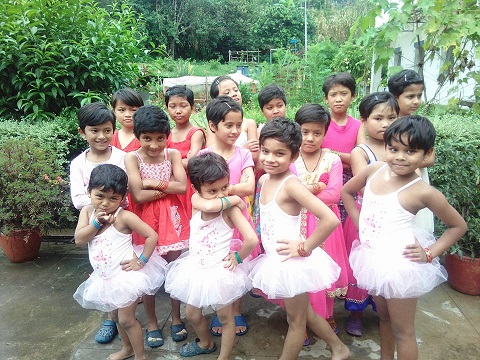 Why is Nepal ideal for CAS?
Nepal is a beautiful country nestling in the shadow of the majestic Himalayas and shares vast culture, traditions amidst the relatively small population and encompasses a varied range of flora, fauna, rugged mountains and diverse landscapes. So students can get an opportunity to learn and research in the field of anthropology, zoology, botany and several other fields.
The majority of people of Nepal lives in remote areas cut off from modern technologies and necessary infrastructure. Mostly people from higher altitudes are deprived of getting basic needs, proper education, houses and communication services. Students can plan creative activities to do in rural villages where they reach through trekking and conduct service programmes to help underprivileged people of Himalayas.
In one trip, you can complete the entire basic requirement for the completion of CAS and gain an excellent experience. As, CAS program enables to boost personal and interpersonal development through experimental learning, get opportunities to work and participate in sustained collaborative projects, experience the rural life, develop new skills, meeting new people and immerse yourself into a culture and serene beauty of nature.
Ideas for CAS activities in Nepal
Many students ponder forever in internet searching "What can I do for creativity in the CAS in IB?", "What can I do for IB Diploma CAS activities?" You can come up with your own ideas and obtain permission from teacher. People forget learning experience and service to society is an important factor for getting the approval of CAS task. Some ideas for CAS activities in Nepal are:
Contact us if you need more information.
CAS Ideas for Creative Activities
There are numerous creative tasks one can do in Nepal. Some general ideas for creative activities to do by CAS students in Nepal are:
Plan and execute art projects for kids in rural schools
The schools in rural areas of Nepal are some of the least equipped schools in the world. The schools lacks qualified teachers and students do not have materials to write and books to study.
You can plan to teach students art like painting, drawing, origami and other creative stuffs. Educating children in schools and monasteries is very famous among CAS students who visit Nepal.
Create Documentary and short films
Nepal is filled with many potential story plots. The existence of Himalayas, hard-working people, hospitality, cultures, and traditions dating back to hundreds of years, all can be a potential film.
CAS students can showcase their creativity and skill by creating a documentary on lives of people's life of Nepal, struggles of living in high altitudes, the life schedule and structure of diverse community with several customs and tradition managing to live by embracing each other's festivals and customs.
Technical Innovation to aid society and communities
 The countryside of Nepal is deprived of basic infrastructures like roads, electricity, communication services and fuel for the fire. Any innovations like a small generator to generate electricity, communication methods for higher altitudes, the alternative fuel source for these remote places is very creative.
These new idea can save several tons of firewood and improve difficulty of communication prevailing in the areas. Any technological innovations are encouraged, that even in the slightest makes the life of these people better than the current situation.
Learning Musical Instrument and Dance
Nepal is diverse in the sheer number of ethnic groups. Each ethnic group has their own festivals and traditions. The different ethnic group has their own music dance and musical instruments inherited from their ancestors.
CAS students who are interested in learning new musical instrument and dance style can visit the ethnic communities of Nepal. In many parts of Nepal the ethnic villages untouched by modern developments and luxuries which you can visit to learn more about these people's traditions,  the style of music , dance and  the meaning of music and dance of different specific communities.
Develop website and labs for Schools, NGO's and INGO's
 Nepal still lacks technological edge in many areas of the country. The urban institutions do have well-designed websites, but same is not the case for schools, NGO and INGO and charity organizations who focus on providing support for people living in rural and isolated parts of Nepal.
CAS creative activity also includes developing websites for such noble cause organizations. Many such institutions need technical guidance in their day to day work and work websites. You can reach these places, know about their work life and design a suitable website.
In this digital age, children in rural parts of Nepal do not have luxury of using computer and reaps the benefit of it. Building computer labs in schools and aiding students in using a computer is also an activity that needs support from you.
Photography and Blogging experiences of travel
While traveling the beautiful places of Nepal, photography and blogging the adventures is a new way of doing a creative activity in CAS. Photography shows the story of your travel. The pictures of snow-capped mountains, rare and endangered animals and birds, ethnic settlements and lifestyle show understanding of the importance of life in every corner of the world.
Blogging shows the creativity in writing, understanding the environment and the people who are framed in the pictures. Sharing experience to teach children, the smiles of children after helping them in any way gives a unique sense of satisfaction unlike any other.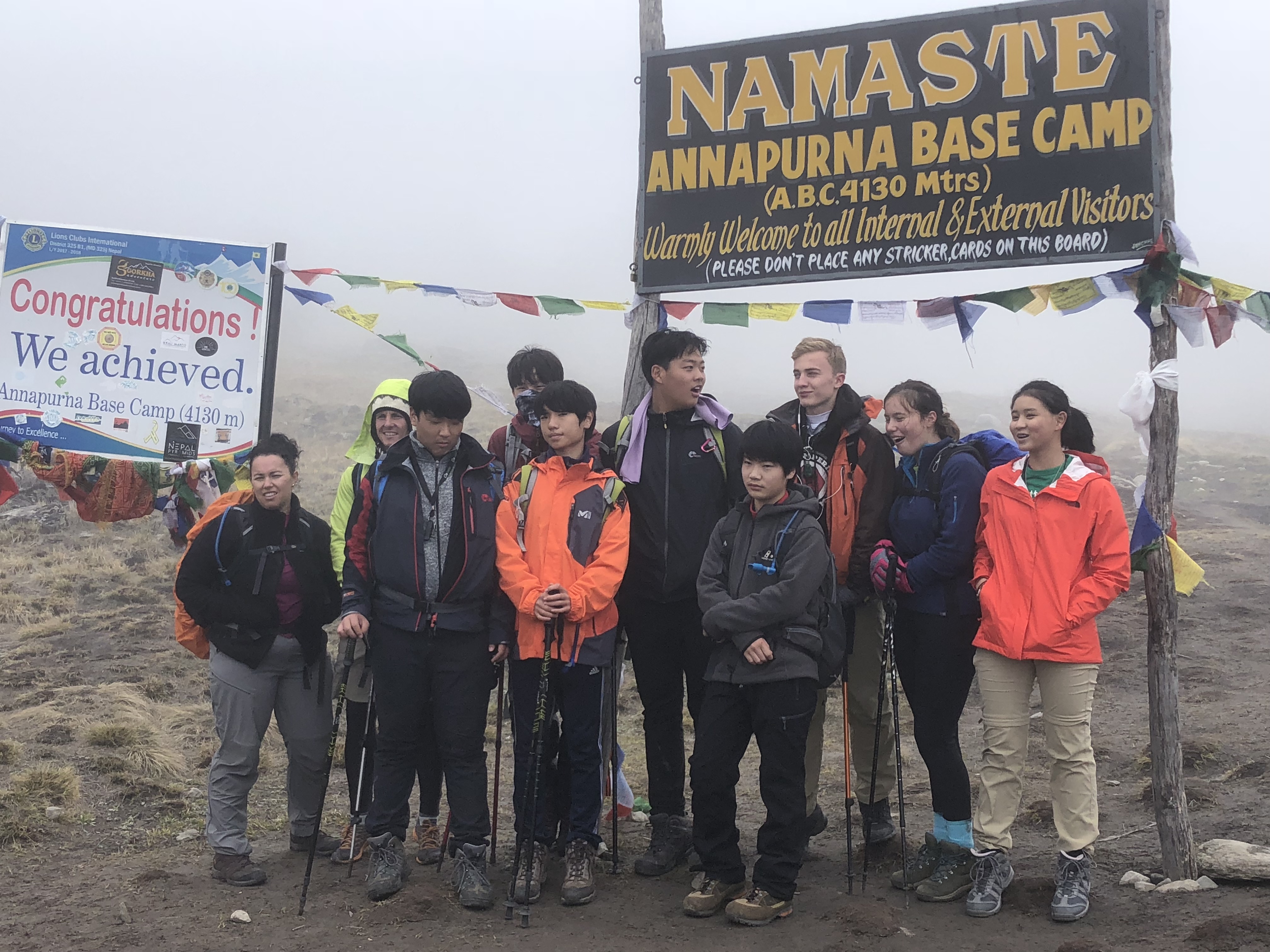 CAS Ideas for Action Activities
Nepal is a gold mine for Action activities. Not many other countries offer wide variety and locations for Actions like there is in Nepal. Yearly many Diploma Colleges suggest Nepal for action activities in the CAS structure. Some CAS Ideas for Action Activities in Nepal are:
Trekking & Hiking
Nepal is a paradise for trekking and hiking enthusiasts. What can be more physically challenging than 10-20 days trekking through numerous passes, hills, ethnic villages and harsh terrains? Climbing several hills, sleeping in tents at the foot of a mountain under bright stars filled skies challenges your physical limit, builds thoughts towards healthy diet and lifestyle.
Hiking is also a perfect option for people with a time constraint.  Hiking in green hills, passing forests, and several waterfalls build new energy and perspective towards how to live your life. Trekking and Hiking is the popular idea of CAS activity in Nepal.
Rafting in Nepal
 Nepal consists of more than 6,000 downstream rivers and most of them fast flowing through the hills of Nepal. Rafting in Nepal is very sought out activity by CAS programme students. The fast flowing rivers of Nepal requires very physical work and the perfect activity for your CAS requirement.
Rafting is available in many rivers in Nepal, majorly in Trisuli, Sun Koshi, Bhote Koshi and many others. You can consider rafting as an excellent idea for CAS action activities.
Bungee Jumping
Nepal is famous all over the world for Bungee Jumping. Bungee doesn't challenge your body physically like in trekking and rafting, but the mental pressure in attempting the jump is what makes Bungee an idea for action activity in CAS.
Preparing the mind to jump off a cliff with just a rope tied to your leg is stressful. A bungee jump can change a person's personality too. The leap has the power to eradicate fear and uncertainty from an individual. Bungee can raise a hidden personality and drive in an individual to strive for greatness in the future. Thus, Bungee is considered an idea for CAS activity all over the world.
Mountain Climbing
Nepal is the land of mountains. Nepal is also called the area of eight-thousander because of the number of peaks above 8,000 that nestled in Nepal. If you looking for a challenging idea for action activity in CAS, then there is not much challenging you can find that climbing a mountain in the Himalayas. 
Mountaineering is extremely challenging to body, mind, and soul. Reaching the summit of mountains requires proper planning, hard work, rigorous training, patience, and discipline. The expedition requires months of planning. If you have prior mountain climbing experience, then you can try some peaks from 6,000 to above 8,000 meters in Nepal as an option for action activities for your CAS.  
CAS Ideas for Service Activities
There are countless areas and locations where service and volunteering require in Nepal. The social and economic situation of Nepalese people living in isolated places in the hilly and Himalayan region of Nepal is dire in comparison to people living in cities of Nepal. People who are living in remote areas have no access to communication technologies and other basic needs like roads and medical services. Some ideas for Service Activities of CAS in Nepal are:
Teaching students of Local School and Monasteries
The schools of rural areas lack adequate qualified and experienced teachers. Teachers do not opt to teach in rural schools, often leaving children without tutors to tutor them. A trending service activity is working as a tutor for children in rural schools and monasteries.
You can teach children many things, including skills, art, musical instruments, how to use a computer and can provide insight on environmental protection, cleanliness and hygiene. You can share your knowledge and ideas with children that you have learnt and experienced. In addition, you can also choose to teach young monks in Monasteries.
Building Library for schools of Isolated Regions
Building a decent library for the students in rural schools is also a potential idea of service activity for CAS. The school children in country areas don't possess study materials and extra books to study. You can collect already read books from your friends, neighbors and online contacts. Donation of books is also a good option for obtaining a variety of books for the books.
Cleaning The Trails Through Trekking
Trekking is a recreational activity, but trekking will be more purposeful if you involve environmental sustainability while trekking. The strategy "leave no trace but leave only footprint"  is the best way to be responsible trekker and as a part of service. Cleaning the trails, picking the trash such as plastics is a component of responsible environmental service activity. Many trekkers actively join in the initiative to rid the mountains from waste materials that are helping to deteriorate the natural environment of the trekking trails. Cleaning the trails is also an idea for service activity of CAS.
Conducting Health Camp and Awareness Programs
 People living in the countryside of Nepal are not sufficiently educated and don't have a proper understanding of the medical importance and how even to use general first aid. Thus, conducting health camp to inform people on the importance of good health and healthy habits is an ideal way to deliver the service.
You can plan and organize awareness programs on various social issues and methods of the remedies of social as well as economic problems. Awareness programs cover environmental protection issues, hygiene and sanitation, educational importance, use of technologies for a better life and so on. Awareness programs are a very popular idea of service activity in CAS diploma programme.
Awareness of the importance of water resource and significance of protecting trees would raise local attention to water conservation and reforestation process. A simple deed can change entire villagers perspective towards environmental conservation and slowly but steadily, the service can change an entire country. That's why service is a significant activity to take part to complete IB Diploma.
Charity and Volunteering
The rural people of Nepal are struggling economically and live under poverty line. The earthquake of 2015 devastated several homes in rural areas, where people are still compelled to live in tents in the harsh weather conditions. Charity and Volunteering are essential for the survival of these people.
Charity money will help fund materials to build homes. Volunteers who are flying from all over the world are flying to Nepal in order to rebuild destroyed homes and support in any way possible.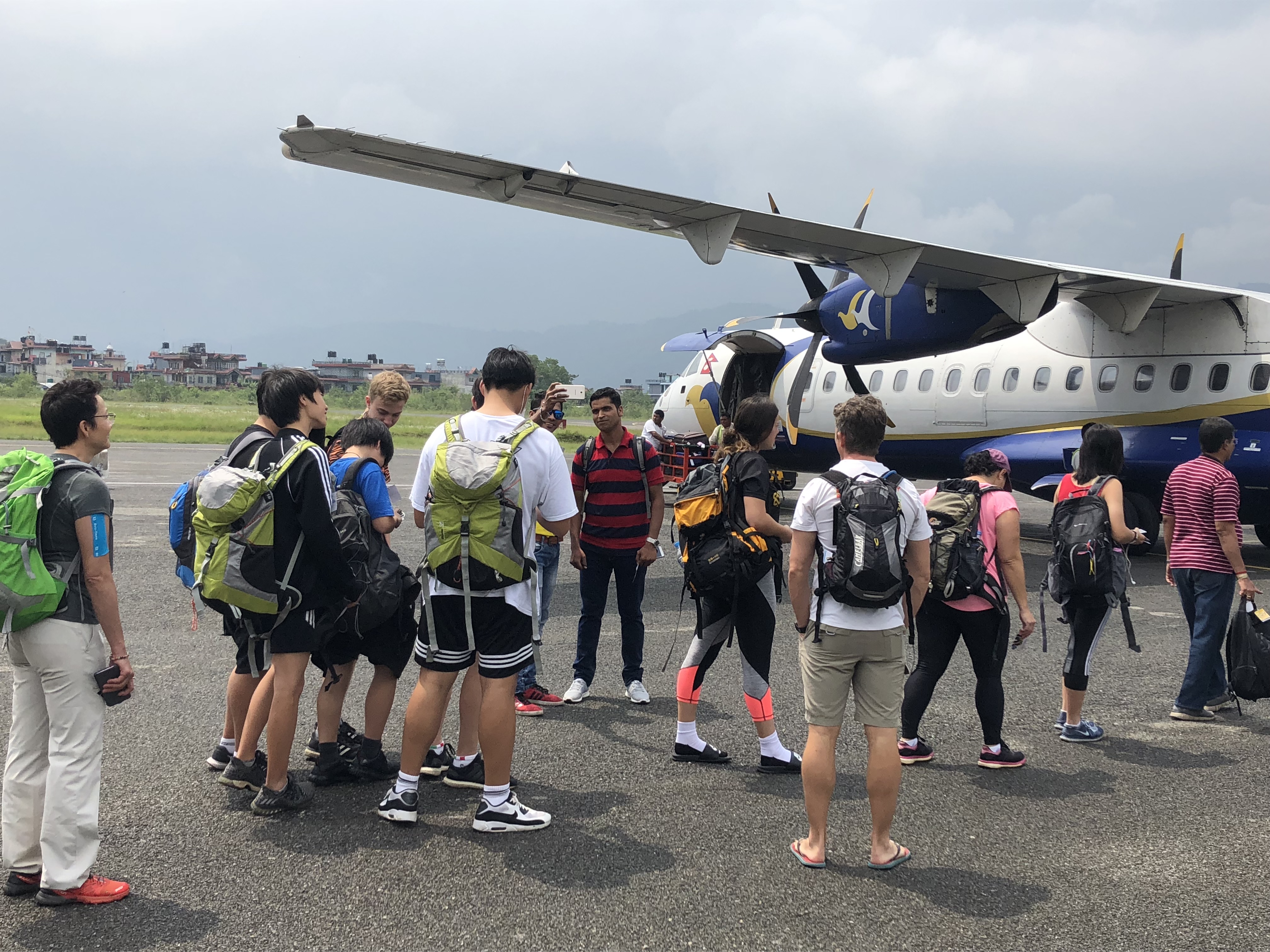 The above article answers the question "Do You have any IB CAS ideas?" and also "What CAS activities to do in Nepal?" Nepal is cost friendly to travel and a safe place to visit. The hospitality is heartwarming, and experience of travel is breathtaking, and you also get to explore the most beautiful countries in the World.
If you have any queries regarding Student's trip to Nepal, you can email us at info@nepalsanctuarytreks.com or directly send us a message from the Contact page.