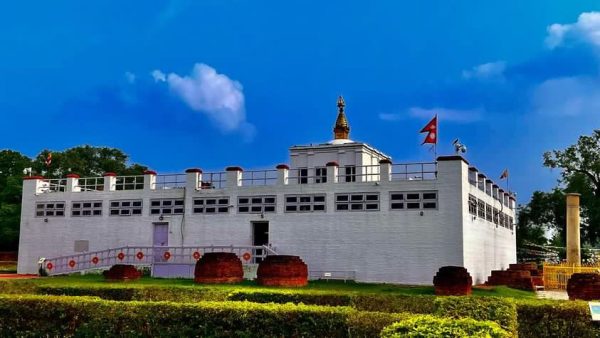 Lumbini, the birthplace of Lord Buddha, offers a transformative experience, guiding visitors through his teachings and journey. Beyond Lumbini's boundaries lie nearby attractions that provide a deep immersion into the region's vibrant culture and stunning natural beauty.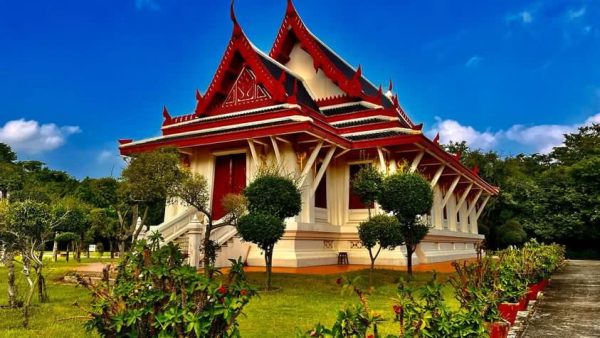 Lumbini serves as a central hub for exploration in multiple directions. If you head west, you can visit prominent attractions such as Maya Devi Temple, Kudan, Gothihawa, Nilgihawa, Jagidshpur Reservoir, and Sagarhawa. On the other hand, if you move eastward, you'll discover fascinating destinations like Devdaha, Ramagrama, Balmiki Ashram, and Chitwan.
North of Lumbini, you can discover Butwal, a vibrant city serving as a gateway to the hilly regions of western Nepal. It offers a mix of urban amenities and cultural experiences. In contrast, Tansen, a hill station in the Palpa district, showcases medieval architecture and stunning Himalayan views, providing a glimpse into the region's cultural heritage. Moreover, in the east-west direction, make sure to visit the Chhapia fish farm, adding another interesting stop to your itinerary.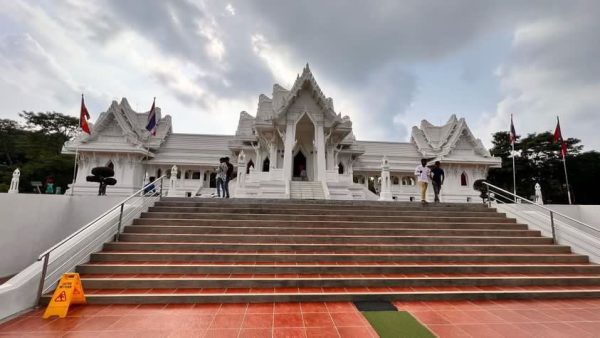 To fully experience Lumbini and its surroundings, it is recommended to allocate approximately 4-5 days. There are many interesting places to see and will have plenty of chances to explore and enjoy your time there.
Embark on a captivating journey beyond Lumbini, Nepal's spiritual heart, and discover a wealth of ancient historical sites, vibrant cultural experiences, and awe-inspiring natural landscapes:
Maya Devi Temple: Spot where Queen Maya Devi gave birth to Siddhārtha Gautama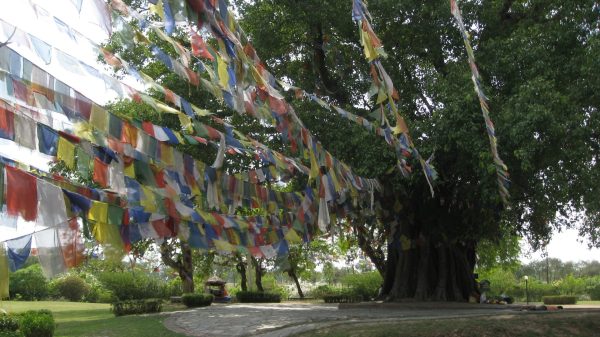 Maya Devi Temple, dating between the 3rd and 5th centuries, marks the sacred birthplace of Lord Buddha. Renowned for its Marker Stone placed by Emperor Ashoka in the 3rd century BC, the temple symbolizes deep spiritual reverence for Buddhists worldwide. Within the complex, visitors can witness this sacred stone which shows the exact birthplace of the Buddha. Nearby is the Puskarini, a holy pool where Queen Maya Devi bathed before giving birth. This tank is older than the Buddha himself. Around the sacred area, there are rows of stupas, with thirty-one discovered so far, mainly votive stupas. (Source: Chetan Pant's article) Pilgrims and tourists can embark on a profound spiritual journey, connecting with Buddhism's origins, and reflecting on the teachings that emerged from this significant site.
Tilaurakot: Tracing Buddha's Early Life
Tilaurakot, located 24 km from Lumbini, is the site of Kapilavastu, where Lord Gautama Buddha is said to have lived for 29 years. The excavation of Tilaurakot offers valuable insights into the historical life of Buddha.
In addition to its Buddhist importance, Tilaurakot also holds significance in Hinduism. Within the ancient walls, there is a contemporary Hindu temple dedicated to the deity Samai Mai, attracting regular worshipers.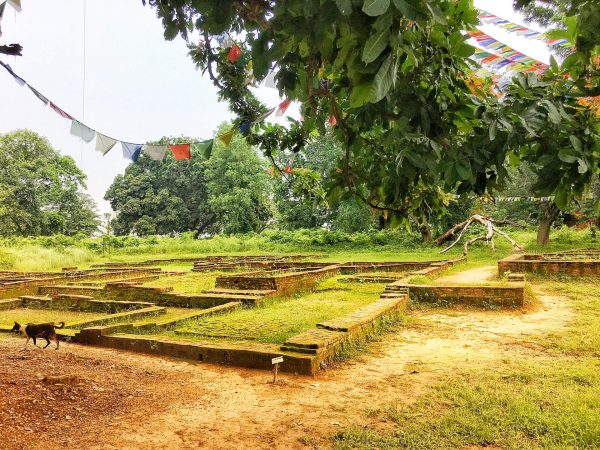 Kudan: A Sacred Relic and Symbol of Buddhist History
Kudan, formerly Nyigrodharama, is a historically significant site related to Buddha, located around 6 kilometers (3.5 miles) from his childhood home in Tilaurakot. It marks the place where Buddha had his initial meeting with his father, King Suddhodhana, after achieving enlightenment. This site played a crucial role in spreading Buddha's teachings, as his family, including his son Rahula, who became ordained at the age of 8, embraced his mission.
When you visit Kudan today, you can follow Buddha's footsteps and admire a collection of remarkable stupas. The first Stupa, called the Rahula Stupa, is where Rahula received teachings from Sariputra, one of Buddha's disciples.
Transitioning to the second Stupa, you will find the exact spot where Buddha met his father for the first time after enlightenment, conveying the Panchashila (Five Precepts) to him.
Continuing onward, the third Stupa symbolizes Buddha's mother presenting him with saffron robes, while his wife Yashodhara invited him for a meal.
Moreover, the ancient wells and the Nyigrodharama pond are additional alluring attractions that await you at this site.
Gothihawa: Birthplace of Lord Krakuchanda
Gothihawa, the birthplace of Lord Krakuchanda, holds deep spiritual and historical significance. Visitors can immerse themselves in a serene ambiance and connect with the rich legacy of this revered figure in Buddhist history.
Niglihawa: Uncovering the Ancient Secrets of a Buddhist Site
Niglihawa is the birthplace of Kanakmuni Buddha. In 249 BC, King Ashoka visited the site and installed the Ashoka pillar, which is now broken into two parts. Unfortunately, the Stupa that was once present at the site is currently absent. The pillar itself contains two distinct inscriptions, one in Pali language and the other in Sanskrit.
Jagdispur Reservoir: A Serene Oasis and Birdwatching
While exploring Lumbini and its surroundings, make sure to visit the peaceful Jagdishpur Reservoir, a manmade reservoir established in 1979 for irrigation purposes. This reservoir, listed in Ramsar on August 13, 2003, offers a serene escape and serves as a sanctuary for observing birds. Be on the lookout for various bird species, including waterfowl, raptors, herons, egrets, and kingfishers, among others. During winter, the reservoir becomes even more captivating as migratory birds grace its surroundings. Don't forget to bring your binoculars and camera to capture the mesmerizing beauty of these feathered creatures in their natural habitat.
Lumbini Crane Sanctuary: Continuing the Legacy of Lord Buddha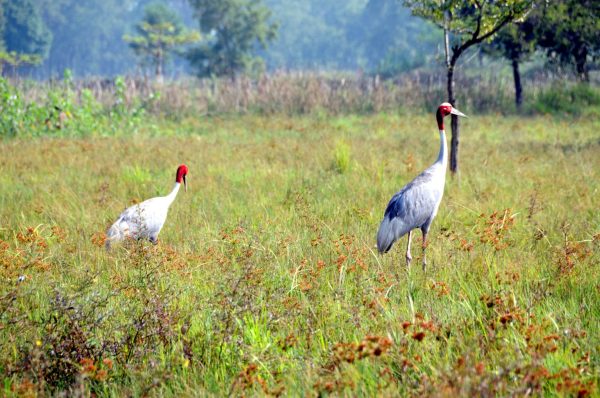 Lumbini Garden and an important Buddhist pilgrimage site, has become a large crane sanctuary that covers 6 square kilometers, including the ruins of Tilaurakot Palace where Siddhartha Gautam once lived. This unique attraction in Nepal is highly recommended for visitors interested in Buddhism and wildlife conservation. The sanctuary works actively to protect endangered Sarus Cranes in the wetlands around Lumbini by creating a community dedicated to conservation, restoring their natural habitat, and promoting education. The sanctuary continues the mission started by Gautam Buddha 2,500 years ago and allows visitors to see the blue bull, a species similar to an antelope.
Tharu Homestays: Experiencing the Vibrant Culture
Near the reservoir, homestays offer a comfortable and immersive experience for visitors. Additionally, guests have the opportunity to experience the vibrant Tharu lifestyle firsthand. They can witness the customs, dances, and folk music performances that showcase the rich cultural heritage of the Tharu people.
You may have the chance to observe Tharu dances, music, and cultural shows showcasing their mythology, folklore, and agricultural practices, depending on when you visit. These lively performances provide insight into the artistic expressions and communal spirit of the Tharu community.
Savoring the Flavors: Exploring Traditional Tharu Cuisine
While in Lumbini, immerse yourself in the spiritual ambiance and indulge in the rich culinary traditions of the region. A must-try is Tharu cuisine, which showcases locally sourced ingredients and reflects the community's agricultural heritage. It's a delicious way to fully experience the local flavors and gain deeper insights into the culture.
Sagarahawa: The Massacre Site of the Sakyas
Sagarhawa, located about 12 kilometers north of Taulihawa, is a forest area containing a significant rectangular tank known as Lumbusagar or the long tank. These ancient tank ruins were discovered by Dr. Alois A. Fuhrer in 1859 and hold historical importance as the "Place of the Massacre of the Shakyas."
According to archaeologists, King Virudhaka, the son of Prasenajita Raja of Kosala, is believed to have orchestrated the revengeful act that resulted in the tragic demise of approximately 77,000 Shakyas. In honor of the fallen Shakya tribe members, several stupas have been built at the site. Visitors can explore these ruins located on the southwestern banks of Sagar.
Devdaha: The Maternal Home of Buddha
Continue your journey to Devdaha, the maternal home of Buddha. Queen Mayadevi, Buddha's mother, is believed to have grown up in this place. Take the opportunity to wander through the ancient ruins, monasteries, and pagodas that grace the surrounding scenery. Engage yourself in the captivating legends and tales that revolve around Devdaha, as they hold a prominent position in Buddhist folklore.
Ramagrama: The Mysterious Relic Stupa
Ramagrama, situated near Lumbini, holds great significance in Buddhist history. It is home to the revered Ramagrama Stupa, which is believed to contain one of Buddha's relics, specifically his ashes from the cremation.
According to Buddhist texts, Emperor Asoka desired to open the relic and construct 84,000 smaller Stupas throughout his empire. However, he honored the wishes of a serpent and the local residents of Ramagrama, who asked that the relic remain undisturbed. This sacred site holds profound reverence as a pilgrimage destination for Buddhists. Experience a tranquil atmosphere at the Ramagrama Stupa, where you can engage in meditation sessions filled with spiritual energy.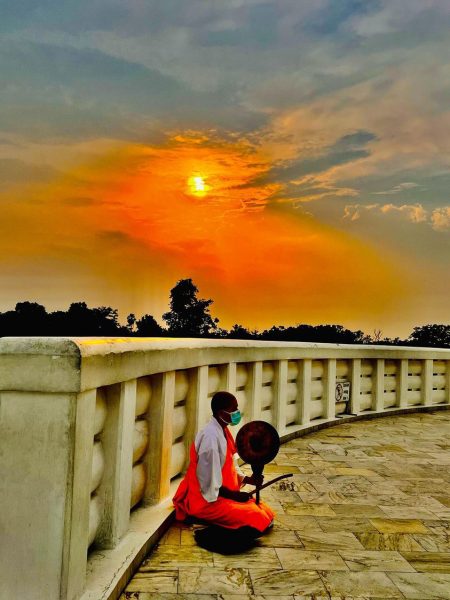 The Holiest and Most Revered: The Rohini River in Buddhist Scriptures
The Rohini River, originating from the Siwalik hills and flowing through forests and plains, holds great importance in Buddhist scriptures. Once, during a severe drought, a dispute arose between the Sakyas and the Koliyas over water from a nearby dam, risking conflict. Informed of the situation, Lord Sakyamuni Buddha traveled from Vaisali and successfully convinced the warring groups to avoid battle, emphasizing the importance of family unity. As a result, the two sides peacefully shared the water, restoring harmony. This event inspired around 500 Sakyas and Koliyas to embrace Buddhism after hearing Lord Sakyamuni Buddha's teachings.
Balmiki Ashram: A Spiritual Haven in the Heart of Nature
Located within the scenic and protected jungle area of Chitwan National Park, the Balmiki Ashram holds great historical and spiritual importance. It showcases ancient ruins associated with Balmiki Rishi, the esteemed author of Ramayana, and the presence of Sita and her sons, Lava and Kush.
Nature Retreats: Serenity in the Wilderness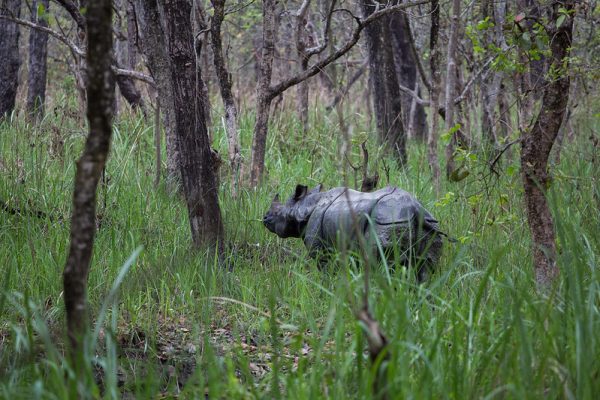 After visiting Lumbini, you have the opportunity to explore nearby national parks such as Chitwan, located approximately 120 km away. In Chitwan, you can completely engage with the natural surroundings and uncover tranquil and secluded areas that are perfect for profound reflection and contemplation.
Chhapiya Fish Farming: Nurturing Aquatic Life for Sustainable Harvest
Chhapiya Fish Farming, located in Rupandehi, is a prominent operation that involves the active participation of every household in the village. This collective engagement showcases the community's strong dedication to fish farming. Additionally, the village places great importance on preserving the culture and traditions of the Tharu community. Visitors to the village can enjoy boating on the fish ponds, adding to their overall experience. The presence of multiple restaurants further enhances the culinary offerings, providing a wide variety of delicious fish dishes to both locals and tourists.
Chhapia's fish farming industry holds a significant position in the agricultural landscape of the Lumbini region, contributing to its overall development.
Lumbini Cable Car and Butwal Cable Car
Tourists often begin their journey in Basantpur, a popular destination in Butwal, when visiting Palpa, Pokhara, Muktinath, and Dhorpatan. The construction of the Lumbini cable car, connecting Basantpur and Palpa, is nearly finished and is currently undergoing technical testing. It consists of 25 gondolas, each accommodating eight passengers.
Workers are currently renovating the Durga Temple in Basantpur to resemble India's Kamaksha Temple. Moreover, they are constructing a children's park, restaurant, and viewpoint. The pleasant climate and natural beauty of Basantpur draw tourists who delight in the short 10-minute cable car ride from Butwal.
Preparations are underway for the Siddharth Cable Car Limited, which will connect Lumbini, the birthplace of Buddha, to Nuwakot in Palpa. The cable car's base station will have six steps, representing Buddha's seven steps at birth, with the final step in Nuwakot. Covering a distance of 1.94 km, the cable car journey takes approximately seven minutes to reach the top station. Nuwakot is renowned for its historical sites, including Raja Manimukund Sen's summer palace, the Topahan area, Kharakhjanaghar, and Ranikuwa. The cable car project originates from the historically significant Mani-Mukundasen Udyan Phulbari in Butwal.
Apart from the cable car project, several other initiatives are taking place in Nuwakot, including the construction of the Kalabhairava Temple, Big Buddha Statue, Manimukunda Sen Park, Cultural Museum, and Sage Kaldeval Temple. Additionally, a viewing tower has been erected, and the foundation stone for the Balaji Temple has been laid, with blessings and inauguration conducted by a revered Guru from India.
Batauli Market: Butwal's Timeless 600-Year-Old Marketplace
Butwal, previously known as Batauli, is a city in the Rupandehi district of the Lumbini province. Despite modernization, the old Batauli market, which has a history spanning nearly 600 years, still remains. There have been efforts to revive and transform this historical market into a tourist-oriented destination.
They renamed the market Butwal-Khasyoli Municipality in 2016, changing its previous name from Butwal-Khasyuli Nagar Panchayat during the Panchayat system. Batauli, originally located opposite the current main market, gradually expanded to include Wari Khasyauli.
Jitgadi Fort: Fortress during Anglo Nepal War
The Nuwakotgarhi Fort at the entrance of Batauli Bazaar is historically significant as it is connected to the victorious Jitgadhi Fort in a battle against the British during the Anglo-Nepalese War in 1816 AD. The Gorkha army, led by Ujir Singh Thapa, emerged triumphant in this battle known as Jeetgadhi. The fort serves as a historic reminder of the conflicts that shaped the city's history.
Adjacent to the fort is a revered Bhairava temple with historical value. Near Nuwakot Gadhi, the meditation center of Guru Rishi Kaldeval (Ashutosh), the spiritual guide of King Suddhodana, is believed to be associated with Buddhist civilization.
Siddhibaba Temple: Center of religious faith
The Siddha Baba Temple, a renowned Hindu temple dedicated to Lord Shiva, attracts a large number of devotees and is situated near Butwal in the Palpa district of Nepal. Believers place their faith in the temple's ability to fulfill their desires, and as a ritual, the temple releases a pigeon when a wish is granted, leading to a noticeable population of pigeons in the temple vicinity.
Siddha Baba: A wandering place of the primitive Rampithecus
The discovery of dental remains from the Ramapithecus species in the Siddha Baba area is very important for anthropology. Scientists believe that Ramapithecus is related to Asian Great Apes. They found fossils of Ramapithecus in 1932 near the Tinau River, also called Paari Butwal. One of the discoveries was a tooth estimated to be 10.1 million years old. To protect the site, they created Ramapithecus Park next to the temple.
Tansen: A Glimpse into Newari Architecture and Culture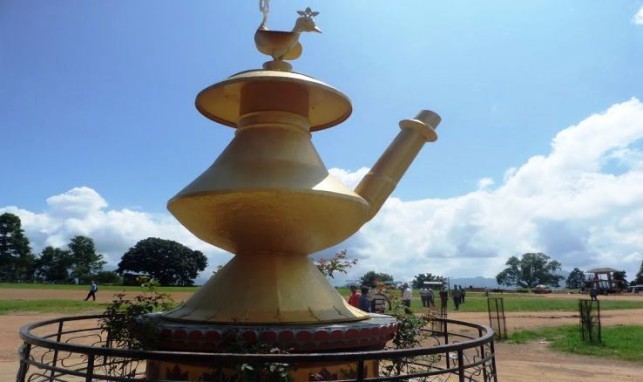 Experience the picturesque town of Tansen, located near Lumbini, which combines history and tradition. With its charming Newari architecture and rich cultural heritage, Tansen offers a unique ambiance. Take leisurely walks along cobbled streets, explore Tansen Durbar Square, and embrace the vibrant local culture. Moreover, make sure not to miss the breathtaking sunrise and sunset views from the Srinagar Hilltop.
Rani Mahal: Exploring the Royal Palace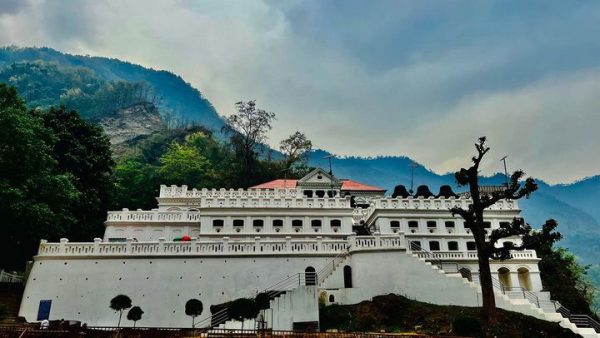 The 19th-century Rani Mahal in Palpa, was once the queen's residence, combining Nepali and European influences with intricate wood carvings, courtyards, and spacious rooms. With its regal history, this palace has become a popular tourist spot, showcasing Palpa's grandeur.
Bhairavsthan: Sacred Shrine of Palpa
The locals hold great religious and cultural significance for Bhairavsthan, a temple located in Palpa, dedicated to Lord Bhairav, a powerful incarnation of Lord Shiva. Drawing visitors and devotees, this central place of worship hosts various ceremonies, fostering devotion and unity within the Palpa community.
Palpa Ridi Bazaar and Cremation Site: Harmonious integration of daily life and sacred customs
Palpa Ridi Bazaar in Nepal is a bustling marketplace where locals and tourists trade various goods, including traditional crafts, clothing, fresh produce, and household items, creating a vibrant hub of activity.
Next to the market, the cremation site in Ridi has great cultural and religious importance. Located near the calm Kali Gandaki River, it offers a serene setting for performing Hindu funeral rituals. Families gather in this tranquil environment to bid their final farewells to their loved ones who have passed away.
Satyawati Taal/ Lake: If you shout your wish out it will come true
Satyawati Lake in Nepal's Palpa district is a religiously significant Hindu pilgrimage site located in the village of Satyawati. Named after the Goddess Sand, this sacred lake offers stunning views of the Himalayan range. Along the trail to Satyawati village, you'll encounter Budhi Satyawati Lake, known for attracting migratory birds, although it usually dries up from mid-April to mid-June.
The area is also home to a Hindu temple dedicated to the goddess Satyawati. Pilgrims actively participate in a fair during the month of Kartik (Oct/Nov), believing that they can have their wishes granted by the ancient goddess by circling the lake three times and shouting. Due to the goddess's poor hearing, people deem shouting as necessary. Additionally, people shout to seek a suitable groom. Visitors can also partake in a sacred bath and witness religious rituals involving animal and bird sacrifices.
To reach the lake, several foot trails are available, with the main trail commencing near Siddhartha Rajmarg. By undertaking a two-hour uphill trek from the main road, you can reach this starting point, located approximately 35 km south of Tansen, the Palpa district headquarters, and 19 km north of Butwal.
Here are additional gems to discover beyond the well-known attractions in the vicinity of Lumbini:
Lumbini Treasures: Discovering Authentic Local Souvenirs
Lumbini offers a diverse selection of Buddhist-themed souvenirs, capturing the essence of this sacred site. Whether you're interested in statues, handicrafts, clothing, or incense, Lumbini provides a variety of options to choose from.
Explore weekly Hat Bazaar (Rural market): A Vibrant Marketplace of Local Delights
Explore Lumbini's diverse Hat Bazaars for a rich cultural experience. Discover a wide range of handicrafts, textiles, fresh produce, spices, and more. By visiting these markets, you can find unique souvenirs and connect with the local community. Your support also boosts the local economy. These vibrant gatherings bring people from diverse backgrounds together, leaving a lasting and energetic impression. It's an opportunity to connect, share stories, and celebrate Lumbini's cultural heritage.
In conclusion, exploring Lumbini and beyond immerses travelers in the essence of Nepal's nature, spirituality, and culture. It provides a holistic experience, fusing spiritual enlightenment, natural beauty, and cultural immersion.
This transformative journey deepens our understanding of Buddhism while uncovering the intrinsic beauty and serenity of Nepal. Eventually, it leaves an enduring impact on the hearts and souls of those who undertake this captivating exploration.