Nepal is home of adventures; it is the very best destination if you are looking for something exhilarating and fun. Bungee jumping, paragliding, rafting are some of the highlights of adventure you can try in here. Among the long list of the adventure, cycling is one of the popular and loved by tourists. You will find it hard to believe, but with such a small area, Nepal has an amazing diversity that will shock you. In Nepal, there are glorious and magnificent mountain in the Mountain region, beautiful hills and green forest in the Hilly region and plain road and dense forest in the Terai region. With its varied topography, there is variation in the climate too, no matter what season.
With a blessed geographical diversity and amazing topography, Nepal is a destination to choose for adventures. And, talking of cycling, Nepal offers you best route, with challenging paths and magnificent views en route while cycling.
Cycling might seem like a tiring thing to do, but it is very relaxing. As you ride on your bike and start peddling, your journey will unravel the beautiful places which can't be reached by any transportation; you will also discover the life of people, you will get to witness the sacred sites and listen to their legends. Your feet may be tired a bit, but the beauty you see and the things you encounter in your route, will ease all the tiredness and fills you will a thrive for more.
So, today, I have listed out some cycling destinations which you must try at least one of them during your visit to Nepal.
Kathmandu Valley Cycling
You might find Kathmandu Valley crowded and full of smog, but that is just in the main centers of the city. As your journey moves forward leaving all the hustles of the city, you will be surprised to see all the mesmerizing scenarios and equally peaceful places. Your journey will take you to the different place than you have witnessed in the city, a place of peace with small villages, hidden temples, wooded slopes and the magnificent views of mountains of the Nepal Himalaya range.
Your cycling tour of Kathmandu valley will offer you a closer look at the life of people of middle hills of Nepal. You will see the difference in the way of life of people living just in the outskirt of Kathmandu. You will pass some historic cities like Basantapur, Patan, and Bhaktapur, the beautiful hills of Nagarkot and the sunrise view you can witness from there, the marvelous view of Kathmandu and mountains, temples and monasteries and you will get to taste the local cuisine prepared in firewood.
This tour won't be far from Kathmandu, the city will always be a view, and yet you will feel far cycling in the off beaten trail and experiencing typical Nepal. We offer you best the package for perfect cycling tour around the valley which will take you to the beautiful hill station which offers a spectacular view of Annapurna (8,091m), Manaslu (8,165m), Ganesh Himal (7,446 m), Langtang lirung and several other peaks.  Also, you can enjoy the birds eye view of the whole valley of Kathmandu standing at the height of 2,030 meters.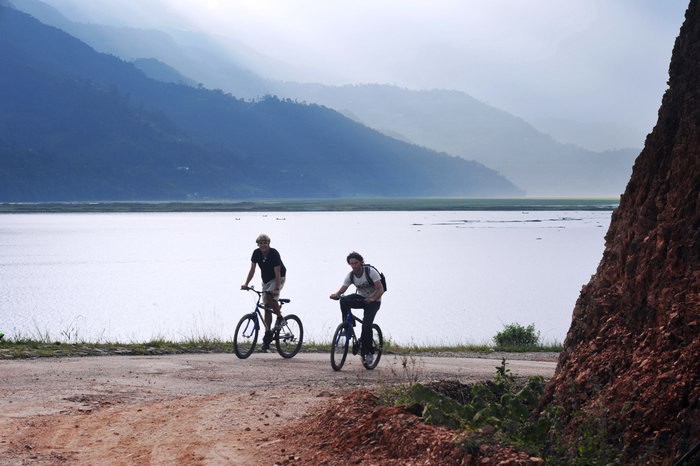 Kathmandu-Chitwan-Pokhara Cycling
This cycling tour will take you to some of the beautiful places of all three regions, i.e., Mountain, Hilly and Terai region. You will come across Bhaktapur, Dakshinkali, Dama, Hetauda, Chitwan, Tansen, Jomsom, Marpha, Tatopani, Pokhara, and Kathmandu valley. Nepal is made of different geographical features, and this tour will take you to the total wilderness. Now, don't be afraid, nothing dangerous lies there. In Kathmandu-Chitwan-Pokhara cycling, you will pass some subtropical jungles which are rich of flora and fauna; you will also witness varied wildlife and distinctive culture, which you won't see anywhere in Nepal, Tharu Culture. In Tharu Culture, people prefer to live in a traditional way keeping themselves away from the modern world. Hundreds of tourists pay a visit to the Chitwan to witness the rich biodiversity, along with the distinctive Tharu Culture. Tharu people call themselves as the people of forest and have live in the forest of Chitwan for hundreds of year. They decorate the rice containers so artfully and paint the verandahs and outer walls of houses with clay, mud, grass, and dung. Witnessing such a unique way of living and their art with local materials is not something you can see everywhere.
This route of cycling will be fun and full of exploration of flora, wildlife, culture, and many exciting things. It is a bit of a challenging climb with downhill and fun single tracks.
Kathmandu-Pokhara Cycling
Cycling tour of Kathmandu to Pokhara is of the best cycling experience which takes you to several historical towns, distinctive and picturesque villages, beautiful landscape view of mountains and hills. This tour will take to the tranquility, away from the crowd and chaos of the city. This tour will take you to an incredible off-road route which connects Nagarkot, Kakani, Trishuli, Gorkha, Besisahar, Kalasti and Pokhara.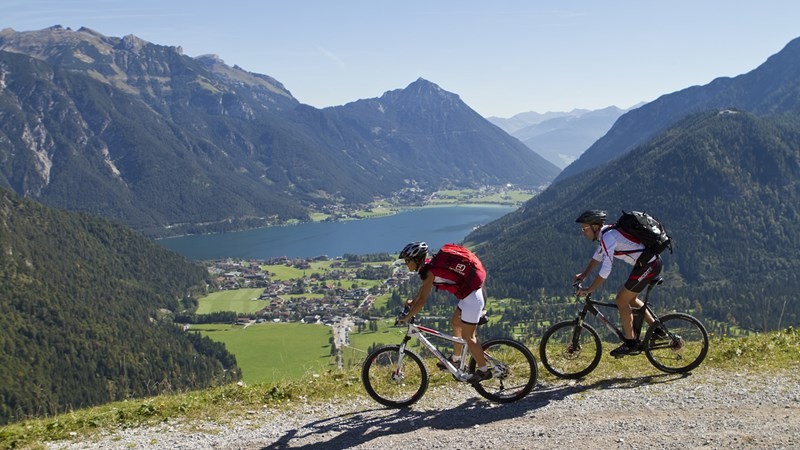 Jomsom-Muktinath Cycling
Your cycling journey will start after you arrive at Jomsom from Pokhara. Jomsom is a beautiful town located in Mustang at an elevation of 2,700 meters. In Jomsom, you will encounter people mostly of Tibetan origin, but they follow their custom and language. Your journey will take to several wonderful villages which are rich in culture and Jomsom is one of them.
As I said above, Muktinath is a pilgrimage site for Hindus as well as Buddhists, where you see many devotees who come from different parts of the country and India as well. There are shrines, a Buddhist monastery and Vishu temples, which makes the Muktinath more interesting. Apart from the sacred sites, you will also witness the spectacular views of the mountains like Nilgiri, Dhaulagiri, Tukche and many others.
You will ride through the small and rocky tracks, paved roads, some challenging paths and yet all these efforts pay off as you will see some most beautiful views of your life. Cycling in the beauty of nature all around with a sip of locally brewed apple brandy at Marpha, experiencing the chilly wind in Jomsom, which is beautiful and equally rich in culture and relaxing your body and soul in the Tatopani hot spring is a journey worth taking. This cycling journey is adventurous, religious and full of exploration.
Upper Mustang Cycling
Although, Upper Mustang is known as the "Forbidden Kingdom," it is not forbidden now. It was forbidden until 1992 for the foreigners. But now, Upper Mustang is one of the major destinations of foreigners for both trekking and cycling and tourism has become very popular in Upper Mustang. Cycling in the Upper Mustang is certainly adventurous as there are challenging ascents and endless singletrack descents. But, along with all the adventure, you will also discover the life of people in that region who are Gurung, Thakalis or primarily Tibetan. In this region, Tibetan culture has been preserved by the relative isolation of this region's people from the outside. You will discover the distinctive culture of this region, views of mountains, thousands of year old human-made caves and many more.