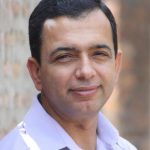 We believe in socially and environmentally responsible, sustainable tourism at Nepal Sanctuary Treks. Our personalized services are guided by these principles and our 30 years of experience in the field of trekking is invaluable in helping us give our clients quality service every step of the way.
Our clients are predominantly sole male or female, small groups or family for whom we prepare tailor-made trekking itineraries to suit their personal needs.
However, we do occasionally handle larger groups, especially charity groups, Incentive groups and school parties with special interest in the Nepal Himalaya. Keeping in mind the anxiety of parents, we give top priority to the children's security while they are in our care. At the same time, we allow the children to enjoy what the Himalayas have to offer, to their complete satisfaction. We also provide our services to handicapped and visually impaired people, ensuring that they receive specialized care during their holidays in the Himalayas.
It gives us immense pleasure to play host to repeat clients as well as first time trekkers who have been recommended by some of our regular clients.
Our goal is to exceed your expectations and make every client's visit to Nepal a memorable one.
Tulsi Gyawali (MD)